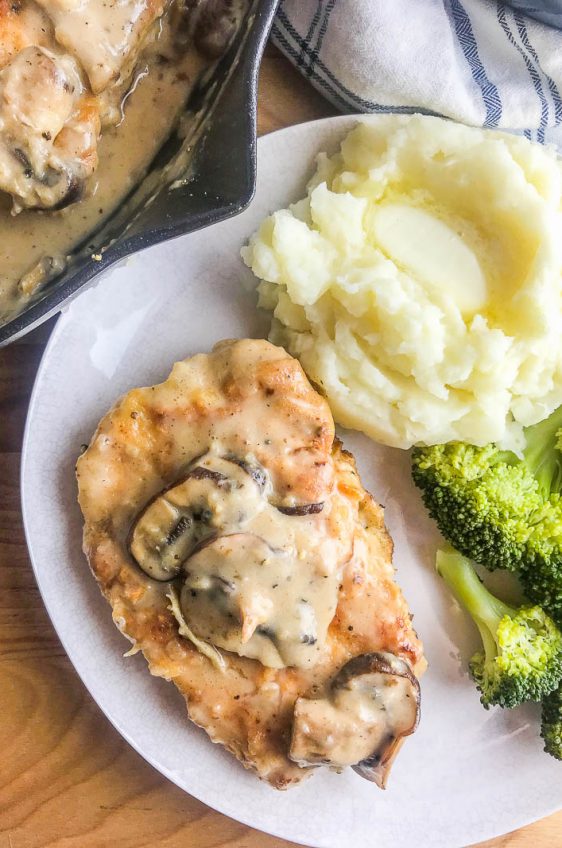 Southern Fried Pork Chops and Gravy
Southern fried pork chops with mushroom gravy is the best comfort food meal for a chilly night. Tender pork, dredged in seasoned flour and smothered with pan gravy. It never fails to satisfy.

Every once in a while we need some comfort food. Am I right? Especially on Sunday. Sunday is the day that I like to relax, maybe read a bit and make my family a truly comforting Sunday supper.
If we're being completely honest though, I also like making comforting dinners during the week. So when a recipe is perfect for a big family dinner on Sunday as well as a quick weeknight dinner on Wednesday, it's a winner in my book!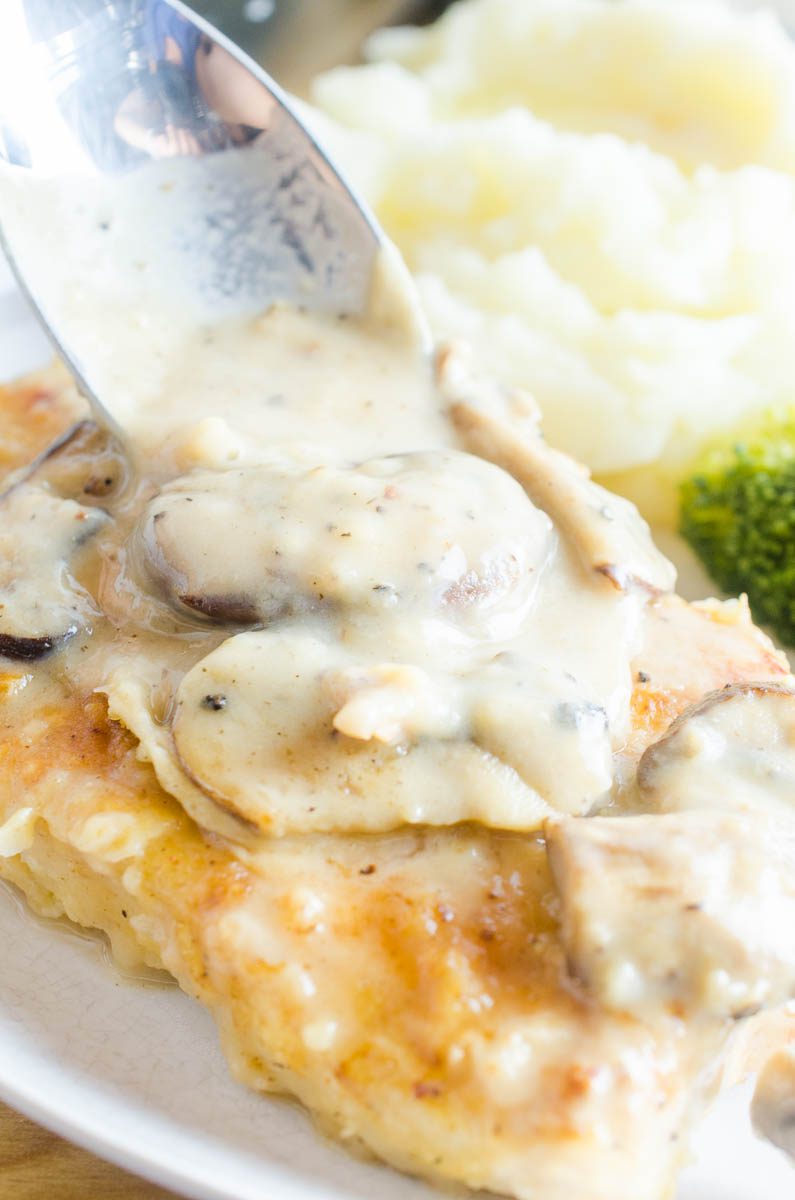 That is exactly what these Southern Fried Pork Chops with Mushroom Gravy are. Tender, juicy, perfectly golden, delicious and ready in a snap.
How to Pan Fry Pork Chops:
Frying pork chops is a pretty simple technique. You need to dip the pork chops in an egg wash. Next, dredge them in a seasoned flour mixture. I like to let the pork chops set with the flour on them for at least 15 minutes, I find this helps the breading adhere to the pork chop and helps keep it crispy.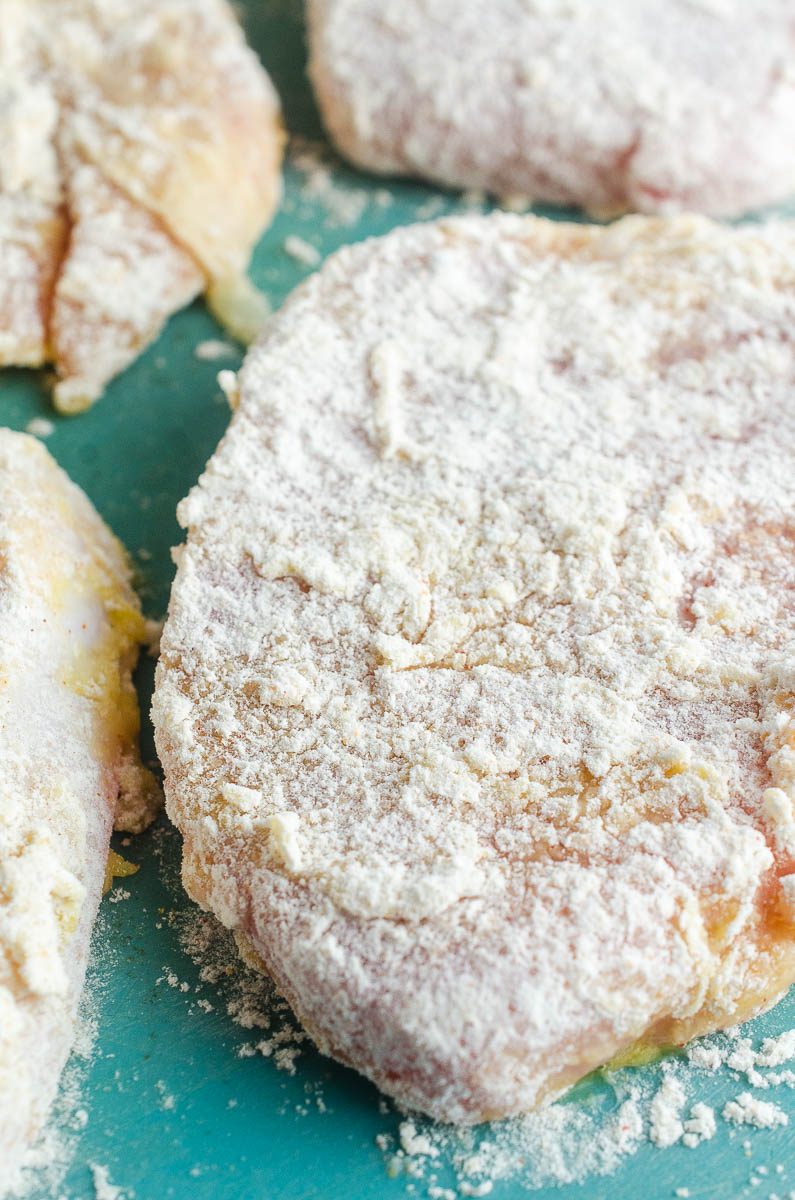 Finally, pan fry them in a mixture of butter and oil until they are golden brown. I use a mixture of butter and oil because butter has a tendency to burn easier than oil. The combo of the two will help prevent that from happening.
You'll know that the pork chops are cooked through once they have reached an internal temperature of 145 degrees.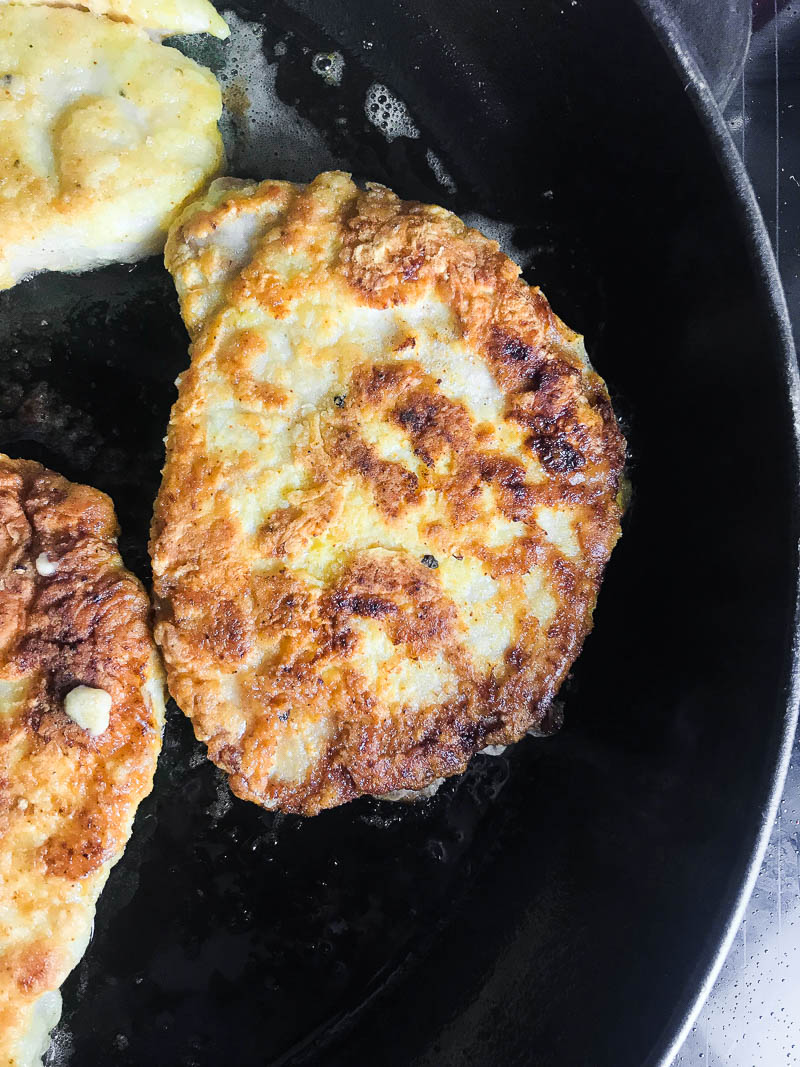 To keep the pork chops crispy after frying, you will want to rest the chops on a cooling rack that is set on top of a baking sheet.  This method is better than simply placing them on a paper towel lined plate. When sitting on the cooling rack, the
Boneless pan-fried pork chops or Bone-In?
First, I tried bone-in pork chops. I wasn't too impressed. They took a little longer to cook than I wanted. Next time around, I tried battering and frying boneless pork chops. They were alright, but still a little too thick for what I was looking for.
Finally, I decided to take those same boneless pork chops, hit them with a meat mallet until they were 1/4 of an inch thick, dredge them in seasoned flour and pan fry them. They cooked up quickly and were oh so flavorful.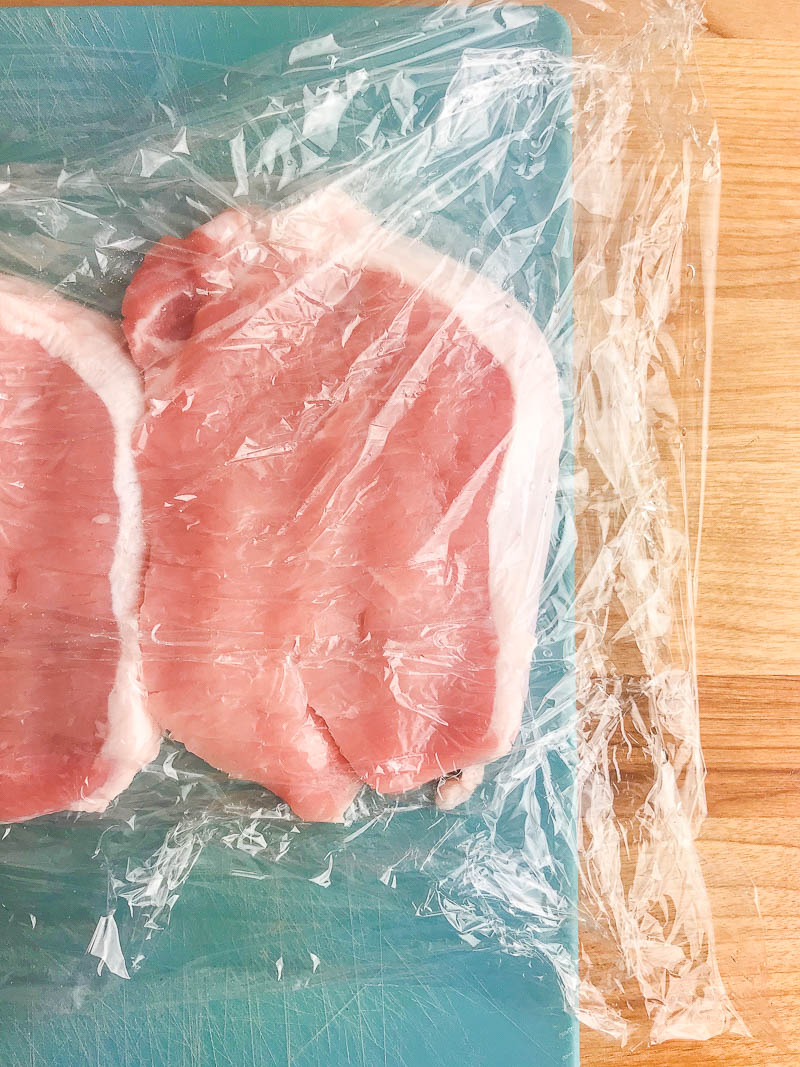 PRO TIP: To tenderize pork chops. Using a meat mallet (a rolling pin works too!) not only helps get the pork chops to the same uniform size, it also helps tenderize them. Sandwiching the pork chops between two pieces of plastic wrap (wax paper or in a freezer bag) keeps things a bit cleaner.
How to make gravy from scratch:
The technique for this pork chop gravy recipe is pretty easy: after you fry the pork chops, reserve one tablespoon of the pan drippings. Add the mushrooms and cook just until browned. Next, sprinkle flour over the top and cook 1 minute until the flour starts to smell nutty. Finally slowly whisk in broth and milk and cook until thickened.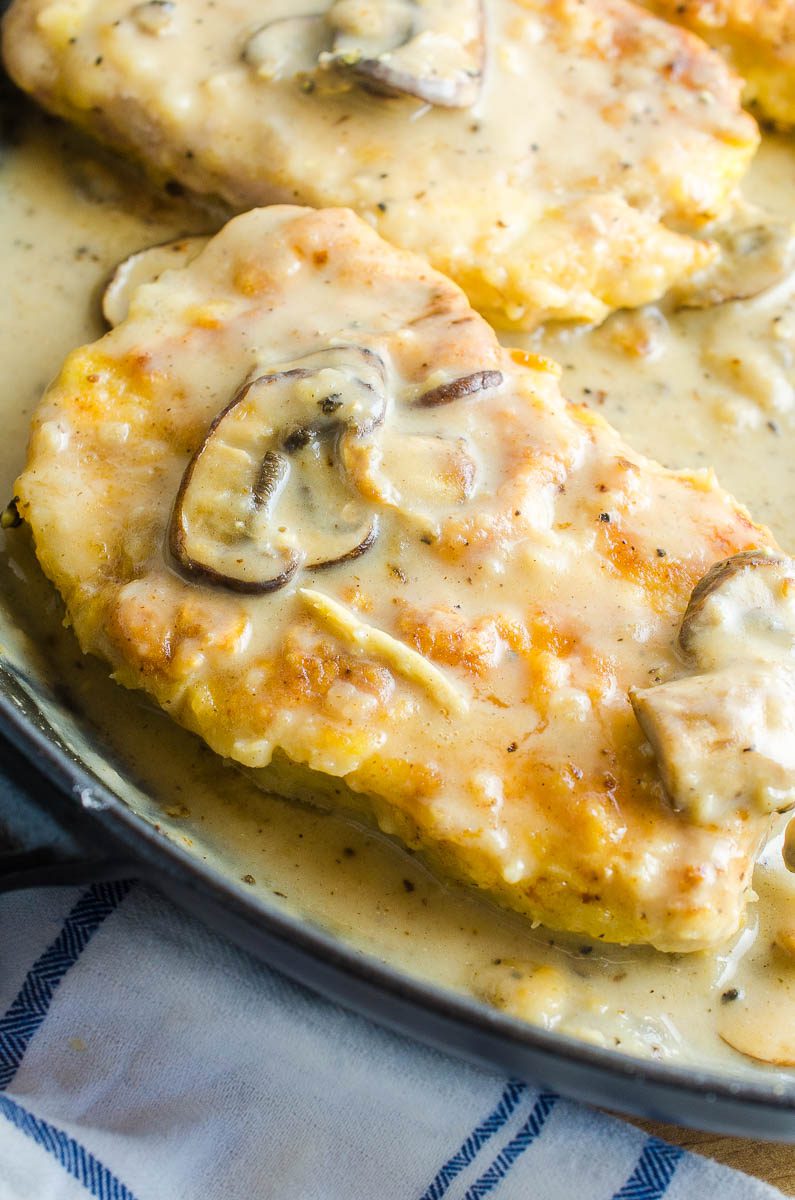 What do you serve with southern fried pork chops?
The best Side Dishes for southern fried pork chops with gravy are homemade mashed potatoes and sauteed broccoli  . It's a comforting meal that is fit for Sunday suppers with the family but so quick that it's also great on weeknights!
Looking for more southern recipes? Be sure to check out these!
Fried Green Tomatoes Easy Recipe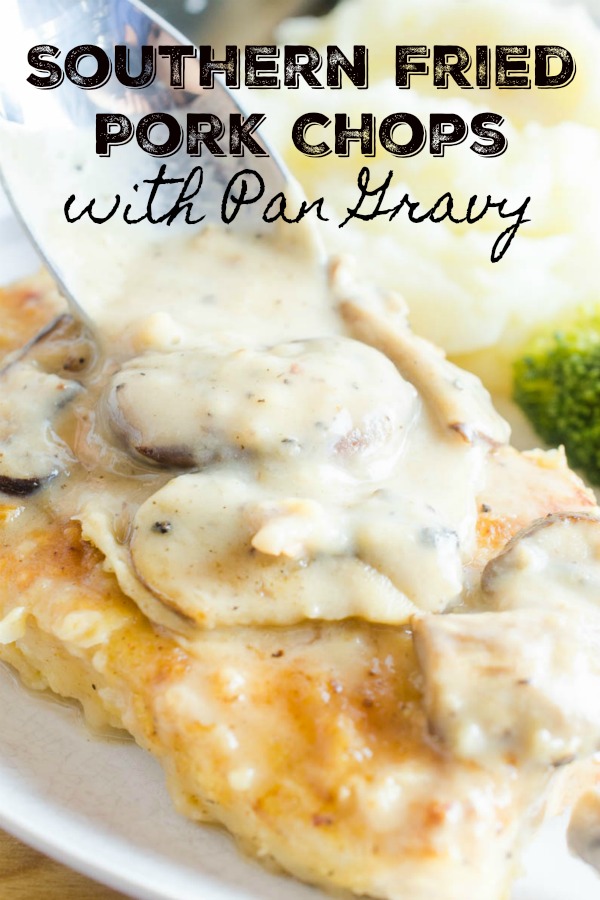 Try these other Main Dishes!
If you try this Southern Fried Pork Chops Recipe, take a quick photo and come share the comfort food love with me on Instagram. Use the #lifesambrosia and I'll feature it in my stories!
Note: this post was originally published in 2009. It was updated with photos, tips and nutrition facts in 2019.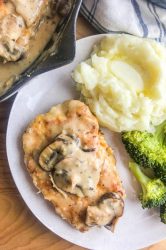 Southern Fried Pork Chops and Gravy
Southern fried pork chops with mushroom gravy is the best comfort food meal. Tender pork, dredged in seasoned flour and smothered with pan gravy.
Preheat oven to warm setting.

Place pork chops between two pieces of plastic wrap (or wax paper or in a resealable plastic bag). Seal bag and hit the pork chops with a meat mallet until 1/4 inch thick.

In one bowl beat egg. In a separate bowl combine flour and seasoning salt.

Remove pork chops from plastic bag, dip in egg and then dredge in flour to coat completely. Transfer to a plate and let set for 15 minutes.

In a skillet heat butter and olive oil over medium heat. Once butter has melted fry pork chops until browned and cooked through. About 3-4 minutes per side. Transfer to a ovenproof dish and place in oven to keep warm.

Reserve 1 tablespoon of the pan drippings. Add mushrooms and cook until browned, about 5 minutes. Sprinkle 2 tablespoons of flour over the top, stir. Cook for 1 minute. Whisk in broth and milk. Cook until thickened. Season to taste with salt and pepper.

Place cooked pork chops on a serving platter, spoon gravy over the top. Serve.
Calories:
370
kcal
Carbohydrates:
14.9
g
Protein:
30.3
g
Fat:
21.4
g
Saturated Fat:
8
g
Cholesterol:
105
mg
Sodium:
2420
mg
Fiber:
0.7
g
Sugar:
1.3
g
Keywords:
comfort food, fried pork chops, gravy, Mushrooms, pork chops, Southern