Pan fried pork chops with mushroom gravy is the best comfort food meal for a chilly night. Tender pork smothered with pan gravy never fails to satisfy.
So far this week I have shared recipes for Honey Kissed Crispy Chicken Sandwiches, Three Cheese Macaroni and Cheese and Eggnog cupcakes. All delicious and all equally good for you, well good for your soul anyway.  When trying to decide what recipe to post for today, I thought I might as well keep the healthy comfort food theme going with this recipe.
After all, we're not supposed to count calories during Christmas, that is what New Year's resolutions are for. At least that is what I was telling myself as I generously poured the mushroom gravy over these pan fried pork chops.

I toyed with this recipe for pan fried pork chops for a little while before figuring out just how I wanted to cook them.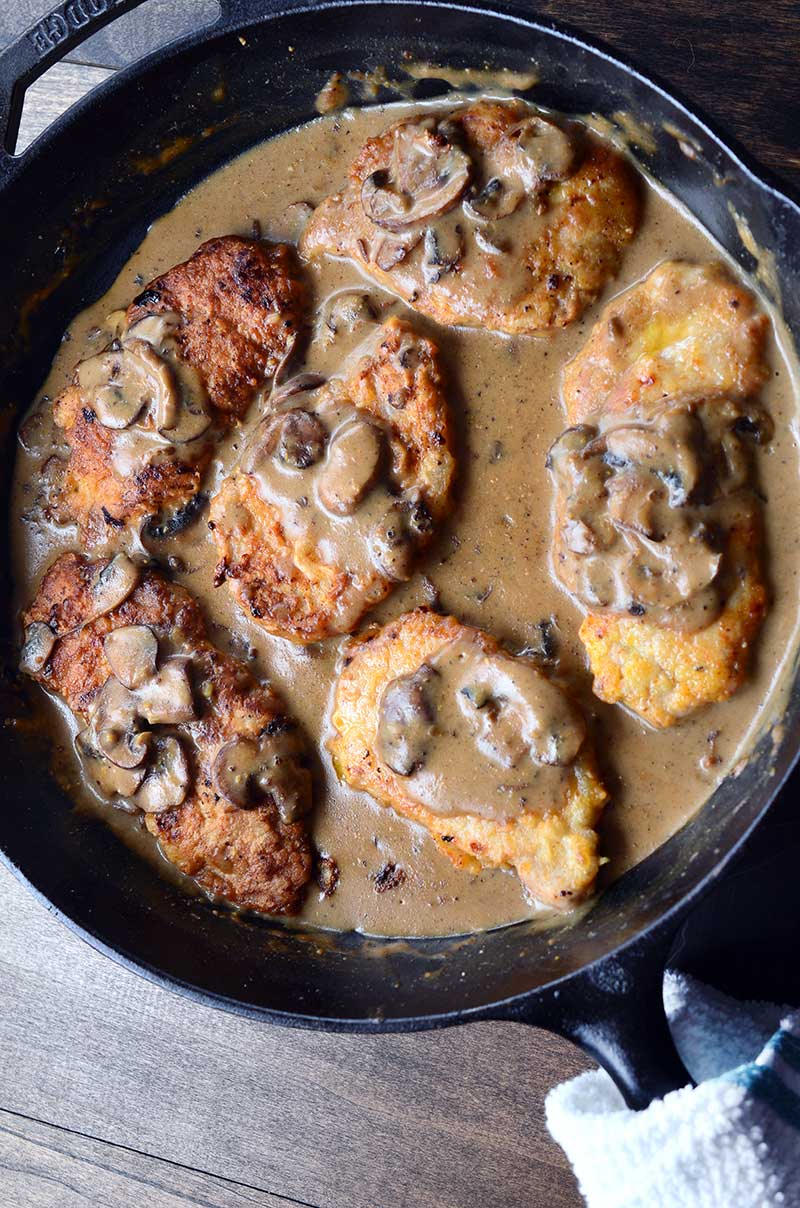 First, I tried bone-in pork chops. I wasn't too impressed. They took a little longer to cook than I wanted. Next time around, I tried battering and frying boneless pork chops. They were alright, but still a little too thick for what I was looking for.
Finally, I decided to take those same boneless pork chops, hit them with a meat mallet until they were 1/4 of an inch thick, dredge them in seasoned flour and pan fry them. They were exactly the texture and flavor I was looking for, yet I still wanted just a little bit more. So, I decided to make a quick mushroom gravy to go along with them. One bite and I knew I had found my new favorite pan fried pork chop recipe.
If you try this pan fried pork chops recipe, take a quick photo and come share the comfort food love with me on Facebook!
Ingredients:
4 boneless pork chops
1 egg
1/2 cup all purpose flour
2 teaspoons seasoning salt
1 tablespoon olive oil
1 tablespoon butter
1 cup sliced button mushrooms
1 cup chicken broth
2 tablespoons flour
1/4 cup milk
fresh cracked black pepper and kosher salt
Instructions
1
Preheat oven to warm setting.

2
Place pork chops in a resealable plastic bag. Seal bag and hit the pork chops with a meat mallet until 1/4 inch thick.

3
In one bowl beat egg. In a separate bowl combine flour and seasoning salt.

4
Remove pork chops from plastic bag, dip in egg and then dredge in flour to coat completely. Transfer to a plate and let set for 15 minutes.

5
In a skillet heat butter and olive oil over medium heat. Once butter has melted fry pork chops until browned and cooked through. About 3-4 minutes per side. Transfer to a ovenproof dish and place in oven to keep warm.

6
Reserve 1 tablespoon of the pan drippings. Add mushrooms and cook until browned, about 5 minutes. Sprinkle 2 tablespoons of flour over the top, stir. Cook for 1 minute. Whisk in broth and milk. Cook until thickened. Season to taste with salt and pepper.

7
Place cooked pork chops on a serving platter, spoon gravy over the top.