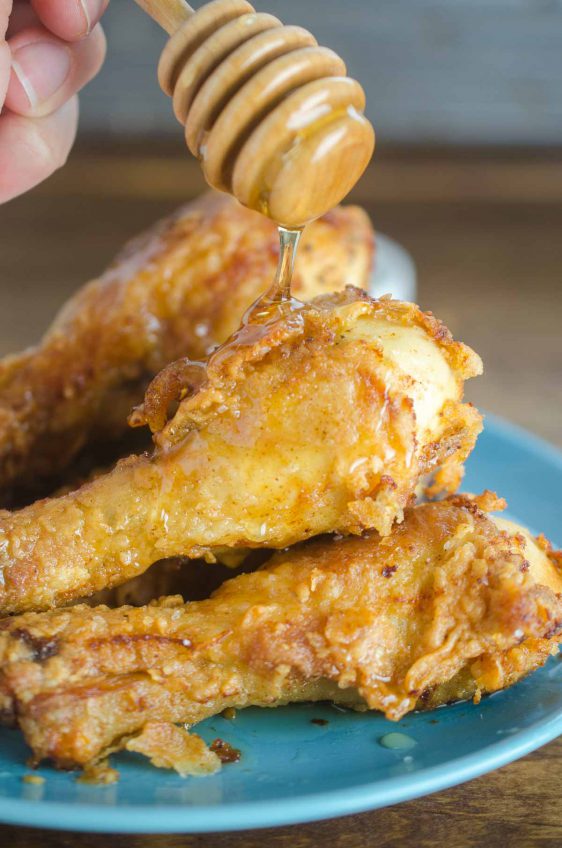 Honey Fried Chicken
Honey Fried Chicken is a twist on everyone's favorite Southern Fried Chicken. A drizzle of honey is the perfect touch to crispy fried chicken.
Southern fried chicken is a classic for a reason. Who doesn't love a crispy, crunchy piece of perfectly fried chicken?
In addition to Spaghetti and Meatballs, one of the meals that I would eat every day if I could is fried chicken. I just can't get enough of the crispy skin and the tender meat.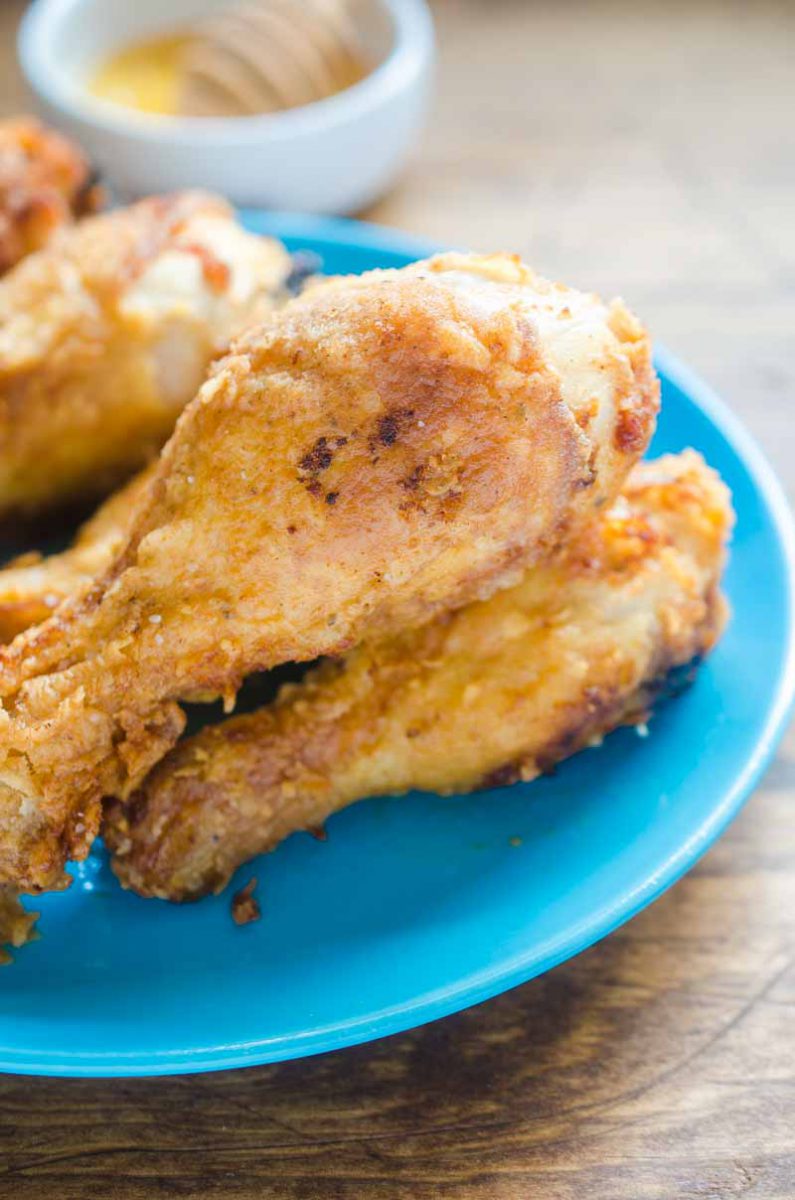 Honey Fried Chicken is my latest take on the classic. The chicken is brined in buttermilk, blackened seasoning and garlic and then fried to perfection. Finally, once the chicken comes out of the fryer it is drizzled with sweet honey. The drizzle of honey gives a touch of sweetness but it's not overly sweet.
When it comes to making fried chicken, I always considered to be one of the trickiest things to make in the kitchen. It would come out not crispy enough. Or the inside would be undercooked while the outside was burnt. Over the years, I have tried and perfected my process and now it is one of the easiest things to make.
How to make the perfect fried chicken: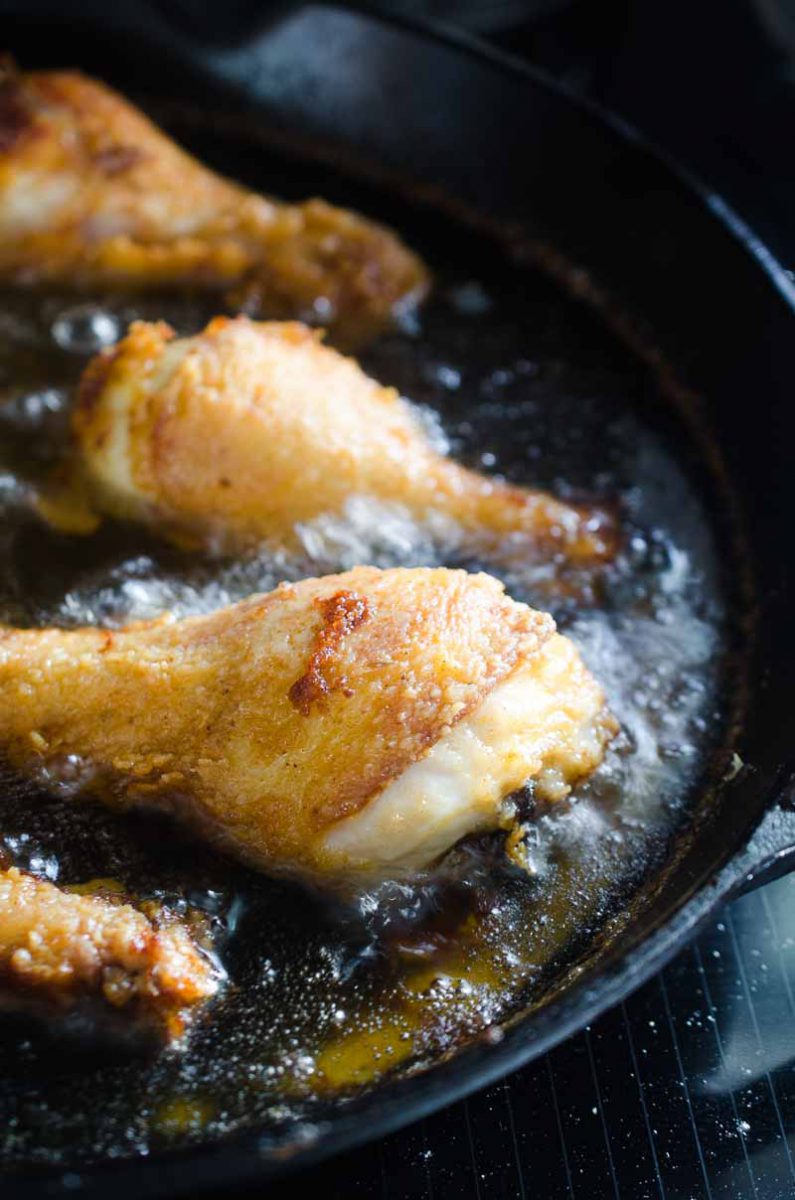 Brine: Brining chicken before frying is must. Brining the meat beforehand produces juicier meat. You can make a salt brine like I do in my summer savory brined fried chicken, a beer brine or a buttermilk brine. If you are interested in the science behind it all, check out The Science of Brining by Cooks Illustrated.
The coating: seasoned flour is really all you need. I have made fried chicken by dipping it in egg and flour, only flour and by coating it in panko. Each of these techniques works well but sometimes, the easiest is the best. A simple seasoned flour is all you need to get the perfect crust on your fried chicken.
The frying technique: Fry the chicken covered. Trust me it works. First the chicken is cooked covered for 14 minutes, turning once halfway through. Then the lid is removed and the chicken is cooked until it is golden fried perfection. Cooking the chicken this way ensures that the chicken finishes cooking on the inside at the same time the outside is browned. This technique is the same technique that I use when I make my garlic fried chicken and it works perfectly every time.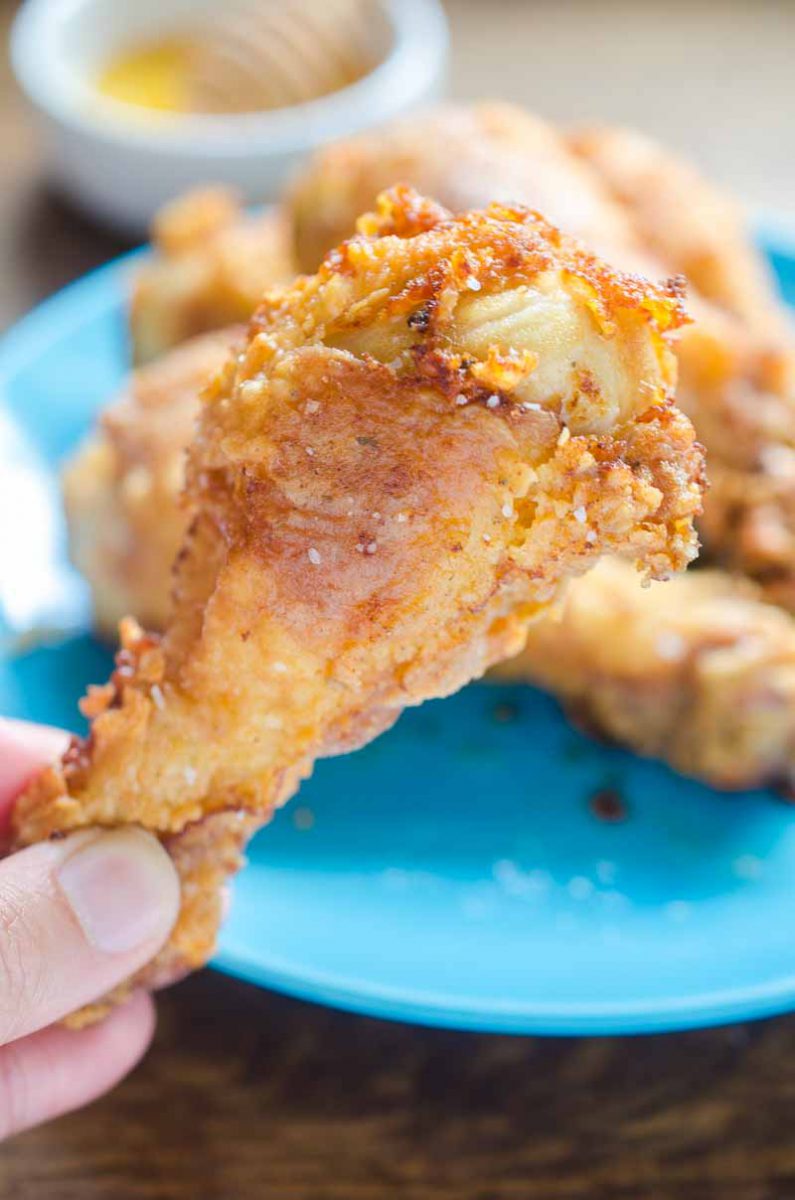 Now, isn't that a perfect piece of chicken?
I obviously recommend serving this Honey Fried Chicken right away because it's best when it's hot. And if you are looking for the perfect side to serve with it creamy mashed potatoes or macaroni and cheese are always winners!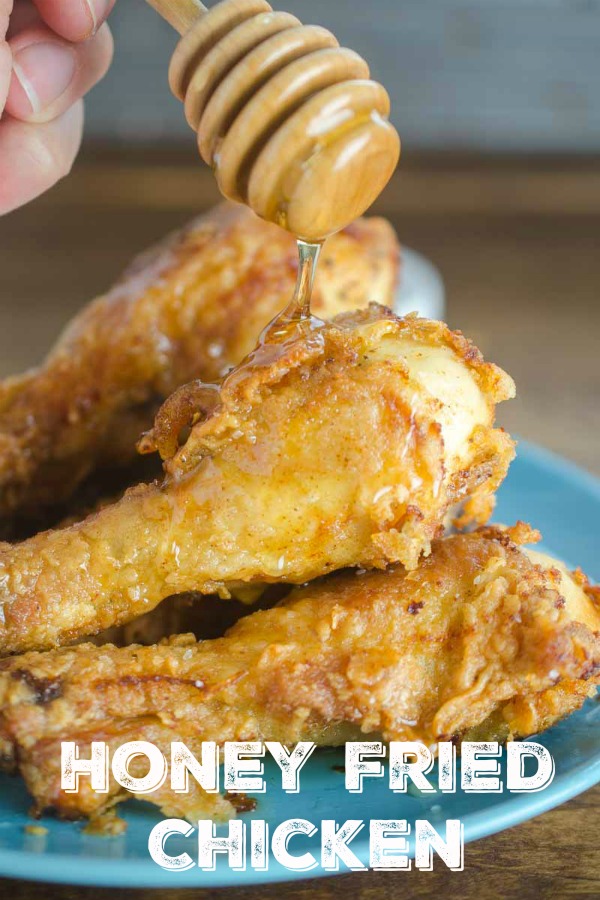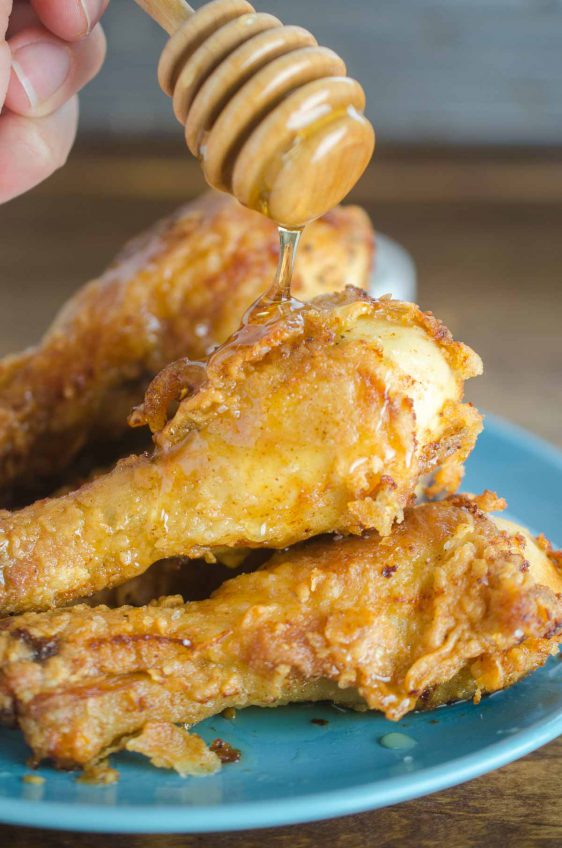 Honey Fried Chicken
Honey Fried Chicken is a twist on everyone's favorite Southern Fried Chicken. A drizzle of honey is the perfect touch to crispy fried chicken.
Ingredients:
2

cups

buttermilk

1

tablespoon

blackened seasoning

4

cloves

garlic

8 - 10

chicken drumsticks

2

cups

all purpose flour

1

teaspoon

paprika

1

teaspoon

granulated garlic

1

teaspoon

kosher salt

1/2

teaspoon

black pepper

oil for frying

1/2

cup

honey
Whisk together buttermilk, blackened seasoning and garlic cloves. Place chicken drumsticks in a resealable plastic bag and pour buttermilk mixture over the top. Seal and refrigerate for at least 4 hours.

Turn oven to warm setting or lowest possible setting. Cover a baking sheet with paper towels and place a cooling rack over the top.

Combine flour, paprika, granulated garlic, salt and black pepper together in a resealable plastic bag. Mix well. Dredge the chicken in the flour, coat well. Transfer to a plate and allow to set for 15 minutes.

Heat 1 inch of oil in a skillet over medium heat. Once oil has reached 350 degrees, cook chicken in oil, skin side down and cover for 6 - 7 minutes. urn the chicken and cook another 6 - 7 minutes. Remove the lid and cook an additional 2 - 4 minutes or until it is golden brown. Use tongs or a slotted spoon to transfer the chicken to the prepared cooling rack. Sprinkle with salt. Place in the warmed oven to keep warm while you cook the remaining chicken.

Transfer chicken to a serving platter, drizzle with honey and serve immediately.
Keywords:
chicken, fried chicken, honey fried chicken, southern fried chicken