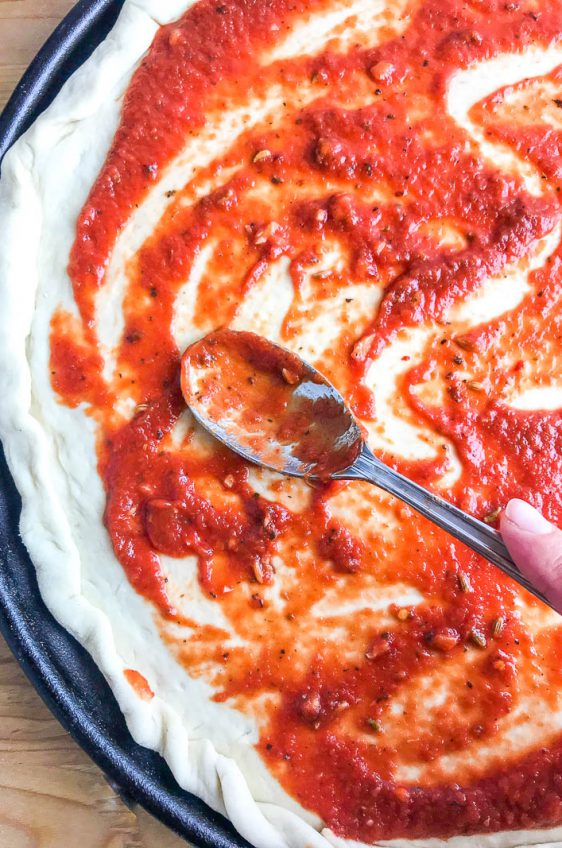 Easy Pizza Sauce
When it comes to pizza, the sauce totally makes it! Follow this easy recipe with step by step instructions for how to make the best pizza sauce.

In my personal opinion, the sauce can make or break a pizza. What about you?
Sure toppings are great but if the sauce isn't good, no amount of cheese can save it. The crust is important too but we'll get to that another day.
I've tried pizza places and decided never to go back because the sauce just didn't stack up.  The same goes for the jarred stuff. It just does not hold a candle to making your own. With some tomato sauce, tomato paste and 20 minutes and you'll be on your way to the best pizza sauce. Ever.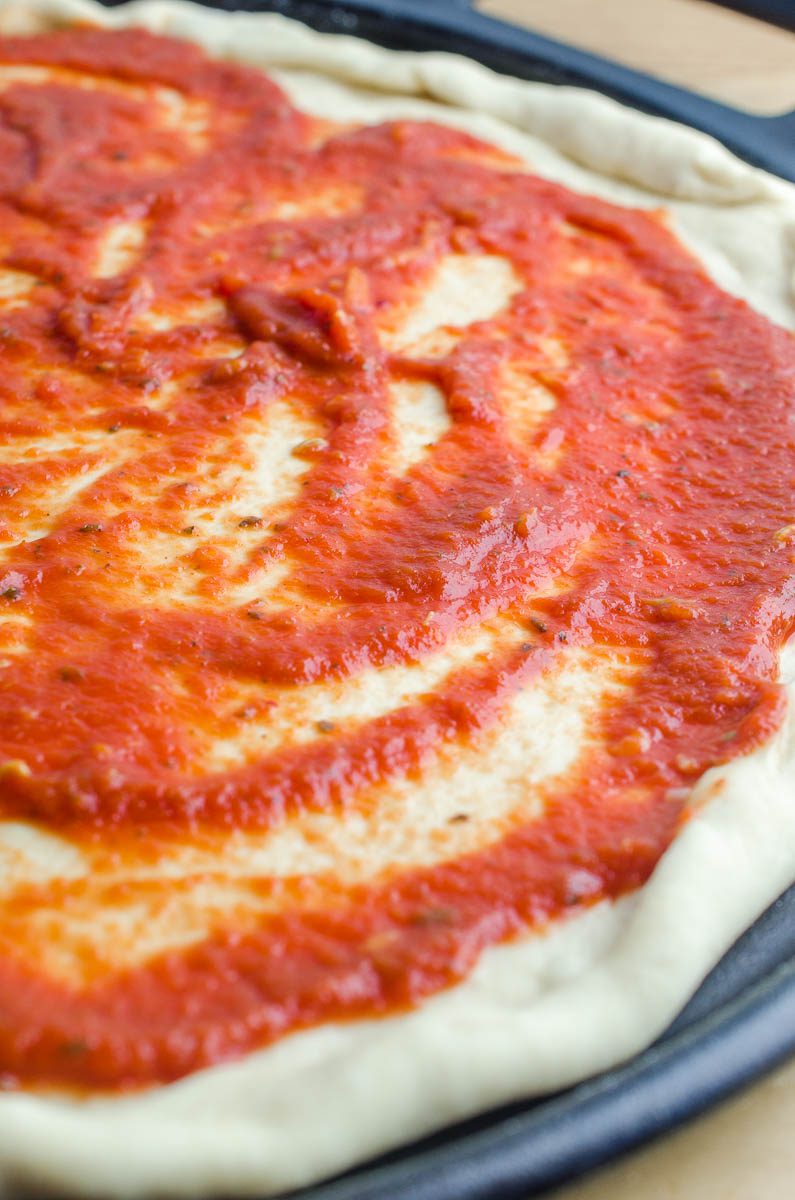 What ingredients do you need to make homemade pizza sauce?
This Easy Homemade Pizza Sauce starts with canned tomato sauce. Not pizza sauce or pasta sauce, simply regular tomato sauce. To enhance the tomato flavor even more, a couple of tablespoons of tomato paste are added.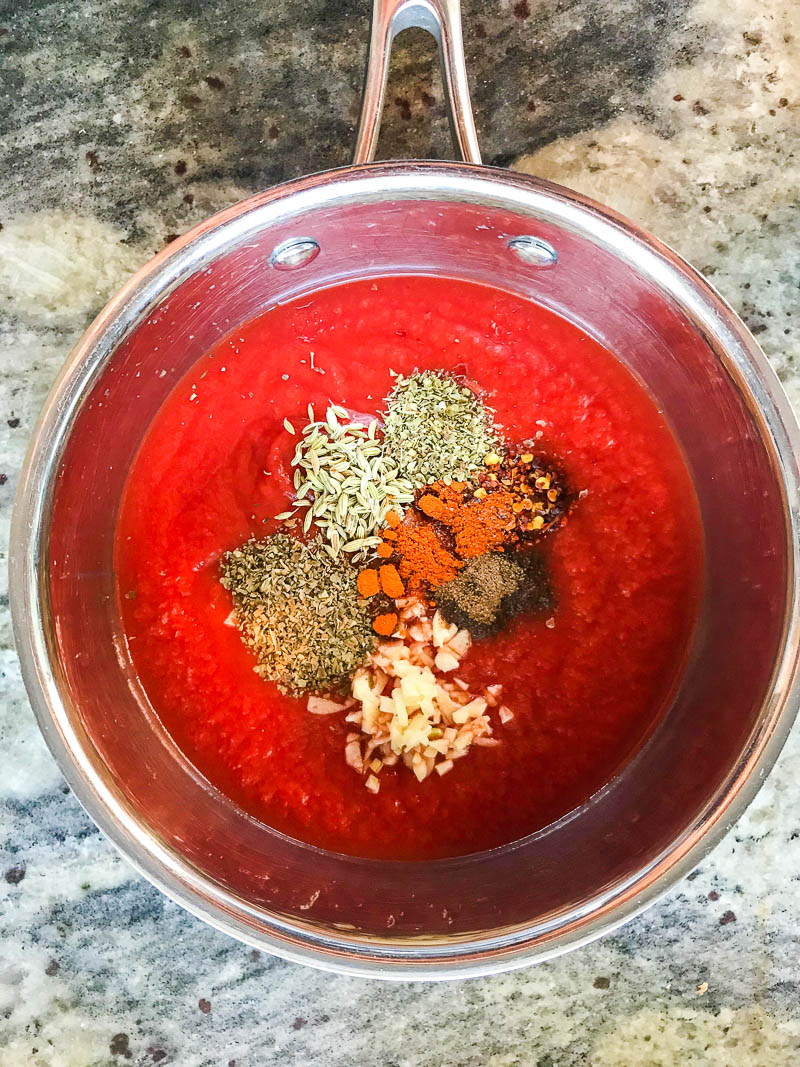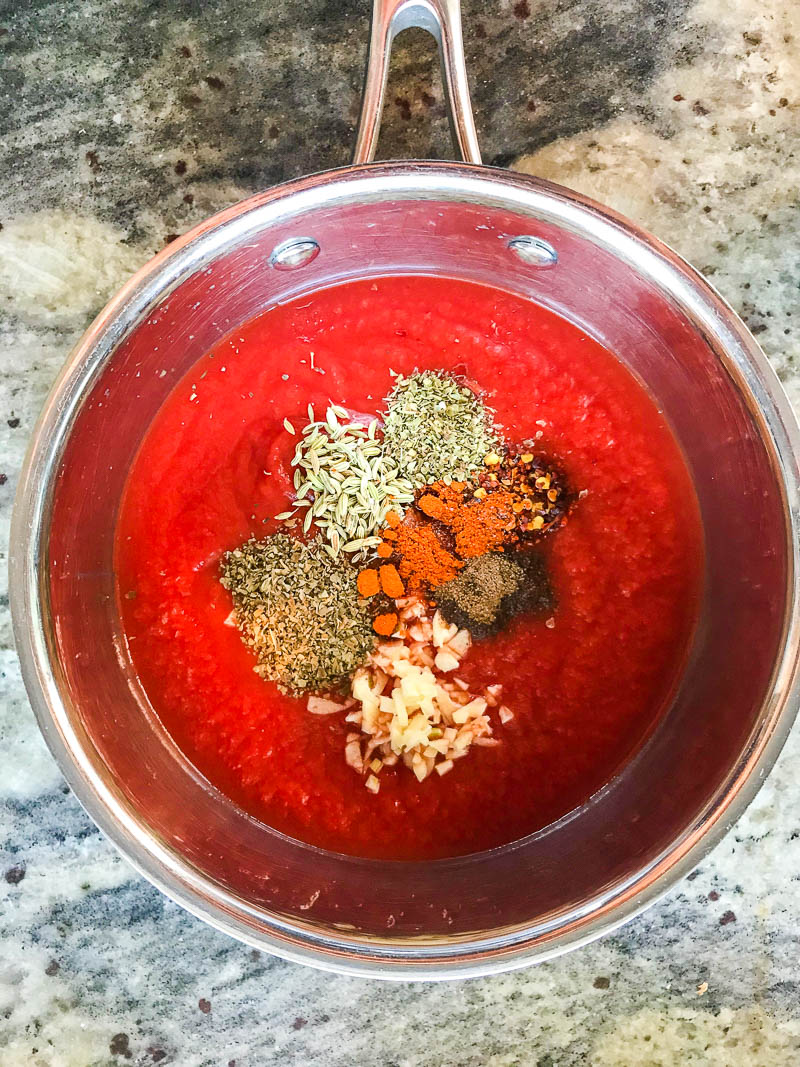 Next you'll need the seasonings. It took me several tries to get it just right. For this recipe, you'll need: oregano, basil, garlic, fennel, crushed red pepper, salt, pepper and sugar. I also add a little cayenne and allspice but those too are optional. The cayenne adds more head and the allspice adds a deep peppery flavor.
Why do you add sugar to tomato sauce?
One of the reasons that I am not a huge fan of store bought sauce is that they tend to be a little too sweet for me. With that said, I still add a little bit of sugar to most of my tomato sauce recipes. Adding sugar to tomato sauce helps create a more balanced flavor but cutting the acidity and bringing out the natural sweetness of the tomatoes.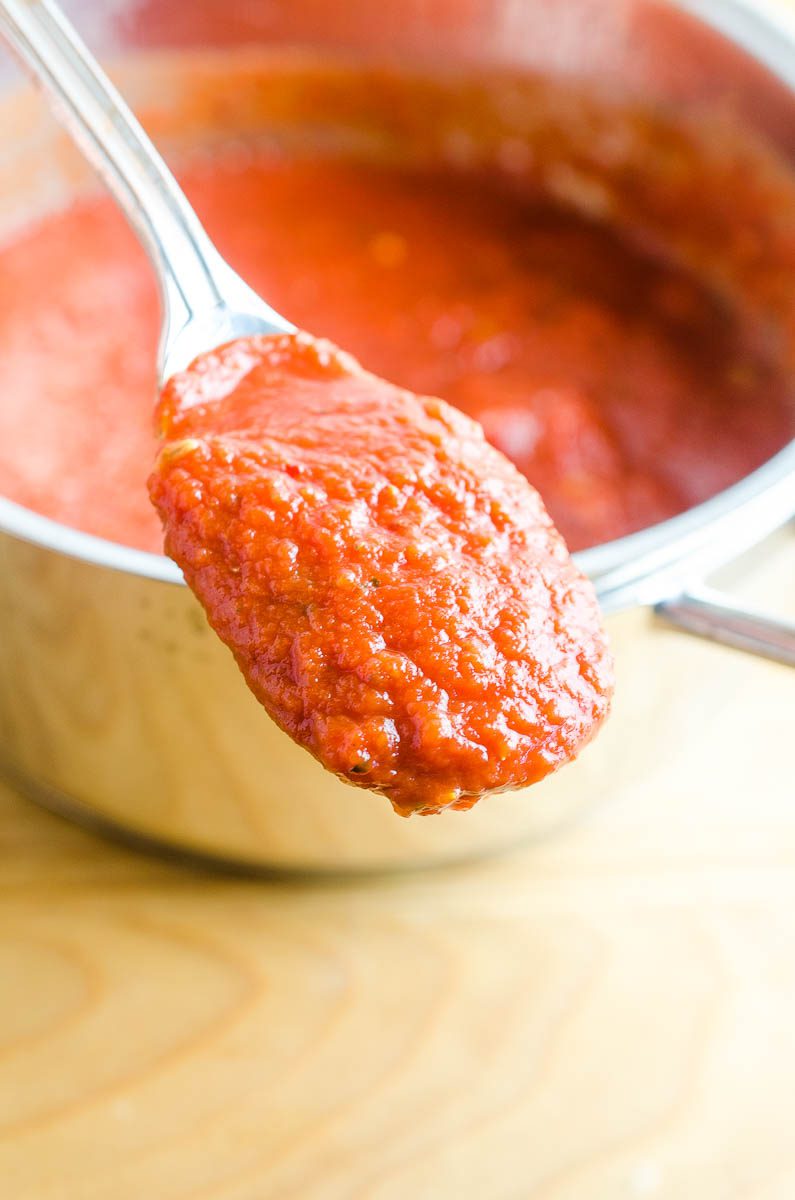 Do you need to cook pizza sauce?
Yes. Cooking the tomato sauce, instead of simply mixing all of the ingredients together, helps give the flavors a chance to develop. It doesn't need a long time, only about 15 – 20 minutes but believe me, it is totally worth it.
I use this recipe when I make all different kinds of pizza. One of my favorite ways is to slather it on the top of my grilled pizza.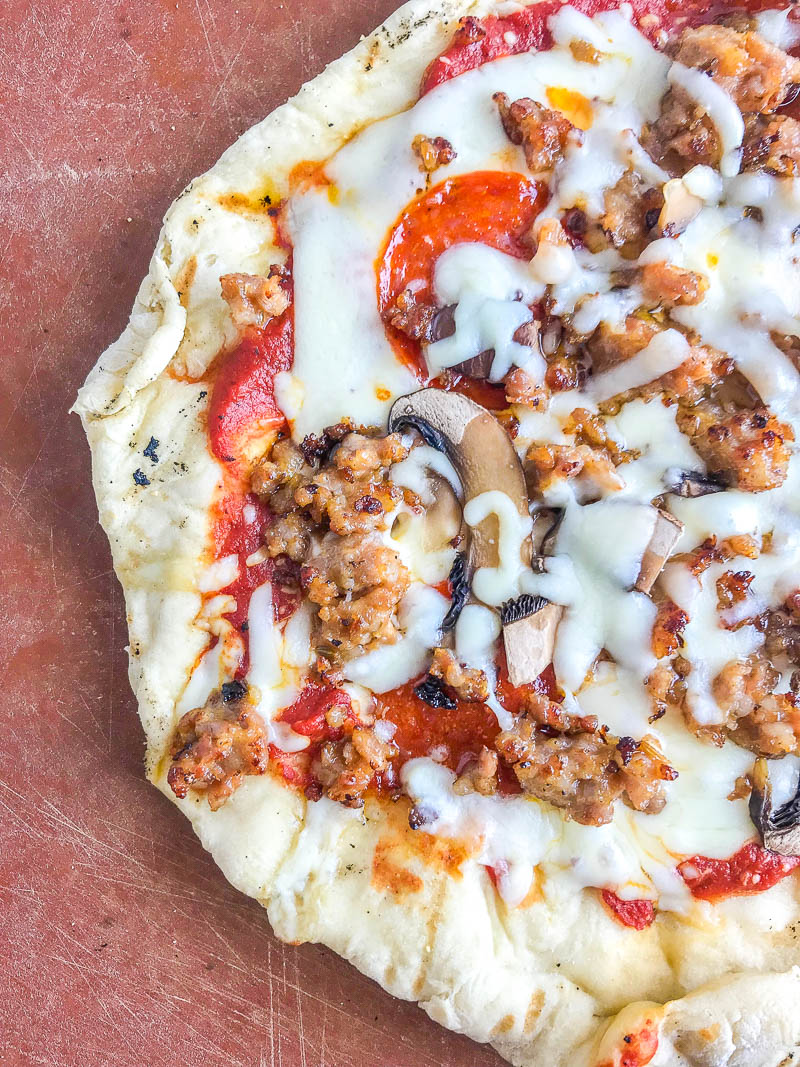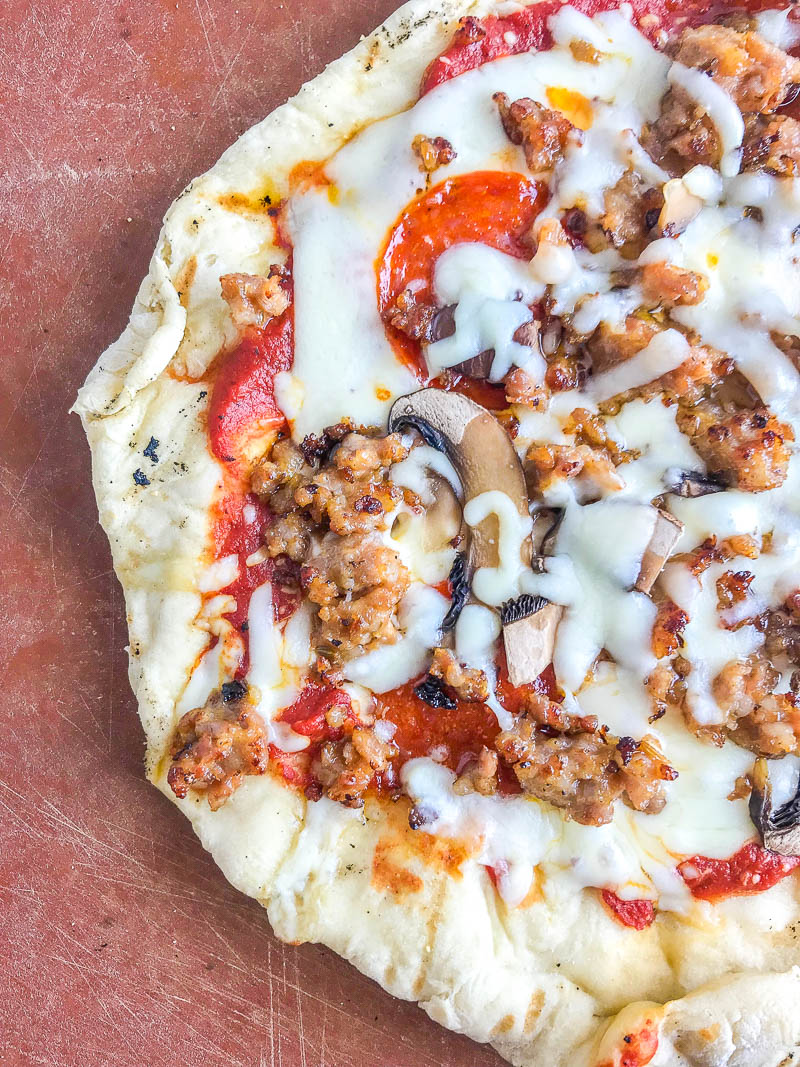 It is also great to spread on sandwiches or to dunk your pizza crust in.
Looking for more pizza recipes? Check these out:
Grilled Kale and Sausage Pizza
Making your own sauces, dips and dressings is so easy! Here are some more of my favorites: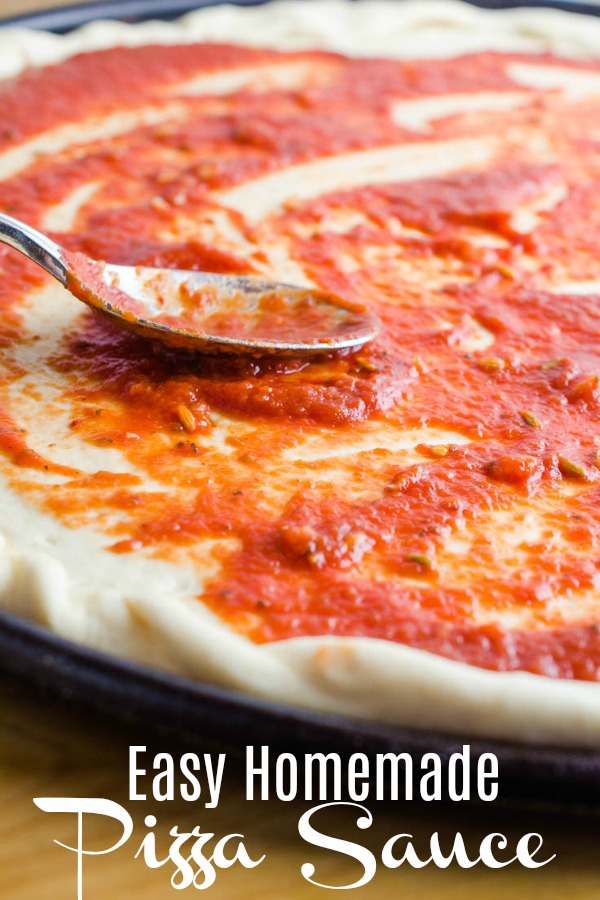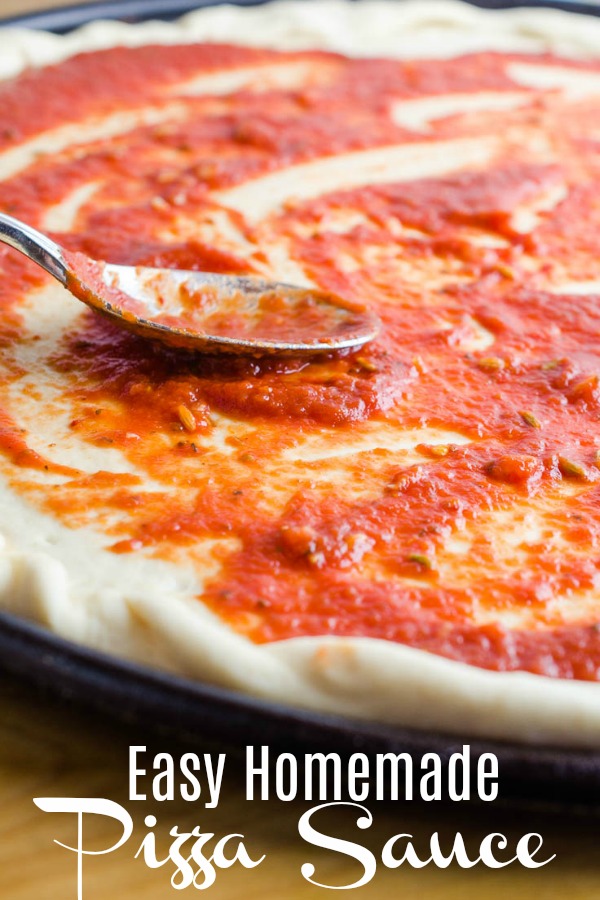 Note: This post was originally written in 2009. It was updated with tips, photos and nutrition facts in 2019.
Easy Pizza Sauce Recipe
Ingredients:
1 (14.5 ounce) can tomato sauce
2 tablespoons tomato paste
1 garlic clove, finely minced
1/2 teaspoon dried basil
1/2 teaspoon fennel seed
1/2 teaspoon dried oregano
1/4 - 1/2 teaspoon crushed red pepper depending on the amount of spice you like
1/4 teaspoon kosher salt
1/4 teaspoon cayenne pepper
1/8 teaspoon granulated sugar
1/8 teaspoon allspice
Instructions
1
Combine all ingredients in a small sauce pan. Cook over medium heat until it starts to bubble slightly, about 5 minutes. Reduce heat and let simmer for 15-20 minutes.

2
Use on your favorite pizza.
Nutrition information
Calories: 35 , Total Fat: 0.3 , Saturated Fat: 0.1g , Cholesterol: 0mg , Sodium: 694mg , Carbohydrates: 7.8g , Fiber: 2.1g , Sugar: 5.5g , Protein: 1.8g