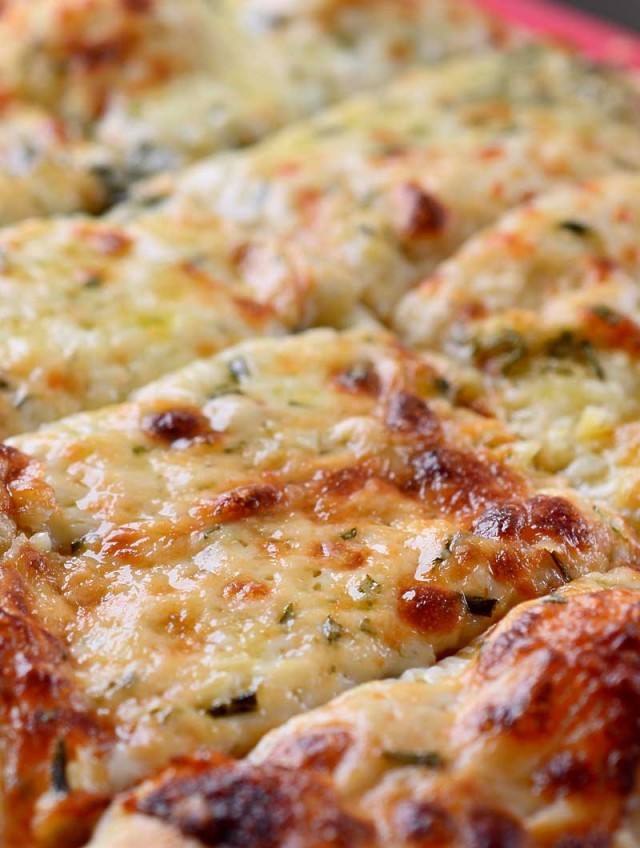 Cheesy Rosemary Breadsticks
Is it just me or do pizza and breadsticks go hand in hand? I mean really one would think that I would have my carb fill with the pizza crust, but it just isn't so. I just have to have breadsticks too. Especially cheesy breadsticks. Yes, again, I should probably get my cheese fill with the pizza, but again, it just isn't so. I can't be the only one. I can't be the only one that would devour these Cheesy Rosemary Breadsticks right along side a slice of pizza. Right?
And while I could go on and on about how delicious these breadsticks are. How perfectly cheesy and garlicky they are. And how the rosemary just totally makes them. I just can't.
I can't because I only have one thing on my mind right now as I type this…
I AM AN AUNTIE!!
My little baby sister, who really isn't so much of a baby anymore but is to me, just had a baby on Wednesday!
I HAVE A NIECE!
I haven't met her yet but I get to meet her tomorrow. I CANNOT wait.
I cannot wait to see little baby fingers. And little baby toes.
And hug her. And kiss her. And squeeze her.
If you follow me on instagram you'll probably see pictures. And I'll share one here too during Sunday shares. She is beautiful, guys. Just beautiful.

But yeah….back to the breadsticks. Make them. They are yummy. ;-)  Happy Friday Friends!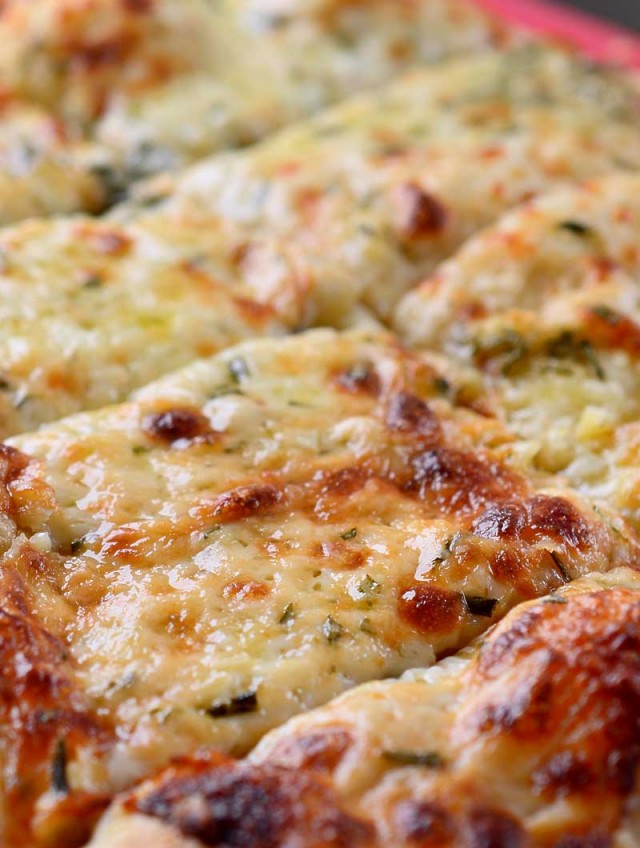 Cheesy Rosemary Breadsticks
Chewy, cheesy breadsticks with mozzarella, parmesan, garlic and fresh chopped rosemary.
Prepare the dough first by pouring the warm water into the bowl of a stand mixer with the dough hook attached. Sprinkle yeast over the top. Allow to proof for 5 minutes. Add in 1 1/2 cups flour and salt. Turn mixer on to medium-high. And mix just until the dough comes together. If the dough seems sticky add remaining tablespoons of flour. Turn the mixer down to medium and continue mixing until a smooth ball forms. Cover with plastic wrap and allow to rise in a warm, dark place for 45 - 60 minutes or until it has doubled in size.

Preheat oven to 430 degrees.

After the dough has risen, punch it down and roll it out on a lightly floured surface. It does not need to be a perfect circle or square.

Brush olive oil over the dough. Sprinkle salt and minced garlic cloves over the top.

Place the mozzarella cheese in a single layer. Sprinkle Parmesan cheese and rosemary on top.

Bake in preheated oven for 12 - 15 minutes or until cheese has melted and crust starts to brown. Turn on the broiler for 1 - 2 minutes or until cheese browns slightly. Slice and serve immediately.
Keywords:
breadsticks, cheese, cheesy bread, mozzarella, rosemary, Vegetarian