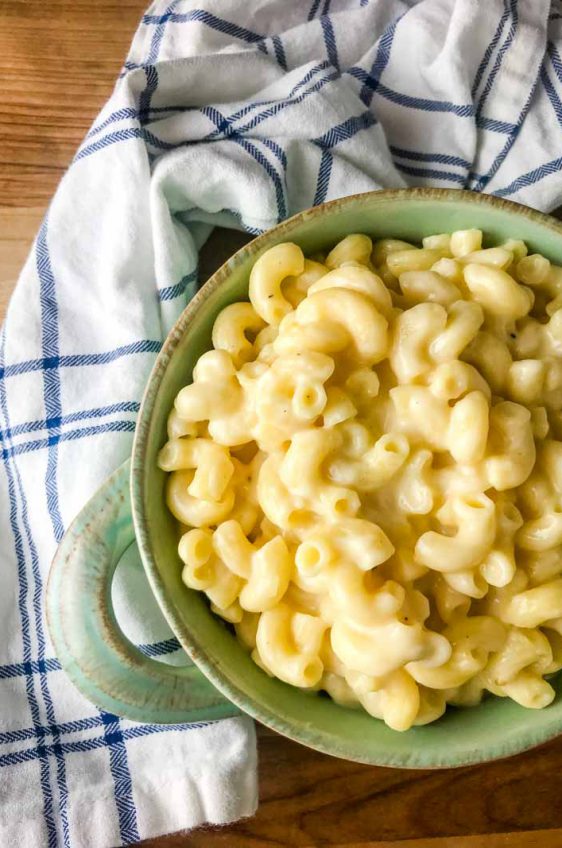 The Best Stovetop Mac and Cheese
The Best Stovetop Mac and Cheese is made with three different cheeses and done on the stovetop. It's creamy, cheesy and destined to be a family favorite! 
If mashed potatoes are my favorite comfort food side dish, it is safe to say that macaroni and cheese runs a close second.
With all of it's cheesy, carb-y, goodness, Stovetop Mac and Cheese is comfort food to the max.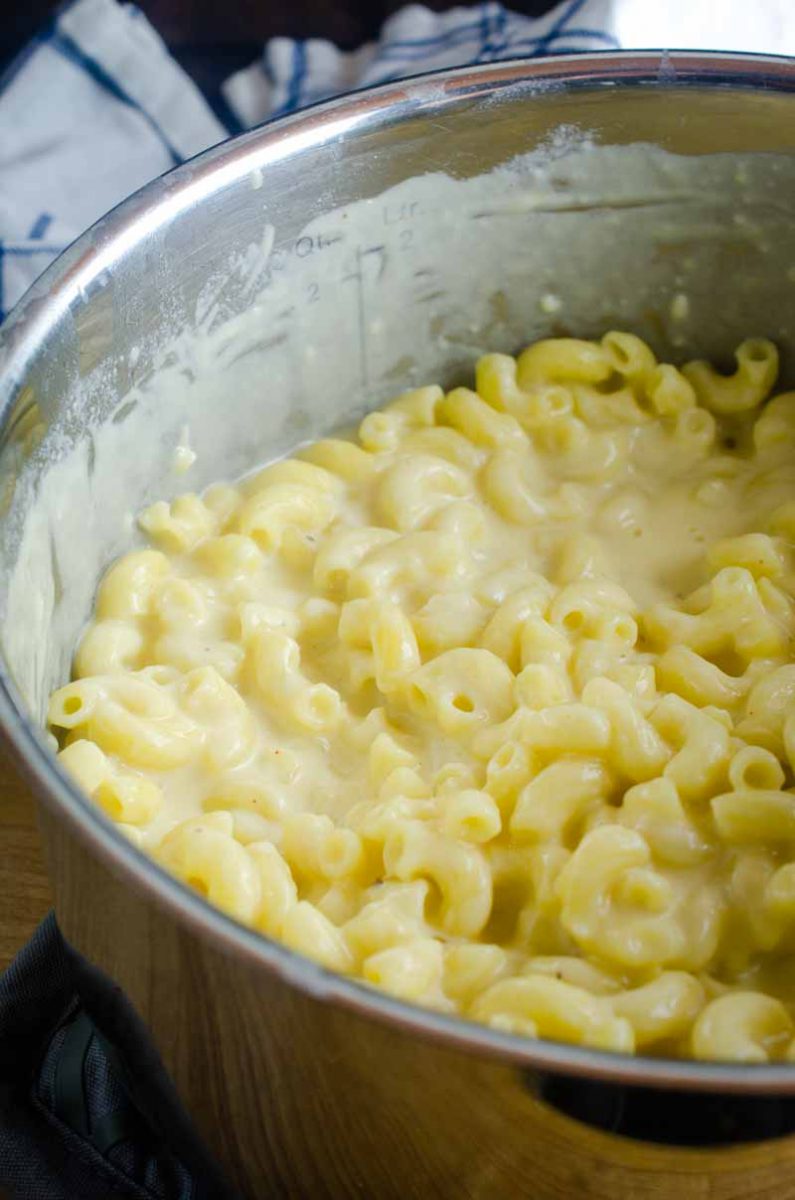 You know what I'm talking about, the stuff that your mama used to make. The down home cookin' version of homemade mac n' cheese. This version is loaded with three different kinds of cheese: cheddar, Gruyere and Havarti.
Each bite is pure cheesy noodle bliss.
How do you make the best Stovetop Mac and Cheese?
A lot of recipes for homemade mac and cheese are for baked Mac and cheese, like this Jalapeño Popper Mac and Cheese.  With this recipe, I seek to make things a bit easier by making it all on the stovetop.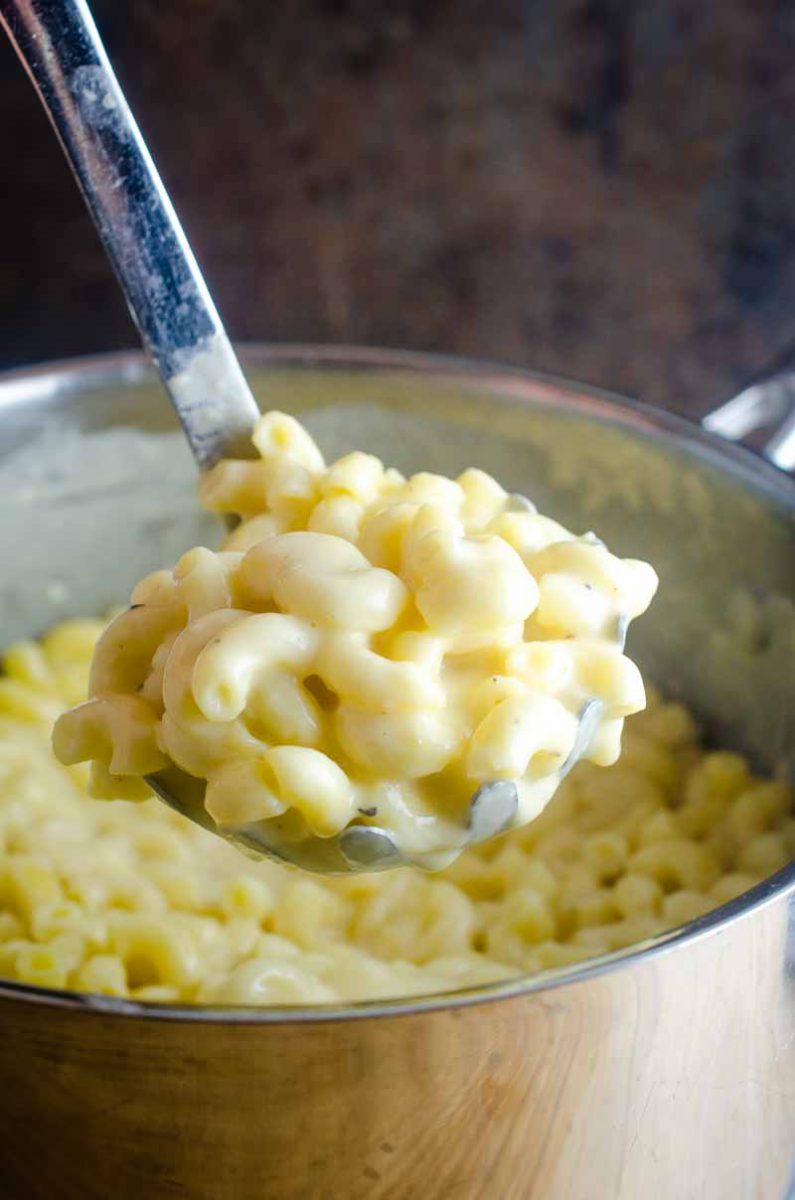 It really easy to make mac and cheese on the stovetop. You simply need to make an easy cheese sauce and mix in the noodles. It really is that easy.
How do you make a cheese sauce?
STEP #1: To make a cheese sauce, you melt butter, whisk in flour and allow it to cook for 1 minute. Cooking for at least a minute ensures your sauce won't have a chalky flour taste. 
STEP #2: Slowly whisk in milk. Continue cooking until the milk has had a chance to thicken.
STEP #3: Add in your cheese or cheeses of choice and cook until they melt. Make sure to continue whisking so the sauce is smooth. 
What cheeses make the best mac and cheese?
For this stovetop mac and cheese recipe, I use three different kinds of cheeses: Sharp cheddar, Havarti and Gruyere. 
DES' TIP: To make the smoothest cheesy sauce, you will want to use good melting cheeses. Good melting cheeses are cheeses with a higher moisture content. Harder cheeses, like Parmesan, won't melt as well.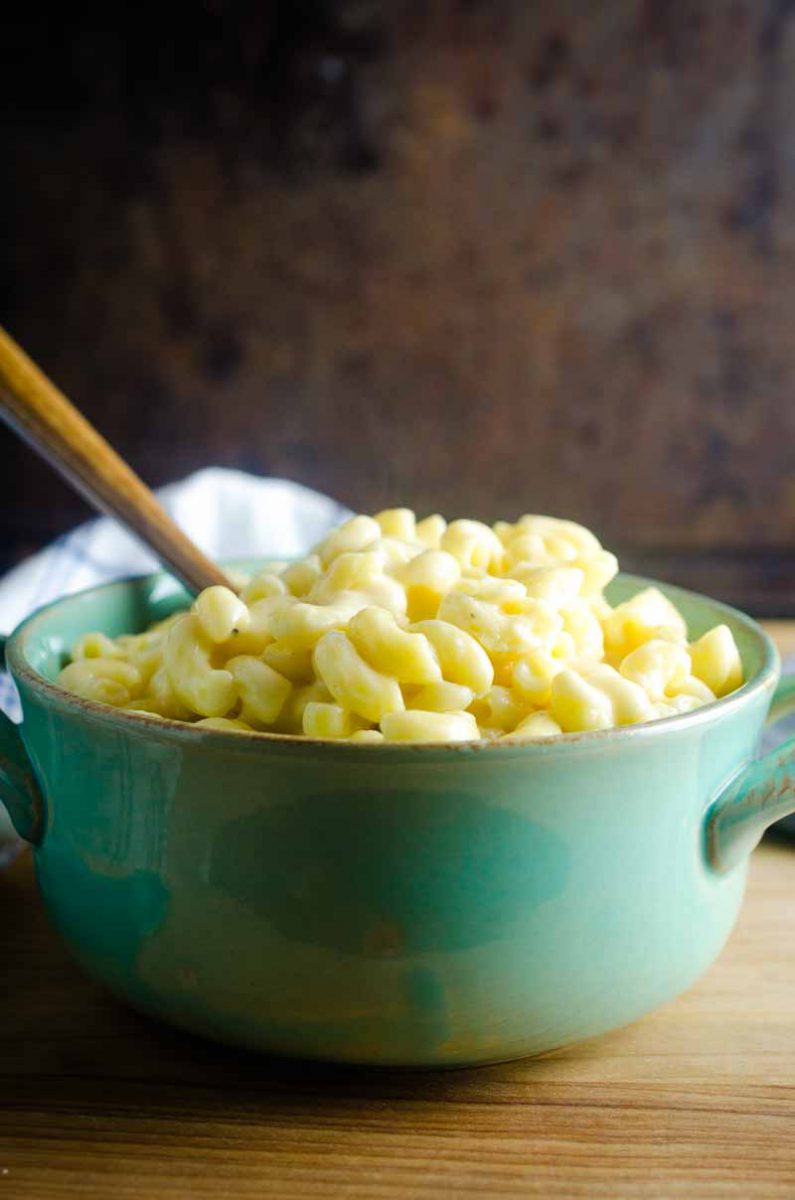 Other cheeses you could use when making stovetop mac and cheese include: medium cheddar, white cheddar, smoked gouda, fontina and mozzarella.
For more about the science behind melting cheese, check out this fine cooking article! A ton of interesting information. 
Basically, once you have the technique down, making a cheese sauce for your macaroni and cheese is open to endless variations!
This Stovetop Mac and Cheese could be a meal all in itself, but if you're looking for the best comfort food meal ever, serve it with some of my comfort food classics: 
Cheese lover? Check out some of my favorite cheesy recipes: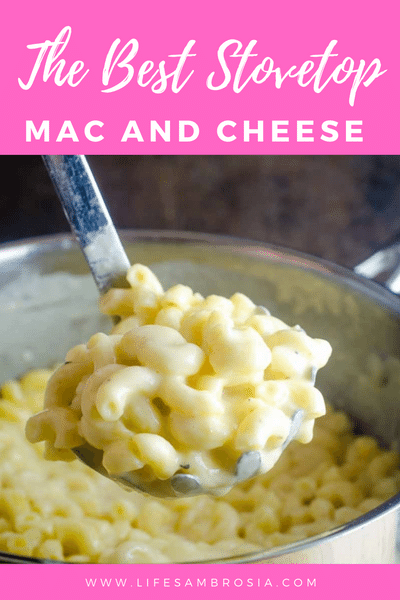 Post originally published in 2009. Updated recipe, nutrition facts, photos and video 2020.
The Best Stovetop Mac and Cheese Recipe
Ingredients:
2 cups dried elbow macaroni
2 tablespoons unsalted butter
2 tablespoons flour
1 1/2 cups milk
1 1/2 cups shredded medium cheddar cheese
3/4 cup shredded Gruyere cheese
3/4 cup shredded Havarti cheese
3/4 teaspoon seasoning salt
1/2 teaspoon fresh cracked black pepper
Instructions
1
Boil pasta according to package directions. Strain.

2
In the same pot that you boiled the pasta in, melt butter over medium heat. Once melted sprinkle with 2 tablespoons flour. Whisk until smooth, cook 1 minute.

3
Slowly whisk milk into flour mixture and bring to a simmer but do not boil. Once sauce has thickened, add in all three cheeses and stir until they melt. Stir in 1/2 teaspoon of seasoning salt and 1/4 teaspoon black pepper. Fold in cooked noodles. Cook 5 minutes. Let stand for 5 minutes. Stir and adjust seasoning if necessary.

Notes
Nutrition facts not guaranteed.
Nutrition information
Calories: 584 , Total Fat: 38.6 , Saturated Fat: 24.9 , Cholesterol: 115mg , Sodium: 956mg , Carbohydrates: 29.2g , Fiber: 1g , Sugar: 4.6g , Protein: 30.1g