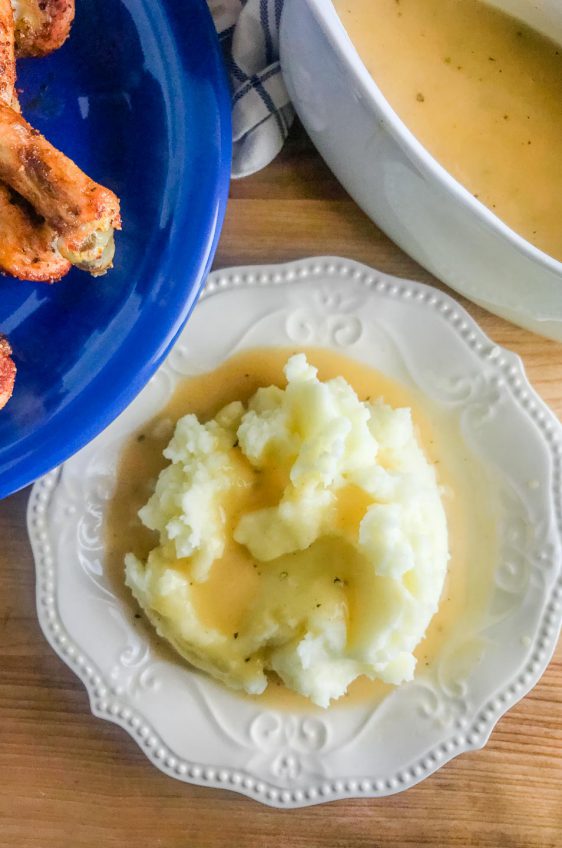 Gravy – A Foolproof Recipe
A homemade gravy recipe that is foolproof. It requires only 3 ingredients. Use this simple technique to make gravy with turkey, chicken, beef or even vegetable broth.
One of the things I hear a lot from people is "Help Des! I can never make a good gravy!" or "Do you have any tips? It's always lumpy!" I am writing this post to help you solve all of your common gravy problems.
With this quick and easy foolproof gravy recipe, everyone will be asking you for your tips!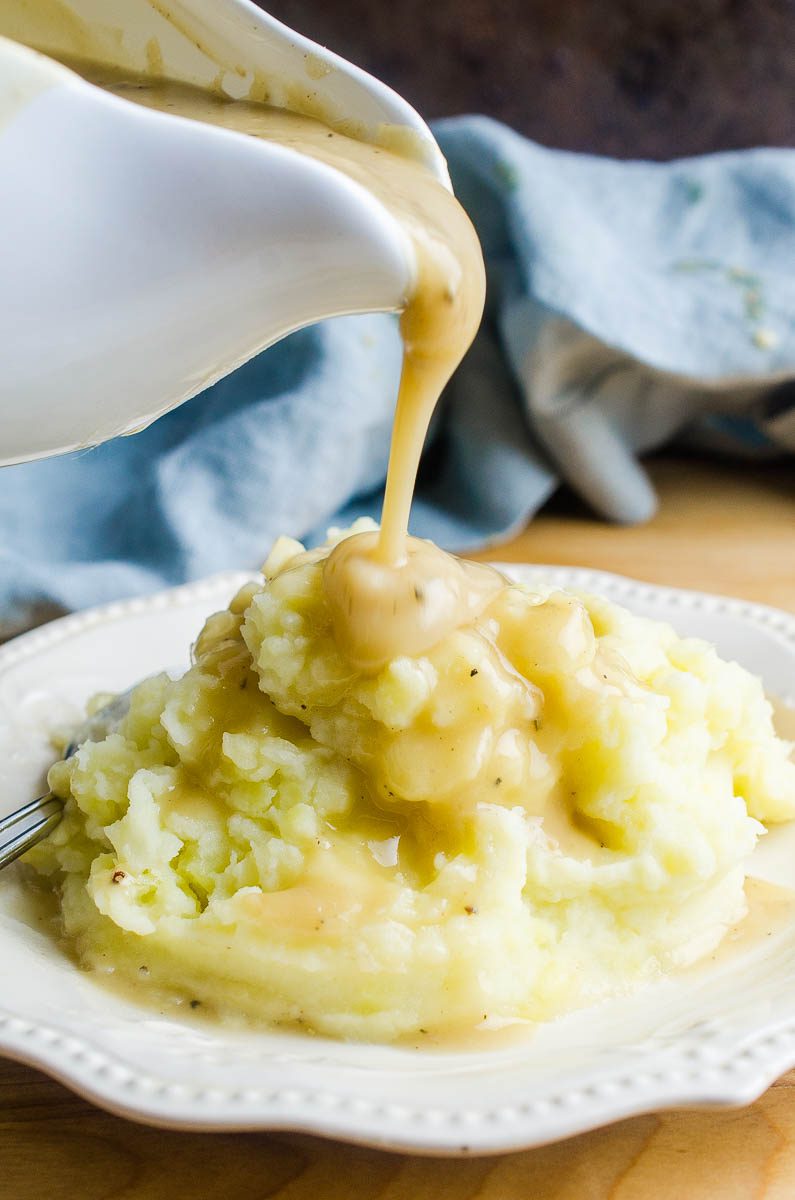 When it comes to making gravy there are a few different ways to approach it. You can make it with pan drippings, you can make it with broth and butter, you can make it creamy with milk and you can make it gluten free by using corn starch.
I've laid out each different technique in this complete guide to making foolproof gravy, so you can make gravy with whatever ingredients you have on hand.
First things first, here are some basics:
The perfect ratio for making gravy:
As I mentioned before, gravy is one of those things that I get a lot of questions about. The easiest way to remember for me is, if I want 1 cup, I will use 1 tablespoon of fat, 1 tablespoon of flour and 1 cup of liquid.
Fat in this case can be leftover fat from a roast, bacon drippings or even butter. Liquid can be pan drippings, beef stock, chicken stock, turkey stock or even vegetable stock.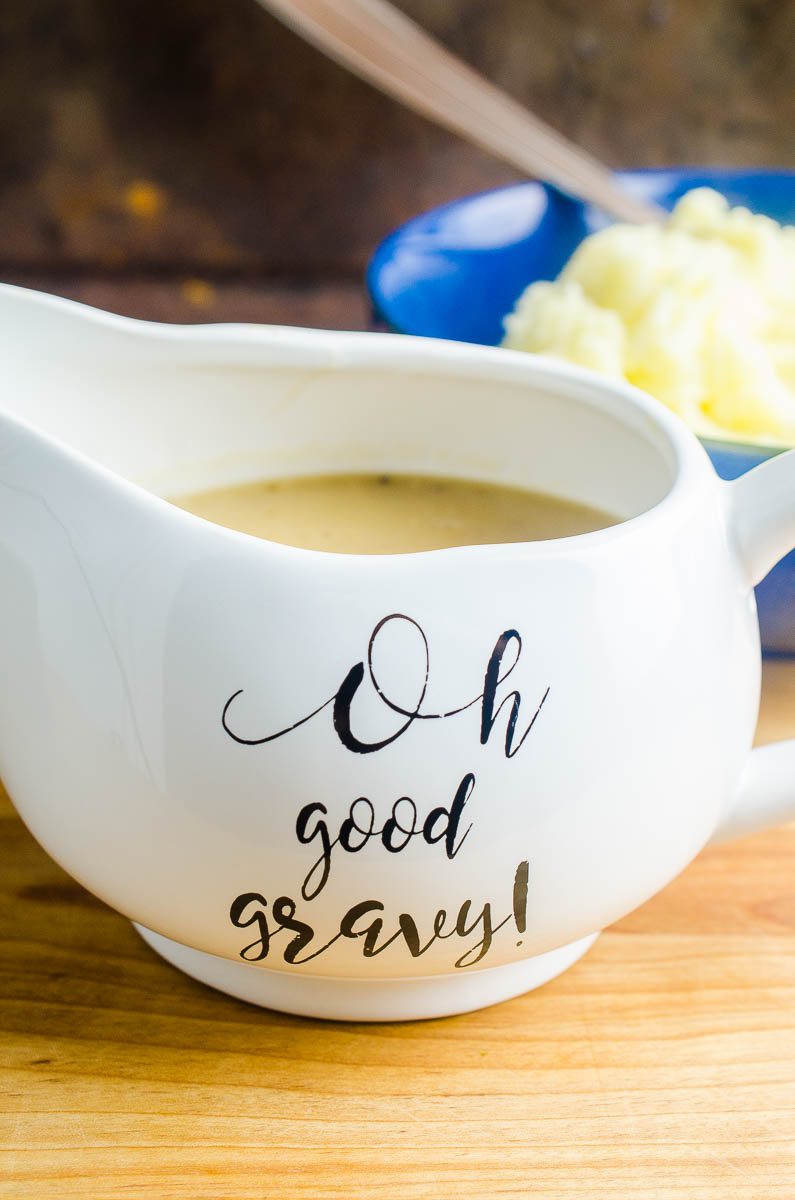 Most often, I want to make 2 cups of gravy so I simply double the ingredients. I will use 2 tablespoons fat, 2 tablespoons flour and 2 cups of liquid. If I want to make 3 cups, I will use 3 tablespoons fat, 3 tablespoons flour and 3 cups liquid and so on and so forth. It turns out for me every time and I can increase or decrease as I need to!
DES' PRO TIP: Gravy Ratio: 1 tablespoon flour + 1 tablespoon + 1 cup broth/stock/pan juices = 1 cup gravy. Can be easily doubled or even tripled!
How to make gravy with pan drippings:
Pan drippings and fond. The juice and little brown bits that are leftover in the bottom of the pan after you're done frying chicken, roasting turkey etc. It is where all of the flavor is.
To make gravy with pan drippings and fond, you simply need to remove all liquid and all but 2 tablespoons of fat. Next, whisk flour into the fat and allow to cook 1 minute until the flour starts to brown. Then slowly whisk in the broth (or left over pan juices) to ensure there are no clumps.
DES' PRO TIP: Slowly whisking the broth into the flour mixture will help prevent clumps from developing.
Reduce the heat and let it simmer until it thickens slightly. When done, it'll coat the back of a spoon. It will only take about 15 minutes and you are on your way to making delicious, creamy gravy fit for any Sunday dinner or holiday meal.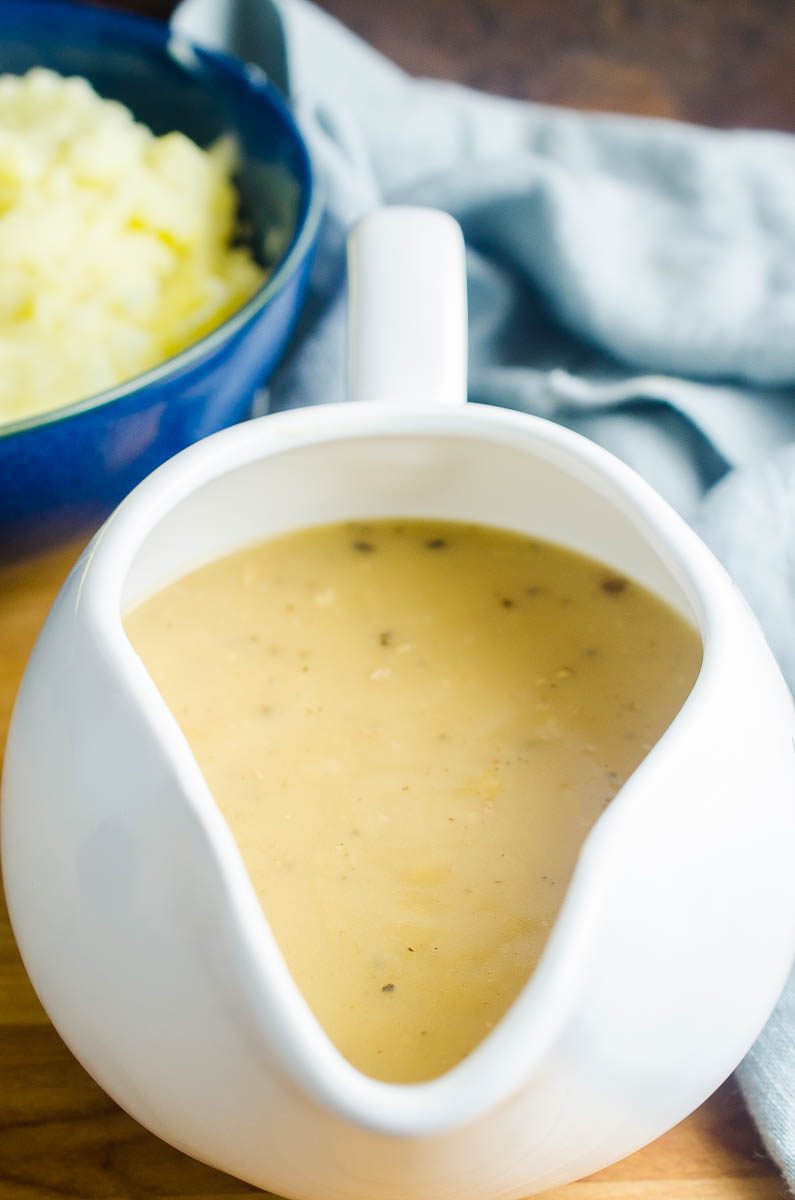 How to make gravy with flour, broth and milk:
When I originally posted this recipe in November of 2009, I used half broth and half milk. It makes a rich creamy gravy. Start by whisking the flour into fat (butter or grease from pan), slowly whisk in 1 cup of broth. Once the broth is warmed, temper the milk by stirring 1 tablespoon of broth into milk. Tempering will prevent the milk from curdling when you add it to the broth.
Once the milk has tempered, slowly whisk it into the pan. Cook 10 – 15 minutes or until thickened.
How do you make gravy without drippings:
Hands down, pan drippings will give you the most flavor without having to add too much seasoning. However, in a pinch, you could simply use butter and broth instead. Follow the same technique and ratio as you would if you were making the recipe with pan dripping. The only adjustment is you may need to add a bit more salt and pepper.
How do you make gravy without flour (Gluten Free Gravy):
You can substitute cornstarch for the flour. You will want to use half of the amount of cornstarch. This recipe calls for 2 tablespoons of flour, so you'll use 1 tablespoon of cornstarch.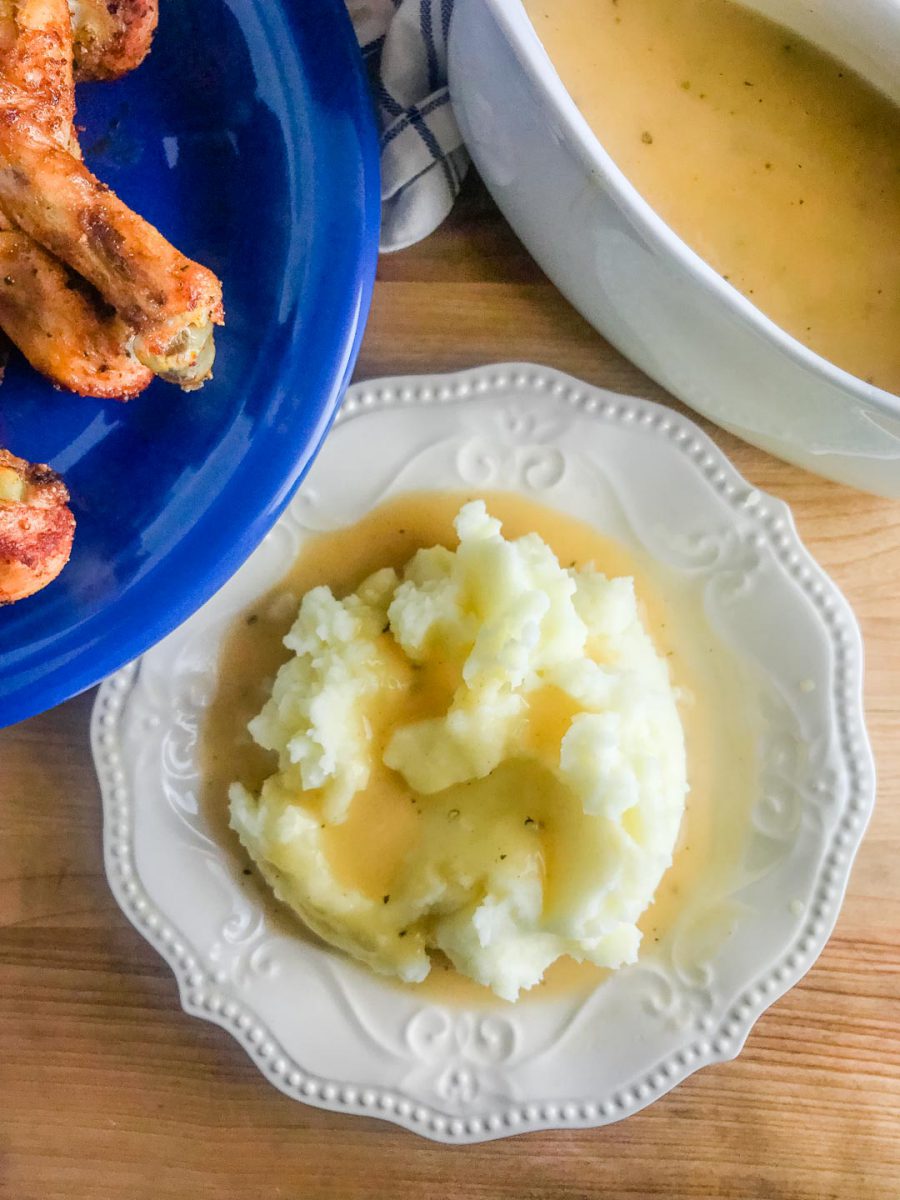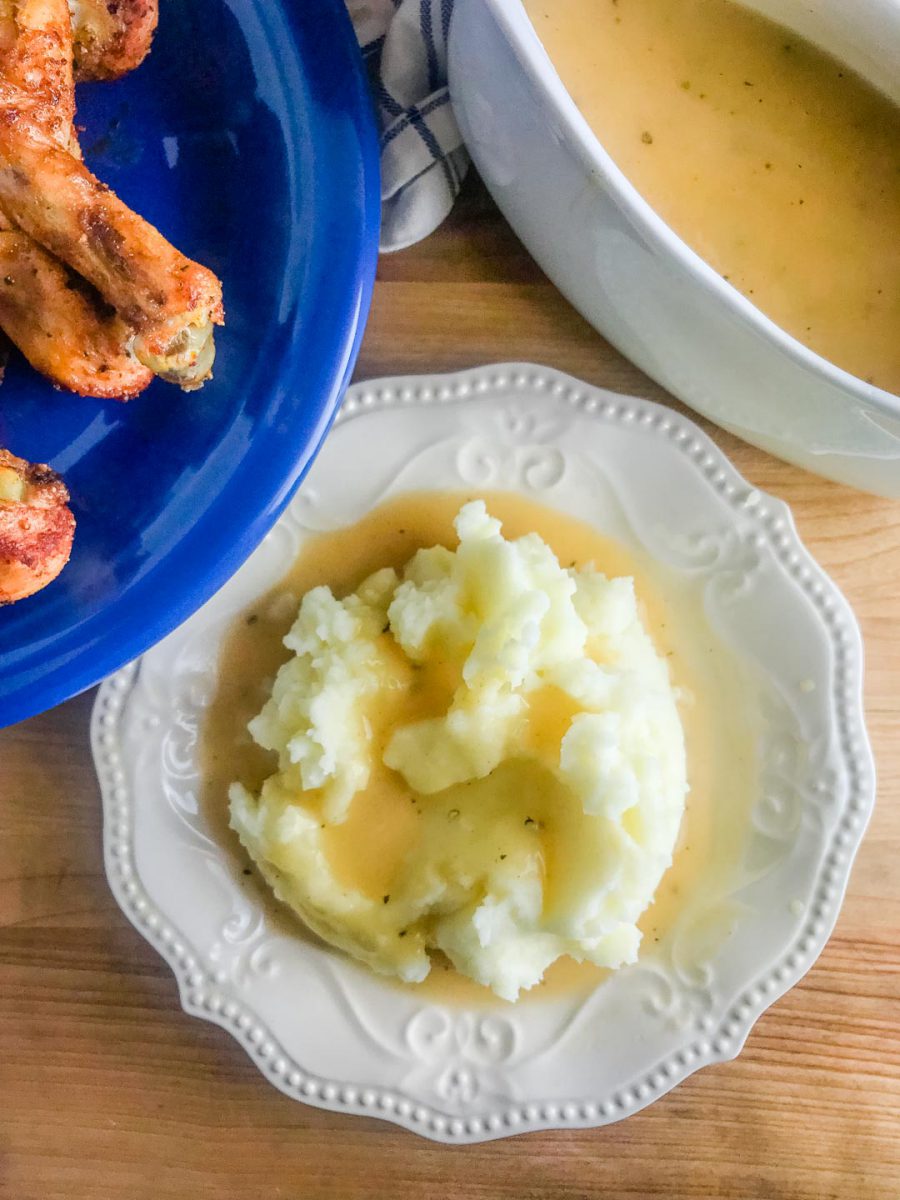 How to store leftovers:
You will want to store any leftover gravy in a covered container in the refrigerator. It will last approximately 3 days. To reheat, simply place in a pan. You may need to add additional broth to get desired consistency.
For more recipes to serve with gravy check out some of our favorites!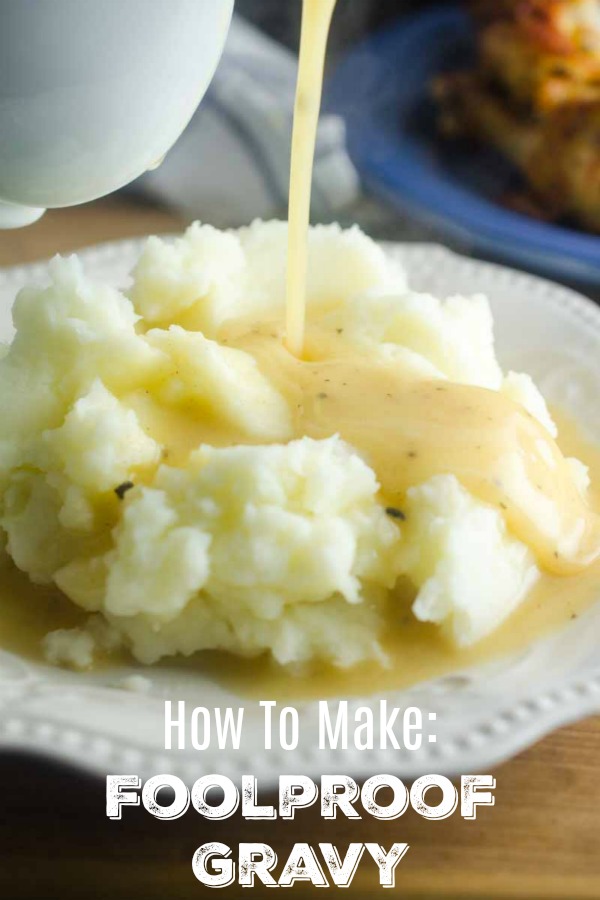 More Thanksgiving Favorites:
Note: This post was originally written in 2009. Updated with new photos, tips, recipe and video 2019.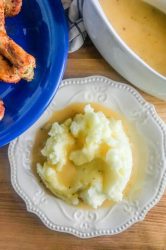 Gravy - A Foolproof Recipe
A classic gravy recipe that is foolproof. It requires only 3 ingredients. Use this technique to make gravy with turkey, chicken, beef or veggies!
Ingredients:
2

tablespoons

reserved fat from roast chicken

beef, or turkey (or butter)

2

tablespoons

all purpose flour

2

cups

chicken broth

turkey broth, beef broth or vegetable broth

fresh cracked pepper and kosher salt
Reserve the 2 tablespoons of fat in your roasting pan. Place roasting pan on the stove. Heat fat over medium heat. Sprinkle flour over the top and whisk until smooth, cook 1 -2 minutes. Be sure to scrape up any of the brown bits on the bottom of the pan.

Slowly whisk in chicken broth. Reduce heat and simmer for 10-15 minutes or until thickened, whisking occasionally. Gravy should coat the back of a spoon. Season to taste with salt and pepper.

Serve.
Nutrition facts not guaranteed! Enjoy!
Calories:
41
kcal
Carbohydrates:
3.5
g
Protein:
4.1
g
Fat:
0.9
g
Saturated Fat:
0.3
g
Cholesterol:
3
mg
Sodium:
424
mg
Fiber:
0.1
g
Sugar:
0.4
g
Keywords:
basic gravy, how to make gravy, pan gravy, thanksgiving dinner, thanksgiving side dish