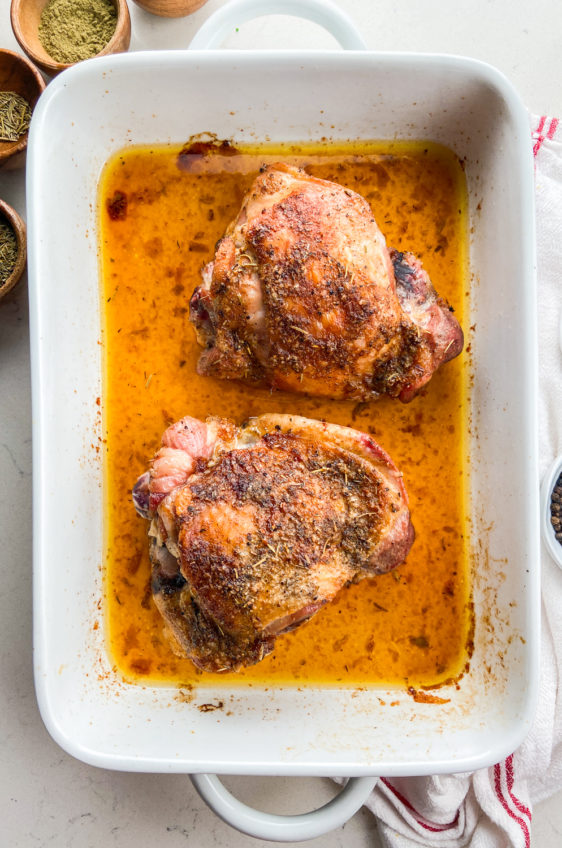 Roasted Turkey Thighs
Roasted turkey thighs are the perfect Thanksgiving dinner solution when you have a small family to feed. They're easy to prepare, juicy, and delicious!
Around the holidays few things say holiday dinner like a wonderfully juicy, perfectly roasted turkey. For many people this means a big 10 or even 20 pound bird. However for those that are having a smaller gathering. Or for those, like me, who really prefer the dark meat, these roasted turkey thighs are the perfect option.  The meat is succulent and flavorful, everything I look for in my Thanksgiving turkey.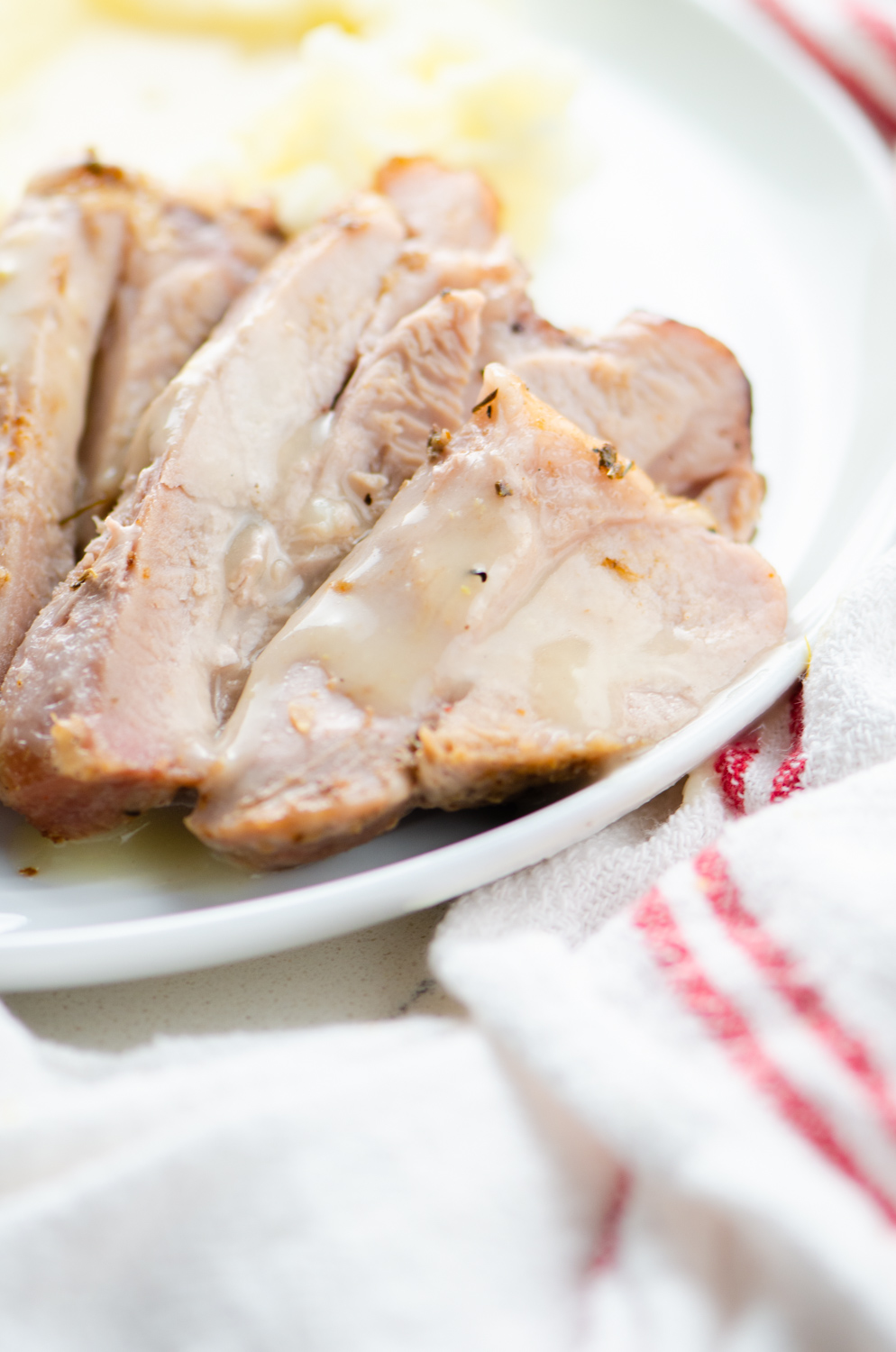 These roasted turkey thighs were my first experimental Thanksgiving recipe way back when.  Before I even made a whole turkey.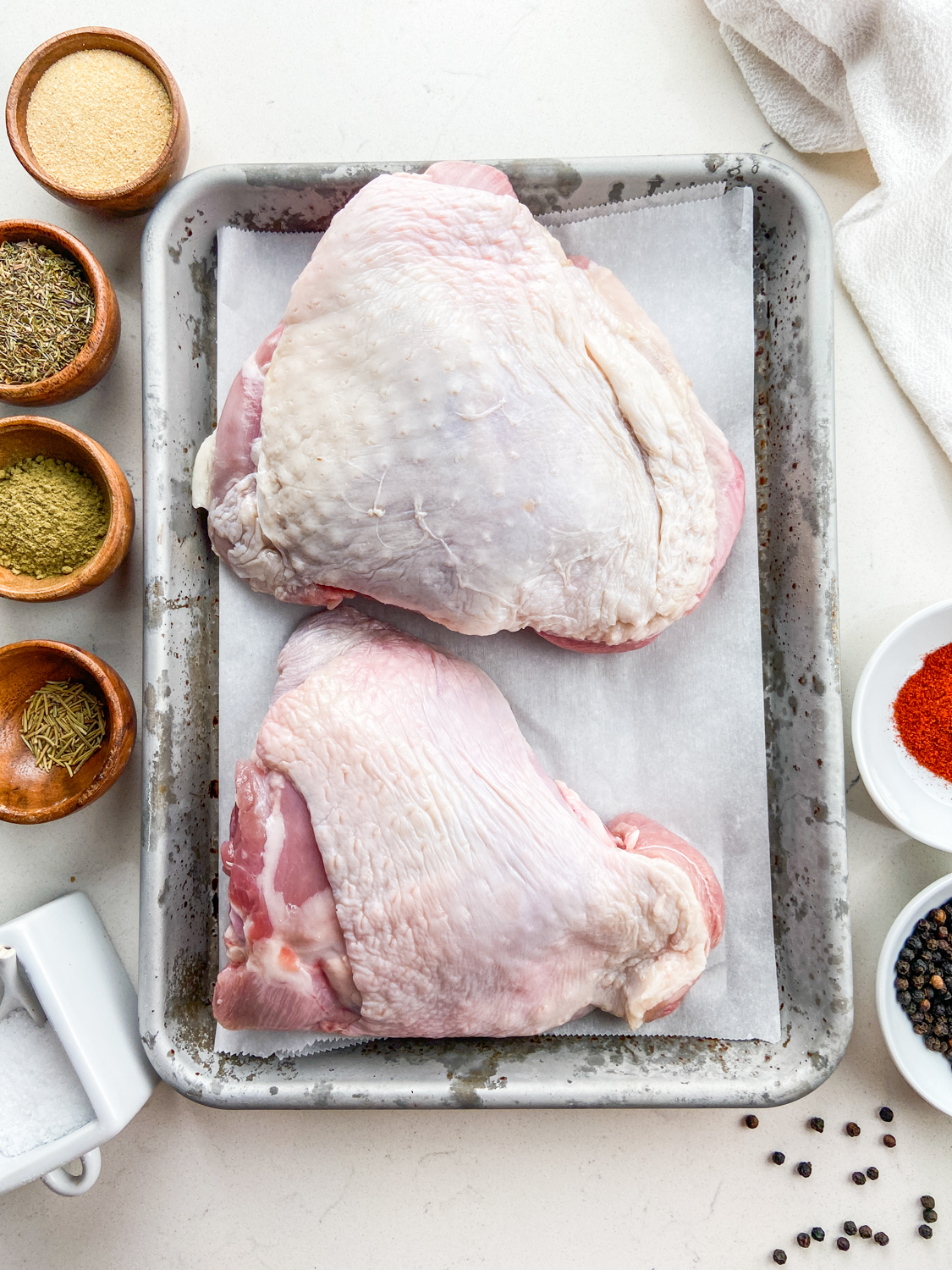 I found them at my local grocery store, near the ground turkey and turkey cutlets. Once I got them home I simply brushed them with melted butter, rubbed them with a few seasonings and popped them in the oven. Soon after, I was salivating at the wonderful smell of roasted turkey.
What ingredients do you need?
TURKEY THIGHS: Bone-in skin on turkey thighs. 
BUTTER: Unsalted and melted 
DRIED THYME/ROSEMARY/SAGE: These three together are the quintessential Thanksgiving blend. 
GARLIC POWDER or GRANULATED GARLIC: either works. If all you have is garlic salt, omit the additional salt in the recipe to avoid making it too salty. 
PAPRIKA: Adds a touch of smoky flavor but also color. 
SALT/PEPPER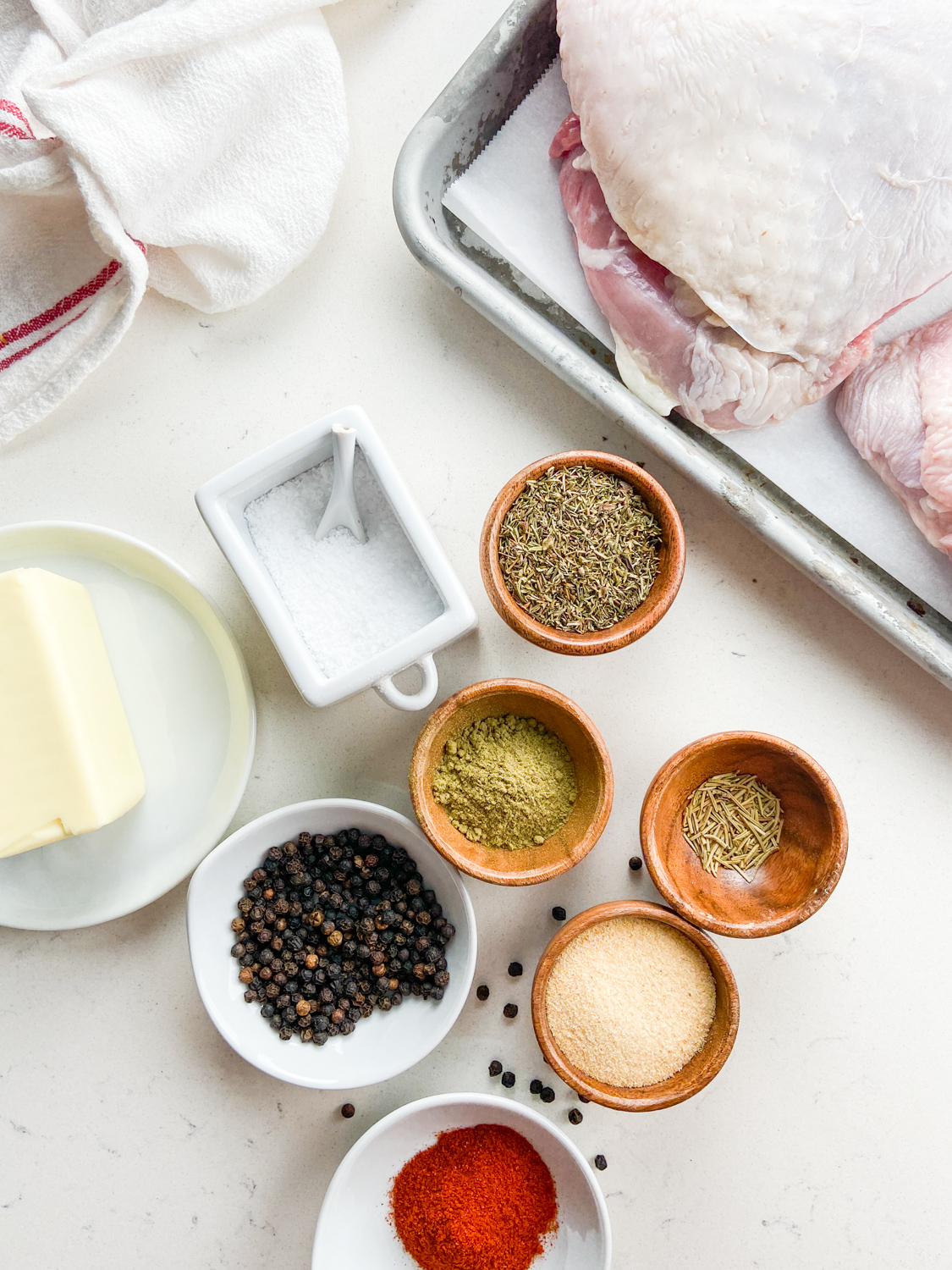 How do you make Roasted Turkey Thighs:  
It could really not be easier! Simply brush the turkey thighs with melted butter, sprinkle with the seasonings and roast.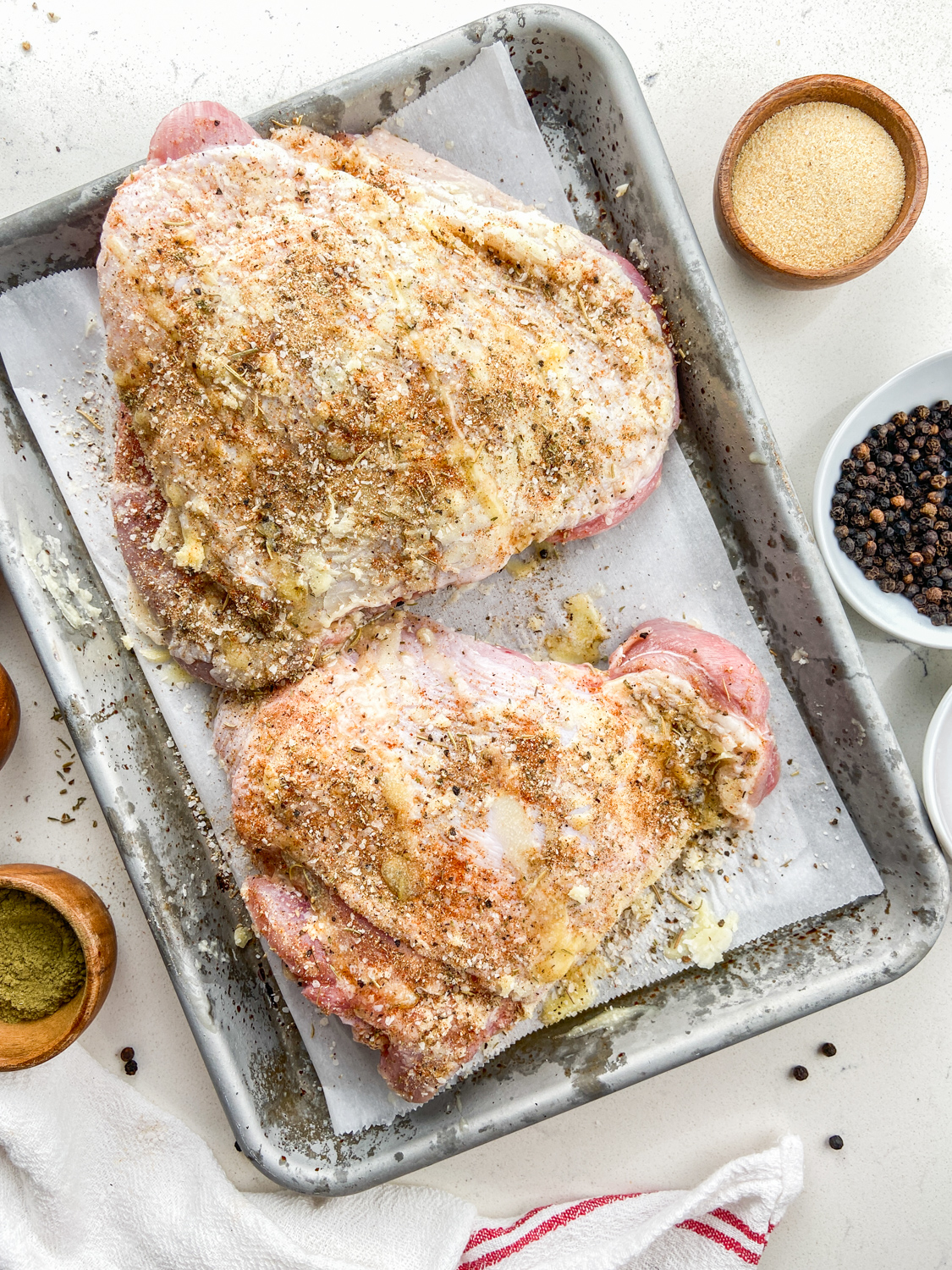 I like to start roasting the turkey at 400 degrees before reducing the oven temperature to 325. This helps the skin crisp up nicely while cooking.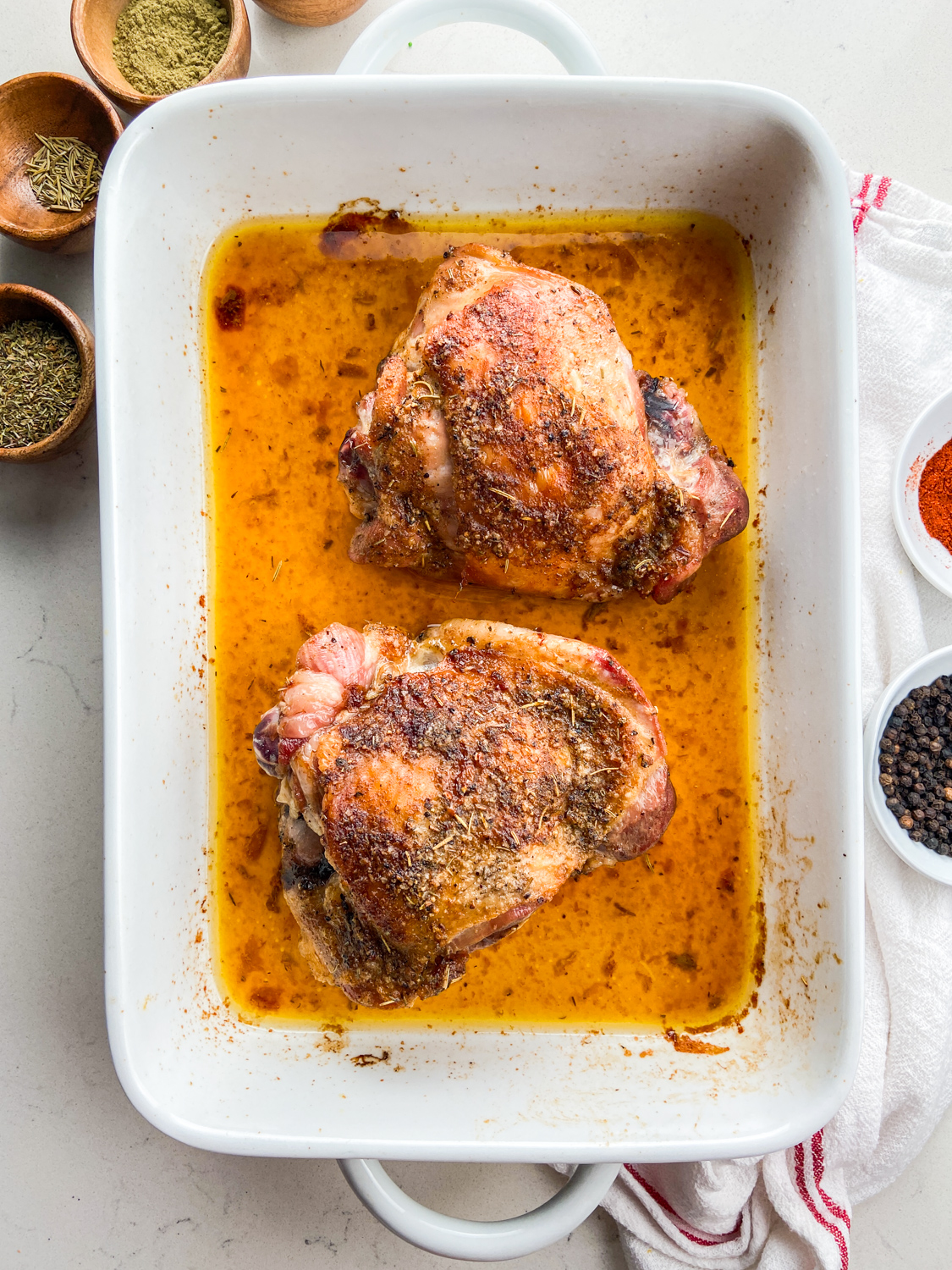 When it comes to what to serve along side roasted turkey thighs,  make sure that you've got all of the classics including Mashed potatoes, stuffing, cranberry sauce and of course, my foolproof gravy recipe.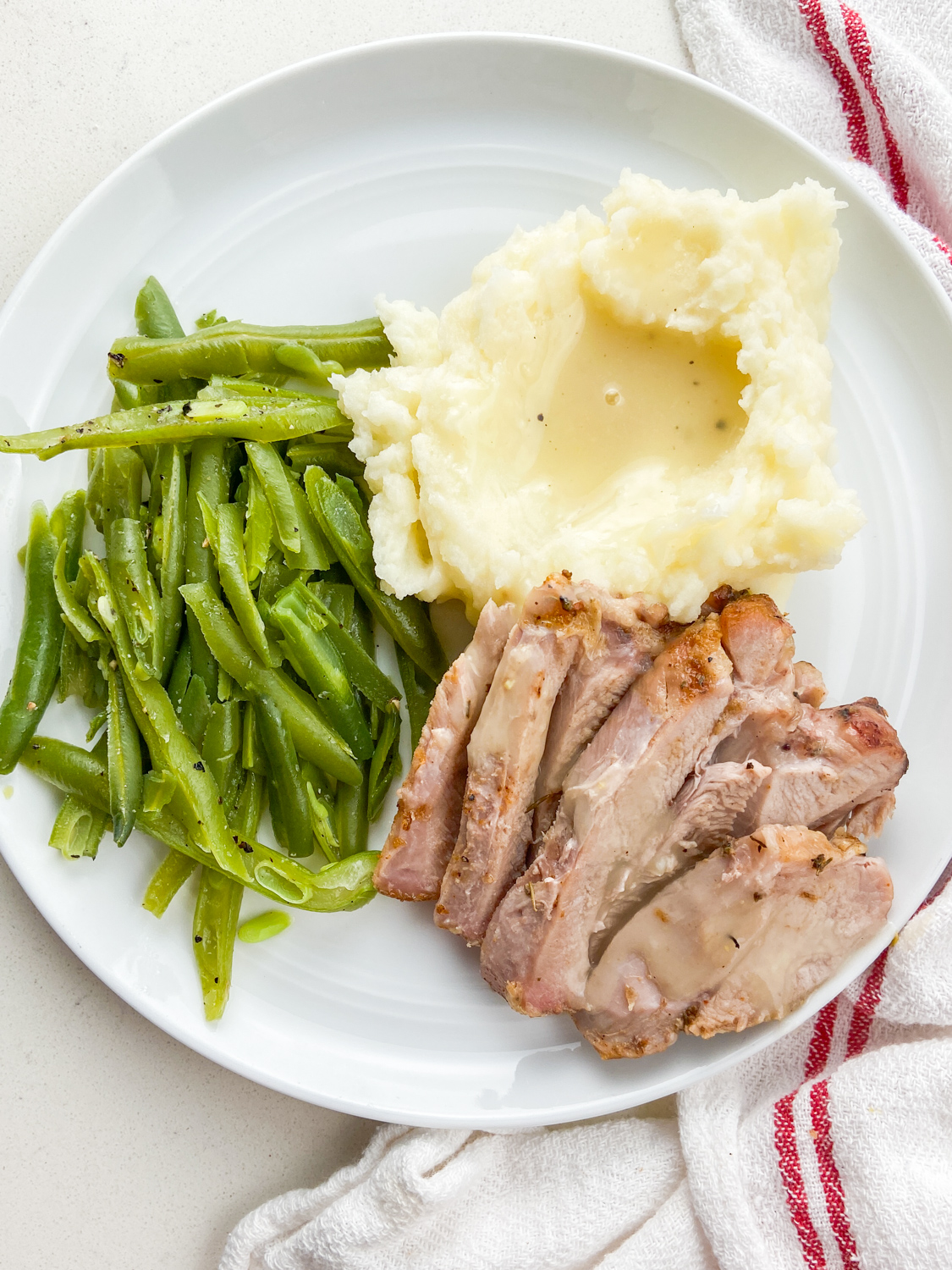 I hope you have an opportunity to make roasted turkey thighs, too!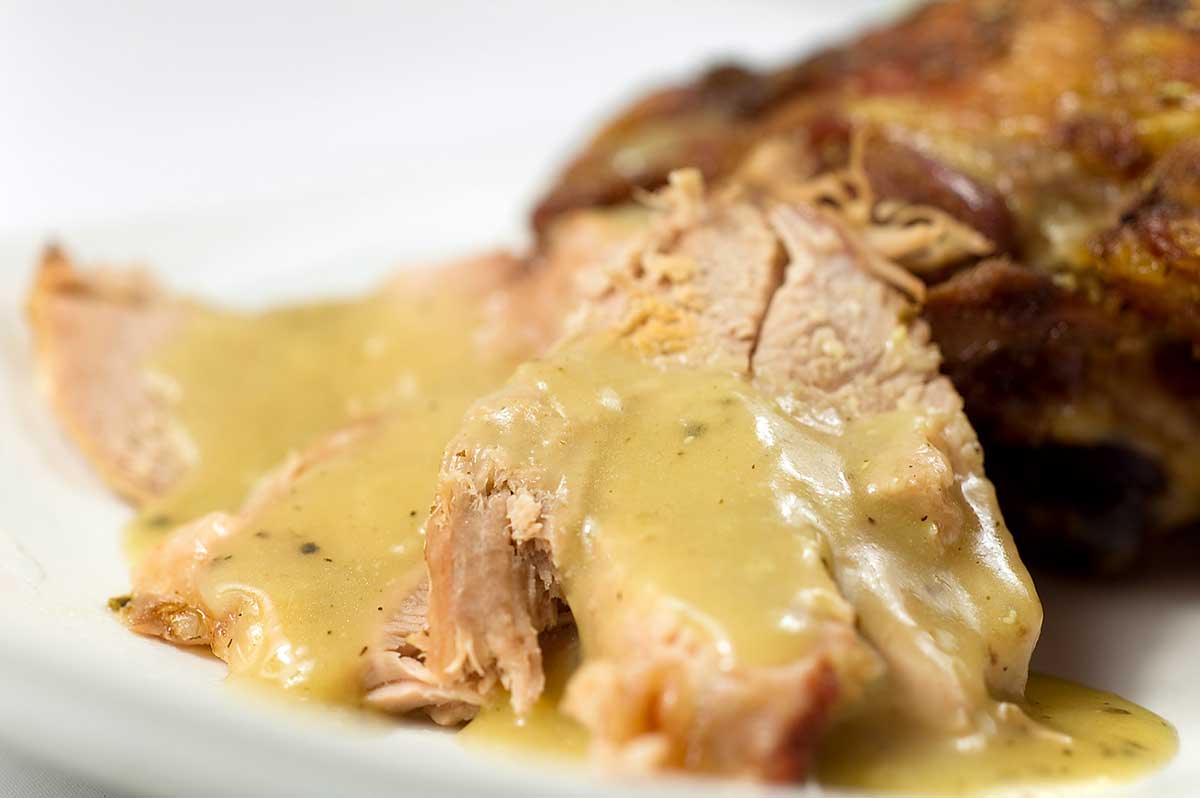 Here are more delicious turkey recipes to try:
Turkey Apple Butter Grilled Cheese
Note: This post was originally posted in 2009. It was updated with new photos, recipe notes, modified cooking time and nutrition information in 2021.
Roasted Turkey Thighs Recipe
Ingredients:
3 pounds turkey thighs (about 2 thighs)
3 tablespoons unsalted butter, melted
1 teaspoon kosher salt
1/2 teaspoon garlic powder
1/2 teaspoon ground black pepper
1/4 teaspoon dried rosemary
1/4 teaspoon dried sage
1/4 teaspoon dried thyme
1/4 teaspoon paprika
Instructions
1
Preheat oven to 400 degrees.

2
Using a pastry brush, brush both sides of the turkey thighs with melted butter.

3
Mix together salt, garlic powder, pepper, rosemary, sage, thyme and paprika. Rub seasoning mixture over both sides of the thighs.

4
Drizzle with any remaining butter. Transfer to a roasting pan. Cook for 20 minutes at 400 degrees. Reduce heat to 325 and continue to cook for 1 - 1 1/2 hours or until a meat thermometer inserted reaches 175 degrees. Spoon pan juices over the top every 30 minutes. Note: If you notice the skin getting too crispy, loosely cover the thighs with aluminum foil.

5
Remove turkey thighs from the oven, allow to rest for 10 minutes. Carve and serve.
Notes
After feedback and more testing, this recipe was modified to reduce the cooking from from 2 hours to 1 - 1 1/2.

Be sure to let the turkey thighs rest before slicing. This helps them stay juicier.

Nutrition facts for estimation purposes only.
Nutrition information
Calories: 214 , Total Fat: 17.7g , Saturated Fat: 5.5g , Cholesterol: 23mg , Sodium: 643mg , Carbohydrates: 0.6g , Fiber: 0.2g , Sugar: 0.1g , Protein: 13.7g