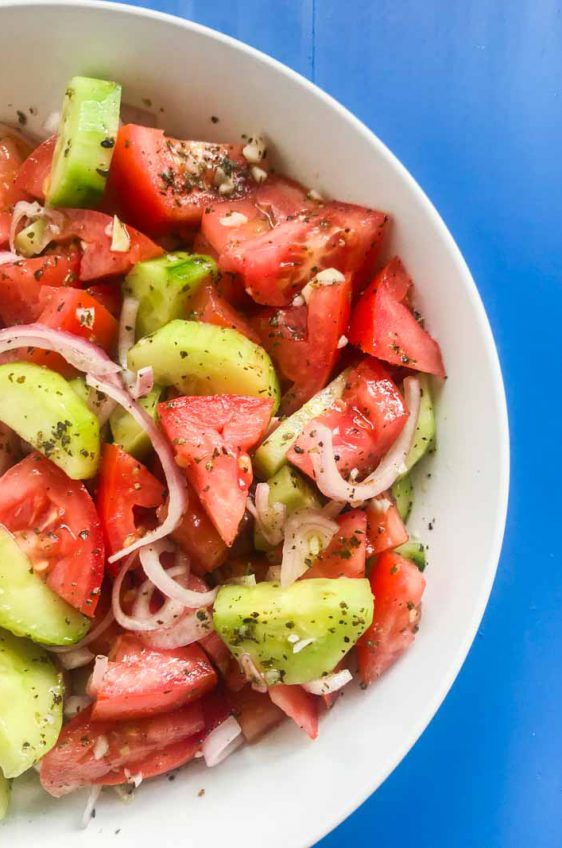 Cucumber Tomato Onion Salad
Cucumber Tomato Salad is my absolute favorite summer salad. Fresh cucumbers, summer tomatoes, shallots and a quick vinaigrette make this perfect for all of your summer cookouts.
Every summer growing up our family would host lots of BBQs and summer cookouts. Of course hot dogs, burgers, grilled chicken and spicy pepper steak were staples. But one of the things that I looked forward to the most was my mom's Cucumber Tomato Onion Salad.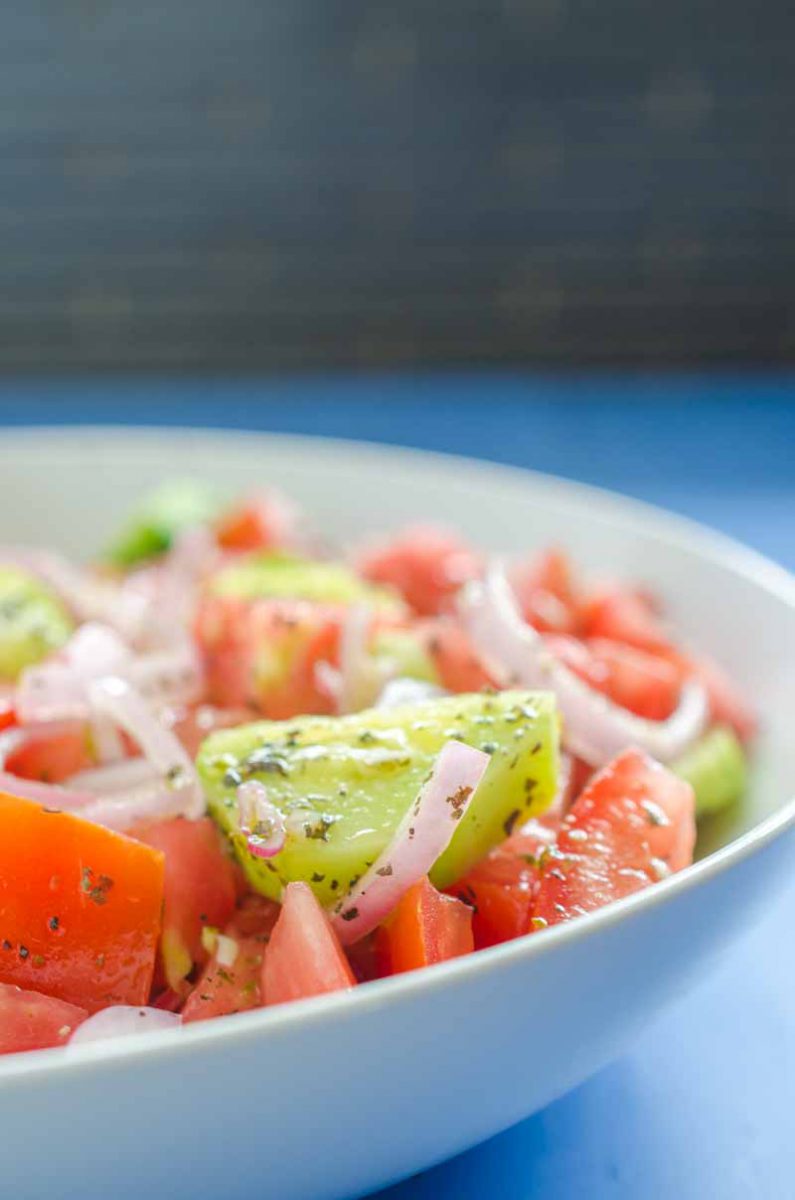 The way that mom would traditionally make this salad was to dice tomatoes, cucumbers and red onions. Then she would pour Italian dressing over the top and let the the whole salad marinate for a few hours in the refrigerator.
Over the years I have made this cucumber tomato salad my own by making a few small changes.
INGREDIENTS:
This recipe is essentially split in two: The salad ingredients and the vinaigrette.
CUCUMBERS: You can use common cucumbers or english cucumbers. If you use English cucumbers feel free to leave the peel on.
TOMATOES: Vine ripened tomatoes are my favorite in this because they have the best flavor.
SHALLOTS: I like to use shallots in this recipe because they are a bit more mild than the traditional red onion. If you'd like even more mild onion flavor, use a white onion.
To make the vinaigrette you'll need:
EXTRA VIRGIN OLIVE OIL: I like to use extra virgin olive oil in vinaigrettes because it is more flavorful than other oils.
RED WINE VINEGAR: It is sharp and tangy. It also has a bit more flavor than white vinegars.
WATER
OREGANO AND BASIL: I use dried in vinaigrettes because they seem to hold up a bit better.
SALT AND PEPPER
GARLIC: Since it's fresh be sure to chop it small so that you don't get whole bites of raw garlic in your salad.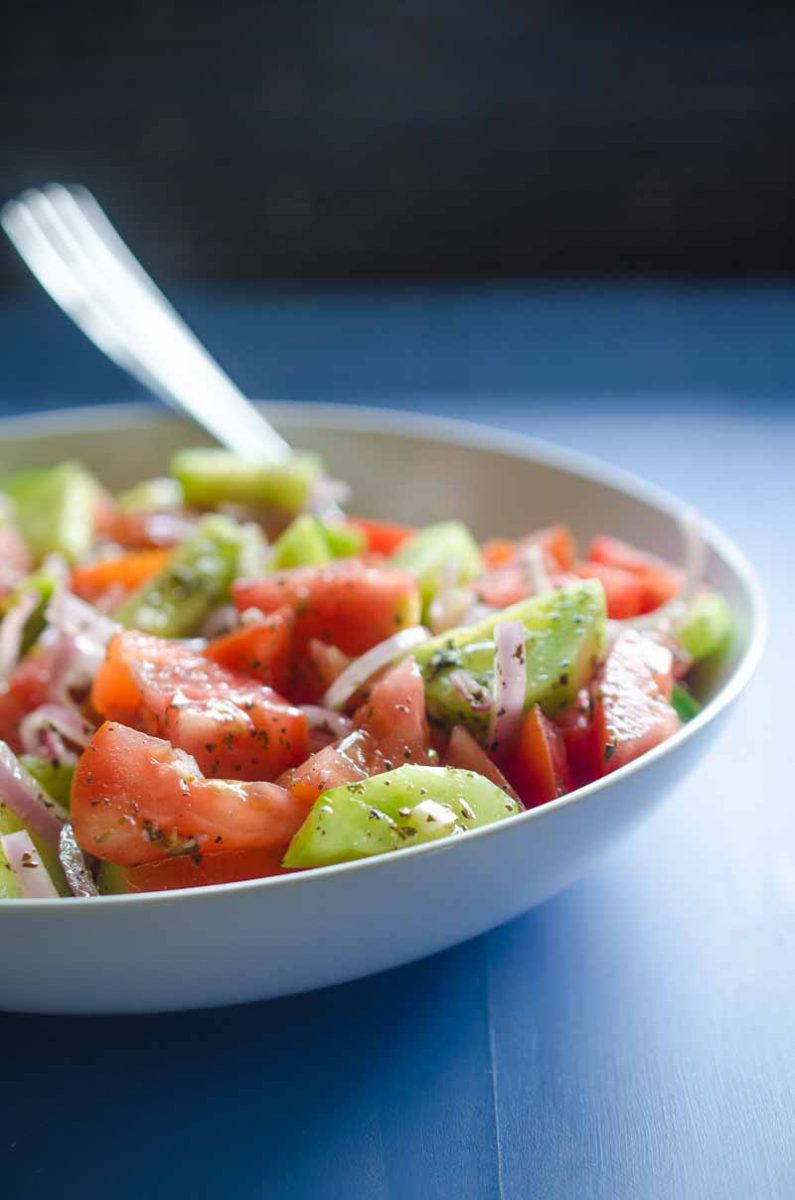 How to make cucumber tomato salad:
1. The dressing. My mom would use a bottle of our favorite Italian dressing and it was always good. I don't usually have it on hand but it is really easy to make your own vinaigrette. All you need is red wine vinegar, extra virgin olive oil, water, garlic and a few seasonings.
2. The cucumber. I prefer english cucumbers. They are the long cucumbers that you find usually wrapped in plastic at the grocery store. They are seedless, often less bitter and they don't need to be peeled. Although you can peel them if you like. With that said, a regular cucumber would be just fine.
3. The tomatoes. Obviously, fresh summer tomatoes shine in this recipe. You'll want tomatoes that are large and firm.
4. The onion. My mom would make this salad using diced red onions. And while I loved the salad, I do remember leaving the onions on the plate more often than not. For this cucumber salad recipe, I use thinly sliced shallots instead. You will still get a subtle oniony flavor but they aren't overpowering.
5. Waiting. That's the hardest part. This salad is best when it's allowed to marinate for at least a few hours in the fridge, even better the next day. I usually let it set at room temperature an hour or so before serving too which makes it even better.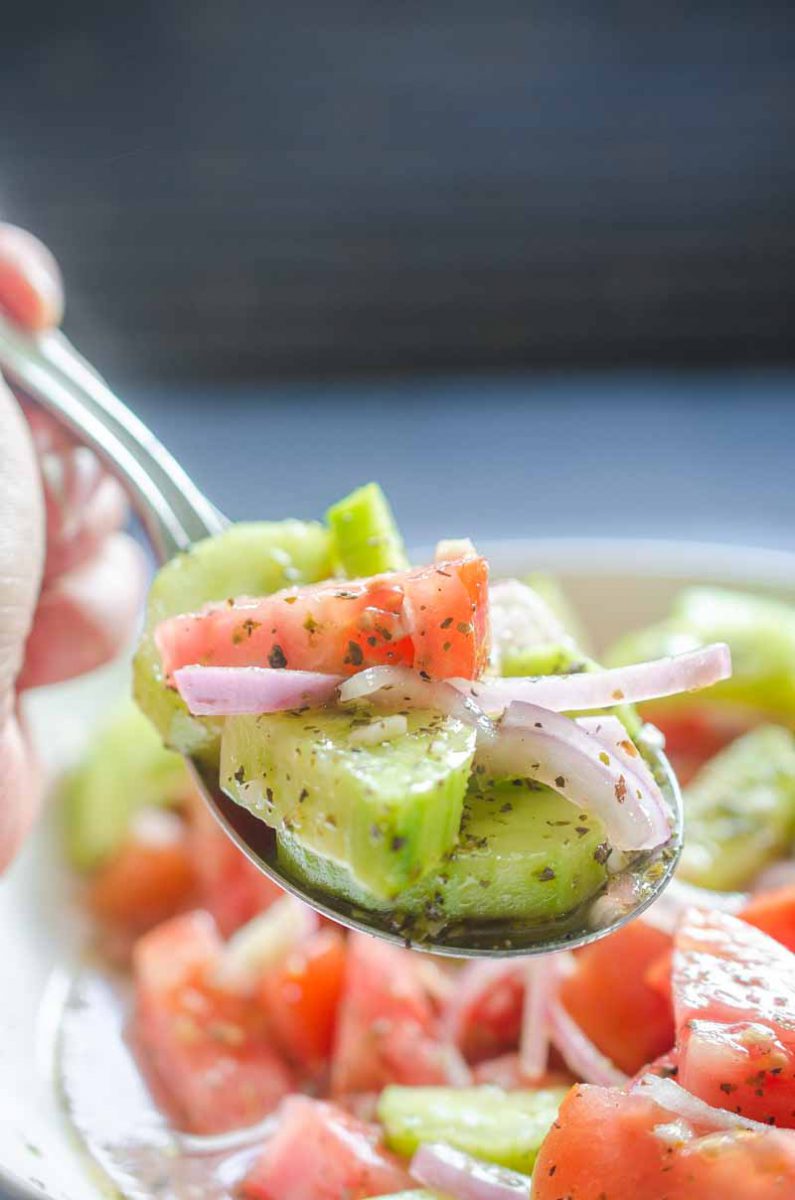 This Easy Cucumber Tomato Salad is right at home at any summer bbq. It's great when served with a grilled flat iron steak or even all on it's own with some pita for a light lunch.
Looking for more summer salad recipes? Try these!
Broccoli Salad is a classic! Loaded with fresh broccoli, cranberries, bacon and sunflower seeds in a creamy dressing.
Celery isn't just for soups and a dip for ranch, this crisp and cool Celery Salad is full of flavor!
Green beans in a salad? YES! You will love this cold green bean salad bursting with summer flavor!
Note: This post was originally written in 2018. It was updated in 2022.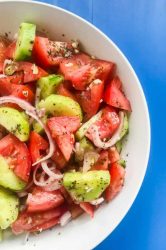 Cucumber Tomato Salad
This Easy Cucumber Tomato Salad is right at home at summer BBQs. Cucumbers, tomatoes, shallots & a quick vinaigrette is all you need for this summer salad.
Cucumber Tomato Salad Ingredients:
2

large firm tomatoes such as beefsteak

diced

1

English cucumber halved lengthwise and sliced

1

small shallot sliced thin
Whisk together all ingredients for dressing.

Combine tomatoes, cucumbers and shallots together in a bowl. Pour dressing over the top. Mix well. Cover and refrigerate for at least 4 hours.

Season to taste with salt and pepper. Serve.
Calories:
135
kcal
Carbohydrates:
5.5
g
Protein:
1.3
g
Fat:
12.8
g
Saturated Fat:
1.8
g
Sodium:
444
mg
Fiber:
1.6
g
Sugar:
2.7
g
Keywords:
4th of july, bbq, cucumber tomato salad, labor day, memorial day, salad, side dish