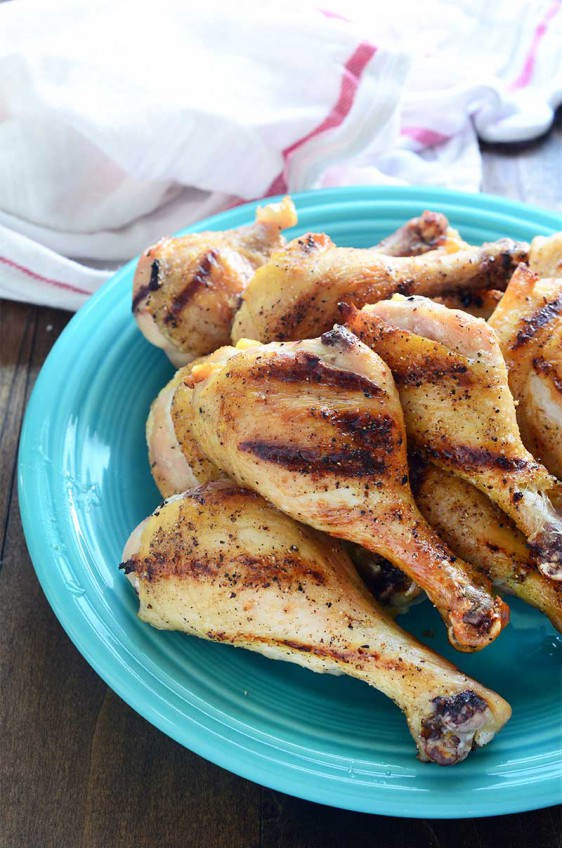 Garlic Grilled Chicken
Garlic grilled chicken is the perfect summer grilling recipe!
Just in time for all of your 4th of July party planning, I'm sharing this Garlic Grilled Chicken recipe. It's perfect for those of you planning a BBQ but have folks that don't eat hot dogs or hamburgers. I made it for my little family last week and each of us gobbled it up. I think it will definitely be our go to grilled chicken recipe this summer!
Like all of the chicken that I make lately, this Garlic Grilled Chicken is brined first. I've said it before and I'm going to say it again: ALWAYS. BRINE. YOUR. CHICKEN.
I guess I shouldn't say always. I mean if you're making a chicken stir fry, I wouldn't say you have to brine your chicken. But if you are frying your chicken or in this case grilling your chicken, brining is so the way to go. Sure, it does take a little bit of planning, as you have to let the chicken brine for at least 2 hours, but it is totally worth it. Trust me.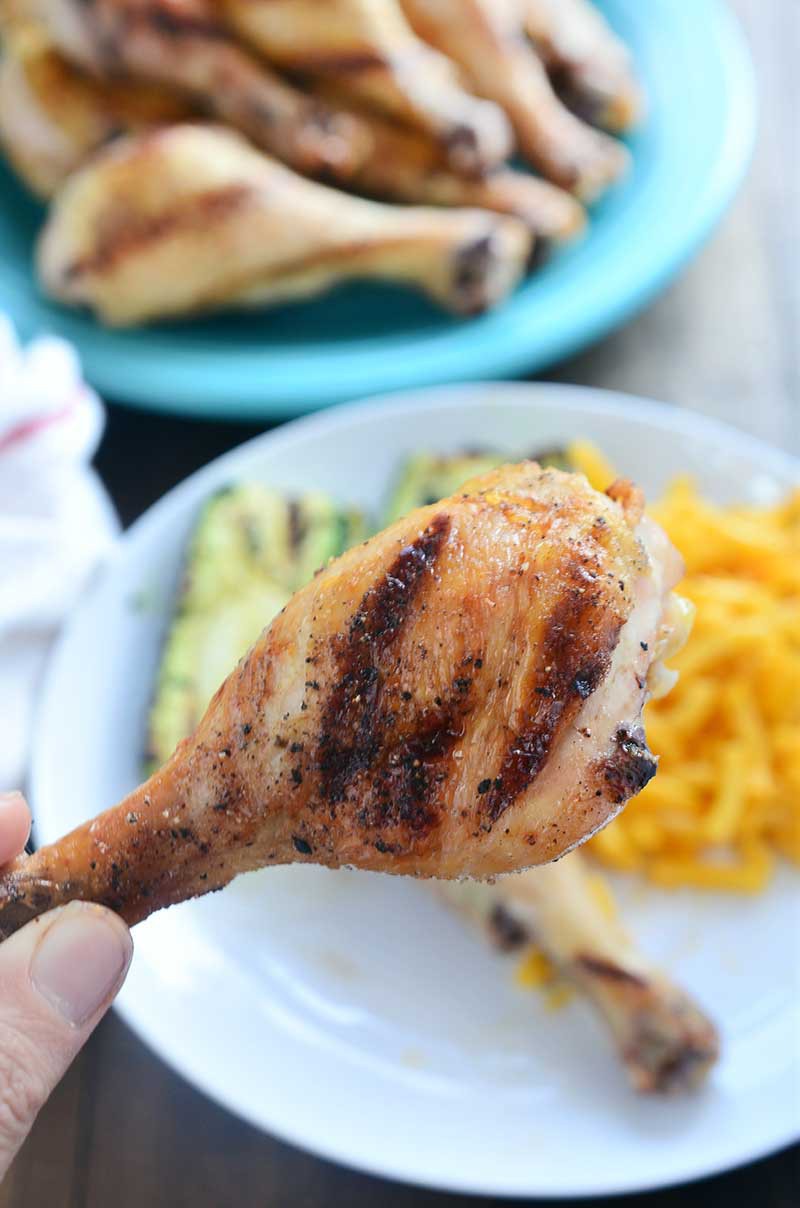 I only used chicken drumsticks when I made this Garlic Grilled Chicken, because drumsticks are always a favorite around here and they are super juicy and succulent when brined. With that said, you could use bone in chicken thighs or breasts. You'll just need to adjust the cooking time slightly, especially for the chicken breasts, they will need to cook longer.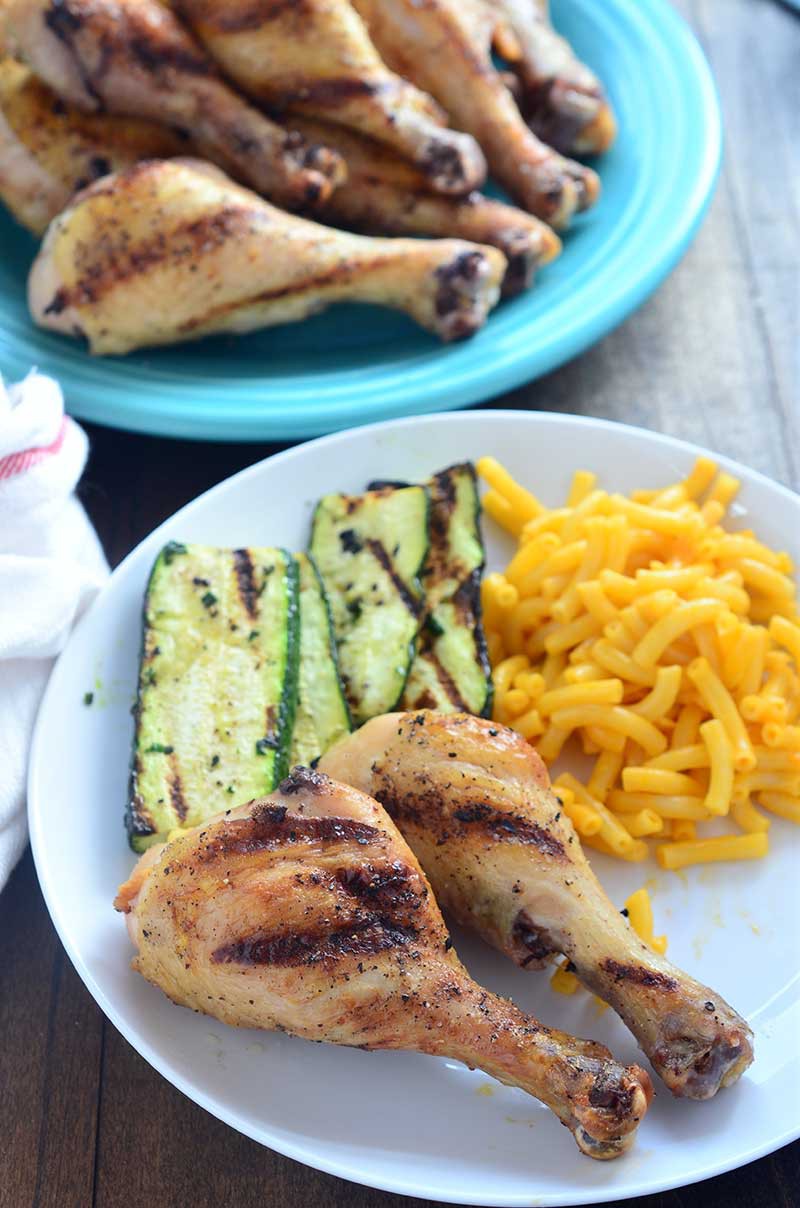 This Garlic Grilled Chicken makes the perfect easy summer dinner. I just serve it alongside some grilled zucchini that I tossed on the grill next to the chicken and a box of macaroni and cheese (Because my boys love the stuff and it's too hot to make homemade mac n' cheese). The boys gobbled it up and asked for more. I enjoyed the leftovers for lunch the next day too! I'll take that as a good sign :)

Garlic Grilled Chicken Recipe
Ingredients:
2 quarts water
1/2 cup kosher salt plus 3/4 teaspoons divided
1/4 cup brown sugar
1 lemon, cut in half
10 cloves garlic peeled
1 tablespoon plus 1 teaspoon granulated garlic
1 tablespoon whole black peppercorns
1/4 cup avocado (or canola) oil
1 teaspoon coarse ground black pepper
8 - 10 chicken drumsticks
Instructions
1
Combine 1 quart water, 1/2 cup kosher salt and brown sugar together in a pot. Heat over medium heat just until the sugar and salt dissolve. Pour in remaining quart of cold water. Add in lemon, garlic cloves, 1 tablespoon granulated garlic and whole peppercorns. Allow to cool to room temperature.

2
Place chicken in a one gallon resealable plastic bag. Place bag inside a large bowl.

3
Pour brine over the top of chicken, seal and refrigerate for at least 2 hours but not more than 4.

4
Prepare grill for indirect heat and heat to 425 degrees.

5
Rinse and pat dry the chicken.

6
Combine avocado oil, remaining salt, granulated garlic and black pepper. Use a pastry brush and brush all over chicken.

7
Cook chicken skin side down, for 5 minutes. Reduce heat down to 350. Continue cooking chicken for 10 minutes or until it easily releases from the grill. Flip and continue cooking for another 10 - 15 minutes or until a meat thermometer inserted reads 165 degrees and the juices run clear. Serve.