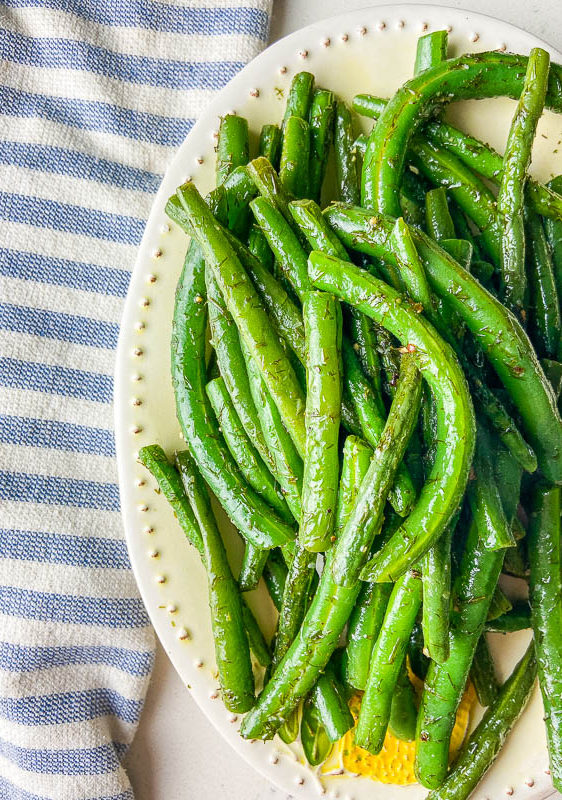 Dill Green Beans
Tender green beans tossed with melted butter and dill. This quick side dish is easy enough for weeknights and perfect for holidays too!
Whether you're planning a Sunday family dinner, looking for a quick vegetable side dish to add to a weeknight dinner or planning your big holiday meal, green beans are a must!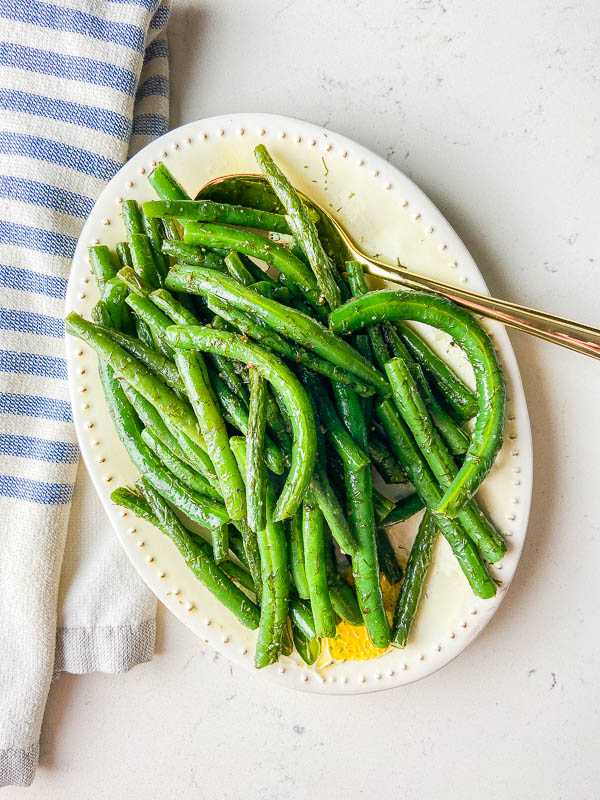 And while I love steamed green beans as much as the next girl, it's always nice to jazz things up a bit. The easiest and most delicious way that I have found to take my vegetables to the next level is adding herbs. Herbs are a great way to increase the flavor and aroma of just about any dish.
For this recipe, tender green beans are tossed in melted butter with dill. The result is a vegetable side dish that even my eight year old asked for seconds of!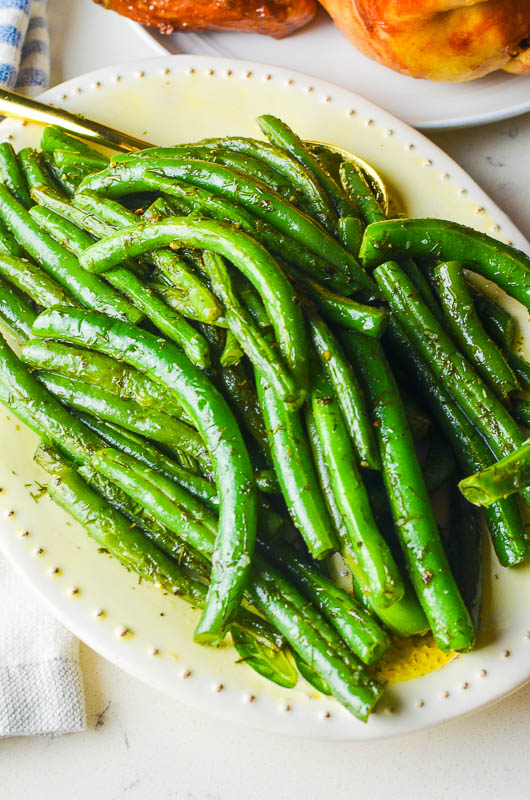 What ingredients do you need to make dill green beans?
This is the best part! You only need a handful of ingredients, we're talking 5. Easy right?
FRESH GREEN BEANS: You don't want to use canned or frozen beans in this recipe. Fresh green beans will give you the tender, yet crisp texture that you're looking for with this dish.
BUTTER: Unsalted is what I used. If you only have salted that's fine too. Just watch how much additional salt that you add.
DILL: You can use dried, freeze dried or fresh. I prefer to use freeze dried in this dish. I always have Lite House Freeze Dried Dill on hand and it works like a charm!
DES' TIP: Just a handy reference, generally speaking, 1 tablespoon of fresh herbs = 1 teaspoon of dried. That is because dried herbs are more concentrated.
SALT AND PEPPER: As I said above, if you use salted butter you might not need to use as much salt here. I recommend using a coarse kosher salt as well as fresh cracked pepper.
Step by Step Photos with Instructions:
STEP 1: Trim the green beans. You can do this by snapping off the ends or simply line them up and cut the ends off.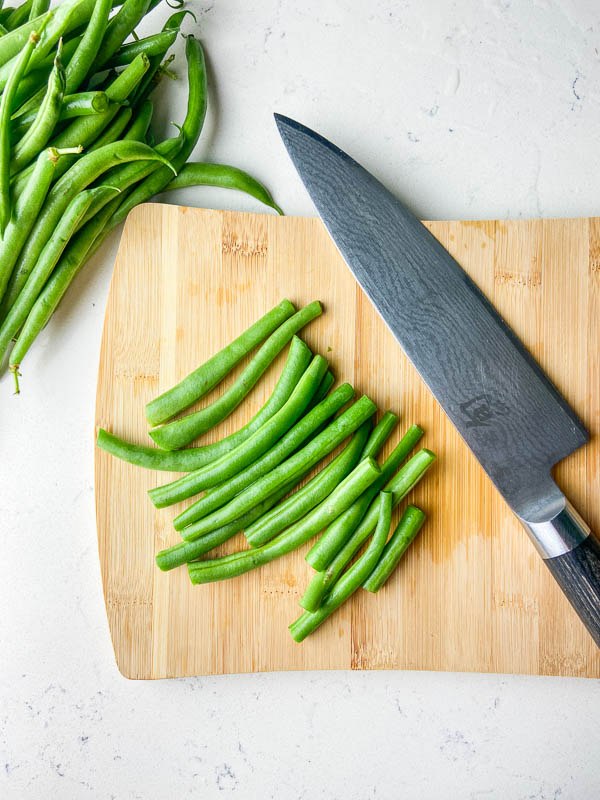 STEP 2: Blanch the green beans by cooking them in salted boiling water (I used about 1 tablespoon for the large pot) just until they are tender crisp and bright green, about 3 minutes.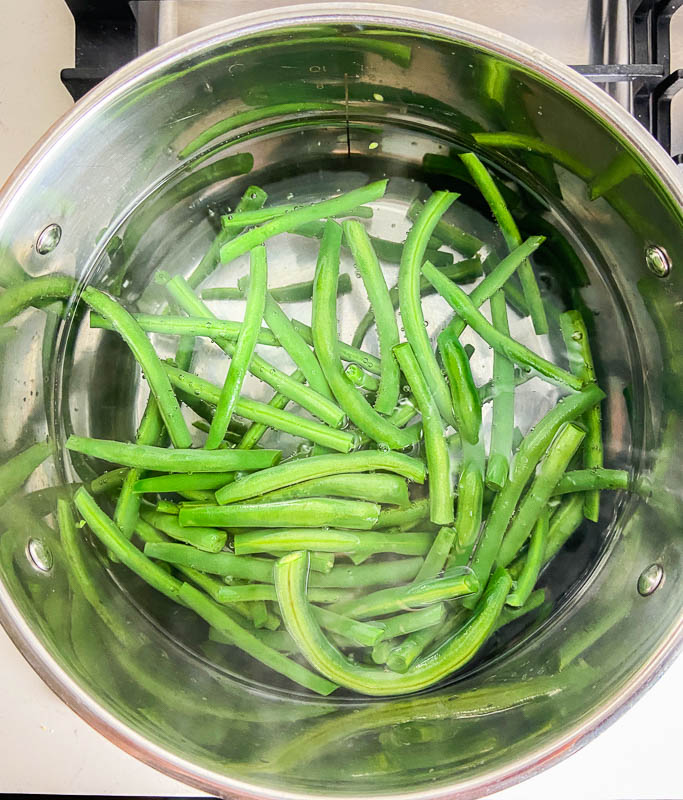 STEP 3: Use a slotted spoon to move the green beans to a bowl of ice water. This will stop the cooking process.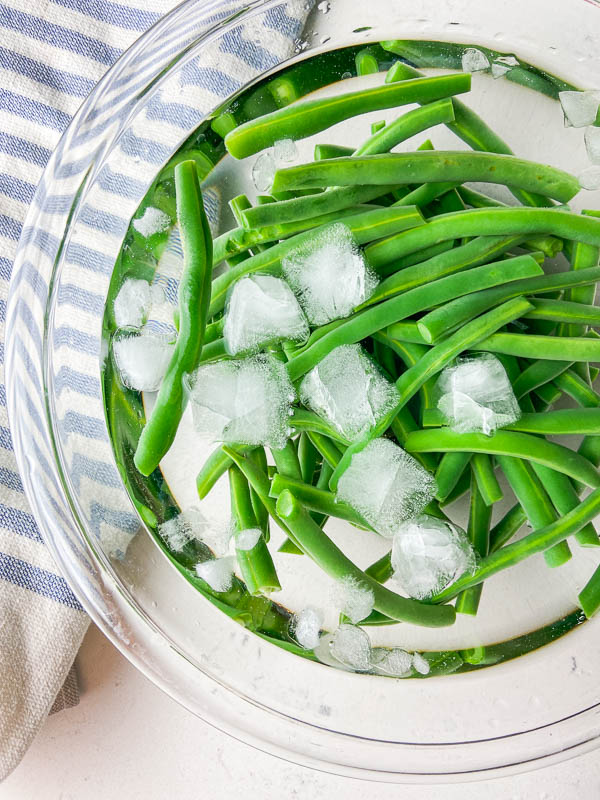 STEP 4: Drain and pat dry the beans.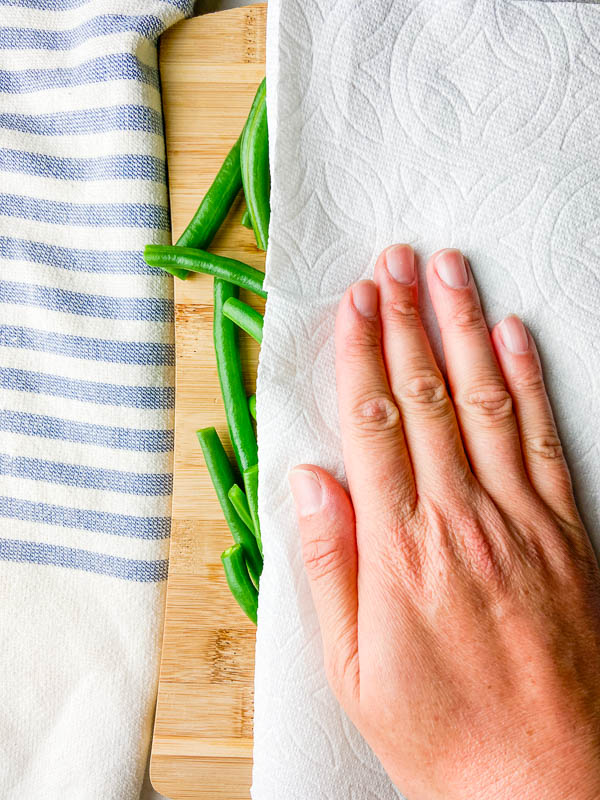 STEP 5: Melt the butter in a skillet, add in beans and dill. Toss to coat and season to taste with salt and pepper.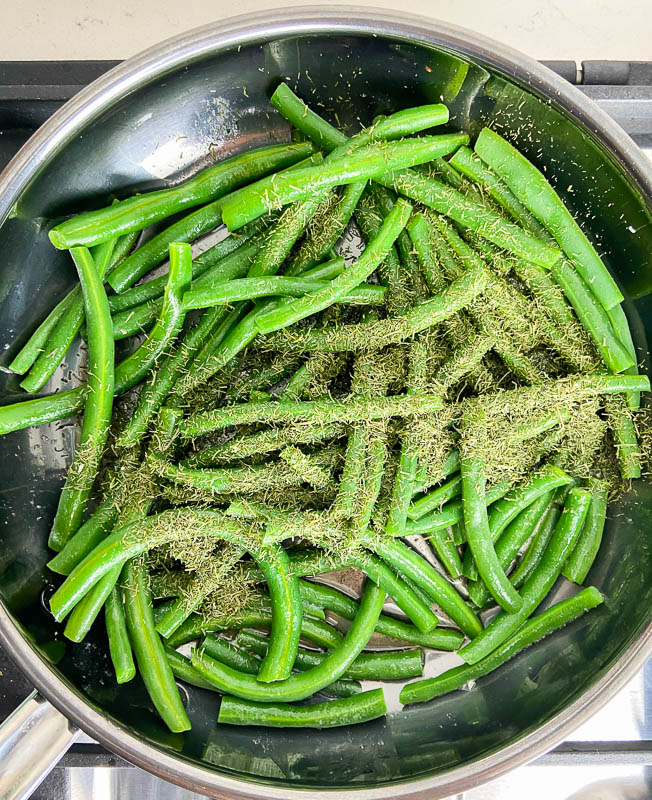 That's it! 5 ingredients and 5 steps, you can't beat that! And guys, I am telling you, these beans are buttery, tender and so full of flavor. It will absolutely be your new favorite way to prepare green beans.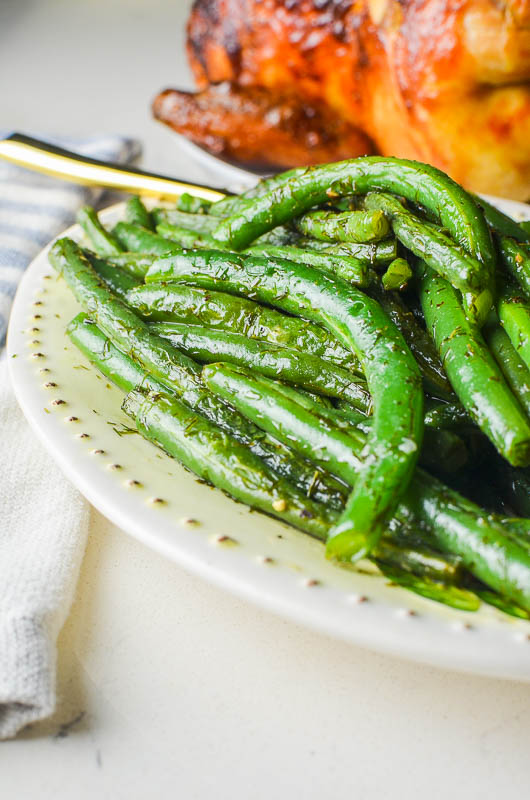 If you loved this Dill Green Bean Recipe, check out these other easy side dishes:
Baked Asparagus with Parmesan Cheese and Bread Crumbs
Looking for a main dish to serve these beans with? Here are some of my favorites!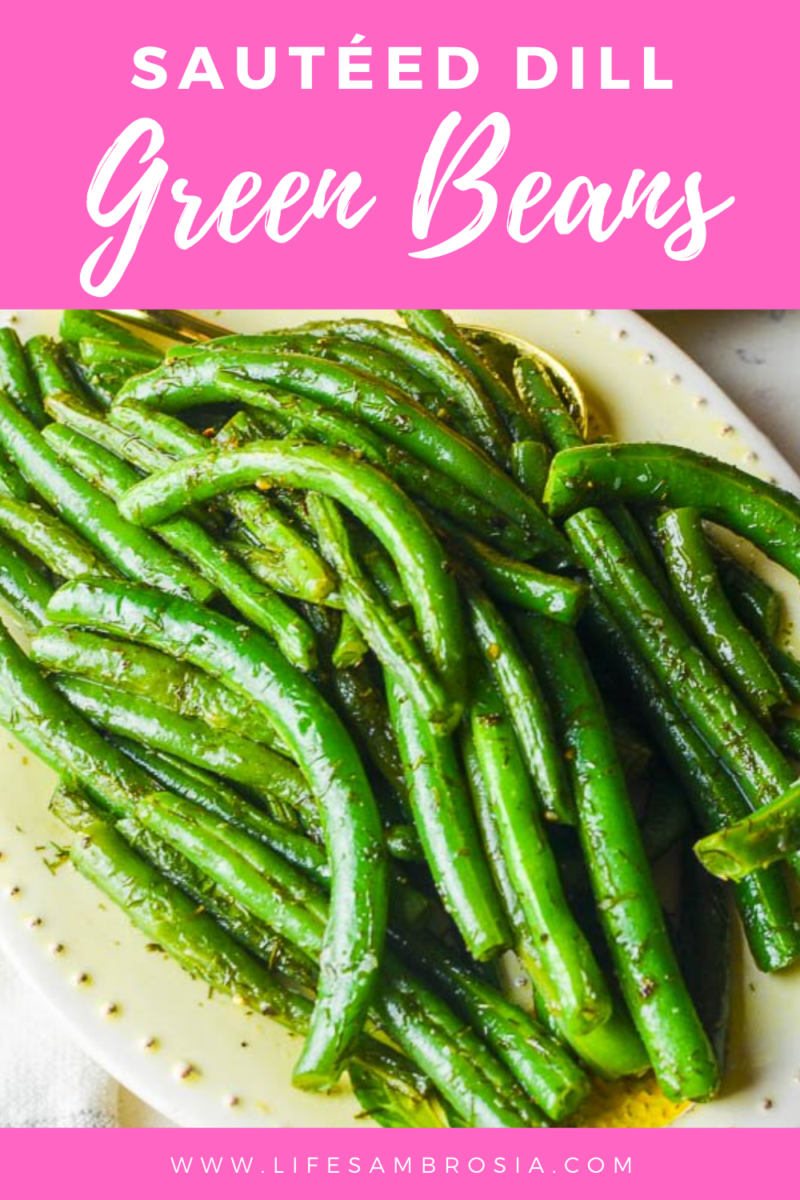 Dill Green Beans Recipe
Ingredients:
1 1/2 pounds green beans
ice
water
2 tablespoons unsalted butter
1 tablespoon freeze dried dill
kosher salt and fresh cracked pepper
Instructions
2
Bring a large pot of salted water to a boil. Add in green beans and cook just until tender and bright green, about 3 minutes.

3
Place ice and water in a bowl. Use a slotted spoon to transfer the beans to the ice bath.

5
Melt butter in a skillet over medium heat. Once melted add in beans and dill. Toss to coat and season to taste with salt and pepper. Continue cooking until beans are tender, about 5 more minutes.
Notes
Nutrition facts are for estimation purposes only.
Nutrition information
Calories: 55 , Total Fat: 0.2g , Saturated Fat: 0g , Cholesterol: 0mg , Sodium: 450mg , Carbohydrates: 12.6g , Fiber: 5.9g , Sugar: 2.4g , Protein: 3.3g