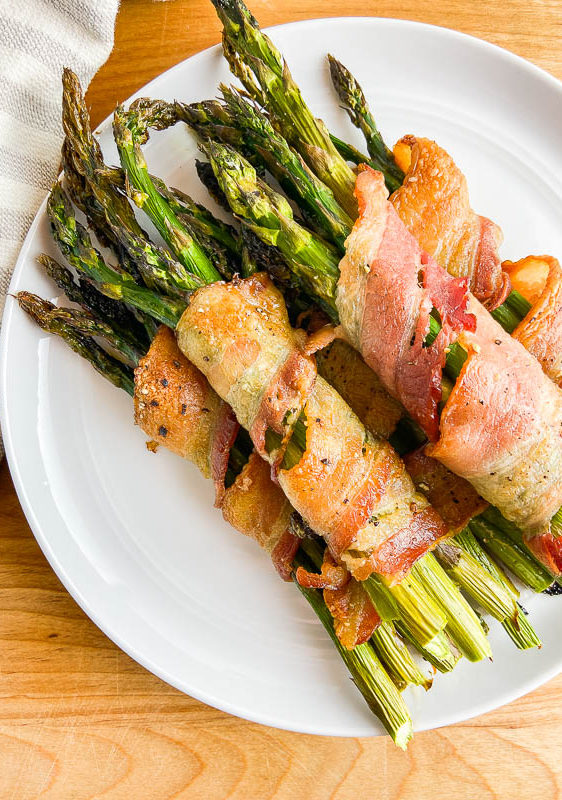 Bacon Wrapped Asparagus
The best way to celebrate asparagus season! This easy bacon wrapped asparagus is made in the oven and ready in a flash. A perfect summer side dish.
Are you looking for the perfect vegetable side dish that will wow your guests at your next dinner party? Look no further than Bacon Wrapped Asparagus. Not only is it gorgeous on the plate, it's easy to put together and always a crowd pleaser.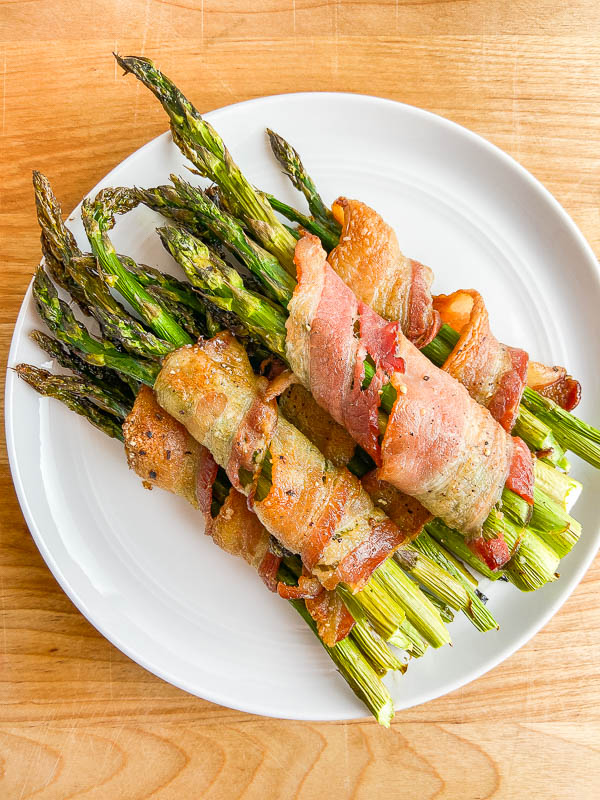 How could it not be? Bacon wrapped anything is always a win. 
How do you make Bacon Wrapped Asparagus in the oven?
First things first, you're going to want to trim the asparagus. This is really easy to do. Just snap off the woodsy ends. They are just too tough to eat. 
Next, divide the asparagus into 5 – 6 equal groups. This will be dependent on how many asparagus spears you have and how thick they are. If they are thinner spears 5 is great, if they are on the thicker side groups of 3 would probably be a bit better. 
Wrap each bundle with a thick slice of bacon. Start in the middle of the bundle and keep wrapping until you reach the end of the bacon slice.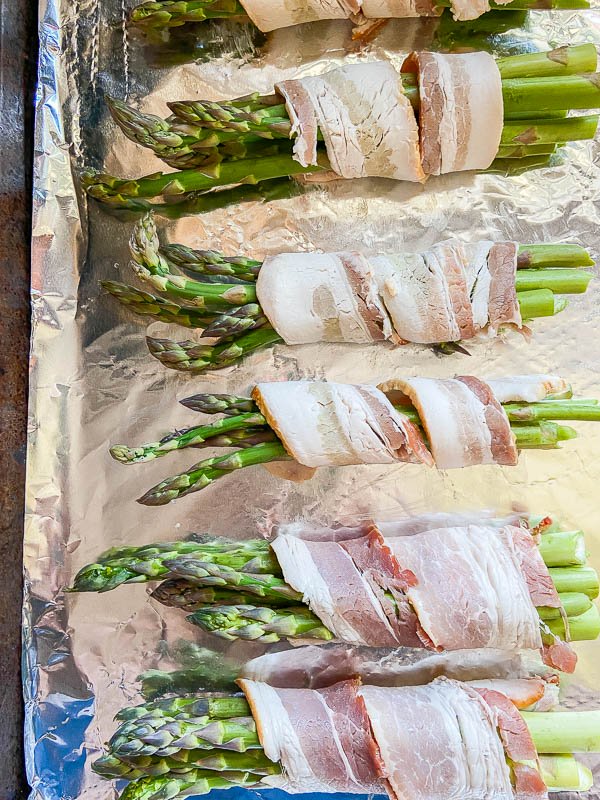 DES' TIP: Overlapping the bacon at the end will help secure it around the asparagus. It also helps to bake the asparagus seam side down. 
At this point I like to drizzle each bundle with olive oil and sprinkle with salt and pepper. The bacon will definitely add some saltiness to the dish so go easy on the salt.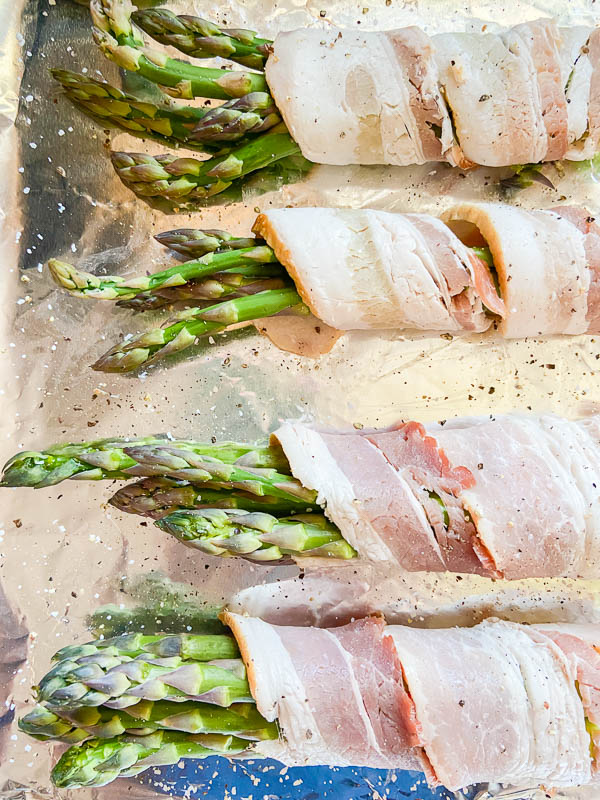 Finally, bake the asparagus at 400 degrees Fahrenheit for about 30 minutes. This will vary depending on a few things: The thickness of the asparagus, the thickness of the bacon and your desired doneness of the bacon.  Just keep an eye on it. 
DES' TIP: As much as we like crispy bacon around here at breakfast time, it's best to let it be a little chewier with this recipe. If it's too crisp it will simply snap of the asparagus.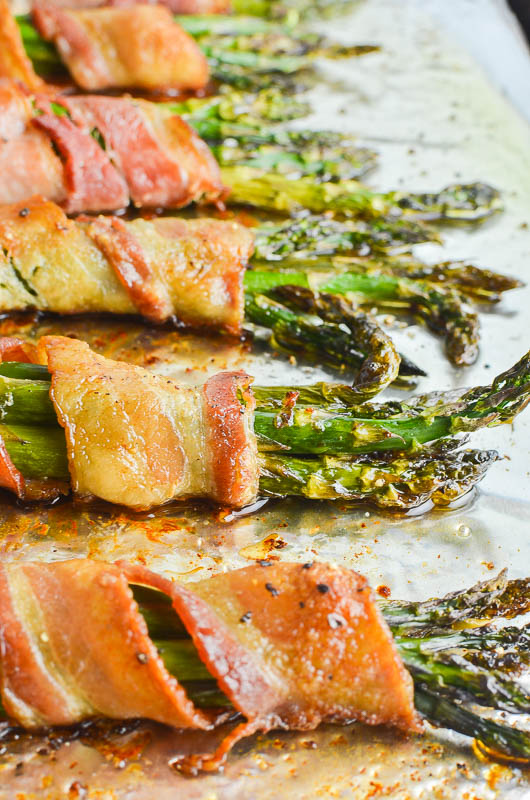 Can you make bacon wrapped asparagus on the grill?
Absolutely! The first time that I had bacon wrapped asparagus it was made on the grill. It'll take less time, about 10 minutes and you'll want to turn it halfway through so that the bacon cooks evenly.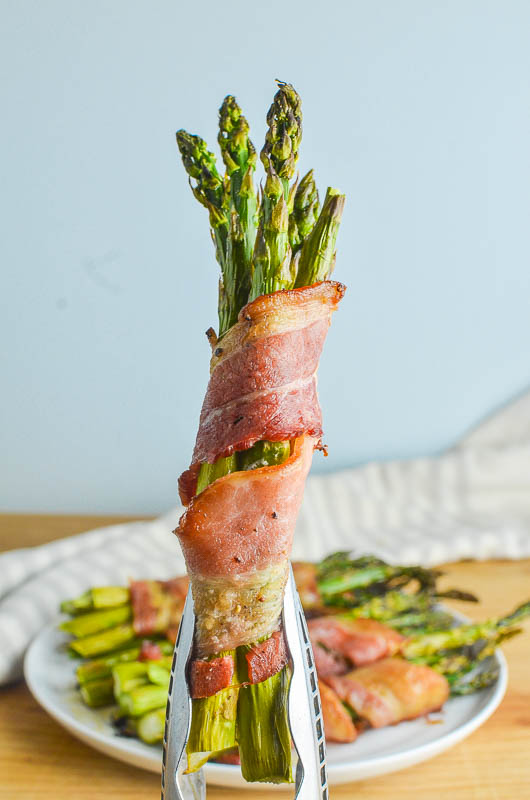 Can you make this recipe ahead of time?
Yes! You can prepare and wrap the asparagus ahead of time and the simply put it in the oven when you're ready. 
How do you reheat leftovers?
The same way you cooked it the first time! Simply place it on a foil lined baking sheet and bake at 400 degrees just until warmed through, 5 minutes or so. 
Looking for more Asparagus recipes? You've GOT to try these! 
Baked Asparagus with Parmesan and Breadcrumbs 
Love bacon? Who doesn't! Here are some more recipes featuring bacon: 
Spinach Salad with Bacon Dressing
Fried Green Tomatoes with Bacon Ranch Dip
Bacon Wrapped Water Chestnuts from the Cookie Rookie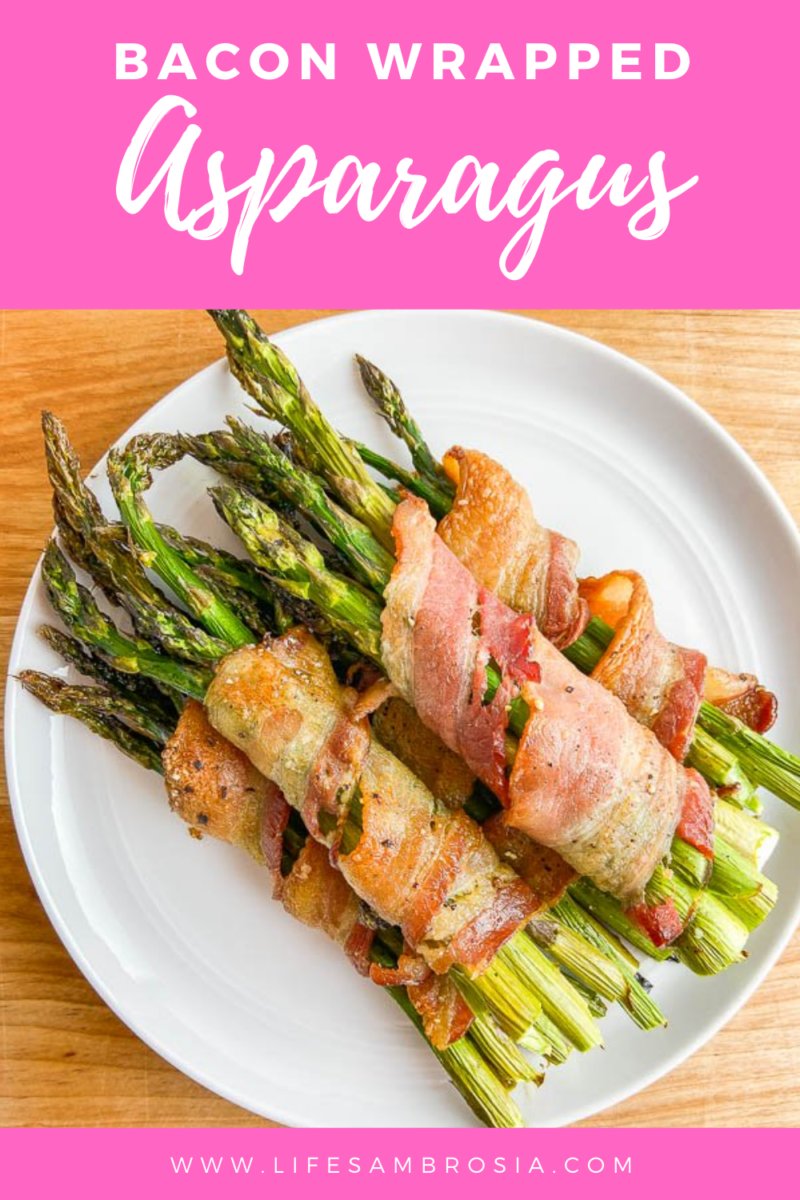 Bacon Wrapped Asparagus Recipe
Ingredients:
1 pound asparagus (about 30 medium thick spears)
6 slices thick cut bacon
1 tablespoon olive oil
salt and pepper
Instructions
1
Preheat oven to 400 degrees. Line a baking sheet with aluminum foil.

2
Divide the asparagus into equal groups of 5.

3
Wrap the bacon around the asparagus, overlapping at the end to secure the bundle. Place seam side down.

4
Drizzle with olive oil. Sprinkle with salt and pepper.

5
Bake in preheated oven for 20 - 30 minutes or until bacon is cooked through and to your desired crispiness.

Notes
Nutrition facts are for estimation purposes only.
Nutrition information
Amount per serving: 1 bundle
Calories: 177 , Total Fat: 15.9g , Saturated Fat: 4.9g , Cholesterol: 36mg , Sodium: 227mg , Carbohydrates: 3.3g , Fiber: 1.6g , Sugar: 1.4g , Protein: 6g