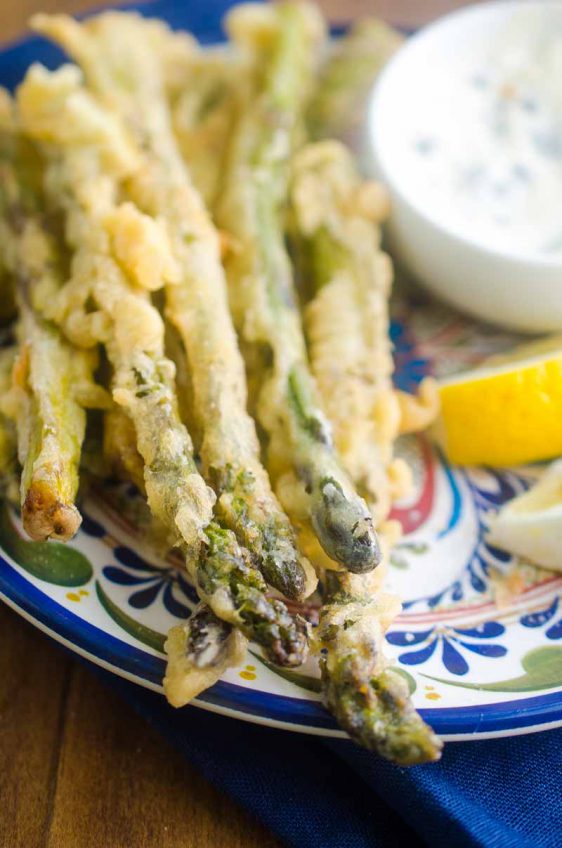 Asparagus Fries with Caper Aioli
Asparagus Fries are every bit as addicting as they sound. Coated in a light batter, fried to perfection and dipped in a creamy caper aioli. 

You guys, I have made these Asparagus Fries no less than 4 times in the last few weeks.  My family is obsessed. These asparagus fries are such a hit, that each time I grabbed a bunch of asparagus at the store, my eldest son would say "Oh mom! Are we making asparagus fries?!"
Kids excited about asparagus = win.
To be fair, my children love asparagus even when it's not fried. But, seriously, fried asparagus is out of this world.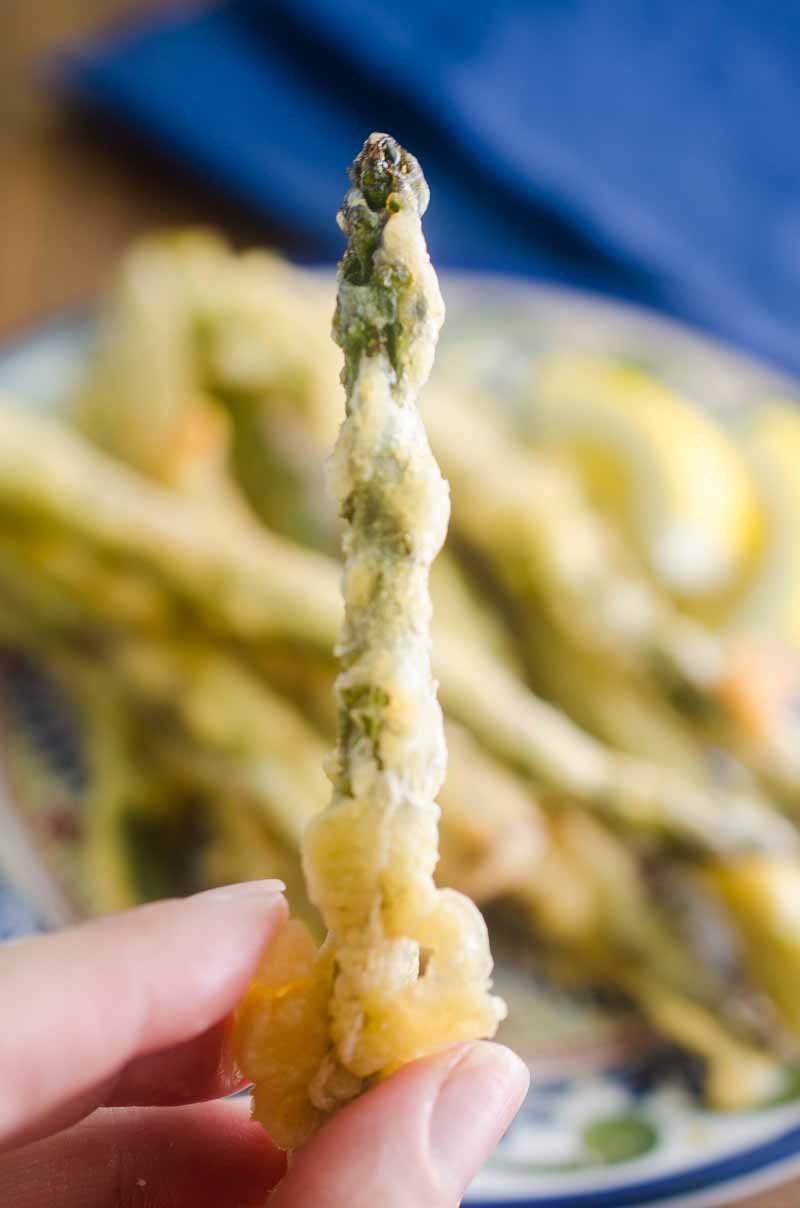 The batter that I used to make these is a simple tempura batter. I like it because it's so light. It's just enough to lightly coat the asparagus without being too heavy. And it's really easy to make.
I always order tempura veggies and shrimp when I go to Japanese restaurants, and I never realized that I could totally be making it at home. All you need is flour, ice water, egg and a pinch of salt. The most important part though, is you need to make your batter immediately before using it. It doesn't work as well if you make it in advance.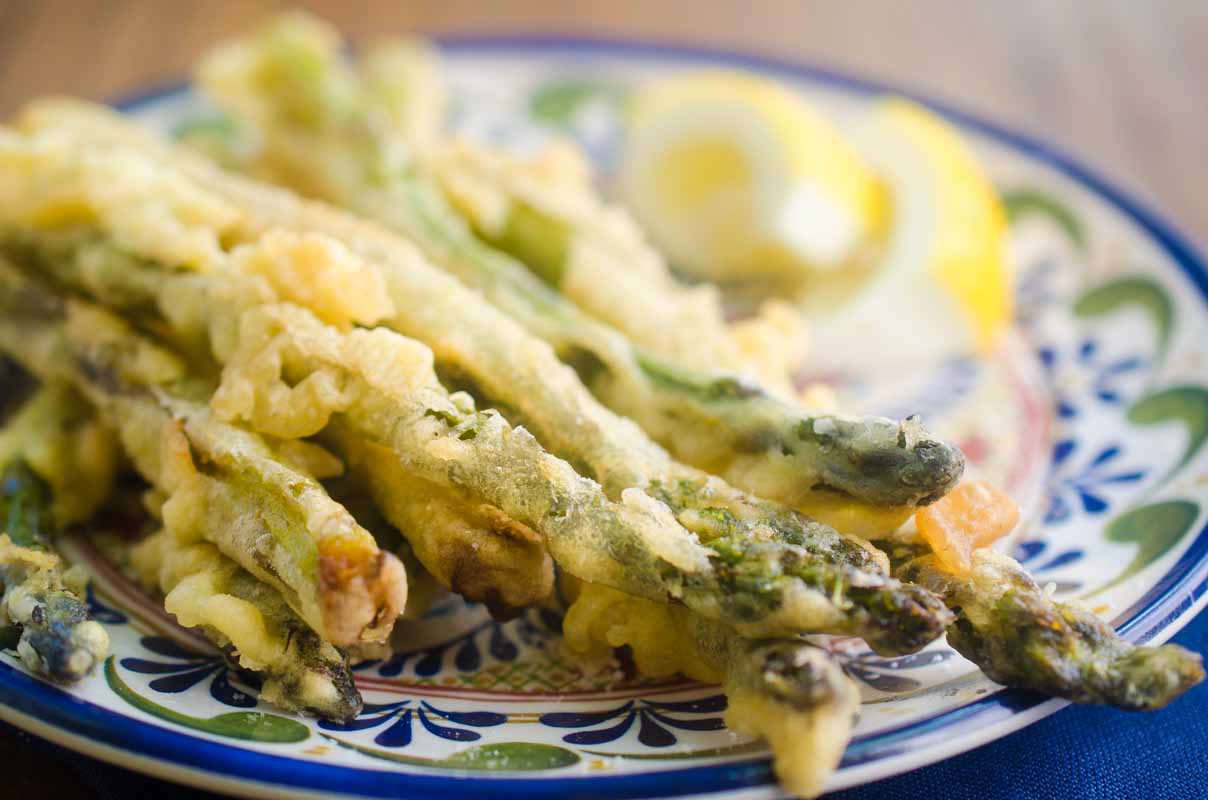 You can use tempura batter to coat just about anything but you have GOT to try asparagus. Lord almighty, it is good.
And every good fry needs a dip right? No ketchup with these babies though. These Asparagus Fries are so good when dipped in aioli. In this case, caper aioli.
You could totally make aioli from scratch, but it takes a little more time and uses raw eggs. I like to take a shortcut and use store bought mayonnaise instead. It works like a charm. For this caper aioli, I simply mix mayonnaise, capers, garlic and lemon juice. Then I let it sit a bit in the refrigerator while I fry the asparagus. It gives the flavors a chance to mingle a bit.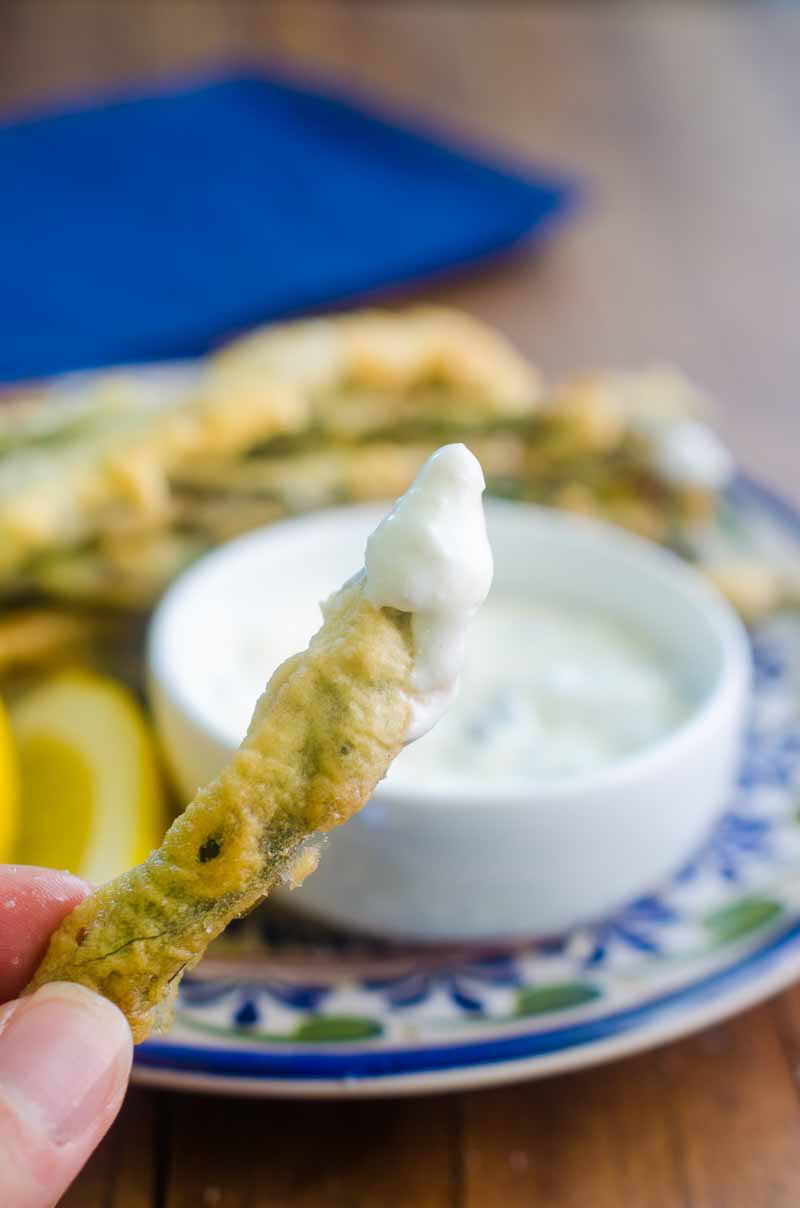 And it is absolutely delightful with these Asparagus Fries.
Watch the video below to see how easy Asparagus Fries are to make!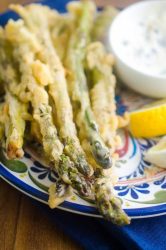 Asparagus Fries with Caper Aioli
Asparagus Fries are lightly battered, fried until golden and dipped in a creamy caper aioli. They are every bit as addicting as they sound.
Asparagus Fries Ingredients:
1/2 - 3/4

pound

asparagus spears

trimmed

1

cup

all purpose flour

1

egg

1

cup

ice cold water

salt

oil for frying
Caper Aioli
1/4

cup

mayonnaise

1

tablespoon

non-pareil capers

1

tablespoon

lemon juice

1

clove

garlic

minced
Combine all ingredients for the aioli together in a bowl. Cover and refrigerate until ready to use.

Heat 1/2 inch oil in a skillet until it reaches 350 degrees. If you don't have a thermometer, just drop a little batter in it and if it starts frying it's hot enough.

While oil is heating, whisk together flour, egg, ice cold water and a pinch of salt. Dip asparagus until batter. Turn to coat. Let excess batter drip off.

In batches, fry coated asparagus in oil until golden brown, 3 - 5 minutes. Turning occasionally. Transfer to a paper towel lined plate. Sprinkle with salt. Serve immediately with caper aioli.
Keywords:
asparagus, fried asparagus, tempura, Vegetarian