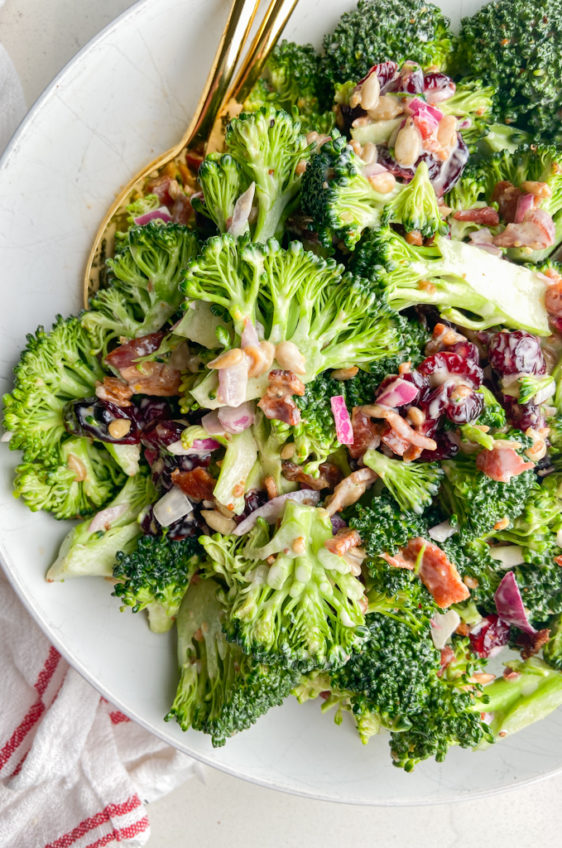 Easy Broccoli Salad
Easy Broccoli Salad is the ultimate summer party side dish! Loaded with fresh broccoli, cranberries, bacon and sunflower seeds in a creamy dressing.
Whether you are looking for an easy side dish recipe to bring to a summer BBQ or you want a hearty summer salad to keep in your fridge for lunches during your workweek, this Easy Broccoli Salad is exactly what you need.
Trust me, if you bring it your next BBQ or office potluck, everyone will be asking you for the recipe!
One of the best things about this salad is that while it is really good after chilling for about an hour, it is really REALLY good the next day. The broccoli gets slightly soft and sweet but it's still crunchy. This makes this the perfect make ahead salad.
What is in broccoli salad?
BROCCOLI: Unlike most instances that you use broccoli, this recipe calls for raw broccoli. That's right, you don't even need to blanch the broccoli in this recipe. Just make sure that you cut it into small bitesized pieces.
DRIED CRANBERRIES: Add a touch of sweetness to the salad.
SHELLED SUNFLOWER SEEDS: Add a bit of crunchy nuttiness.
RED ONION: Diced small. A tip when using raw red onion, if you want to take the bite out of it a bit, simply soak it in water for about 20 minutes before using.
BACON: This is totally optional. It adds more texture and saltiness. But if you want to make this vegetarian, leave it out and the salad will still be fab!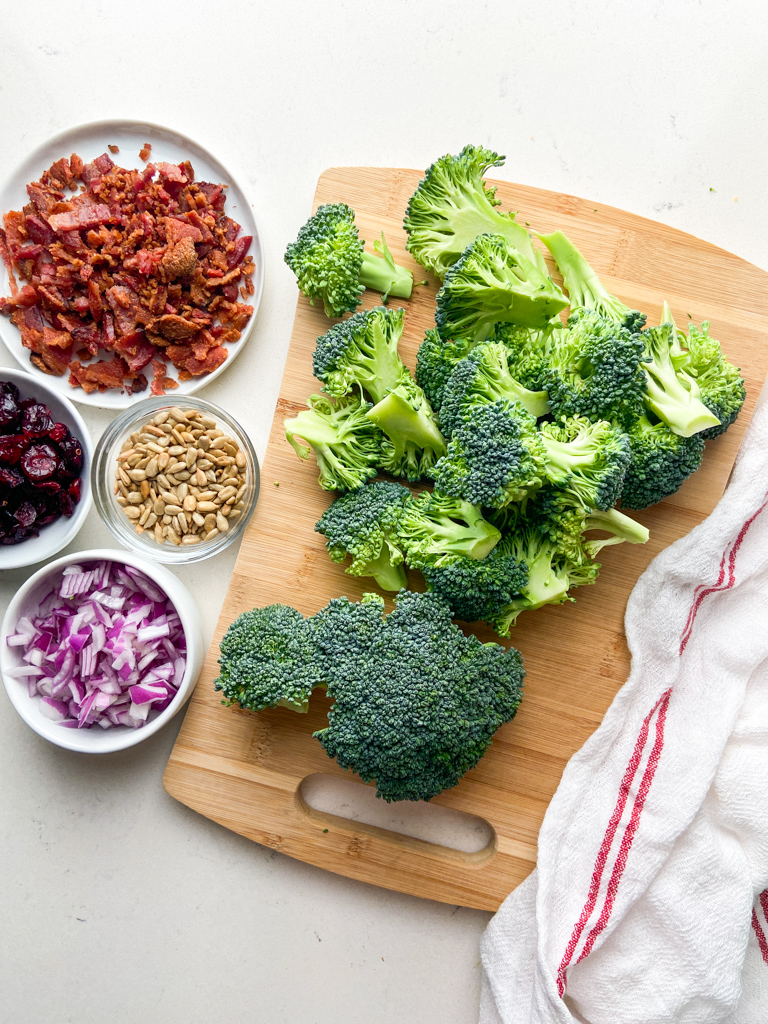 To make the creamy dressing for the salad you'll need:
MAYONNAISE: Most broccoli salad recipes call for a full cup of mayonnaise but I cut that amount in half. It makes the salad a little lighter which I love for hot summer days.
RED WINE VINEGAR: This thins out the mayonnaise but also gives a little tang to the dressing.
SUGAR: Just a touch for sweetness.
STONEGROUND MUSTARD: This is an ingredient that is unique to my broccoli salad recipe. I love the the subtle mustard flavor that it adds to this salad. Don't leave it out!
How do you make broccoli salad?
Welp. It could really not be any easier. You no cooking involved!
In a large bowl combine all of the salad ingredients.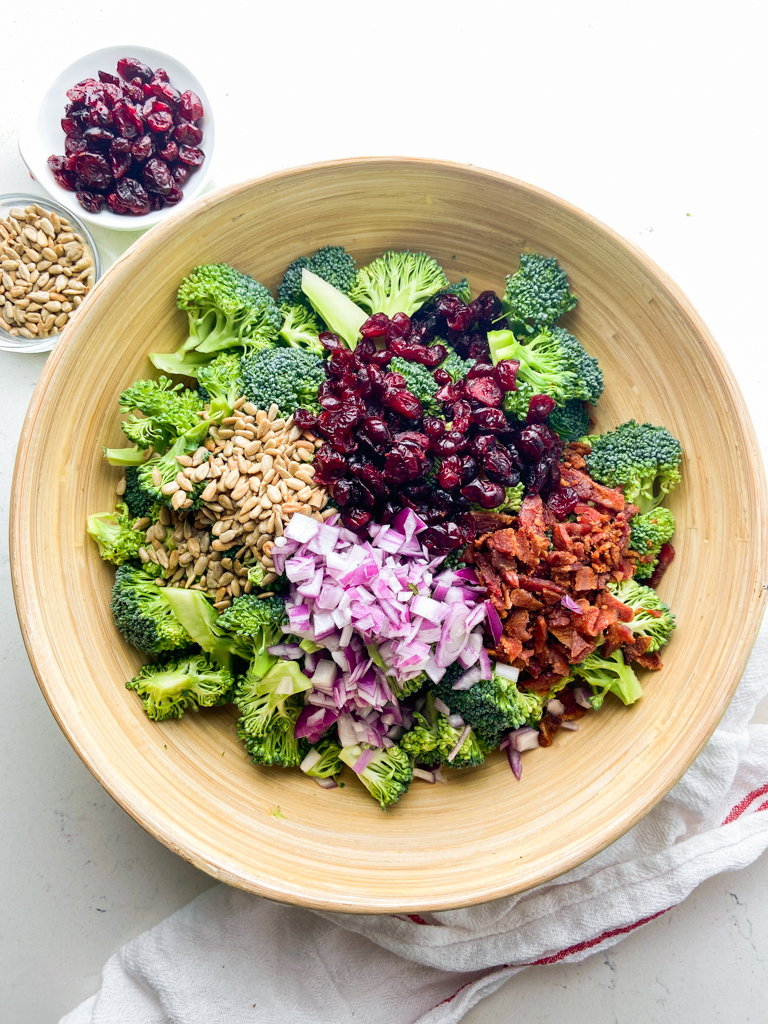 In another small bowl, whisk together all of the dressing ingredients. Season to taste with salt and pepper.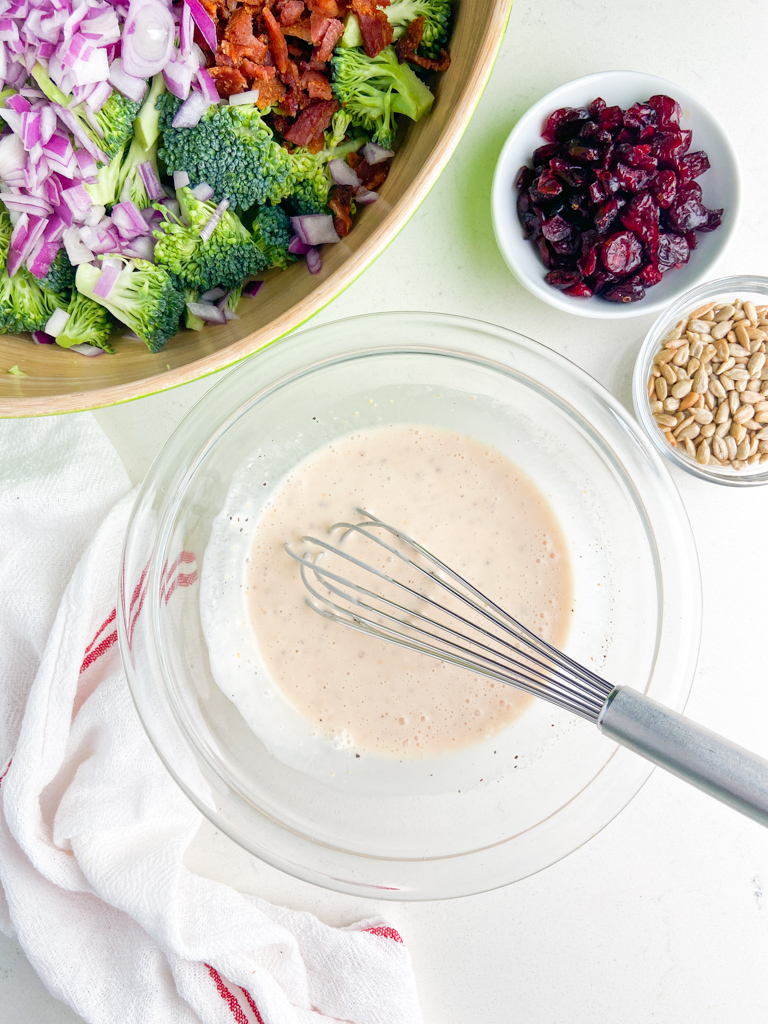 Pour the dressing over the salad and toss to coat. Mix it really well so that all of the broccoli is coated. Cover and refrigerate the salad for at least 1 hour before serving.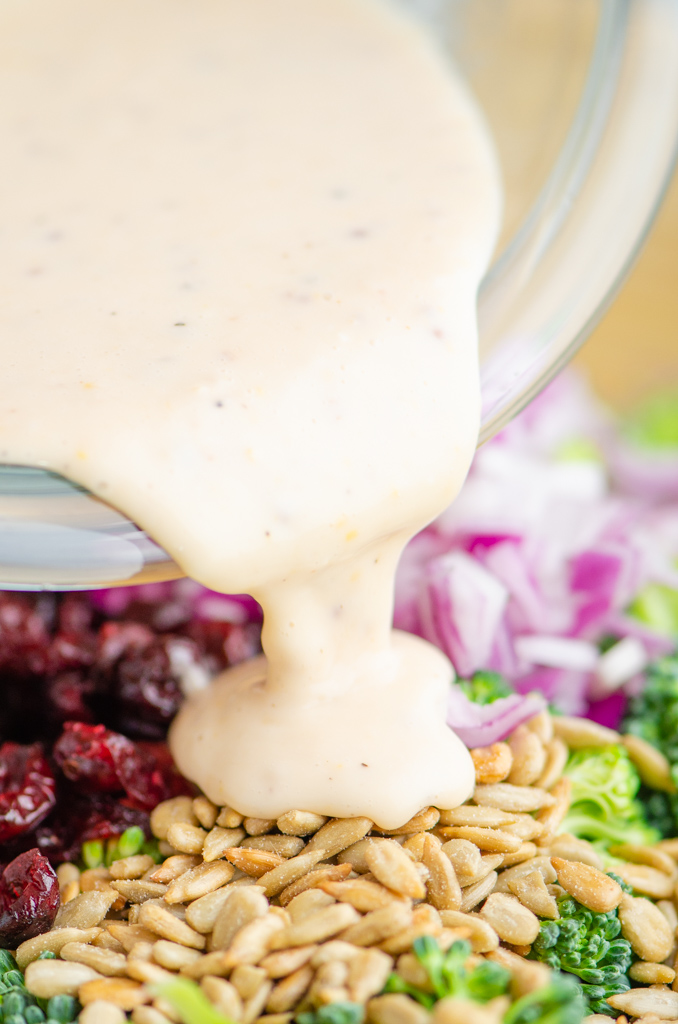 A Couple More Tips:
TIP #1: Make sure that the broccoli florets are small. Smaller pieces will be easier to eat and will soften better in the dressing.
TIP #2: The bacon and sunflower seeds do add some saltiness. For this reason, it's important to add salt and pepper after the salad has had a chance to set in the fridge. Salting it too much before hand could leave you with an overly salty salad.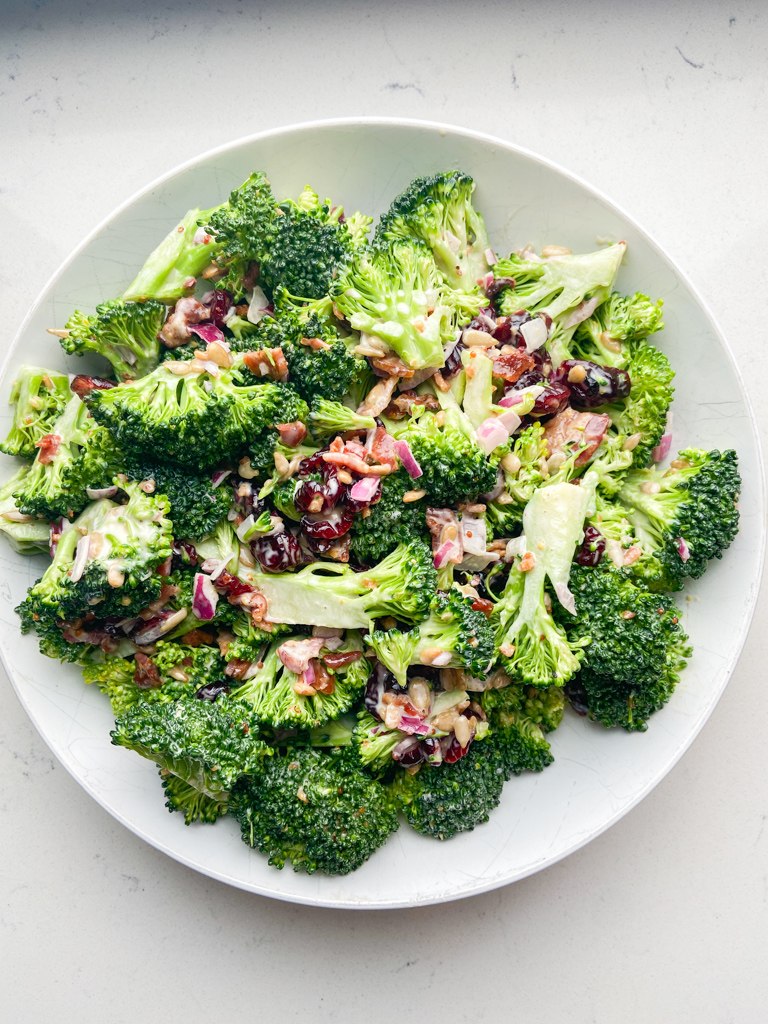 Looking for more BBQ must haves? These are some of my favorite recipes to bring to a potluck: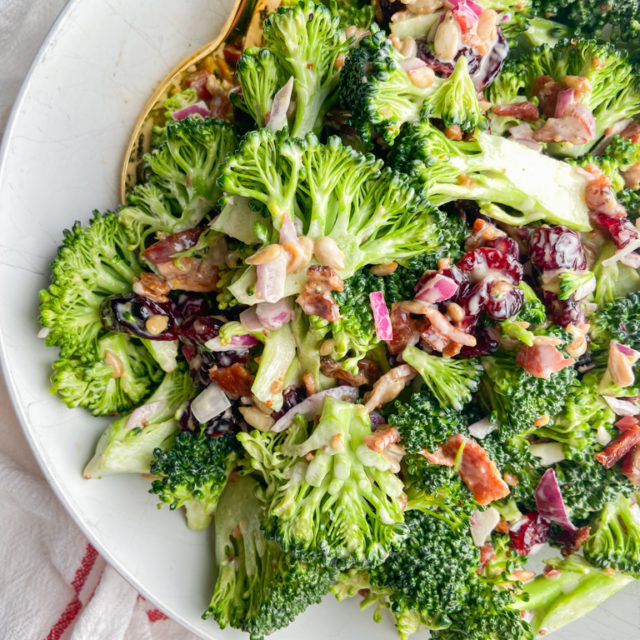 Easy Broccoli Salad
Easy Broccoli Salad is the ultimate summer party side dish! Loaded with fresh broccoli, cranberries, bacon and sunflower seeds in a creamy dressing.
Broccoli Salad Dressing Ingredients:
1/2

cup

mayonnaise

2

tablespoons

granulated sugar

2

tablespoons

red wine vinegar

2

teaspoons

stoneground mustard

salt and pepper
Combine all of the salad ingredients together in a bowl.

In another small bowl whisk together salad dressing ingredients.

Pour dressing over the top of the salad. Toss to coat.

Cover and refrigerate for at least 1 hour. Taste and add more salt and pepper if desired.
This salad is even better the next day!
Nutrition facts for estimation purposes only.
Calories:
242
kcal
Carbohydrates:
20
g
Protein:
9.4
g
Fat:
14.9
g
Saturated Fat:
3
g
Cholesterol:
19
mg
Sodium:
514
mg
Fiber:
4.2
g
Sugar:
8.2
g
Keywords:
bbq, broccoli salad, potluck