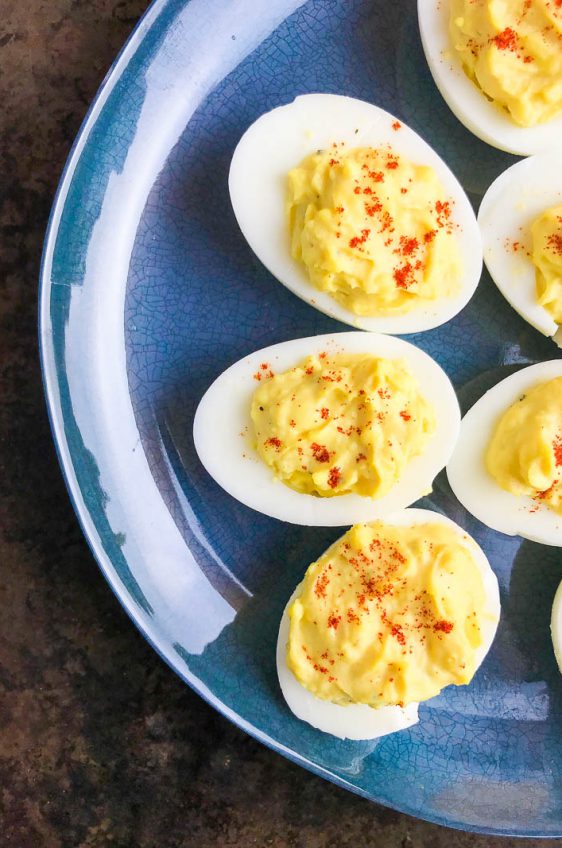 Classic Deviled Eggs
Classic Deviled Eggs with mayonnaise, mustard, and a few seasonings. They are a party and BBQ classic for a reason, everyone loves them!
For as long as I can remember, deviled eggs have always been my favorite appetizer to serve at parties, holidays and BBQs. It is a family tradition. No matter what kind of party my family is throwing, deviled eggs are sure to be on the table.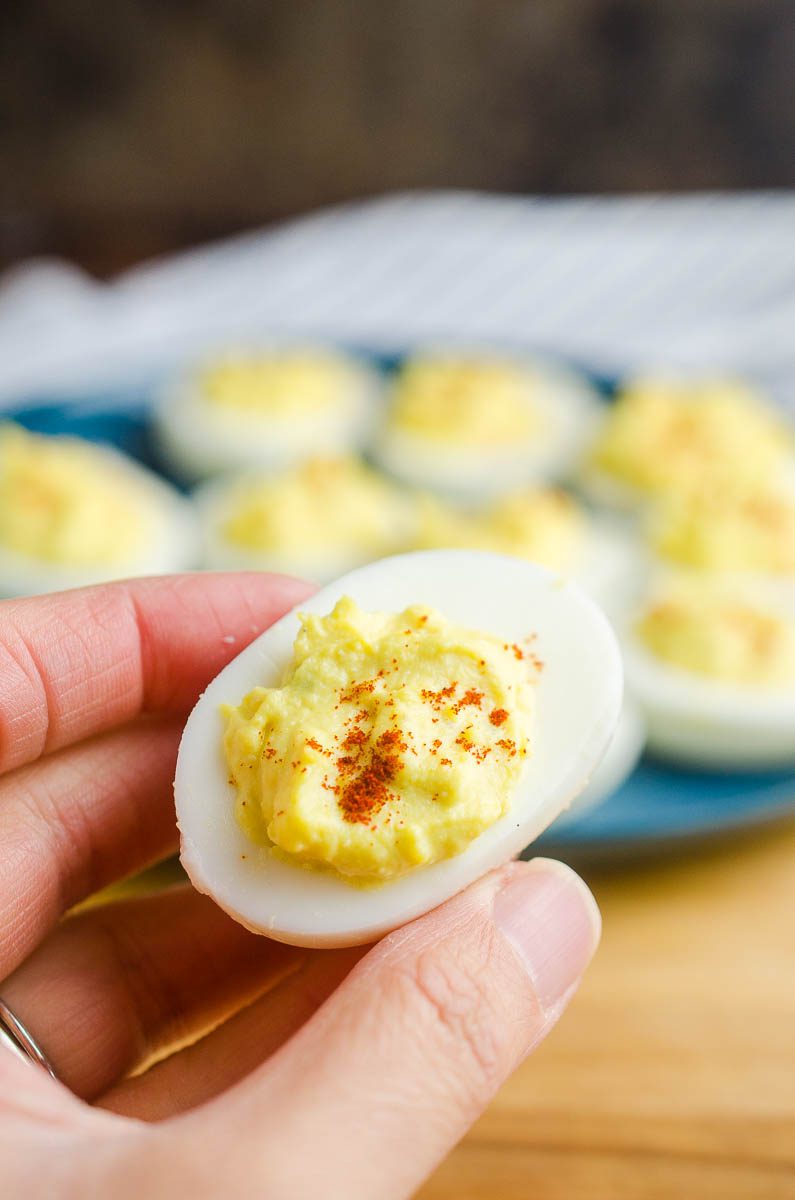 With Easter coming up, there will be plenty of leftover hard boiled eggs to use. Now seems like the perfect time to share a recipe for Classic Deviled Eggs.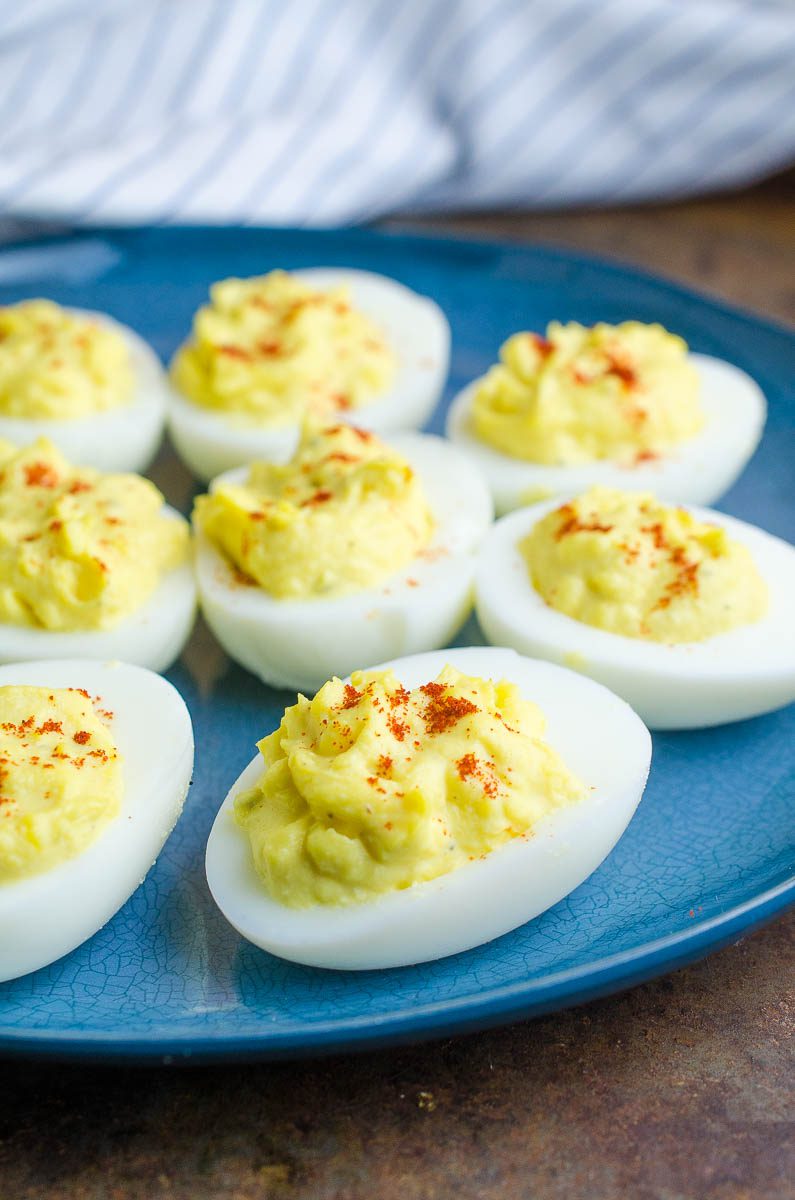 Tips for making hard boiled eggs:
When it comes to making egg salad, you don't really need pretty eggs, because you're going to mash them up. When making deviled eggs however, you want the egg whites to be pretty. For that to happen, they need to peel easy. I have a couple tips for making sure your hard boiled eggs are easy to peel.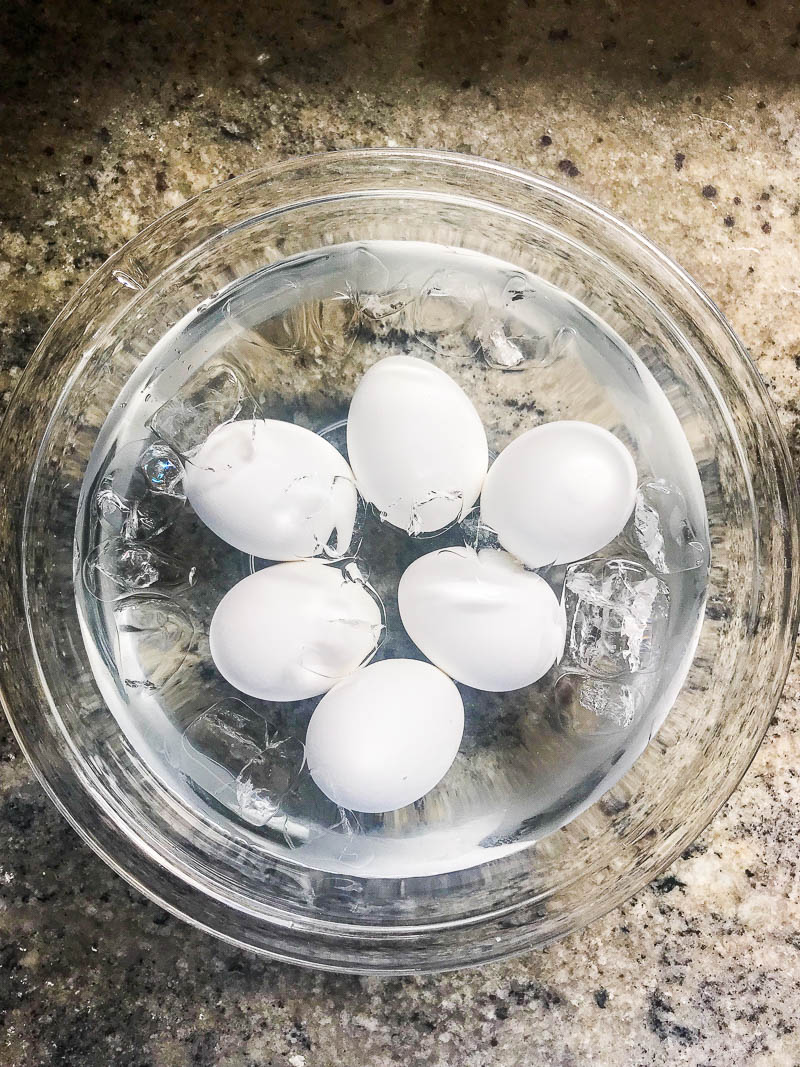 To get the perfectly cooked hard boiled egg you want to place the eggs in a pan with water and a pinch of salt. The pinch of salt helps the egg from cracking while boiling. Bring the eggs to a boil, then reduce the heat to low and cover. This allows the eggs to cook slower and helps over cooking them.
Once the eggs have cooked, immediately place them in an ice bath. This stops the cooking and helps make the eggs easier to peel.
To learn more about how to make the perfect hard boiled eggs check out this informative post: How to Make Hard Boiled Eggs.
How to make classic deviled eggs:
To make classic deviled eggs simply combine the yolk, mayonnaise, mustard, garlic and salt and pepper.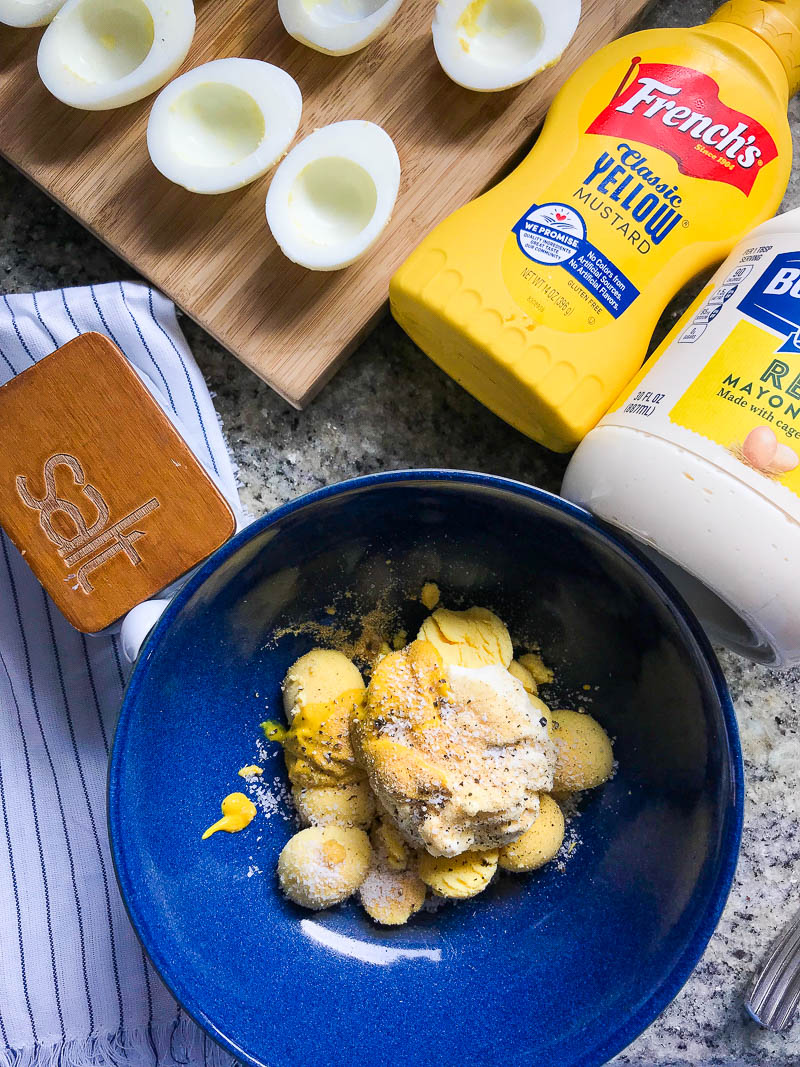 I like to mash them with a fork or potato masher so that the mixture gets creamy and smooth.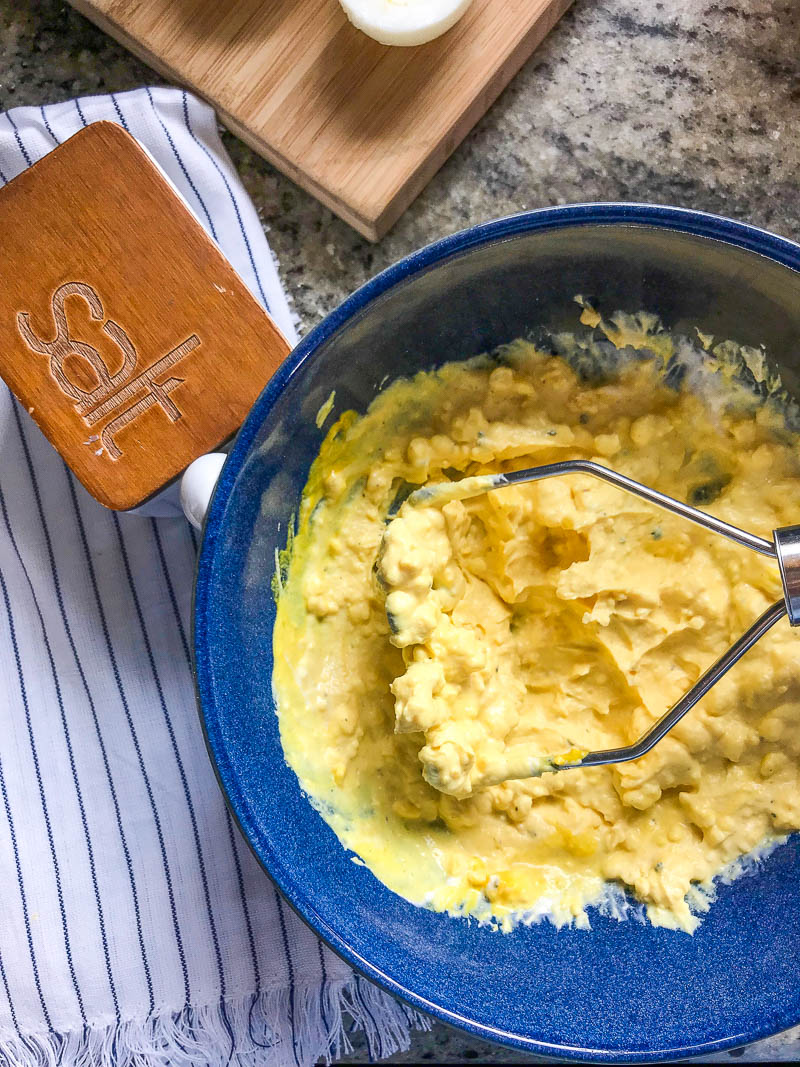 Next spoon the filling into the eggs. You could also use a piping bag and pipe the filling in if you'd like them to be a little prettier.
Deviled Egg Variations:
I'm always a sucker for classic deviled eggs but if you like some variations here are a few!

Other Uses For Hard Boiled Eggs:
If you have lots of hard boiled eggs around after a certain bunny comes, check out these other uses for hard boiled eggs.
Spinach Salad with Bacon Dressing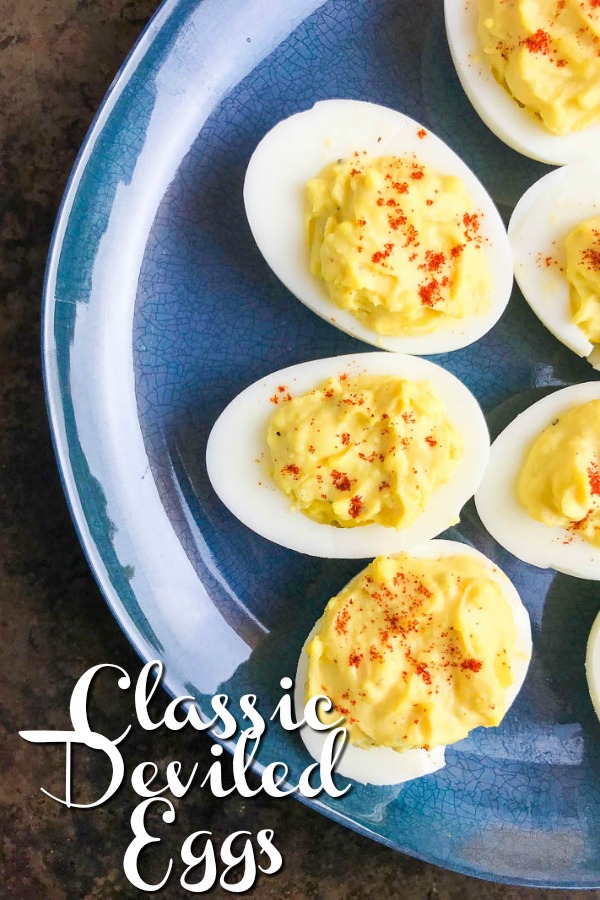 Note: Originally posted 2009. Updated 2019.
Classic Deviled Eggs Recipe
Ingredients:
6 hard boiled eggs
3 tablespoons mayonnaise
2 teaspoons yellow mustard
1/2 teaspoon granulated garlic
kosher and fresh cracked pepper to taste
paprika, if desired
Instructions
1
Peel eggs. Cut in half lengthwise.

2
Scoop all yolks into a bowl. Mash with a fork. Add mayonnaise, yellow mustard, granulated garlic, and salt and pepper. Stir to combine.

3
Scoop the mixture into each of the egg halves. (Note: To spruce the presentation up just a bit I used a piping bag for these)

4
Sprinkle with paprika, if desired and serve.
Notes
Nutrition facts not guaranteed.
Nutrition information
Calories: 93 , Total Fat: 6.9g , Saturated Fat: 1.7g , Cholesterol: 166mg , Sodium: 133mg , Carbohydrates: 2.4g , Fiber: 0.1g , Sugar: 0.9g , Protein: 5.7g