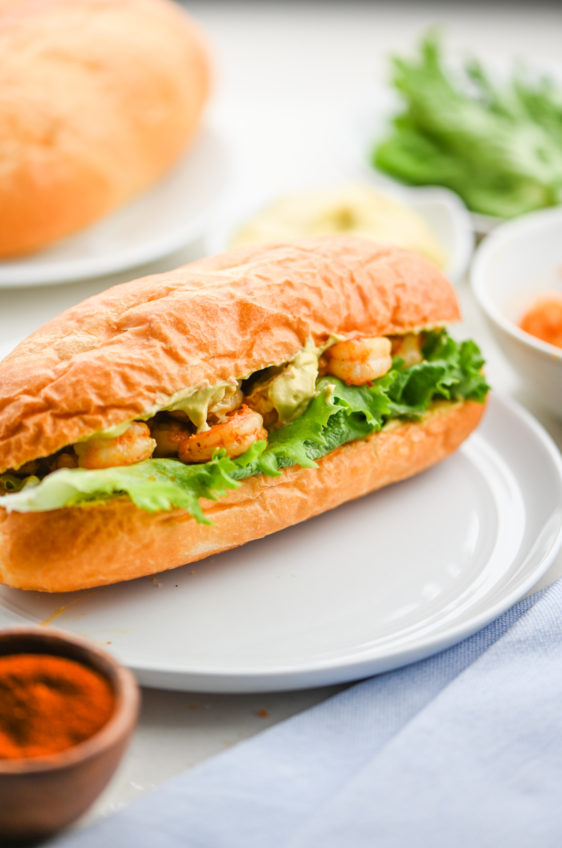 Spicy Shrimp Sandwich with Chipotle Avocado Mayonnaise
Spicy shrimp sandwich with an Chipotle Avocado spread so good you could eat it by the spoonful. A great way to kick up your lunch routine!
I will be the first one to admit that I am not a huge sandwich person. My husband loves them. He loves sub sandwiches, turkey sandwiches, roast beef sandwiches, meatloaf sandwiches, meatball sandwiches…I could go on and on. I on the other hand am not a huge fan. I mean, they are fine but it has got to be a real break from the norm to get me to love a sandwich. So when I say that after making and eating this sandwich I dreamed about it and craved it for the next few days, its kind of a big deal.
Not to be confused with the more classic shrimp po' boy, this shrimp sandwich is a bit different. The spicy shrimp, the creamy chipotle avocado mayonnaise, the crunchy bread and crisp lettuce is enough to make anyone a sandwich fan.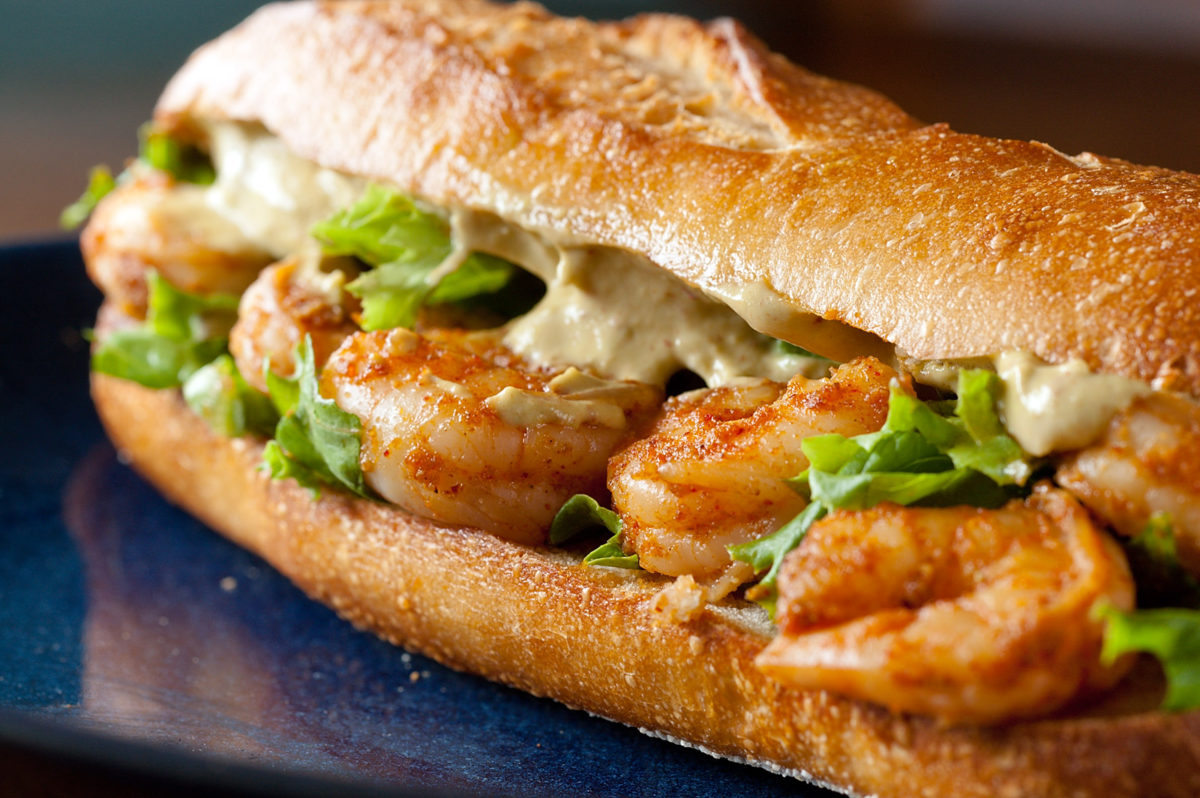 INGREDIENTS FOR THE BEST SHRIMP SANDWICH:
CUMIN/GRANULATED GARLIC/SALT/CHILI POWDER: These spices make up the seasoning blend for the shrimp. If you don't have granulated garlic you can substitute garlic powder. If you have garlic salt, omit the additional salt.
OLIVE OIL: To cook the shrimp in.
SHRIMP: Medium to large shrimp work great for this recipe. If you need to know how to prep the shrimp follow my easy guide for how to peel and devein shrimp.
AVOCADO
MAYONNAISE: Yes avocado is pretty creamy but adding the mayo to it gives it just a touch more creaminess and it toally works!
CHIPOTLE PEPPER IN ADOBO SAUCE: You can find these in the international or hispanic section of most grocery stores. You'll only need one or two for this sauce so save the others for other recipes like these Honey Chipotle Slow Cooker Ribs.
LIME JUICE: For a touch of acidity in the sauce.
FRENCH ROLLS: You can also use hoagie rolls or any other roll that you prefer.
LETTUCE: To add some cool crunch to the sandwich.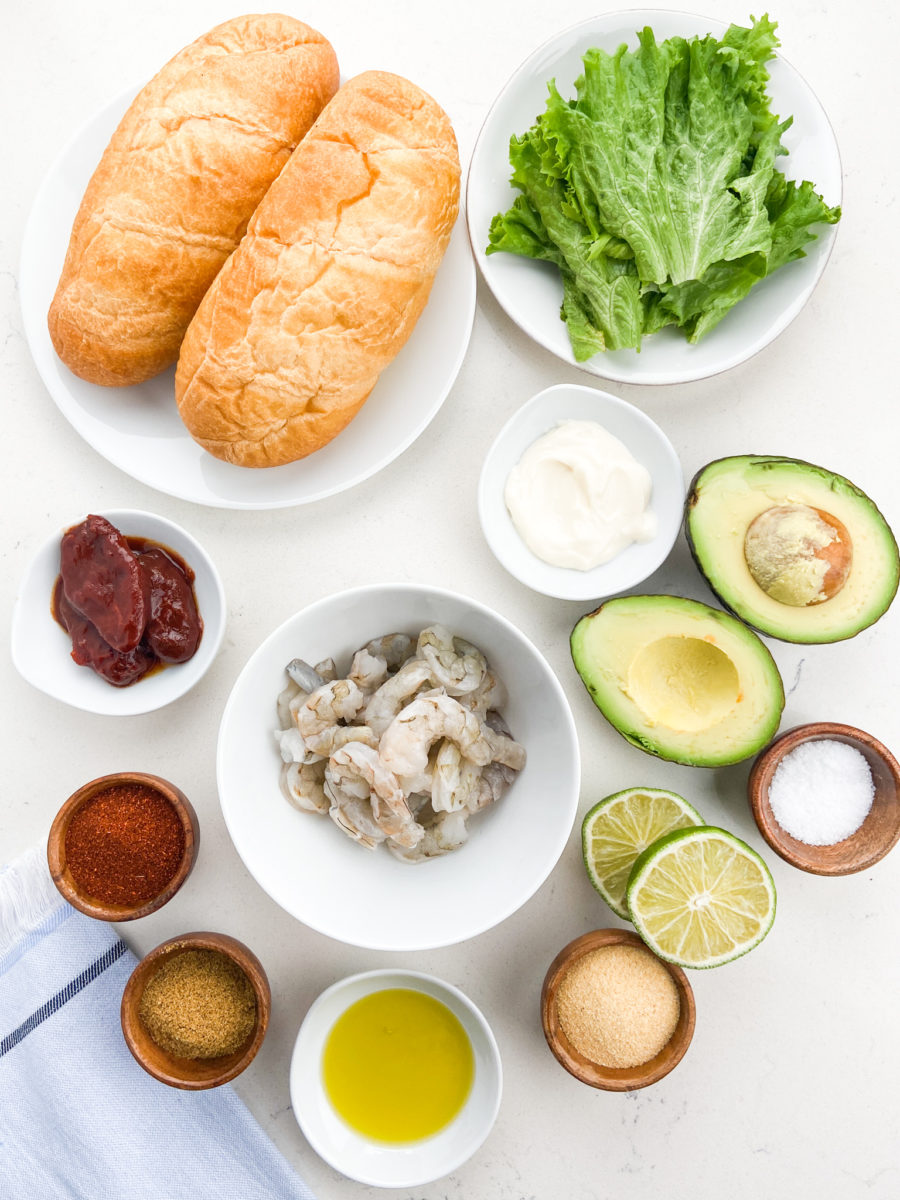 STEP BY STEP PHOTOS AND INSTRUCTIONS:
It's pretty easy to get this shrimp sandwich on your table! These easy step by step photos and instructions will show you exactly how easy it is!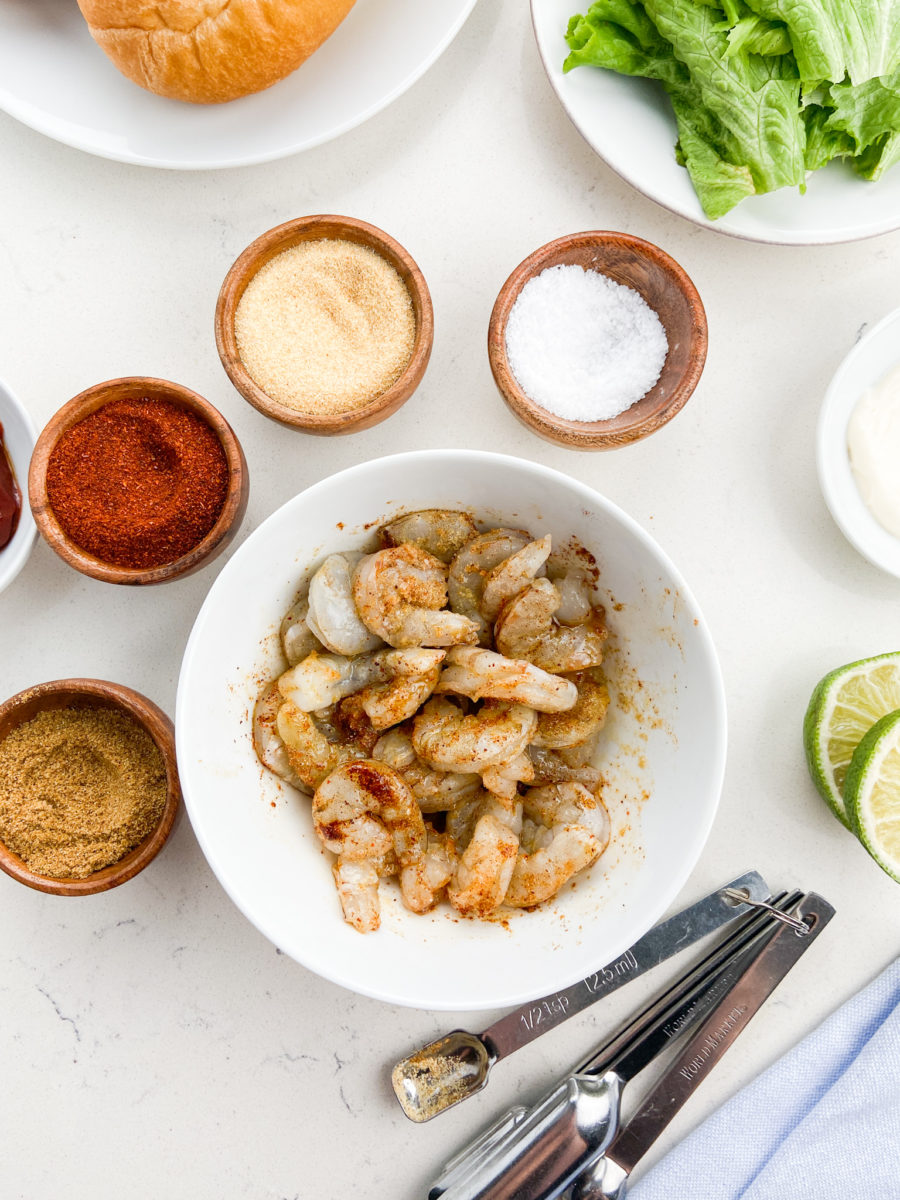 STEP #1: Season the shrimp with cumin, garlic, salt and chili powder.
STEP #2: Use a food processor to make the chipotle avocado mayonnaise. I like this mini one from KitchenAid.
STEP #3: Cook the shrimp. This is only going to take about 5 minutes. Shrimp cooks very quickly. Try not to overcook them!
STEP #4: Assemble the sandwiches. You can toast the bread if you want then spread the avocado mayo on both pieces of bread top with shrimp and lettuce.
STORAGE AND LEFTOVERS:
The sandwich itself and the shrimp should be eaten the day that they are made. The sauce however can be stored in the refrigerator and will last a couple of days.
So if you LOVE sandwiches you've got or if you're like me and are just "meh" on them, you've got to try this Spicy Shrimp Sandwich, it will be one of your new favorites!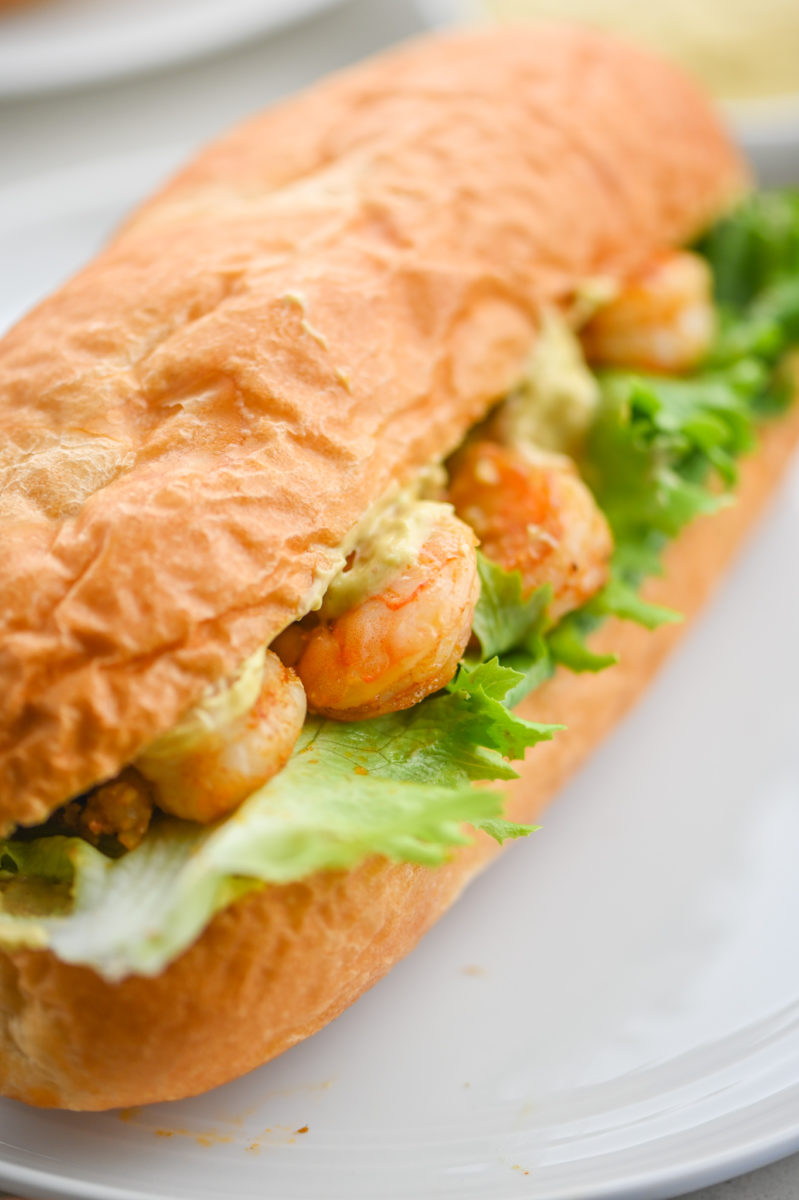 Looking for more shrimp recipes? Try these!
These Shrimp Tacos with Cilantro Lime Sour Cream Sauce have been one of my most popular recipes for years!
Crunchy Cajun Popcorn Shrimp are a hit with kiddos and adults alike!
This Shrimp Linguine with Tomatoes and Zucchini is one of my favorite pastas of all time!
Note: This post was originally written in 2010. It was updated with new photos, nutrition information and tips in 2022.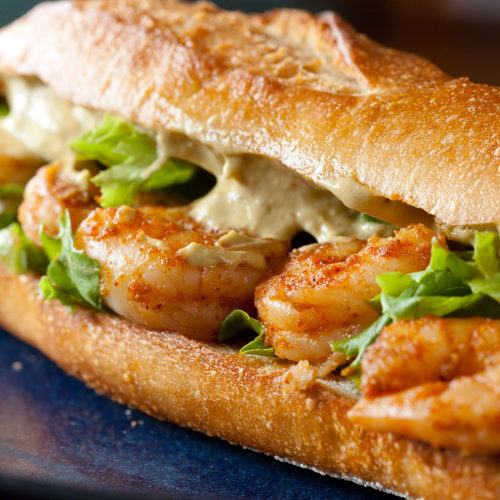 Spicy Shrimp Sandwich
Spicy shrimp sandwich with a spread so good you could eat it by the spoonful. A great way to kick up your lunch routine.
Combine cumin, garlic powder, 1/4 teaspoon kosher salt, chili powder and olive oil together in a bowl. Place shrimp in the bowl and toss to coat.

Combine avocado, mayonnaise, chipotle pepper, lime juice and 1/4 teaspoon kosher salt in a food processor. Pulse until smooth.

Place shrimp in a skillet over medium heat. Cook until pink and cooked through, about 5 minutes.

Toast rolls, if desired. Spread chipotle avocado mayonnaise on the roll. Place lettuce leaves on the bottom half of the roll and place 10 shrimp on each sandwich. Serve.
The avocado sauce will keep covered in the refrigerator for a couple of days. 
Nutrition information for estimation purposes only. 
Calories:
571
kcal
Carbohydrates:
40
g
Protein:
30
g
Fat:
33
g
Saturated Fat:
5
g
Polyunsaturated Fat:
14
g
Monounsaturated Fat:
11
g
Trans Fat:
1
g
Cholesterol:
194
mg
Sodium:
906
mg
Potassium:
631
mg
Fiber:
6
g
Sugar:
6
g
Vitamin A:
2571
IU
Vitamin C:
7
mg
Calcium:
100
mg
Iron:
12
mg
Keywords:
chipotle, mayonnaise, Prawns, sandwich, shrimp