Slow Cooker Pork Ribs with Honey Chipotle BBQ Sauce
These Slow Cooker Pork Ribs with Honey Chipotle BBQ Sauce are so tender that the meat falls off the bone. With a perfect sweet heat BBQ sauce they are everything a good rib should be! 
I'm going to let you in on a little secret. Growing up I did not like ribs. Like at all. If that's what my mom was BBQ-ing I would load up my Chinet paper plate with extra corn and pea salad. I didn't like getting messy and ribs were, and still are, messy. Very messy. But that is the beauty of growing up your tastebuds change and in my case, I realized that the messier the meal, usually the better it is.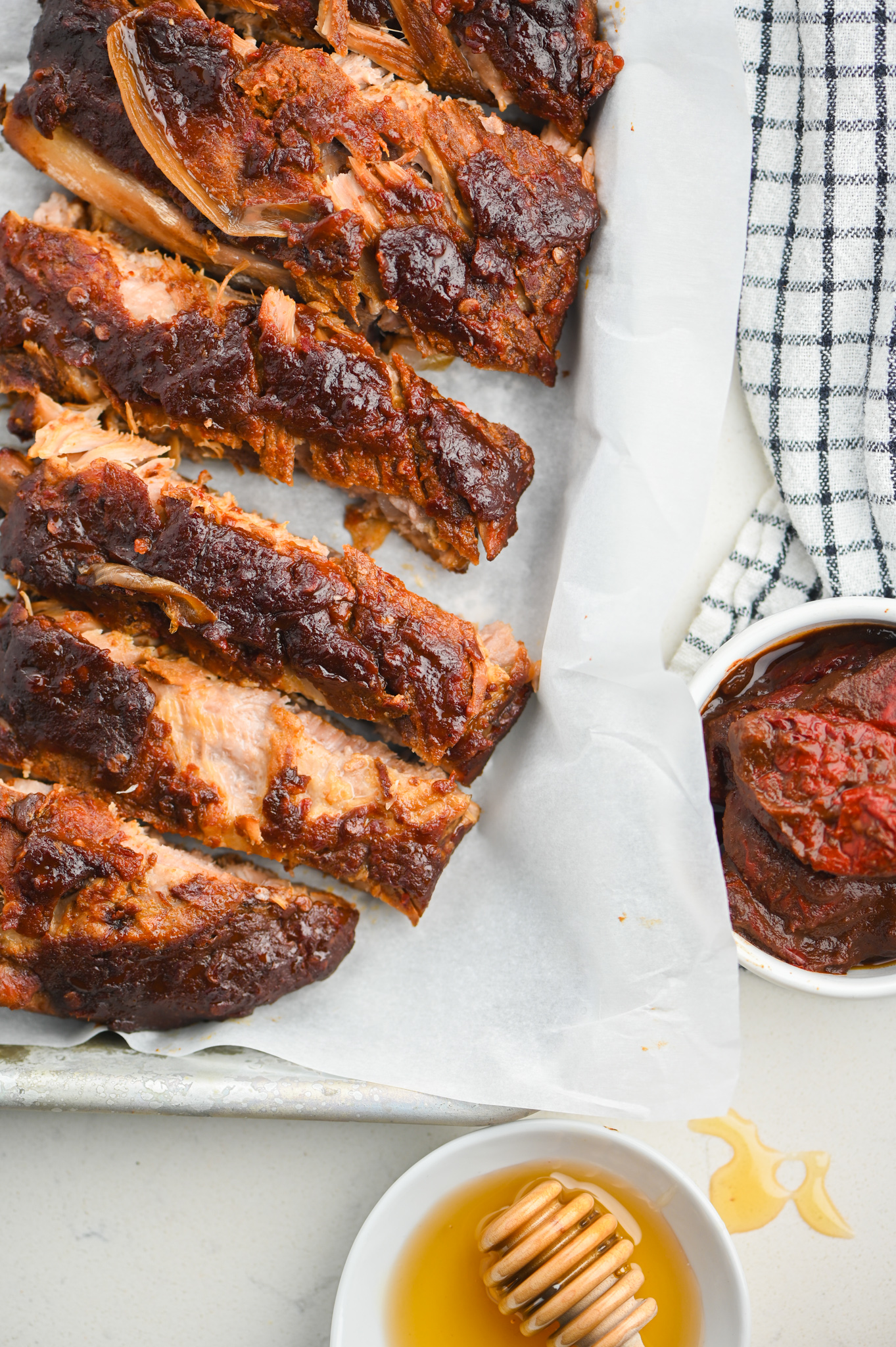 What makes these so messy is the sweet and spicy homemade honey chipotle BBQ sauce that is poured over the top of them before the slow cooking begins. If you'd like to cut the heat down a bit you can use half of the can of chipotle peppers and add another tablespoon of honey. Either way be sure to have plenty of napkins on hand, you will need them.
What ingredients you'll need:
Don't let the length of this ingredient list intimidate you! When you're making your own seasoning rubs and BBQ sauce, the list tends to get a bit long. But the recipe itself comes together very quickly!
Let's talk Seasoning Rub for those ribs:
You're going to need to season the ribs with a blend of seasonings most of which you already probably have on hand. You will need: salt, pepper, cayenne pepper, garlic powder, paprika, onion powder and cumin. You will also need some olive oil. The olive oil will work to turn the spices into a paste that you'll rub on onto the ribs.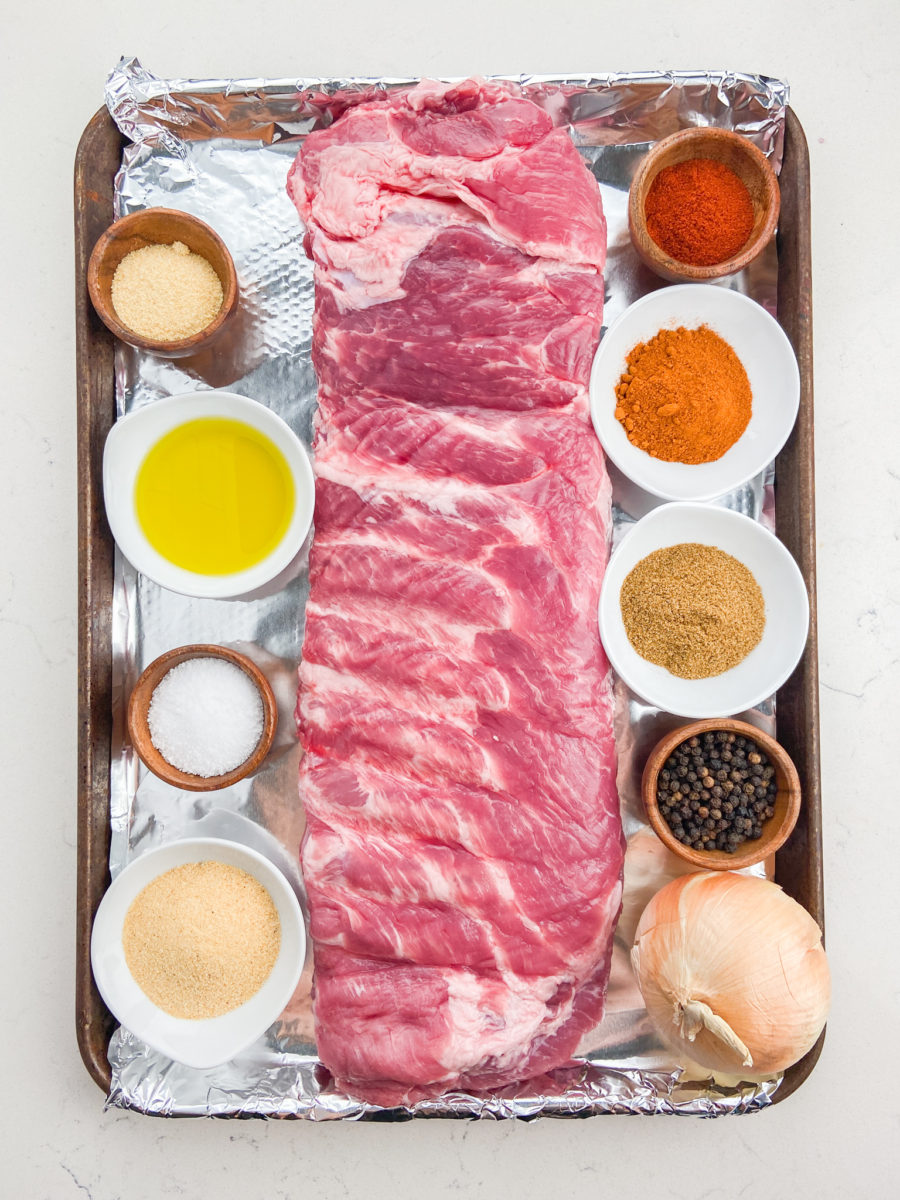 As far as the ribs go, I've made this with both pork spare ribs and baby back ribs. It was great both ways and the spare ribs are often more affordable and meatier than the baby backs.
To make the Honey Chipotle BBQ Sauce you'll need: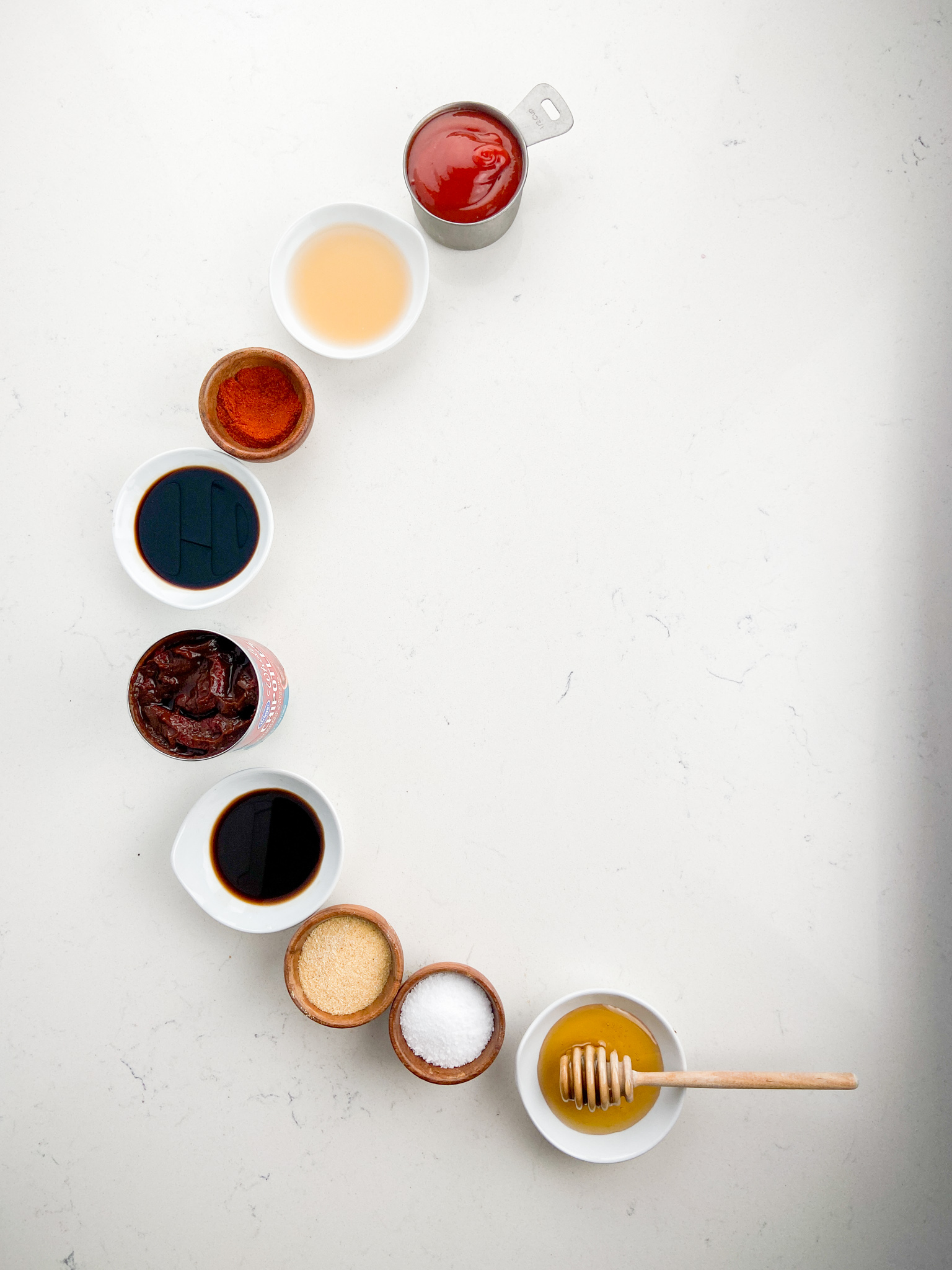 KETCHUP: This will be the base of the BBQ sauce.
SOY SAUCE: For umami flavor.
APPLE CIDER VINEGAR: To add some acidity to the sauce.
HONEY: To add sweetness.
SALT
PAPRIKA: Adds a smokiness and color.
WORCESTERSHIRE SAUCE: Like soy sauce, adds umami flavor.
BROWN SUGAR: You can use light or dark, whichever you have on hand, both will work in this recipe.
GARLIC POWDER (Or granulated garlic): If you use garlic salt, omit the additional salt in the recipe.
CHIPOTLE PEPPERS IN ADOBO: This is where the heat comes into play. These can pack a bit of a punch so if you're worried about it start with one or two at a time. If you're in the "GIMME ALL THE HEAT" camp add the whole can at once. ;)
How to Make Slow Cooker Pork Ribs:
The slow cooker does the most of the work in this recipe but there is a bit of prep work that goes into getting the ribs ready, including a bit of oven time to get the cooking process started. Let me walk you through it with these step by step photos and instructions.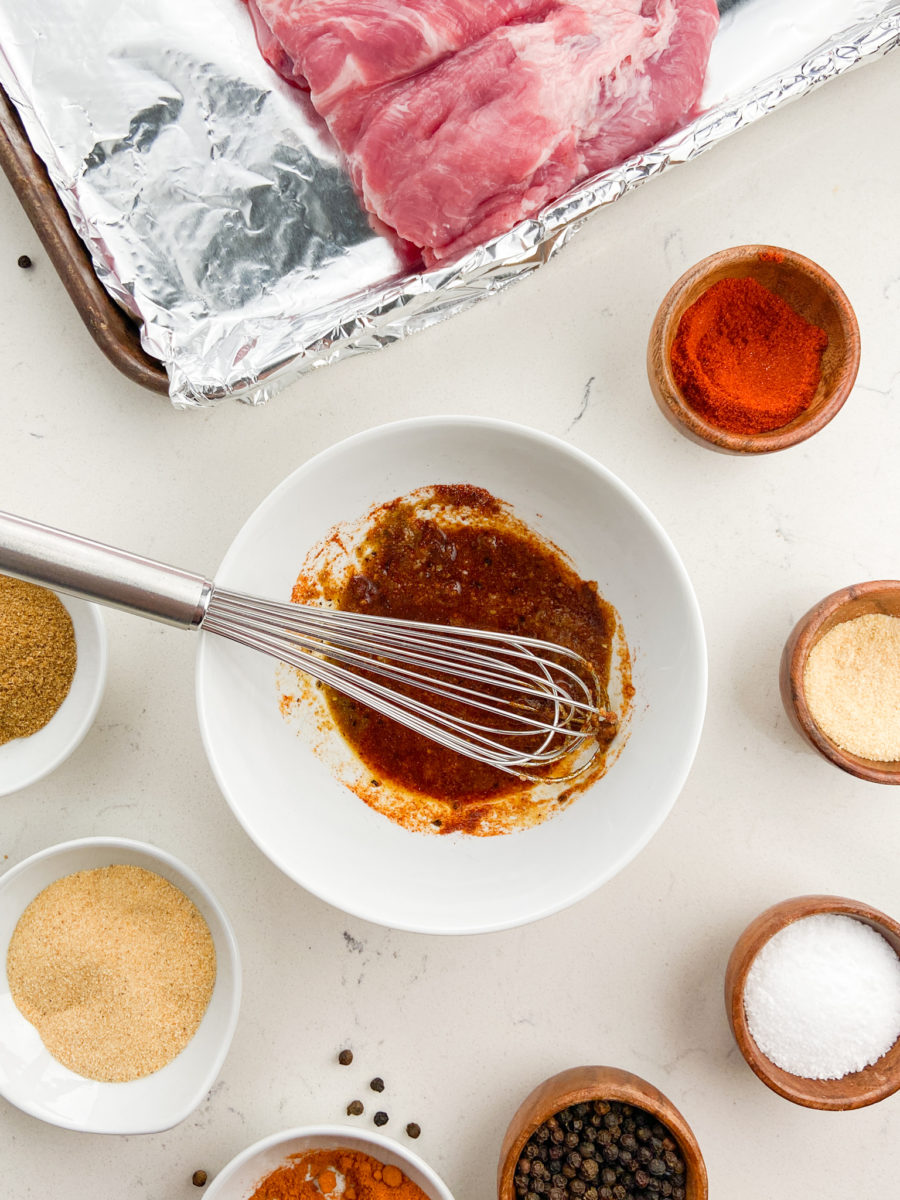 STEP #1: Combine all of the seasonings and olive oil to make a paste to rub on the ribs. Rub the mixture all over both sides of the ribs and place the ribs on an aluminum lined baking tray and bake at 400 degrees for 15 minutes, turn and cook for 15 more.
STEP #2: Make the BBQ Sauce. It's pretty easy to make in a food processor.
STEP #3: Place sliced onion in the bottom of a slow cooker and place the ribs on top. Pour the BBQ Sauce on top and cover (make sure to reserve a bit of the sauce for serving!) . Cook on low for 6 to 8 hours. 
STEP #4: Optional: place the ribs under the broiler for 3 – 4 minutes to caramelize the sauce.
RECIPE FAQ:
Why are my slow cooker ribs tough?
The collagen hasn't had a chance to break down. To help this simply increase the cooking time. It could also be that there isn't enough liquid but this sauce should give you plenty. In addition, the lid on the slow cooker will keep the steam in keeping it moist.
Can I stack ribs in the slow cooker?
Yes! You can also curl them around the sides of the slow cooker but sometimes that will prevent the lid from sitting tightly on top.
Do you need to remove the membrane from ribs?
Yes it makes it easier for the spices to penetrate the meat. It also creates better texture. It is pretty easy to use a knife to lift and loosen the membrane from the back of the ribs. If you need a video here's one to help https://www.youtube.com/watch?v=I-RL_f8qdJE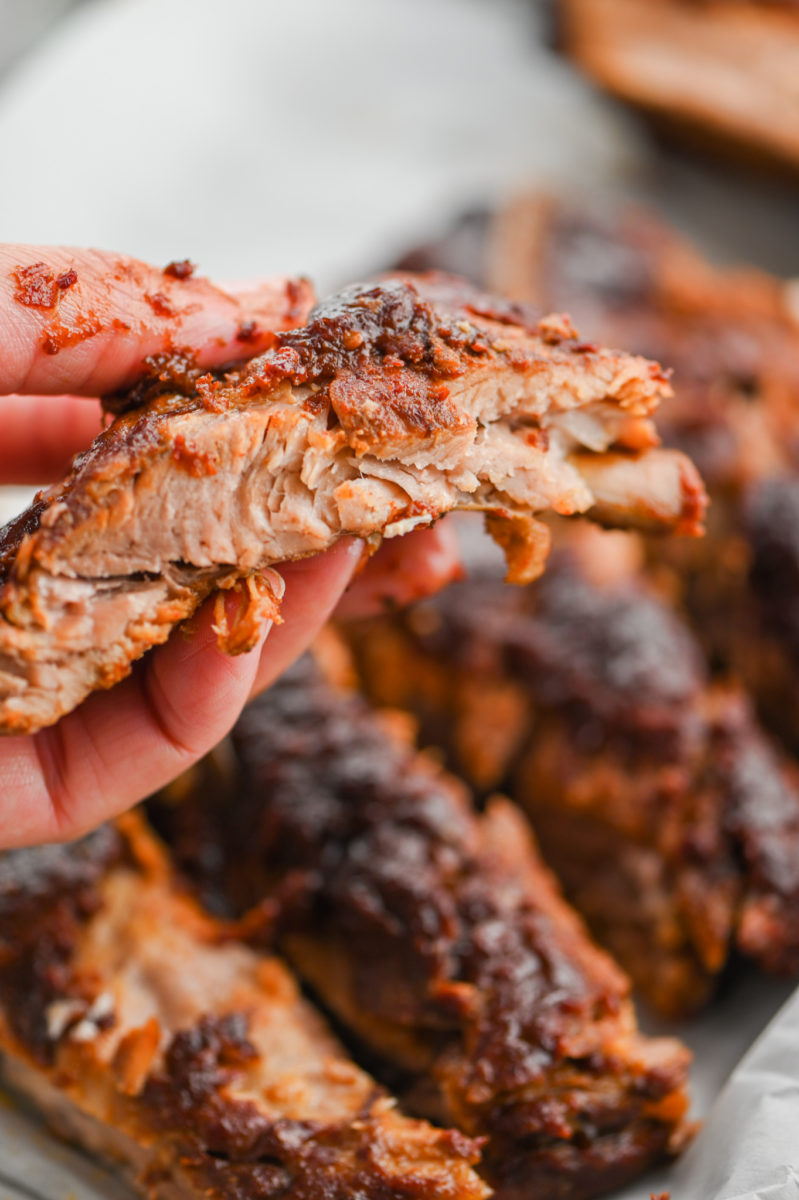 Want to make meal out of it? Here are some of our favorite recipes to serve alongside Slow Cooker Pork Ribs:
Skillet Cornbread make right in your cast iron skillet is a fave for sure!
Baked Macaroni and Cheese is a classic BBQ side and for good reason! It's creamy, cheesy perfection!
Easy Homemade Buttermilk Coleslaw is also great to serve alongside your favorite BBQ'd meats!
Note: This post was originally published in 2010. It was updated with new photos, a slightly modified recipe, FAQ and nutrition information in 2022.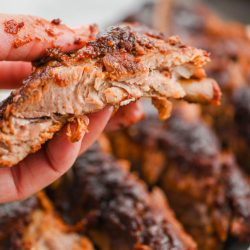 Slow Cooker Pork Ribs with Honey Chipotle BBQ Sauce
The best meals are always the messiest and these sweet n' spicy honey chipotle slow cooker ribs are no exception. So tender they fall of the bone!
Pork Ribs Ingredients:
2

teaspoons

kosher salt

1/2

teaspoon

black pepper

1/4

teaspoon

cayenne pepper

1

teaspoon

garlic powder

1

teaspoon

paprika

1

teaspoon

onion powder

1/2

teaspoon

cumin

2

tablespoons

olive oil

4

pounds

pork spare ribs

1

onion sliced
Honey Chipotle BBQ Sauce Ingredients:
Preheat oven to 400 degrees. Line a baking sheet with aluminum foil.

In a bowl combine kosher salt, black pepper, cayenne pepper, garlic powder, paprika, onion powder, cumin and olive oil in a bowl. Stir to make a paste. Rub mixture all over ribs. Transfer to preheated baking sheet. Place in oven and cook for 15 minutes. Turn and cook for 15 more minutes.

Place the sliced onion on the bottom of the slow cooker.

While the meat is cooking combine all of the ingredients for the BBQ sauce in a food processor and process until smooth.

Transfer ribs to the slow cooker. Pour BBQ sauce over the top. reserving about 1/4 cup for later use. Cover and cook on low for 6 - 8 hours. Serve.
You can also use baby back ribs but they tend to be more expensive and leaner. 
Depending on the size of your slow cooker and your rack of ribs, you're going to likely need to cut the ribs into two sections to fit into the slow cooker. 
If you're concerned about the heat level of the BBQ sauce, start with one or two chipotle peppers and work your way up from there. They can pack a punch! 
Nutrition information for estimation purposes only. 
Calories:
721
kcal
Carbohydrates:
16
g
Protein:
36
g
Fat:
57
g
Saturated Fat:
18
g
Polyunsaturated Fat:
9
g
Monounsaturated Fat:
22
g
Trans Fat:
1
g
Cholesterol:
181
mg
Sodium:
1612
mg
Potassium:
659
mg
Fiber:
1
g
Sugar:
12
g
Vitamin A:
624
IU
Vitamin C:
4
mg
Calcium:
49
mg
Iron:
3
mg
Keywords:
4th of July Recipes, bbq, chipotle, honey, pork, pork ribs, ribs, slow cooker, summer