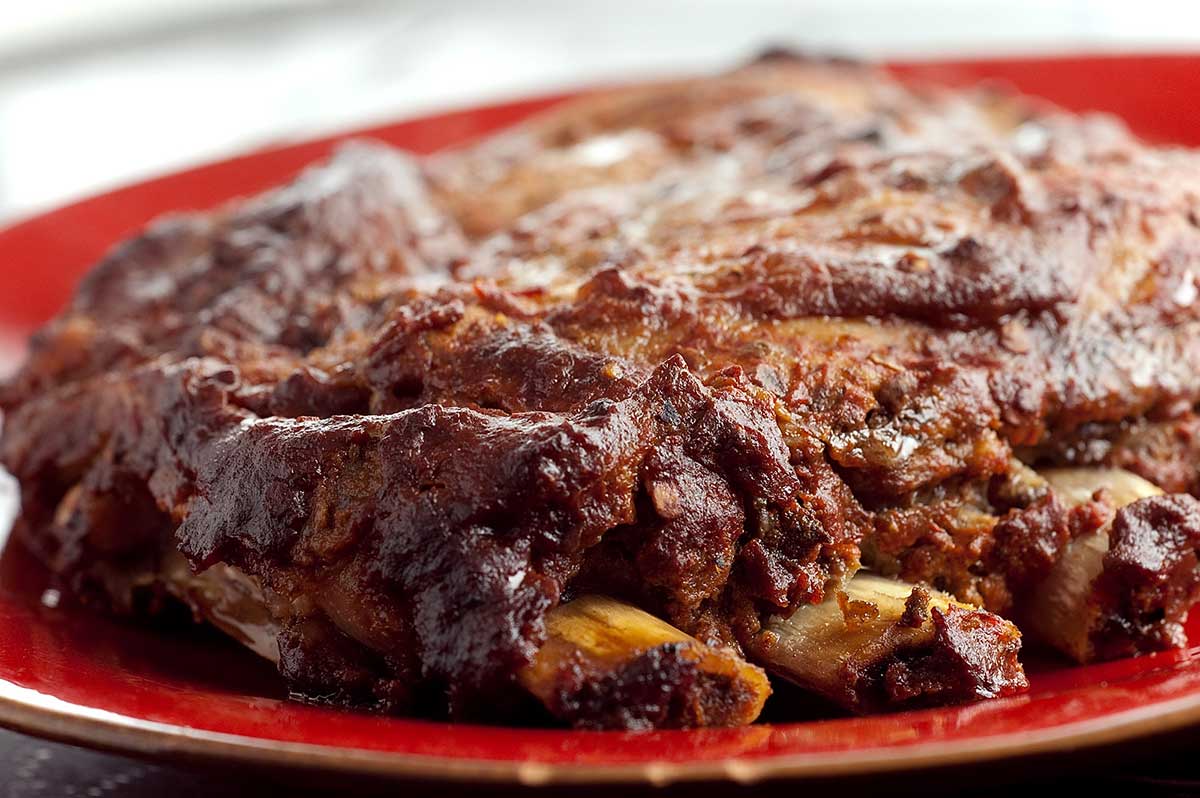 Honey Chipotle Slow Cooker Pork Ribs
I'm going to let you in on a little secret. Growing up I did not like ribs. Like at all. If that's what my mom was BBQ-ing I would load up my Chinet paper plate with extra corn and pea salad. I didn't like getting messy and ribs were, and still are, messy. Very messy. But that is the beauty of growing up your tastebuds change and in my case, I realized that the messier the meal, usually the better it is.

What makes these so messy is the sweet and spicy homemade honey chipotle BBQ sauce that is poured over the top of them before the slow cooking begins. If you'd like to cut the heat down a bit you can use half of the can of chipotle peppers and add another tablespoon of honey. Either way be sure to have plenty of napkins on hand, you will need them.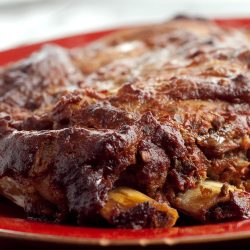 Honey Chipotle Slow Cooker Pork Ribs
The best meals are always the messiest and these sweet n' spicy honey chipotle slow cooker ribs are no exception.
Pork Ribs Ingredients:
2

teaspoons

kosher salt

1/2

teaspoon

black pepper

1/4

teaspoon

cayenne pepper

1

teaspoon

garlic powder

1

teaspoon

paprika

1

teaspoon

onion powder

1/2

teaspoon

cumin

2

tablespoons

olive oil

4

pounds

baby back pork ribs

1

onion sliced
Honey Chipotle BBQ Sauce Ingredients:
Preheat oven to 400 degrees. Line a baking sheet with aluminum foil.

In a bowl combine kosher salt, black pepper, cayenne pepper, garlic powder, paprika, onion powder, cumin and olive oil in a bowl. Stir to make a paste. Rub mixture all over ribs. Transfer to preheated baking sheet. Place in oven and cook for 15 minutes. Turn and cook for 15 more minutes.

Place the sliced onion on the bottom of the slow cooker.

While the meat is cooking combine all of the ingredients for the BBQ sauce in a food processor and process until smooth.

Transfer ribs to the slow cooker. Pour BBQ sauce over the top. Cover and cook for 6 hours. Serve.
Keywords:
4th of July Recipes, bbq, chipotle, Food, honey, memorial day, pork ribs, Recipe, ribs, slow cooker, summer