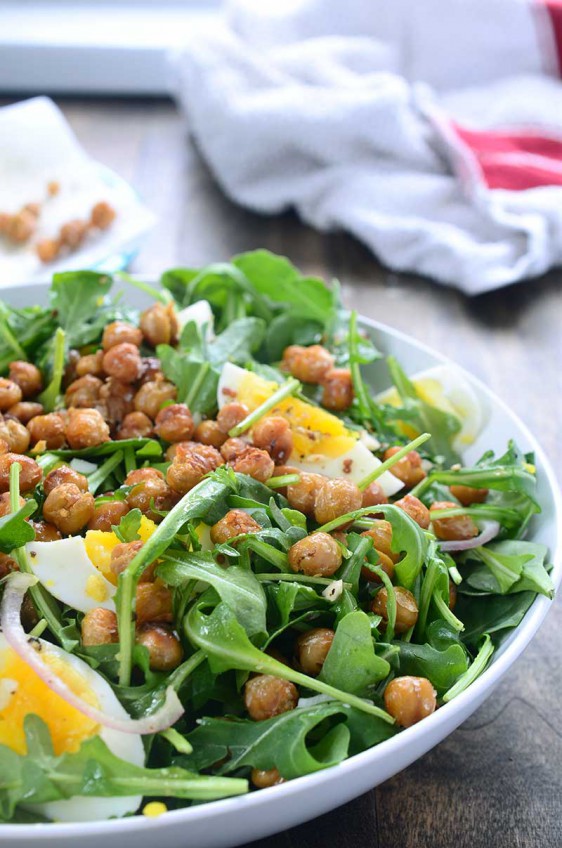 Crispy Chickpea and Arugula Salad
Crispy Chickpea and Arugula Salad is EVERYTHING. If you are looking for a big, hearty salad packed with flavor, this is it. This easy meatless salad is loaded with arugula, crispy chickpeas, hard boiled eggs and shallots. And as if all that isn't enough, the salad is drizzled with a garlicky mustard vinaigrette. Like I said, this salad is everything.
Is it just me or do hot summer days just beg for a hearty salad? During the winter I usually need something heavy. Seriously, give me all the meatloaf and mashed potatoes. But as soon as it starts to warm up outside, I am all about the light dishes. Give me grilled fish and a salad and I am a happy girl. And when I say salad, I mean loaded salads like this Crispy Chickpea and Arugula Salad.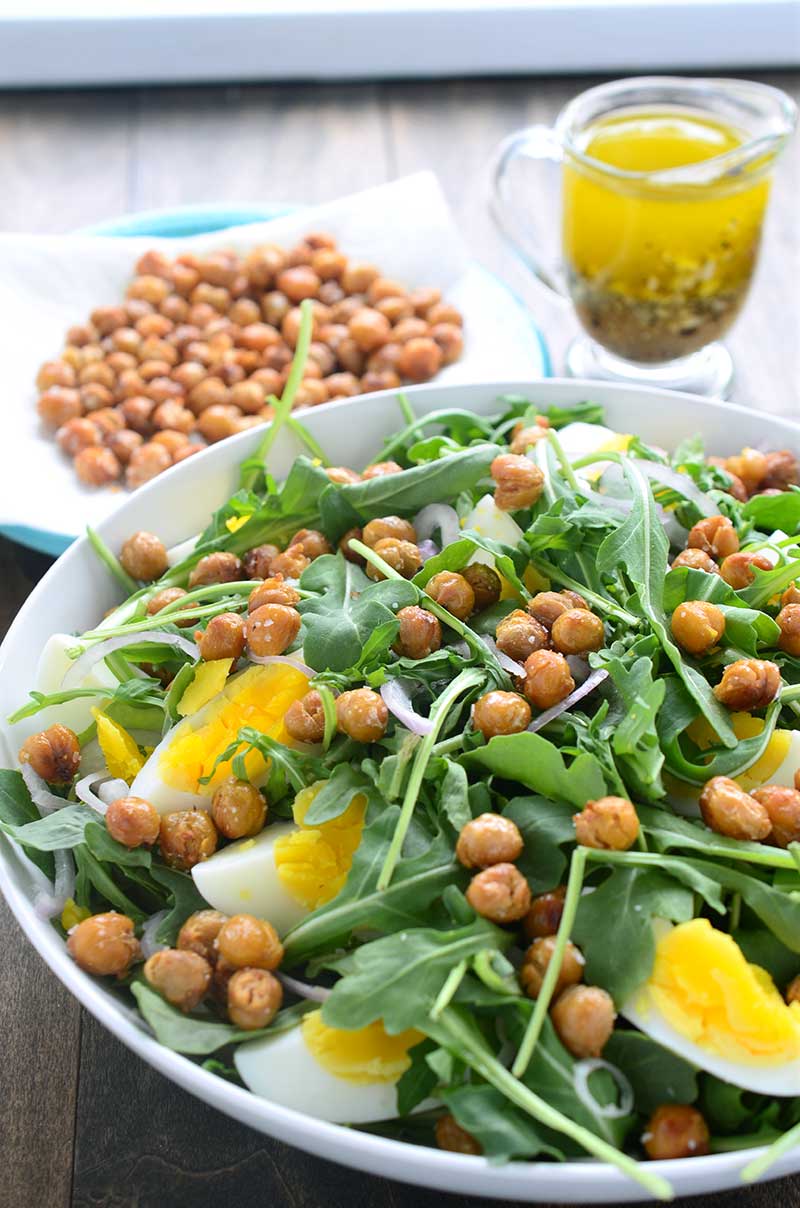 I liked the idea of arugula as the base of this salad because of its peppery flavor. I picked shallots over other onions because they are more subtle. I thought that the crispy chickpeas would add a nice crunch and the hardboiled eggs would add some creaminess and protein. When it came to the dressing, I wanted something that added to all of the other flavors without of overpowering them. I decided on a quick and simple garlicky mustard vinaigrette using stone ground mustard.
Seriously, every bite of this crispy chickpea and arugula salad packs so much goodness, I can hardly handle it.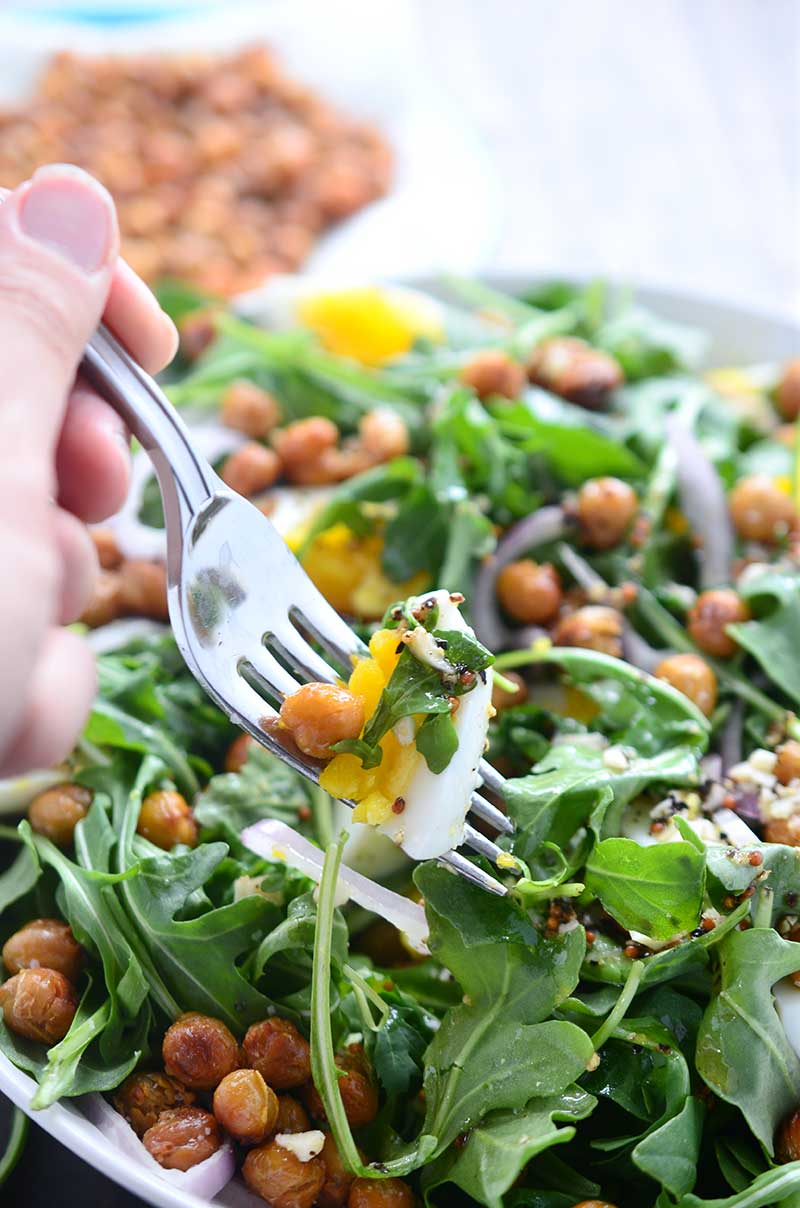 Don't you just want a bite? I know I do. In fact, I think I'll make this salad again this week. I think I'll make some bruschetta or garlic toast to serve with it.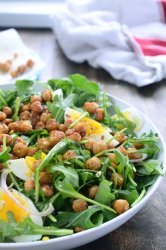 Crispy Chickpea and Arugula Salad
This crispy chickpea and arugula salad is loaded with arugula, crispy fried chickpeas, boiled eggs, shallots and a mustard vinaigrette. Get the recipe here!
Mustard Vinaigrette
1/4

cup

extra virgin olive oil

1

teaspoon

stone ground mustard

2

tablespoons

white wine vinegar

1

garlic clove

minced

3/4

teaspoon

kosher salt

1/4

teaspoon

black pepper.
Heat avocado oil in a skillet over medium-high heat. Add in chickpeas and cook until golden brown, 15- 20 minutes, stirring every 5 minutes. Transfer to a paper towel lined plate and sprinkle with salt.

In a large bowl combine arugula, hard boiled eggs, chickpeas and shallots.

In a small bowl whisk all vinaigrette ingredients together.

Drizzle vinaigrette over salad. Toss to coat and serve.
Keywords:
arugula, chickpeas, garbanzo beans, gluten free, salad