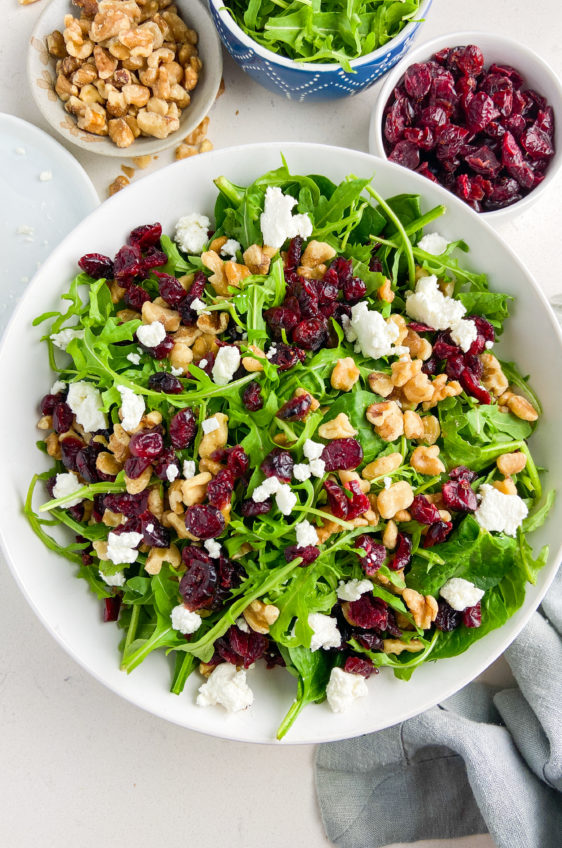 Spinach, Arugula, Cranberry and Walnut Salad
This Spinach Cranberry Salad loaded with sweet cranberries, goat cheese, walnuts, spinach and arugula makes a gorgeous addition to your holiday table!
Let's be honest, when it comes to holiday meals, a lot of them are on the heavy side. There are decadent desserts. Hearty sides. Not to mention the show stopping mains. And while all of it is delicious, it's also nice to have a dish that lightens things up a bit without sacrificing the holiday flavors we are all used to. Salads are great for that!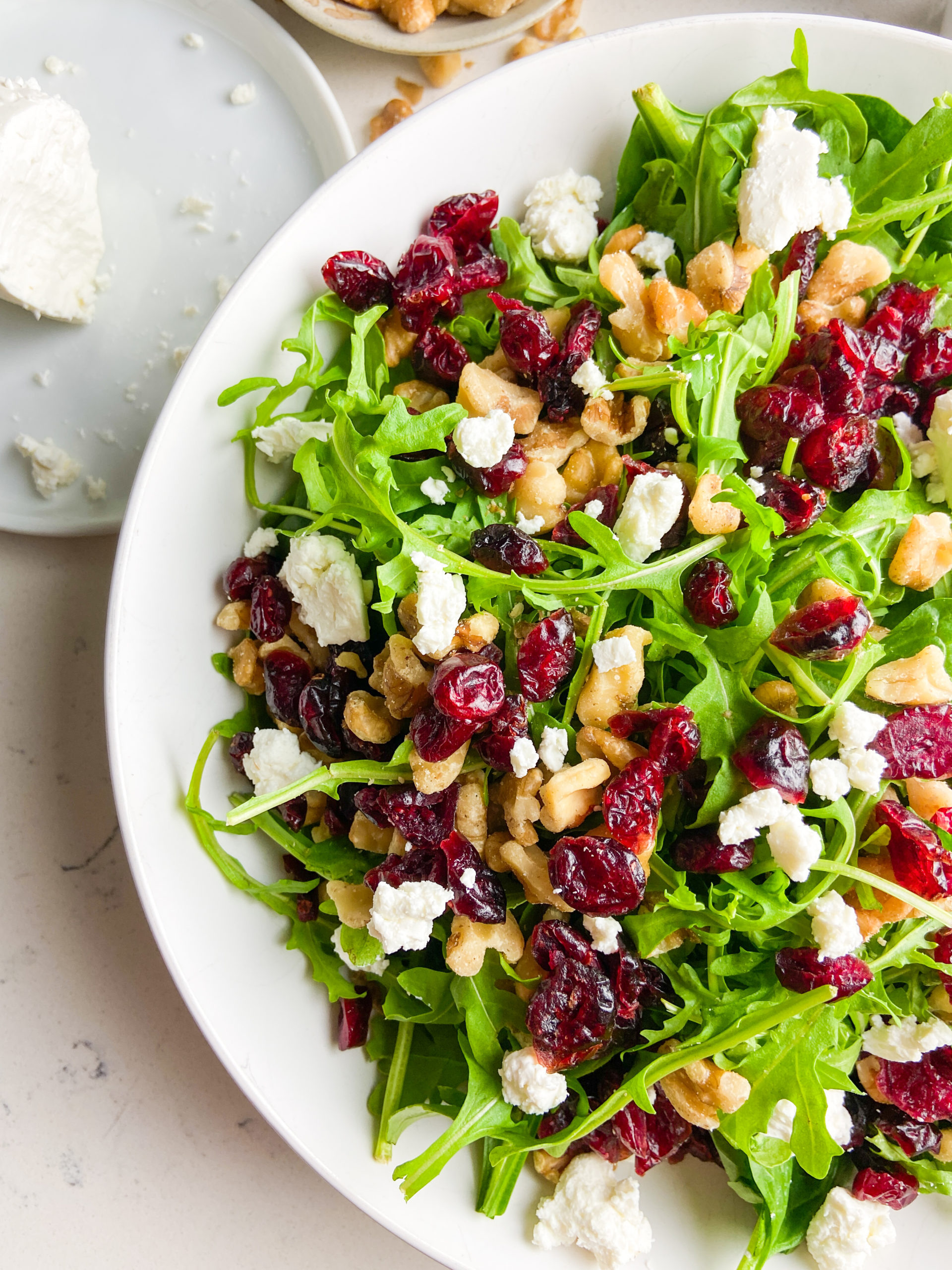 Take this Spinach Cranberry Salad for instance. It's loaded with dried cranberries, walnuts, goat cheese, spinach and arugula. But the holiday flavor doesn't end there, it's also all tossed in a tangy cranberry vinaigrette. The result is a flavorful, gorgeous. salad that will be the perfect addition to your holiday table.
What ingredients do you need?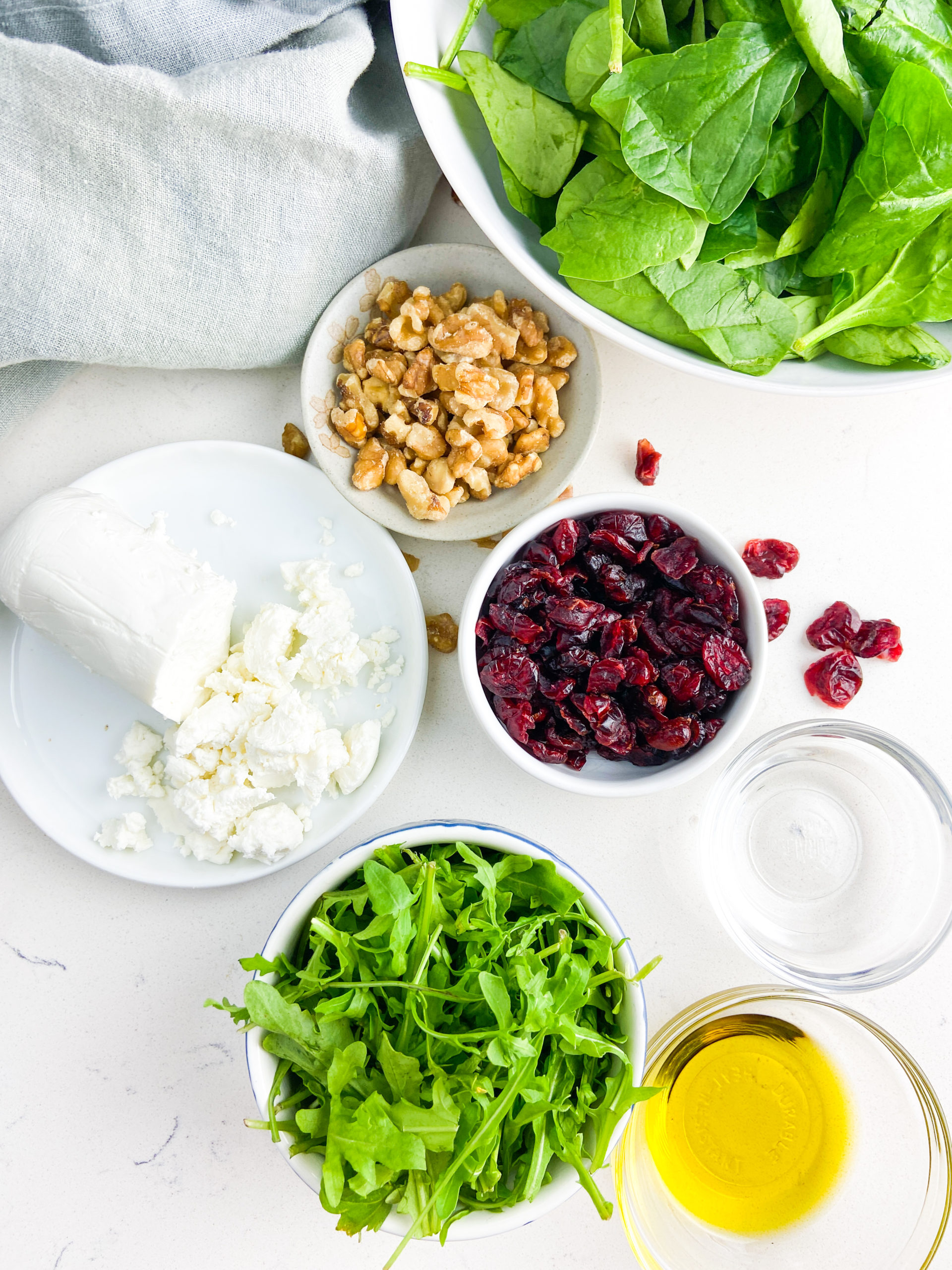 EXTRA VIRGIN OLIVE OIL: Always a must for vinaigrettes in my opinion.
WHITE WINE VINEGAR: It has a light fruity flavor that is perfect in the cranberry dressing.
DRIED CRANBERRIES: These are tart yet sweet. And the pop of red color is gorgeous.
SPINACH: Baby spinach works great.
ARUGULA: One of my favorite greens to add to salads. It adds a slight peppery flavor.
WALNUTS: These add a great crunch to the salad.
GOAT CHEESE: One of my favorite cheeses! It's tangy and creamy, I love it in salads!
Step by Step Photos and Instructions:
STEP #1: Combine olive oil, vinegar and 2 tablespoons of dried cranberries in a small food processor. Pulse until cranberries are small and dressing is emulsified. Allow to set at room temperature for 30 minutes to let the flavors meld. Whisk once more before using.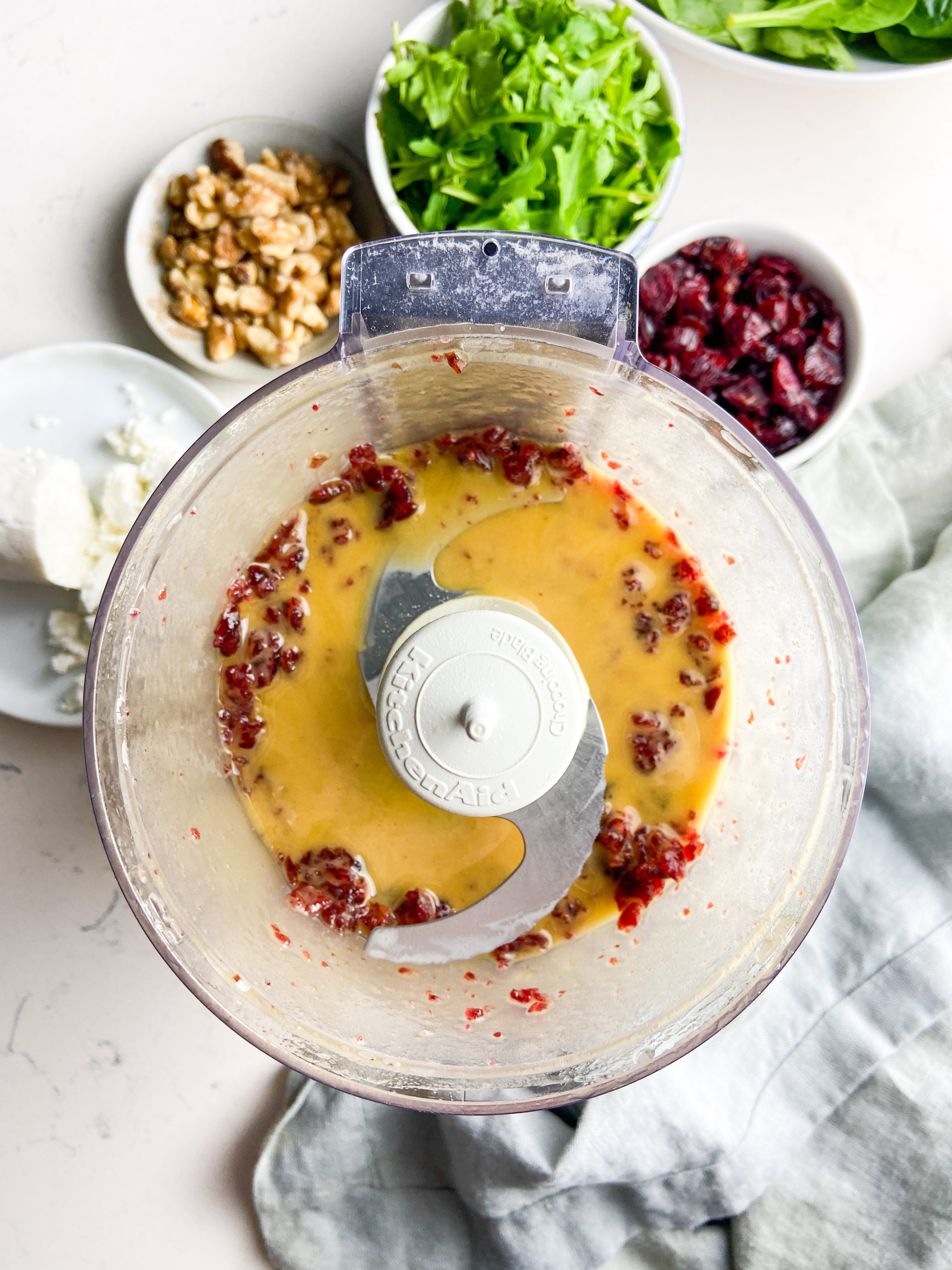 STEP #2: Pour dressing into the bottom of the bowl and add in remaining salad ingredients.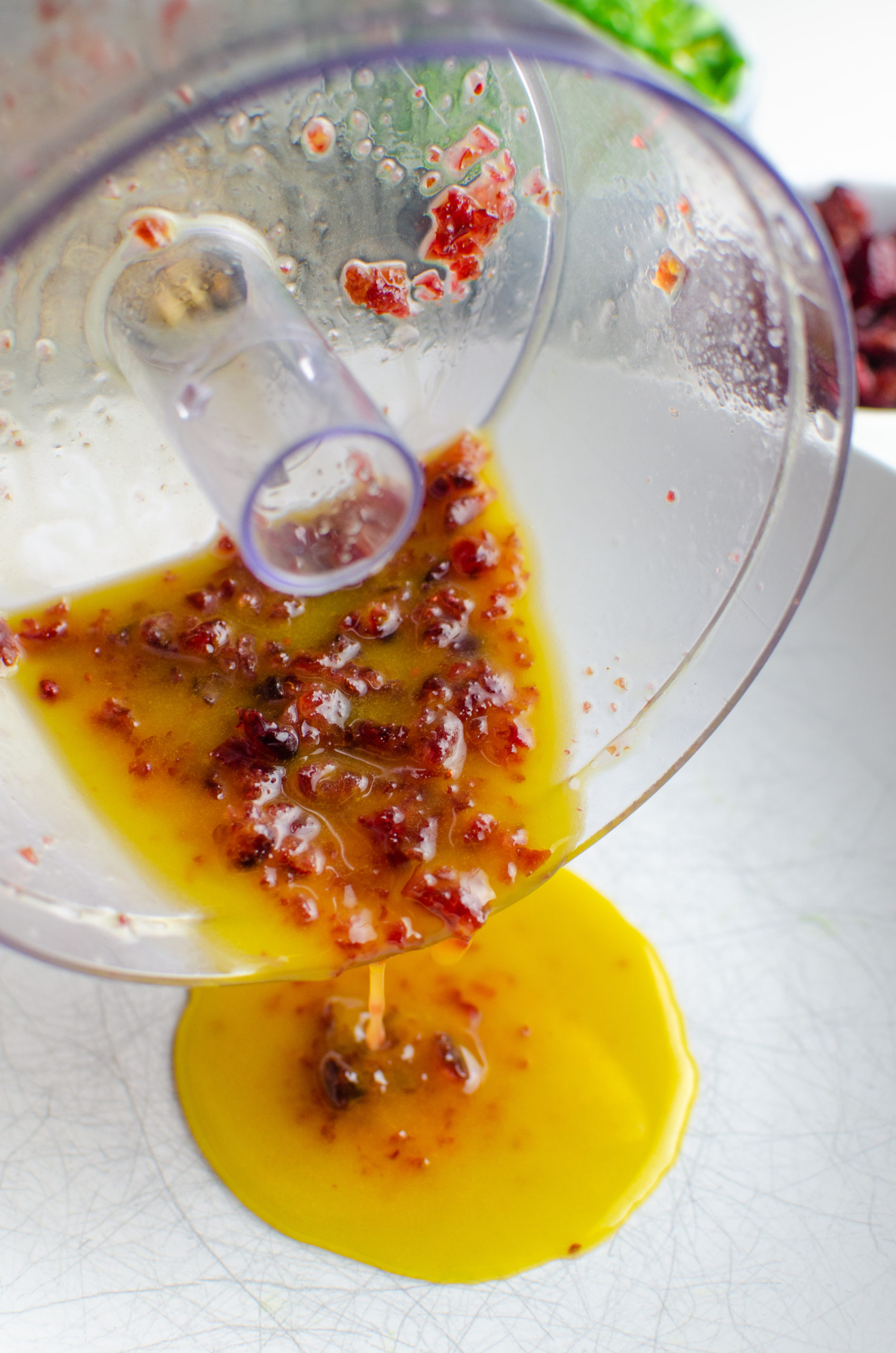 STEP #3:Toss to coat all ingredients in the dressing. Season to taste with salt and fresh ground black pepper. Serve immediately.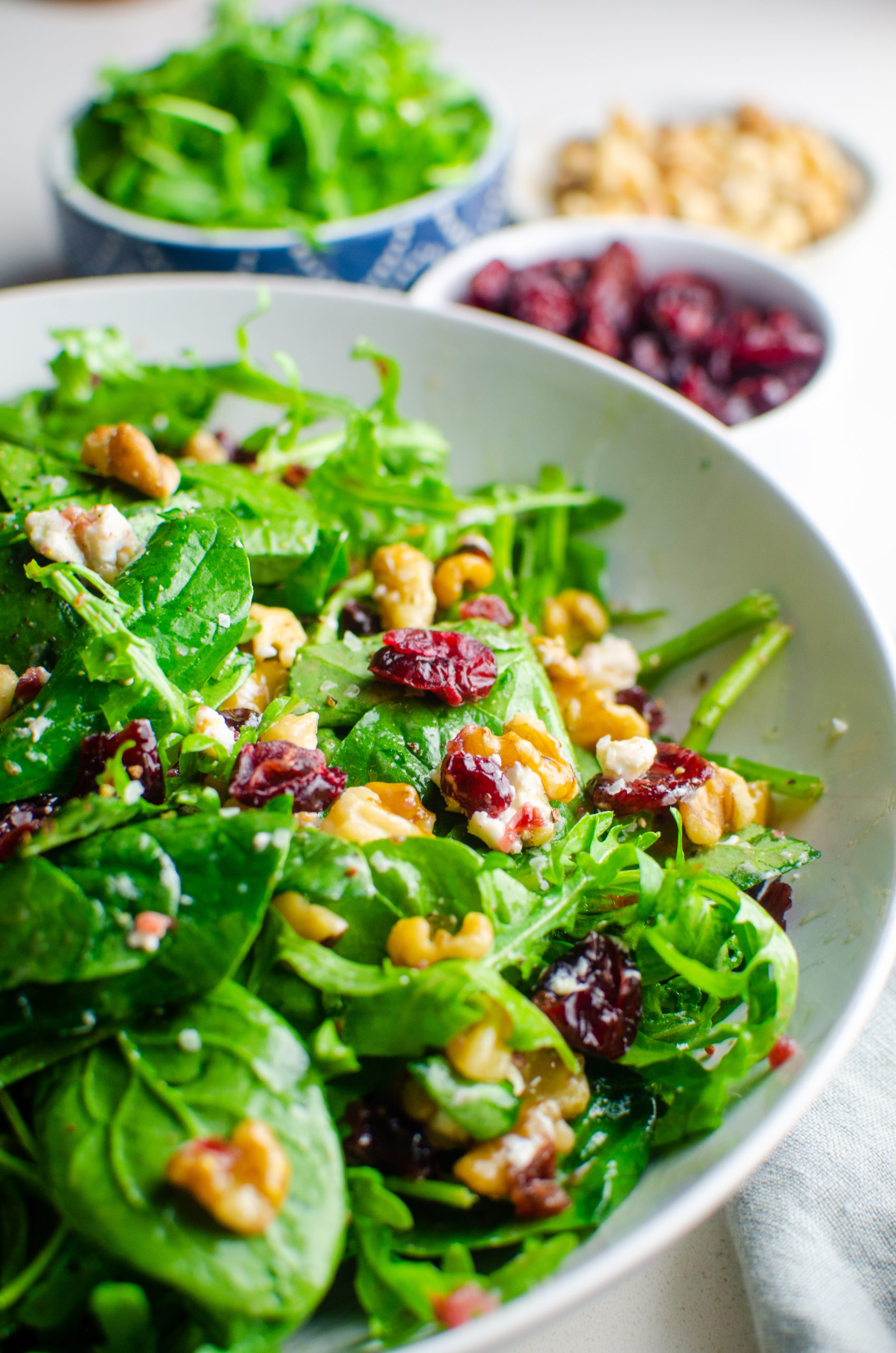 If you want to make this salad a head of time that's fine. Instead of putting the dressing the bottom of the bowl, simply assemble the salad and pour the dressing over the top right before you're ready to eat.
Guys, I love, love LOVE this Spinach Cranberry Salad. And so did my family! You're going to want to add it to your holiday table. Trust me.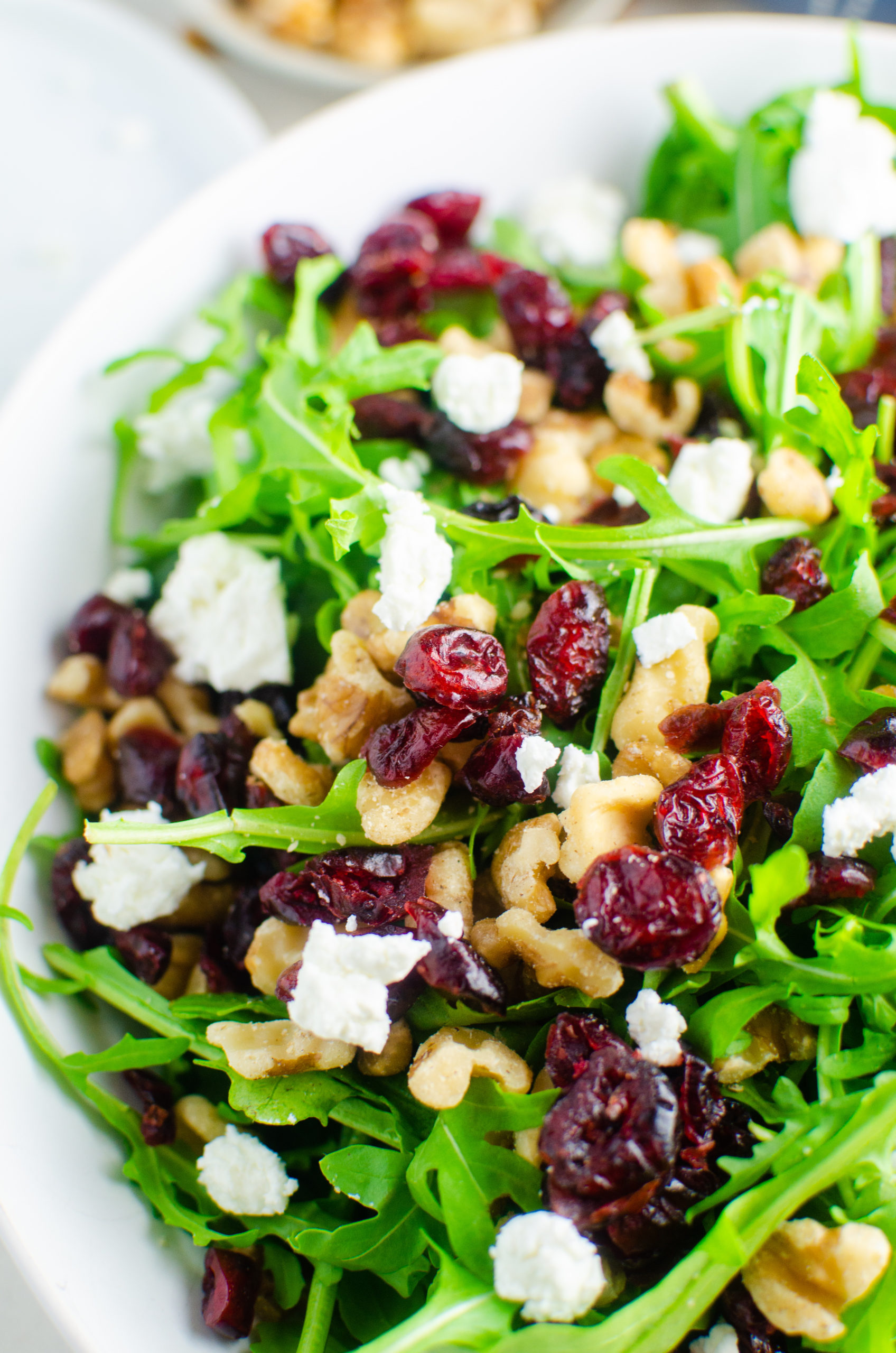 Looking for more holiday side dishes? Check these out:
Instant Pot Macaroni and Cheese
Love salads? Me too! Here are some of my favorite salad and dressing recipes:
Spinach Salad with Dijon Vinaigrette
Note: This recipe and post was originally written in 2009. It was updated with new step by step photos, instructions and nutrition information in 2020.
Spinach, Arugula, Cranberry and Walnut Salad Recipe
Ingredients:
3 tablespoons olive oil
2 tablespoons white wine vinegar
1/2 cup plus 2 tablespoons dried sweetened cranberries
3 cups loosely packed baby spinach leaves
1 1/2 cups loosely packed baby arugula
1/2 cup shelled walnuts
1/4 cup goat cheese crumbles
fresh cracked pepper and kosher salt
Instructions
1
Combine olive oil, vinegar and 2 tablespoons cranberries in a food processor. Process until berries are finely chopped, about 30 seconds. Allow to set for 30 minutes at room temperature.

2
Pour dressing into the bottom of a salad bowl. Add in remaining ingredients. Season with salt and pepper.

3
Toss to combine and coat in dressing.
Notes
This salad is quick, easy, flavorful and best of all might bring a little more pretty to your Thanksgiving table than say, a log of cranberry "sauce". I'm just sayin'. Enjoy!
Nutrition information
Calories: 165 , Total Fat: 13.6g , Saturated Fat: 2g , Cholesterol: 1mg , Sodium: 77mg , Carbohydrates: 9.3g , Fiber: 2.2g , Sugar: 3.9g , Protein: 3.6g