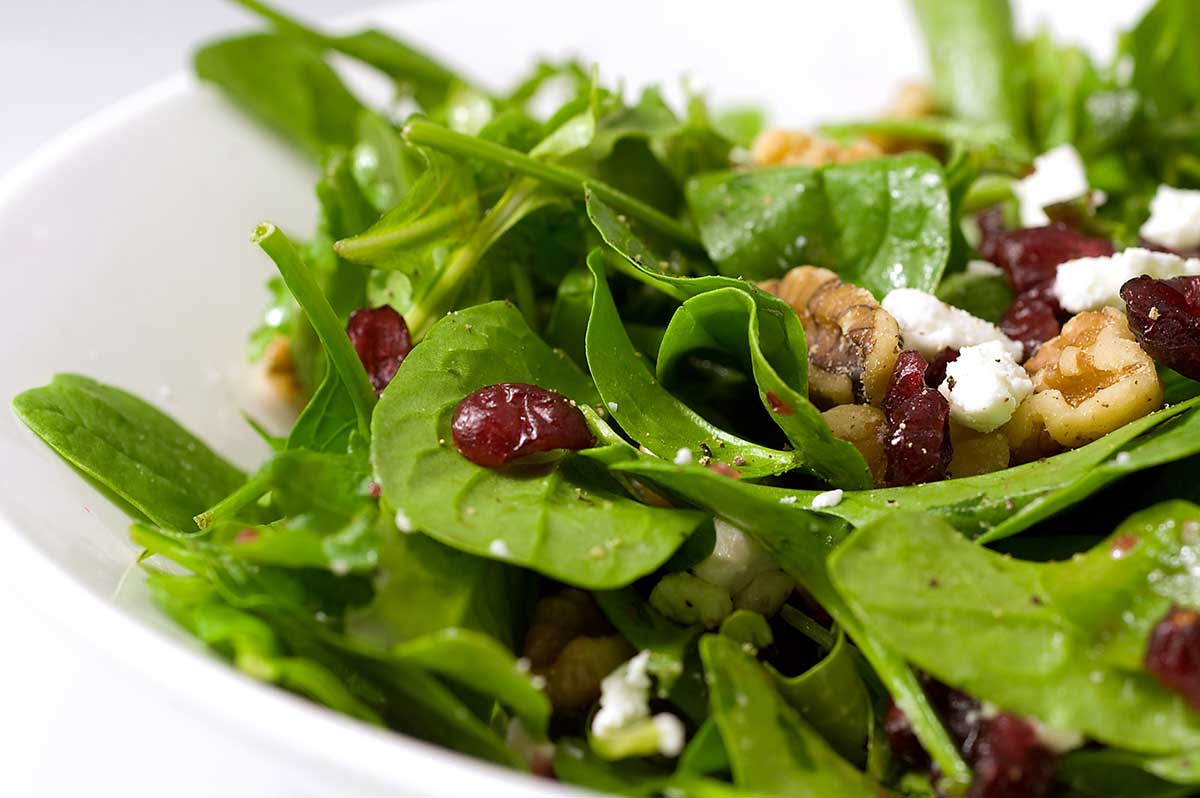 Spinach, Arugula, Cranberry and Walnut Salad
After yesterday's heavy but heavenly Cheesy Baked Mashed Potatoes, I thought I'd lighten things up a bit with this flavorful Thanksgiving salad. It has all kinds of goodies like spinach, peppery arugula, crunchy walnuts, sweet cranberries and tangy goat cheese. Then all of these goodies are tossed in a quick cranberry vinaigrette. It is the perfect way to get your Thanksgiving cranberries in "non-log" form.
I generally look forward to all Thanksgiving traditions, all traditions that is except cranberry sauce. I don't have many fond memories of the "sauce" that is in the shape of a can. There is just something about the way it plops out of the can while still remaining in the can shape that does not appeal to me. When it gets passed to me at our Thanksgiving table I just keep on passing. That is not to say however that I don't like cranberries themselves. In fact, dried sweetened cranberries are really quite delicious, especially when they are added to dishes such as this salad. The combination of the peppery arugula, salty walnuts and creamy goat cheese pairs nicely with the sweetness of the cranberries.
Spinach, Arugula, Cranberry and Walnut Salad Recipe
Ingredients:
3 tablespoons olive oil
2 tablespoons white wine vinegar
1/2 cup plus 2 tablespoons dried sweetened cranberries
3 cups loosely packed baby spinach leaves
1 1/2 cups loosely packed baby arugula
1/2 cup shelled walnuts
1/4 cup goat cheese crumbles
fresh cracked pepper and kosher salt
Instructions
1
Combine olive oil, vinegar and 2 tablespoons cranberries in a food processor. Process until berries are finely chopped, about 30 seconds. Allow to set for 30 minutes at room temperature.

2
Pour dressing into the bottom of a salad bowl. Add in remaining ingredients. Season with salt and pepper. Toss to combine and coat in dressing.
Notes
This salad is quick, easy, flavorful and best of all might bring a little more pretty to your Thanksgiving table than say, a log of cranberry "sauce". I'm just sayin'. Enjoy!