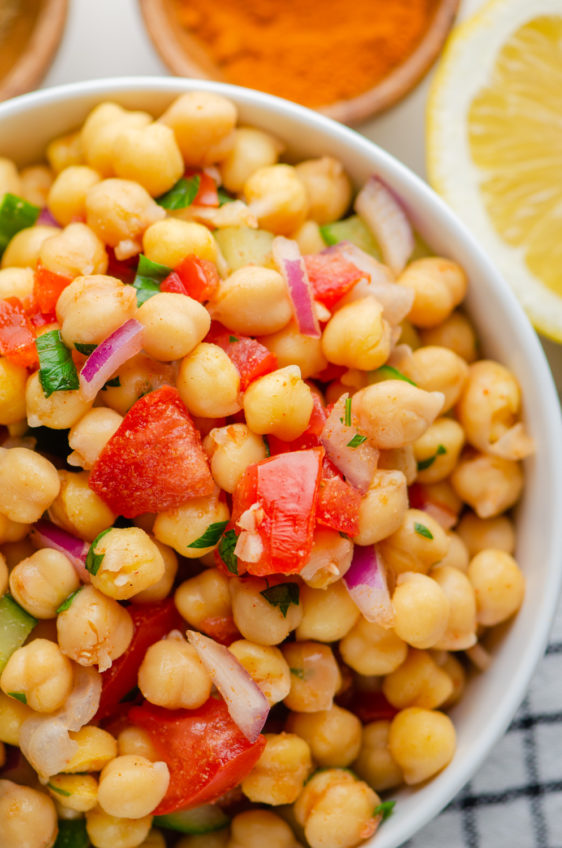 Chickpea Salad
Chickpea Salad is a hearty side or even a main dish. With garbanzo beans,  tomatoes, onion,  cucumber, lemon and seasonings it is loaded with flavor!
Looking for a healthier, hearty side to bring to a BBQ or potluck? Or maybe you want a make-ahead salad for lunches during the week. Or maybe you just want a flavor bomb of a salad. Whatever it is, you're going to fall head over heels in love with this Chickpea Salad Recipe.
It has mediterranean flavors and is naturally vegetarian, vegan and gluten free! Woot!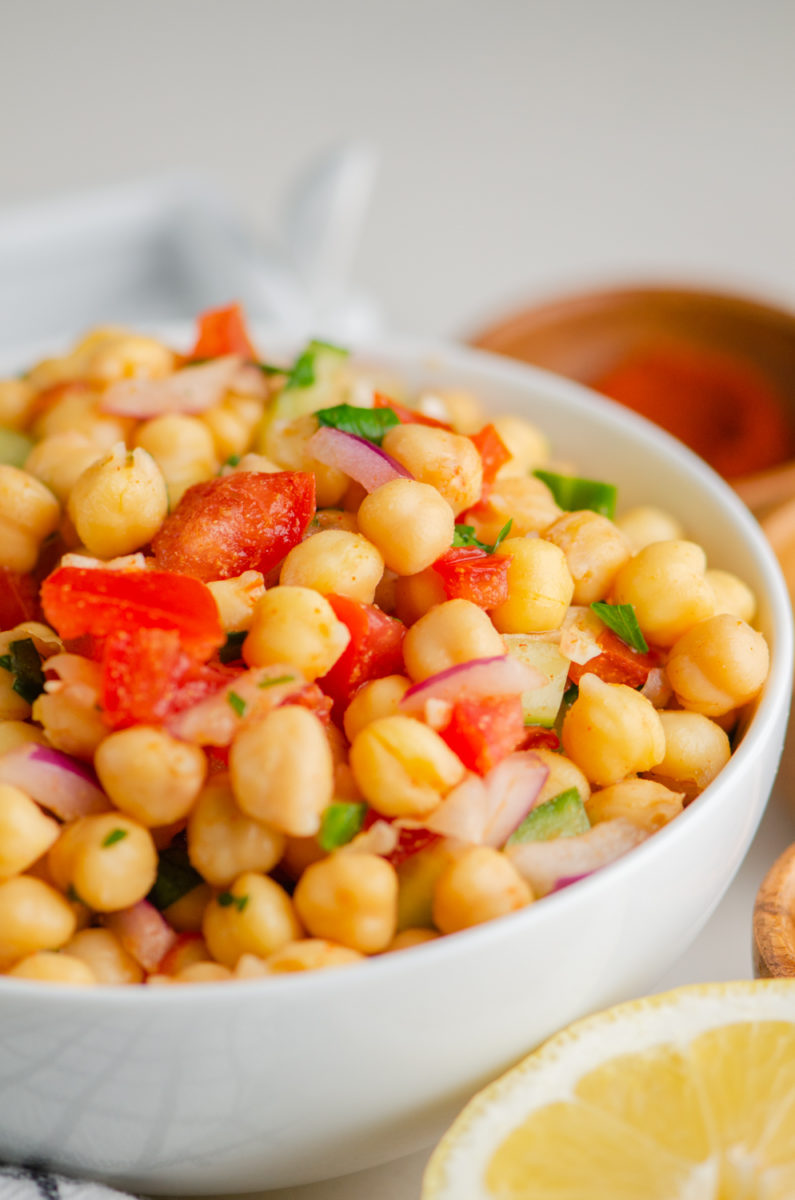 It's as easy as tossing all the ingredients in the bowl and letting it sit. No cooking. No soaking beans. Nada. Easy peasy!
Let's talk about what ingredients you need to get this on the table!
What is in chickpea salad?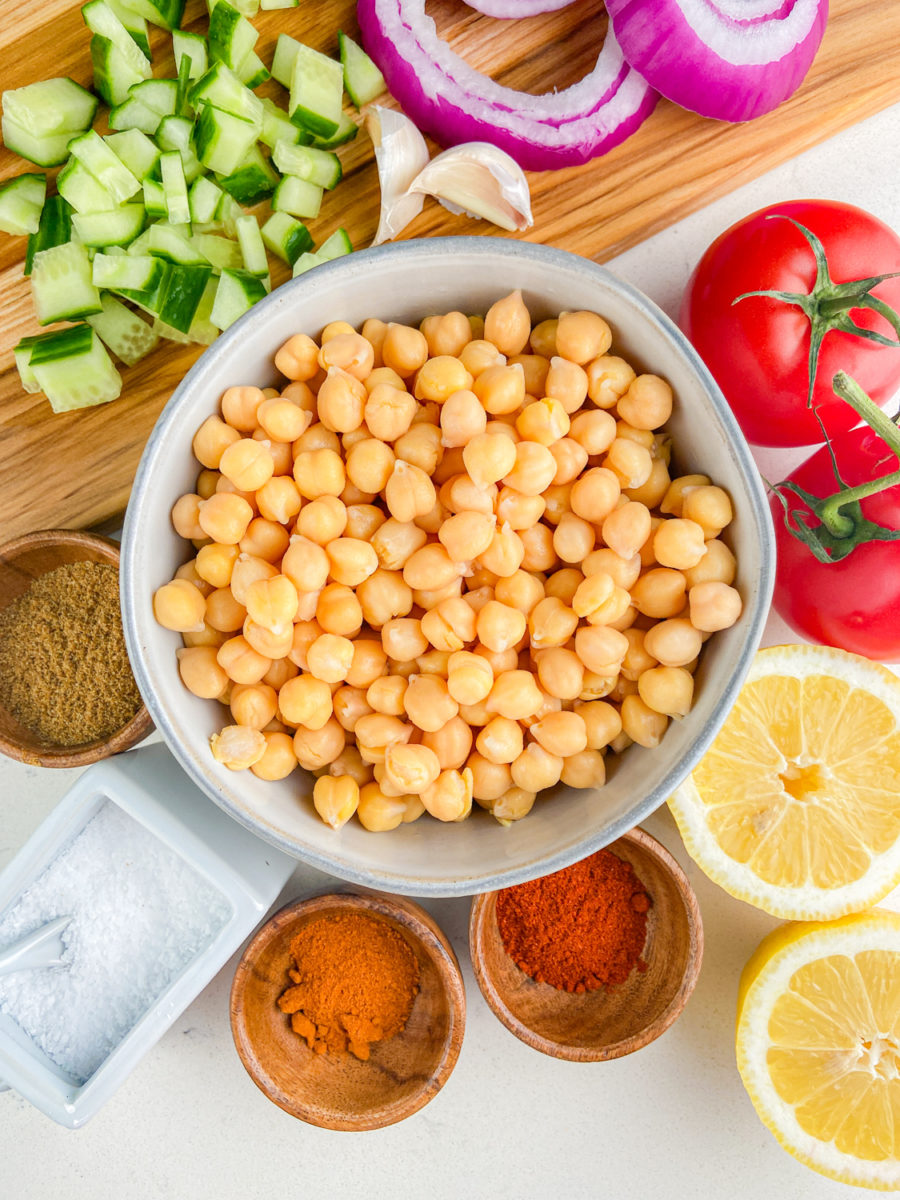 GARBANZO BEANS/CHICKPEAS: They are one and the same, friends!
TOMATOES: I used vine-ripened tomatoes but you could use roma or whatever you have on hand. Cherry tomatoes would be on the sweeter side but cut them in half if you use them.
RED ONION: Minced small so it doesn't overpower the salad.
CUCUMBER: Adds amazing crunch to the salad!
PARSLEY: Adds a pop of color and freshness to the salad.
GARLIC: Usually I am all about adding as much garlic as possible but not in this recipe. It is raw so you don't want it to overpower and be too strong.
GROUND CUMIN: A subtle smoky flavor that is great with chickpeas.
PAPRIKA: For color and more subtle smokiness.
CAYENNE: This adds a bit of heat and is totally optional.
LEMON JUICE: Adds acidity and freshness.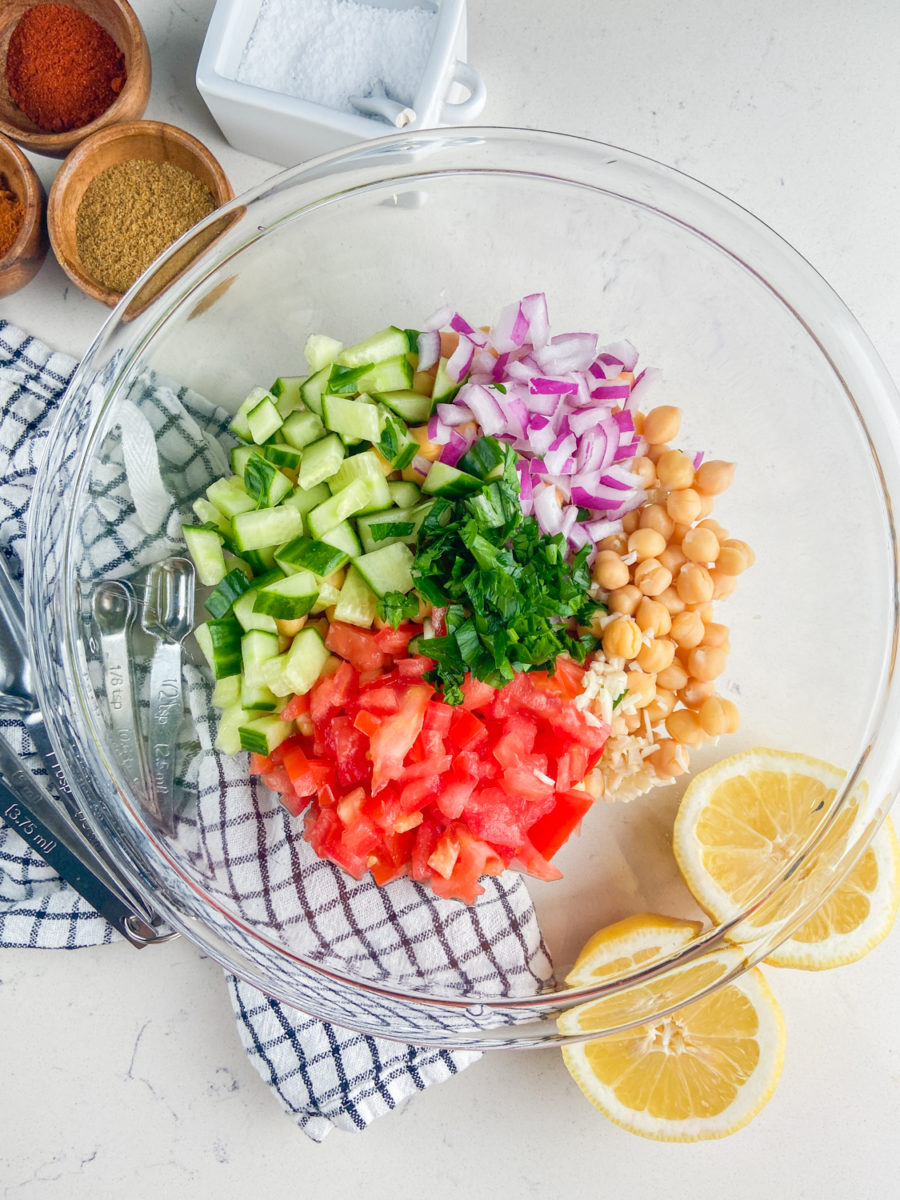 Tips for making chickpea salad:
As I mentioned above, this salad is as easy as putting all the ingredients in the bowl and mixing. That's really all you need to do, but I do have a couple tips to making the best chickpea salad:
Tip #1: Make sure the garbanzo beans are really well drained and rinsed. The liquid on the canned beans can be a bit thicker so it's great to rinse them before you use them.
Tip #2: Make sure that the red onion, cucumbers and tomatoes are all diced the same size. This makes it easier to eat.
Tip #3: This salad is fab when made ahead of time. I like to let it sit at least an hour before eating it. This gives all of the flavors a chance to meld.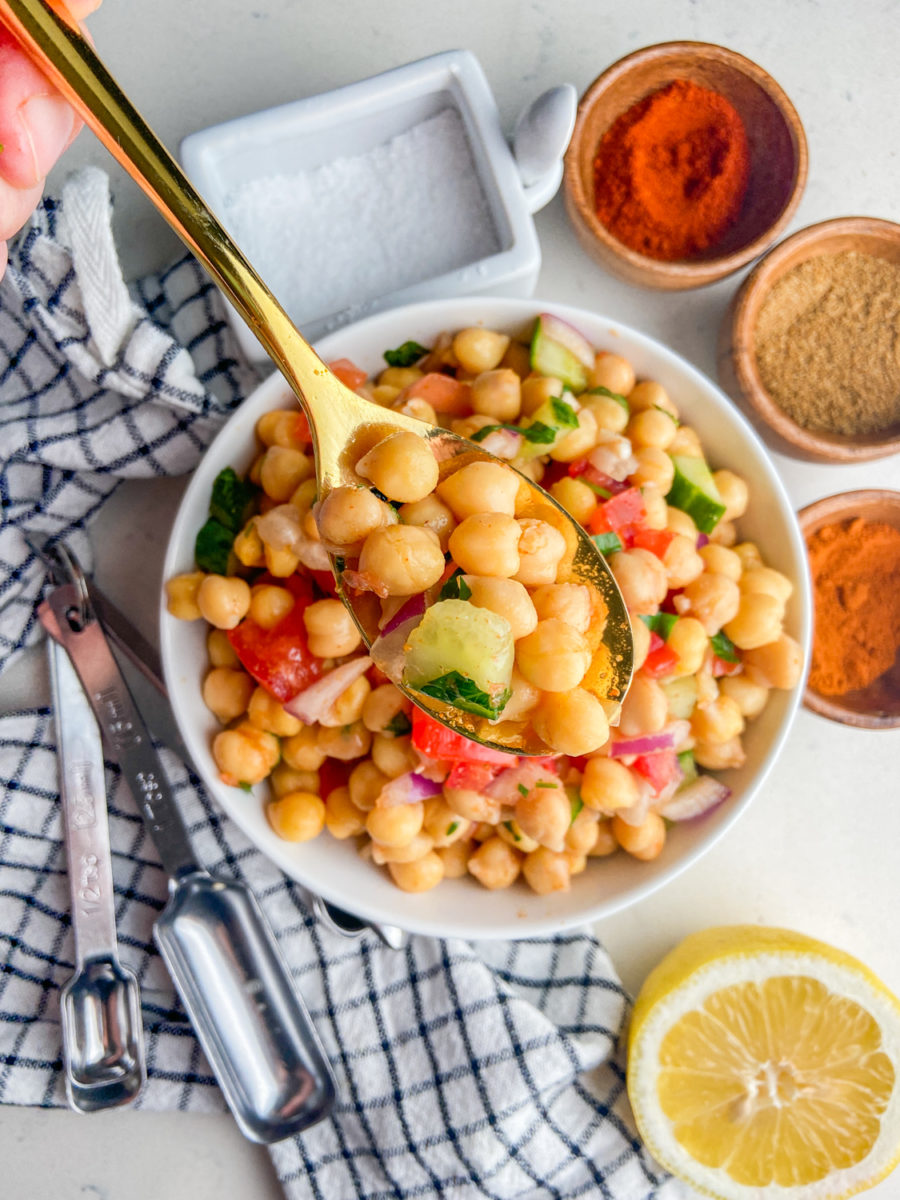 Love garbanzo beans/chickpeas but need more recipes? Here are some of my most popular featuring this hearty meatless protein:
Note: This recipe was originally posted in 2010. It was updated with new photos, helpful tips and nutrition information in 2021.
Chickpea Salad Recipe
Ingredients:
2 cans garbanzo beans, drained well
1 cup diced tomatoes
1 cup diced cucumber
1/4 cup red onion, chopped
1/4 cup parsley, chopped
1 clove garlic, minced
2 tablespoons fresh squeeze lemon juice
1 teaspoon kosher salt
1/4 teaspoon cayenne pepper
1/4 teaspoon paprika
1/2 teaspoon cumin
Instructions
1
Combine all ingredients in a bowl. Mix well.

2
Cover and refrigerate for 1 hour.
Notes
The longer this salad sits the better so you can make it the day before if you like!

The cayenne pepper does give it a bit of a kick, if you've got people who are sensitive to heat, cut the amount in half or omit it all together.

Nutrition facts for estimation purposes only.
Nutrition information
Calories: 105 , Total Fat: 1.8g , Saturated Fat: 0g , Cholesterol: 0mg , Sodium: 940mg , Carbohydrates: 21.2g , Fiber: 5g , Sugar: 4.8g , Protein: 5.5g