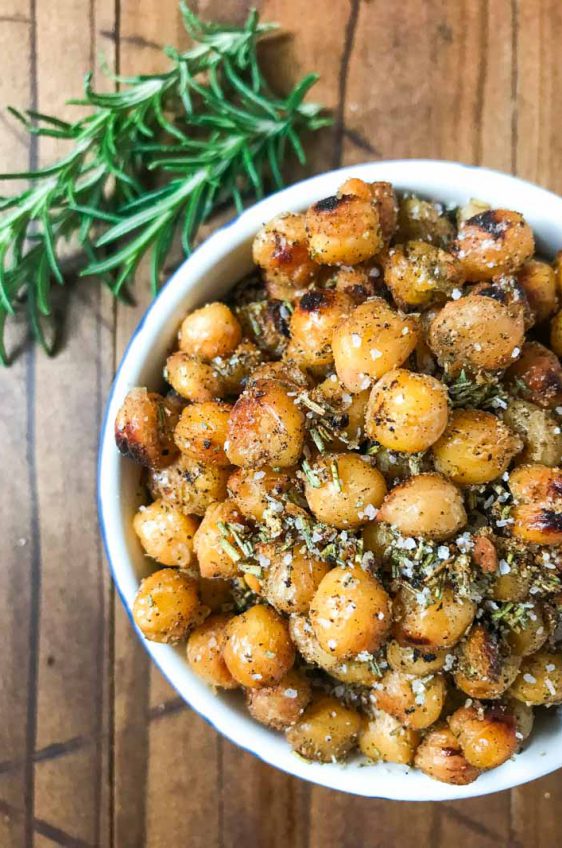 Crispy Chickpeas with Rosemary
Crispy Chickpeas are a versatile snack that is always a crowd pleaser. This version with rosemary and garlic will be a favorite for sure! 
When it comes to snack time around here, my littlest guy's absolute favorite snack is…wait for it… Crispy Chickpeas.
I think his obsession with them, and I say obsession because he makes me buy multiple cans at the grocery store whenever we are there, came when I made Crispy Curry Chickpeas. We probably make them at least once a week.
Now, I love curry as much as the next girl, but I am always looking for different flavors for crispy chickpeas. In addition to the curry version, I've also tried harissa which has a little bit of a kick. My latest version is these Crispy Chickpeas with Rosemary.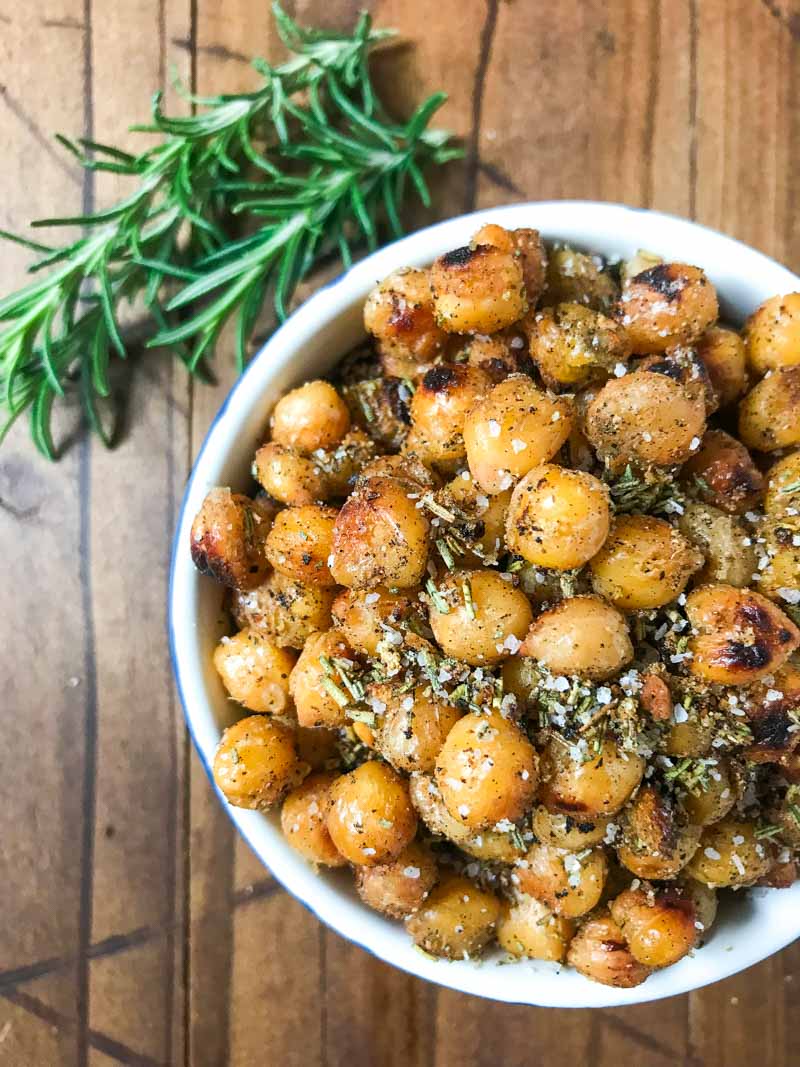 So how did I come to rosemary for this version? By consulting my Flavor Bible of course. My much loved copy has been a staple in my kitchen for several years now. I really don't know how I got along without it before. Basically, you HAVE to get yourself a copy and you can buy it here (This is an affiliate link by clicking this link, we may earn a small commission at no extra cost to you).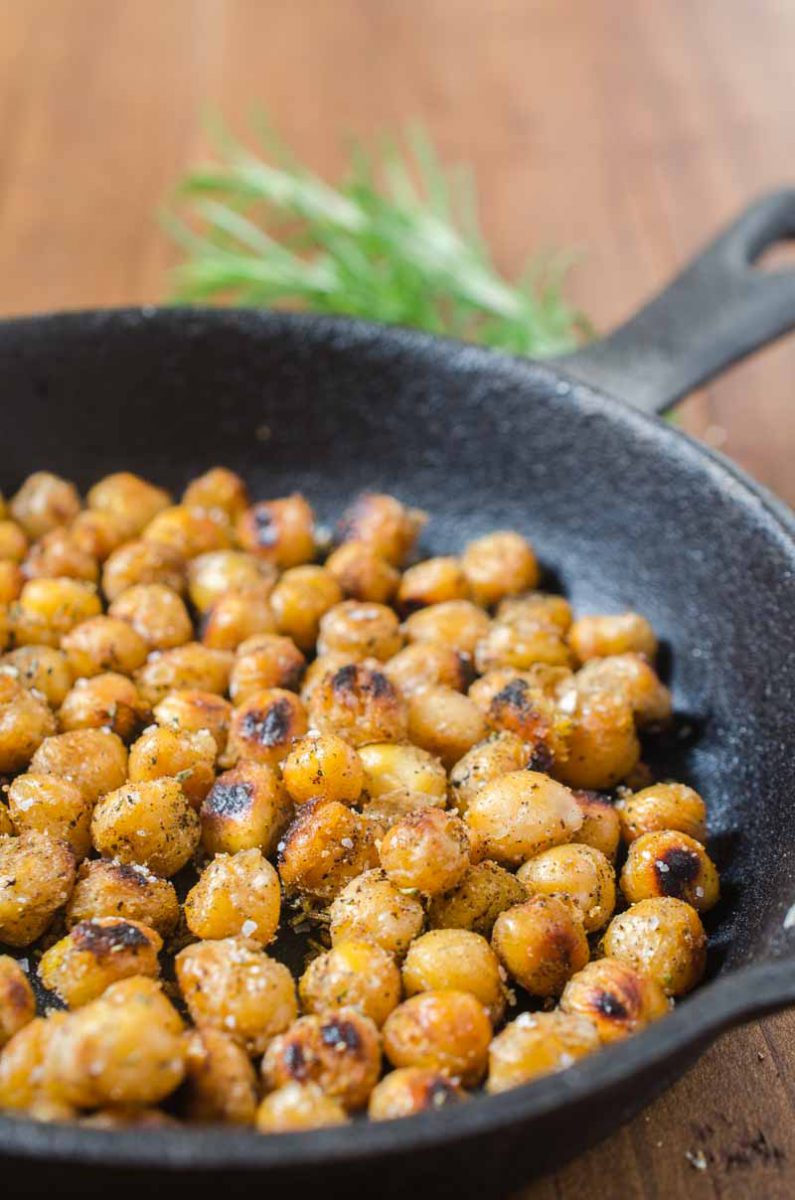 Over the last few months, I have become kind of an expert at Crispy Chickpeas. One of the main things I discovered is that you do not want to overcrowd the pan. I have found that to cook a can of chickpeas you'll need a 12 inch pan so that you can cook them all in one layer. They are crispier that way. The second tip I have for making crispy chickpeas is to add the seasoning at the end of the cooking. If you add them too soon they will burn and turn bitter.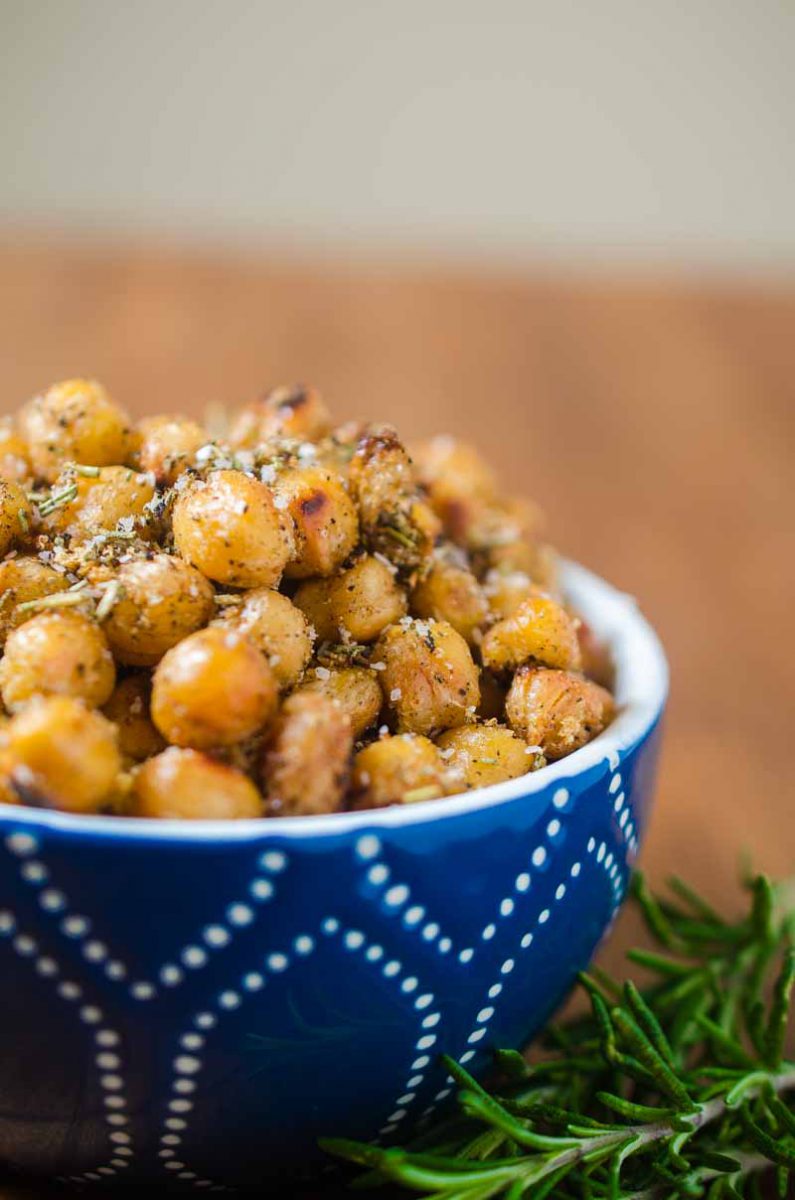 For these Crispy Chickpeas with Rosemary, I use dried crushed rosemary because I had some in my pantry that I needed to use. You could, of course, use fresh rosemary if you have it on hand. Either will work great in this recipe.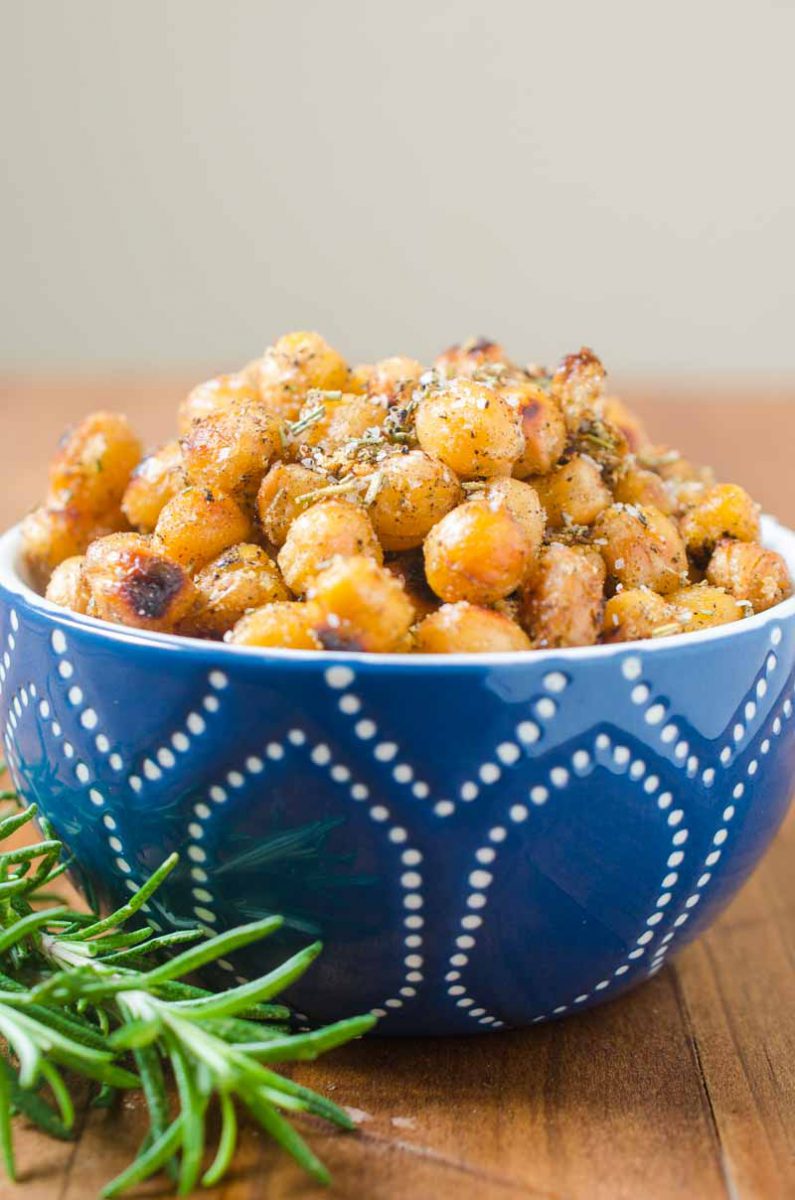 And don't think that these Crispy Chickpeas with Rosemary will be the last that you see. I've already got a couple more flavor combo ideas in my head to test out soon!

Crispy Chickpeas with Rosemary Recipe
Ingredients:
1/4 cup avocado oil (or other higher heat oil like canola)
1 (15.5 ounce) can chickpeas, drained, rinsed and pat dry
1/2 teaspoon crushed rosemary (2 teaspoons fresh rosemary)
1/4 teaspoon granulated garlic
1/4 teaspoon salt, plus more as desired
Instructions
1
Heat avocado oil in a skillet over medium heat.

2
Add chickpeas and cook until golden brown, 15 - 20 minutes. Stirring every 5 minutes.

3
Add in rosemary, granulated garlic and salt. Toss to coat. Add more salt as desired. Serve immediately.
Nutrition information
Amount per serving: Yield 4 servings
Calories: 420 , Total Fat: 8.4g , Saturated Fat: 1.1g , Sodium: 174mg , Carbohydrates: 67.6g , Fiber: 19.8 , Sugar: 11.8 , Protein: 21.4g