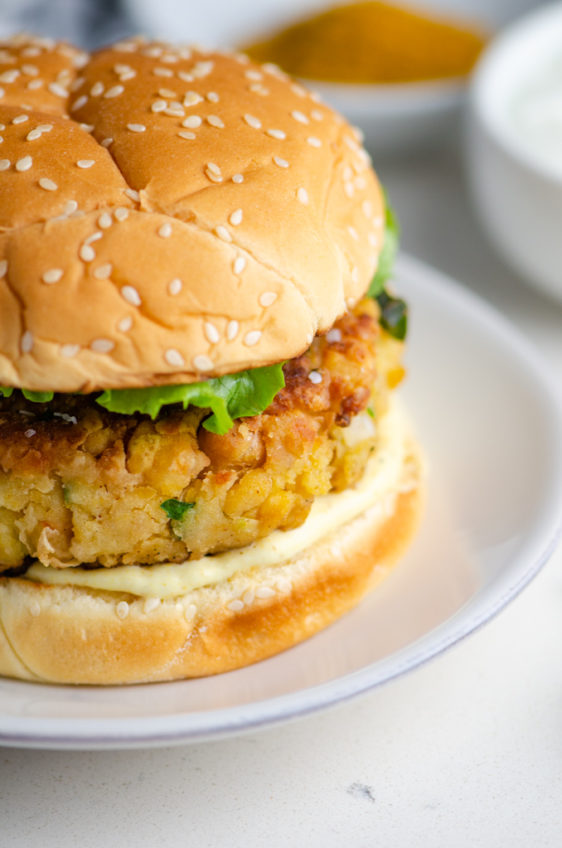 Chickpea Burger with Curried Yogurt Sauce
This Chickpea Burger with Curried Yogurt Sauce recipe creates a meatless burger, loaded with all kinds of goodies and slathered in a creamy curried Greek yogurt sauce. If you *think* you don't like veggie burgers, this easy vegetarian burger recipe will totally change your mind.
Note:  This recipe was originally posted in 2015. It was updated in 2021 with new photos, step by step photos and nutrition information.
Summer is totally burger season. They are pretty much the sandwich of the summer around here. My boys are meat lovers, that's for sure. However, today I am sharing a veggie burger that even they loved.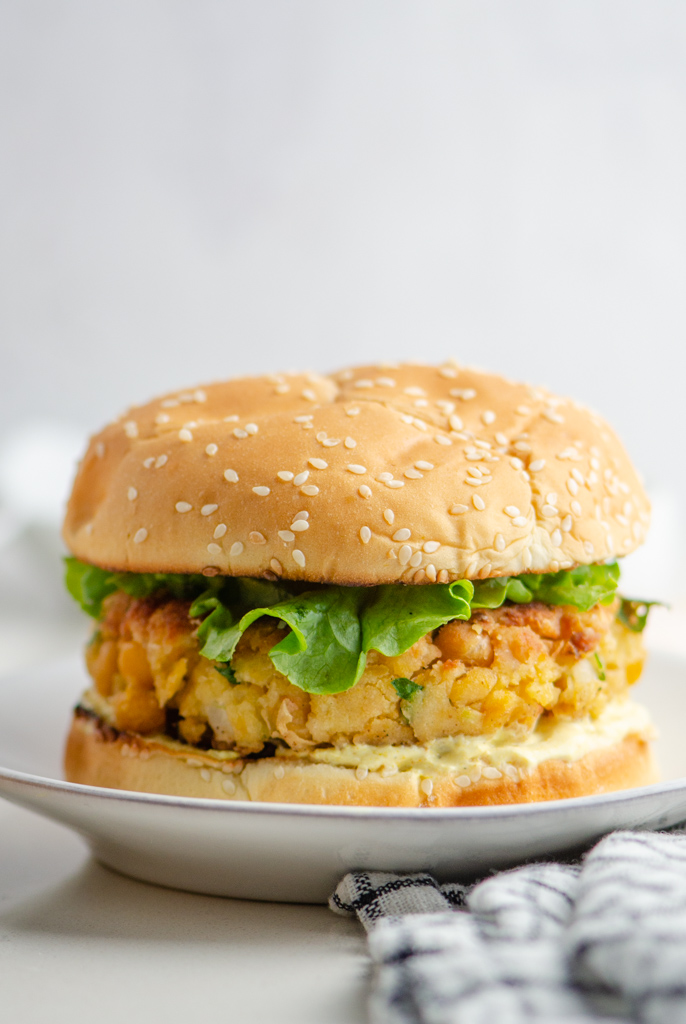 It is so hearty and full of flavor.
It's loaded with garlic, onions, chickpeas and cumin. It also doesn't take very long to make. You can have dinner on the table in around 30 minutes give or take 5.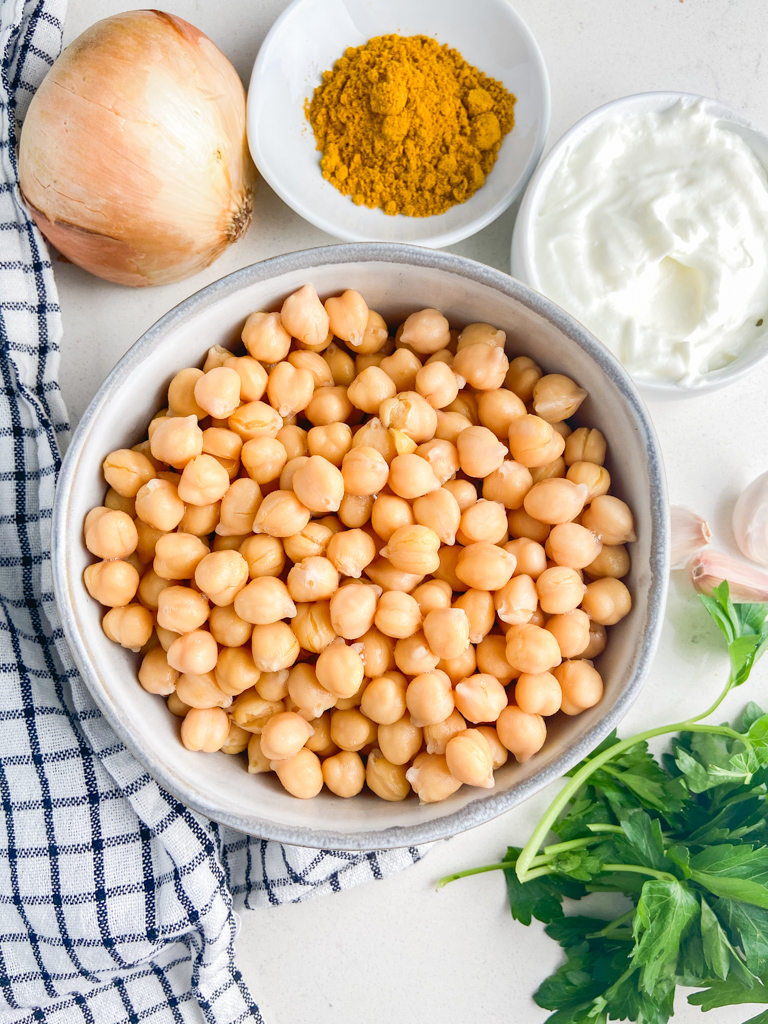 As good as the chickpea burger is (and it is pretty darn good), my favorite part of the meal is the curried yogurt sauce.
It's so creamy and loaded with curry flavor that I think I might start putting it on all the things.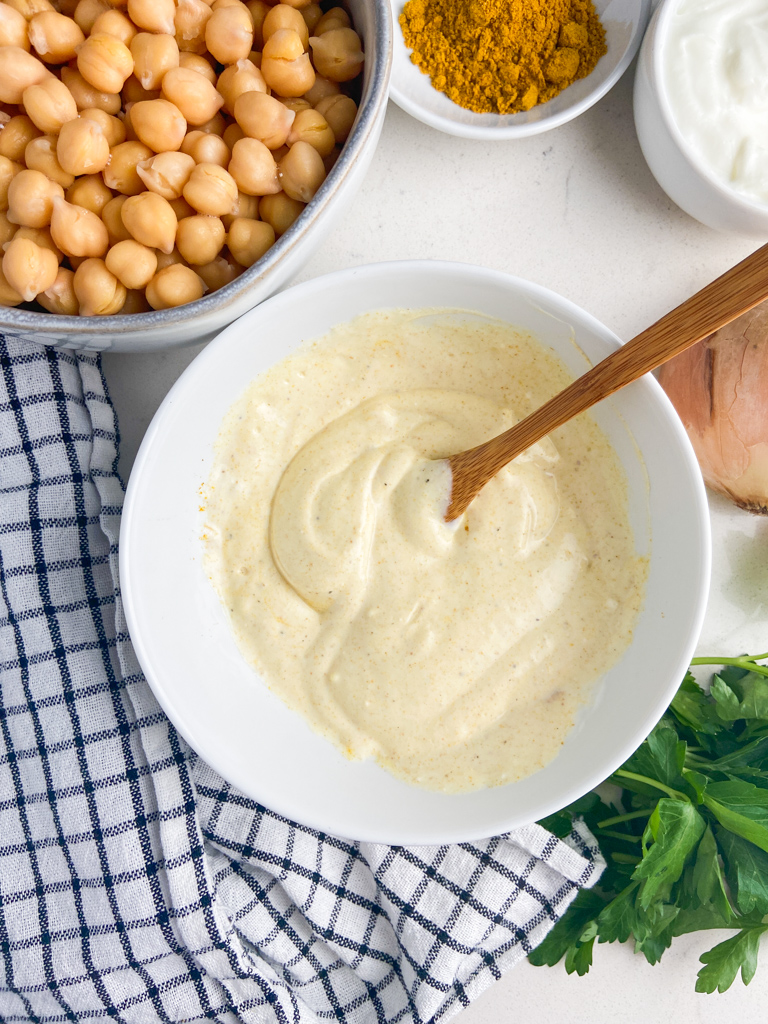 How do you make chickpea burgers from scratch?
It's pretty easy but let me walk you through it.
Make your sauce first, so that all of the flavors have a chance to meld. Refrigerate it  until you're ready to use it.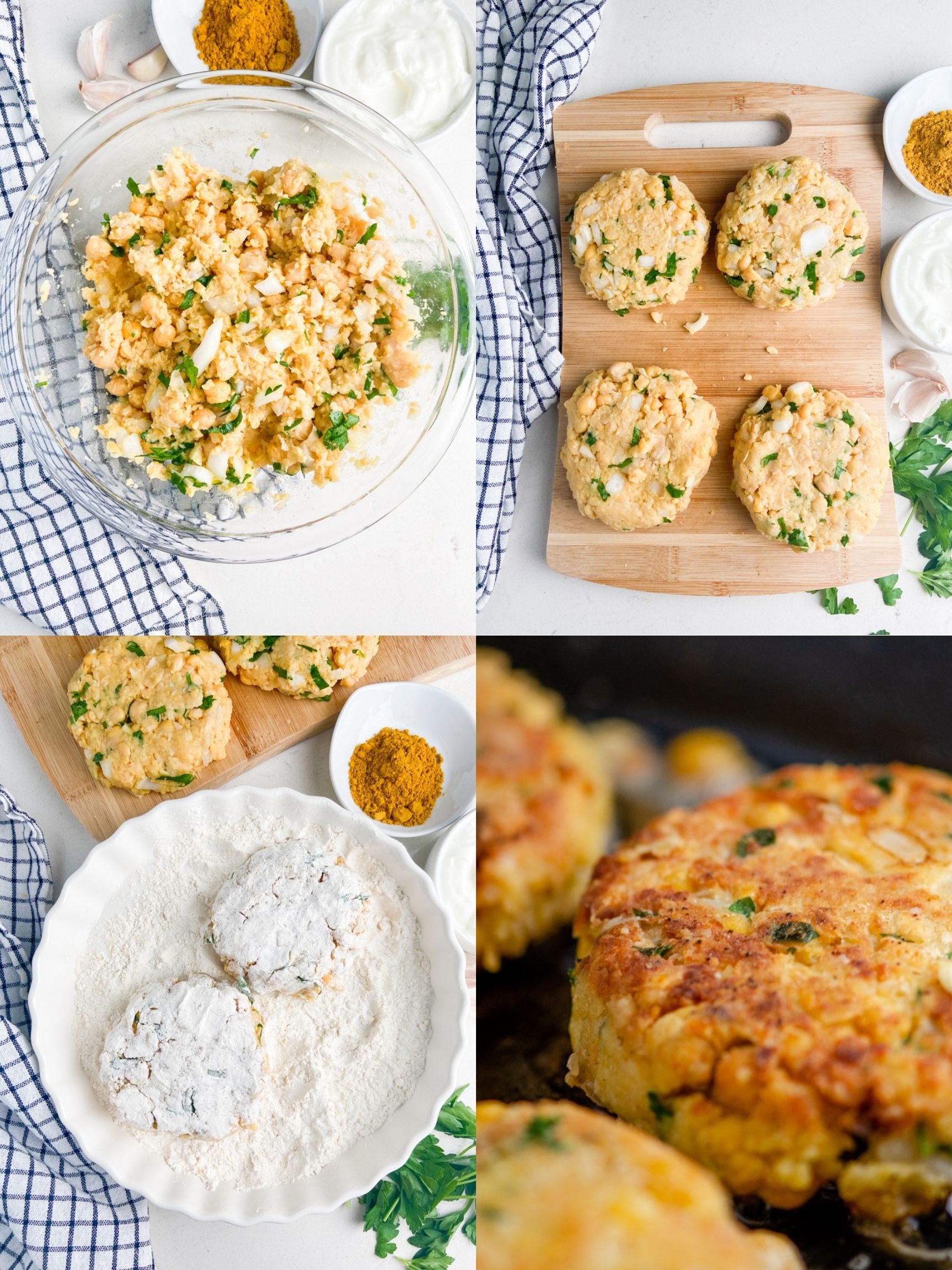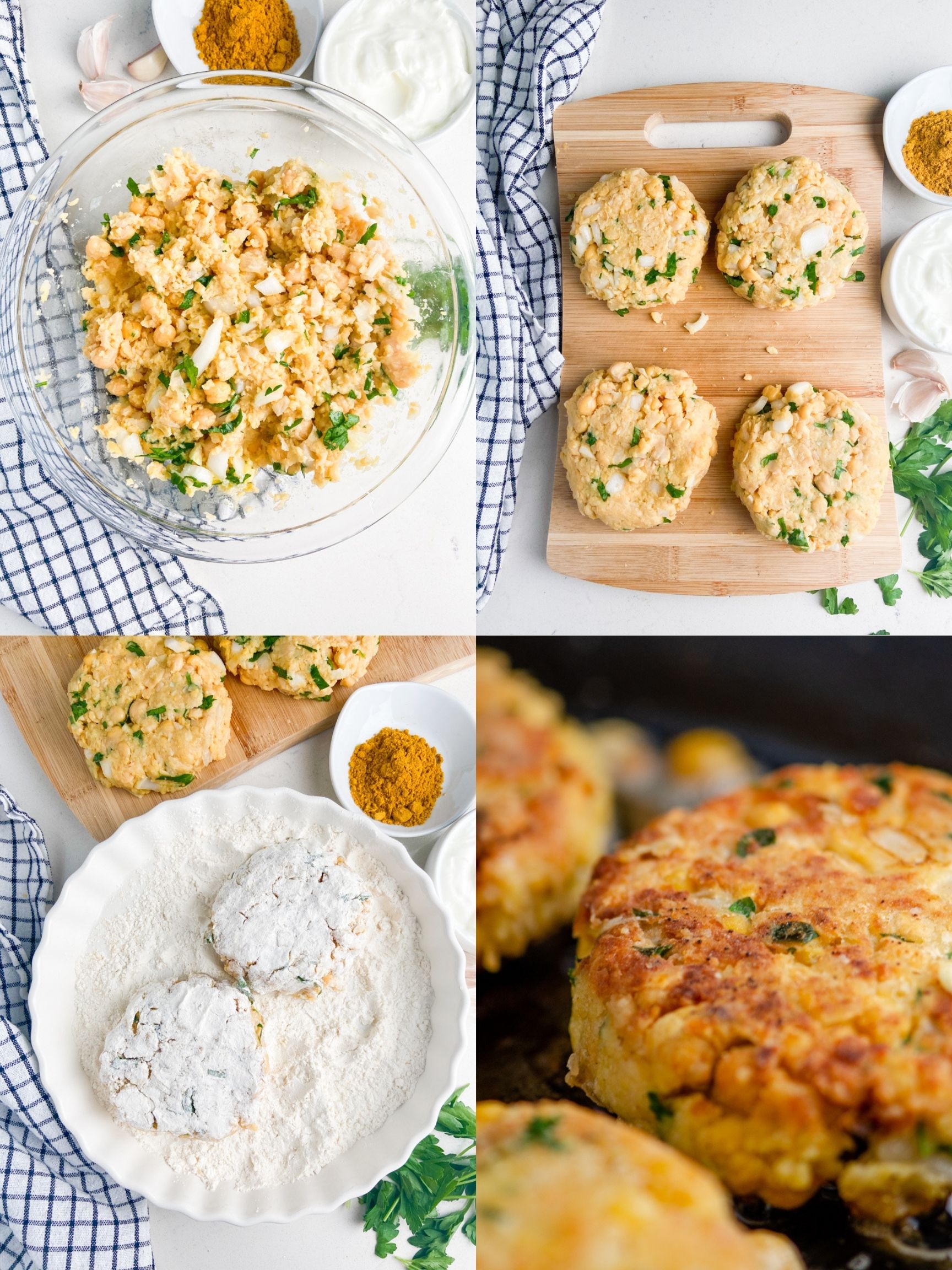 Then,  you're going to want to mash the chickpeas.  I like to use a potato masher to do this. A fork would also work. If you want the burgers to be really smooth, you can also use a food processor, but I prefer them to have more of a chunky texture.
Next, mix in the remaining ingredients for the burgers: the garlic, onions, cumin,  salt, cilantro, panko and eggs. Mix it well and then divide it into four portions and make into patties.
Next, dredge the patties in seasoned flour.
Then heat a small amount of oil in a large pan, I used about 1/4 cup.  And pan fry the chickpea burgers until they are golden brown and warmed through. It was about 5 minutes per side.
To assemble the burgers: toast the buns if desired. Spoon some of the curry yogurt sauce on the bottom bun, place a chickpea patty on top, top with lettuce and more curry sauce (if desired). Serve immediately.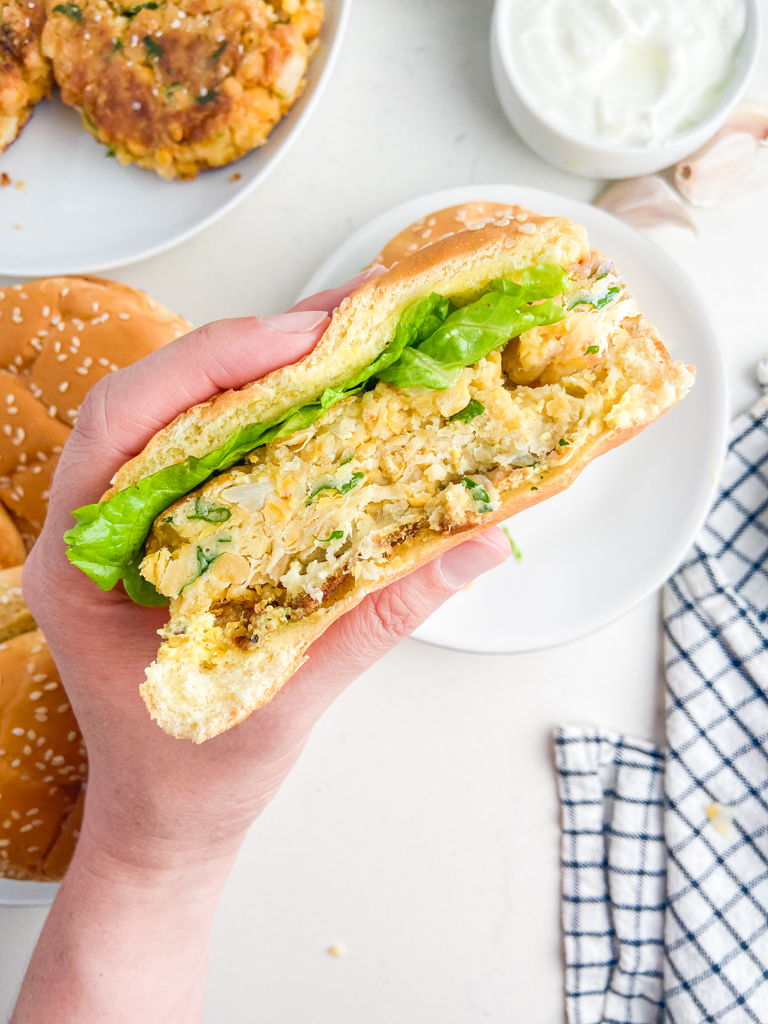 Can you grill chickpea burgers?
Because of the flour on the outside of the burgers these are best when pan fried in oil.  It ensures they get that golden brown, crunchy exterior.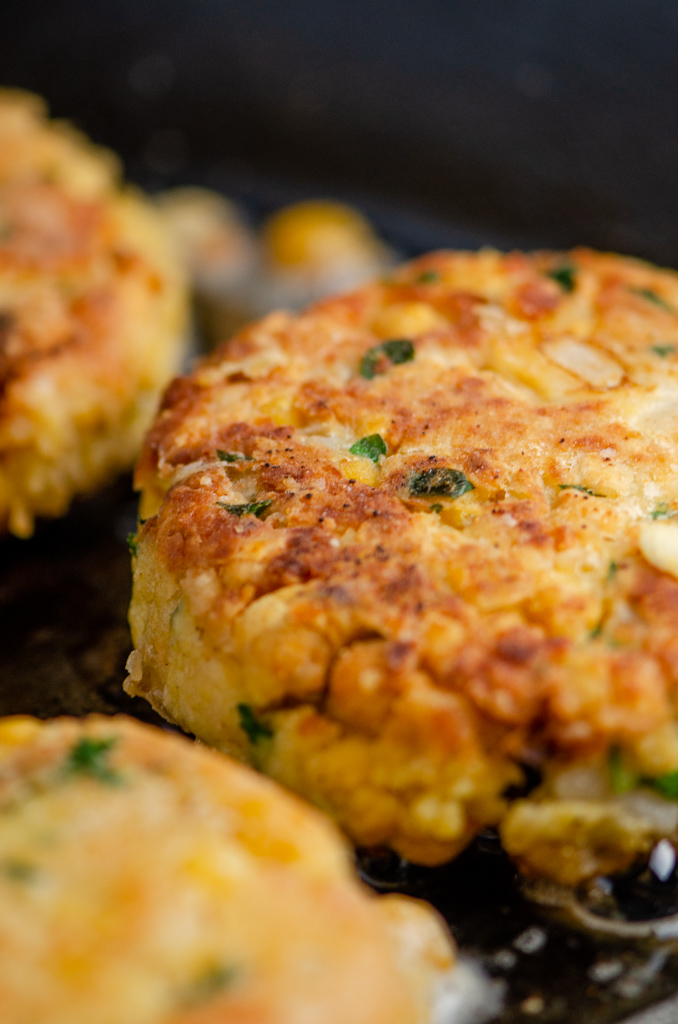 How do you reheat leftovers?
I actually had one of the patties for lunch the next day with a salad and it reheated nicely! Just warm it in a pan with the lid on, or even just 30 seconds in the microwave will do it.  And bonus, the curry sauce is even better the next day!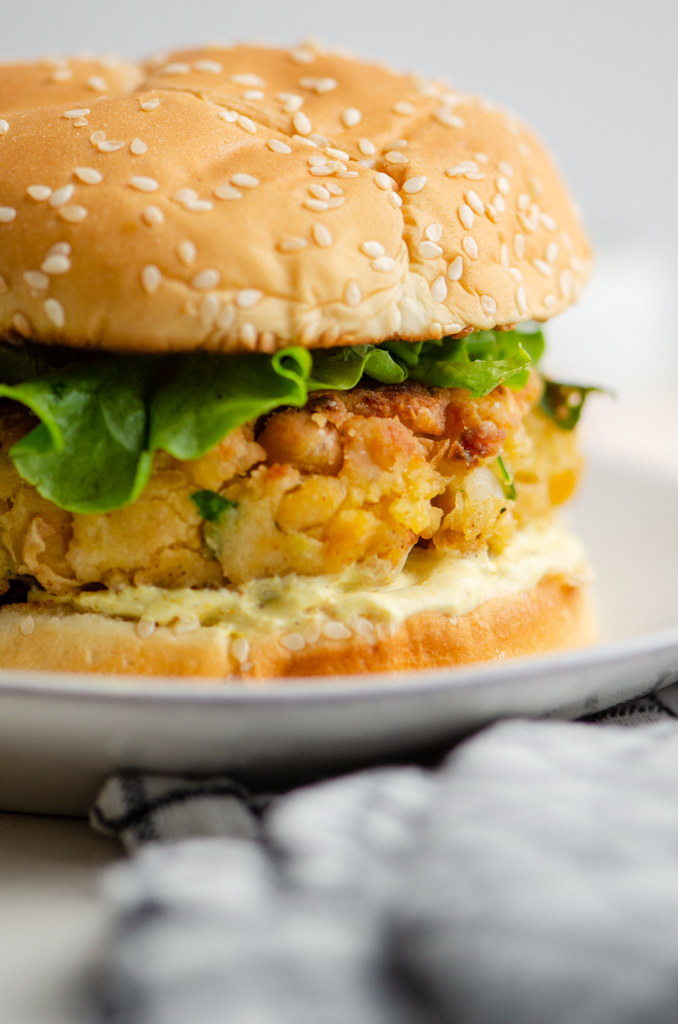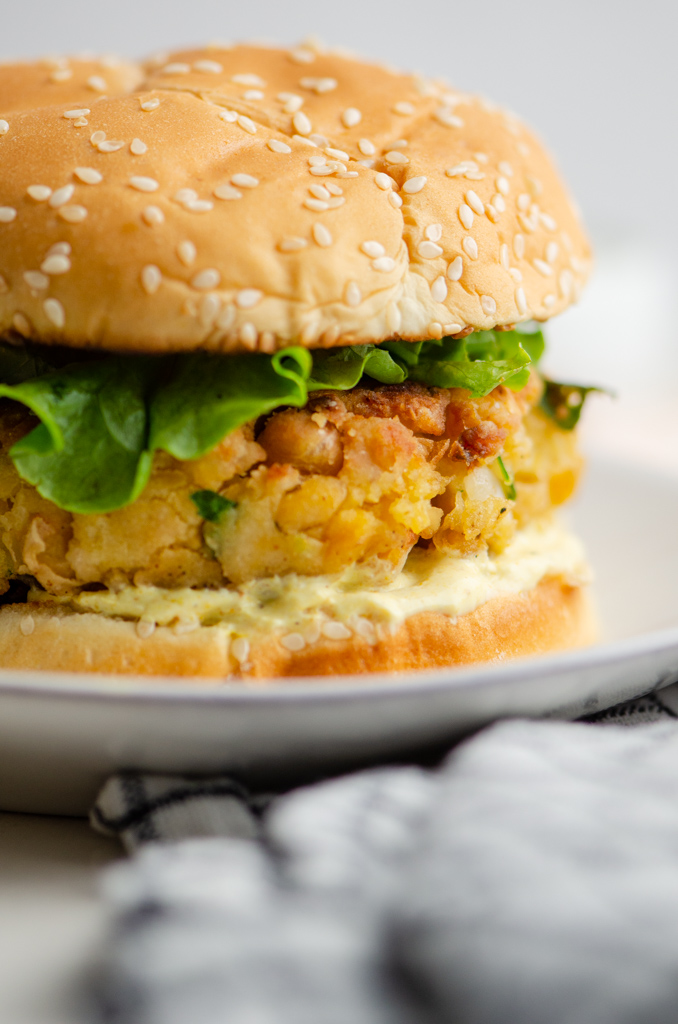 Looking for a great side dish? Try these:
Love chickpeas? SAME! Here are some of my favorite recipes using this protein packed ingredient: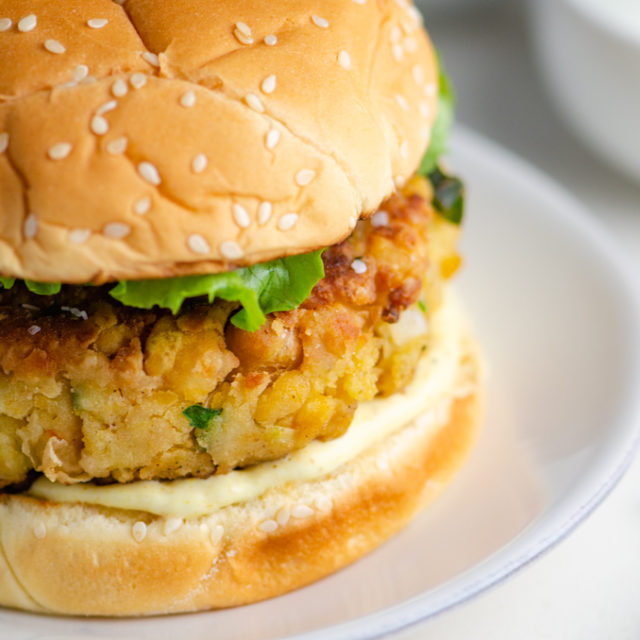 Chickpea Burger with Curried Yogurt Sauce
A hearty vegetarian Chickpea Burger loaded with garlic, onions, cumin and cilantro sandwiched on a bun with curried yogurt sauce. The perfect veggie burger!
Chickpea Burger Ingredients:
Curried Yogurt Sauce:
3/4

cup

plain greek yogurt

1

tablespoon

mayonnaise

1 1/4

teaspoon

curry powder

1/4

teaspoon

salt

1/4

teaspoon

garlic powder
Whisk together all ingredients for curried yogurt sauce. Cover and refrigerate until ready to use.

Mash garbanzo beans together in a bowl until chunky. Mix in garlic, onions, cumin, 1/2 teaspoon salt, cilantro, panko and eggs. Mix until well combined. You can also do this step in a food processor, just process until chunky not totally smooth.

Divide the mixture into four equal parts and roll into balls. Gently flatten into patties.

Combine flour remaining salt and garlic powder together on a plate. Dredge chickpea burgers in the flour.

Heat a thin layer of oil in a skillet over medium heat. Fry burgers on both sides until golden brown and warmed through, 5 minutes per side.

Toast hamburger buns under broiler if desired.

To assemble the burger: Place chickpea burger on bottom bun and top with lettuce. Spread curried yogurt sauce on top bun and place on top of patty. Repeat with remaining ingredients. Serve immediately.
Calories:
650
kcal
Carbohydrates:
90.1
g
Protein:
23.9
g
Fat:
22
g
Saturated Fat:
3.5
g
Cholesterol:
85
mg
Sodium:
1504
mg
Fiber:
10.6
g
Sugar:
6
g
Keywords:
burger, chickpeas, veggie burger