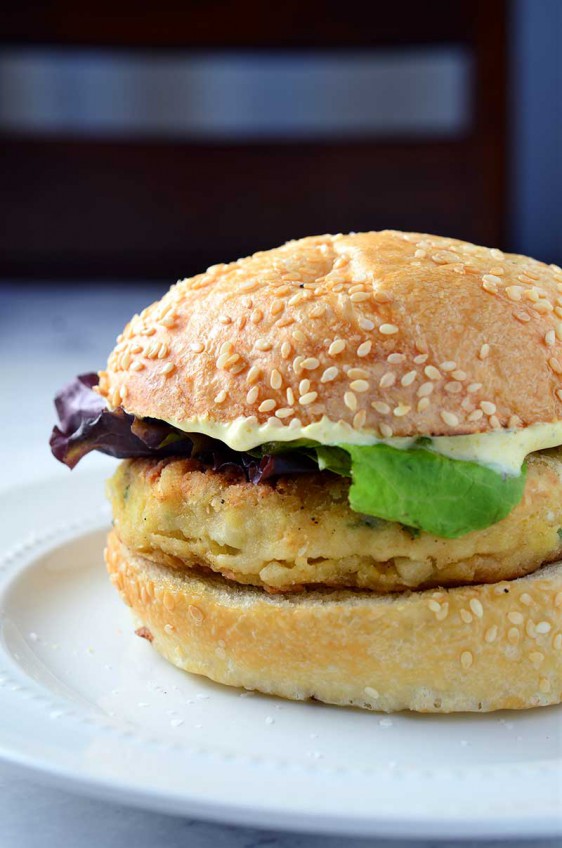 Chickpea Burger with Curried Yogurt Sauce
This Chickpea Burger with Curried Yogurt Sauce recipe creates a meatless burger, loaded with all kinds of goodies and slathered in a creamy curried Greek yogurt sauce. If you *think* you don't like veggie burgers, this easy vegetarian burger recipe will totally change your mind.
Summer is totally burger season. They are pretty much the sandwich of the summer around here. My boys are meat lovers, that's for sure. However, today I am sharing a veggie burger that even they loved.
I don't know about you, but, aside from our mortgage, groceries are one of the things we spend the most on each month. It's something that I am really starting to notice now that my boys are eating the same food we eat, instead of just breastmilk and purees. It's becoming so noticeable that I am starting to figure out ways to cut costs, without sacrificing the goodness. My solution? Go meatless one day a week.
Not only can going meatless one day a week help with keeping things healthy, it also really helps on the budget. I mean seriously, for this recipe that makes these hearty chickpea burgers, you will need two cans of chickpeas. Two cans of chickpeas cost me $1.00.
ONE DOLLAR.
The Greek yogurt might be the most expensive thing in this recipe, at about $4.00 for about 20 ounces or so. I usually have a carton of it in my fridge because I use it in smoothies and as a substitute for sour cream in dips and such.
And buy the curry powder in bulk, it's less expensive that way. Really, buy all your spices in bulk, it'll save you a fortune. I started doing it a few years ago and I probably spend about half of what I did when I bought the jars. In some instances I can even buy a small amount of a spice that I don't need a ton of and pay 15 CENTS.
Seriously guys, bulk spices are your friend.
But back to this chickpea burger recipe. The burger itself is super hearty and full of flavor.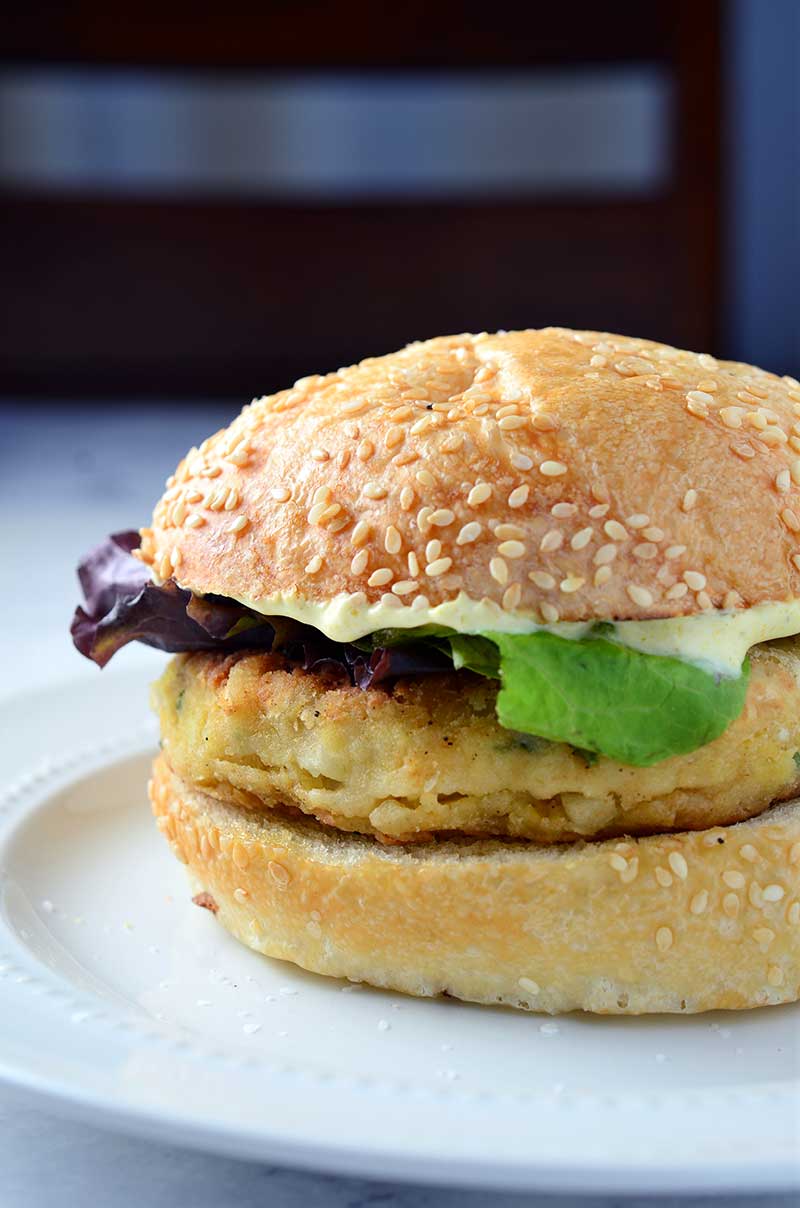 It's loaded with garlic, onions, chickpeas and cumin. It also doesn't take very long to make. You can have dinner on the table in around 30 minutes give or take 5.
As good as the chickpea burger is (and it is pretty darn good), my favorite part of the meal is the curried yogurt sauce.
It's so creamy and loaded with curry flavor that I think I might start putting it on all the things.
Chickpea Burger with Curried Yogurt Sauce Recipe
Chickpea Burger Ingredients:
2 (15 ounce) cans garbanzo beans, drained
3 cloves garlic, minced
1/2 medium onion, chopped
1/4 teaspoon ground cumin
3/4 teaspoon salt, divided
1/4 cup chopped cilantro
1/2 cup panko bread crumbs
2 eggs
1/2 cup all purpose flour
1/2 teaspoon garlic powder
oil for frying
lettuce
4 hamburger buns
Curried Yogurt Sauce:
3/4 cup plain greek yogurt

1 tablespoon mayonnaise

1 1/4 teaspoon curry powder

1/4 teaspoon salt

1/4 teaspoon garlic powder
Instructions
1
Whisk together all ingredients for curried yogurt sauce. Cover and refrigerate until ready to use.

2
Mash garbanzo beans together in a bowl until chunky. Mix in garlic, onions, cumin, 1/2 teaspoon salt, cilantro, panko and eggs. Mix until well combined. You can also do this step in a food processor, just process until chunky not totally smooth.

3
Divide the mixture into four equal parts and roll into balls. Gently flatten into patties.

4
Combine flour remaining salt and garlic powder together on a plate. Dredge chickpea burgers in the flour.

5
Heat a thin layer of oil in a skillet over medium heat. Fry burgers on both sides until golden brown and warmed through, 2 - 3 minutes per side.

6
Toast hamburger buns under broiler if desired.

7
To assemble the burger: Place chickpea burger on bottom bun and top with lettuce. Spread curried yogurt sauce on top bun and place on top of patty. Repeat with remaining ingredients. Serve immediately.