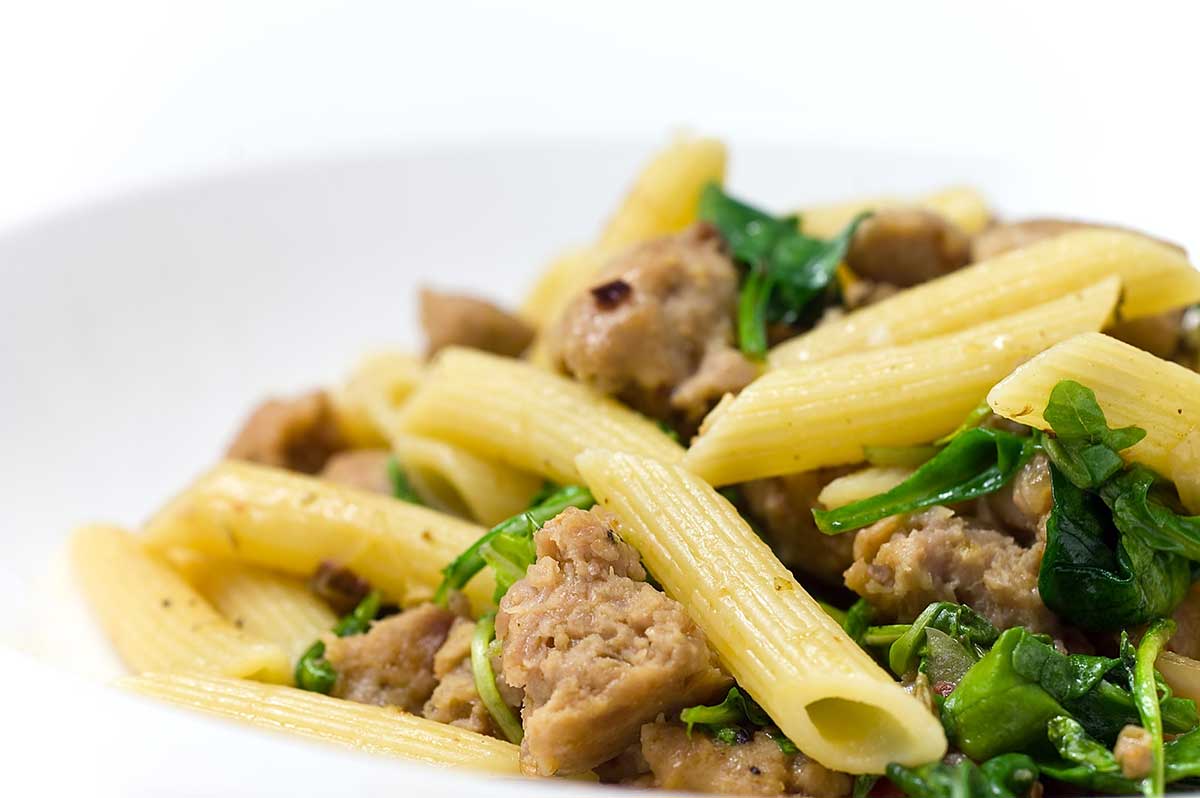 Penne with Sausage, Spinach and Arugula
Fall and winter generally mean lots of hearty, comfort food. Much of this food is pretty heavy to say the least. Not that that is a bad thing, everyone knows how many mashed potatoes I can eat. But with Thanksgiving only a week away, eating lighter the week before always seems like such a good idea. But don't mistake eating lighter for less flavor or less comfort. This pasta loaded with garlic, sausage and greens is a delicious light dish, perfect for those of us wanting to lighten things up a bit before the big feast next week.
Like my Fettuccine with Sausage, Peppers and Onions, I used turkey Italian sausage for this recipe. If you have never used it before you should really give it a try. It still has a great sausage flavor but is just a bit lighter. However, if you cannot find it or your reaction to the idea of turkey sausage is like my reaction to the idea of turkey bacon, go a head and substitute regular pork Italian sausage. And if you like things spicy, be sure to use the hot version.
Note: If you use regular pork sausage, omit the 1 teaspoon of olive oil and use 1 teaspoon of pan drippings.
Penne with Sausage, Spinach and Arugula Recipe
Ingredients:
8 ounces dried penne pasta
5 turkey Italian sausage links, casings removed
1 teaspoon olive oil
1 shallot, chopped
4 cloves garlic, sliced
1/2 teaspoon dried oregano
1 teaspoon crushed red pepper (optional)
1 1/2 cups baby arugula
1 1/2 cups baby spinach
1/4 cup reserved pasta water
salt and pepper
freshly grated Parmesan cheese for garnish
Instructions
1
Bring a large pot of water to a boil and cook pasta according to box directions. Strain but reserve 1/4 cup of the pasta water. Set cooked pasta aside.

2
While your pasta is cooking brown sausage in a pan over medium heat, about 5-7 minutes. Transfer to a colander to strain grease. Set aside.

3
To the same pan that you cooked the sausage in add olive oil, shallot, garlic, oregano and crushed red pepper. Cook until shallot is translucent, about 5 minutes.

4
Return sausage to the pan, add cooked pasta, arugula, spinach and reserved pasta water. Toss to combine and cook for 2 minutes or just until the greens wilt. Season to taste with salt and pepper.

5
Transfer to serving platter, sprinkle with Parmesan cheese. Serve immediately.