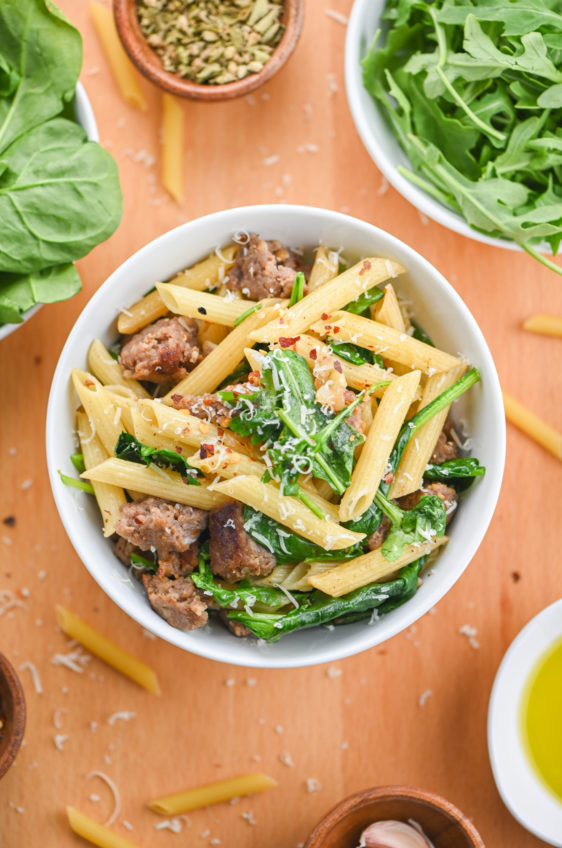 Sausage Arugula and Spinach Pasta
This Sausage Arugula and Spinach Pasta is a perfect quick recipe for your weeknight dinner! It's light yet hearty and full of flavor.

Pasta dinners don't always have to be heavy. In fact, some of my favorite pastas are those with light sauces like Linguine Aglio E Olio,  Macaroni and Tomatoes with Greens or Spaghetti with Browned Butter and Mizithra.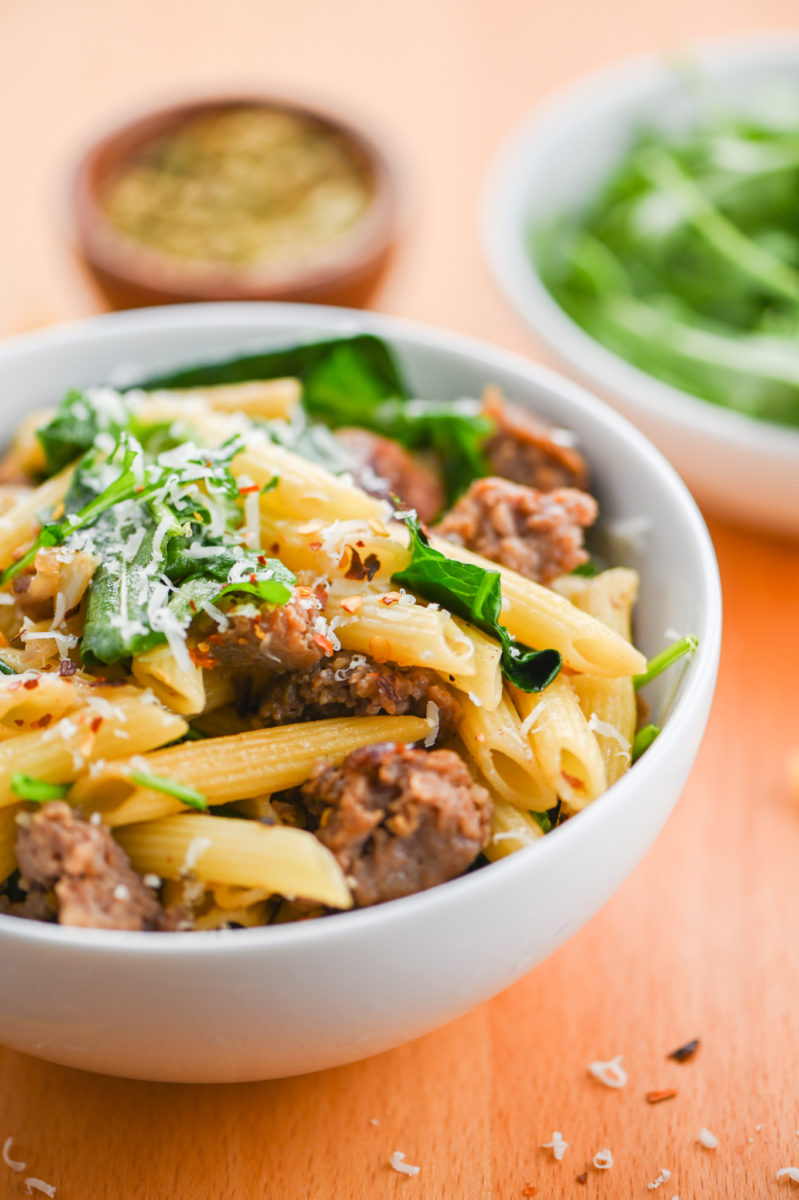 And also this Sausage Arugula and Spinach Pasta. It is a complete meal all in one! The greens, the protein, the carbs. It's all there. An it is so delicious.
What Ingredients You'll Need: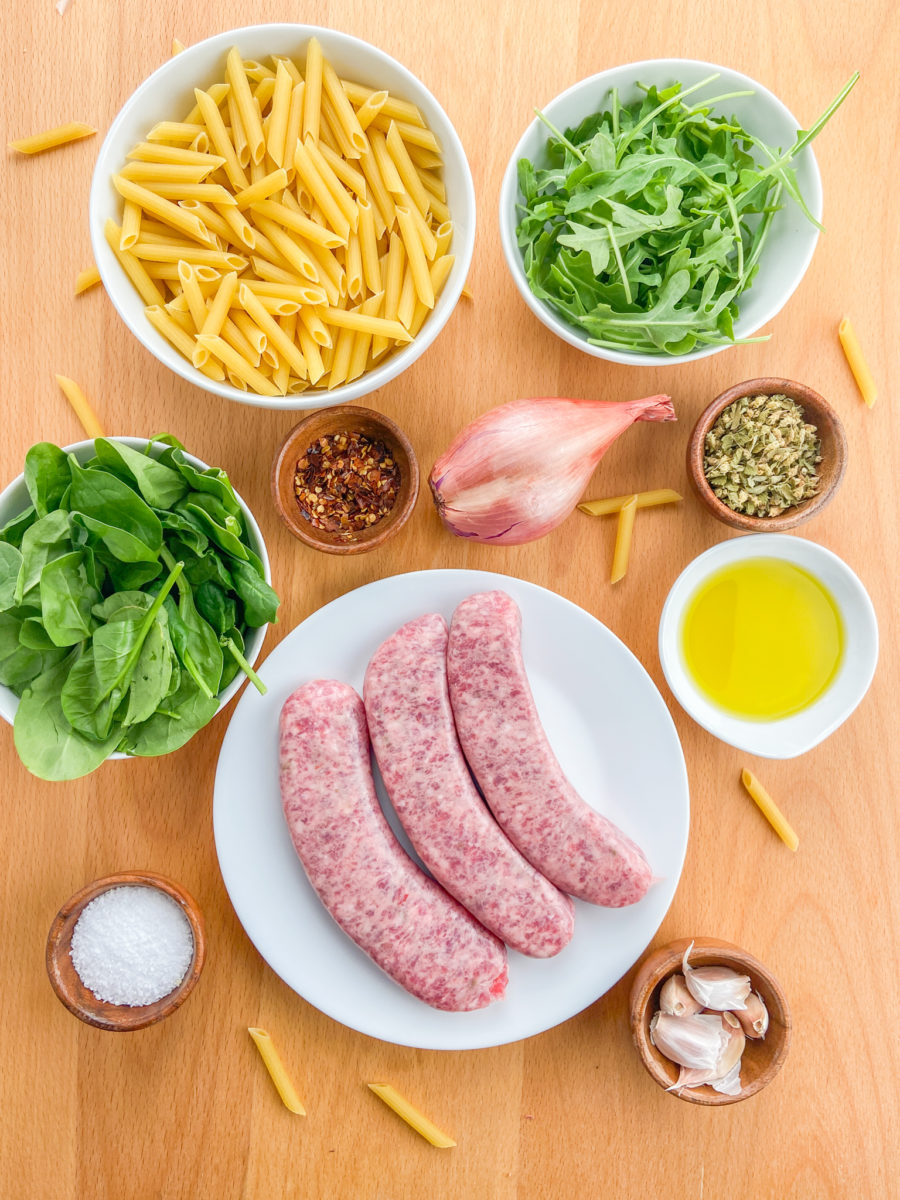 PENNE PASTA: Penne works great in this recipe but you can use any short pasta that you like. This would also be great with ziti or rotini. You'll also need to reserve some of the pasta water so don't forget!
ITALIAN SAUSAGE: To make this pasta even lighter, you can use turkey Italian Sausage instead of pork Italian Sausage. If you use the links, just remove the casing by cutting a little slit in the casing and peeling it off.
OLIVE OIL
SHALLOT: Shallots have a delicate sweet flavor. It's a subtle onion flavor but not over powering.
GARLIC
DRIED OREGANO: You can also use fresh if you have some on hand. You'll want to use 2 teaspoons of fresh.
CRUSHED RED PEPPER: Depending on how sensitive you (or those you are feeding) are to spice you can use less or more than the 1 teaspoon that the recipe calls for. If you're unsure start with 1/4 teaspoon.
BABY ARUGULA: Arugula is one of my favorite greens! It is lightly bitter and peppery.
SPINACH: You can use baby or regular spinach for this recipe.
SALT/PEPPER
PARMESAN: A healthy grating of fresh parmesan over the top of this pasta adds just the right amount of salty flavor.
HOW TO MAKE SAUSAGE ARUGULA PASTA:
You'll only need two pots/pans for this recipe: one large pot to boil the pasta and another large pan for the other ingredients. You do need the second pan to be large enough to fit the pasta. I like to use a large braiser pan.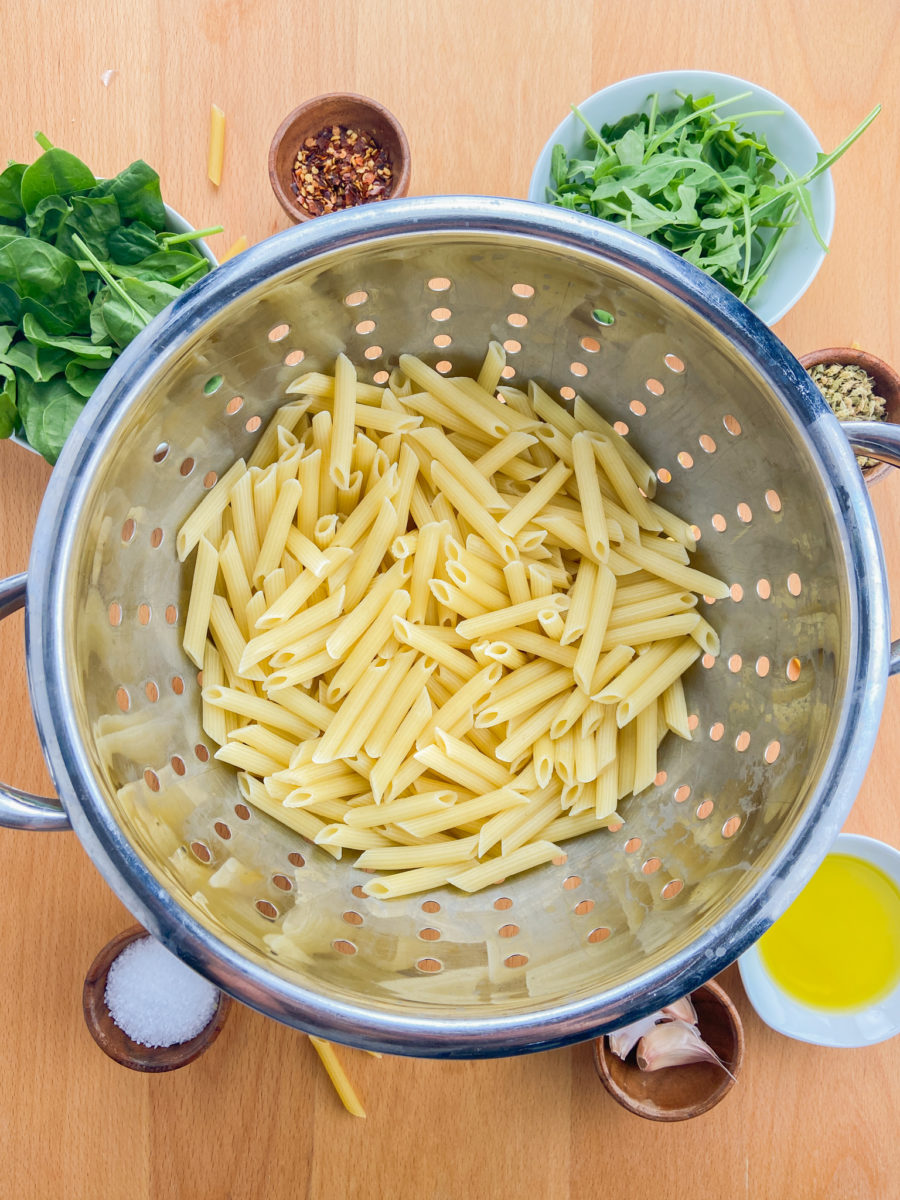 STEP #1: Cook the pasta according to package directions. Before draining your pasta remember to reserve 1/2 cup of the pasta water. This will be used for the sauce later in the recipe.
STEP #2: Brown the sausage until cooked through then strain grease. Set sausage aside.
STEP #3: In the same pan, saute olive oil, shallots, garlic, oregano and crushed red pepper.
STEP #4: Return the sausage to the pan and add the cooked pasta as well as the arugula, spinach and reserved pasta water. Cook just until the greens wilt. Season with salt and pepper. Serve with parmesan.
This recipe comes together in under 30 which makes it perfect for busy weeknights or nights when you just don't want to spend too much time in the kitchen.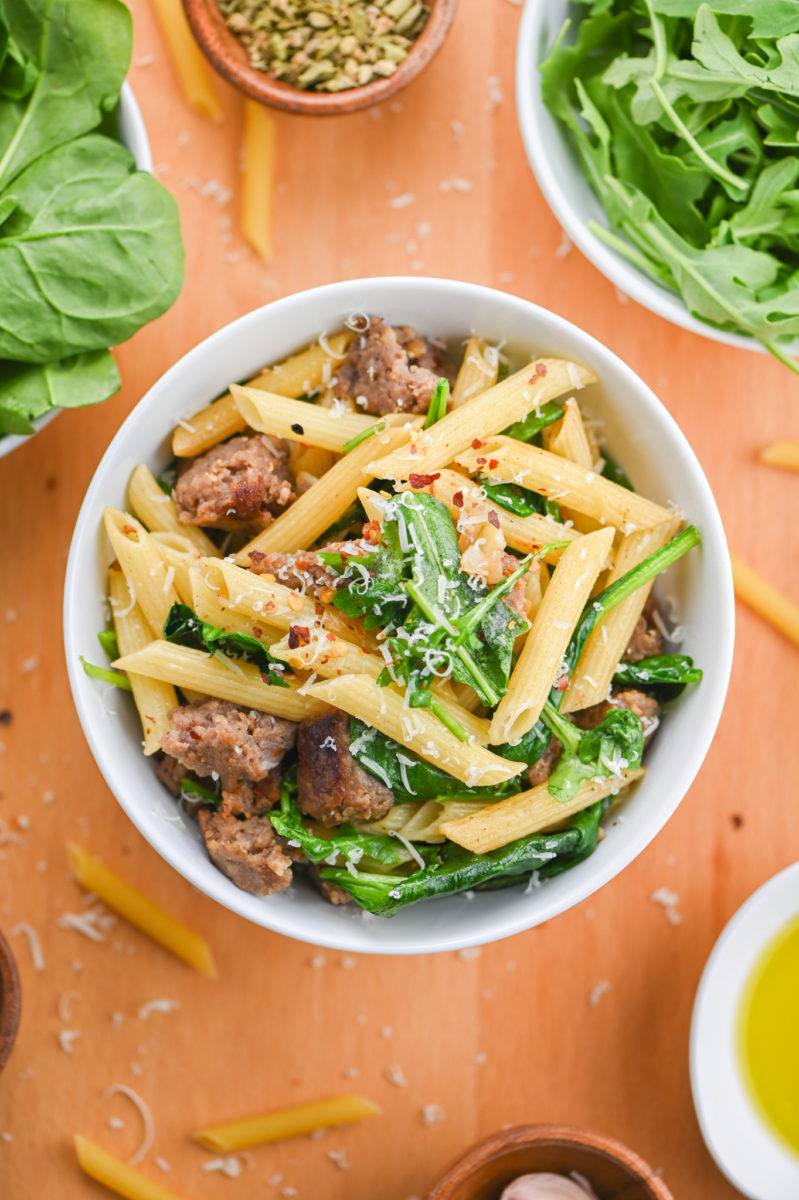 STORAGE AND LEFTOVERS:
Store in an airtight container in the refrigerator and this pasta reheats beautifully the next day!
FAQ:
Why reserve pasta water?
Pasta water is full of the starch from the pasta. This starch acts as a binder and helps bring sauces together.
Do you eat the stems of Arugula?
Yes! You can. The leaves, stems, flowers and seeds of arugula are all edible.
If you're looking for more arugula recipes, check these out:
This Spinach, Arugula, Cranberry and Walnut Salad is the PERFECT salad for your holiday celebrations.
Looking for a hearty salad? This Crispy Chickpea and Arugula Salad is protein packed and will keep your belly satisfied all day.
Arugula's peppery flavor makes it the perfect green to top these Ribeye Steak Sandwiches.
Note: This post was originally published in 2009. It was updated with new photos, nutrition information, tips and a slightly modified recipe in 2022.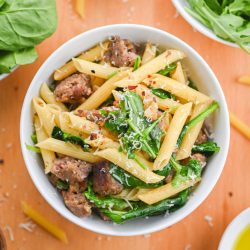 Sausage Arugula Spinach Pasta
This pasta loaded with garlic, sausage and greens is a delicious light dish, perfect for those of us wanting to lighten things up a bit.
Bring a large pot of water to a boil and cook pasta according to box directions. Strain but reserve 1/4 cup of the pasta water. Set cooked pasta aside.

While your pasta is cooking brown sausage in a pan over medium heat, about 5-7 minutes. Transfer to a colander to strain grease. Set aside.

To the same pan that you cooked the sausage in add olive oil, shallot, garlic, oregano and crushed red pepper. Cook until shallot is translucent, about 5 minutes.

Return sausage to the pan, add cooked pasta, arugula, spinach and reserved pasta water. Toss to combine and cook for 2 minutes or just until the greens wilt. Season to taste with salt and pepper.

Transfer to serving platter, sprinkle with Parmesan cheese. Serve immediately.
Calories:
760
kcal
Carbohydrates:
68
g
Protein:
30
g
Fat:
40
g
Saturated Fat:
14
g
Polyunsaturated Fat:
5
g
Monounsaturated Fat:
18
g
Cholesterol:
92
mg
Sodium:
968
mg
Potassium:
654
mg
Fiber:
4
g
Sugar:
3
g
Vitamin A:
1851
IU
Vitamin C:
9
mg
Calcium:
138
mg
Iron:
3
mg
Keywords:
arugula, italian sausage, pasta, pastas, Recipe, Spinach