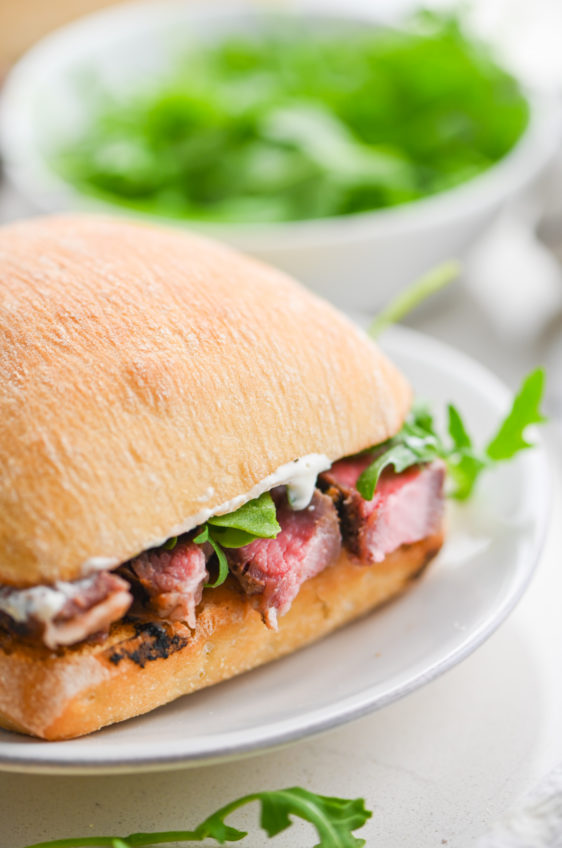 Ribeye Steak Sandwich
Elevate your lunch with this easy Ribeye Steak Sandwich. Juicy ribeye steak piled, peppery arugula and a creamy caper sauce piled on crusty ciabatta rolls.
Ahhh the sandwich. It's probably the most popular option for lunch. It's got everything you need: protein, veggies, carbs so it makes sense. But if you're like me, you've gotten in the habit of making the same ol' same ol' deli meat sandwiches. And while they are easy, and delicious enough, swap out that deli meat for perfectly grilled ribeye and your sandwich is taken to an entirely different level.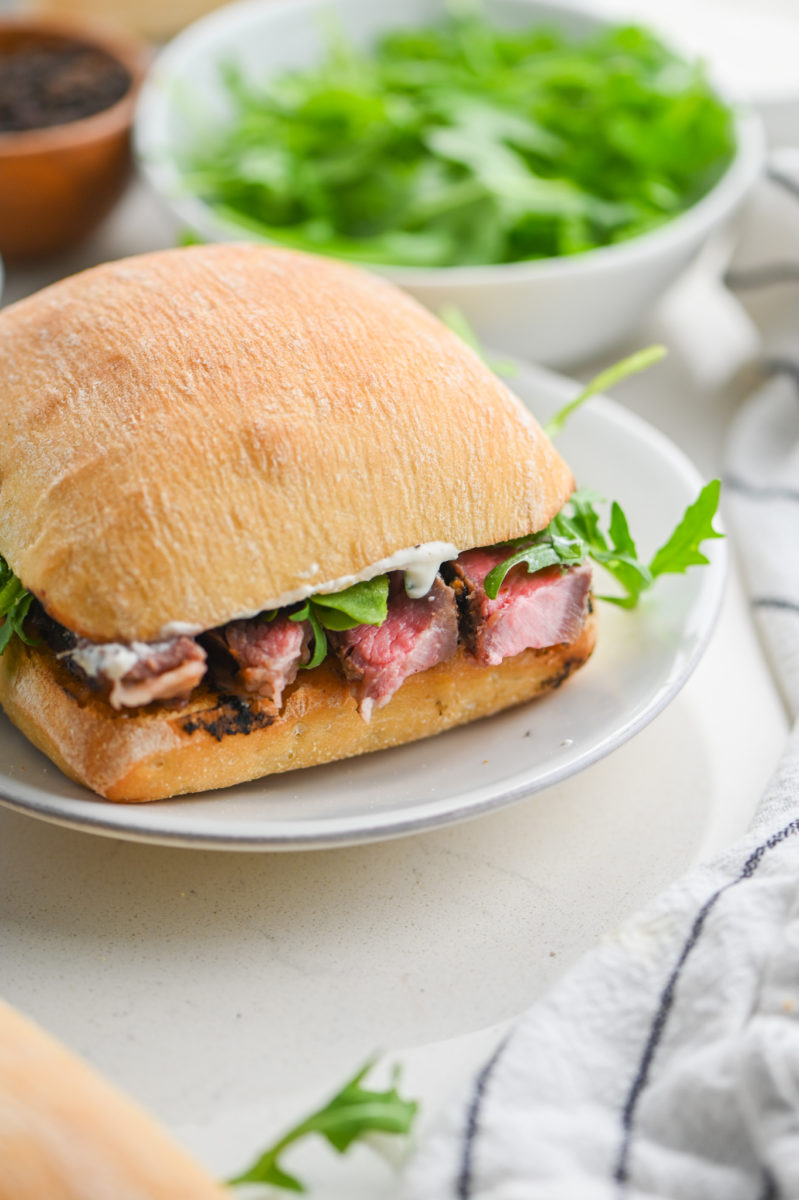 And you're going to love it.
Just look at this Ribeye Steak Sandwich. You've got the juicy steak, the peppery arugula and a delectable caper sauce. Not to mention the crusty toasted ciabatta roll. It's got all of the flavor and texture you crave in a good sandwich. So let's make it!
What ingredients do you need to make a Ribeye Steak Sandwich?
One of the great things about this sandwich is that there aren't too many ingredients. Uncomplicated dishes like this are my favorite because every ingredient gets its chance to shine. That is why it's essential to use the best quality you can find.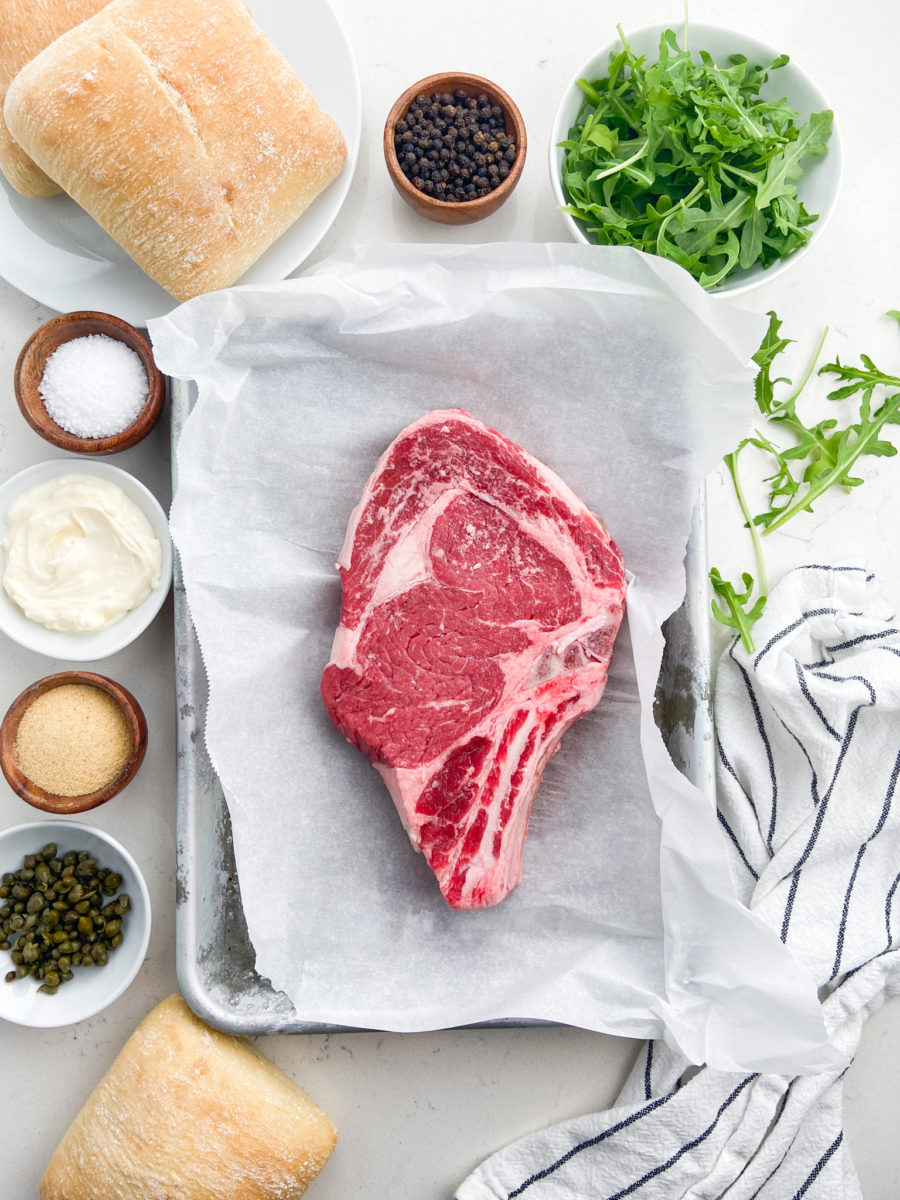 RIBEYE STEAKS: A Ribeye steak is cut from the rib roast and is considered one of the juiciest and most flavorful cuts of the beef.
SALT/PEPPER/GRANULATED GARLIC: This is my go-to trifecta of seasonings when it comes to grilling steaks. If you can't find granulated garlic (I buy this one from Costco so I always have some on hand) use garlic powder. If you only have garlic salt, use less regular salt.
ARUGULA: Arugula is actually not a lettuce but a green. It is closely related to mustard and has a peppery flavor. It is perfect with beef.
MAYONNAISE/SOUR CREAM: These two ingredients are going to be the base of the cream sauce the sandwich.
CAPERS: Capers are actually the bud of a flower and one of my favorite ingredients to add when I am looking for a briny flavor.
CIABATTA ROLLS: Ciabatta rolls are soft and airy on the inside but crusty on the outside. They are perfect for sandwiches! If you can't find them in the grocery store you can make your own or use another roll with a hard crust.
How to make a Ribeye Steak Sandwich?
There is not much too it! Follow along with these step by step photos and instructions.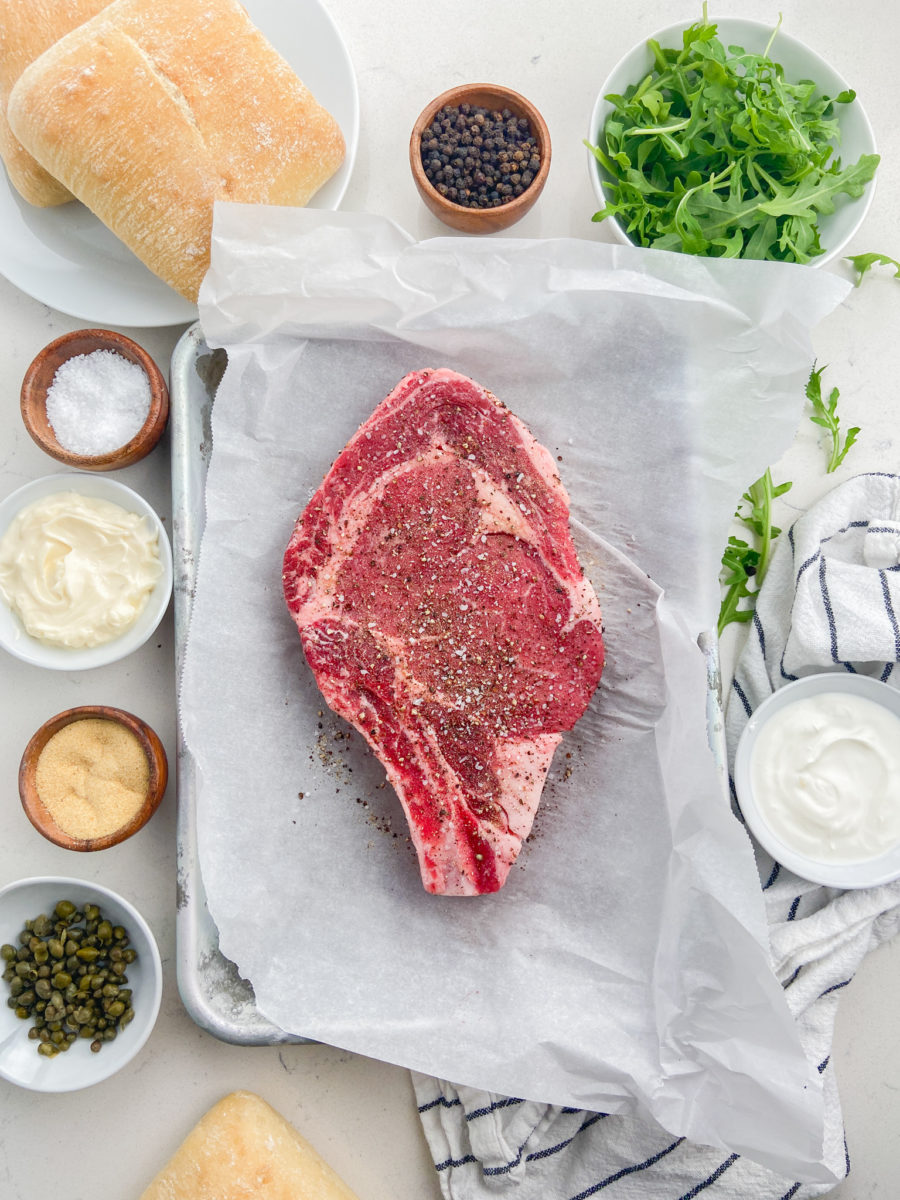 STEP #1: Preheat your grill to 400 degrees. Season the steak on both sides with salt, pepper and granulated garlic.
STEP #2: Grill steak 5 – 7 minutes per side for medium rare. Remove the steak from the grill and allow to rest for 10 minutes before slicing. Don't skip this step! It's super important to let the steak rest.
STEP #3: Cut the rolls in half lengthwise. You can grill them now, if desired.
STEP #4: Whisk together all the ingredients for the sauce. Set aside until ready to use.
STEP #5: Assemble the sandwiches. Spread the sauce on both sides of the roll. Place slices on the bottom and top with arugula and top bun. Serve immediately.
Storage and leftovers:
Steak doesn't reheat very well without being overcooked so I recommend eating this the day that it is made. That said, you can store the sauce in the refrigerator for a few days to use on other sandwiches or even as a dip!
Recipe FAQ:
What are the degrees of doneness for steak?
Rare: Red with cool, soft center 125 degrees.
Medium Rare: Warm red center 130 degrees.
Medium: Hot pink center, firm texture 140 degrees.
Medium well: Mostly brown center, firm texture. 150 degrees.
Well: No color, very firm and dry. 160F+
Why do you need to let meat rest?
Resting time is an important step whenever you're cooking meat. If you immediately cut into a piece of meat the juice will run out leaving you with a drier piece of meat. Giving the meat a chance to rest allows the juices to redistribute yielding a juicier bite.
What to look for when picking a ribeye?
Thickness. If the steak is too thin it'll be too easy to overcook. Marbling: Marbling is the white fat that is running through the steak. More marbling = more flavor. Grade: In the US there are 4 different grades prime, choice, select and standard. Prime is going to be the highest quality but also the most expensive. I find that choice can be great too!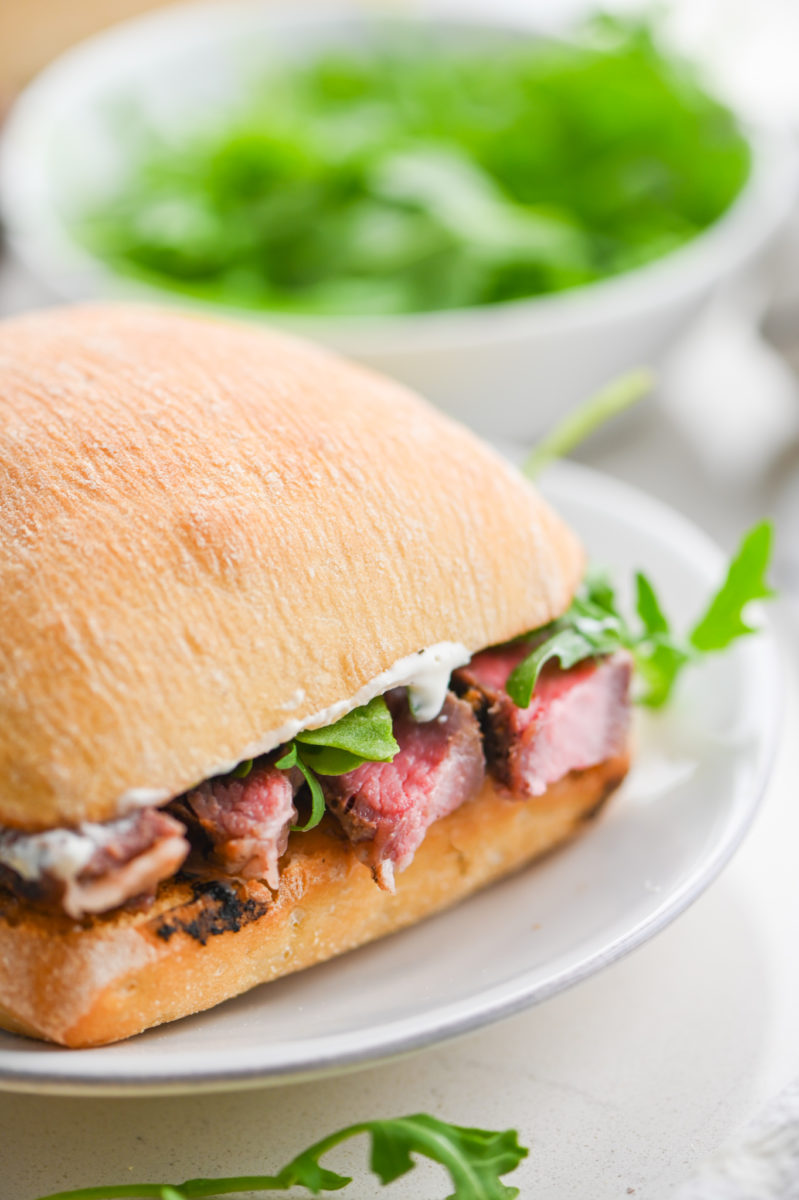 You guys, if you're tired of your same old boring lunch sandwiches, you've got to try this Ribeye Steak Sandwich, I'm telling you! It's delicious and such a great way to elevate your lunch.
Fancy yourself a sandwich artist? Here are some more of my favorites!
This Italian Pressed Sandwich is one of my favorites to take on a picnic!
Creamy Dill Chicken Salad is a great twist on the classic chicken salad
A Pot Roast Grilled Cheese will be your new favorite way to use leftover pot roast.
Looking for more beef recipes? Try these!
This Steak with Peppercorn Sauce is one of my most popular recipes! It's like a fancy steak night dinner but you get the chance to enjoy it at home.
Flat Iron Steak with Balsamic Rosemary Reduction is a showstopper!
Grilled Steak with Avocado Sauce is a great summer recipe!
Note: This post was originally written and posted in 2009. It was updated with new photos, step by step photos, Recipe FAQ and nutrition information in 2022.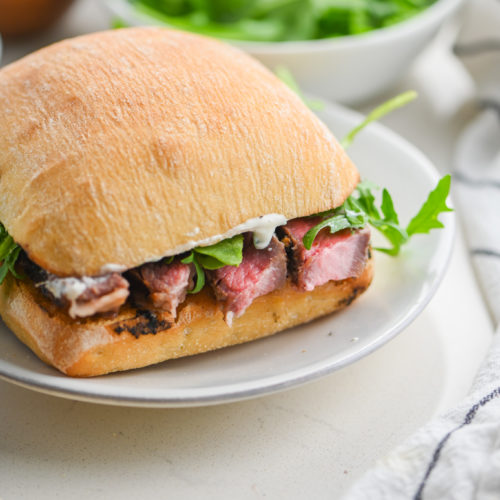 Ribeye Steak Sandwich
Grilled rib eye steak, fresh peppery arugula and a creamy caper sauce sandwiched between a toasted ciabatta roll.
Preheat your grill.

Season both sides of the steak with the granulated garlic and salt and pepper.

Once your grill has heated, cook steak about 7 minutes per side. Remove from heat and let rest 10 minutes before slicing, steak will be medium. After it has rested, slice into 1/4 inch slices.

While your steak is resting, slice your ciabatta rolls in half, and place them on the grill to get toasted, about 2 minutes.

Mix together mayonnaise, sour cream, garlic, pepper and capers.

To assemble the sandwiches, place the sliced steak on the bottom slice of ciabatta bread, top with a handful of arugula and liberally spread some of the caper cream sauce on the top slice of the bread. Serve.
It is important to let the steak rest for at least 10 minutes so that the juices redistribute. 
If you cannot find ciabatta rolls use another roll that has a hard crust. 
Calories:
735
kcal
Carbohydrates:
29
g
Protein:
40
g
Fat:
51
g
Saturated Fat:
17
g
Polyunsaturated Fat:
14
g
Monounsaturated Fat:
18
g
Trans Fat:
1
g
Cholesterol:
132
mg
Sodium:
1189
mg
Potassium:
537
mg
Fiber:
1
g
Sugar:
1
g
Vitamin A:
404
IU
Vitamin C:
1
mg
Calcium:
57
mg
Iron:
3
mg
Keywords:
4th of July Recipes, arugula, beef, capers, grill, mayonaise, rib eye steak, sandwich, steak