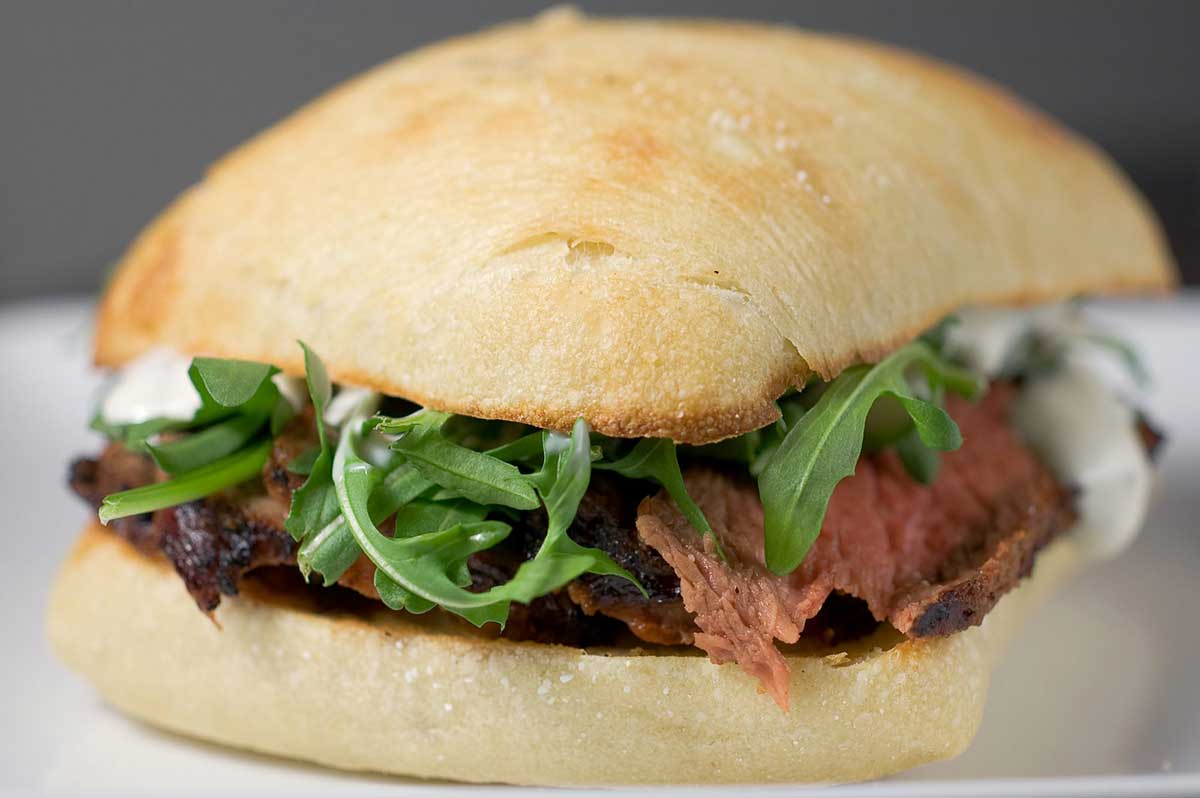 Rib Eye Steak Sandwiches
So what do you do in the Northwest when the sun shows itself and the temperature reaches a balmy 50 degrees in the middle of February? Why grill of course! That is, after you convince your husband that if he stands close enough to the grill it will feel like summer outside. Once I convinced mine, we grilled up these yummy rib eye steak sandwiches.  In this recipe, sliced grilled rib eye steak, fresh peppery arugula and a creamy caper sauce are sandwiched between a toasted ciabatta roll.
If you don't have a grill or can't bring yourself to go outside because it is too cold and rainy out, you can also prepare these using your oven broiler. For a great dinner serve these with some steamed veggies and simple roasted red potatoes.  Enjoy!
Rib Eye Steak Sandwiches Recipe
Ingredients:
1 pound boneless rib eye steak about 1 to 1 1/2 inches thick
1/2 teaspoon granulated garlic
kosher salt and pepper
2 ciabatta rolls ( I found these in the bakery of my local grocery store)
1/2 cup mayonnaise
1/2 cup sour cream
1/2 teaspoon granulated garlic
1/4 teaspoon fresh cracked pepper
1 tablespoon nonpareil capers
A couple handfuls of arugula about 1 1/2 cups
Instructions
2
Season both sides of the steak with the granulated garlic and salt and pepper.

3
Once your grill has heated, cook steak about 7 minutes per side. Remove from heat and let rest 10 minutes before slicing, steak will be medium. After it has rested, slice into 1/4 inch slices.

4
While your steak is resting, slice your ciabatta rolls in half, and place them on the grill to get toasted, about 2 minutes.

5
Mix together mayonnaise, sour cream, garlic, pepper and capers.

6
To assemble the sandwiches, place the sliced steak on the bottom slice of ciabatta bread, top with a handful of arugula and liberally spread some of the caper cream sauce on the top slice of the bread. Serve.