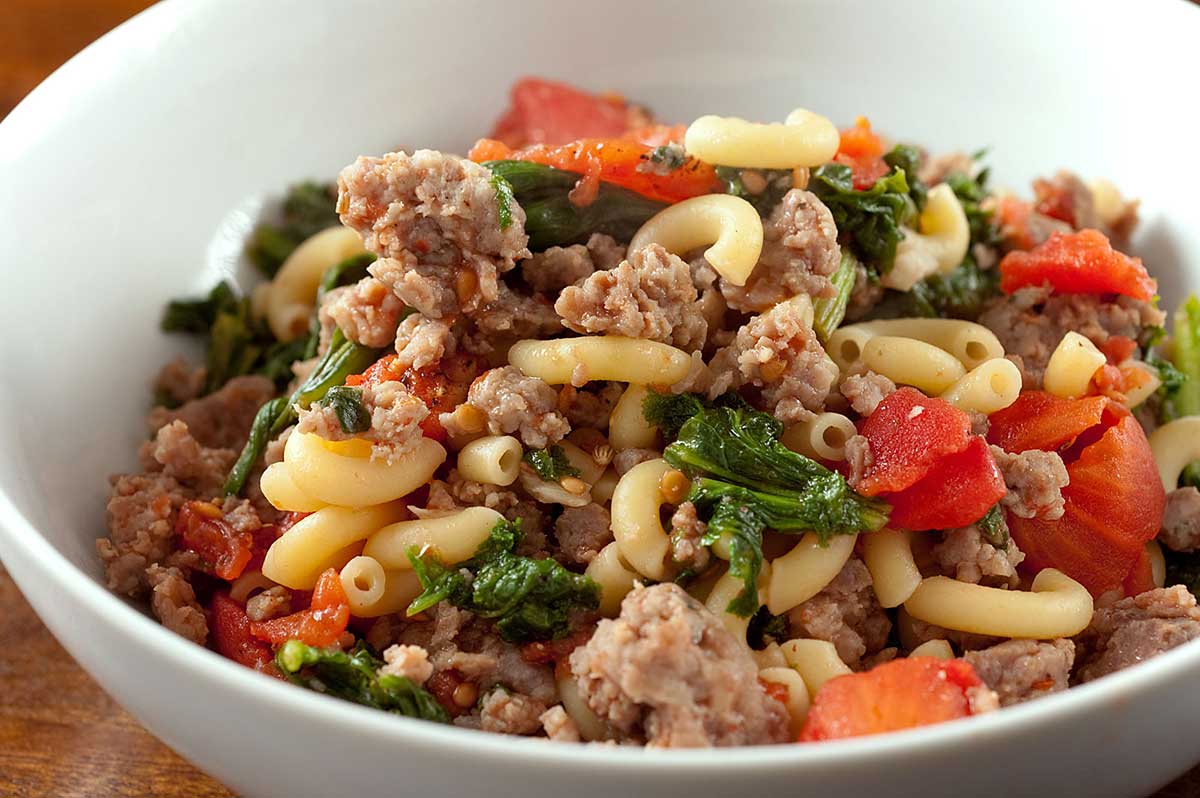 Macaroni with Sausage, Greens and Tomatoes
When I shared my recipe for macaroni and tomatoes a while back, I mentioned that Ryan wasn't a huge fan of the idea of macaroni and tomatoes. And while he did enjoy my version with fresh tomatoes and basil, I have a feeling it's still not one of his favorite meals. I attribute this feeling to the fact that when I offered to make it a couple weeks ago, I still got a big fat no. So this week, since I was craving it, I decided to kick the recipe up just a notch to see if I could make it a new member of our dinner rotation. So, in addition to the tomatoes and macaroni I added some spicy Italian sausage and some peppery mustard greens. Verdict: He ate two bowls and took it to work the next day for lunch.
Greens are a funny thing. Well not really funny I suppose. But anyways, you either love them or hate them. I personally love them. I love spinach, arugula and kale and eat them like there is no tomorrow. But it wasn't until recently that I started experimenting with mustard greens. If you find kale a bit too bitter you might really like mustard greens. They are a bit peppery and aren't quite as bitter as kale. You'll find them in the produce section right next to collard greens, my next experiment.
Note: I used San Marzano tomatoes in this dish. My grocery store was having a sale on them so I stocked up. Usually they are a bit on the spendy side but If you can get your hands on them I would really recommend buying a couple cans. But any can of whole peeled tomatoes will do for this recipe.

Macaroni with Sausage, Greens and Tomatoes Recipe
Ingredients:
1 (28 ounce) can whole peeled San Marzano tomatoes, drained
2 cups dried elbow macaroni
1.5 pounds ground spicy Italian sausage
1 - 2 tablespoons olive oil
3 cloves garlic, minced
1 bunch mustard greens, stems trimmed and roughly chopped
1/2 teaspoon fresh cracked black pepper
salt as needed
Instructions
1
Place the whole tomatoes in a bowl and gently crush them in your hand. This will create a somewhat chunky tomato sauce. Set aside.

2
Bring a large pot of water to a boil and cook macaroni according to package directions.

3
Meanwhile, in a large skillet, brown Italian sausage. Strain and set aside. Reserve 1 tablespoon of pan drippings if possible.

4
In the same pan that you cooked the sausage in, add reserved pan drippings and 1 tablespoon of olive oil. If there were not enough pan drippings add another tablespoon of olive oil. Stir in garlic and let cook for 30 seconds. Stir in mustard greens. allow to cook just until wilted, about 2 minutes. Return sausage to the pan. Stir to combine.

5
By this time your pasta should be just about ready. Strain it and mix it with the sausage and greens. Pour the tomatoes over the top. Stir in black pepper. Adjust seasoning with salt as needed. Allow to cook for 5 - 7 more minutes or until the tomatoes are warmed through. Serve.