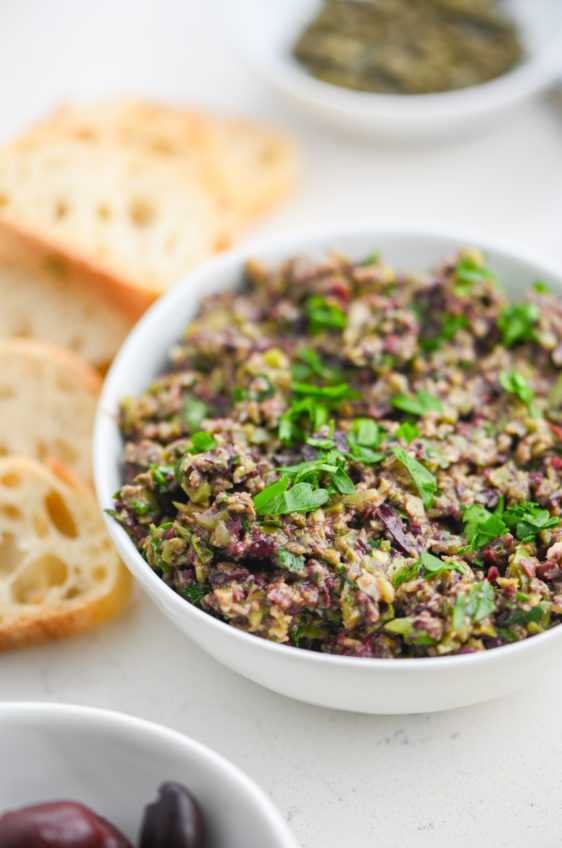 Olive Tapenade
Jump to Recipe
Olive Tapenade is a briny, salty olive spread. It is great on bread, crackers and a must make for olive lovers.
It always surprises me that olives can be so divisive. Every once in a while, I'll meet someone who is like "EW! I don't like olives" if that person is you, this Olive Tapenade recipe might just change your mind. It is that good.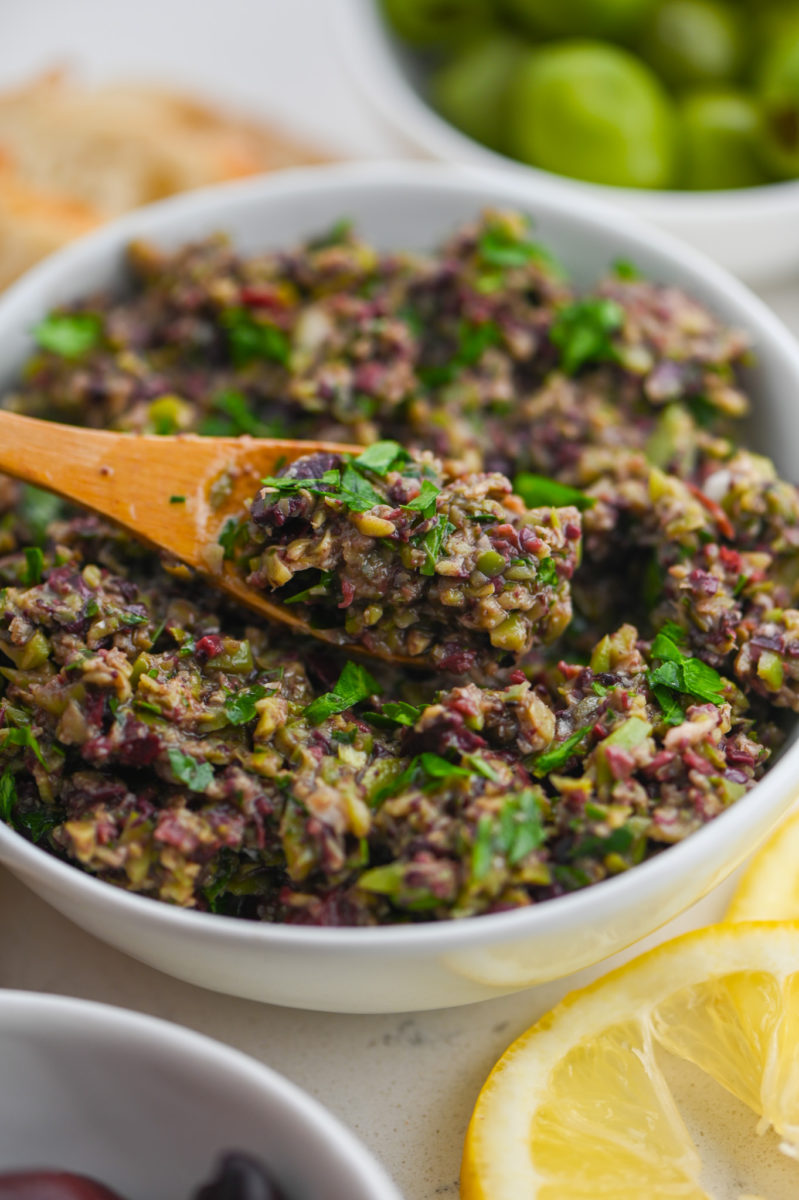 This Olive Tapenade recipe is one of my favorite spreads. It's quick, easy and oh so flavorful. The salty, briny flavor just might be enough to turn any olive hater into an olive lover.
What is olive tapenade?
First, what is a tapenade? If you are unfamiliar, it is a spread made with olives, capers and sometimes anchovies. They are pureed or finely chopped together and used as a spread. It is popular in the Provence region of France.
Let's talk about what you'll need to make it.
Olive Tapenade Ingredients: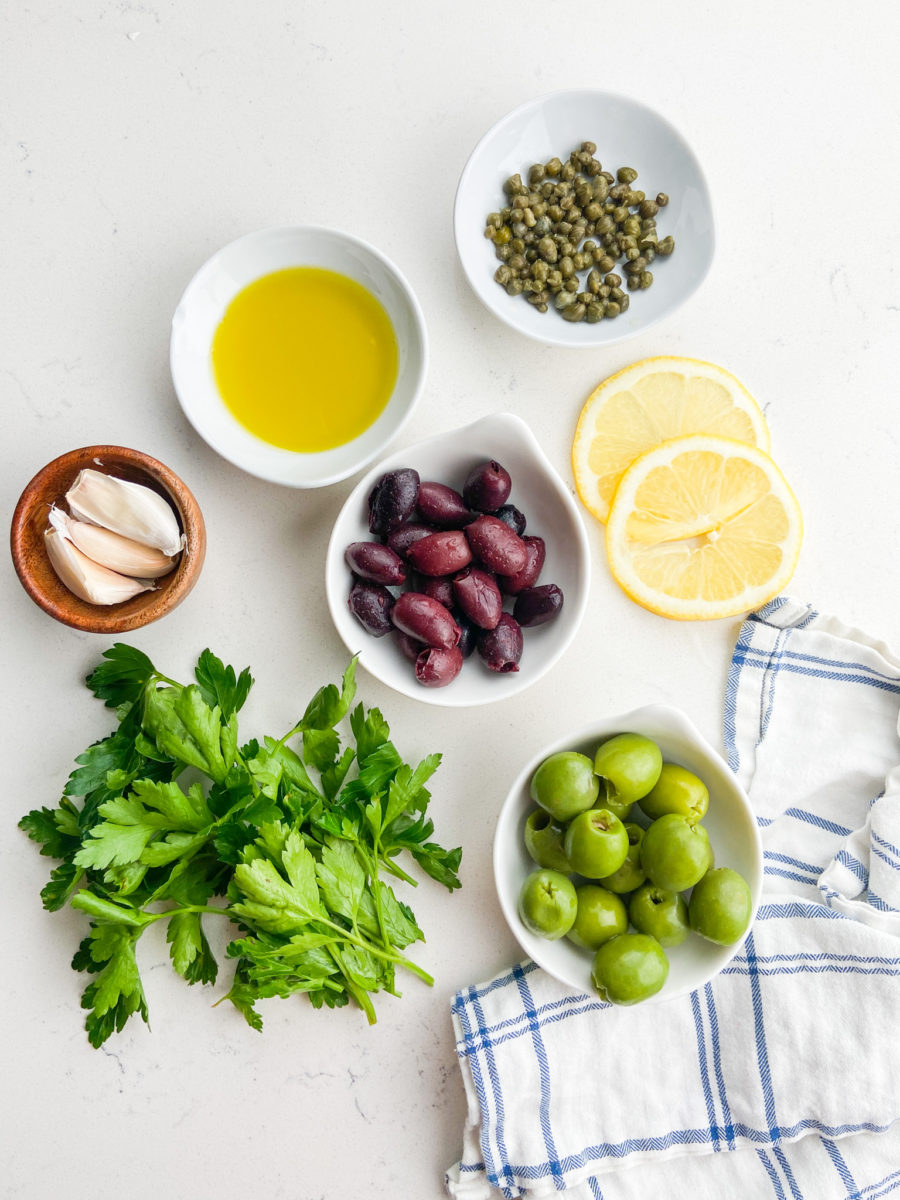 OLIVES: For this recipe, I use a mixture of castelvetrano and kalamata olives. Castelvetrano have a mild, buttery flavor. Kalamata olives are rich, smoky and fruity. The combination together yields a super flavorful bite.
CAPERS: Capers are another important component to tapenade recipes. There are usually two kinds of capers available in grocery stores: capote and nonpariel. Capote are much larger and I find that nonpariel work in more recipes.
EXTRA VIRGIN OLIVE OIL: Use the highest quality olive oil you can get your hands on for this recipe. It will give you the best finished flavor.
LEMON JUICE: Adds acidity and brightness.
GARLIC: Because the garlic is raw in this recipe, even the biggest garlic lovers among us will want to use only 1 or 2 cloves.
PARSLEY: Adds fresh flavor and a pop of green color.
Step by Step Photos and Instructions:
One of the great things about making Olive Tapenade is that it is so easy to make. All you need to do is pulse the ingredients together in a food processor. And voilà! Tapenade.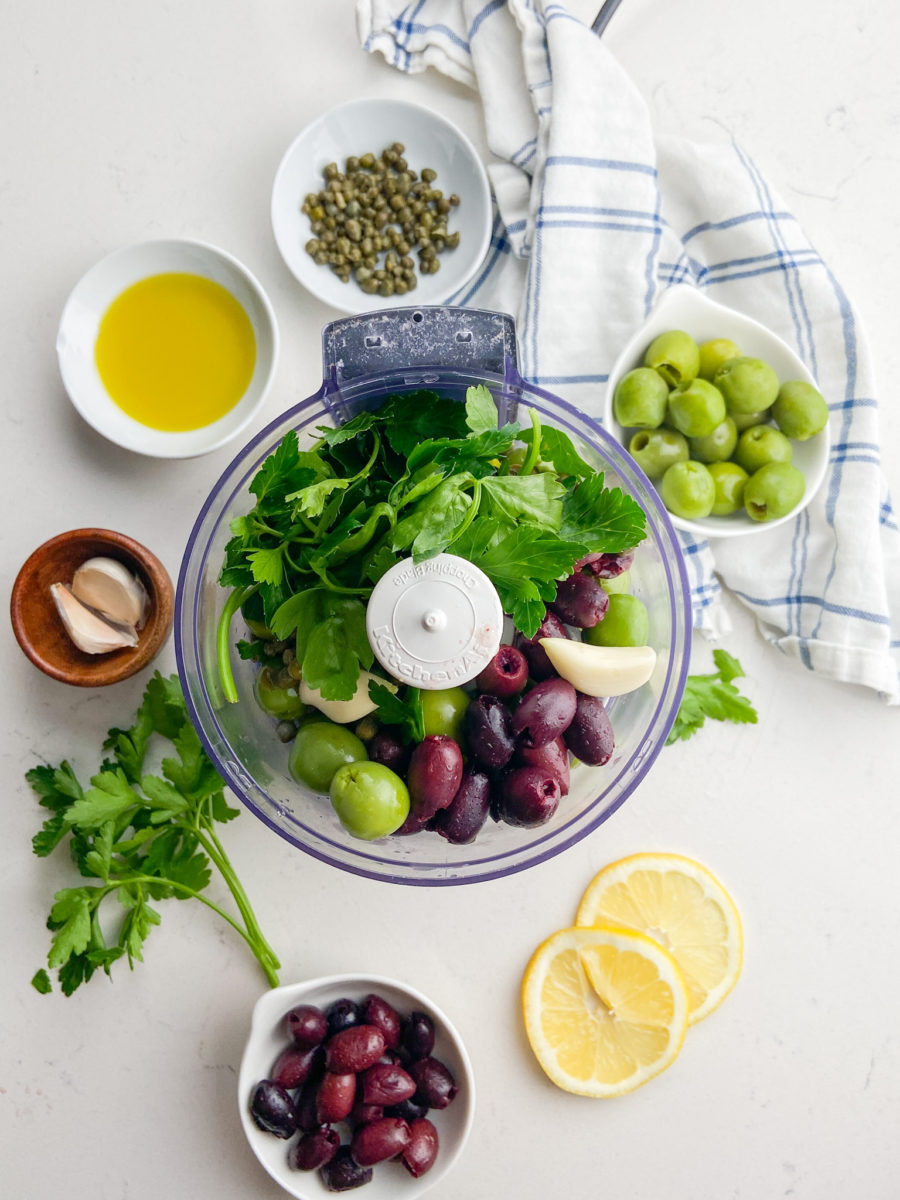 STEP #1: Combine olives, garlic, parsley, capers and lemon juice in a food processor. Pulse until the mixture is fine.
STEP #2: Add in the olive oil and pulse until the mixture reaches desired consistence. I like it a little bit chunky but you can process it until smoother if you like.
Storage and Leftovers:
I find that Olive Tapenade is even better the next day as the flavors have a chance to meld. Keep them stored in the refrigerator and eat them within a week for the best flavor.
You might be wondering the best way to serve Olive Tapenade but there are just so many ways to enjoy it. It is great on crackers. Added to cheese boards. Used as a spread on my favorite sandwich ever, the Italian Pressed sandwich. Or simply spread on crostini. You really can't go wrong!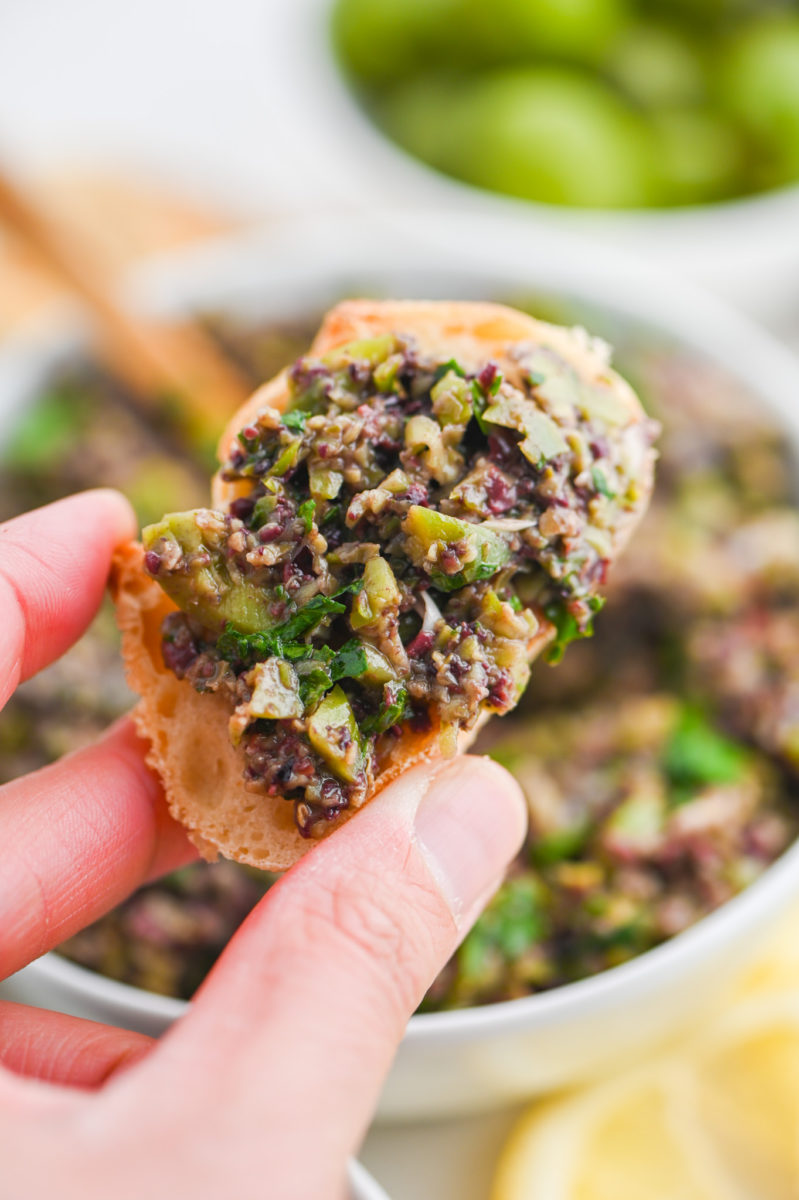 FAQ:
Why is my tapenade bitter?
This could be because of the olive oil. Olive oil can be bitter, but high quality extra virgin olive oil will give you the best results.
Is tapenade Greek or Italian?
Tapenade really popular in France but it actually hails from Italy.
What makes Castelvetrano olives different?
Castelvetrano olives are different than other olives because they are not cured.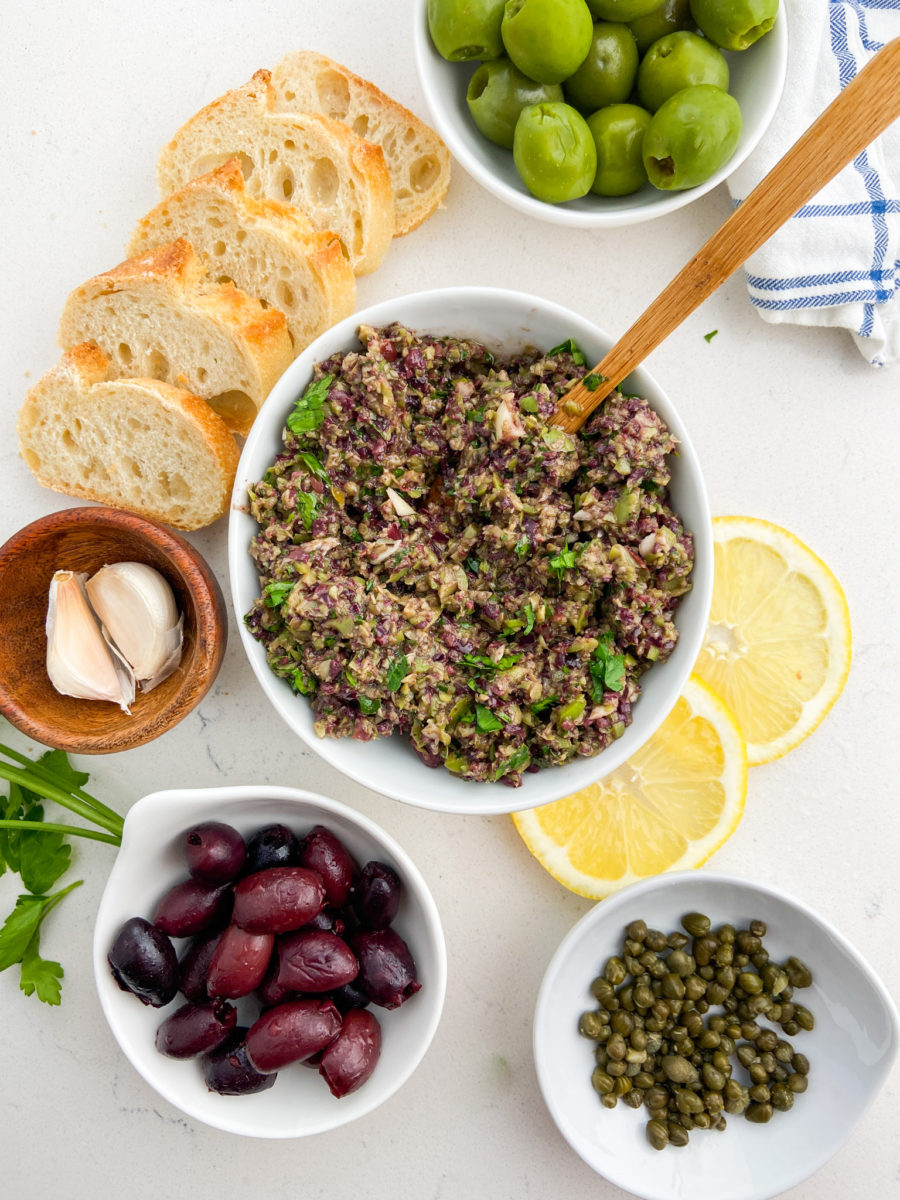 Looking for more easy spreads and dip appetizers? Try these:
If you love this Olive Tapenade, you're going to LOVE this Artichoke Tapenade!
Green Chile Pimento Cheese Spread is a southwestern twist on the Southern classic.
This Smoked Salmon Dip is a great spread on crackers.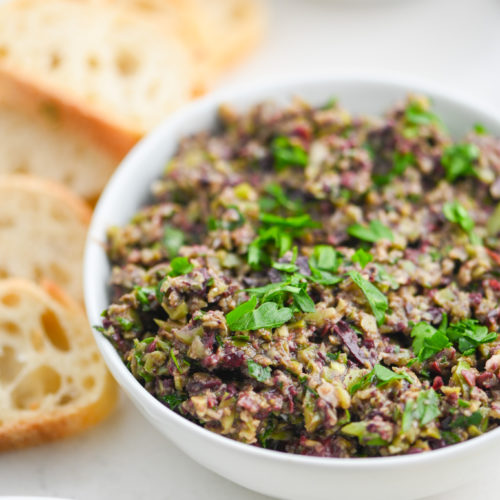 Olive Tapenade
Olive Tapenade is a briny, salty olive spread. It is great on bread, crackers and a must make for olive lovers.
1

cup

castelvetrano olives

1/2

cup

kalamata olives

2

cloves

garlic

2

tablespoons

nonpariel capers

1

tablespoon

lemon juice

1/4

cup

Italian parsley

2

tablespoons

extra virgin olive oil
Combine all ingredients, except extra virgin olive oil, in food processor. Process until olives and parsley are minced fine.

Add in extra virgin olive oil. Pulse a couple more times or until mixture is desired consistency.
Nutrition information for estimation purposes only. 
Calories:
141
kcal
Carbohydrates:
3
g
Protein:
1
g
Fat:
15
g
Saturated Fat:
2
g
Polyunsaturated Fat:
1
g
Monounsaturated Fat:
11
g
Sodium:
903
mg
Potassium:
54
mg
Fiber:
2
g
Sugar:
1
g
Vitamin A:
521
IU
Vitamin C:
7
mg
Calcium:
36
mg
Iron:
1
mg
Keywords:
appetizer, olives, Spread