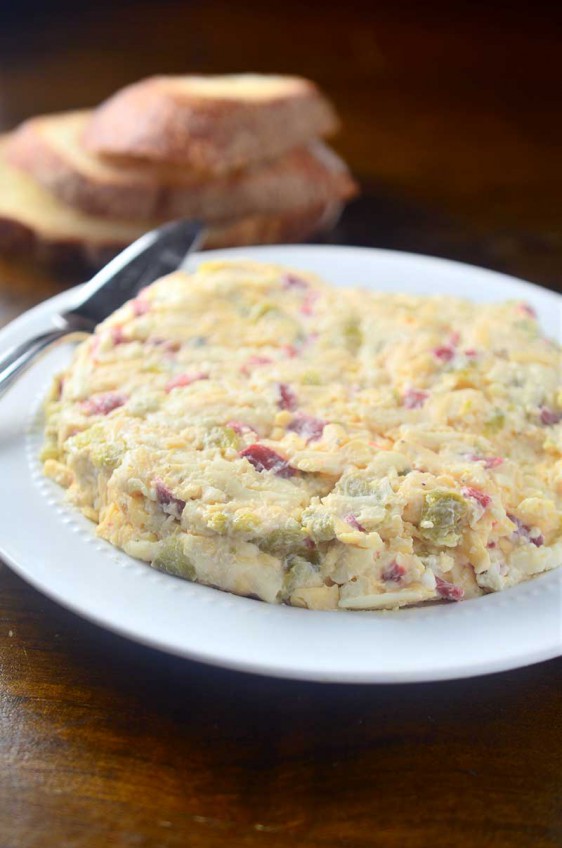 Roasted Hatch Chile Pimento Cheese
I wait anxiously await this time of year. The sun is hot. The signs go up and soon the smell of roasting chiles is in the air. That's right, it's hatch chile time friends. And I. Am. Stoked. I adore hatch chile season and always try to incorporate them into as many dishes as possible while they are in season. First up this year is this Roasted Hatch Chile Pimento Cheese.
There seems to be a little bit of a trend developing here. I seem to be a fan of taking southern dishes and putting a southwestern twist on them. First these Fried Green Tomatillos and now this Roasted Hatch Chile Pimento Cheese. Which is funny because I'm not southern or southwestern.
But that is neither here nor there.
I love both cuisines equally. The rich, stick to your ribs comfort food of the south and the flavorful spicy food of the southwest. Either one of those on my plate and I am a happy woman. Combine the two and it's smiles all around.
If you've never had pimento cheese before, it's kind of an interesting combo but it totally works. It's more of a spread than a cheese. This version is loaded with sharp cheddar, pepper jack, mayonnaise, cream cheese, diced pimentos and diced roasted hatch chiles. All you do is mix it all together and pop it in the refrigerator for a while (at least an hour) so that all the flavors mingle and get to know each other. Then it's ready to be spread on crackers, bread or even to use as a burger topper.
Which is amazing and you should totally try it.
I'm thinking it'll also make a fantabulous grilled cheese too.
Roasted Hatch Chile Pimento Cheese Recipe
Ingredients:
3 hatch chiles
4 ounces cream cheese, softened
1/2 cup mayonnaise
2 cups shredded pepper jack cheese
2 cups shredded cheddar cheese
4 ounce jar pimentos, drained
1/2 teaspoon garlic powder
1/4 teaspoon black pepper
salt to taste
Instructions
1
Place hatch chiles on a baking sheet six inches from the broiler. Broil for 5 - 6 minutes on each side or until they start to blacken. Remove from oven, place in a paper bag and allow to sweat for 15 minutes. Remove skins, stems and seeds. (If you want the cheese a little spicier leave the seeds in) Dice.

2
Combine cream cheese and mayonnaise together in the bowl of a stand mixer (or you can use a hand mixer) and mix until smooth. A few little chunks of cream cheese is ok.

3
Fold in pepper jack cheese, cheddar cheese, pimentos, garlic, black pepper and diced hatch chiles. Season to taste with salt.

4
Cover and refrigerate for at least 1 hour before serving.