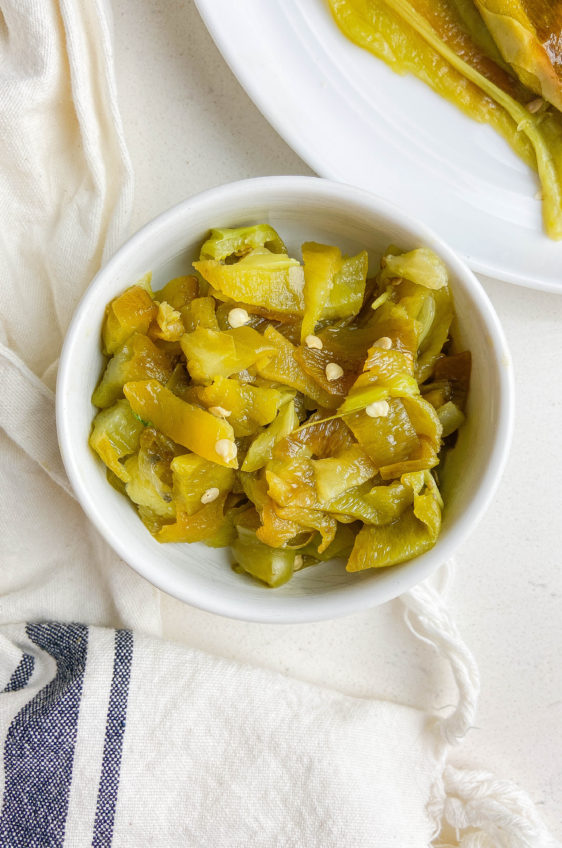 Roasted Hatch Chiles
Making your own Roasted Hatch Chiles could not be easier! Use them in salsas, sauces, chilies and more!
Each summer, from late August – September, New Mexico Hatch Chiles come into season. They are becoming more and more popular as the years go on. They used to occupy a small shelf at my grocery store. Now they get their own big bin and they are even freshly roasted outside a couple days during the season.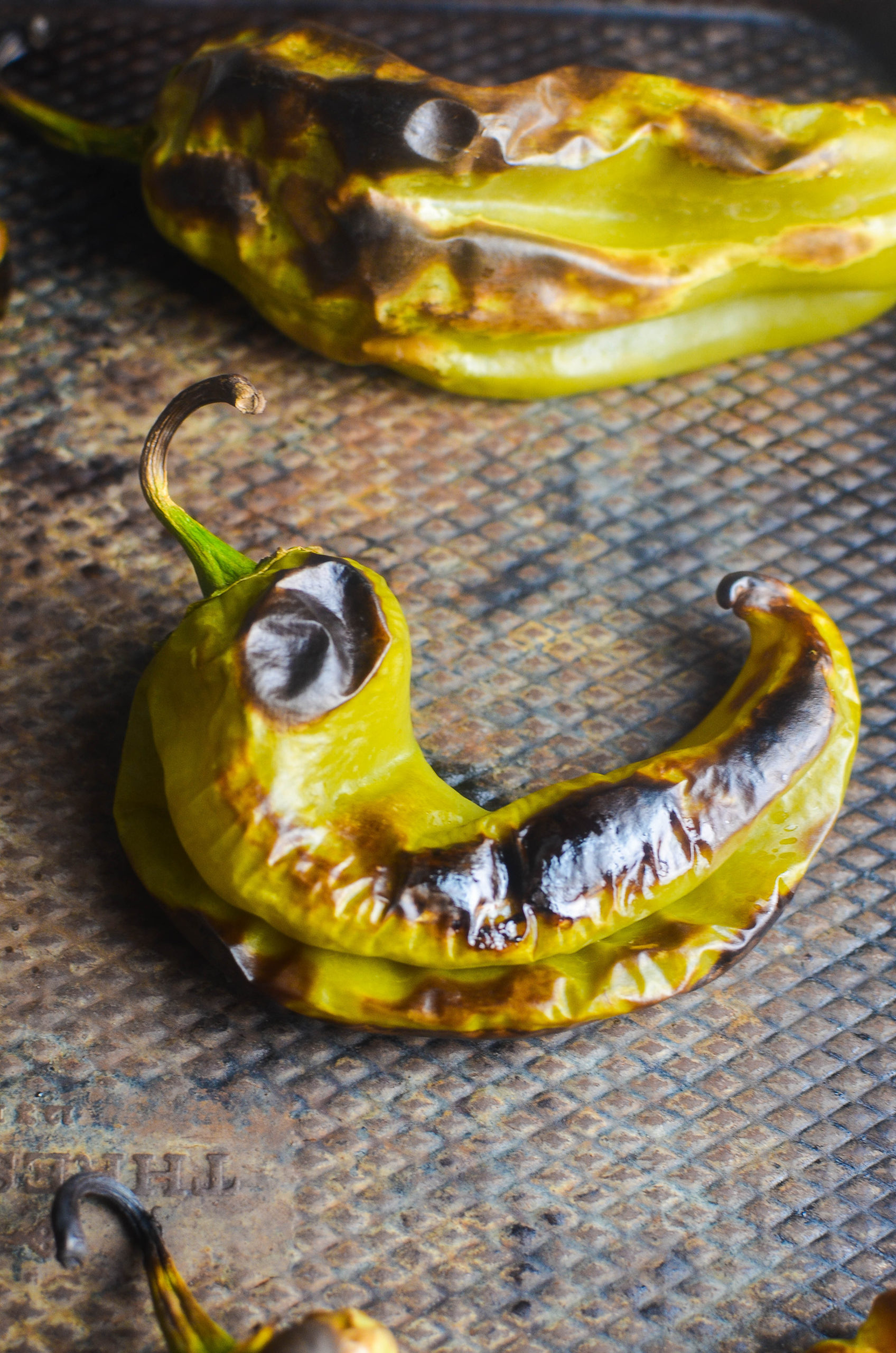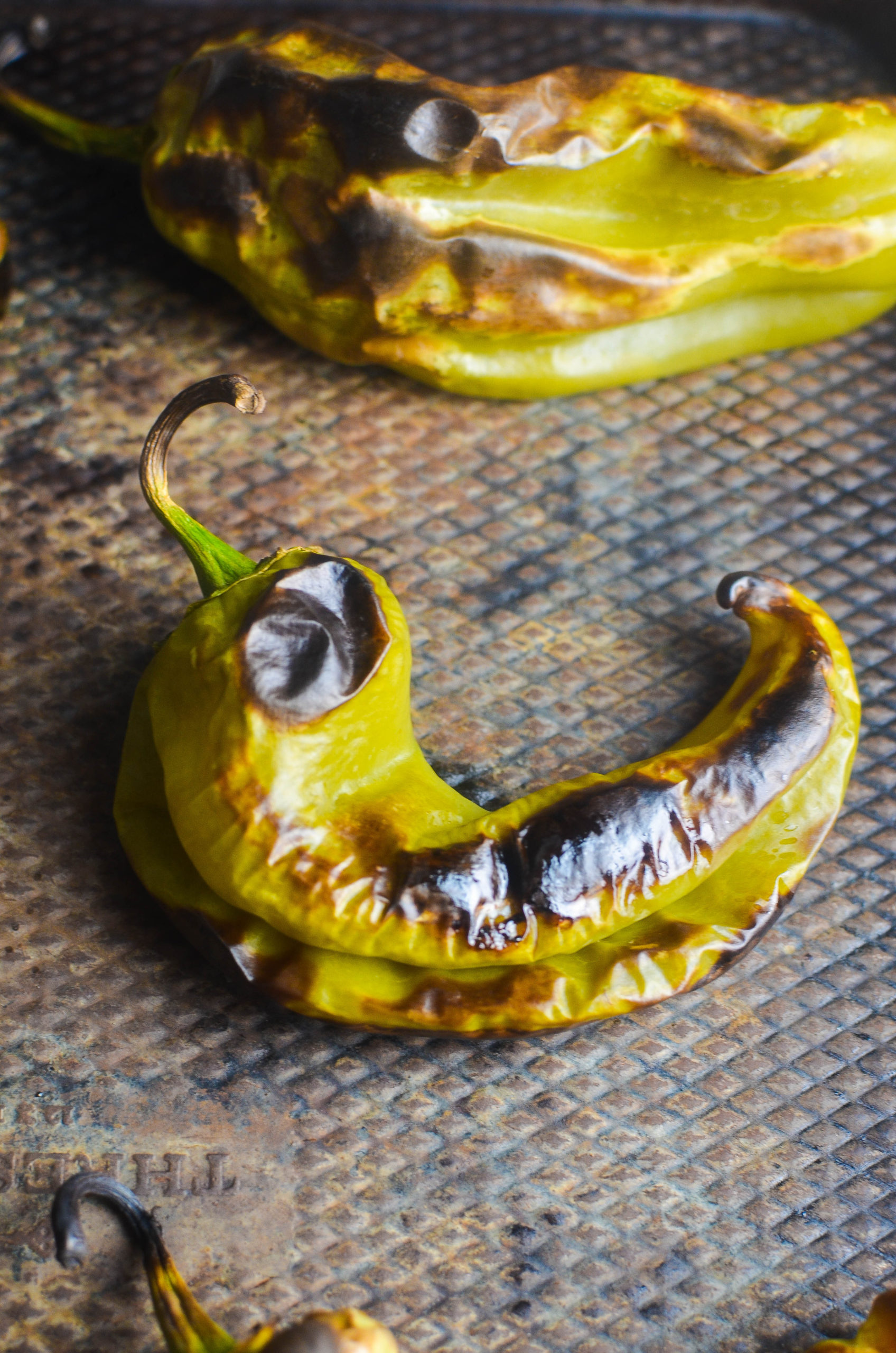 Like I said they are becoming a big deal. If you haven't heard of them before, Hatch Chiles are chilies that are grown in the Hatch Valley region of New Mexico. They are long green peppers that are very similar to the Anaheim pepper but are a bit hotter.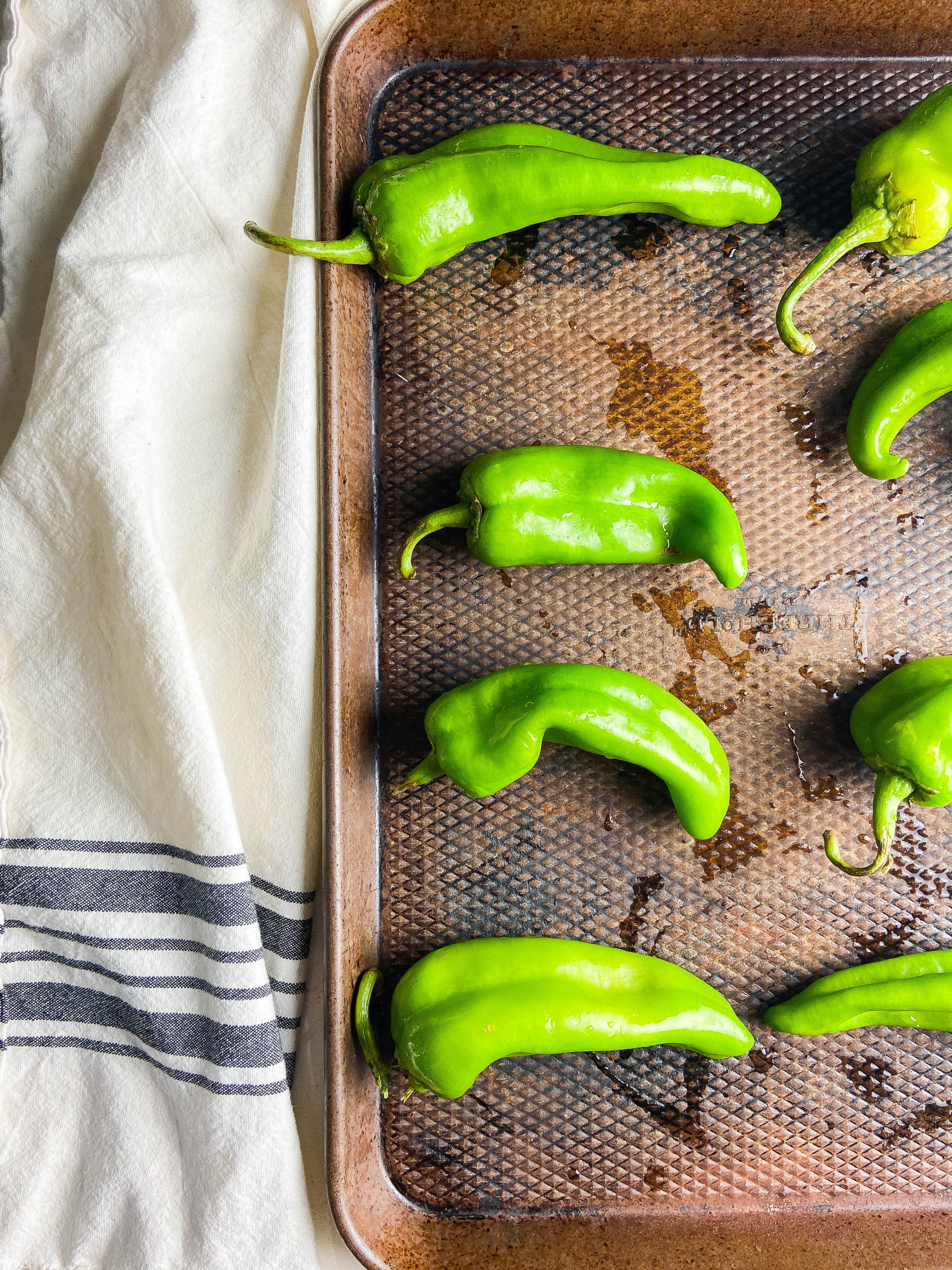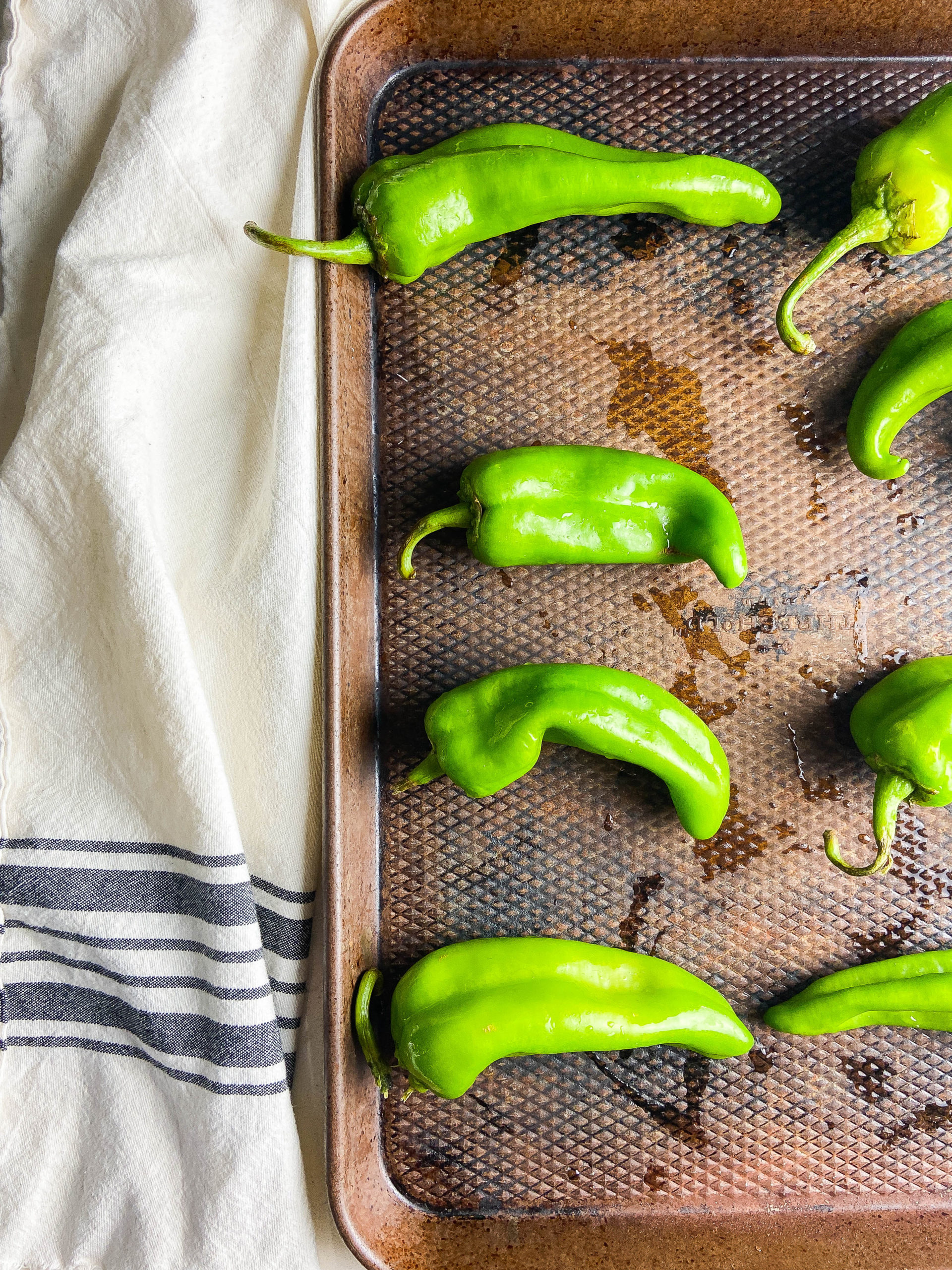 While you can eat hatch chiles raw, they are most often roasted (or blistered under a broiler) before they are used in recipes. When roasted they have a smoky earthy flavor. 
How hot is a hatch chile?
Peppers are measured on what is called the scoville unit scale. With Pure Capsaicin being the hottest it gets at 15 – 16, 000,000 scoville unites.  If you look the chart below, hatch chiles would land just below the jalapeno. This means they re more mild than a jalapeno but hotter than poblano peppers, shishito and bell peppers.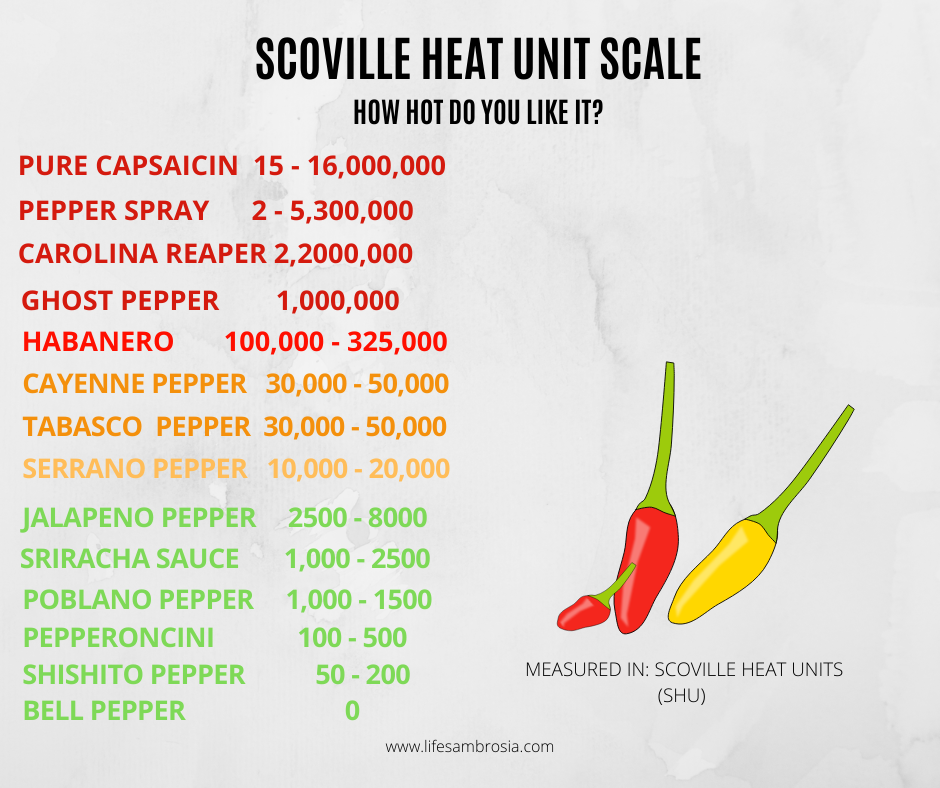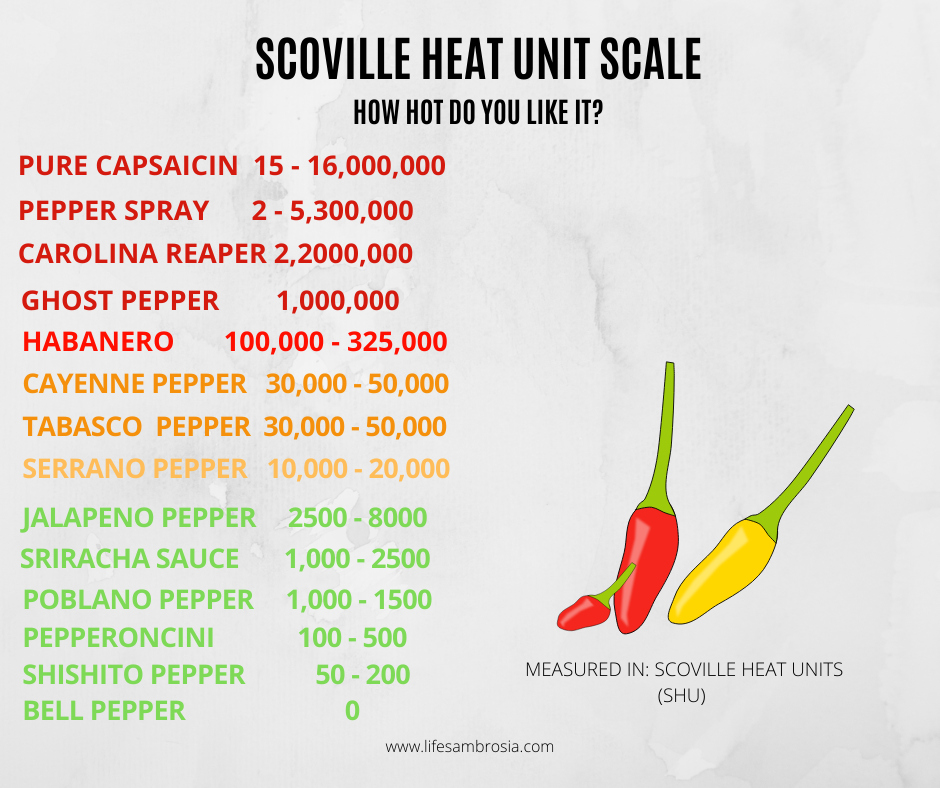 Keep in mind, that doesn't mean that you won't find one that is hotter than a jalapeño from time to time. One might surprise you!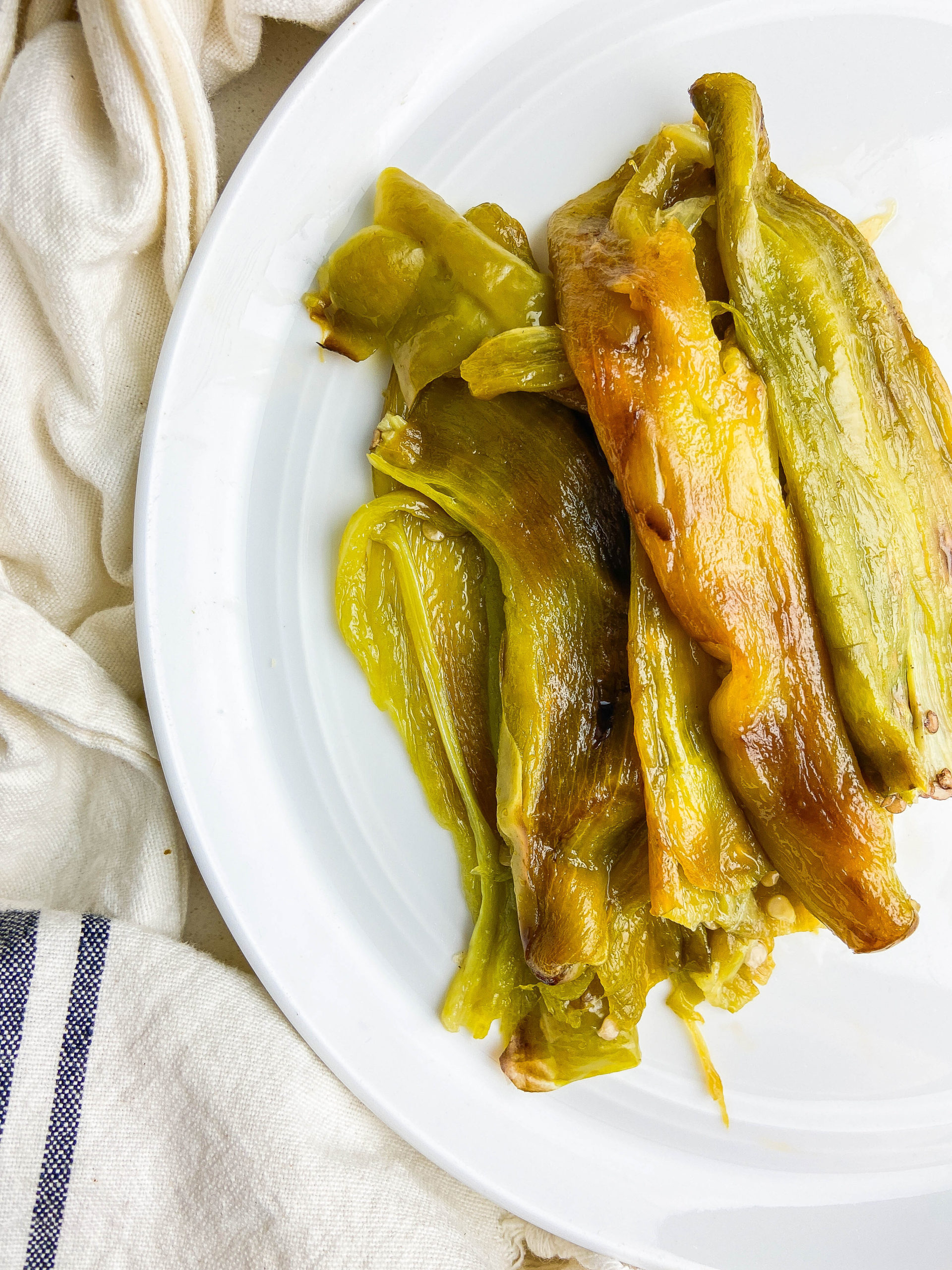 To learn more about all kinds of chiles, check out my guide to chile peppers. 
How to roast hatch chiles: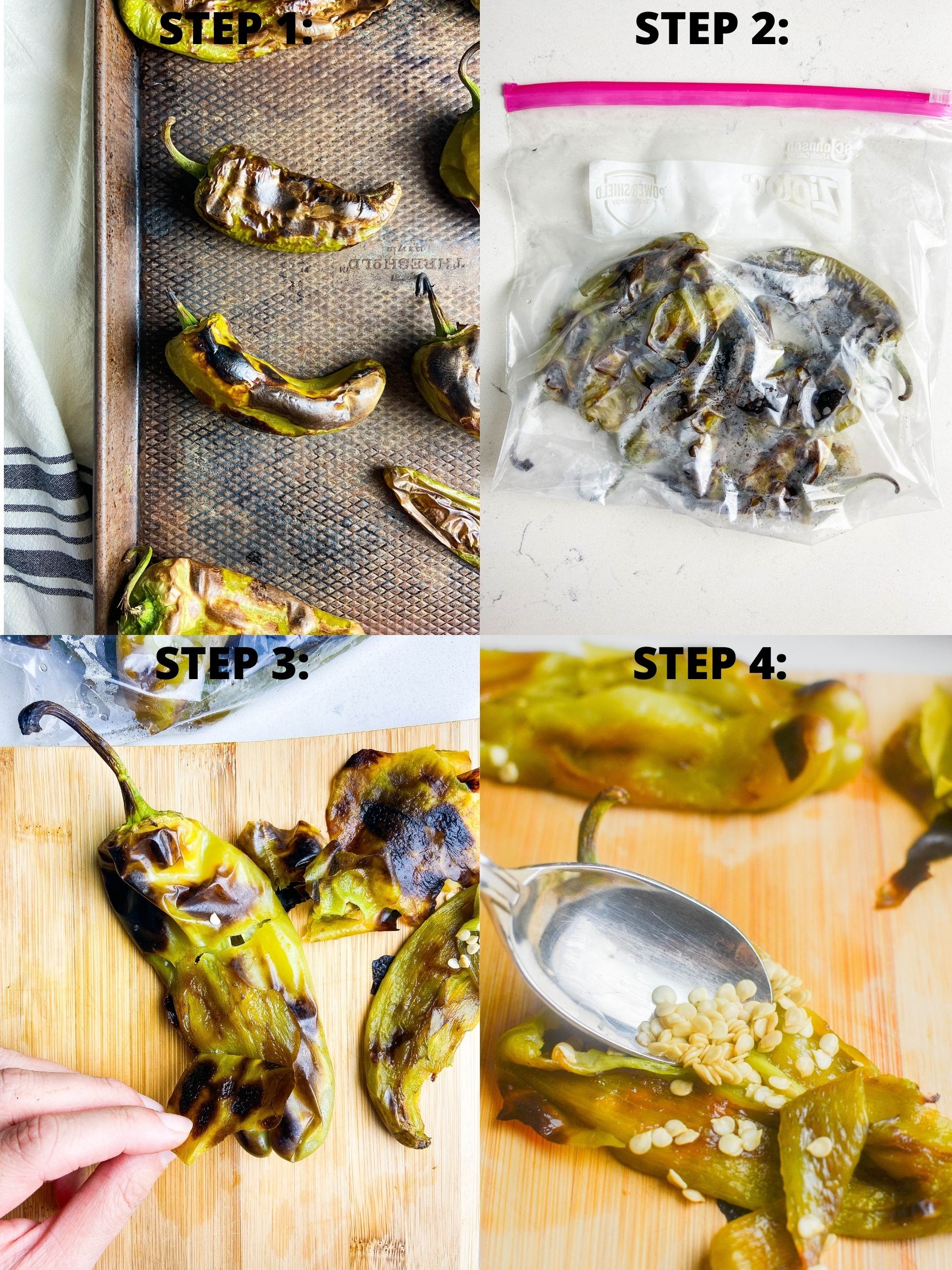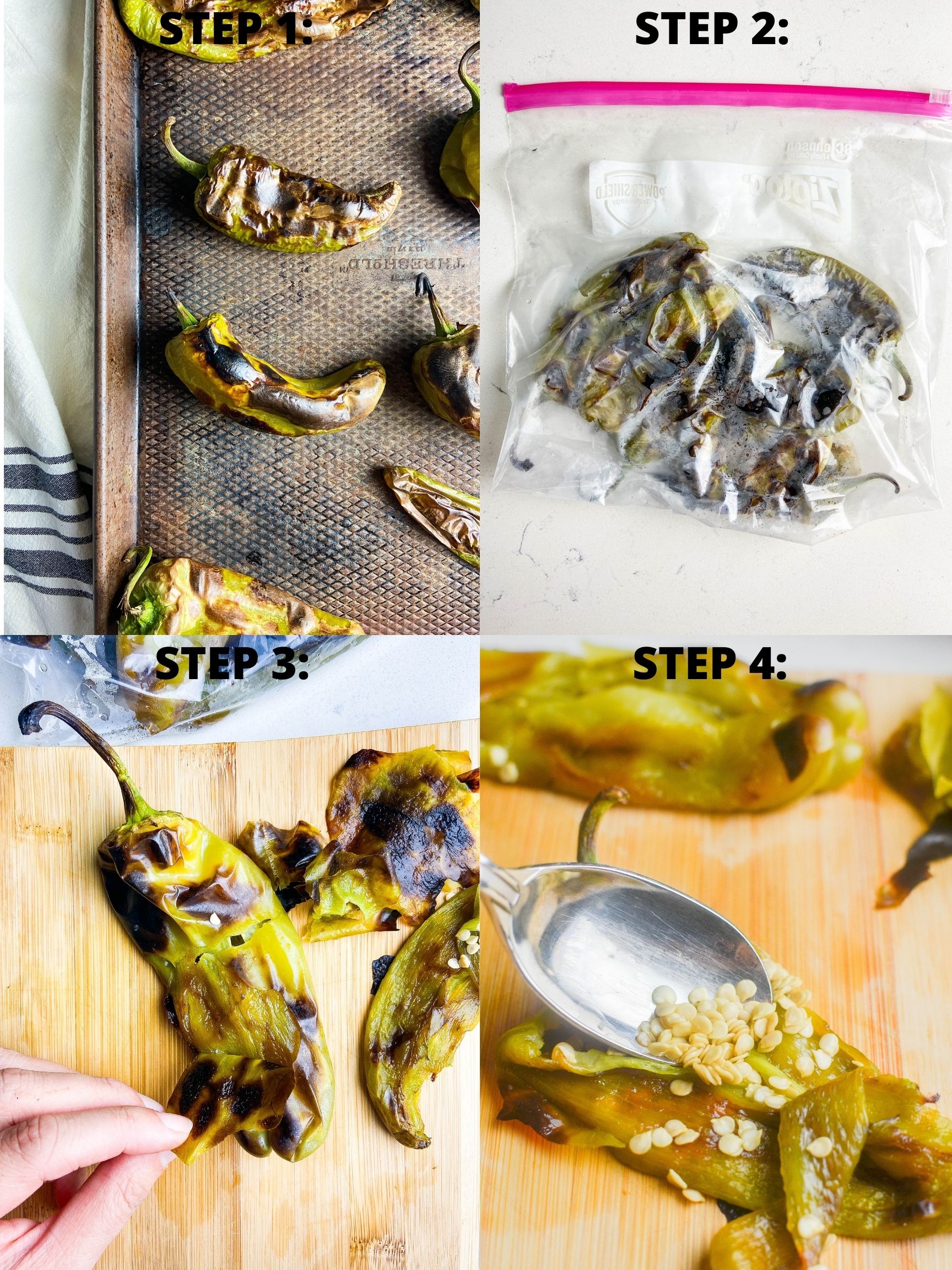 STEP #1: Place the chiles on a baking sheet. You don't have to worry about them being too close together. 
STEP #2: Turn on your oven's broiler and place the chiles on a rack about 6 inches from the top coils of your oven. Roast 5 – 7 minutes or until they start to blacken. Turn and cook for an additional 5 minutes. 
DES' TIP: You can also do this on your grill or on a gas stove. Simply place the peppers directly on the grill or flame until the peppers start to blister and blacken. 
STEP #3: Place the chiles in a resealable plastic bag or a paper bag and close. Let set for about 20 minutes. This allows the chiles to steam which will make the skins easier to remove. 
STEP #4: Gently remove the skins from the outside of the peppers. 
STEP #5: Use a spoon to gently scoop out the seeds. It's ok if there are still a few left over. If you'd like to make sure all the seeds are removed you can rinse the chile under water.
DES' TIP: Even though Hatch Chiles are generally mild, if you have sensitive skin (or are one to rub your eyes) you're going to want to make sure you use gloves when handling the seeds of the chiles. Either way, make sure that you wash your hands throughly when done.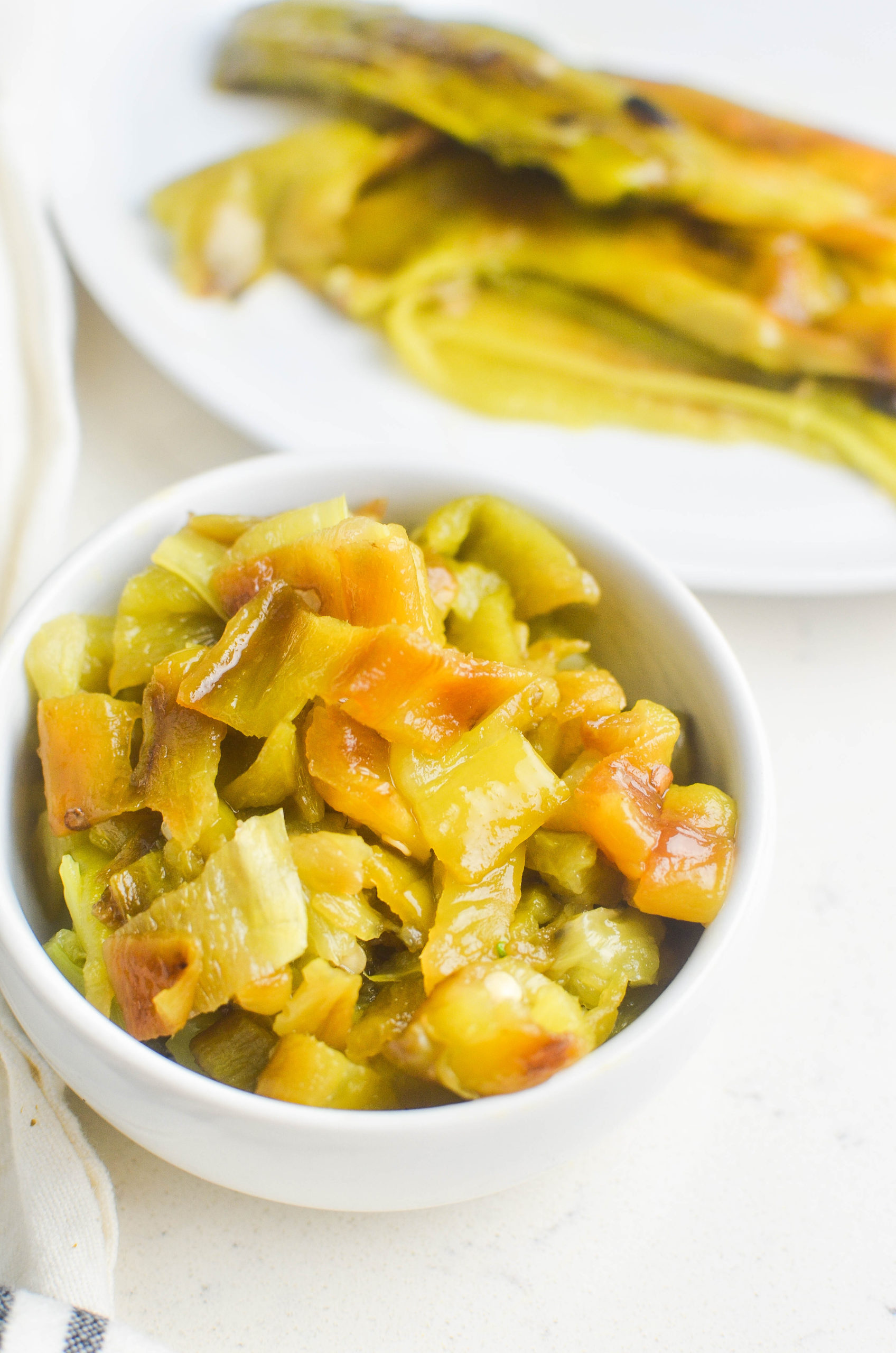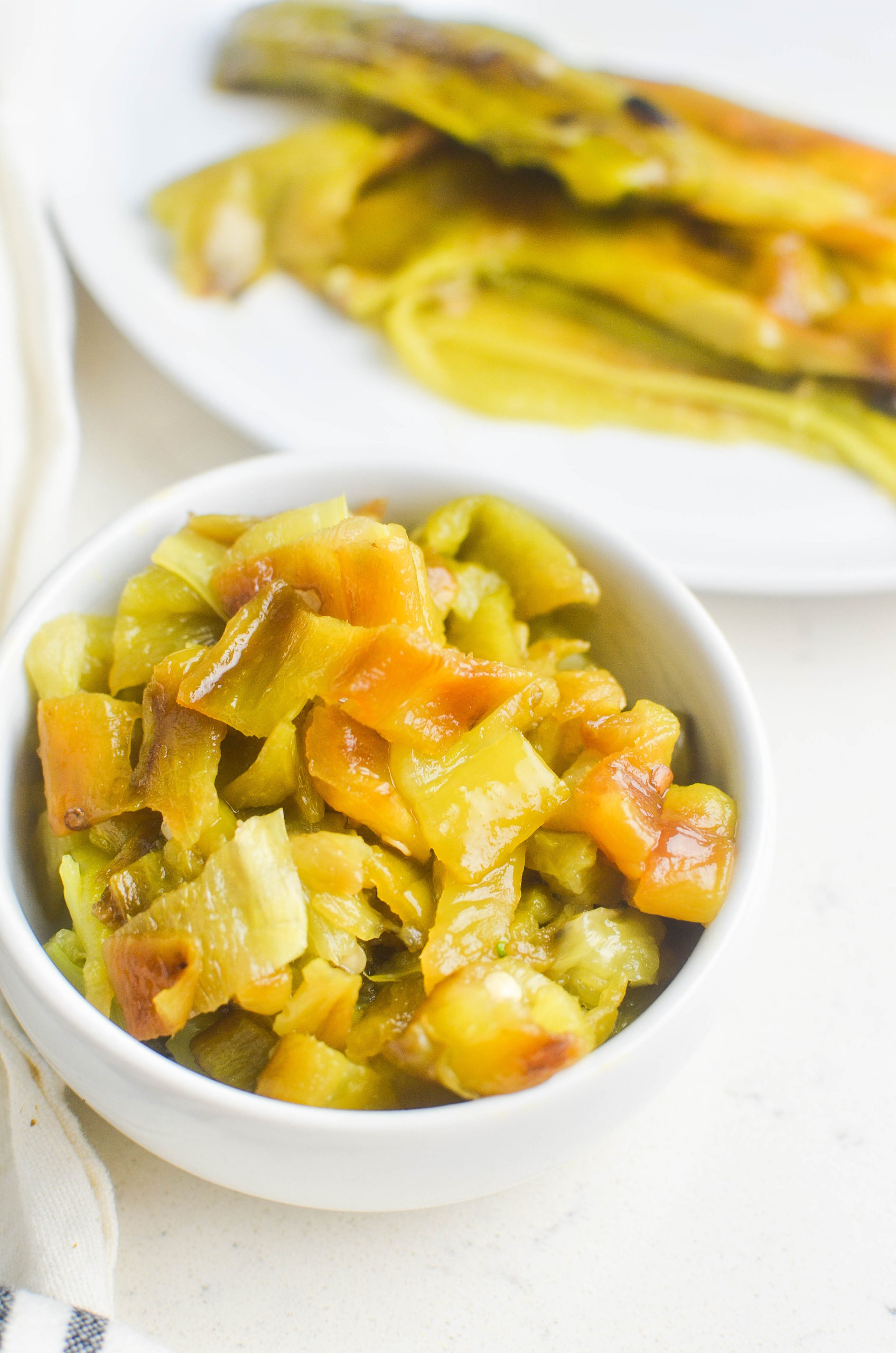 Can you freeze hatch chiles?
Yes! Before freezing make sure that the chiles are completely cooled. Once cooled you can place them in freezer proof containers. If you're using freezer bags, just make sure to squeeze out all the air before freezing.  Simply thaw them in the refrigerator before using. The frozen chiles should last about 1 year in the freezer.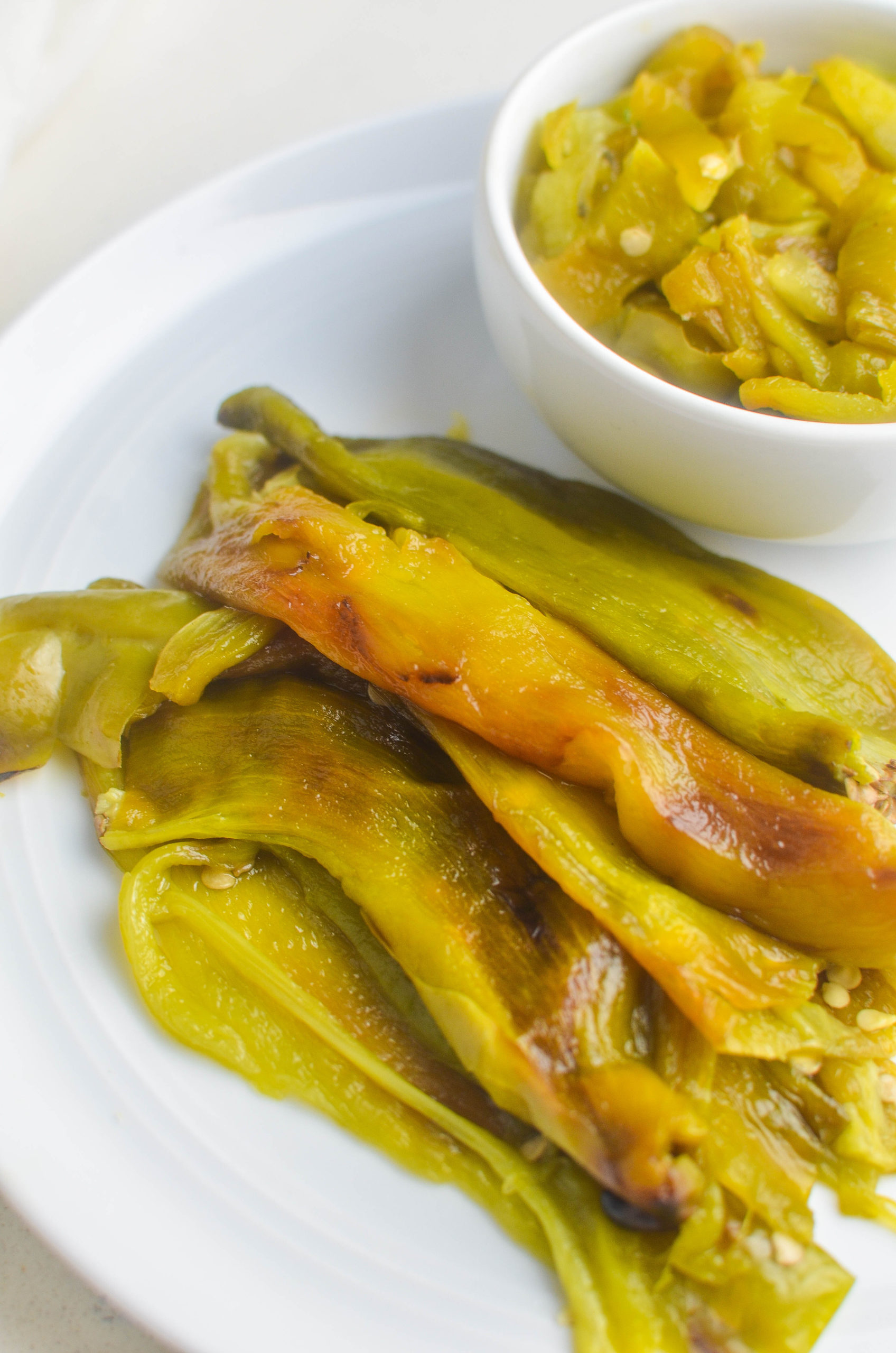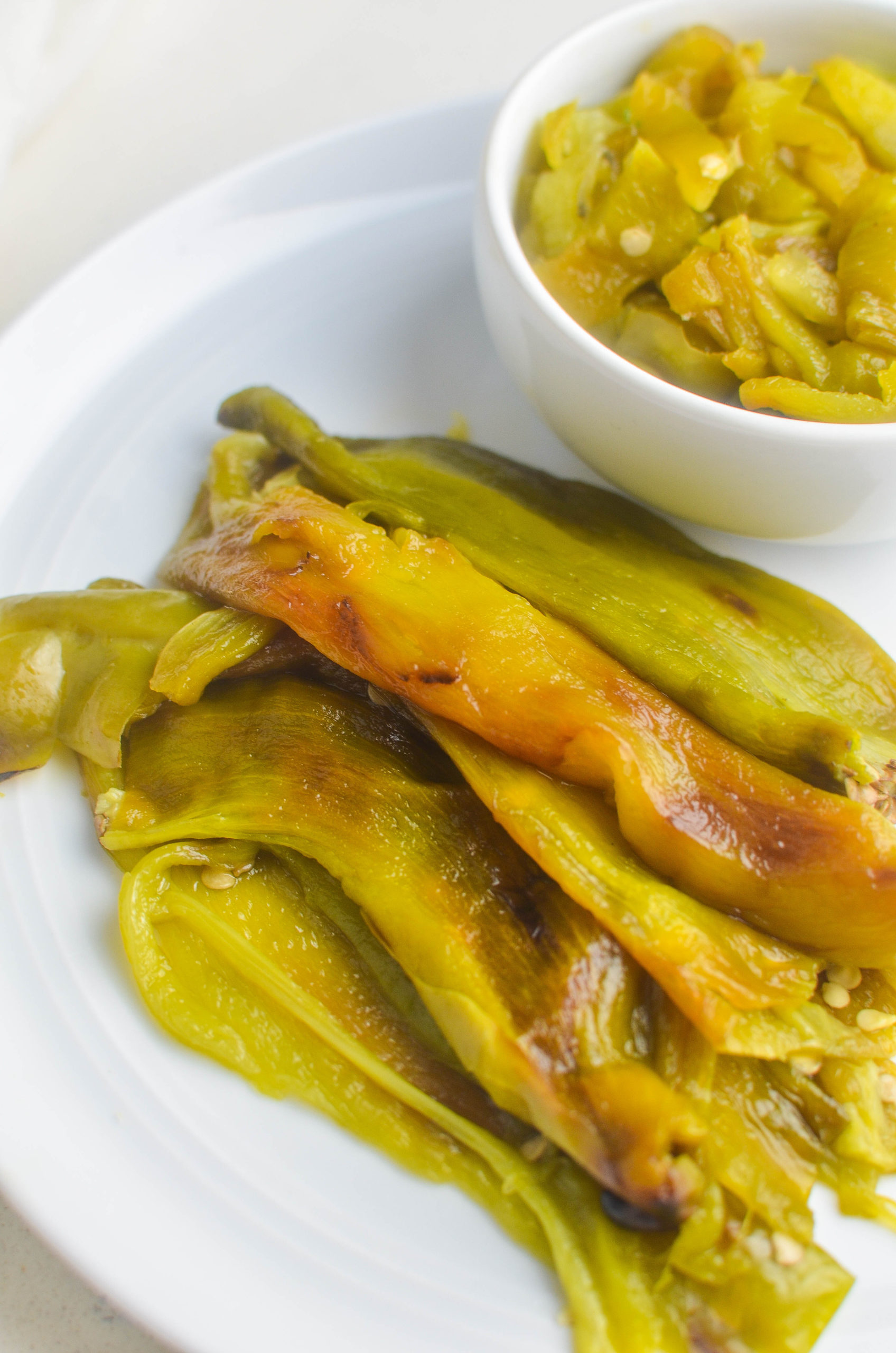 How do you use hatch chiles?
I use them just as I would use any "Diced green chiles" that I buy in a can. Here are some of my favorite hatch chile recipes:
Roasted Hatch Chile Quesadilla
Macaroni and Cheese with Hatch Chilies 
Looking for recipes that have a bit of a kick? Here are some of my favorite spicy recipes: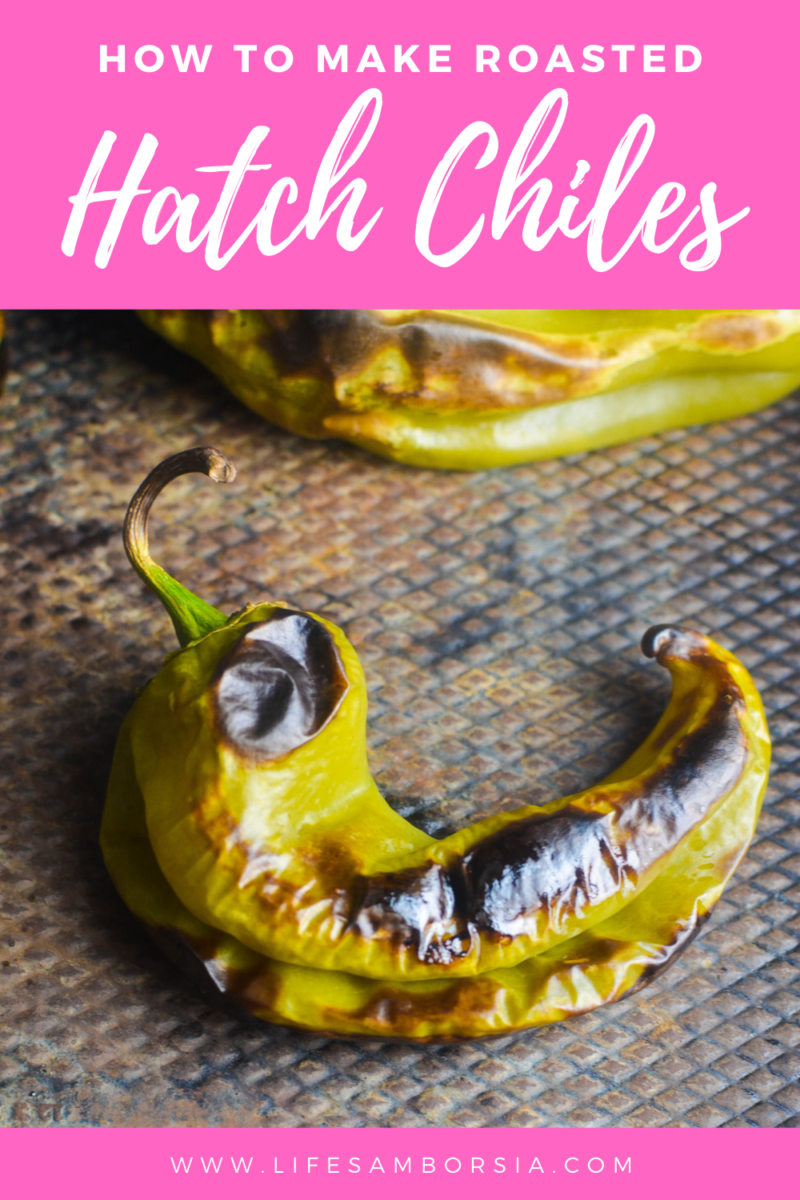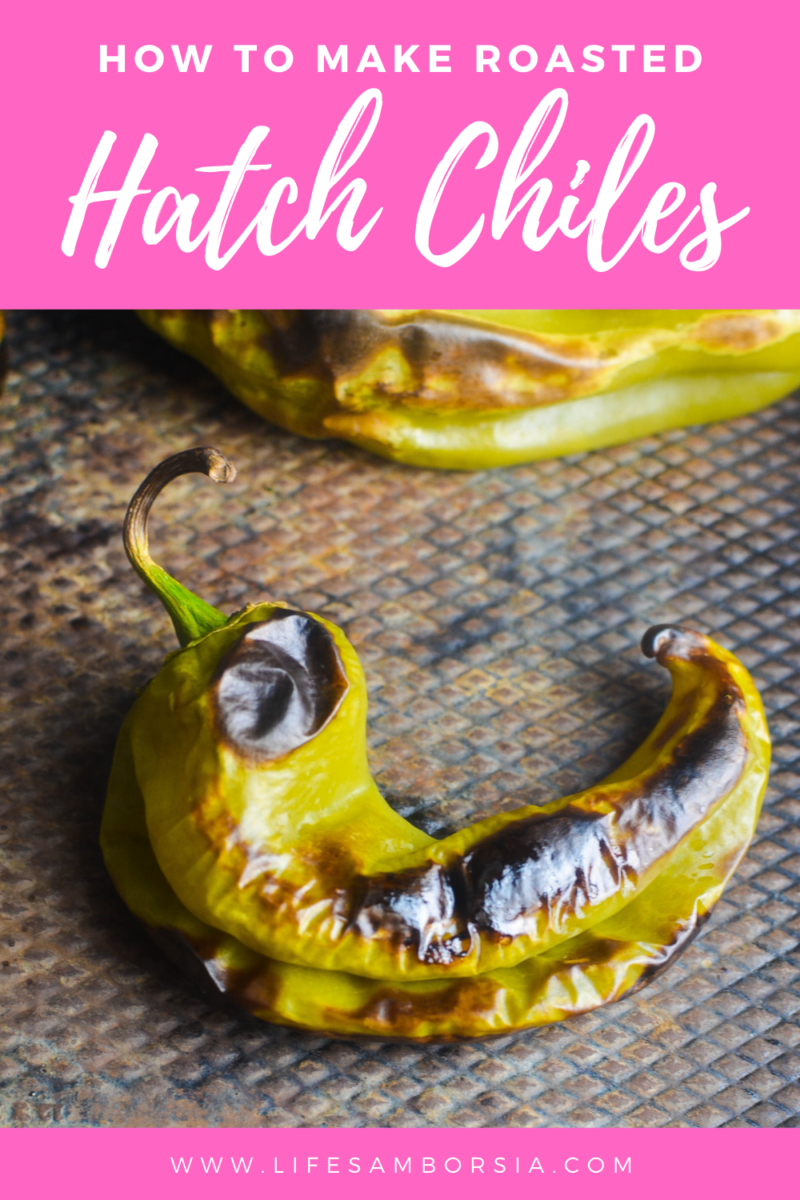 Roasted Hatch Chiles Recipe
Ingredients:
8 - 10 Hatch chile peppers
Instructions
1
Place hatch chile peppers on a baking sheet.

2
Turn on your oven broiler and place baking sheet 6 inches from top coils. Cook 5 - 7 minutes or until peppers start to blister and blacken. Turn and cook another 5 minutes until peppers start to blister and blacken on that side.

3
Transfer peppers to a resealable plastic bag (or a paper bag) and close. Allow peppers to steam in bag for about 20 minutes. Remove from bag and gently remove skin.

4
Use a spoon to remove seeds from peppers.

5
Leave whole or dice. Store leftovers in the refrigerator and use within a few days. Or you can freeze them in freezer safe containers and use within 1 year.
Notes
Nutrition facts for estimation purposes only.
Nutrition information
Calories: 50 , Sodium: 25mg , Carbohydrates: 7.5g , Fiber: 0g , Sugar: 5g , Protein: 2.5g