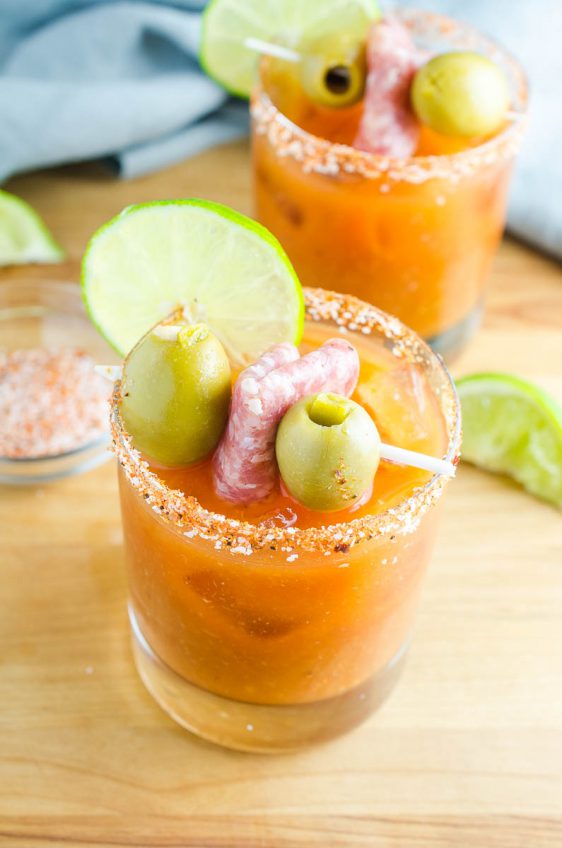 Spicy Bloody Mary Cocktail
A Spicy Bloody Mary Cocktail is the perfect cocktail for brunch or any time of day. This is a cocktail spicy food lovers will adore!
When it comes to cocktails, I am much more in the savory cocktail group. I will bypass a lemon drop for savory and spicy bloody Mary any day of the week.
Somewhere along the way, Bloody Mary's got the designation as a "Brunch cocktail" along with mimosas. Now, I don't know about you, but I could drink a Bloody Mary Cocktail, any time of day.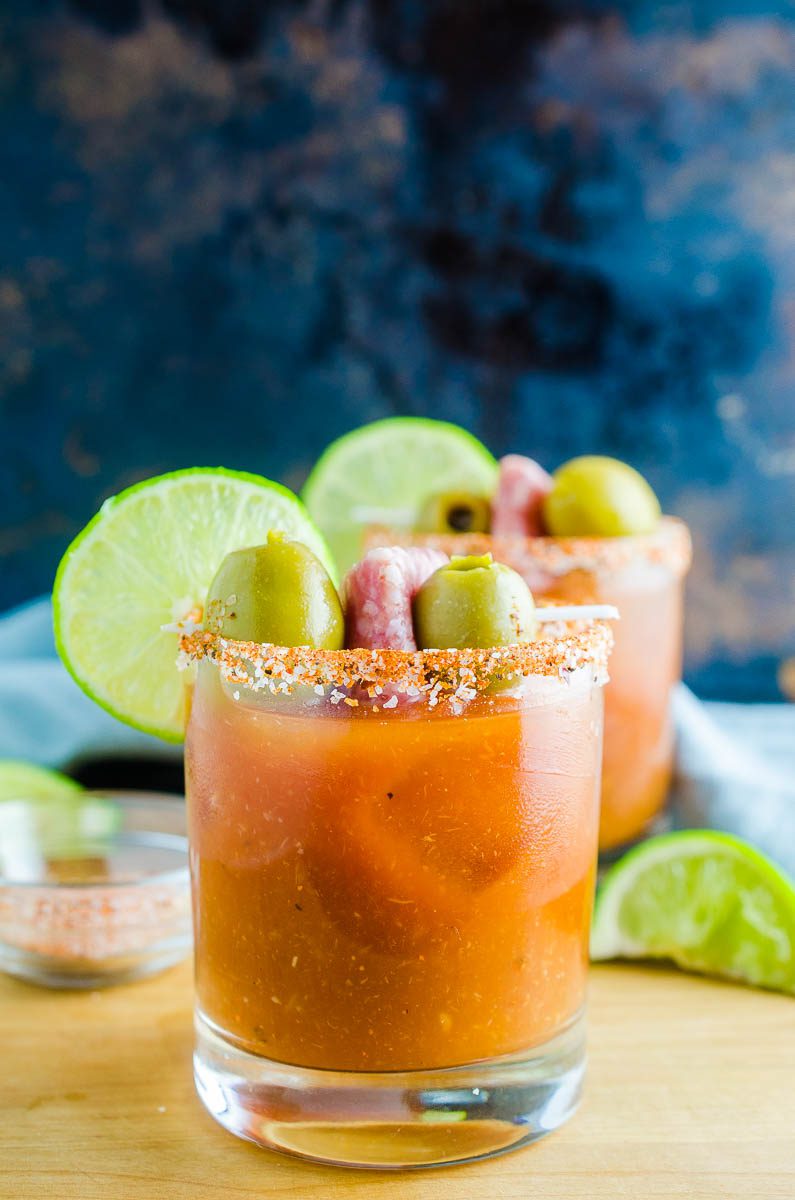 What is in a Bloody Mary cocktail?
To make a traditional Bloody Mary Cocktails you use made with tomato juice, vodka, Worcestershire, hot sauce, lemon juice and celery salt.
Like the classic version, this spicy recipe is made with tomato juice, vodka and Worcestershire. It also gets a little kick from some cajun hot sauce and horseradish.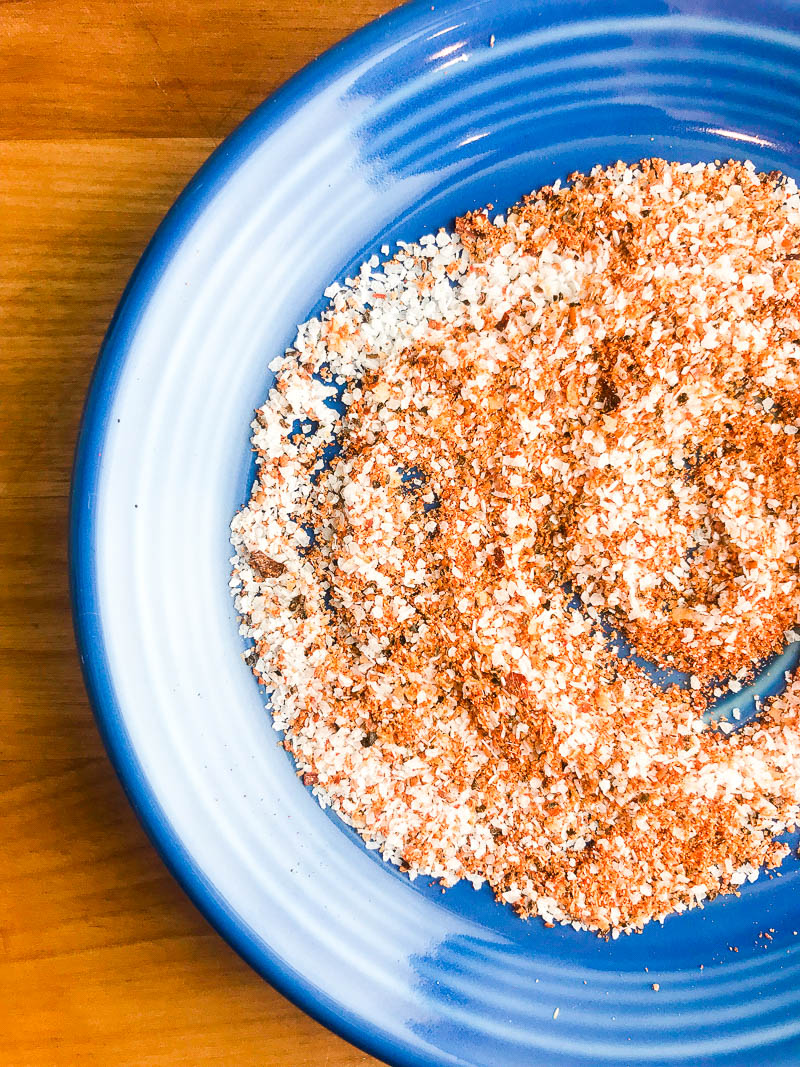 And instead of the celery salt, the glass is coated with a cajun seasoning/kosher salt blend.
And it is spicy, savory perfection.
How do you make a Spicy Bloody Mary Cocktail?
Step one: You'll want to prepare the glass by running the juicy side of lime along the rim of the glass. This makes it possible to adhere the spicy cajun seasoning/salt mixture to the rim.
Step two: In a small pitcher, whisk together tomato juice, vodka, horseradish, Worcestershire, hot sauce and lime juice.
Step three: Add ice to the prepared glasses. Pour the cocktail over the top.
Step four: Garnish and serve.
What do you garnish a bloody Mary with?
This is where creativity really takes ahold. You can garnish a bloody mary with just about anything. Just look at how crazy some bars get with their garnishes.
Traditionally, a bloody Mary will be garnished with a celery stalk and olives. That is just fine. However, for this spicy bloody Mary, I wanted to up the spice factor a bit.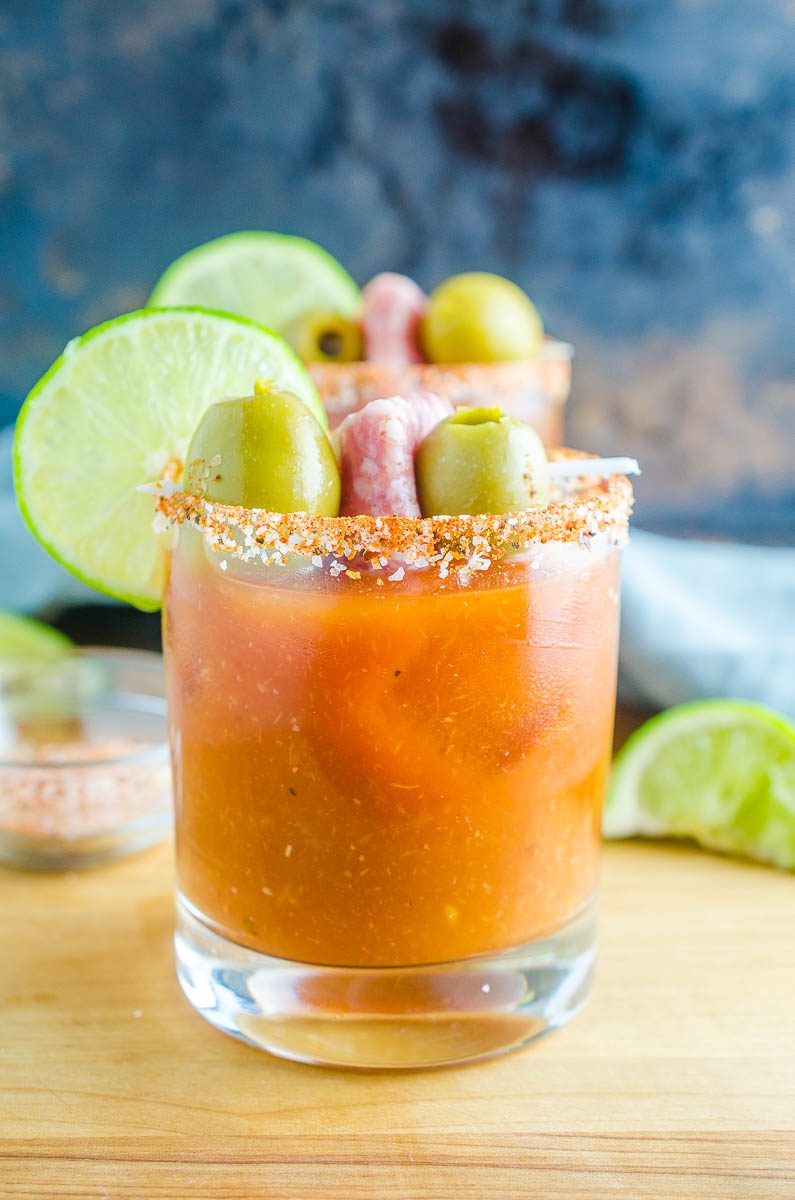 For this Bloody Mary,  Jalapeno and Garlic Stuffed Olives and spicy salami make the perfect garnish.
Pepperoncini would be great too!
If you want to spice up this cocktail even more, I recommend using Absolute Peppar Vodka instead of regular vodka. You could also substitute hot and spicy tomato juice for the regular tomato juice or add a touch more hot sauce. Maybe some Habanero Hot Sauce?
Whatever you decide, I just know you'll be moving Bloody Mary's from your "Brunch Only" list to your regular old Happy Hour list.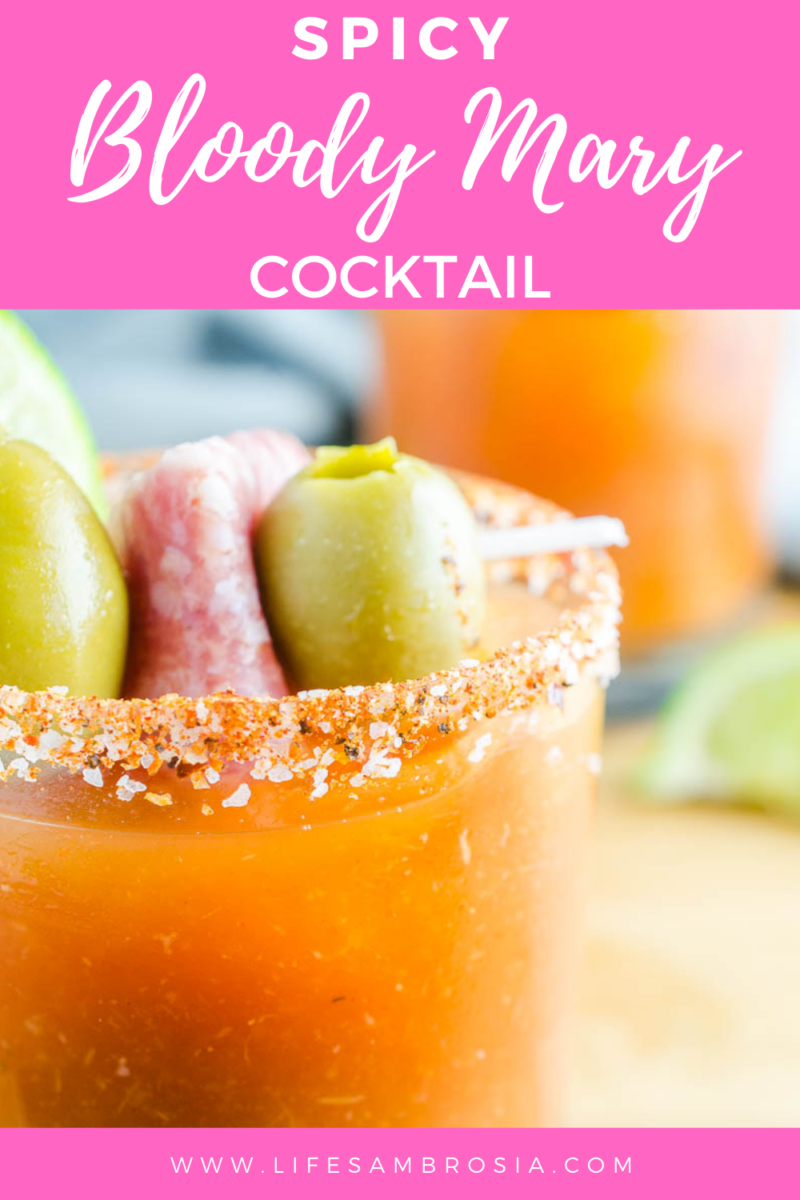 Note: This recipe was originally posted in 2019. It was updated in 2021.
Spicy Bloody Mary Cocktail Recipe
Ingredients:
1/2 teaspoon kosher salt
1 teaspoon cajun seasoning
lime
8 ounces tomato juice
4 ounces vodka
2 teaspoons horseradish
2 teaspoons Worcestershire sauce
2 dashes hot sauce
1 teaspoon lime juice
jalapeno stuffed olives
salami
Instructions
1
Combine salt and cajun seasoning together on a small plate.

2
Run the juicy side of a lime along the rim of two cocktail glasses. Circle the glass in the mixture so the seasoning and salt coat the rim. Set aside.

Notes
Nutrition facts for estimation purposes only.
Nutrition information
Amount per serving: Cocktail without garnish
Calories: 168 , Total Fat: 0.2.g , Sodium: 999mg , Carbohydrates: 9.9g , Fiber: 1.6g , Sugar: 6g , Protein: 1.2g