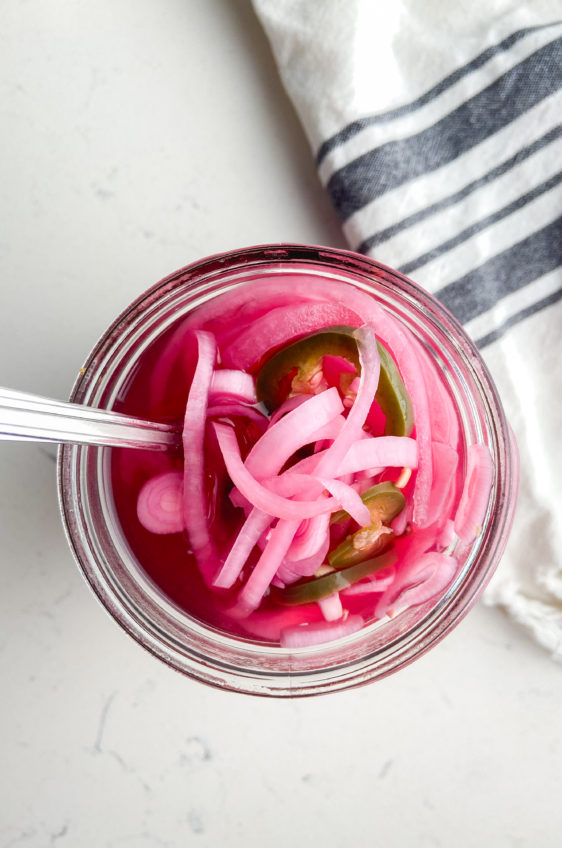 Quick Pickled Red Onions
Quick pickled red onions are all kinds of easy and all kinds of delicious. Marinated onions can be used in all sorts of dishes, from breakfast to appetizers and main dishes.
If you are looking for a condiment to give your tacos, nachos, salads and burgers a tangy kick, look no further than these Quick Pickled Red Onions.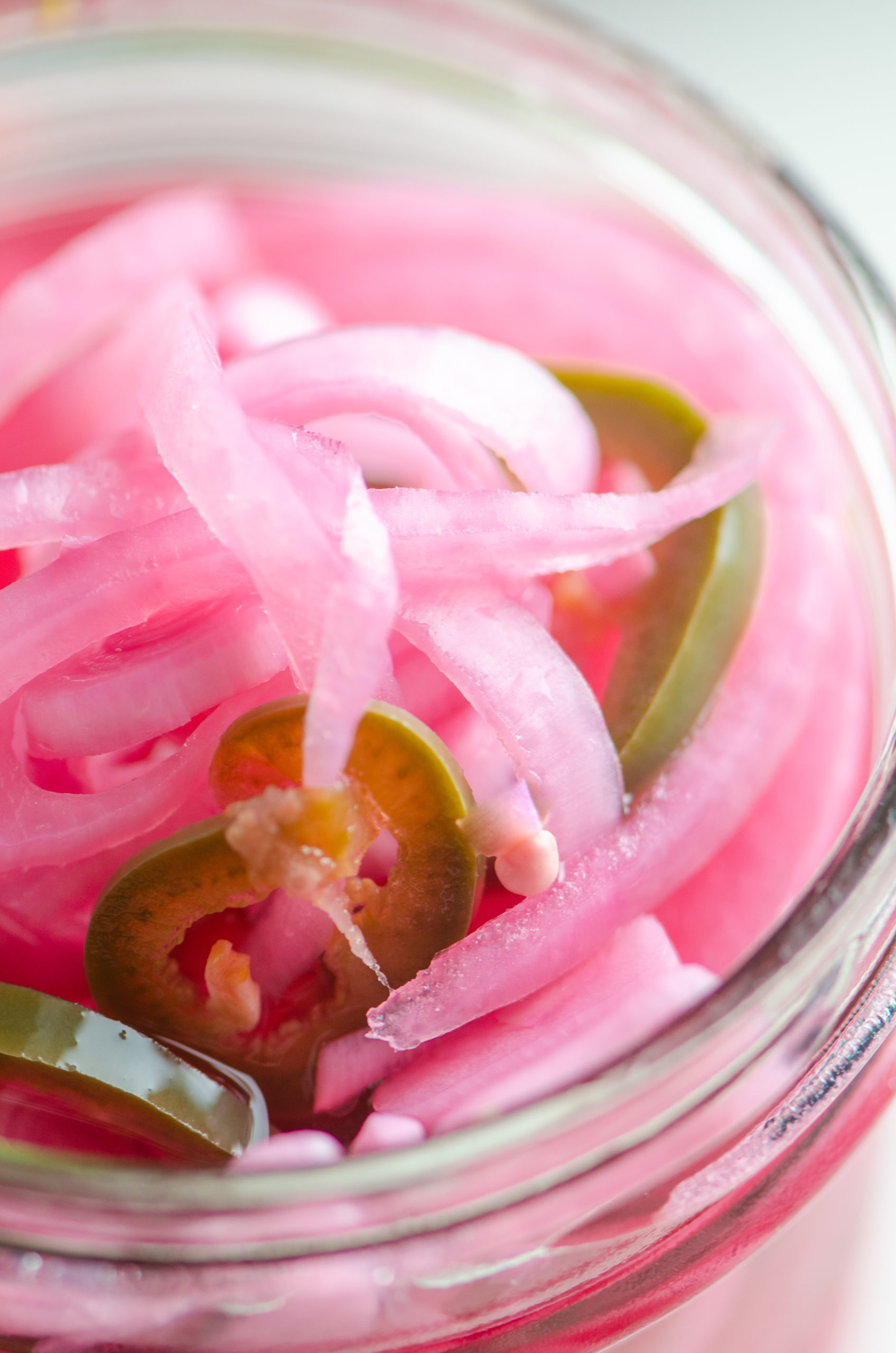 Pickling red onions takes a lot of the raw onion bite out of them but still keeps some of the fabulous oniony flavor. This recipe also gets some heat from sliced jalapeño peppers.
What ingredients do you need: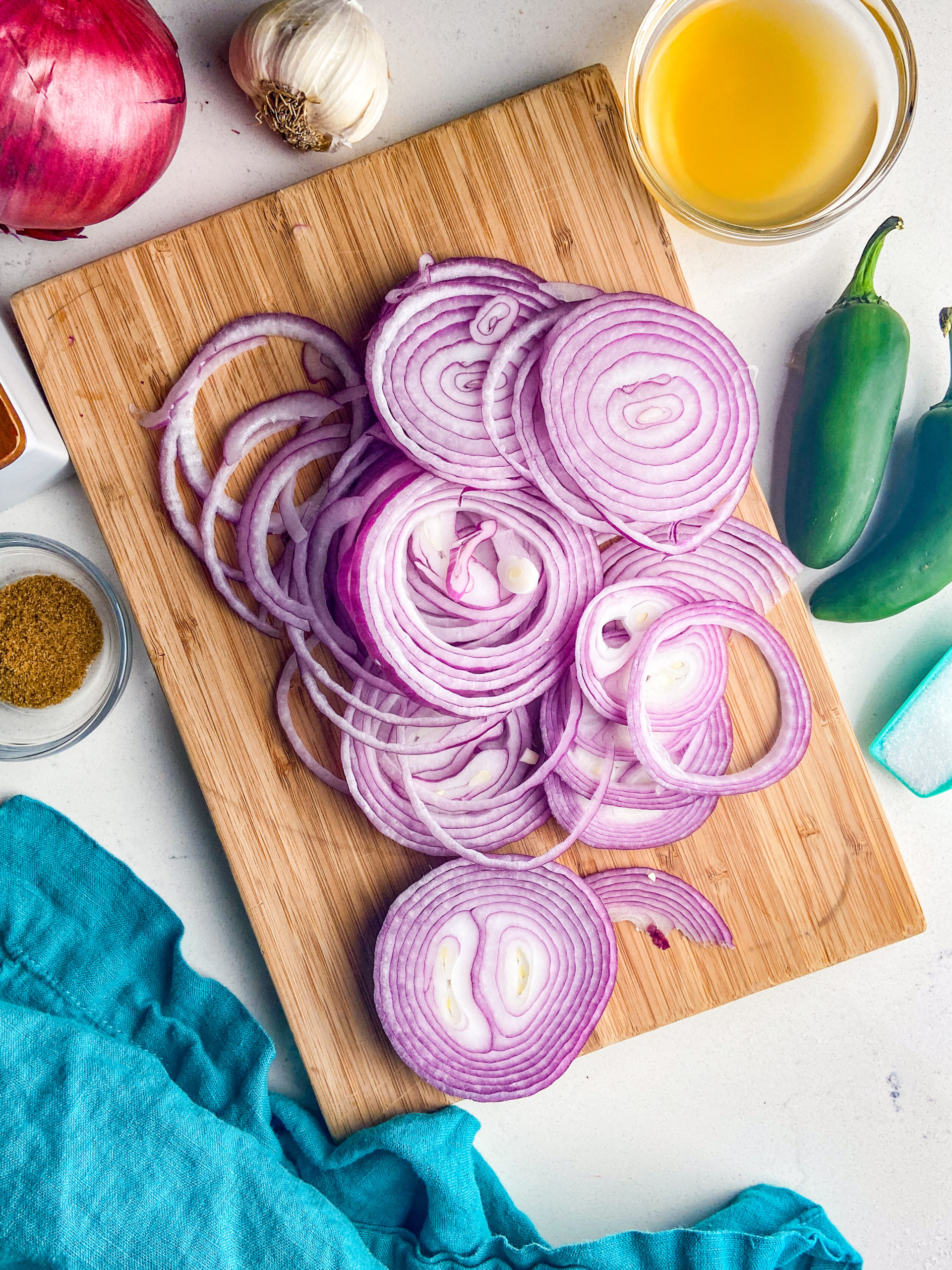 RED ONION: You want to thinly slice them. Thick sliced onions won't work as well in this recipe
GARLIC: Minced small.
JALAPEÑO: This is totally optional. It does make the onions a bit spicier. If you don't want them to be too spicy, you can absolutely leave it out.
CUMIN: Adds a touch of smokiness that makes these the perfect topping for tacos.
APPLE CIDER VINEGAR: Gives these pickled red onions the tanginess that you associate with pickles.
SALT: No special salt needed, kosher works fine.
SUGAR: Sugar helps cut the acidity of the vinegar.
Step by Step Instructions:
A couple great things about his recipe, unlike traditional pickles, you don't need any special equipment. No canning equipment. Not even any cooking!
All you need to do is whisk together the vinegar, water, sugar, salt and cumin in a large bowl. Next, add the red onions, jalapeños and garlic. Cover and refrigerate for about 2 hours.
DES' TIP: Make sure that the onions and jalapeños are submerged in the vinegar mixture so that they all pickle.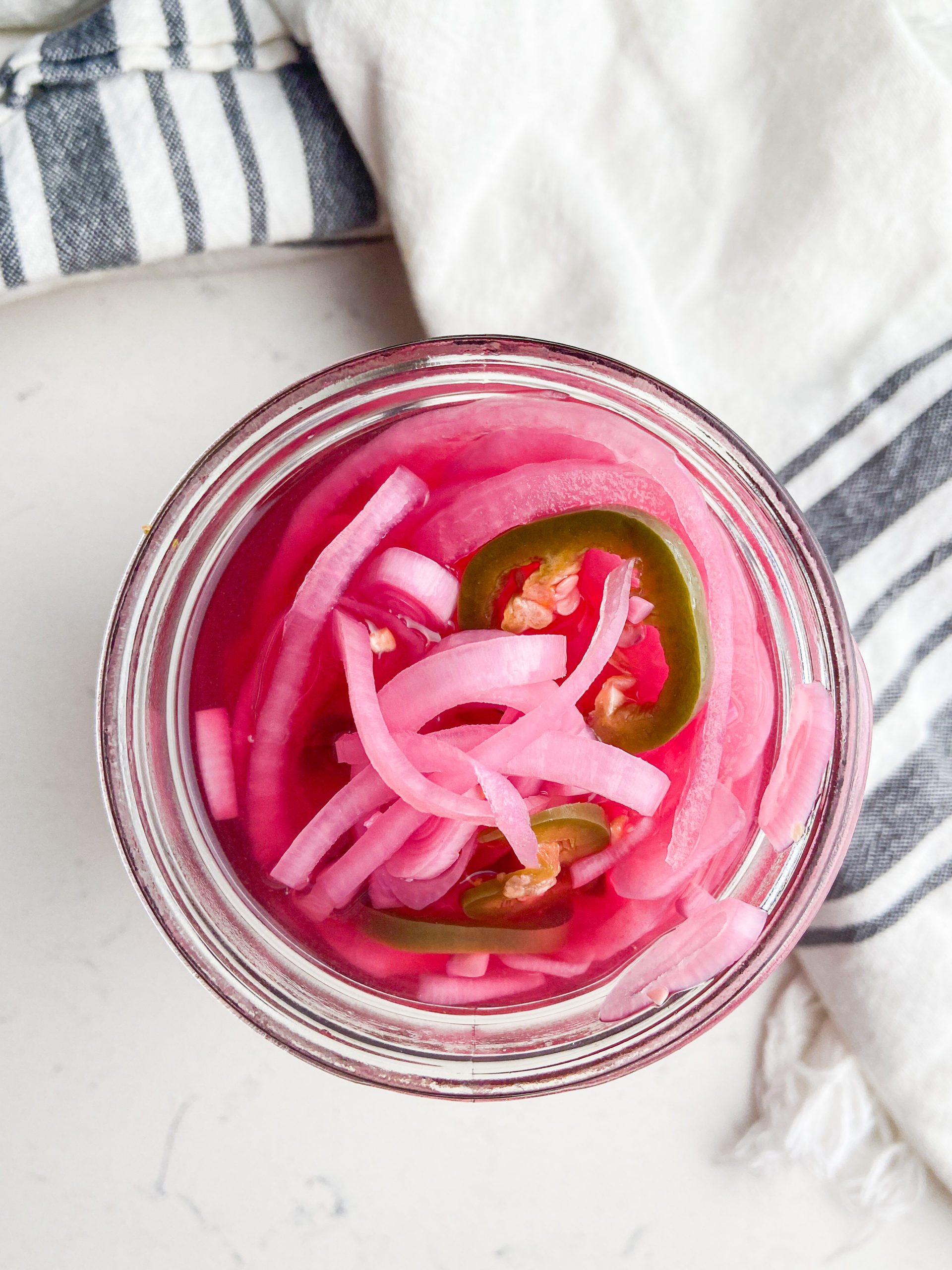 How long do quick pickled red onions last?
Because these red onions are not canned, they need to be kept in the refrigerator. As far as leftovers, I prefer my onions to still have a bit of a crunch to them so I say they are best eaten within a week. They start to get soft after a while.
Looking for something to put these pickled red onions on? Try these adding them to these recipes:
Shrimp Tacos with Cilantro Lime Sauce
Onion fan? Check out these recipes where onions are the star!
Note: This recipe was originally posted in 2014. It was updated in 2021 with  new photos and nutrition facts.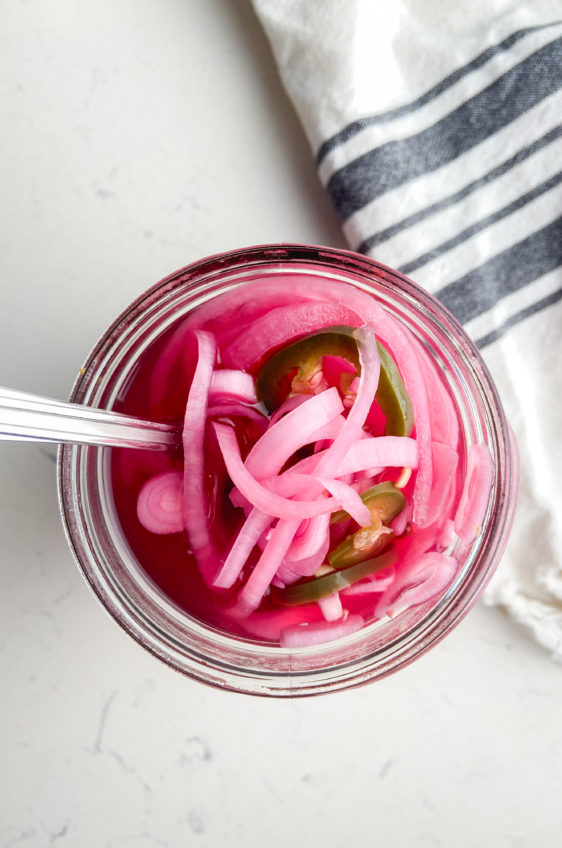 Quick Pickled Red Onions
Quick pickled red onions make the perfect topping for nachos, tacos, salads and more. Learn how to marinate onions and get the pickling recipe here.
Ingredients:
3/4

cup

apple cider vinegar

3/4

cup

warm water

2

teaspoons

sugar

1

teaspoon

salt

1/2

teaspoon

ground cumin

1

medium red onion

thinly sliced

1 - 2

jalapenos

sliced

2

cloves

garlic

minced
Whisk together vinegar, water, sugar, salt and cumin. Continue whisking until sugar is dissolved.

Place red onion, jalapenos and garlic in a bowl. Pour vinegar mixture over the top. Let sit at room temperature for 1 hour. Cover and chill for an additional 1 - 2 hours. Serve.

Store onions covered in a glass jar in the refrigerator. Will keep refrigerated for about a week.
Nutrition facts for estimation purposes only.
Calories:
32
kcal
Carbohydrates:
5.8
g
Protein:
0.5
g
Fat:
0.1
g
Sodium:
587
mg
Fiber:
0.8
g
Sugar:
3.5
g
Keywords:
pickled onions, red onions