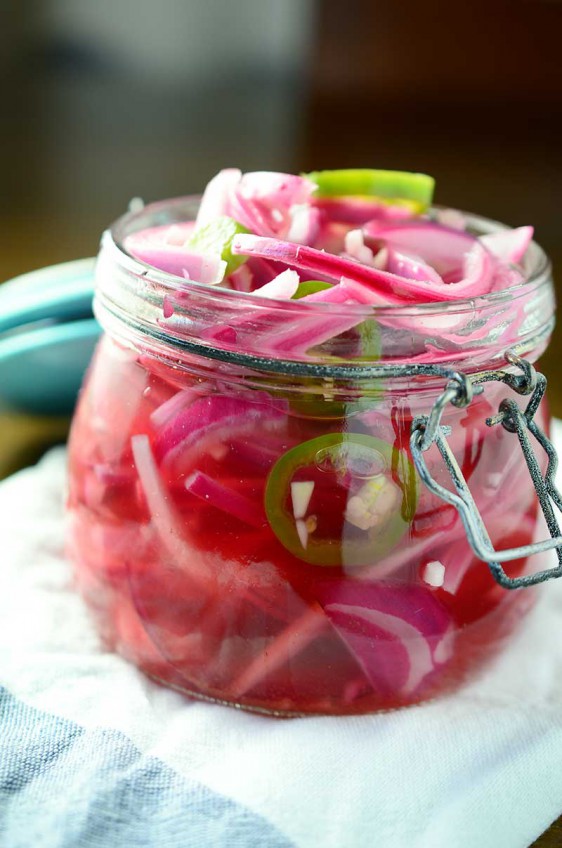 Quick and Spicy Pickled Onions
Quick and spicy pickled onions are all kinds of easy and all kinds of delicious. Marinated onions can be used in all sorts of dishes, from breakfast to appetizers and main dishes.
I love putting them on tacos, nachos, taco salads, and I've even been known to just snack on them. They are super yummy, friends, but then again you know I love anything spicy. And speaking of all things spicy, have I got a new website for you.
It is no secret that I am a HUGE spicy food fan. Sriracha, harrissa, jalapenos, serranos, shishitos and even habaneros. If it's a pepper or made out of peppers, chances are it is going to be one of my favorite things to eat. It's been that way ever since I was a kid. I've always reached for the spiciest salsa. Even when I was pregnant, when most women shy away from spicy food, I ate a jar of Mrs. Renfro's Habanero salsa a week. Not even kidding.
It is this love of peppers that makes me so extremely excited to tell you about a new website that launched recently called Jalapeño Mania.
It's a pepper lovers dream.
Seriously.
Despite the name, Jalapeño Mania isn't all about jalapeños. You will find all different kinds of spicy pepper recipes organized by pepper type so you can easily find them. You can also save your favorite recipes, so they are there whenever you've got a spicy food craving.
Which for me is umm…all the the time :)
It's also a great site for another reason. If you're a food blogger or a brand you're gonna want to check it out, because you can submit your photos. The accepted photos will link directly to your blog or website so that when users click on them, they will be taken straight to your recipe. And if that wasn't enough, accepted photos are also shared across all the Jalapeño Mania social media channels. Which is pretty cool, no? I've already submitted a few of my own and plan on doing several more soon, including this one, for Quick and Spicy Pickled Onions.
I'll admit, I am not a huge raw onion fan, but cooked or pickled and I am ALL over it. Usually pickled onions don't have much of a kick, but since I love peppers (see previous paragraph) I decided that these should be kicked up a notch with a healthy dose of jalapeño. I only used one and it added just the right amount of heat without being too over the top spicy. That being said, if you want things a bit more on the spicy side, add another one.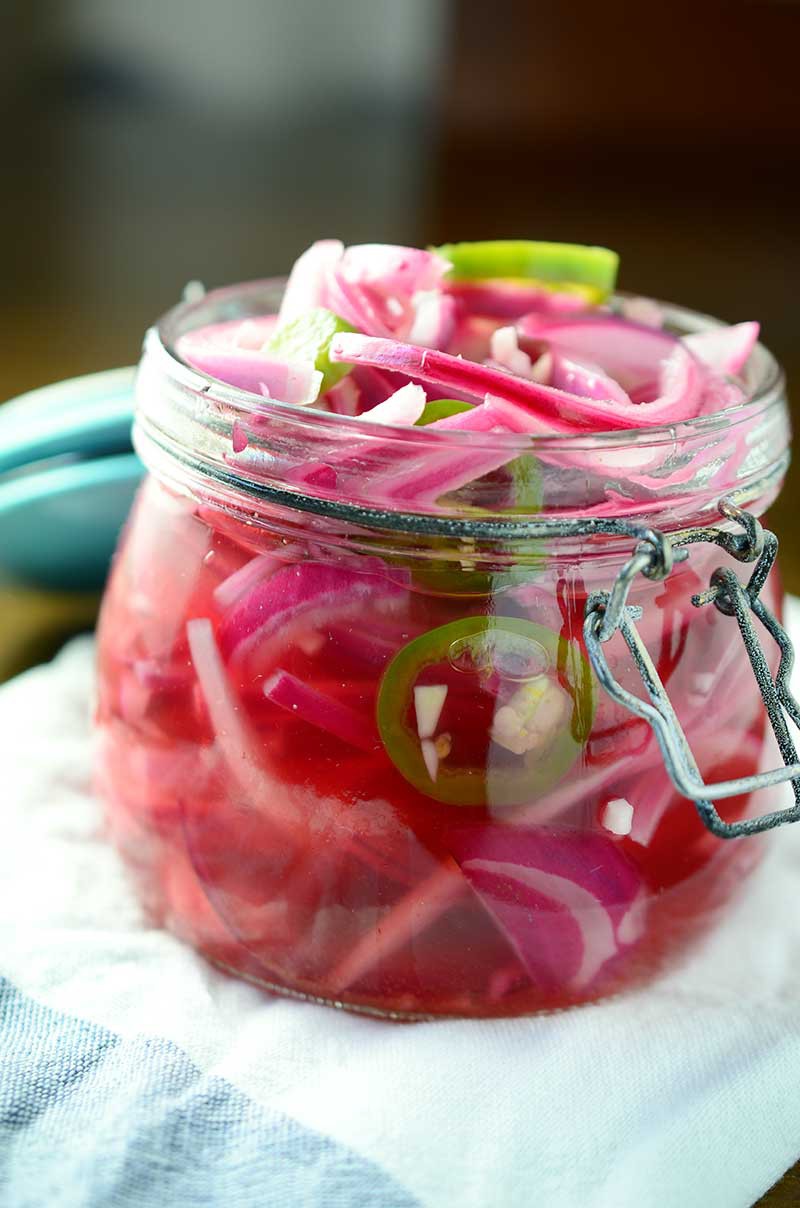 Make yourself a batch of quick and spicy pickled onions and let the flavor explosion begin.
Quick and Spicy Pickled Onions Recipe
Ingredients:
3/4 cup apple cider vinegar
3/4 cup warm water
2 teaspoons sugar
1 teaspoon salt
1/2 teaspoon ground cumin
1 medium red onion, thinly sliced
1 - 2 jalapenos, sliced
2 cloves garlic, minced
Instructions
1
Whisk together vinegar, water, sugar, salt and cumin. Continue whisking until sugar is dissolved.

2
Place red onion, jalapenos and garlic in a bowl. Pour vinegar mixture over the top. Let sit at room temperature for 1 hour. Cover and chill for an additional 1 - 2 hours. Serve.

3
Will keep refrigerated for about a week.
Nutrition information
Calories: 32 , Total Fat: 0.1g , Saturated Fat: 0 g , Cholesterol: 0mg , Sodium: 587mg , Carbohydrates: 5.8g , Fiber: 0.8g , Sugar: 3.5g , Protein: 0.5g