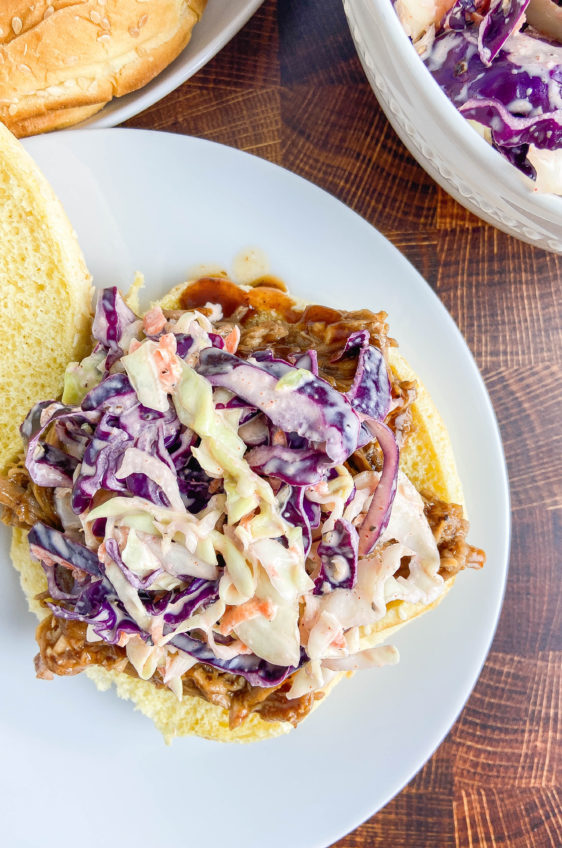 BBQ Pulled Pork Sandwich
Make the best ever and easiest Pulled Pork Sandwich with leftover pulled pork, your favorite BBQ sauce and a tangy slaw.
If you are looking for a way to use up leftover pulled pork that you've got in the fridge and you're short on time look no further than this BBQ Pulled Pork Sandwich.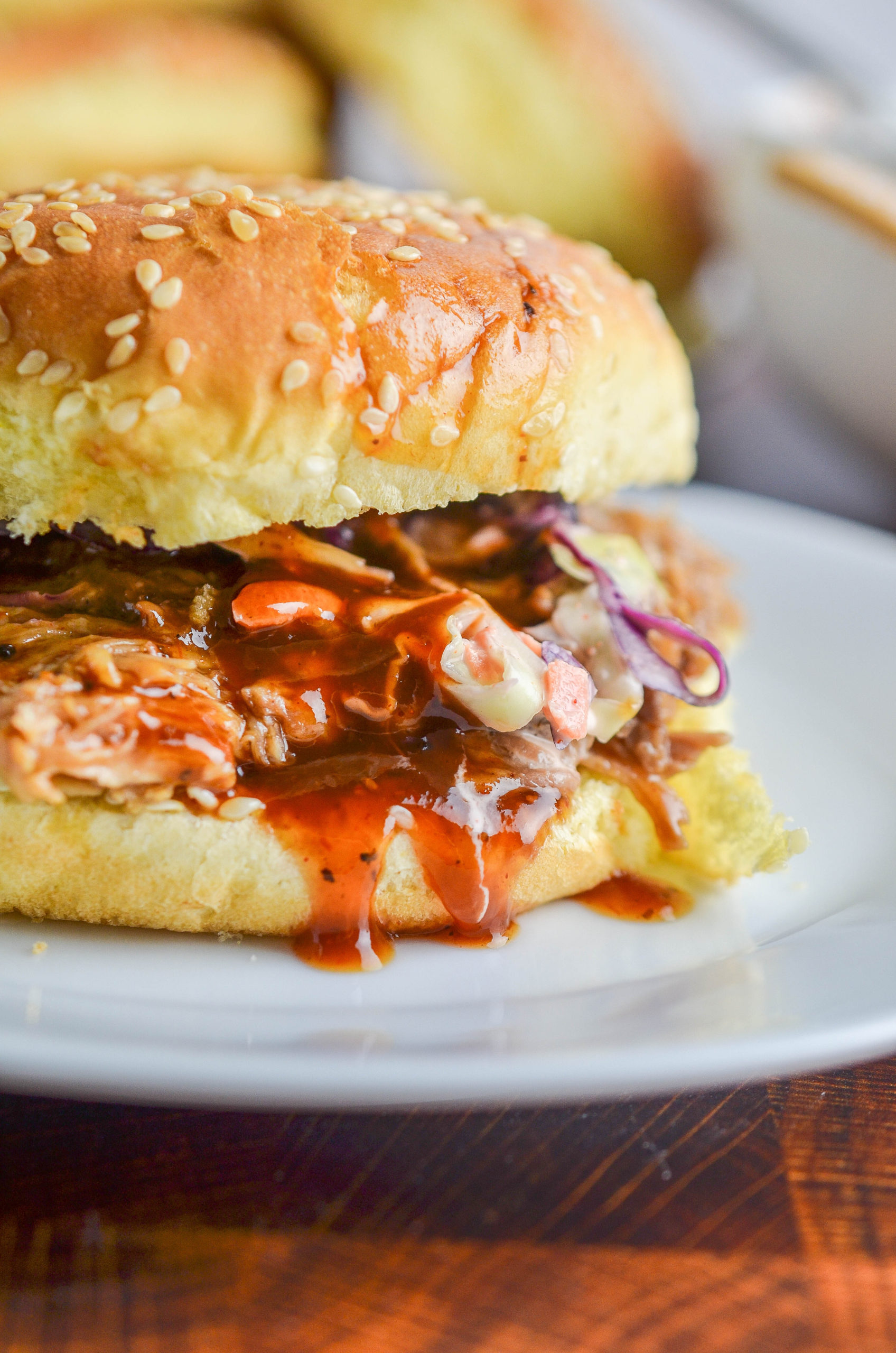 It's loaded with succulent pulled pork, tangy BBQ sauce and a creamy slaw on top. Sure, it's messy but sometimes that is just part of the fun. Right?!
What ingredients do you need?
PULLED PORK: I always use my Slow Cooker Pulled Pork or my Instant Pot Kalua Pork for this recipe. It can be leftover or you can make it the day of (or you can even buy it). Depending on how many sandwiches you're making you'll need about 3 cups.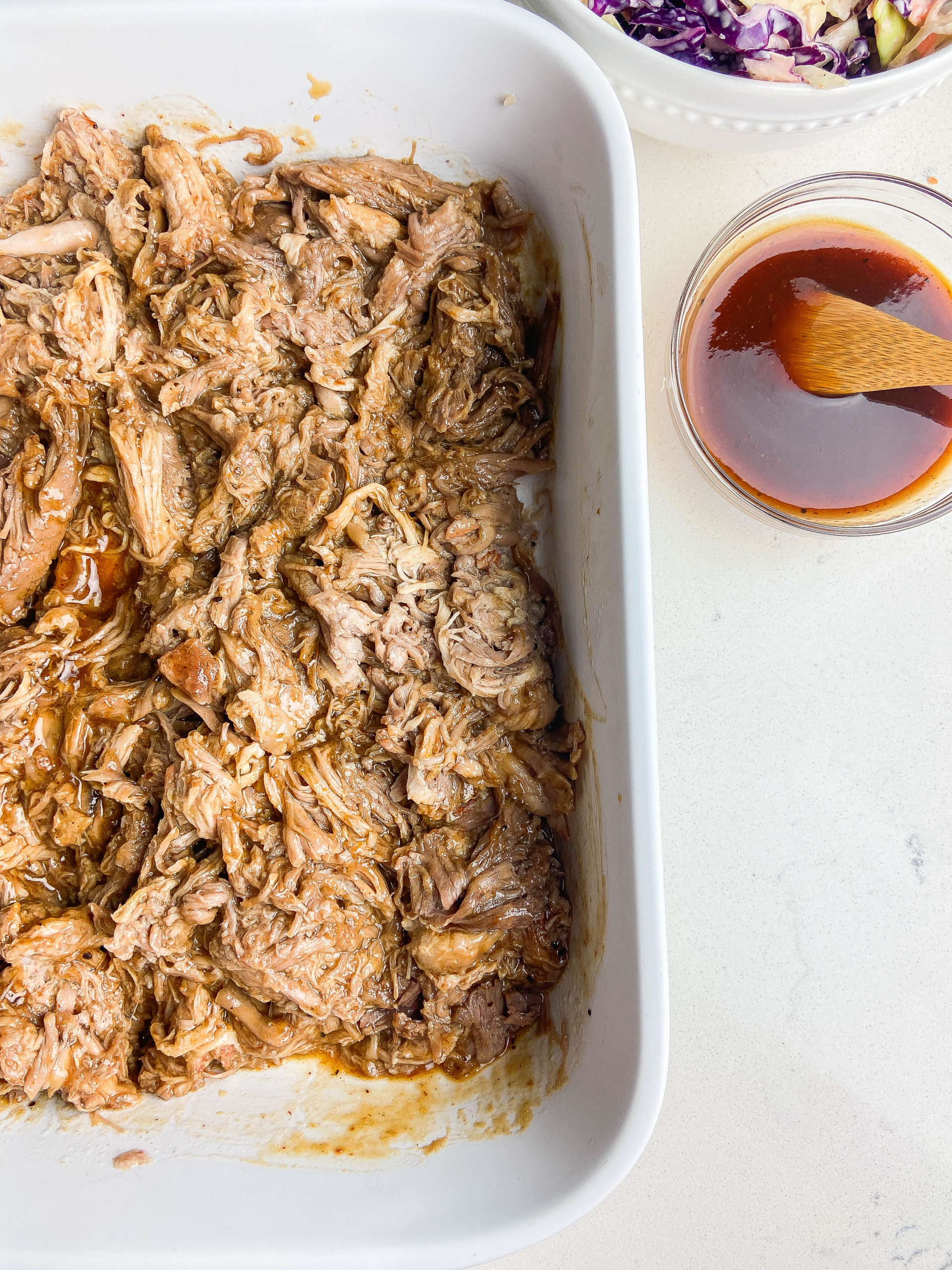 BBQ SAUCE: Sweet n' spicy. Tangy. Whatever you like, just pick your fave!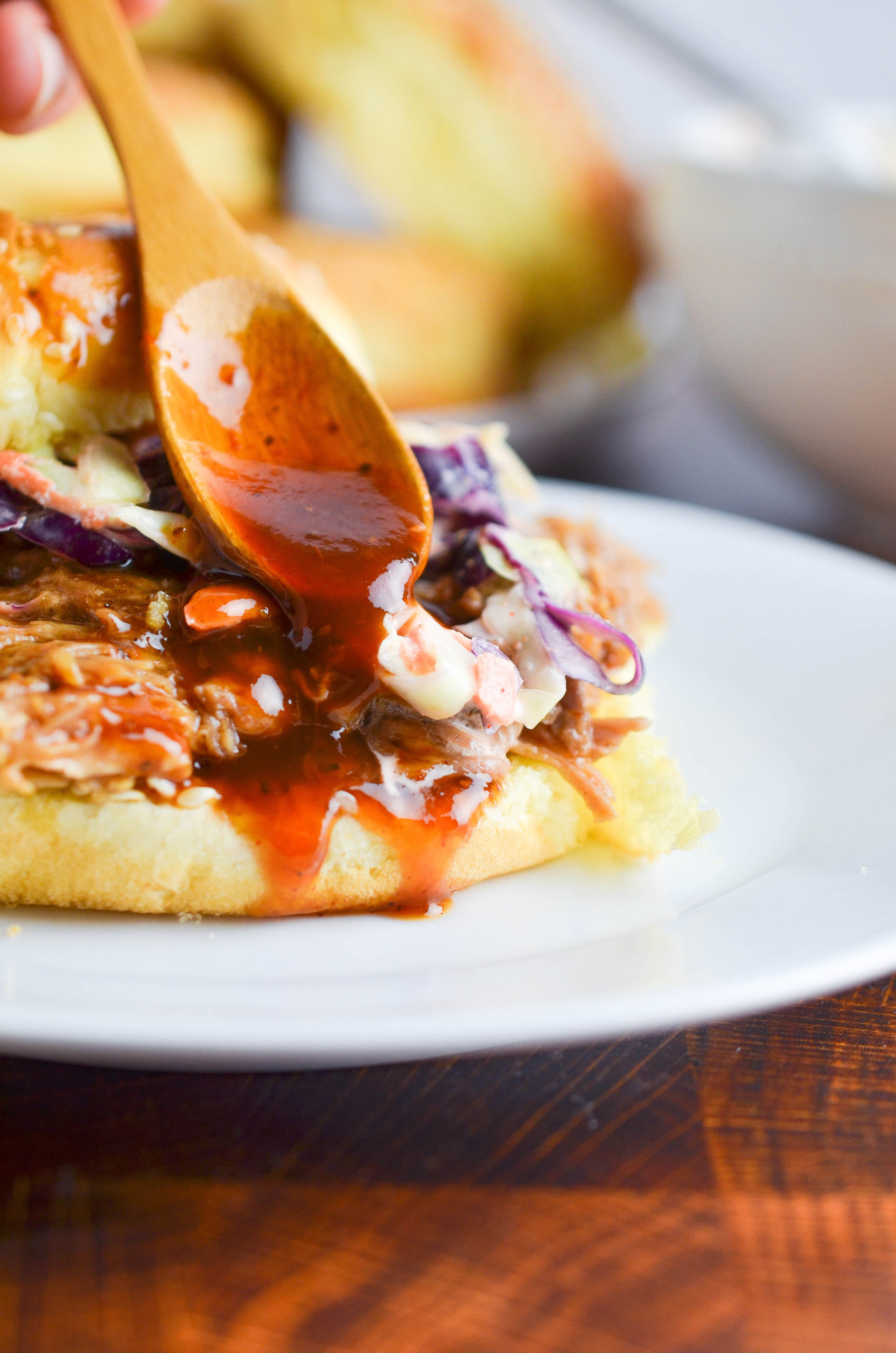 SESAME BURGER BUNS: Get the larger burger buns so you can fit more pork and slaw.
CABBAGE: I use a combination of red and green cabbage. Just slice it thin.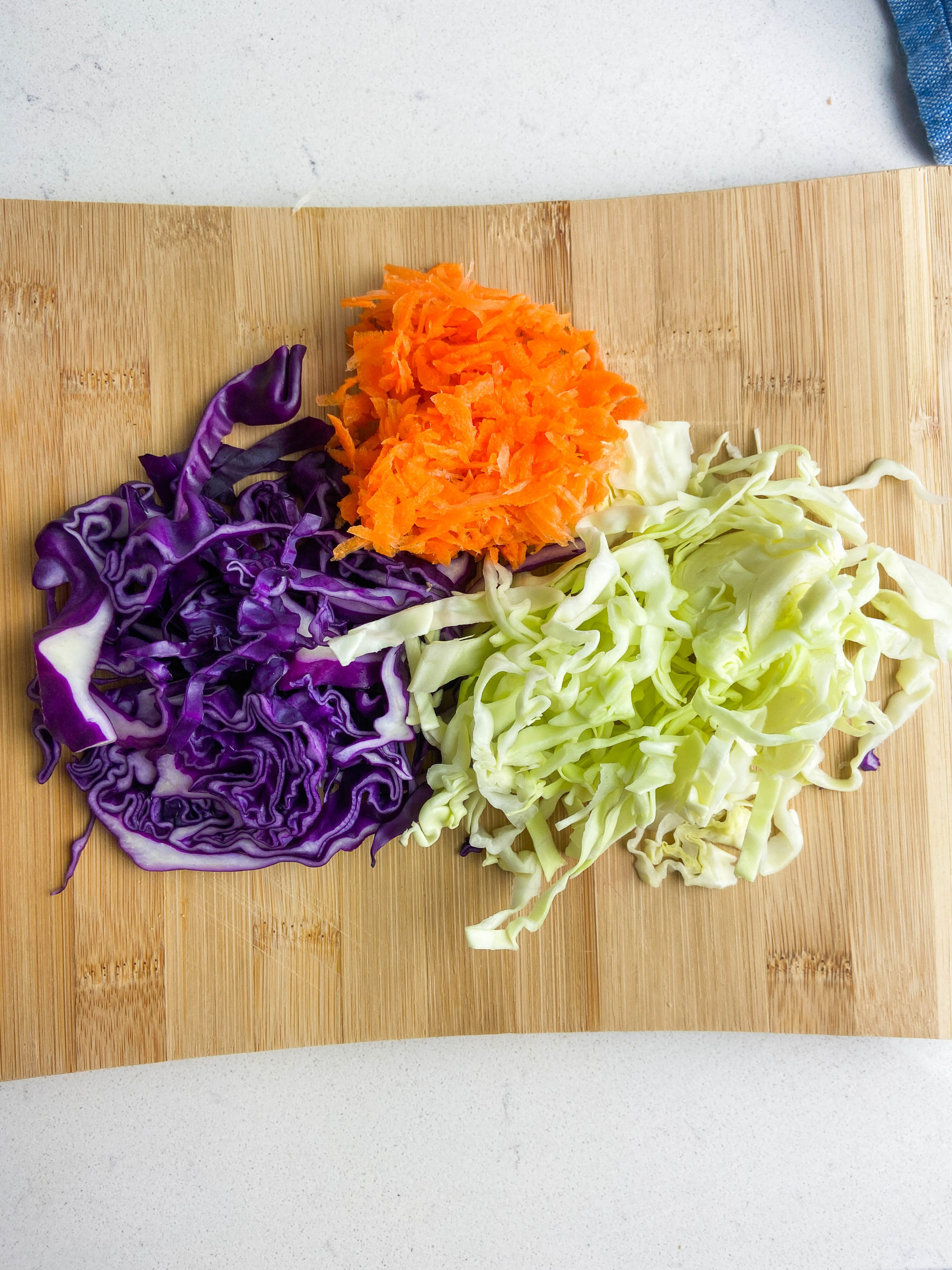 CARROTS: You can grate a carrot yourself or buy grated carrots
MAYO/VINEGAR/SEASONINGS: To make the dressing you'll need mayonnaise, vinegar, garlic, paprika and sugar. It'll make the perfect creamy, sweet n' tangy coleslaw.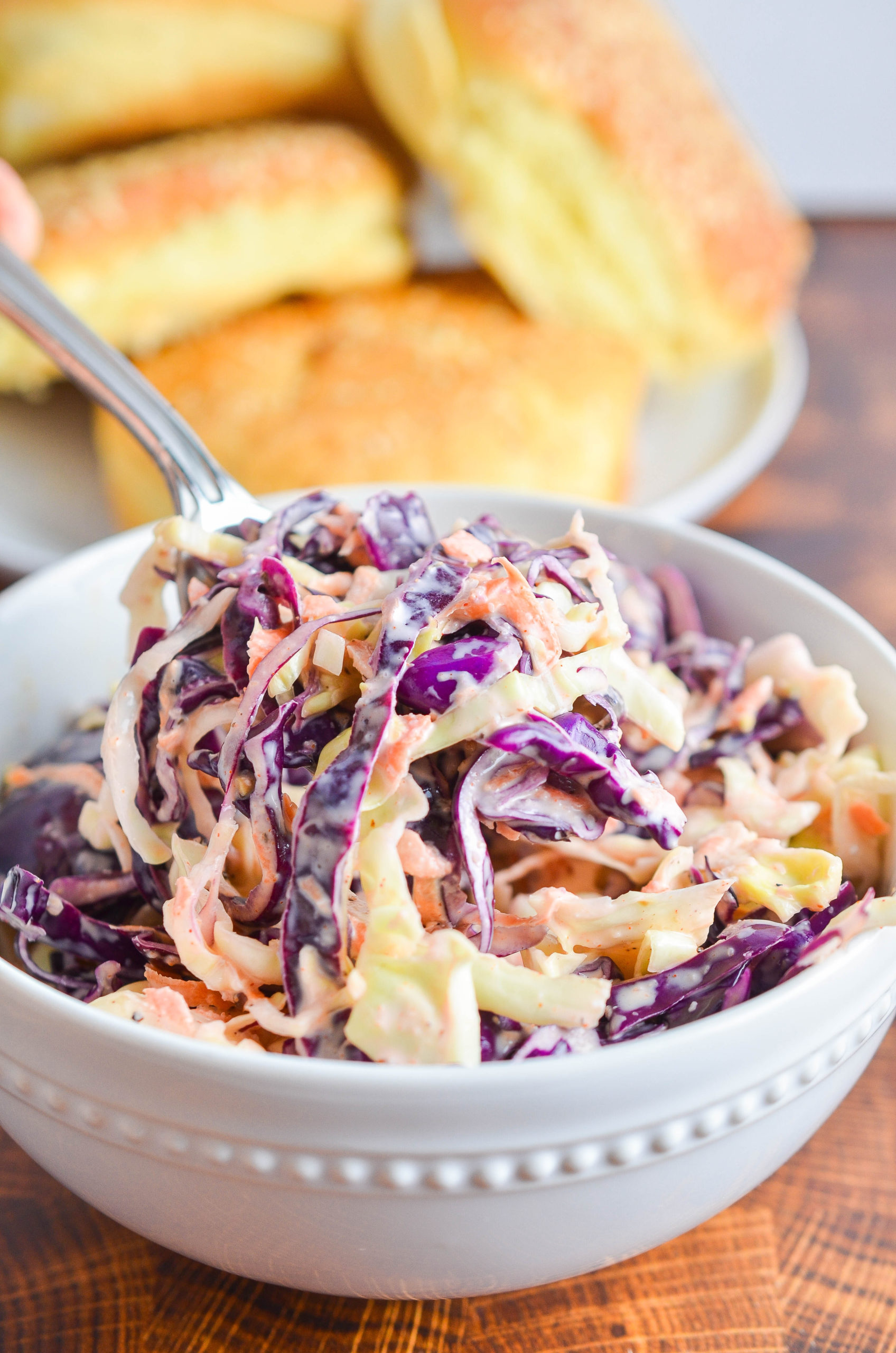 Step by Step Photos and Instructions:
STEP #1: Make the coleslaw first by whisking together dressing ingredients. Pour it over the cabbage and carrots and toss to coat completely.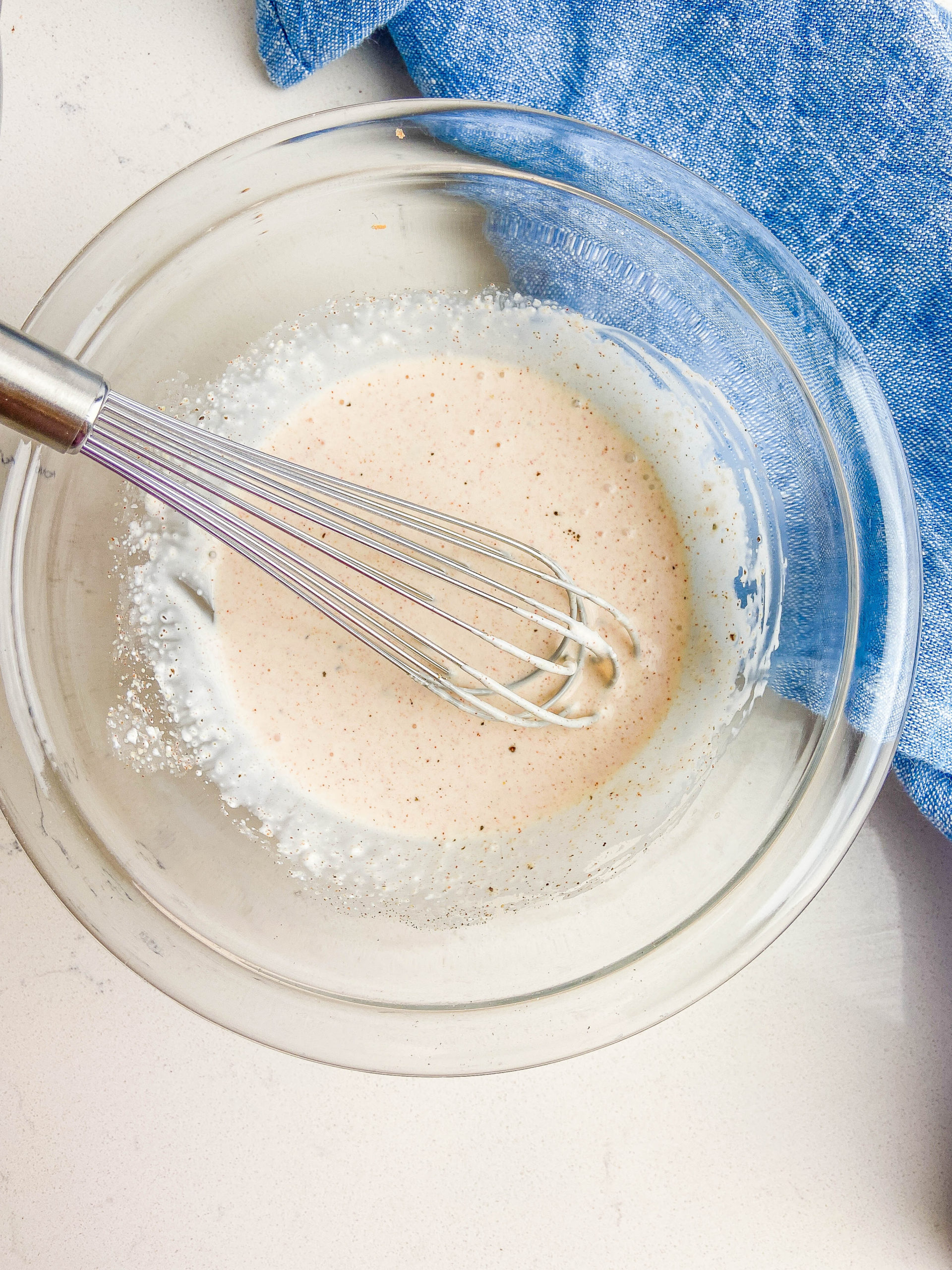 DES' TIP: Prepare the coleslaw about 1 hour in advance so it has time to chill and the flavors have a chance to mingle.
STEP #2: Put the pulled pork in a baking dish and pour the BBQ sauce over the top. Mix well. Cover and bake in 350 degree oven for 30 minutes.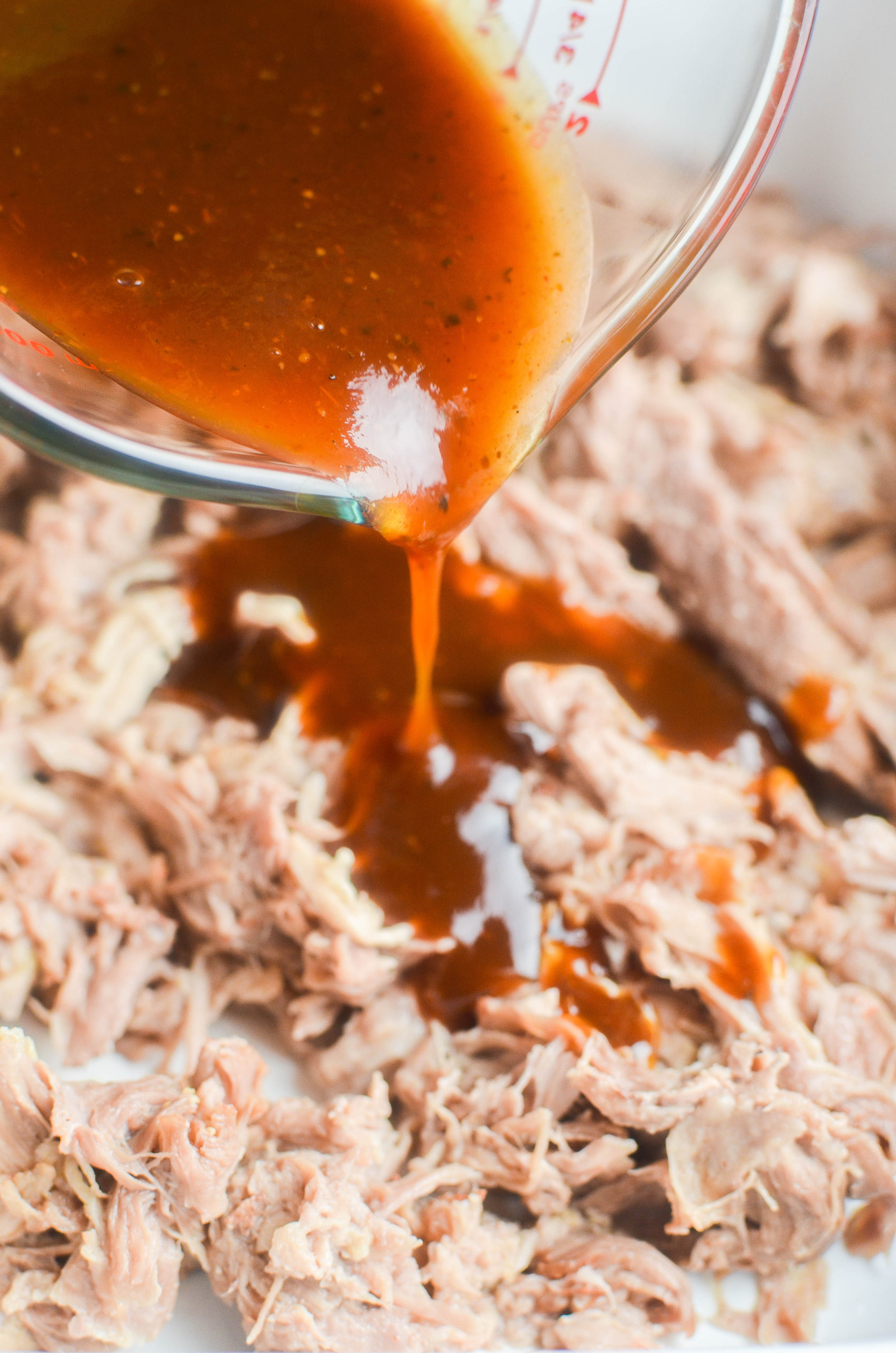 STEP #3: Assemble the sandwiches by piling pork on bottom bun and topping with slaw.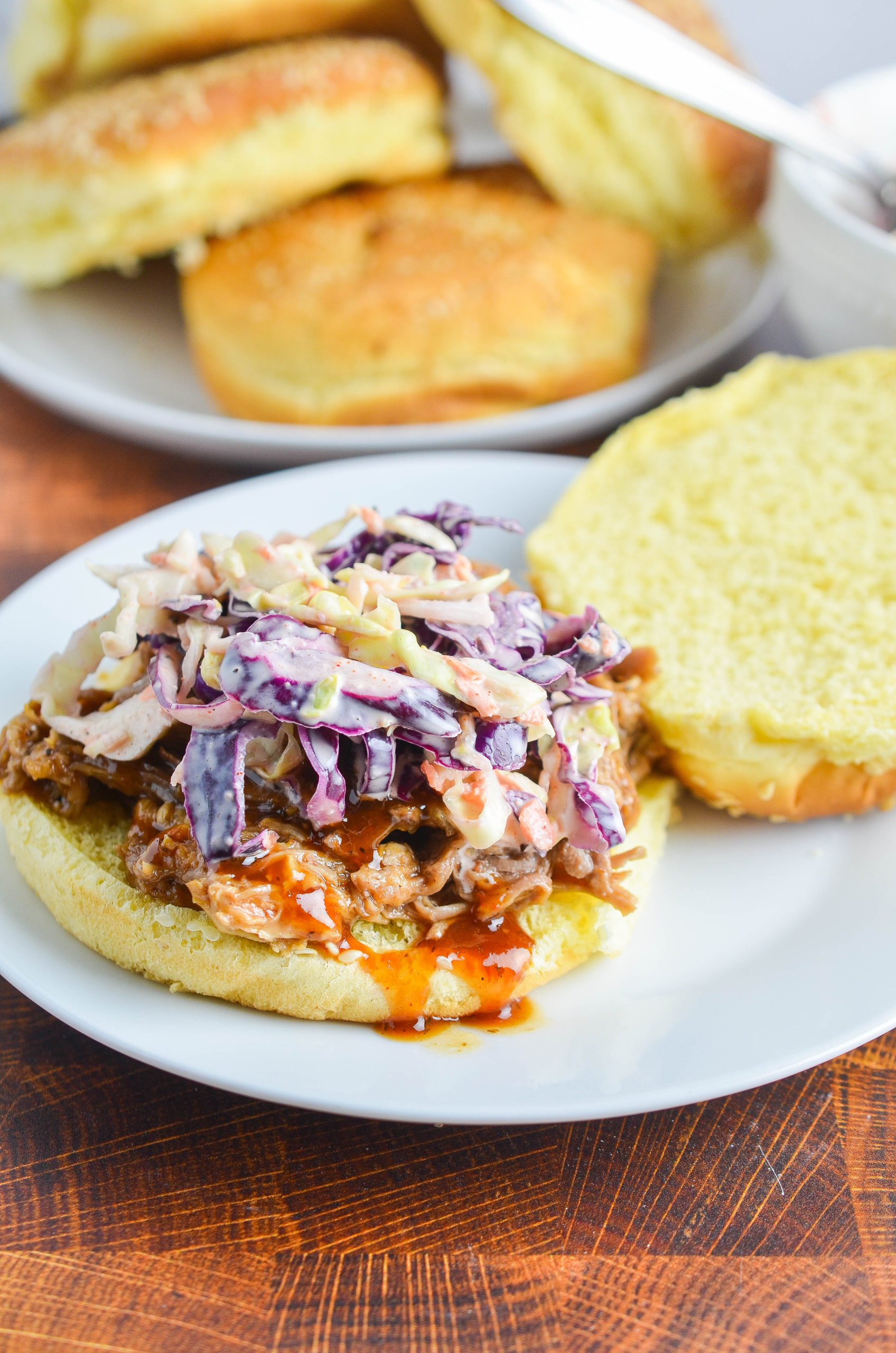 Can this recipe be doubled?
Absolutely! If you are feeding a crowd, pulled pork sandwiches are a great option! You can totally double or even triple this recipe very easily if need be.
How do you store leftovers?
The pork reheats fabulously! Simply store in an airtight container in the refrigerator and reheat in a 350 degree oven until warm. The coleslaw is best when eaten within a couple of days.
Looking for more ways to use leftover pulled pork? I have got you covered!
Love that BBQ flavor? Here are some of my classic, and not so classic, BBQ favorites!
BBQ Rib Chili Bread Bowls (also great with pulled pork!)
BBQ Chip Crusted Chicken Tenders
Slow Cooker Honey BBQ Chicken Wings from the Cookie Rookie
Note: This recipe was originally published in 2009. The recipe, step by step photos and tips were updated in 2020.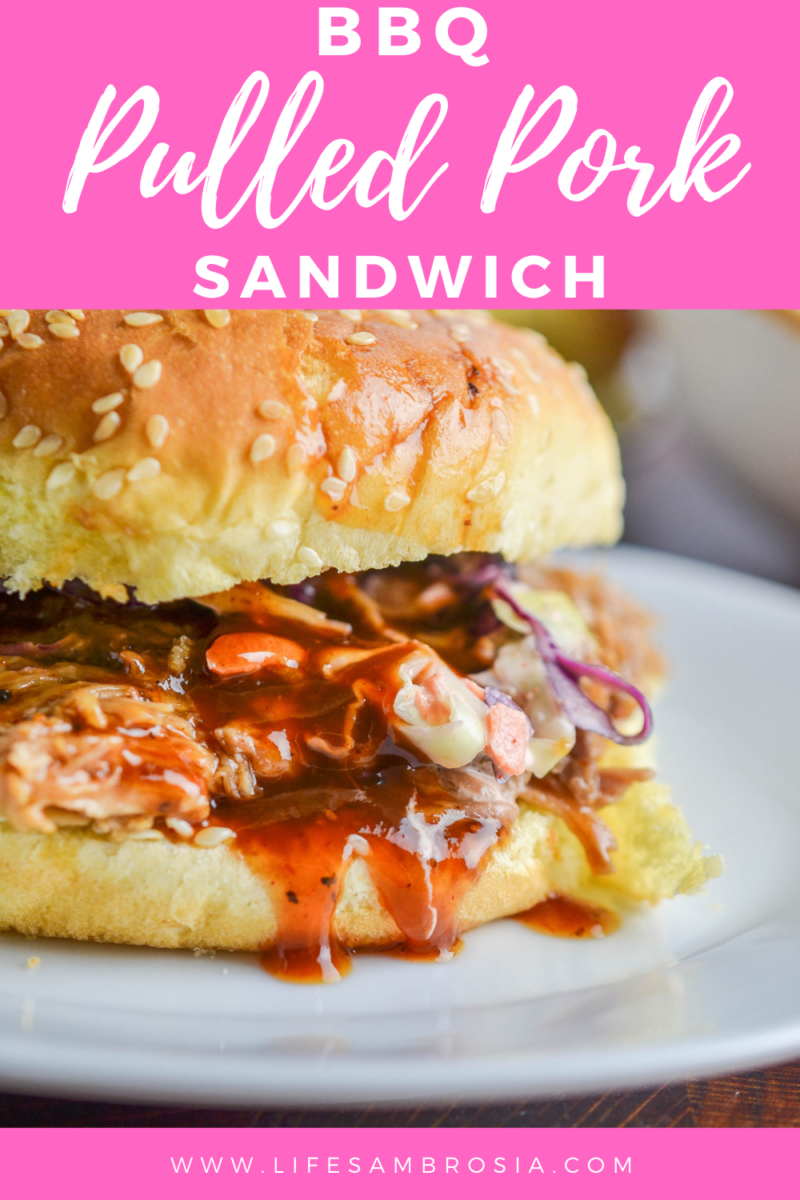 BBQ Pulled Pork Sandwich Recipe
Pulled Pork Ingredients:
3/4 cup your favorite BBQ sauce
4 hamburger buns
Coleslaw Ingredients
1/3 cup mayonnaise

1/4 cup white wine vinegar

1/2 teaspoon granulated garlic

1/4 teaspoon paprika

1/2 teaspoon salt

2 teaspoons sugar

4 cups shredded cabbage

1 cup shredded carrots
Instructions
1
Preheat oven to 350 degrees.

2
Make the coleslaw first. In a bowl, whisk together mayonnaise, vinegar, granulated garlic, celery salt and kosher salt and pepper. Add shredded cabbage and carrots. Toss to coat. Cover and refrigerate for 1 hour. Stir. Serve.

3
Place the shredded pork in a baking dish. Pour the BBQ sauce over the top and mix well. Place in the oven, bake for 30 minutes.

4
To assemble the sandwich: Spoon BBQ pork mixture on bottom bun, place spoonful of coleslaw on top, top with top bun.
Notes
Nutrition facts are for estimation purposes only.
Nutrition information
Calories: 503 , Total Fat: 15.8g , Saturated Fat: 3.8g , Cholesterol: 77mg , Sodium: 2283mg , Carbohydrates: 70.2g , Fiber: 3.7g , Sugar: 37.6g , Protein: 27.1g