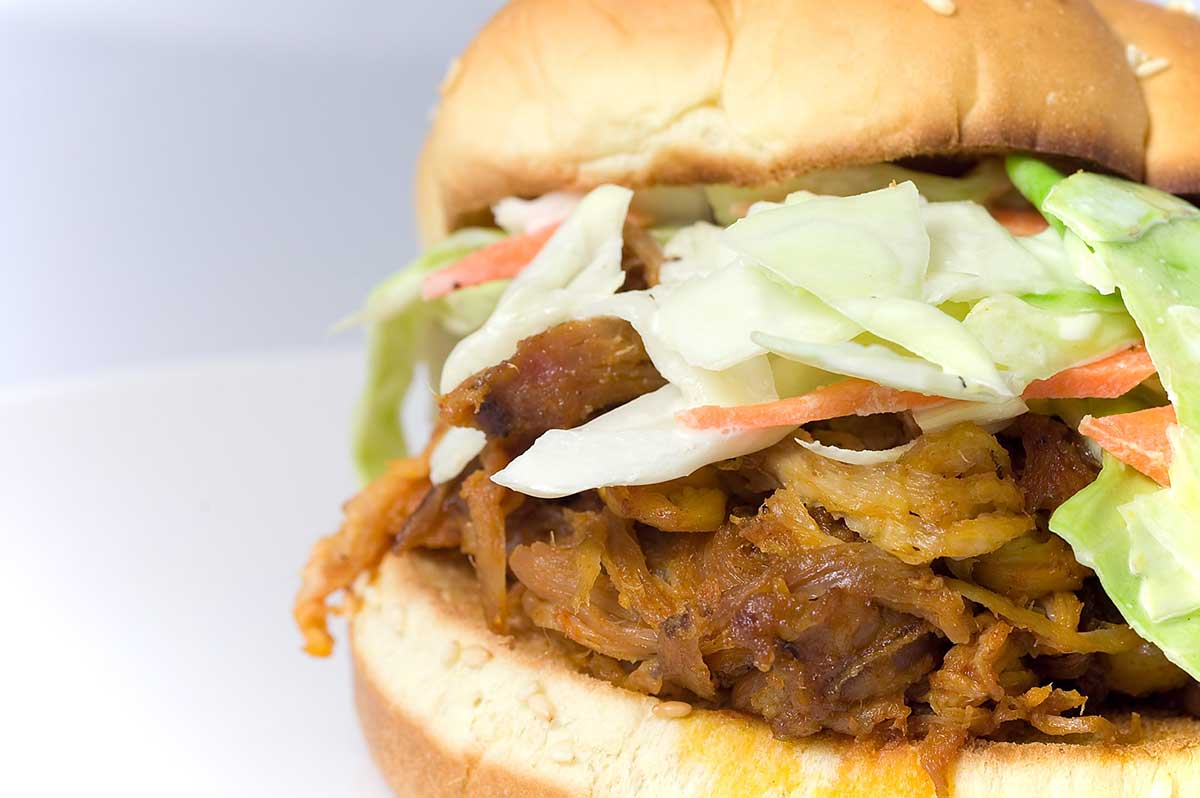 BBQ Pulled Pork Sandwich
Yesterday when I shared my recipe for Slow Cooker Pulled Pork, I promised that I would share a couple of my favorite recipes that feature it. I would be lying if I told you that this sandwich was not the reason that I tried pulled pork to begin with. I mean honestly, who doesn't love succulent pulled pork, mixed with tangy BBQ sauce, topped with coleslaw and piled high on a toasted bun? You may get a little messy, but it is worth it.
For this recipe, I decided to be a little adventurous and experiment with my own BBQ sauce. It's a little tangy and slightly sweet. It was a nice compliment to the pork as well as the tangy coleslaw. If you don't have time simply substitute a 3/4 cup of your favorite BBQ sauce.
Tip: For the coleslaw you will want to prepare it 1 hour in advance so it has time to chill and the flavors have a chance to mingle. Oh how I love mingling flavors.
BBQ Pulled Pork Sandwich Recipe
Ingredients:
1/2 cup ketchup
1 tablespoon soy sauce
1 tablespoon apple cider vinegar
2 tablespoons honey
1 1/2 teaspoon kosher salt
1 1/2 teaspoon paprika
1 tablespoon Worcestershire sauce
2 tablespoons packed brown sugar
1/2 teaspoon granulated garlic
1/4 teaspoon ground ginger
4 hamburger buns
1 batch coleslaw (recipe follows)
Coleslaw
1/3 cup mayonnaise

1/4 cup white wine vinegar

1/2 teaspoon granulated garlic

1/2 teaspoon celery salt

kosher salt and pepper taste

4 cups shredded cabbage

1 cup shredded carrots
Instructions
1
Preheat oven to 350 degrees.

2
Make the coleslaw first. In a bowl, whisk together mayonnaise, vinegar, granulated garlic, celery salt and kosher salt and pepper. Add shredded cabbage and carrots. Toss to coat. Cover and refrigerate for 1 hour. Stir. Serve.

3
In a saucepan whisk together first 10 ingredients. Bring to a boil over medium heat. Reduce heat to low and let simmer 20 minutes, stirring occasionally.

4
Place the shredded pork in a baking dish. Pour the BBQ sauce over the top and mix well. Place in the oven, bake for 30 minutes.

6
To assemble the sandwich: Spoon BBQ pork mixture on bottom bun, place spoonful of coleslaw on top, top with top bun.