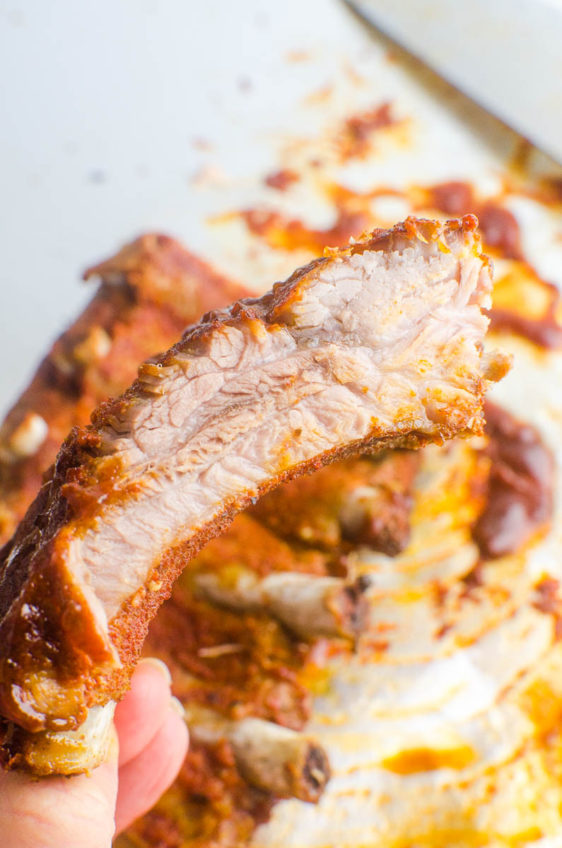 Instant Pot BBQ Ribs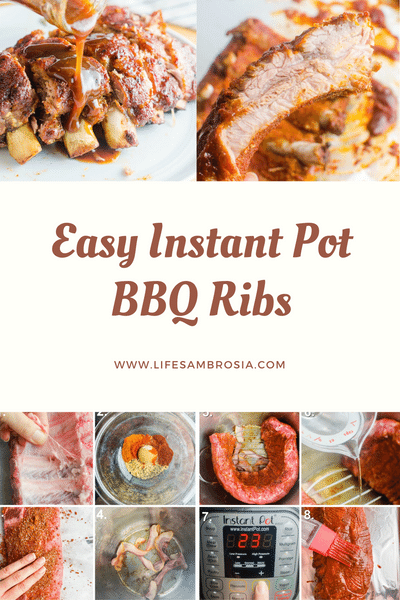 Saucy, smoky and oh so tender, these Instant Pot BBQ Ribs are a family favorite. The quickest, easiest and tastiest ribs you'll ever make!
If you've ever wanted to make tender, fall of the bone BBQ ribs but don't have the time (or patience) to make them in the smoker, these Instant Pot BBQ Ribs are exactly what you need.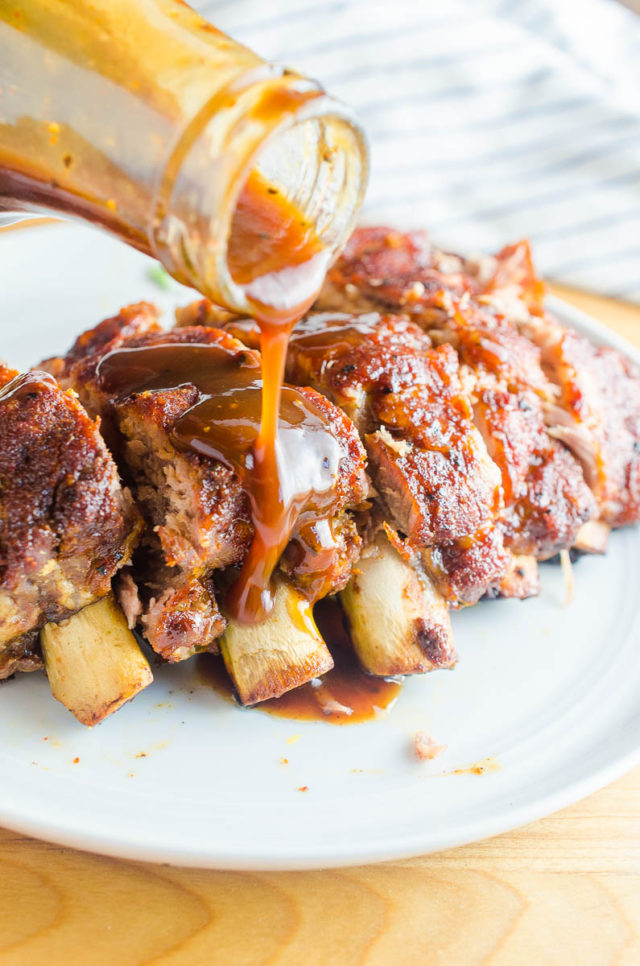 First things first, let's talk about some of the basics.
What ingredients do you need to make Instant Pot BBQ Ribs?
RIBS: For this recipe, I prefer to use Baby Back Ribs. I prefer them because they are more tender and leaner than their spare ribs counter part. If you want to learn more about the differences between ribs check out this article from Eater.
BACON: Traditional BBQ ribs get their smokiness from the wood in the smoker. To get that flavor, some Instant Pot Rib recipes use liquid smoke. I, however, think that liquid smoke gets concentrated more in the Instant Pot and tends to overpower the taste. Instead, I use bacon to give the smoky flavor to these ribs.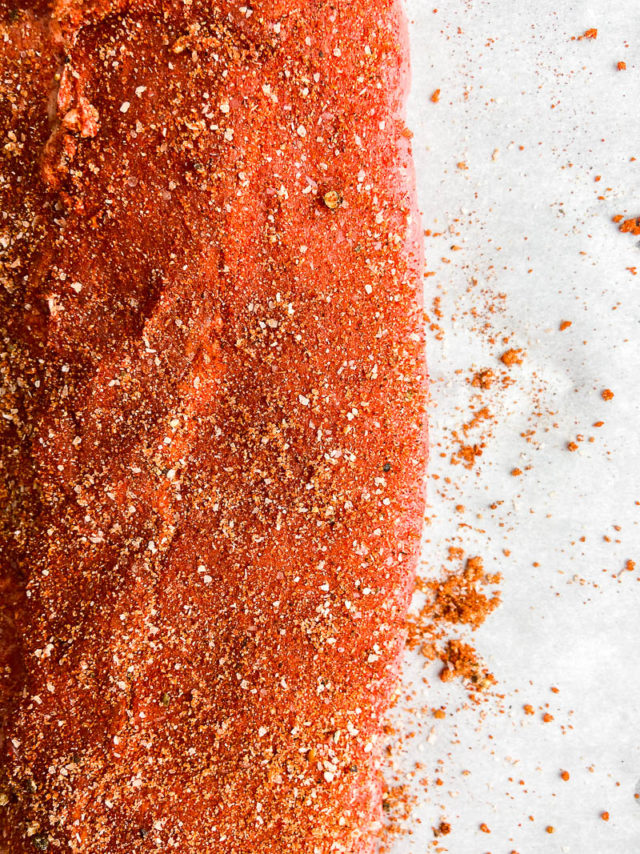 DRY RUB: Every good rib recipe starts with an excellent dry rub. This recipe is no different. The dry rub is made with 9 different spices that you probably have in your pantry. This includes paprika, chili powder, mustard powder, garlic, onion, black pepper, salt, cayenne for heat and a little brown sugar for sweetness.
BBQ SAUCE: My absolute favorite is Stubb's Sweet Heat BBQ Sauce but you can use your favorite!
How do you make ribs in the pressure cooker?
Step 1: You're going to want to remove the membrane from the back of the ribs. I was always intimidated when I read that part of recipes, but it is actually really easy. I use a knife to gently separate the membrane and then use my fingers to pull it all the way down the ribs.
Step 2: Make the dry rub by mixing all of the ingredients together.
Step 3: Rub the mixture on the ribs. Make sure to coat both sides.
Step 4: Turn on the sauté feature. Cook bacon in the pressure cooker until the bacon starts to brown and the fat starts to render.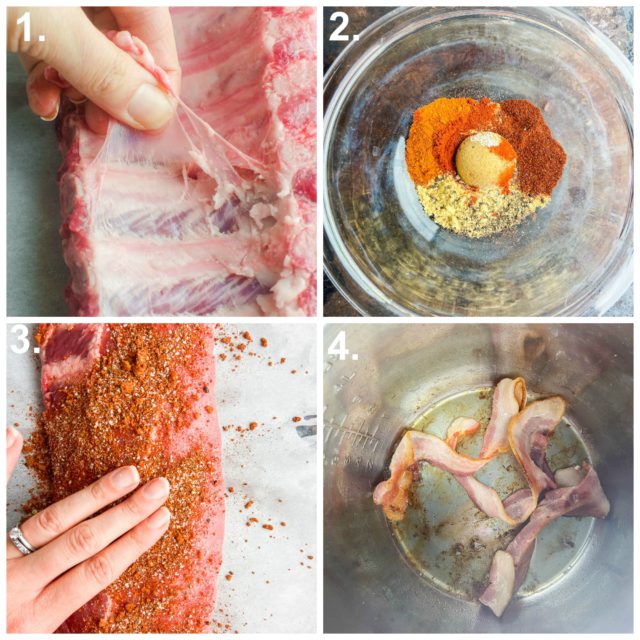 Step 5: Place ribs on top of trivet in Instant Pot. Wrapping them around in the circle.
Step 6: Pour water into the Instant Pot.
Step 7: Cover, seal and cook 23 minutes. Do a natural 5 minute release. Then release the remaining pressure.
Step 8: Brush with BBQ sauce and broil for 5 – 6 minutes. Serve with the remaining BBQ sauce.
DES' TIP: As with any Instant Pot Recipe, when doing your planning, keep in mind that the Instant Pot will take several minutes to come up to pressure before it seals. Once it seals the timer will start.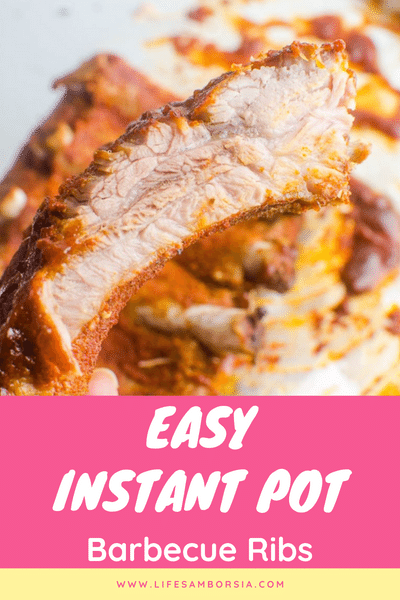 These Instant Pot BBQ Ribs have become a family favorite around here, and just one bite of the tender ribs will have your family loving them too!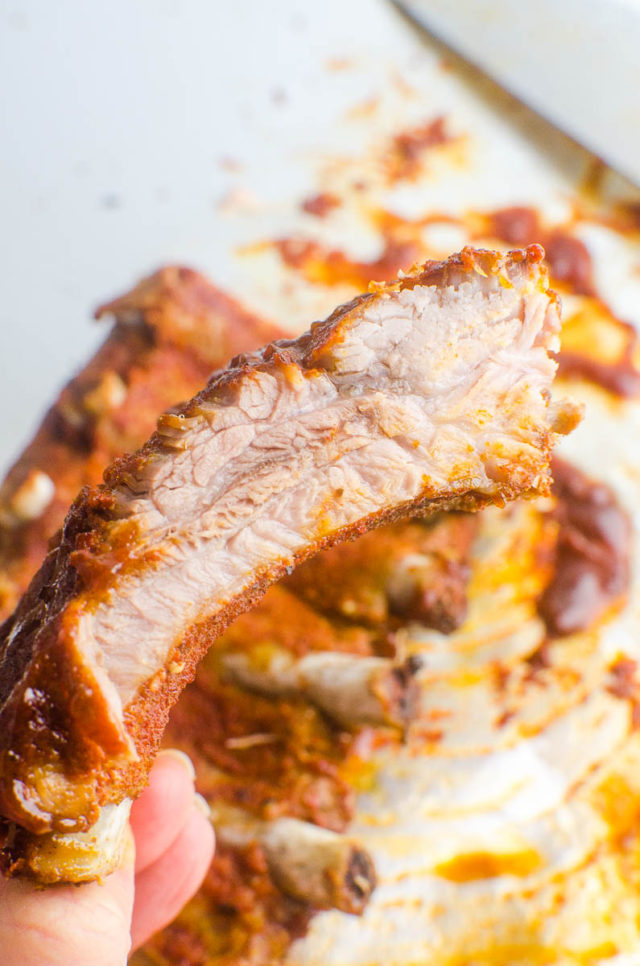 If you're looking for easy side dishes to serve along side these ribs, check out some of our family favorites:
Looking for more ways to use your Instant Pot? You've got to try these!
Instant Pot BBQ Ribs Recipe
Ingredients:
2.5 pounds pork baby back ribs
1 tablespoon brown sugar
1 tablespoon paprika
2 teaspoons salt
1 teaspoon granulated garlic (or garlic powder)
1 teaspoon chili powder
1/2 teaspoon onion powder
1/2 teaspoon mustard powder
1/2 teaspoon black pepper
1/4 teaspoon cayenne pepper
3 slices thick cut bacon
1 cup water
1/2 cup BBQ sauce divided
Instructions
1
Remove the membrane from the back side of the ribs. Use a knife to loosen and then pull the membrane down the back of the ribs with your fingers.

2
Combine brown sugar, paprika, salt, granulated garlic, chili powder, onion powder, mustard powder, black pepper and cayenne pepper in a bowl. Whisk together.

3
Rub the seasoning mixture over both sides of the ribs.

4
With the sauté feature on, cook bacon just until it starts to brown and the fat starts to render.

5
Turn the instant pot to warm setting. Place the trivet in the pot. Place the ribs inside the pot on top of the trivet wrapping around in a circle. Pour water into pot.

6
Press "manual" setting, cover and seal the pressure cooker. Cook on high pressure for 23 minutes. Do a 5 minute natural release and then release the remaining pressure.

7
Line a baking sheet with aluminum foil. Brush 1/4 cup of BBQ sauce over the top of the ribs. Place under the broiler for 5- 6 minutes or until the sauce starts to caramelize.

8
Drizzle with remaining sauce, slice and serve.
Notes
Nutrition facts for estimation purposes only.
Nutrition information
Calories: 579 , Total Fat: 40.5g , Saturated Fat: 14.7g , Cholesterol: 131mg , Sodium: 1654mg , Carbohydrates: 21.4g , Fiber: 0.9g , Sugar: 16.6g , Protein: 28g