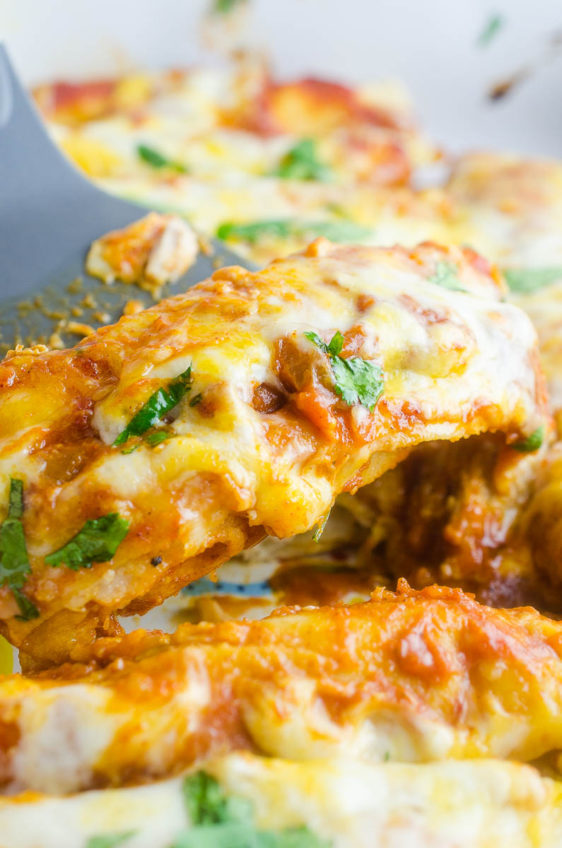 Pulled Pork Enchiladas
Pulled Pork Enchiladas are a weeknight favorite. Tender pulled pork rolled in corn tortillas and topped with homemade enchilada sauce and two cheeses.
Does your family eat leftovers? Maybe it's because I am a food blogger and making something new on a pretty regular basis, but my family pretty much refuses to eat leftovers unless I have made it into something completely different than the previous night.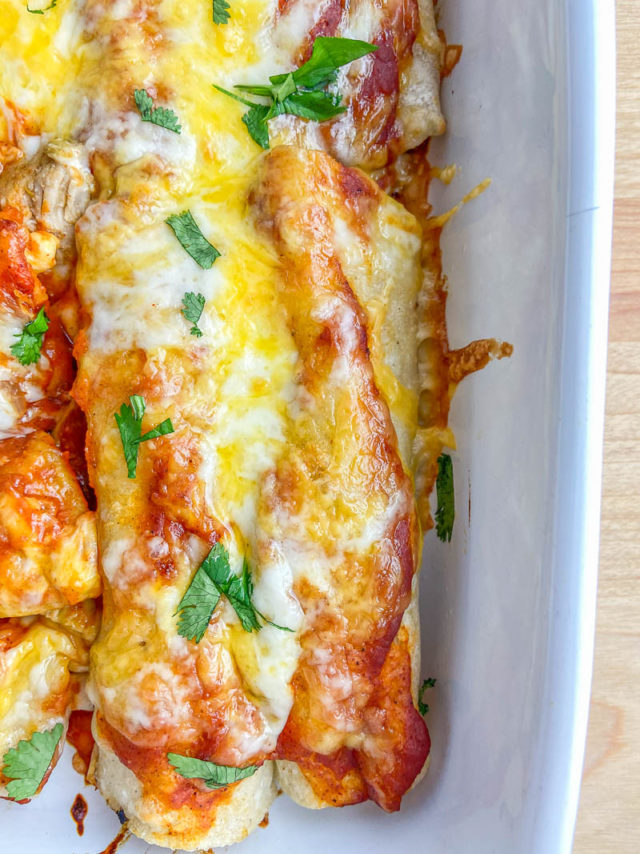 That is where these Pulled Pork Enchiladas come from. They are my absolute favorite thing to make with leftover pulled pork. And even with the homemade enchilada sauce, they come together quickly enough to make them a great weeknight meal too.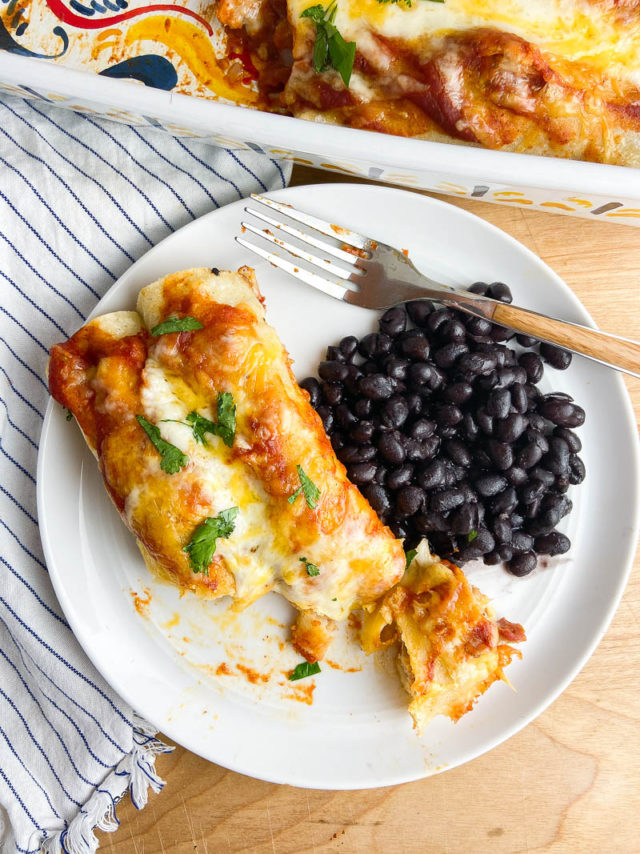 How do you make enchilada sauce?
For the longest time I would buy enchilada sauce whenever I wanted to make enchiladas. That is, until I found out that it is surprisingly easy to make at home.
Step 1: Saute onions until soft.
Step 2: Whisk it flour. Cook one minute.
Step 3: Pour in tomato sauce and seasonings.
Step 4: Cook until thickened.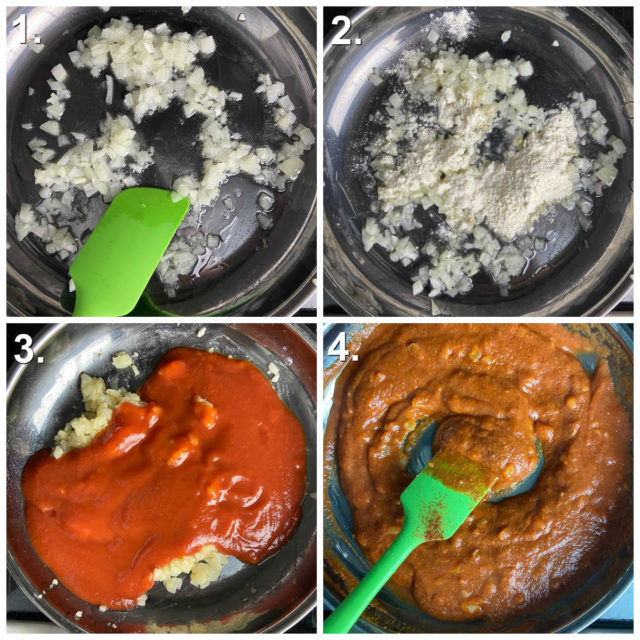 Tips for making the best Pulled Pork Enchiladas:
Tip #1: Use corn tortillas. I think they give the best texture when making enchiladas because they hold up to being topped with sauce and baked better than flour tortillas.
Tip #2: Cook the tortillas in a bit of oil before filling them, this will make them pliable. If you skip this step, the tortillas are more likely to tear when you roll them up.
Tip #3: Generously fill them but make sure not to overfill, you want to be able to roll them up.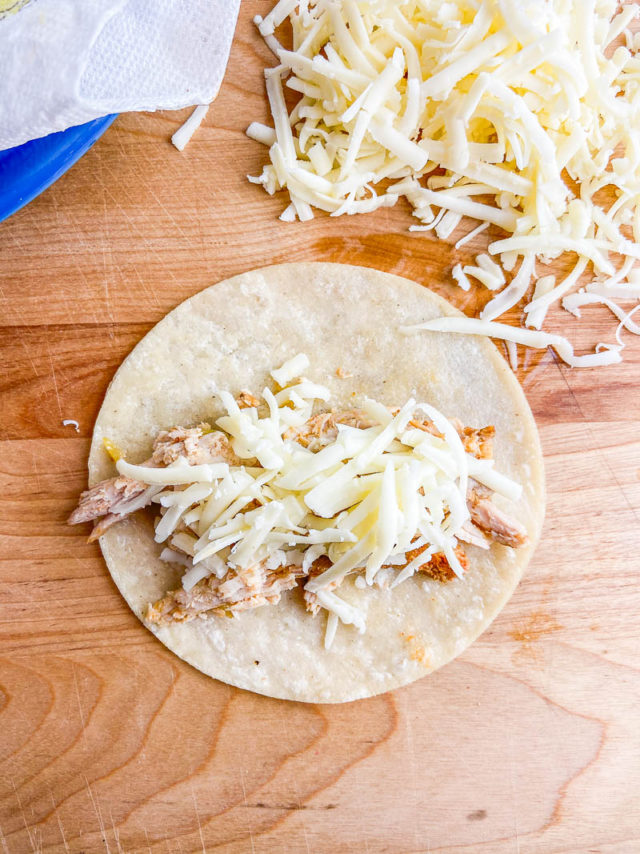 Tip #4: Load up on the cheese, the best enchiladas are always the cheesiest. I like to use a mixture of cheddar and jack cheese but you could use whatever stretchy cheese you like. Crumbly cheeses like cojita won't melt or give you the same "cheese-pull" but are great to garnish with after cooking.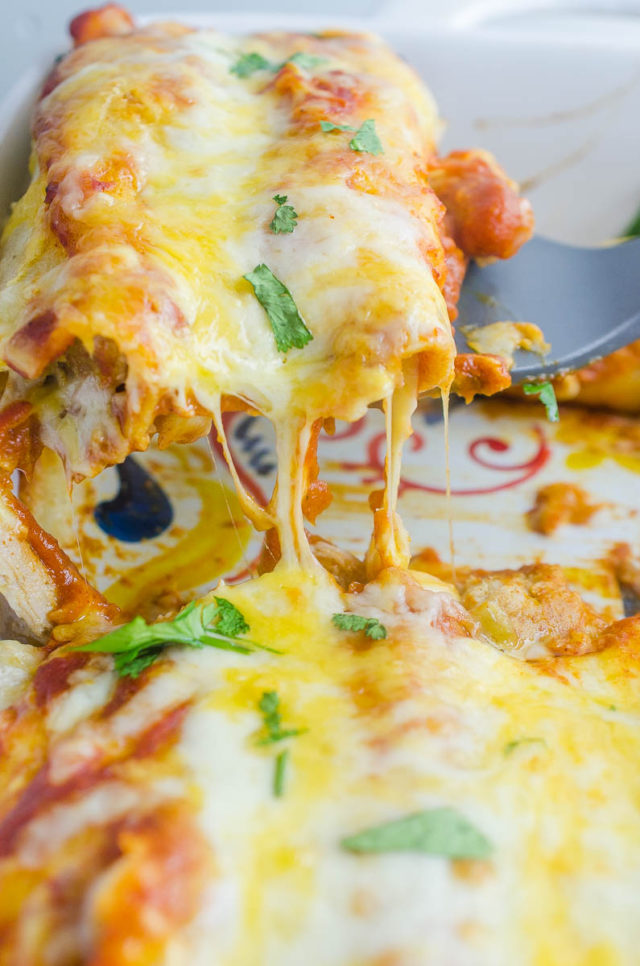 Remember when I said before that my family doesn't eat many leftovers? The one exception to the rule is enchiladas. Enchiladas are one of the only foods that my husband will take to work for lunch. And that is saying something!
And I totally get it.
But don't take our word for it, this recipe has gotten some great reviews too like this one:
"I'm a culinary enthusiast like you and WOW! This recipe made my fiancé propose to me all over again" -Michelle
If you need side dish recipes to serve along side these Pulled Pork Enchiladas, here are some of my favorites!
Looking for more recipes to use up leftover slow cooker pulled pork? Try these!
Note: This post was originally posted in 2009. Updated with new photos and tips in 2020.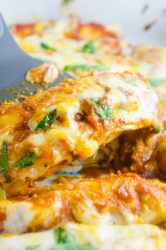 Pulled Pork Enchiladas
Pulled Pork Enchiladas are a weeknight favorite. Tender pulled pork rolled in corn tortillas and topped with homemade enchilada sauce and two cheeses.
Enchilada Ingredients:
2

tablespoons

canola oil

1/2

cup

minced onion

2

tablespoons

flour

1

15 ounce can tomato sauce

2

teaspoons

chili powder

1

teaspoon

cumin

1/2

teaspoon

garlic salt

1/4

teaspoon

cayenne pepper

if desired

kosher salt and fresh cracked black pepper to taste

10-12

corn tortillas

canola oil for frying

1/2

cup

shredded cheddar cheese

1/2

cup

shredded Monterey jack cheese

guacamole
Pork Filling Ingredients
1

tablespoon

canola oil

1/2

cup

minced onion

1

4 ounce can diced green chilies

1

cup

shredded Monterey jack cheese

3

cups

pulled pork
Preheat oven to 350 degrees.

To prepare the enchilada sauce. Heat oil in a small sauce pan. Cook onion until softened about 5 minutes. Sprinkle flour over the top, cook 1 minute. Stir in tomato sauce and remaining ingredients. Bring to a boil. Reduce heat and let simmer while you prepare the filling. Season to taste with salt and pepper.

For the filling, heat oil in a skillet over medium heat. Cook onion until softened, about 5 minutes. Stir in pulled pork and diced green chilies. Cook until warmed through. Turn heat to low while you prepare the tortillas.

Use enough canola oil to lightly coat the bottom of a small pan, about 2 tablespoons. Heat over medium-high heat. Cook tortillas one at a time until soft, about 30 seconds on each side. As you cook each tortilla, place them on paper towels to absorb any of the oil left over.

Lay each tortilla on a flat surface. Spoon about 1/4 cup filling into center, sprinkle with shredded Monterey jack cheese. Roll closed. Repeat with remaining filling and tortillas.

Spread a thin layer of enchilada sauce on the bottom of a baking dish. Place rolled tortillas in the baking dish. Spoon remaining enchilada sauce over the top. Sprinkle with shredded Monterey jack and cheddar cheese. Bake 15-20 minutes or until cheese melts. Turn on broiler, broil for 3-5 minutes or until cheese browns. Remove from oven. Let cool slightly and serve with guacamole and sour cream.
Keywords:
crockpot, enchilada, Food, mexican cusine, pork, Shredded Pork, slow cooker