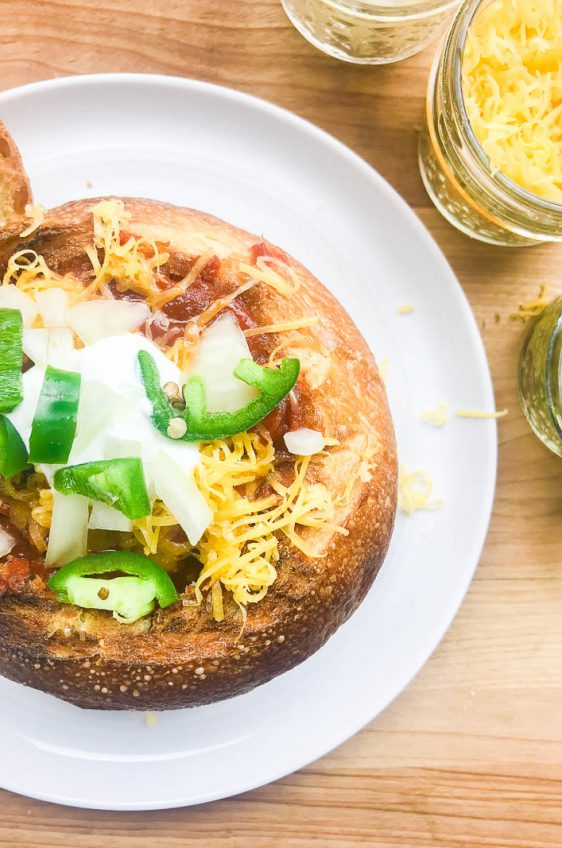 BBQ Rib Chili Bread Bowls
BBQ Rib Chili Bread Bowls, with all of your favorite toppings, are a hearty meal to serve on cool days. They are a must for game day parties too! 
Disclosure: This post is sponsored by Curly's. I am grateful for my sponsors as they allow me to bring you delicious free content. 
When it comes to game day, aside from the big game, the food is another huge part of the celebrations. This is why I am always looking for new game day eats to share with you and I have certainly found it with these BBQ Rib Chili Bread Bowls.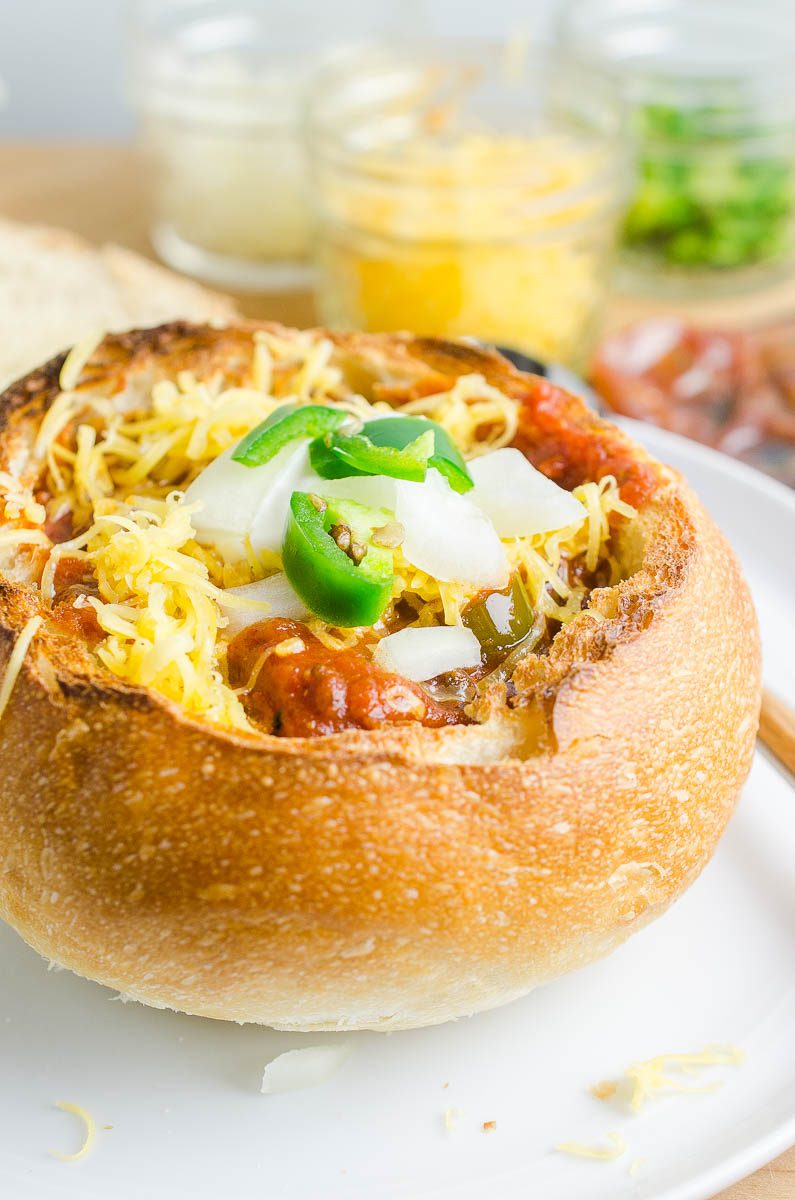 As with any game day eats, you want to be able to spend as much time with your guests and watching the game as possible so that is why easy recipes are essential. This bbq rib chili is super easy to make, and get simmer on your stove until you're ready to ladle it into bread bowls. 
Curly's Baby Back Pork Ribs: 
A key to making this chili an easy go to meal is using Curly's BBQ Ribs. Curly's BBQ Ribs, available in the refrigerated meat case at the grocery store, are smoked for hours and ready in minutes. Making them perfect for quick weeknight meals. They are great as a main course or, as in this chili, removed from the bone and added to other dishes.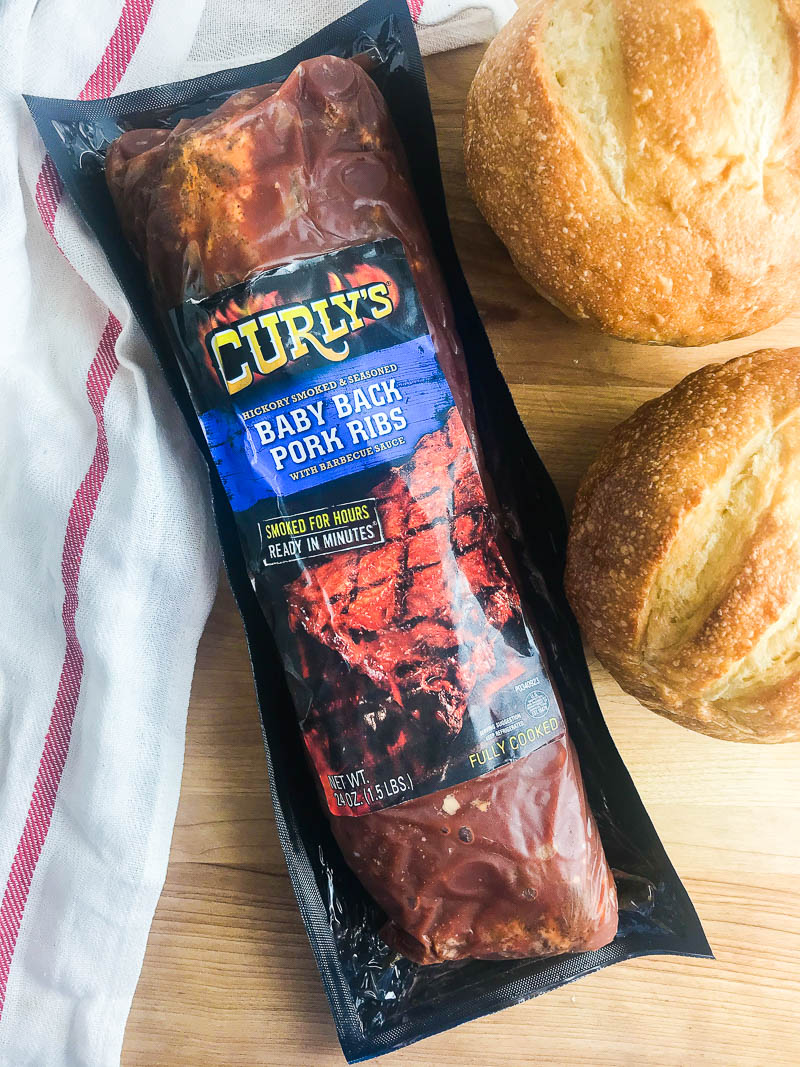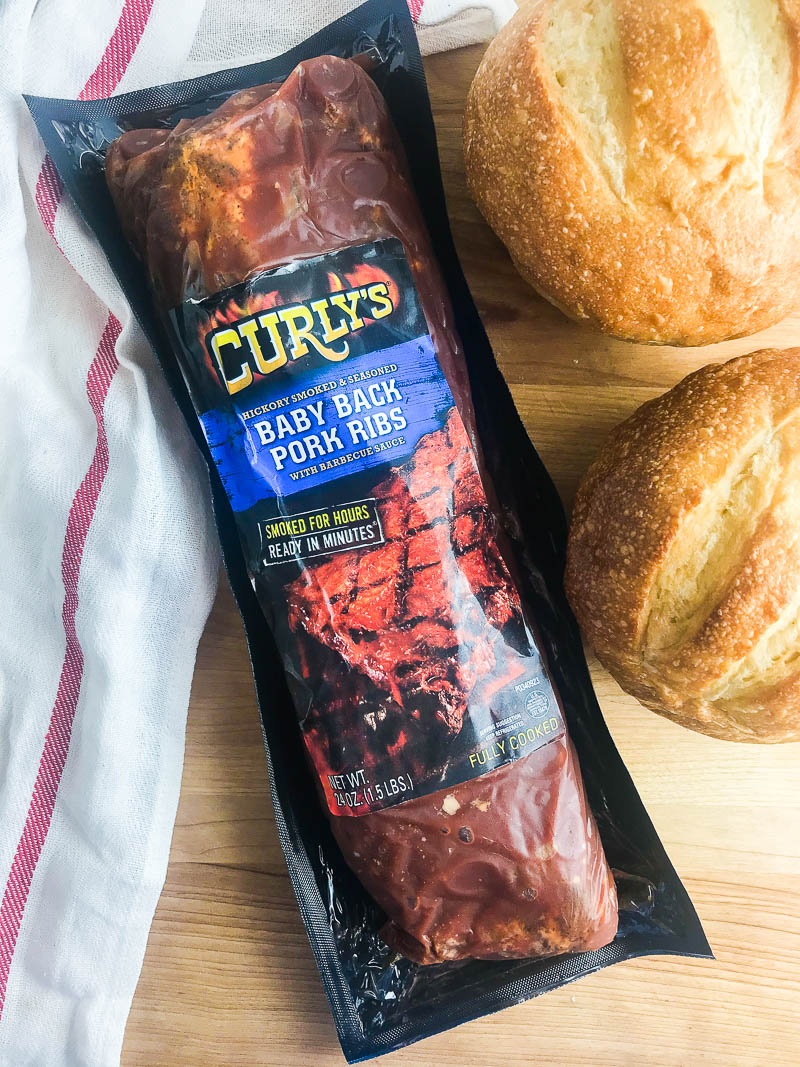 How do you make BBQ Rib Chili?
To make these chili bread bowls you will want to start by making the chili first. When you look at the ingredient list for chili, it can often seem a bit daunting but guys, chili is super easy to make. Aside from sauteing  a couple ingredients, making chili usually just involves adding a bunch of ingredients in a pot and let them simmer until thickened.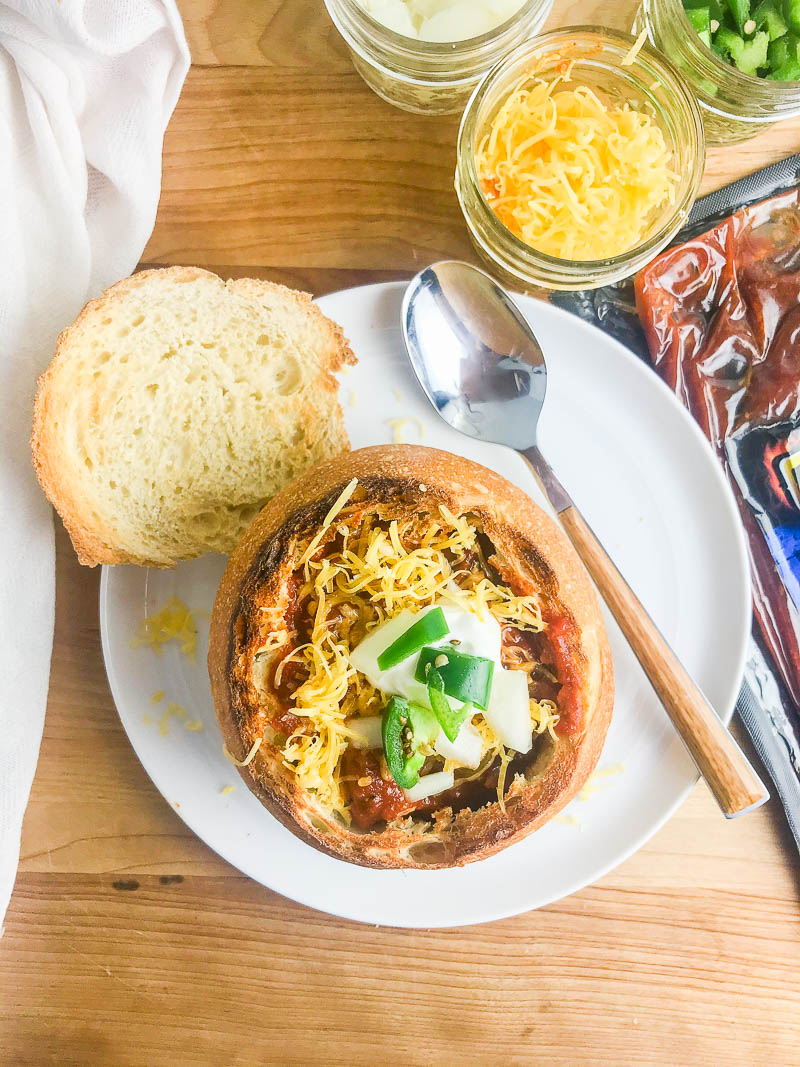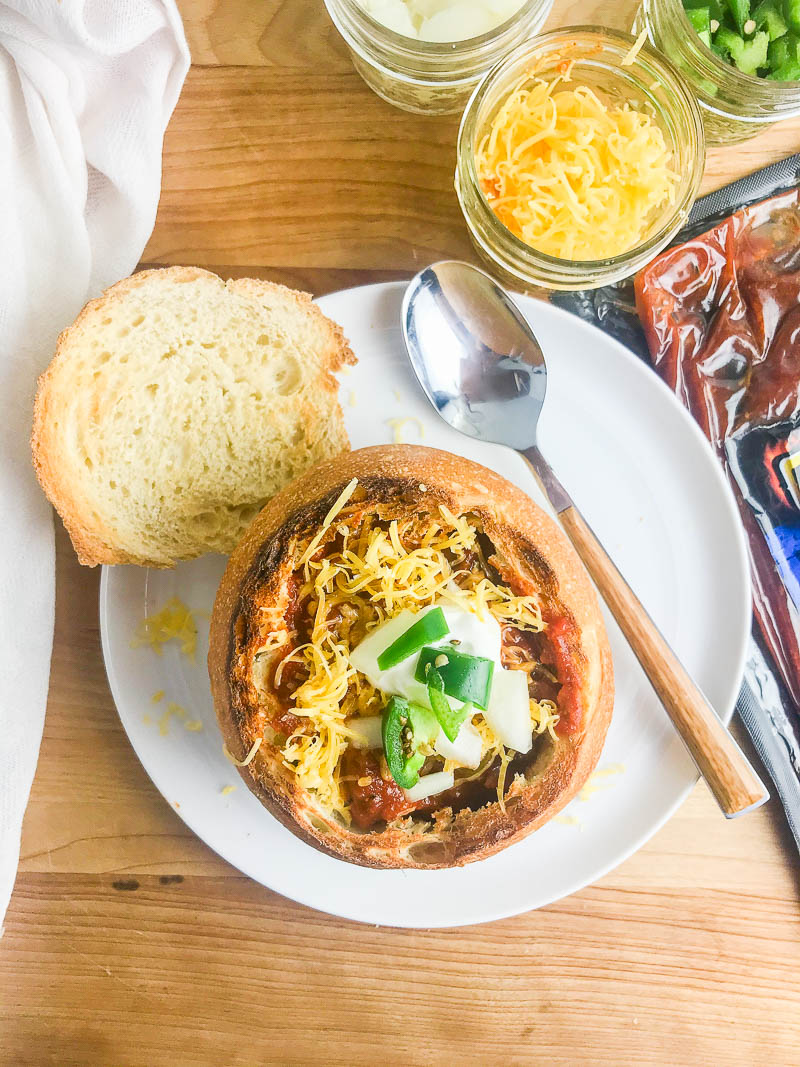 Like I said, it's pretty easy! 
To make the chili for this recipe, you'll simply saute the onions, garlic, jalapeno together until softened. Once they have softened add the meat from the ribs and cook just a couple more minutes. 
Next, deglaze the pan by pouring in beef broth and make sure to scrape off all of the brown bits that have stuck to the bottom of the pan. This is where so much of the flavor is! 
Finally, add in the remaining ingredients and simmer until you're ready to eat and then ladle into bread bowls. 
How do you prepare bread bowls for chili?
Again, I am all about easy main dish recipes around so I take shortcuts whenever I can. For that reason, I buy medium to large hard rolls when I'm making bread bowls. These are sometimes called "boules".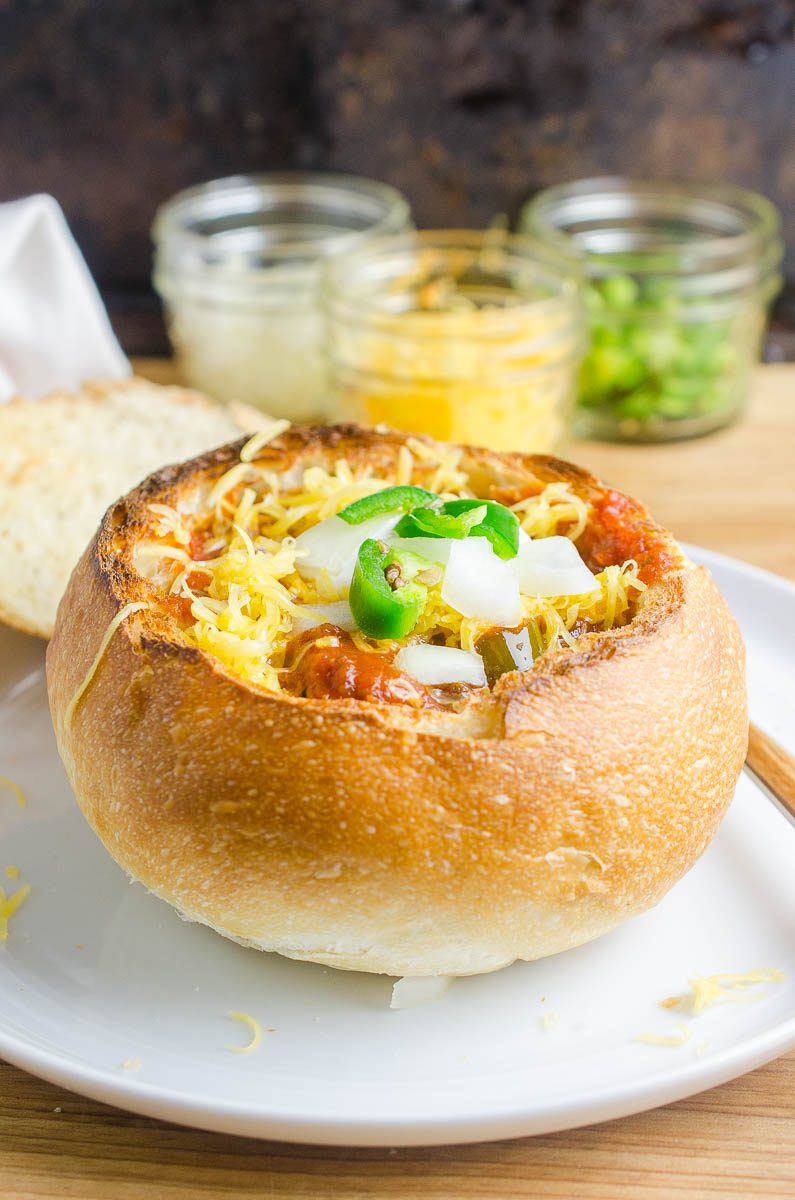 They are simply a round loaf of bread. To make them into to make a bowl, simply cut off the top ¼ of the loaf and use your fingers to carefully hollow out the inside. Be careful not to go all the way through the bread. 
 What toppings are good for chili?
I always like to give my guests lots of choices of toppings when I make chili. For this reason, I usually set out several different options alongside the chili.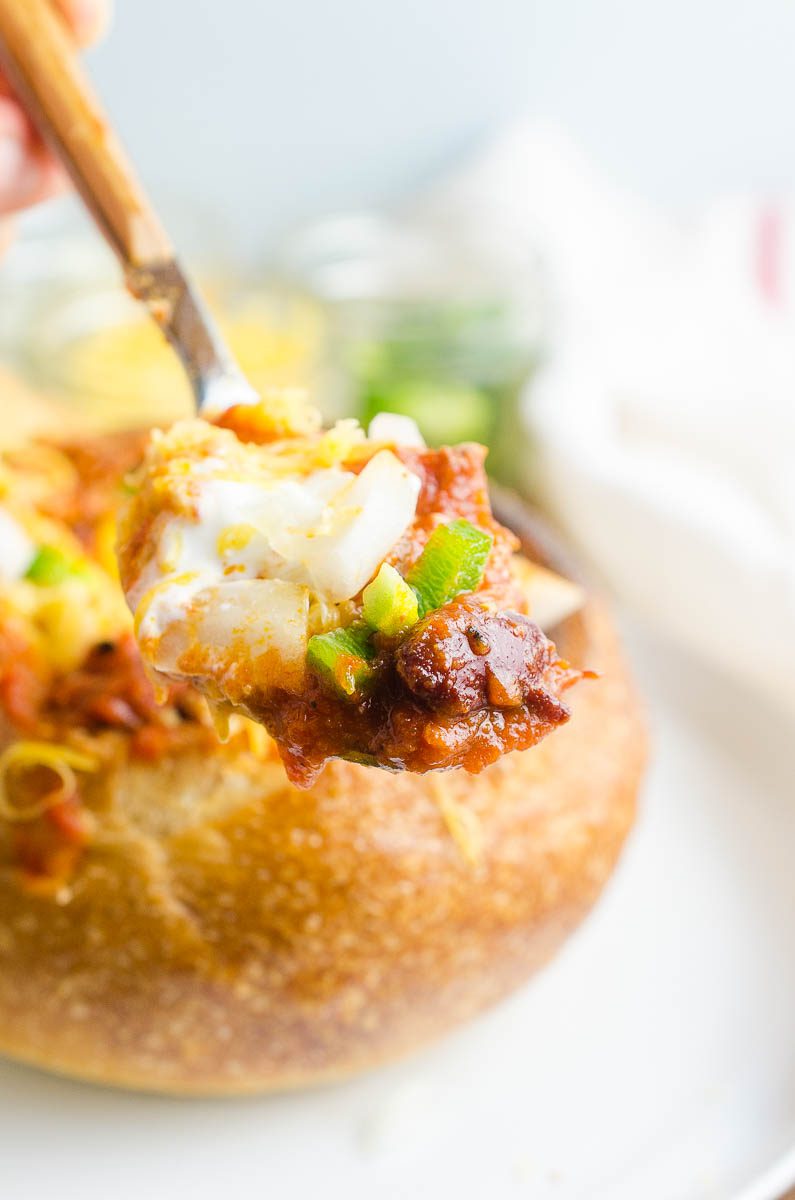 Some of our favorite toppings are shredded cheddar cheese, diced yellow or green onion, jalapenos and sour cream. 
You can put all kinds of soup recipes in bread bowls! Here are some of my favorites:
Roasted Garlic Chicken Chowder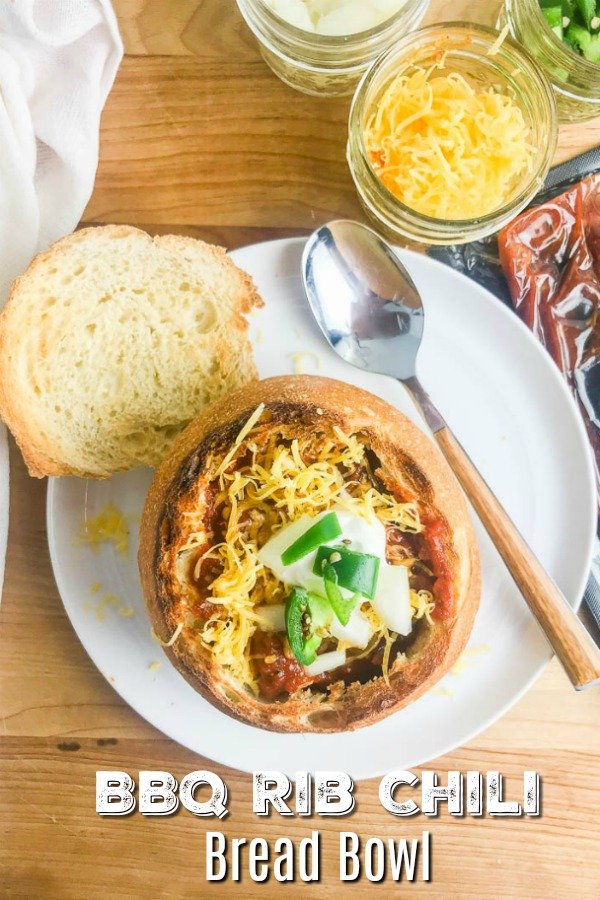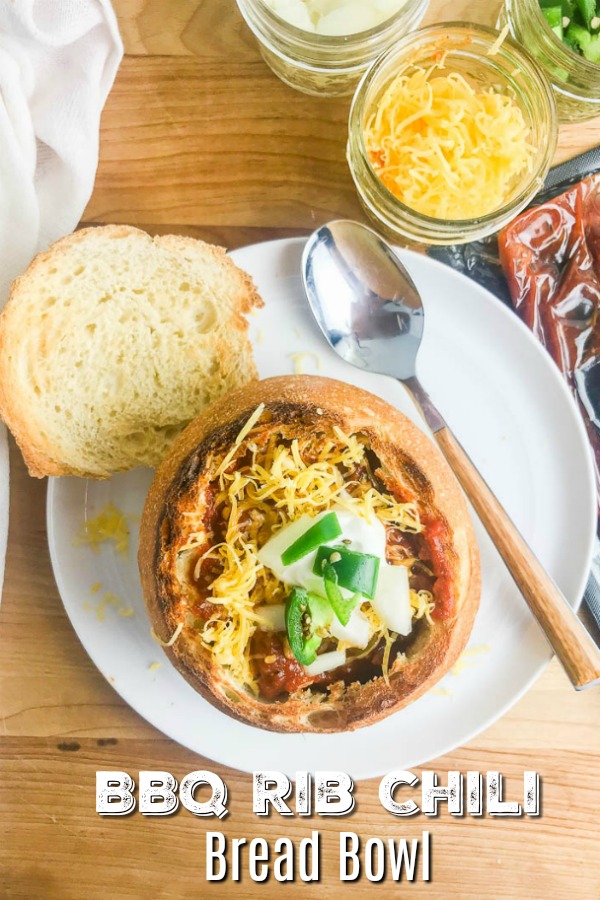 Make it a meal by adding a salad!
BBQ Rib Chili Bread Bowls Recipe
Ingredients:
1 (24 ounce) package Curly's BBQ Baby Back Ribs, with sauce reserved
2 tablespoons oil
½ yellow onion, diced
1 jalapeno, seeded and diced
3 cloves garlic, minced
3 cups beef broth
1 (15 ounce) can tomato sauce
1 (14.5 ounce) can fire roasted diced tomatoes
1 (15 ounce) can red kidney beans, drained
6 ounces tomato paste
2 teaspoons cumin
2 teaspoons chili powder
Salt and pepper
4 sourdough mini boules (or other 4 ½ inch hard rolls)
Sour cream, cheddar cheese, jalapenos and onions for garnish
Instructions
1
Remove the meat from the rib bones and dice into bite sized pieces.

2
Heat oil in a skillet over medium heat, add onions, jalapenos and garlic. Cook just until softened and fragrant about 1 minute.

3
Add in ribs and reserved BBQ sauce from package. Cook 2 minutes.

4
Pour in beef broth, scrape any bits that have stuck to the bottom of the pan.

5
Mix in tomato sauce, diced tomatoes, kidney beans, tomato paste, cumin, chili powder, salt and pepper. Bring to a boil, reduce heat and simmer until thickened 30 - 45 minutes.

6
Cut ¼ inch off the top of the bread loaves. Hollow out the inside being careful not to go all the way though. Place bowls under the broiler for 1 - 2 minutes or until toasted.

7
Ladle chili into bowls. Top with cheddar cheese, sour cream, onions and jalapenos. Serve immediately.