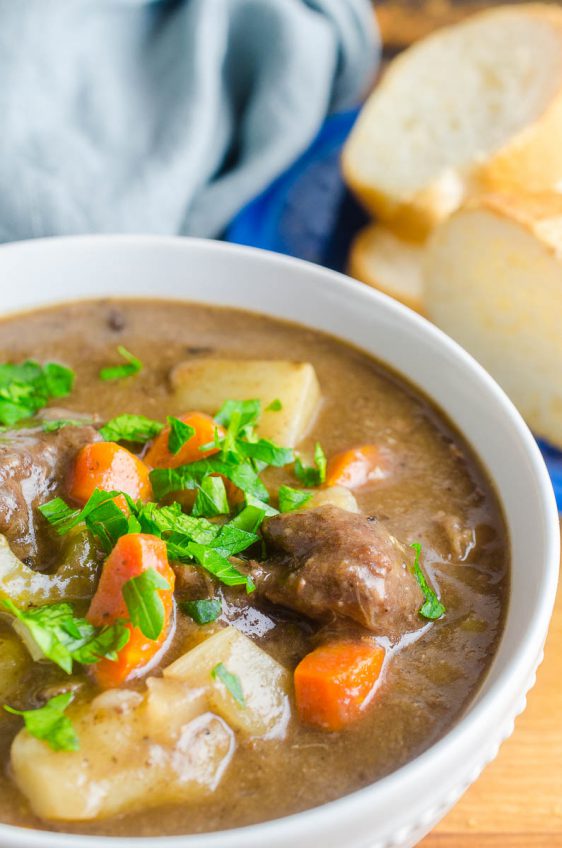 Beef Stew with Red Wine
Beef Stew with Red wine is a hearty stew full of tender fall apart beef, vegetables, beef broth and red wine. It's the perfect cold weather comfort food!
When the weather starts turning cooler and the rains come, all I want to do is curl up in a blanket with a huge bowl of hearty beef stew. This Beef Stew with Red Wine is hands down the best beef stew recipe to have in your arsenal for cold fall and winter days.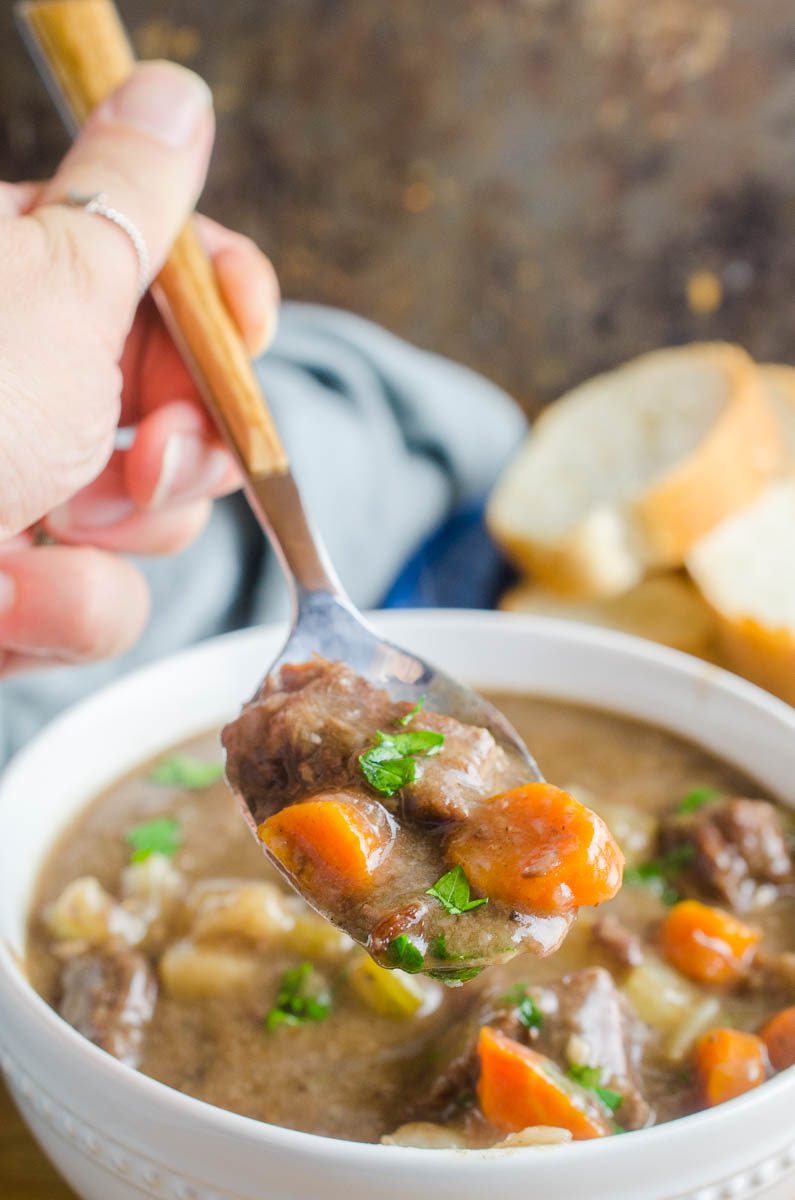 How to make stew beef tender:
For this beef stew recipe, you'll be using chuck roast. Chuck roast is from the shoulder cut of the cow and will sometimes be labeled chuck roast, shoulder steak, boneless chuck roast or chuck shoulder pot roast. Chuck roast has a higher fat content but can be on the tougher side if cooked improperly.
To ensure that you have tender beef in your stew, cook it low and slow. This method will allow the connective tissue to melt as the meat braises. This will leave you with unbelievably tender, fall apart beef.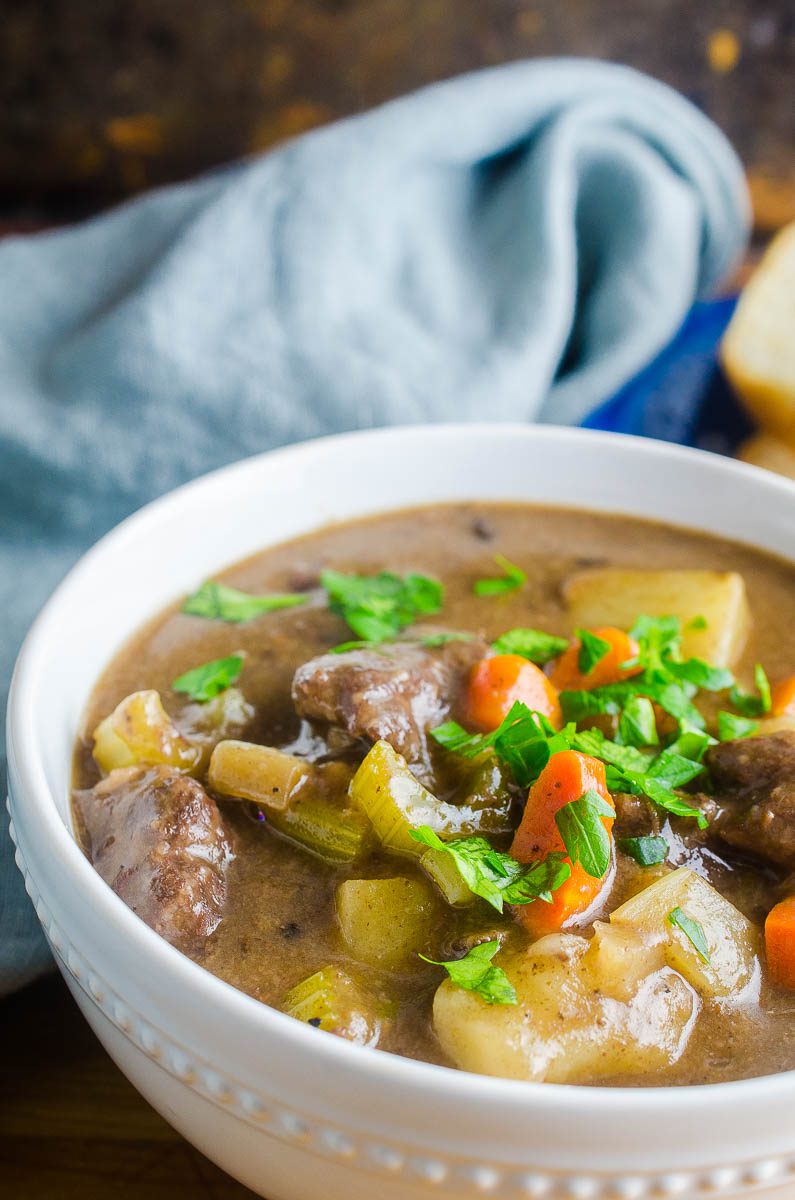 What is the best red wine to use in beef stew?
For this stew recipe I prefer to use cabernet or pinot noir but really any red wine will do. I just have one rule when it comes to cooking with wine, only cook with wine that you would drink out of the bottle. It needs to be something that you enjoy drinking because because when you cook with wine, you concentrate the flavor.
You won't use the whole bottle of wine in this recipe, drink the rest with dinner or sip on it while you're cooking.
Tips for how to thicken beef stew:
I have a few tips for thickening beef stew that work for me every time.
Tip #1: Dredge the beef in flour and brown it before cooking. Not only will this add extra flavor to the beef but the added flour will help thicken the stew as it cooks.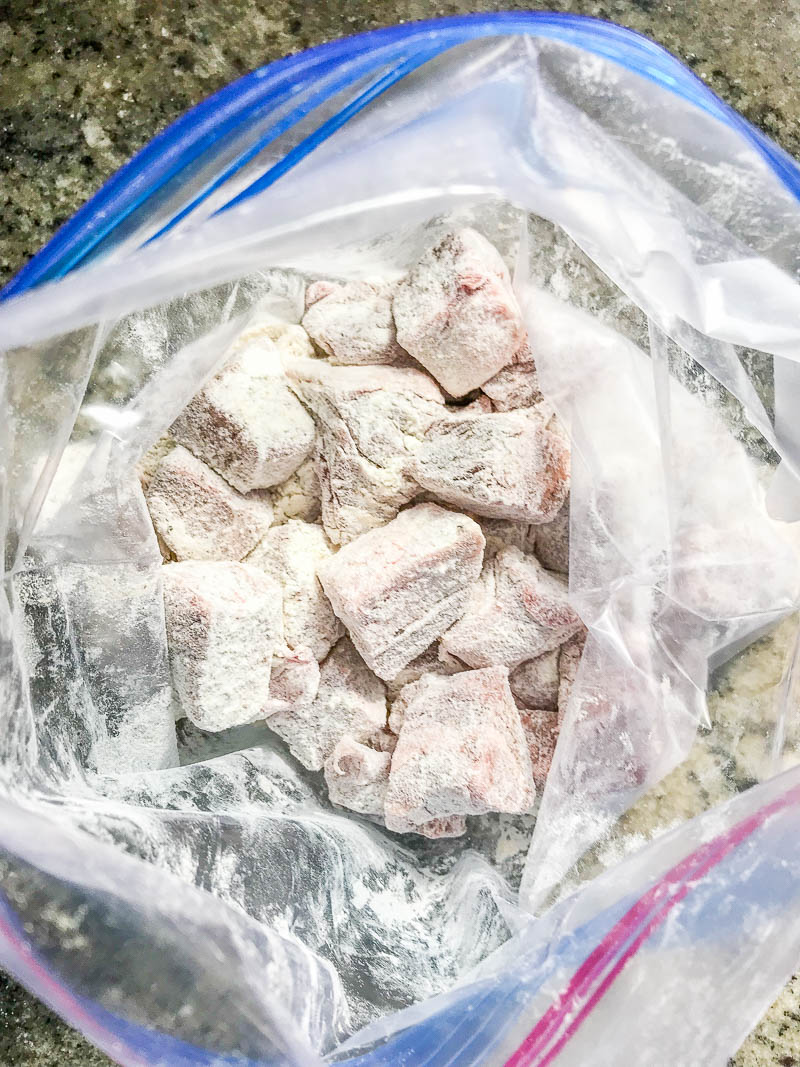 Tip #2: Simmer the stew uncovered. The longer that you allow the stew to simmer uncovered, the more water will evaporate and the thicker the stew will be.
Tip #3: This stew recipe also calls for potatoes. The starch in the potatoes will also add a bit of thickness to the stew.
Tip #4: Finally, a corn starch slurry is added at the end. Making a corn starch slurry is very easy, simply whisk corn starch in with cool water and pour into the stew. Bring the stew to a boil then reduce heat and allow to simmer for about 20 more minutes. The broth will thicken as it cooks.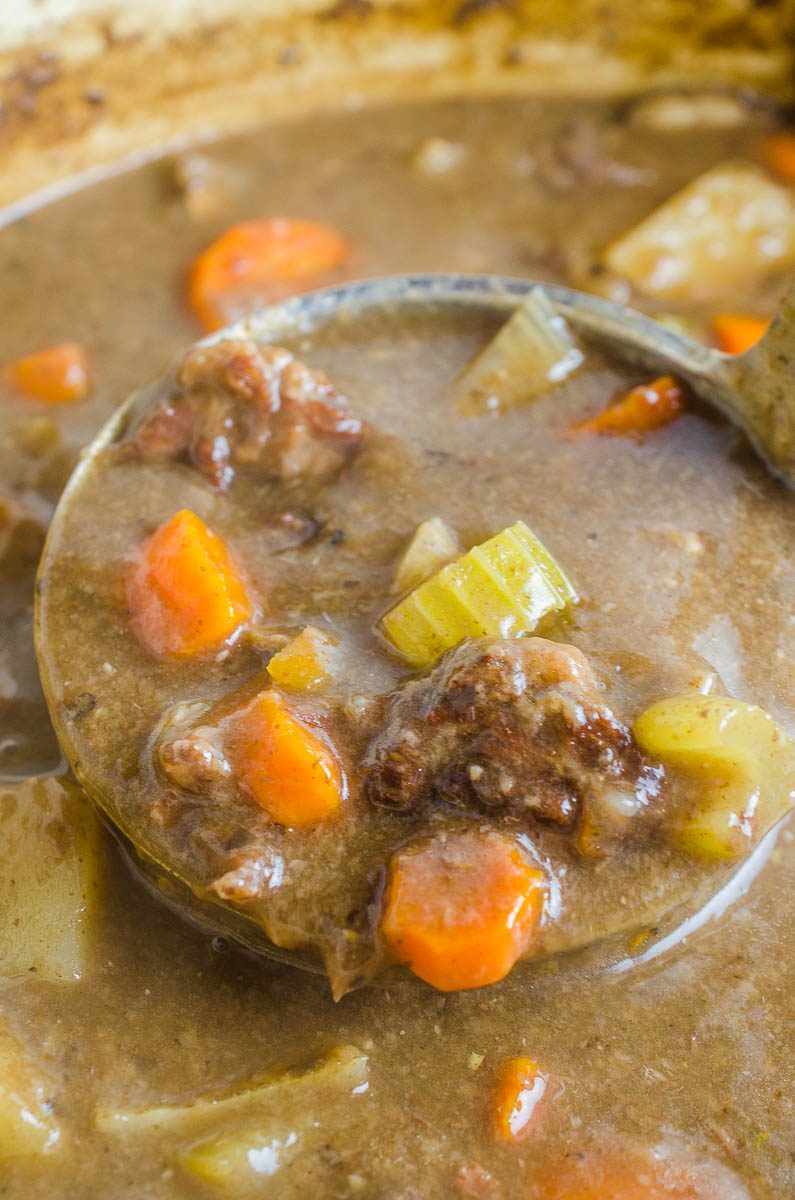 Keep in mind that, like most comfort food, this beef stew with red wine isn't a quick meal. You'll want to plan head of time both to ensure the meat is tender and the sauce is thick and flavorful. I usually cook it for about 3 hours.
By that time everyone's mouth will be watering and they'll be running to the table as soon as you say dinner is ready!
And of course, don't forget the crusty bread to sop up all of the broth.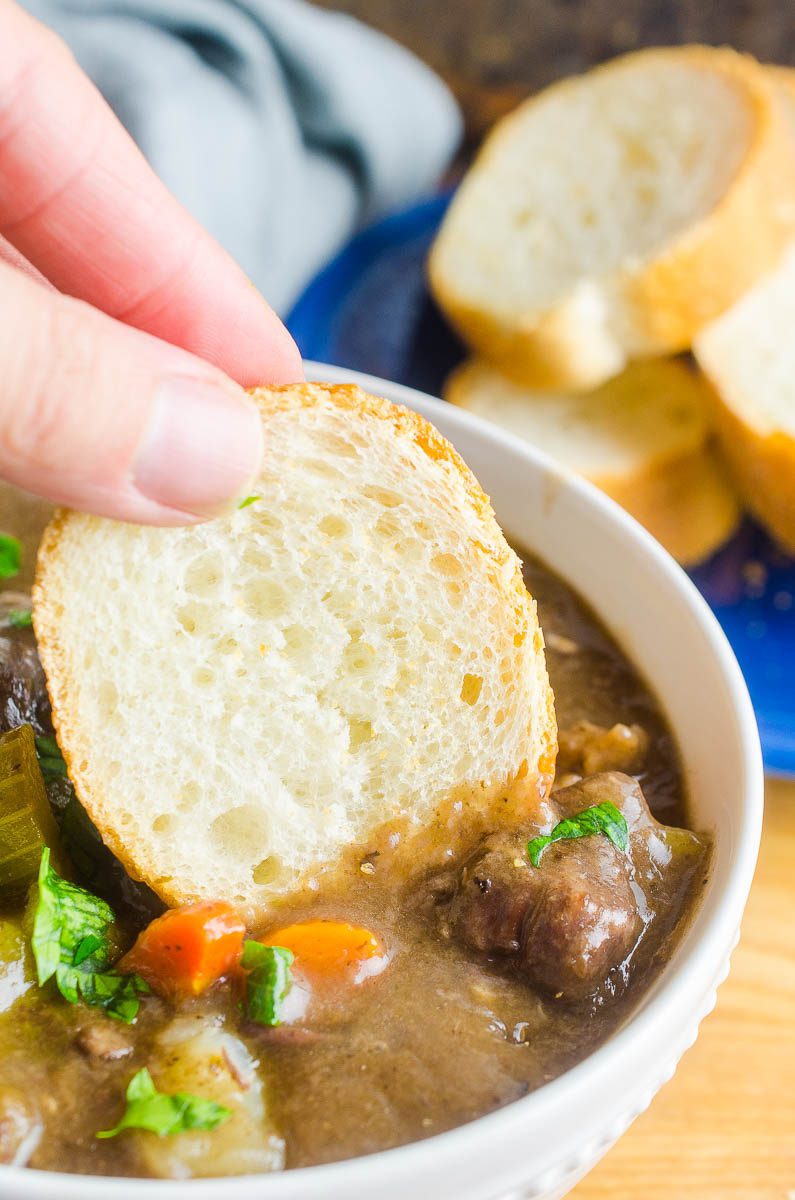 For a little kick, I also like to serve horseradish cream sauce along side this Beef Stew with Red Wine. If you've never tried it, give it a shot. I think you'll be glad you did.
Looking for a salad to serve along side this beef stew? Check out some of our favorite salad recipes!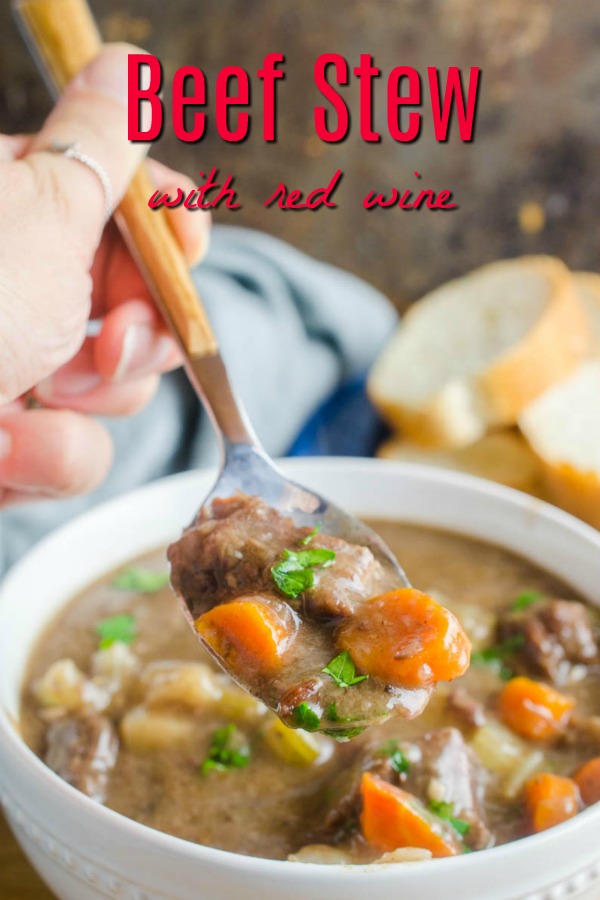 If you love soups, stews and chowders as much as me, I've got some more recipes you're sure to love!
Roasted Garlic and Chicken Chowder
Note: This post was originally posted in 2009. It was updated with new photos, tips and nutrition facts in 2019.
Beef Stew with Red Wine
Beef Stew with Red wine is a hearty stew full of tender fall apart beef, vegetables, beef broth and red wine. It's the perfect cold weather comfort food!
In a resealable plastic bag combine flour, salt, black pepper and garlic powder. Add in stew meat, seal bag and toss to coat.

Heat olive oil in a dutch oven or other large soup pot over medium heat. Add beef and cook until browned, about 5 minutes. Add garlic, cook for 30 seconds.

Stir in beef broth and red wine. Be sure to scrape up all of the flavor bits from the bottom of the pot. Add in bay leaves. Turn heat to medium-low and simmer for 2 hours, skimming fat and foam occasionally.

After two hours, stir in celery, carrots, mushrooms and diced potato. Cook for 25-30 minutes or until potatoes are tender.

Dissolve cornstarch in cold water to make a slurry. Pour slurry into stew. Bring to a boil and simmer for 20 more minutes. Broth will thicken.

Ladle into soup bowls and serve hot.
Nutrition facts are for estimation purposes only.
Calories:
398
kcal
Carbohydrates:
23.4
g
Protein:
42.1
g
Fat:
9.1
g
Saturated Fat:
3.1
g
Cholesterol:
101
mg
Sodium:
1445
mg
Fiber:
2.3
g
Sugar:
3.1
g
Keywords:
beef, comfort food, red wine, soup, stew