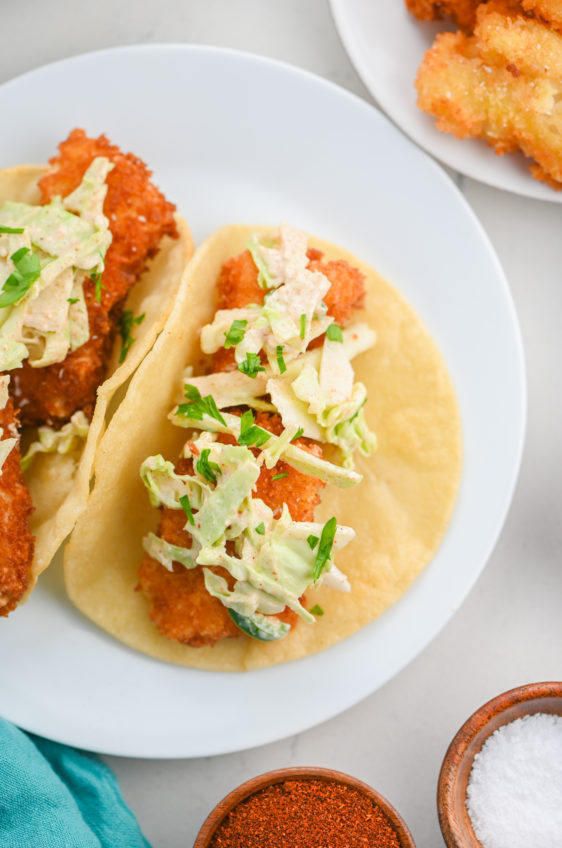 Fish Tacos with Spicy Slaw
Fish tacos with slaw are easy to make and always a hit. Perfectly crispy panko coated cod and spicy slaw piled into a corn tortilla, the perfect taco for your next Taco Tuesday.
I love seafood tacos. From shrimp tacos to crispy fish. They are all good.
I mean what is not to love about fish tacos. The fish is crispy. The slaw is creamy, spicy and tangy. They are pretty easy to make. They go great with a Corona.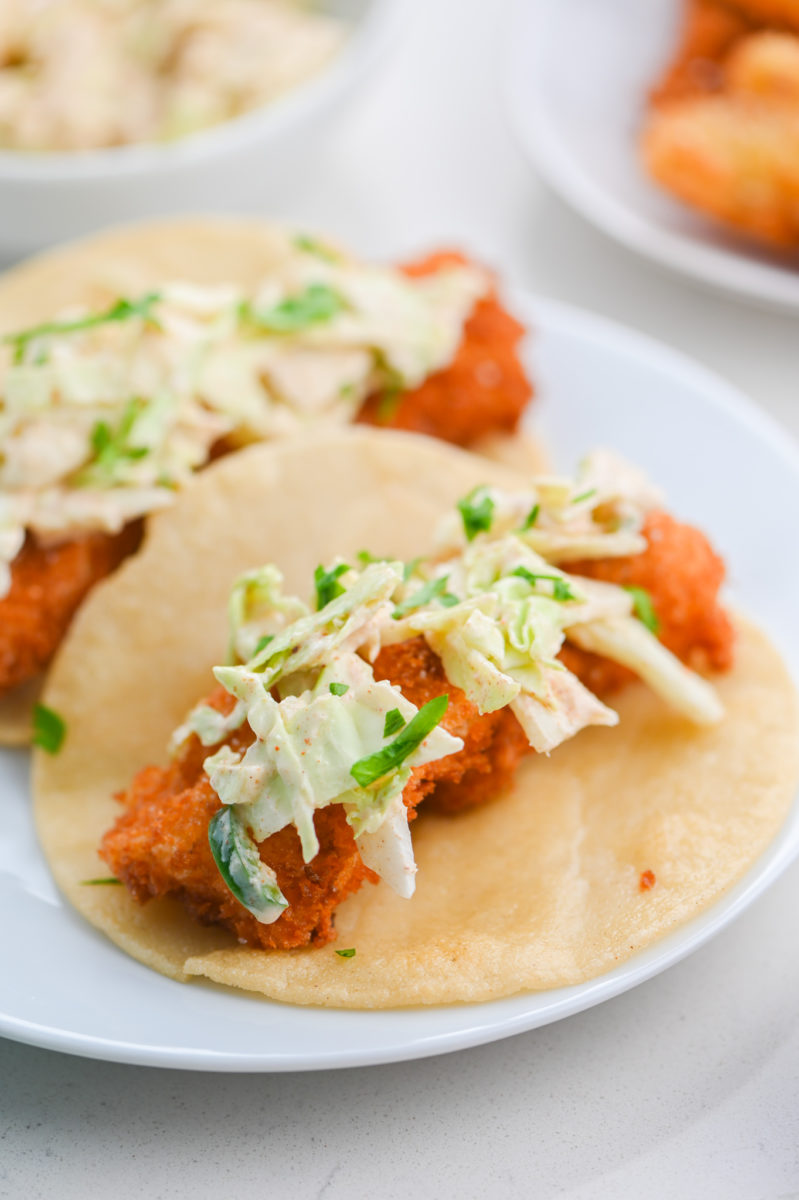 Let's talk about what ingredients you need to make it happen.
Fish Tacos with Slaw Ingredients:
When you're making fish tacos I want you to think of the recipe as two separate parts: the fried fish and the coleslaw.
To make the fried fish, I use the same technique that I use in my Perfect Fried Cod Recipe. It is seriously the best way to fry fish. You'll need: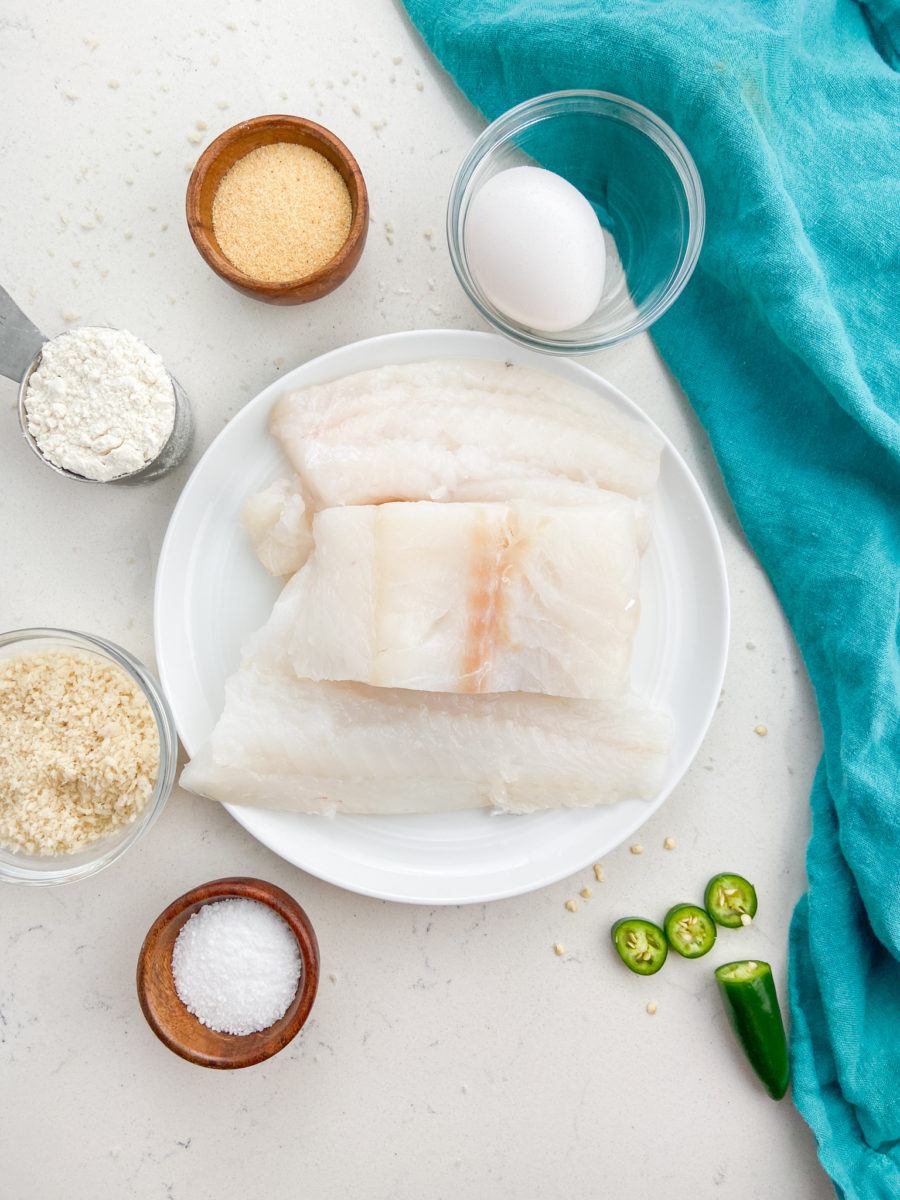 WHITE FISH: To make the best fish tacos, I recommend using a white fish. I like cod because it's a mild flavored fish and it's cost effective too. Halibut, snapper or tilapia would also work well in this recipe.
FLOUR: You'll dredge the fish in flour first so that the egg has something to stick to.
EGG: This will help bind the panko bread crumbs to the fish pieces.
PANKO BREAD CRUMBS: By far my favorite coating when frying just about anything. They add the perfect crunch.
Next let's talk about the coleslaw. It's creamy, slightly spicy and works perfectly atop these fish tacos. You'll need: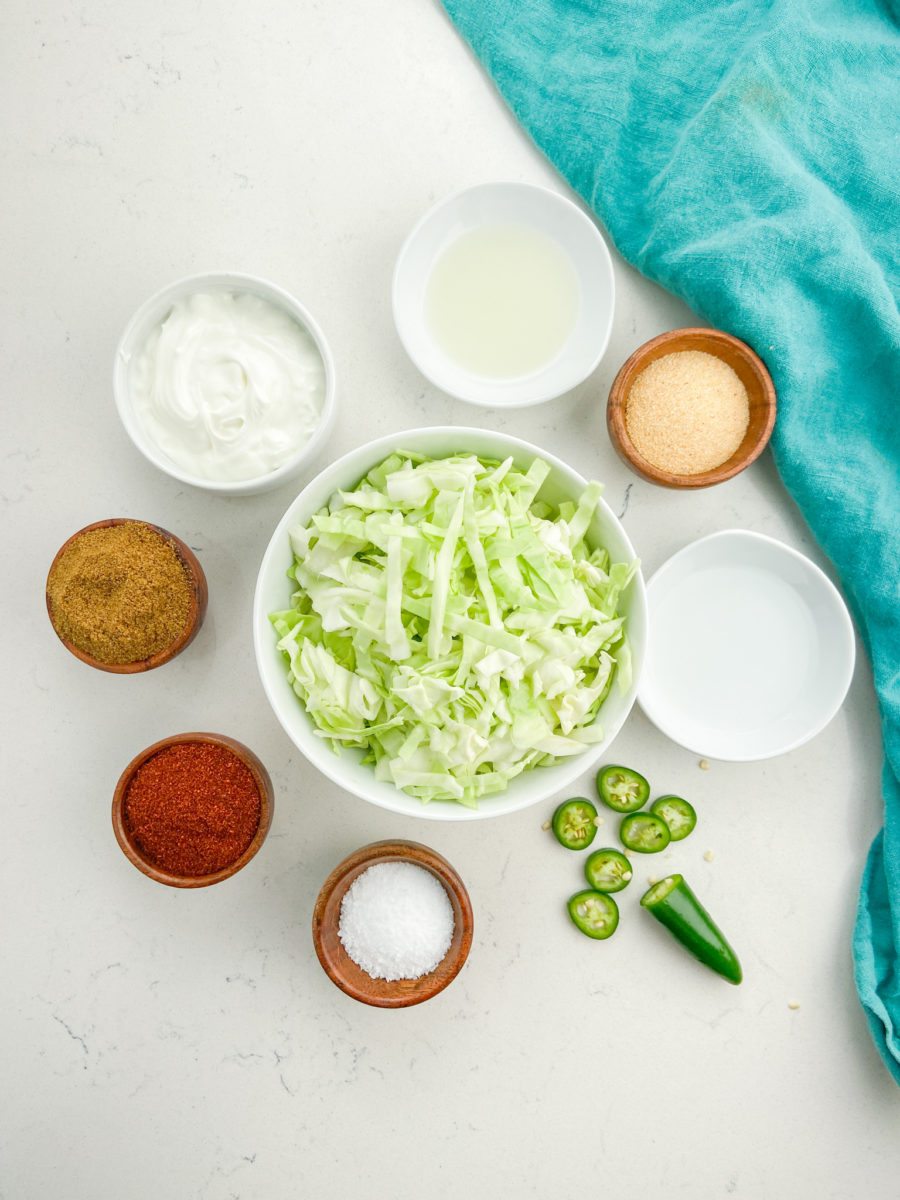 SHREDDED CABBAGE: You can buy shredded cabbage but I find it more cost effective to buy a head of cabbage and shredded myself. I just cut it really thin. Then you can use the remaining cabbage for other recipes like Kielbasa and Cabbage or Southern Fried Cabbage with Bacon.
JALAPEÑO: This is optional. I do like a spicy kick to my slaw but you can leave it out if you prefer.
GREEK YOGURT: This is going to be the base for the dressing in your slaw. I find that it helps keep the slaw a bit lighter than mayonnaise and it makes the slaw tangy too.
CUMIN: Will add a smoky flavor to the slaw.
CHILI POWDER: Like cumin, chili powder adds a smoky flavor but it also adds a tiny bit of heat.
GARLIC POWDER OR GRANULATED GARLIC: If you only have garlic salt, you can use that too but omit the additional salt in the recipe.
SALT
VINEGAR: This is going to add a bit of acidity as well as smooth out the dressing for the slaw.
Step By Step Photos and Instructions: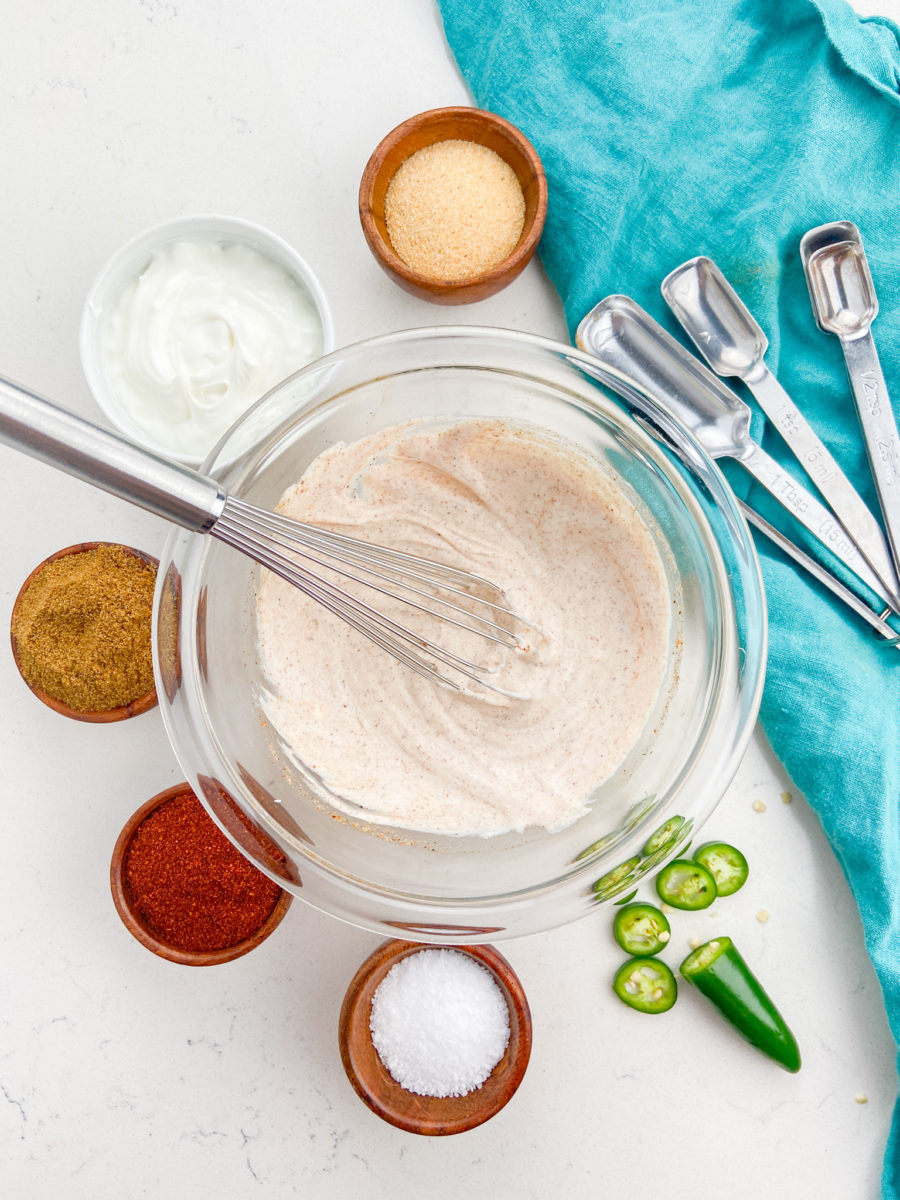 STEP #1: I recommend making the coleslaw first because that gives the flavors a chance to develop. First whisk together the ingredients for the dressing.
STEP #2: Add the shredded cabbage and jalapeño, if using. Mix it well so that the cabbage is completely coated in dressing. Cover and refrigerate until ready to use. This can be made a day in advance if needed.
STEP #3: Prep the fish for frying. To make things easy, I set up an assembly line. The first plate has flour, the second egg and the third seasoned panko.
STEP #4, 5, 6 First dip the fish pieces in the flour. Next dip the egg and finally the panko.
STEP #7: Fry the fish in 350 degree oil for 2 – 3 minute or until they are browned, crispy and cooked through.
STEP #8: Heat a thin layer of oil in a pan and fry the taco shells. About 30 seconds on each side.
STEP #9: Assemble the tacos. Place 1 – 2 pieces of fish on top of each tortilla, top with slaw and cilantro if desired.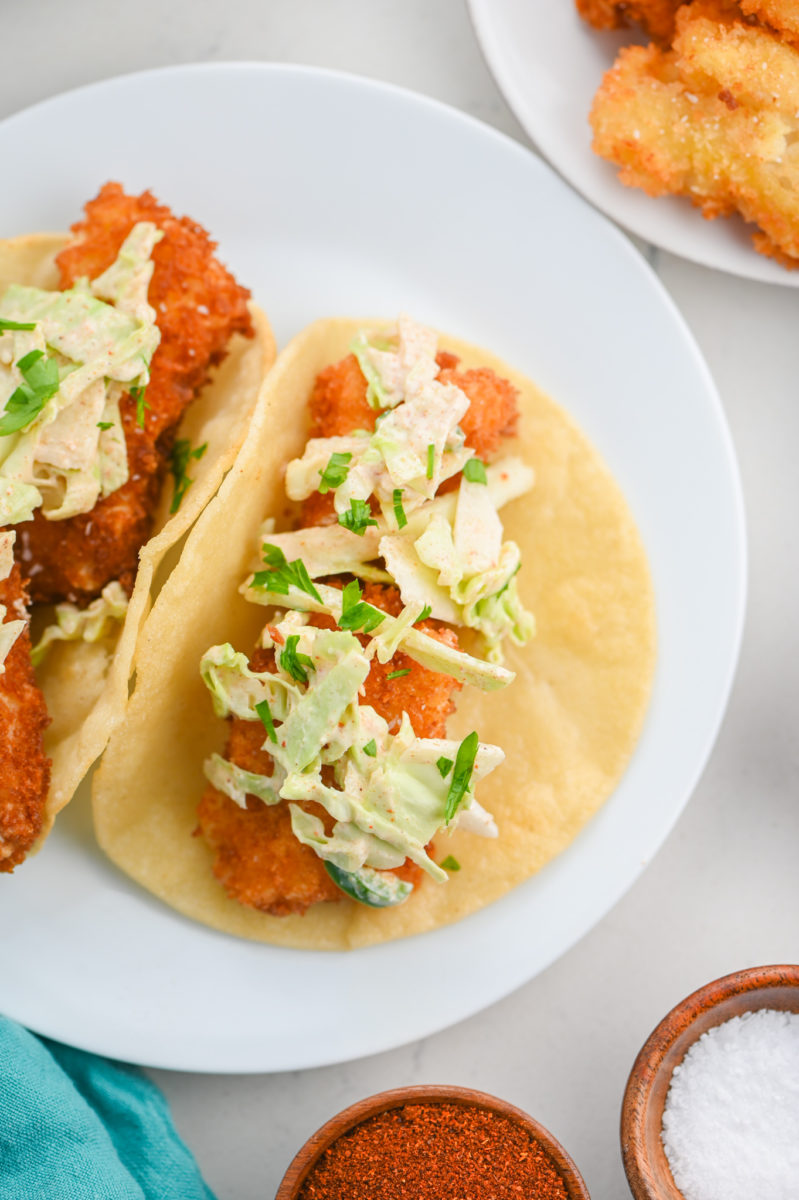 Recipe FAQ:
What does "overcrowding the pan" mean?
When I say "overcrowding the pan" I mean only fry a small batch of fish at a time, depending on the size of the pan. You want to make sure that there is space between each piece of fish. This allows the fish to fry. If they are too close together the fish will steam rather than fry.
What is best fish for fish tacos?
Any kind of mild white fish works best for fish tacos. I generally use cod but you can use tilapia, rockfish or halibut.
How do you cut cabbage for fish tacos?
Remove the core of the cabbage. Cut the cabbage in half and then slice in thin slices.
Storage and leftovers:
The fish is best eaten the day that it is made. It doesn't reheat very well. The slaw however can be kept in the refrigerator for a few days.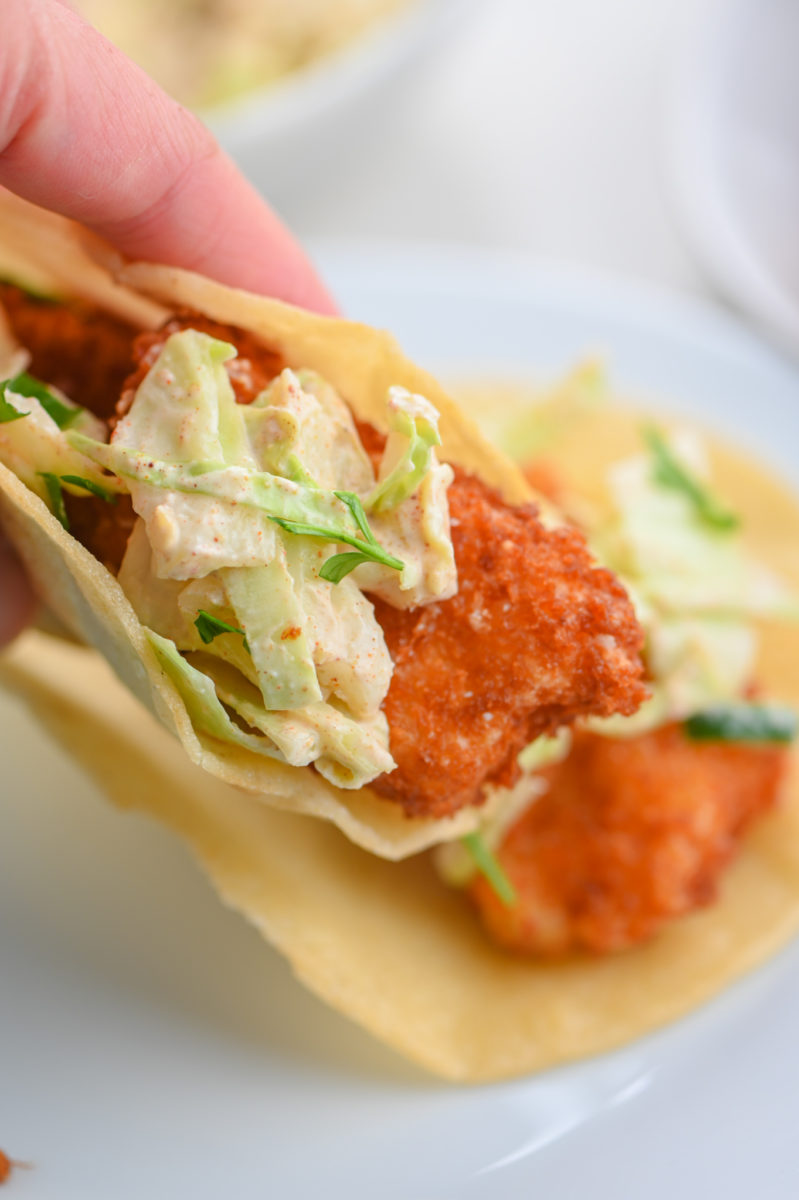 You guys, my family LOVES these Fish Tacos with Slaw. Even the kiddos! They might leave off the slaw and add cheddar cheese instead or some guacamole.
And what is a taco dinner without chips and salsa or chips and guacamole? Try these recipes:
Homemade Tortilla Chips are baked, not fried and really easy to make!
Easy Pico de Gallo Recipe is my go to on every taco night.
Don't forget the guac! Easy Guacamole
And if you really want to spice things up, try my highly rated Habanero Hot Sauce
Note: This recipe was originally published in 2013. It was updated in 2019 and again in 2022.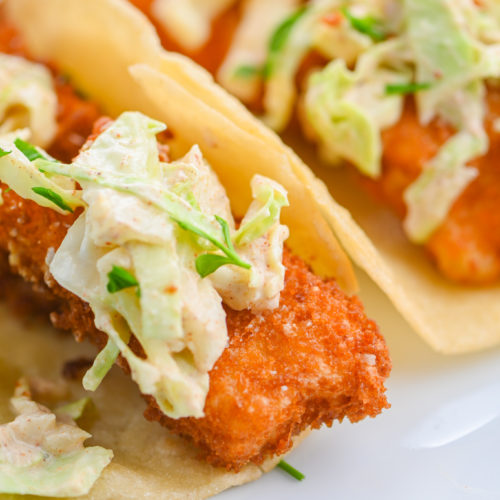 Fish Tacos with Spicy Slaw
Crispy Fish Tacos are easy to make and always a hit. Perfectly crispy panko coated cod and spicy slaw piled into a corn tortilla.
Cabbaage Slaw Ingredients
Combine yogurt, lime juice, cumin, 1 teaspoon garlic powder, 1/2 teaspoon salt, chili powder and vinegar in a bowl and mix well. Fold in cabbage and jalapeno. Cover and refrigerate for at least 30 minutes.

Set up an assembly line with the flour on one plate, the egg on another and panko bread crumbs combined with remaining 1/2 teaspoon salt and 1/4 teaspoon garlic on another plate.

Slice cod into 16 pieces (2 pieces of fish per taco).

Dip one piece of cod into flour, then egg and finally seasoned panko. Repeat until all cod is coated.

Heat a thin layer of oil in a skillet over medium heat. Fry tortillas 30 seconds on each side and fold in half. Transfer to a paper towel lined plate. Repeat until all tortillas are cooked and then cover to keep warm while you are frying the fish.

Heat 1/4 inch of oil over skillet over medium-high heat. Sprinkle a few piece of panko bread crumbs into the oil, if it sizzles begin frying the fish. Fry fish, in batches if necessary, until golden and cooked through, about 2 minutes per side.

To assemble a taco: place 2 pieces of fish into a taco shell, top with spicy slaw and chopped cilantro. Repeat with remaining ingredients. Serve.
To keep the fish warm during while you're frying in batches, place a cooling rack on top of a baking sheet. Place the fish on top and keep in a warm oven. 
Nutrition information for estimation purposes only. 
Calories:
490
kcal
Carbohydrates:
26.1
g
Protein:
28.3
g
Fat:
30.2
g
Saturated Fat:
4.1
g
Cholesterol:
86
mg
Sodium:
828
mg
Fiber:
2.7
g
Sugar:
4
g
Keywords:
cinco de mayo, coleslaw, crispy fish, entree, fish tacos, Food, fried fish, panko fish, Recipe, spicy slaw, summer, tacos