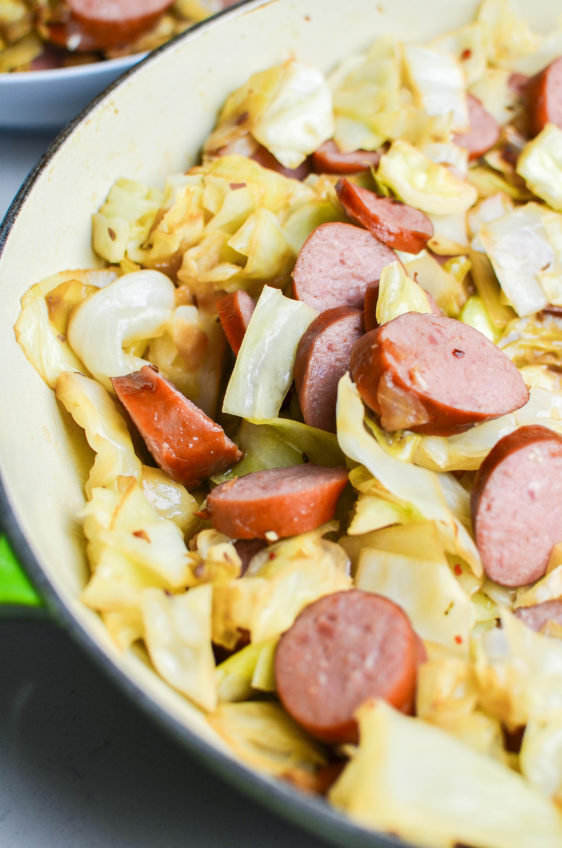 Kielbasa and Cabbage
Kielbasa and Cabbage is a hearty family favorite for days with a chill in the air. Serve over mashed potatoes for the ultimate comfort food meal.
Many comfort food recipes are often saved for Sunday suppers, holidays or just any day that you have more time to cook. That is because they usually take some time and can be slightly more complicated. But guess what, I have a quick and easy comfort food meal for you today.
Kielbasa and Cabbage Skillet . It's hearty. It comes together in under 30 and you only need one pan.

What Ingredients Do You Need?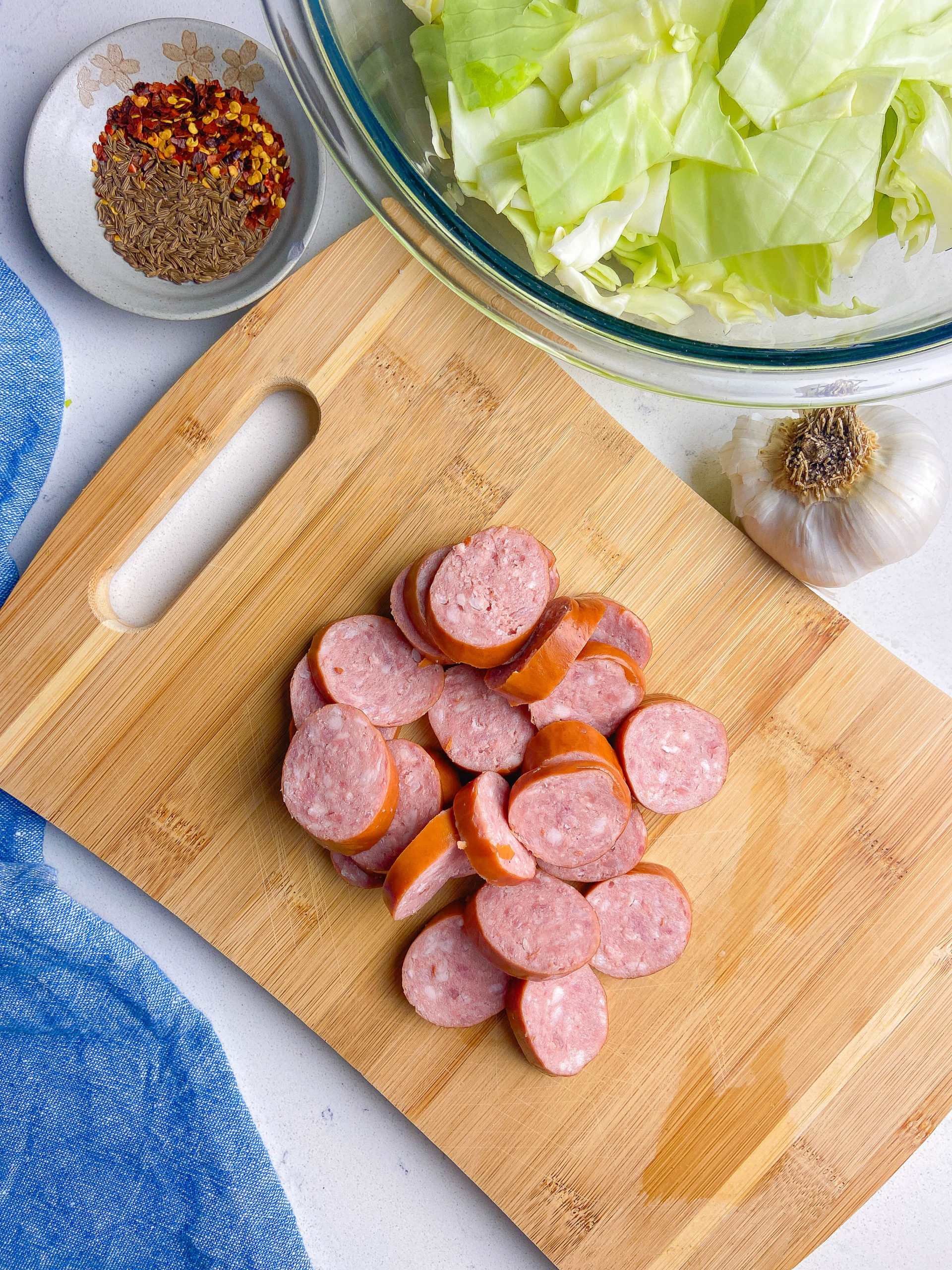 CABBAGE: Green cabbage is great for this recipe! Simply rough chop it.
KIELBASA: It's a Smoked Polish Sausage. It is traditionally made with beef or pork. To lighten things up you can even use Turkey Kielbasa. I've used it before in this recipe and it works just fine.
CARAWAY SEEDS: This totally makes the dish. Caraway seeds have a bittersweet nutty taste that is a bit like anise (black licorice).
GARLIC: Because I mean, obviously. A few cloves will do just fine.
CRUSHED RED PEPPER: For a bit of heat.
APPLE CIDER VINEGAR: Adds a bit of acid. Red wine vinegar would work if you don't have apple cider.
STEP BY STEP PHOTOS AND INSTRUCTIONS:
STEP #1: In a large skillet heat olive oil over medium heat. Add in garlic and cook just until fragrant, about 30 seconds.
STEP #2: Add in crushed red pepper, cabbage, caraway seeds and apple cider vinegar. Cover and cook for 10 – 15 minutes or until cabbage is wilted.
STEP #3: Add kielbasa and continue cooking for 10 more minutes or until sausage is warmed through. Season to taste with salt and pepper.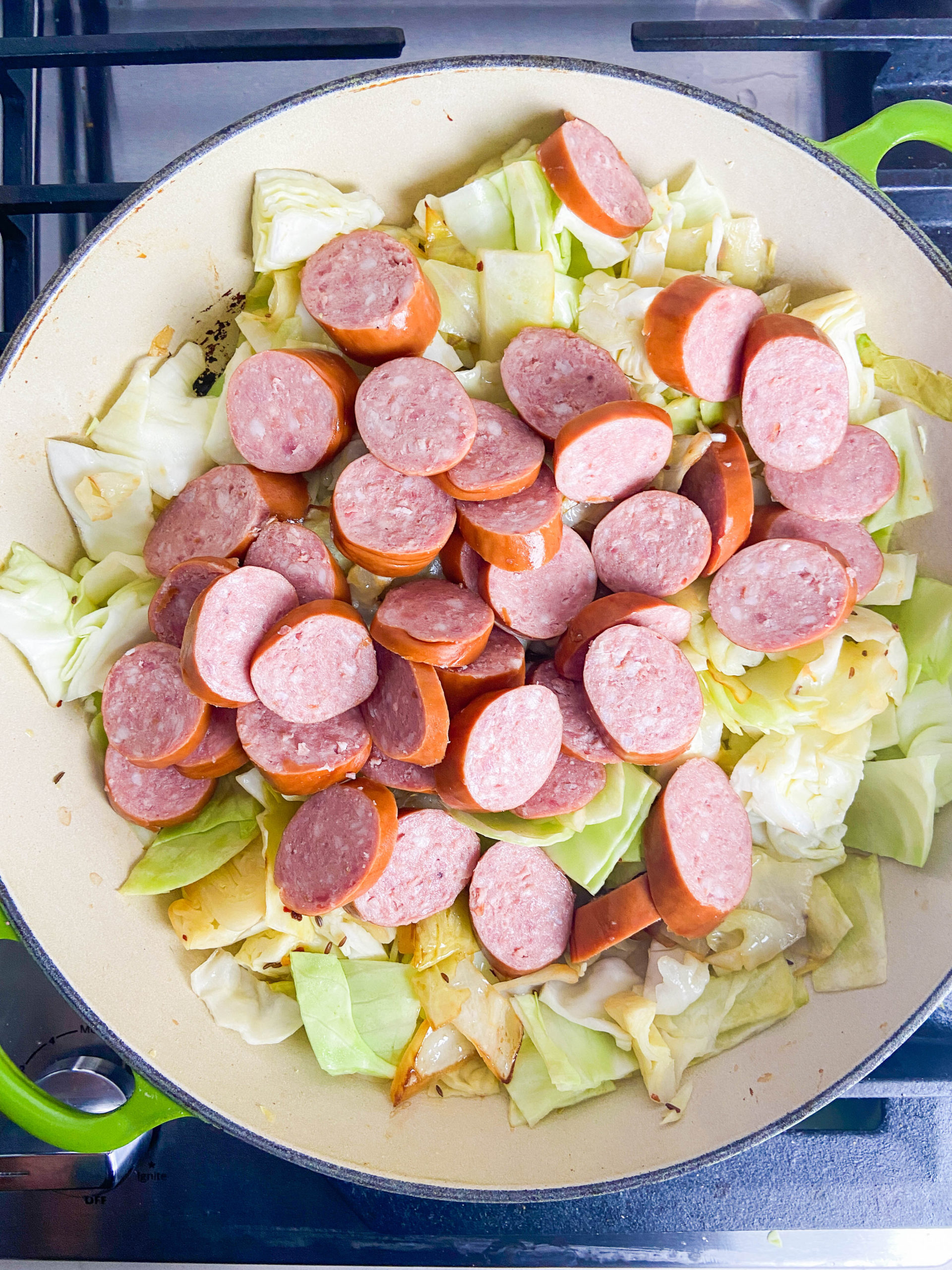 What do you serve this with?
Like I said before this dish is really hearty. If you are low-carb, it's a great option! But if you really want to make this a comfort food meal for the ages then you have GOT to serve this over creamy mashed potatoes or roasted garlic mashed red potatoes.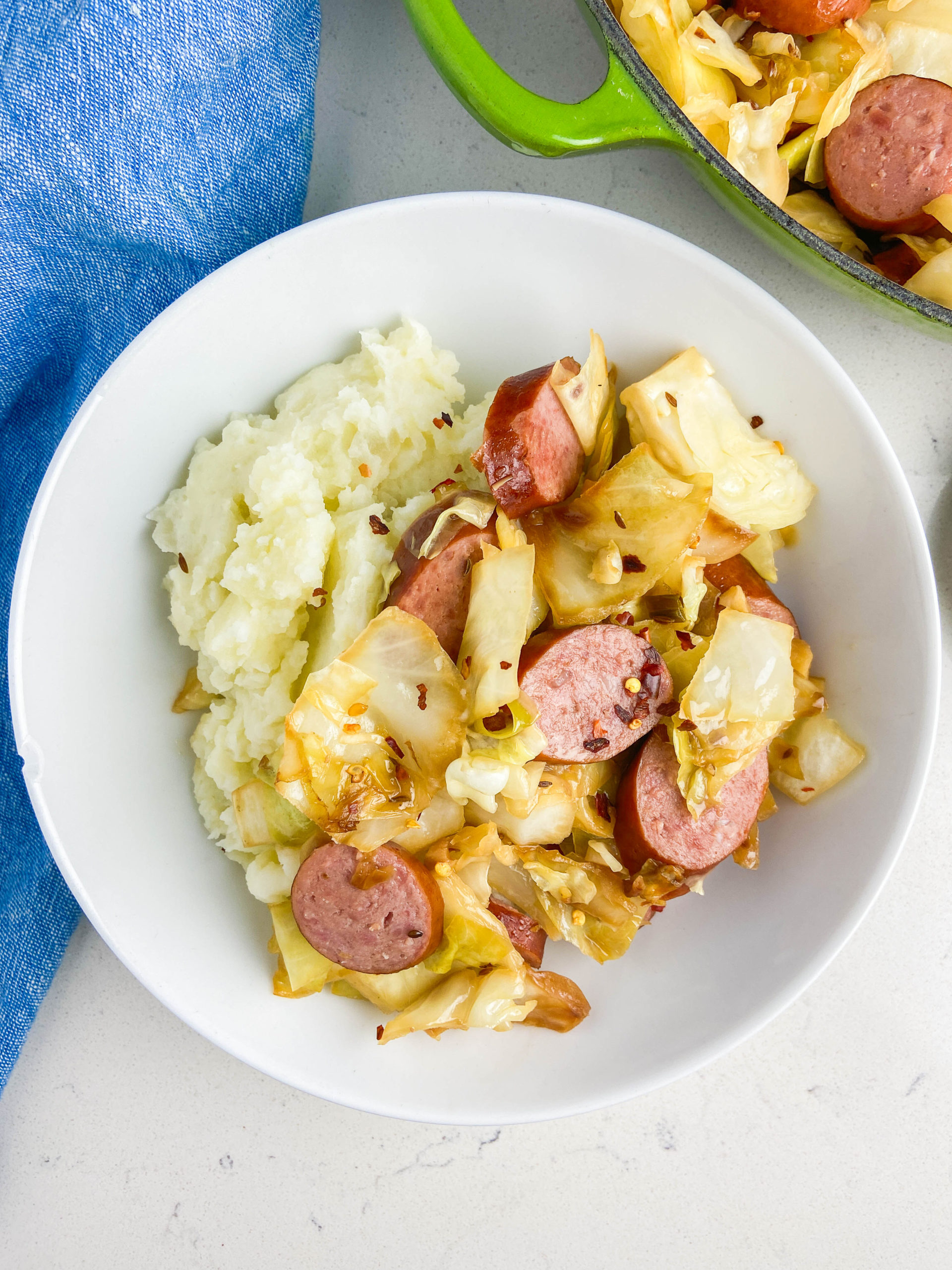 Smoked sausages like kielbasa always makes whipping up a meal super easy. Here are some of my favorite recipes using sausages:
Sausage and Mushroom Mac n' Cheese
Looking for more easy weeknight meals? Check out these:
Note: This post was originally published in 2009. It was updated with step by step photos and nutrition facts in 2020.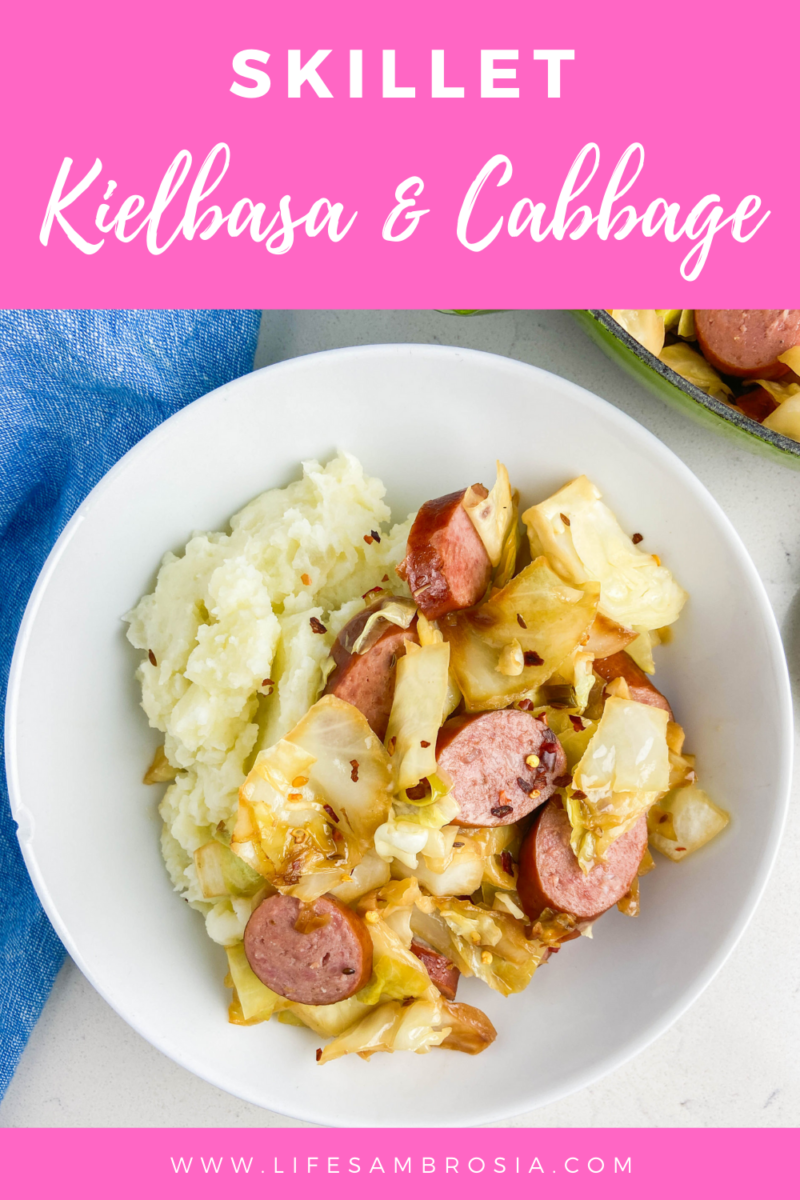 Kielbasa and Cabbage Recipe
Ingredients:
1 tablespoon olive oil
1 clove garlic, minced
4 cups roughly chopped cabbage, rinsed
1/2 teaspoon caraway seeds
1/4 teaspoon crushed red pepper
2 tablespoons apple cider vinegar
salt and pepper
1 package beef or turkey kielbasa, halved lengthwise and then sliced into bite size pieces
Instructions
1
In a skillet large enough to accommodate the cabbage, start by heating olive oil over medium heat. Add garlic and cook just until fragrant, about 30 seconds. Add remaining ingredients except kielbasa. Cover and cook 15 minutes.

2
Add the kielbasa and cook another 10 minutes or until the sausage is warmed through.
Notes
Nutrition information for estimation purposes only.
Nutrition information
Calories: 313 , Total Fat: 23.6g , Saturated Fat: 7.6g , Cholesterol: 79mg , Sodium: 1377mg , Carbohydrates: 10.1g , Fiber: 2.4g , Sugar: 2.9g , Protein: 16.1g