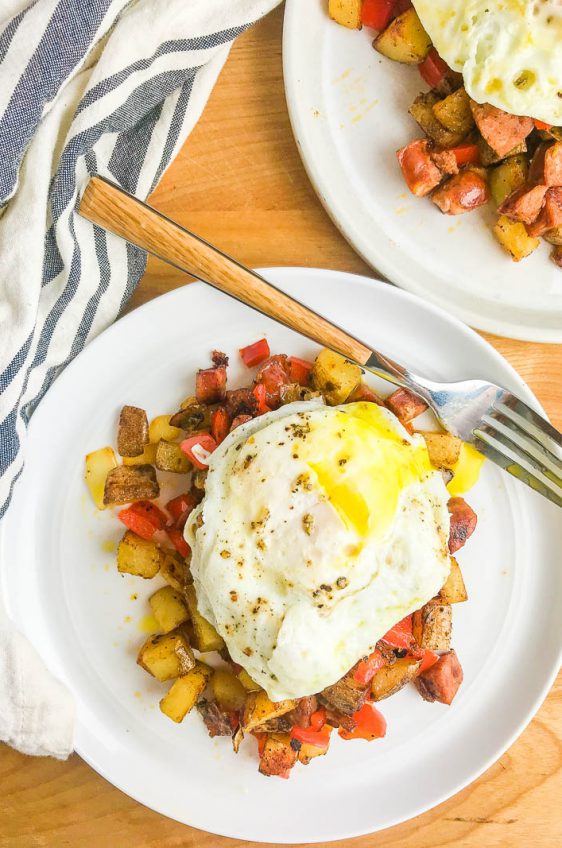 Cajun Cast Iron Breakfast Skillet Recipe
This Cajun Cast Iron Breakfast Skillet Recipe is loaded with potatoes, andouille sausage, onions, bell peppers and cajun seasoning. Topped with a perfectly fried egg, it's an easy, hearty way to start your day! 
They say that breakfast is the most important meal of the day and this Cajun Breakfast Skillet Recipe is the perfect way to get you started. It's savory, hearty and a little bit spicy and made right in your cast iron skillet.
This skillet is fast enough to make for breakfast on the weekdays before you head off to work and easy enough for those lazy Saturday mornings when you want brunch but don't want to do too much.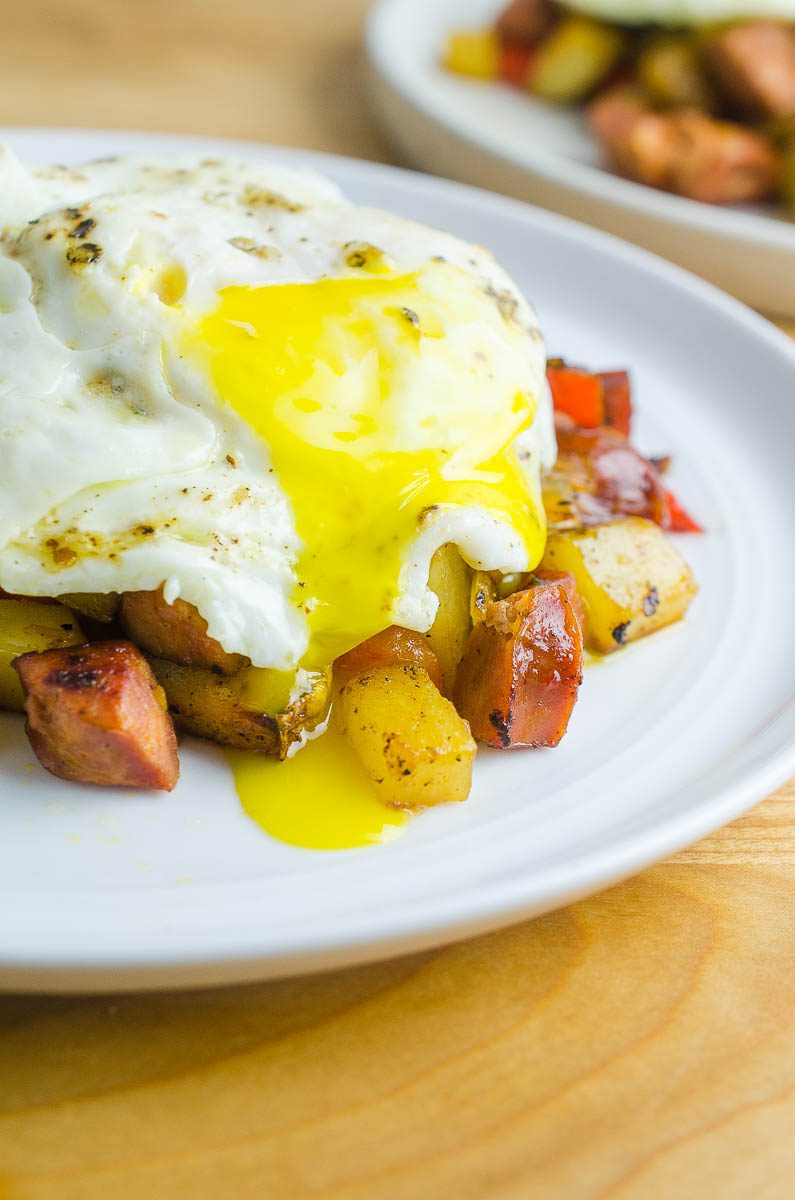 What ingredients do you need to make a breakfast skillet?
One of the best things about a breakfast skillet (also known as a hash) is that you can basically use any ingredients that you have on hand. I like to call them my "clean out the fridge breakfasts". You will usually find potatoes, veggies, meat and eggs. Sometimes a little cheese is thrown into the mix too.
For this breakfast hash recipe, you'll need russet potatoes, oil, blackened seasoning, bell pepper, onion, andouille sausage, butter and eggs.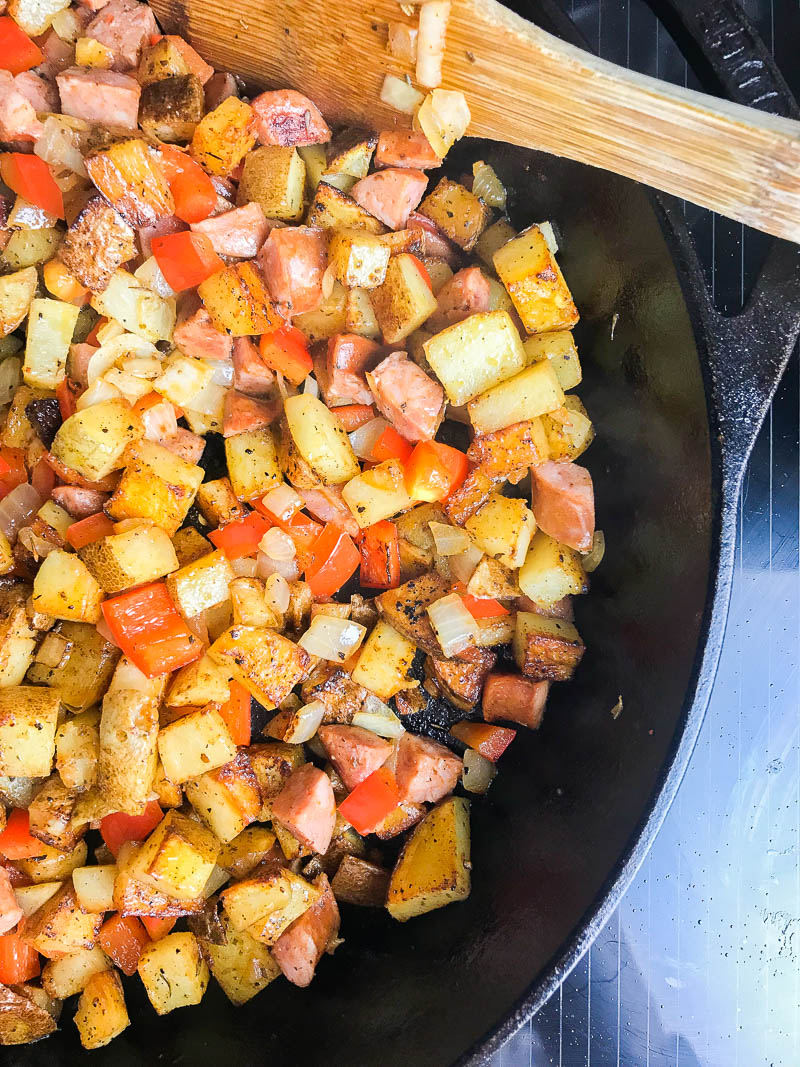 What is blackened seasoning?
I get asked this question a lot because I use blackened seasoning in a lot of my recipes. It's a seasoning blend that you can find in the grocery store in the spice aisle. Blackened seasoning is a lot like cajun seasoning except it's not quite as spicy. The seasoning blends are usually made with paprika, garlic, onion, black pepper, cayenne, basil and oregano.
Depending on the brand you buy, it may or may not contain salt. If yours does, you won't likely need to add any salt to this recipe.
Tips for making a breakfast skillet recipe:
1. Use oil instead of butter. Or use a combo of oil and butter. Butter has a much lower smoke point than oil and can burn faster. If you use a combination of butter and oil, the butter won't burn.
2. I prefer using diced potatoes in my hash recipes. Shredded potatoes, like hash browns just don't give the same rustic taste. It's also a time saver. Dicing potatoes goes much faster than shredding them.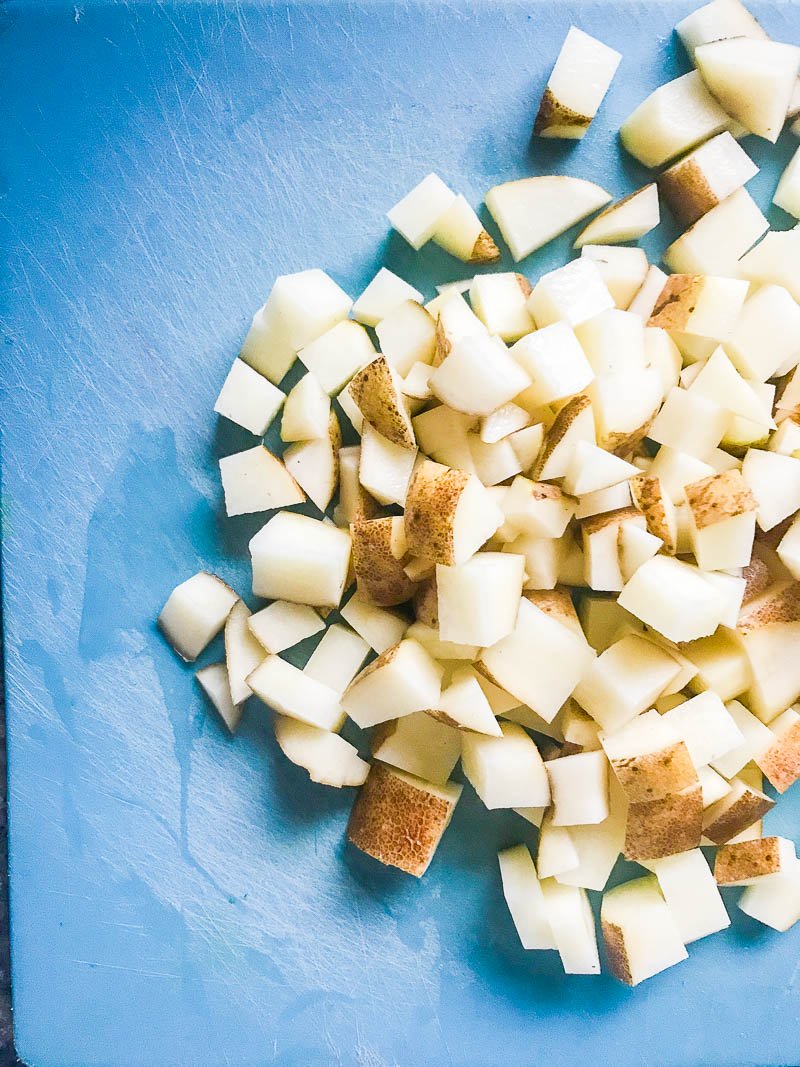 3. When you're making a skillet breakfast or hash, you want everything to cook quickly and evenly. The best way to do that is to cut everything the same size.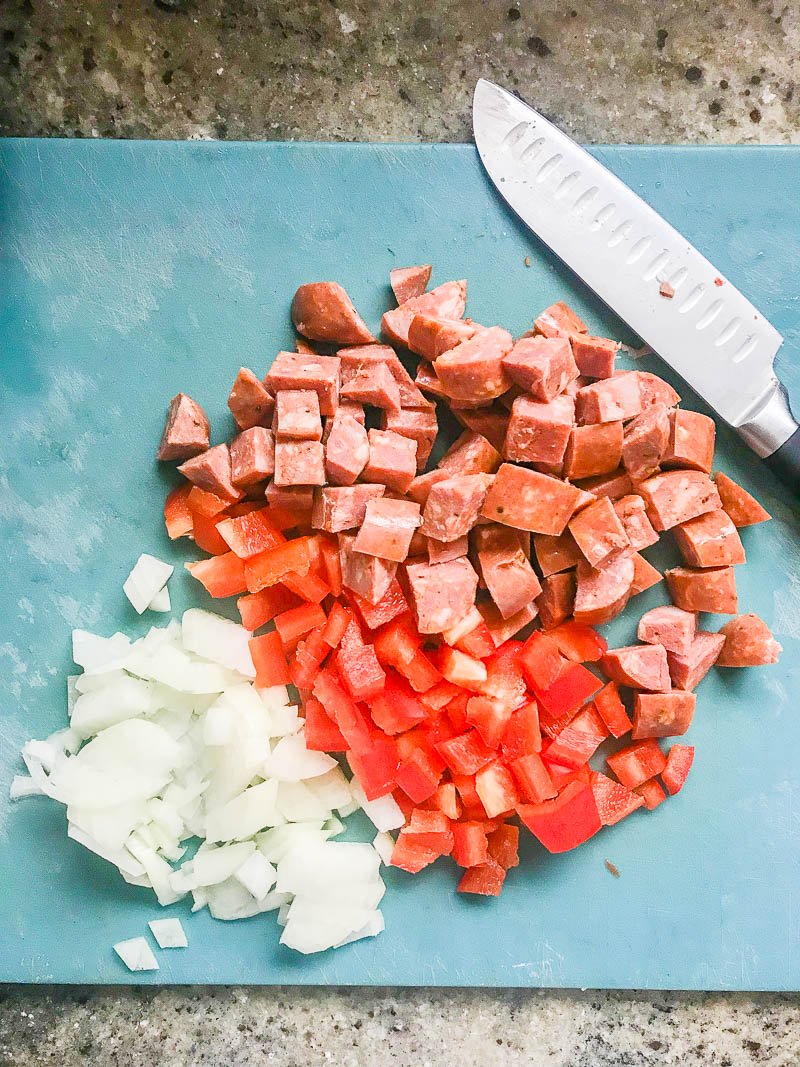 How do you make a breakfast skillet?
One of my favorite things about making skillet breakfast is that it can all be done in one pan. And it can all be done in under 30 minutes.
Start by cooking the potatoes in a cast iron skillet over medium high heat. I like to add the potatoes first because even though they are cut small, they will take a bit longer than the other vegetables to cook. Sprinkle the potatoes with the blackened seasoning and stir to coat the potatoes.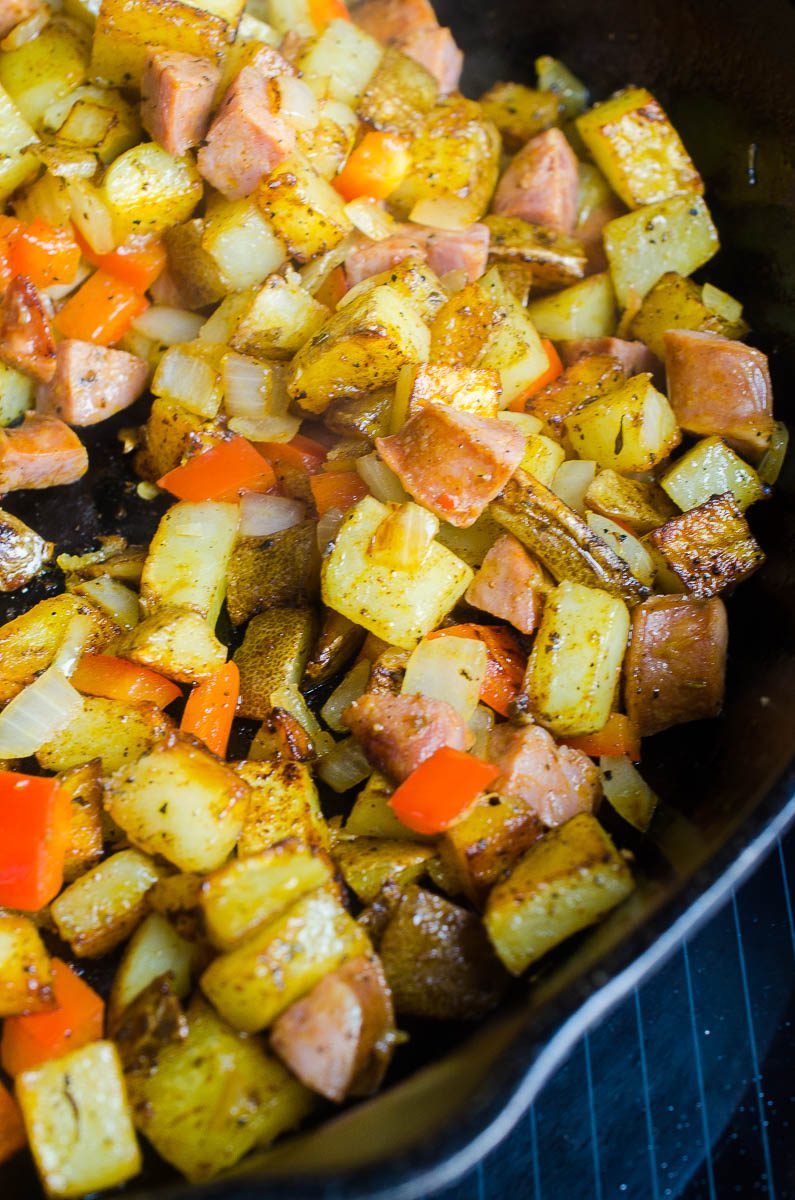 Once the potatoes start to brown, add in the bell pepper, onions and andouille sausage. Continue cooking until the vegetables are soft and the sausage warmed through. Transfer to a plate to keep warm.
In the same skillet, melt 2 tablespoons of butter over medium heat. Fry eggs until desired doneness. I prefer my eggs over easy/medium so I usually cook them for 1 minute on one side, flip and cook for another 30 seconds or so.
DES' TIP: Eggs should not stick to a well seasoned cast iron skillet. If your skillet isn't well seasoned, a non-stick pan will work just fine for the eggs.
Next, dish up the skillet onto 4 plates. Top each plate with one of the eggs and serve hot!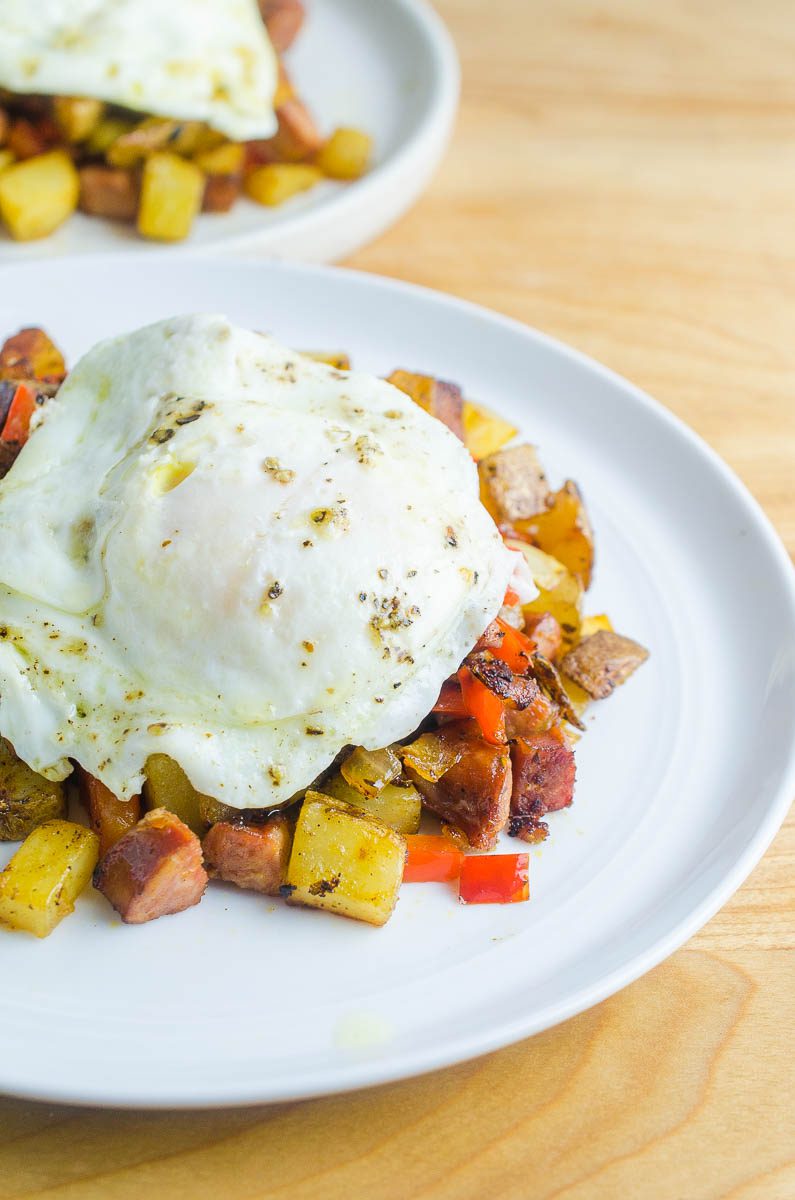 I also like to serve a little hot sauce on the side because spiciness is totally my thing.
Breakfast skillet variations:
As I mentioned before, you can make a skillet breakfast with just about any ingredients that you have on hand. I've made variations of this breakfast with kielbasa, bacon, breakfast sausage and even leftover rib eye. I've made a taco version with chorizo. Added cheddar cheese and even mozzarella to some. The possibilities are truly endless.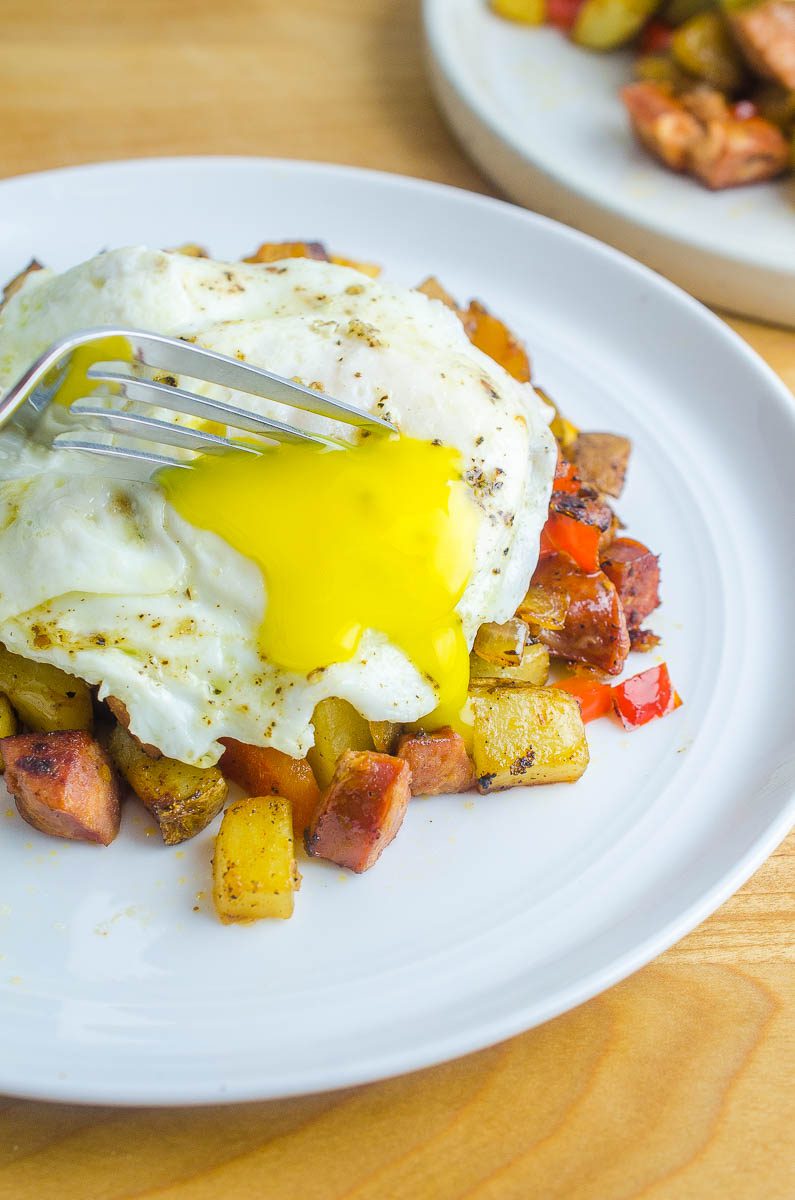 But there is one thing that they all have in common. A runny egg, because obviously.
More Easy Breakfast Recipes: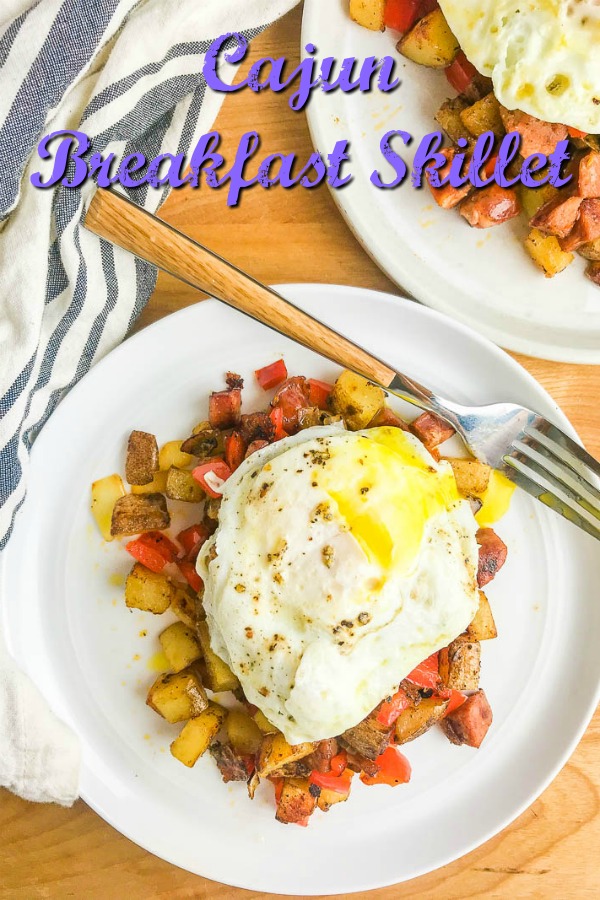 If you like this a little on the spicy side check out more of my Cajun recipes: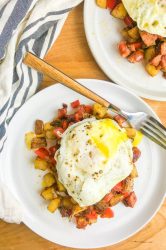 Cajun Cast Iron Breakfast Skillet Recipe
Cajun Cast Iron Breakfast Skillet Recipe is loaded with potatoes, sausage, onions, bell peppers and cajun seasoning. Topped with a perfectly fried egg.
Heat oil in a skillet over medium heat. Add potatoes and blackened seasoning. Cook just until potatoes start to turn brown.

Add in bell pepper, onion and andouille sausage. Continue cooking over medium heat until potatoes and vegetables are tender and the sausage is warmed through.

Remove to a plate and cover to keep warm.

Add butter to the same skillet. Once melted cook eggs 1 minute, flip and cook another 30 seconds for over easy eggs.

Spoon breakfast skillet onto plates, top with eggs and serve.
Nutrition facts are for estimation purposes only. Consuming raw or undercooked eggs may increase your risk of foodborne illness.
Calories:
339
kcal
Carbohydrates:
29.2
g
Protein:
12.5
g
Fat:
19.9
g
Saturated Fat:
6.9
g
Cholesterol:
191
mg
Sodium:
270
mg
Fiber:
4.5
g
Sugar:
4.5
g