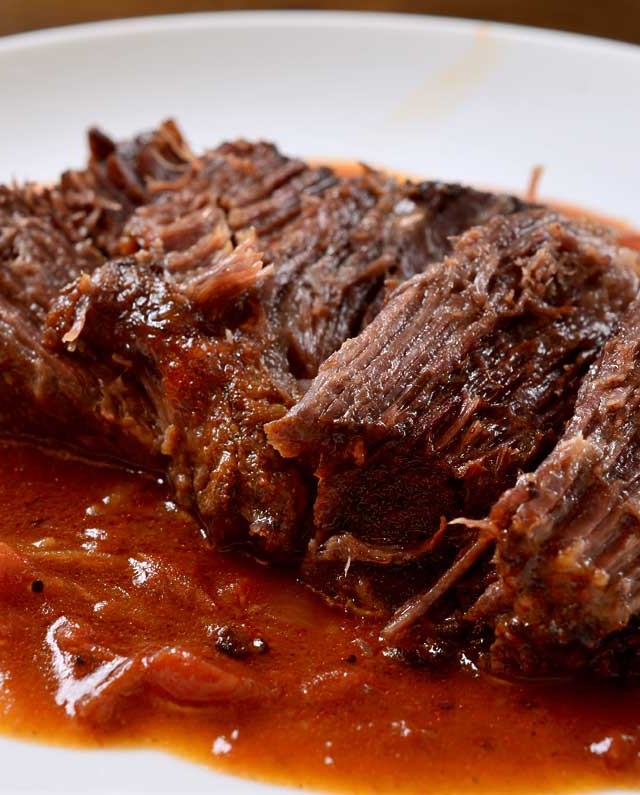 Cajun Pot Roast with Tomato Gravy
Happy Mardi Gras Friends! I thought the perfect way to celebrate the day would be to share one of my favorite traditional dishes with a little bit of a cajun/creole twist. This pot roast is just that. It's coated in creole seasoning, pan seared and then slow roasted with tomatoes, beef broth and onions. And after it's all done cooking, the pan juices are cooked down to create a delectable tomato gravy. It's good for the soul. Trust me.
When our Sunday dinner friends moved away a couple months ago (Insert very sad face) we kind of stopped having big Sunday dinners for a while. It just became another day where I decided what I was going to make at the last minute. It didn't help that I was in the first trimester of my pregnancy so nothing sounded good until the last minute anyway, but that is beside the point.
Then as time went by realized that I really missed having a big Sunday dinner. I missed our friends. I missed looking forward to dinner all week. I missed smelling the meal cook on the stove all day. And I missed the, very comforting, food that came with a good Sunday dinner. So I decided to start doing it again. This pot roast is one of those.
Yes, this pot roast takes time. But it is totally worth it. It's tender. It practically falls apart.
And the gravy. Oh the gravy. It is out of this world.
Especially when I served it over these creamy mashed potatoes.
What it comes down to is this meal is just down home, simmer on the stove all day, comfort food cooking.
And sometimes we all need some.
Cajun Pot Roast with Tomato Gravy Recipe
Ingredients:
2 tablespoons olive oil
2 3/4 pound pot roast
1 tablespoon Creole seasoning
1/3 cup plus 2 tablespoons flour, divided
1 onion, sliced
1 (14.5 ounce) can diced tomatoes, undrained
2 cups beef broth, divided
Instructions
1
Preheat oven to 325 degrees.

2
Heat olive oil in a large dutch oven or other oven proof pan.

3
Rub the pot roast with the Creole seasoning. Place the 1/3 cup of flour on a plate and dredge the roast in it.

4
Sear the roast on all sides until it starts to brown, about 3 minutes per side.

5
Sprinkle onions around the roast. Pour in tomatoes and 1 cup of beef broth. Cover and cook in preheated oven for 3 hours or until roast is cooked through and tender.

6
Remove roast from pan and cover to keep warm.

7
Whisk remaining 2 tablespoons of flour into remaining cup of beef broth. Whisk mixture into pan juices. Bring to a boil and, stirring constantly, cook until the gravy reduces and thickens, about 5 minutes.

8
Ladle the gravy onto a large serving platter, cut the roast and place on top of the sauce. Serve.