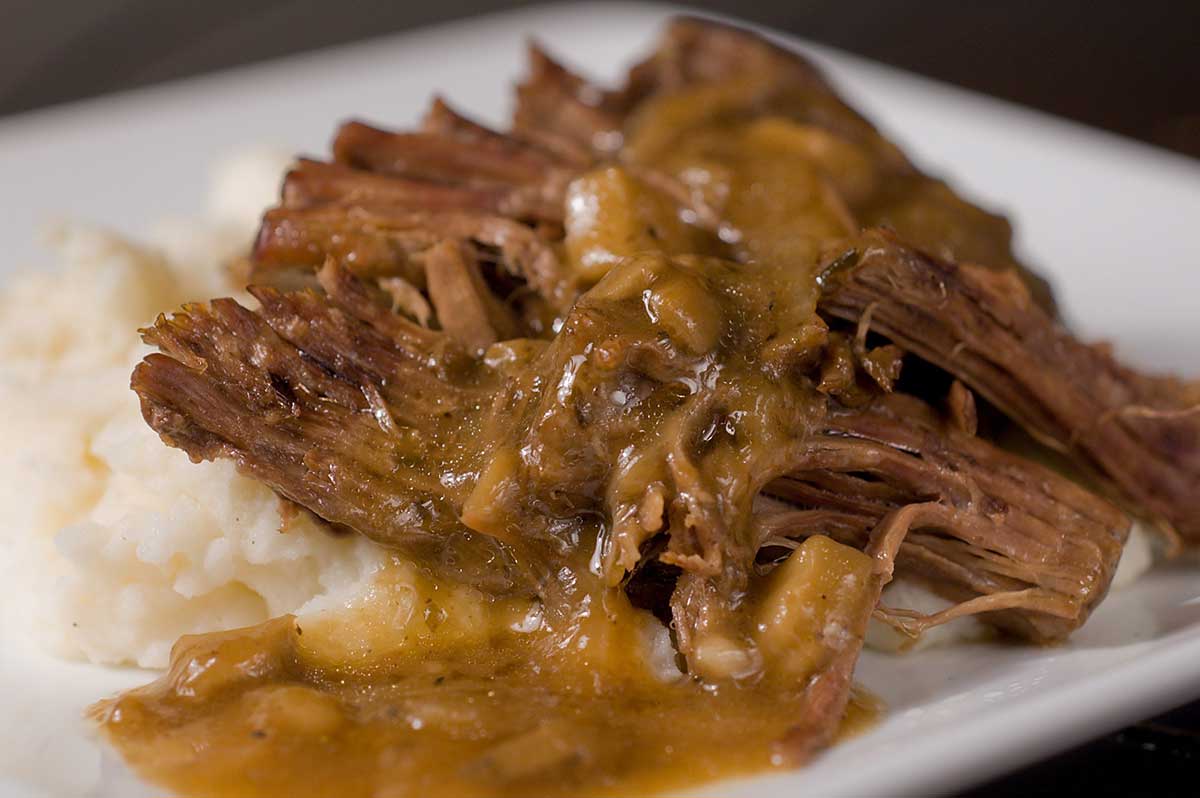 Pot Roast with Mushroom Gravy
Alright I am going to get all down home cookin' on you today. I don't know about you but when it is gloomy and cold, as it often is in the Northwest in March, all I want is something that is going to stick to my ribs and warm my belly and this pot roast does just that. Pot roast is something that I grew up with and I am sure many of you have had them countless times. Growing up every pot roast I had always came with carrots, celery and potatoes that were cooked with the roast, and while that is all fine and dandy, this is just a little different.  In this recipe, seared chuck roast is roasted in a gravy made with sauteed mushrooms, onions, and beef broth. Cream of mushroom soup with Roasted Garlic adds another dimension. The result is a tender roast with the perfect gravy for creamy mashed potatoes.
I served this with Oven Roasted Vegetables and the creamiest, yummiest mashed potatoes I've ever had. No worries, I'll share that recipe tomorrow ;-)
Pot Roast with Mushroom Gravy Recipe
Ingredients:
2 tablespoons olive oil
1 (3 pound) chuck roast
1/2 teaspoon granulated garlic
1 teaspoon kosher salt
1 teaspoon fresh cracked pepper
1 cup rough chopped crimini mushrooms
1 cup rough chopped onions
1 1/2 cup beef broth
1 can condensed Cream of Mushroom soup with Roasted Garlic
Instructions
1
Preheat oven to 350 degrees.

2
In a dutch oven heat olive oil over medium heat. Season both sides of roast with kosher salt, fresh cracked pepper, and granulated garlic. Massage the spices into the meat. Sear the meat on all sides, about 15 minutes total. Remove and set aside. Reserve 2 tablespoons of pan drippings.

3
Add mushrooms and onions to the pan drippings in the dutch oven and cook for 3 minutes.

4
Add beef broth and soup. Stir to combine. Return roast to dutch oven. Cover. Roast in oven for 3 hours. Remove, roast, cover and set aside.

5
Let the gravy sit for 5-10 minutes and then, using a spoon, skim the fat from the top layer. I say gently because you want to make sure not to go past the top layer or you will end up throwing away some of the gravy. (Note: You can also use paper towels, just gently place the corner of the paper towel into the top layer and the towel will soak it up)

6
Slice the roast, and lay on a platter. Spoon sauce over the roast. Serve.