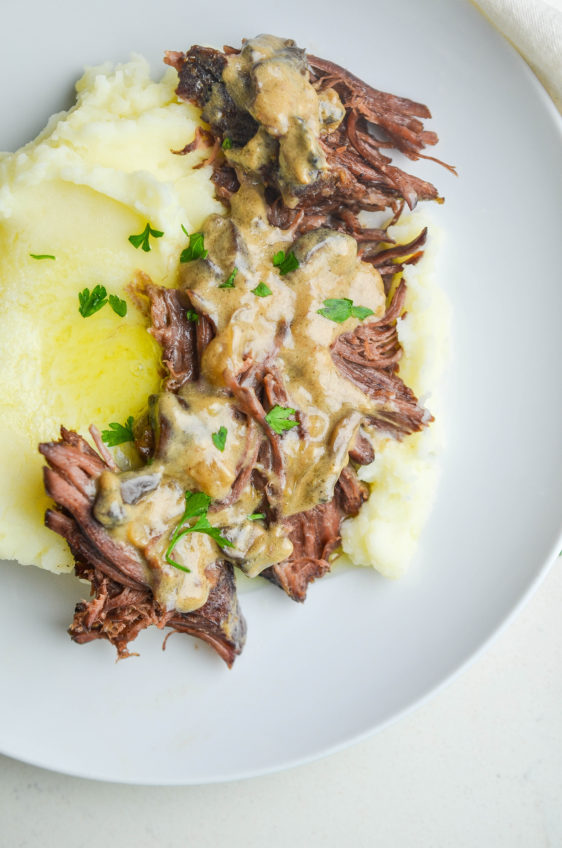 Dutch Oven Pot Roast with Mushroom Gravy
Dutch Oven Pot Roast is the ultimate comfort food meal! As this tender pot roast cooks, it makes its own gravy. Sunday supper perfection!
What could be better than a perfectly tender pot roast? A pot roast that pulls apart with a fork? How about a pot roast that makes its own gravy as it slow cooks? That is exactly what this recipe is.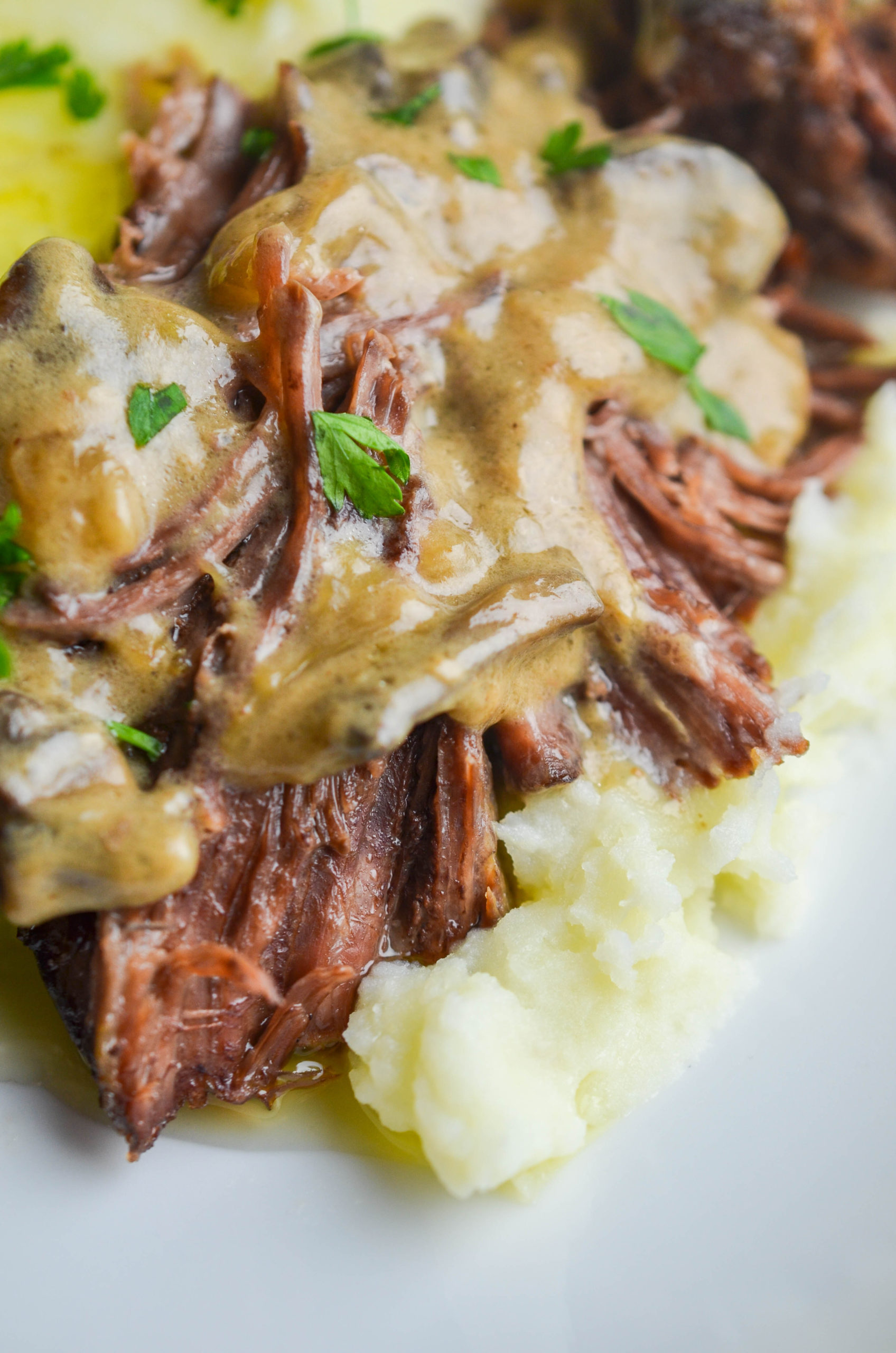 And it is comfort food heaven.
Oh and did I mention that it is incredibly easy to make? The hardest part is waiting for it to finish cooking as it fills your home with the most wonderful scent of slow roasted pot roast.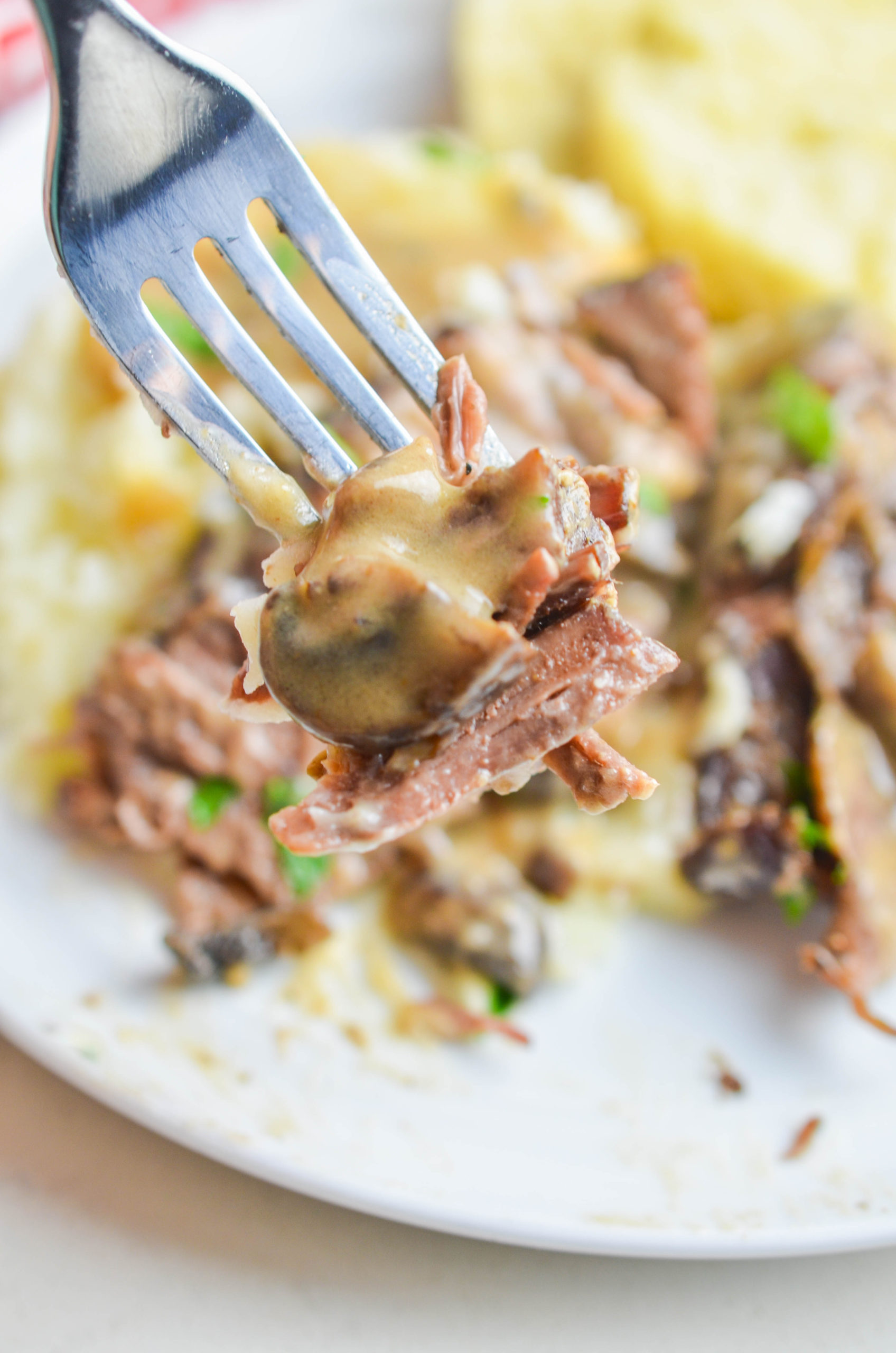 First lets talk about what you need:
Ingredients for dutch oven pot roast:
CHUCK ROAST: Beef chuck roast is from the shoulder of the cow. This cut of meat is best when cooked low and slow so that it is juicy and tender. Bonus, it is also. a relatively inexpensive cut too! To learn more about different cuts of beef check out this handy list.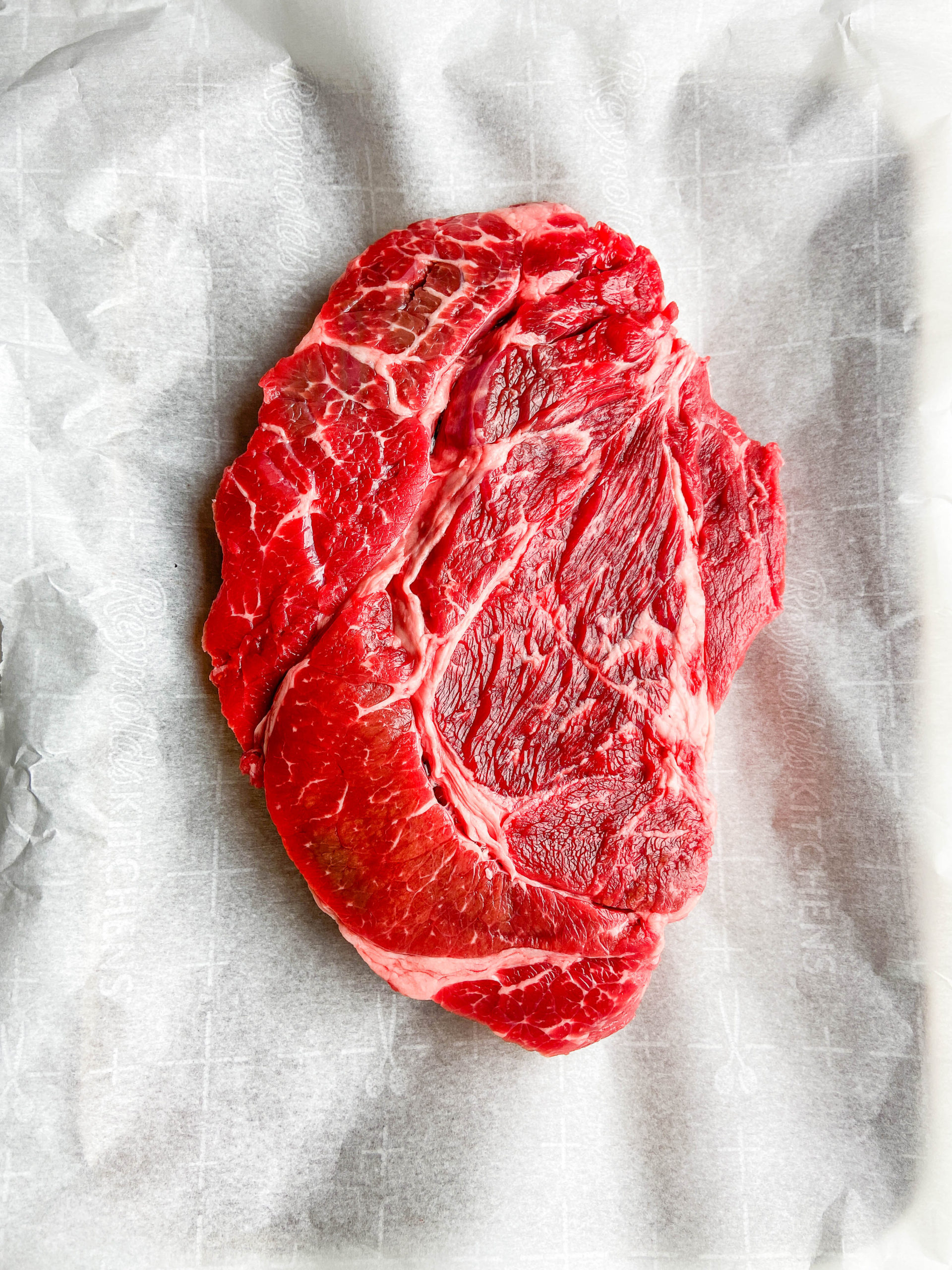 SALT, PEPPER AND GRANULATED GARLIC: I prefer granulated garlic because it keeps better than garlic powder and doesn't clump. If you have garlic powder you can substitute that instead.
CRIMINI MUSHROOMS: To make a chunkier gravy, rough chop them. You can also substitute white button mushrooms.
ONIONS: Yellow onion works best.
BEEF BROTH: I recommend using low-sodium beef broth so that you can adjust the salt as you need.
CONDENSED CREAM OF MUSHROOM SOUP: This is an essential part of making the gravy.
DES' TIP: Like the beef broth, use the low sodium version of this too if you can, so you can control the salt content. Once a dish is too salty you can't really fix it easily, but you can always add more salt if you need to.
Step by Step Photos and Instructions: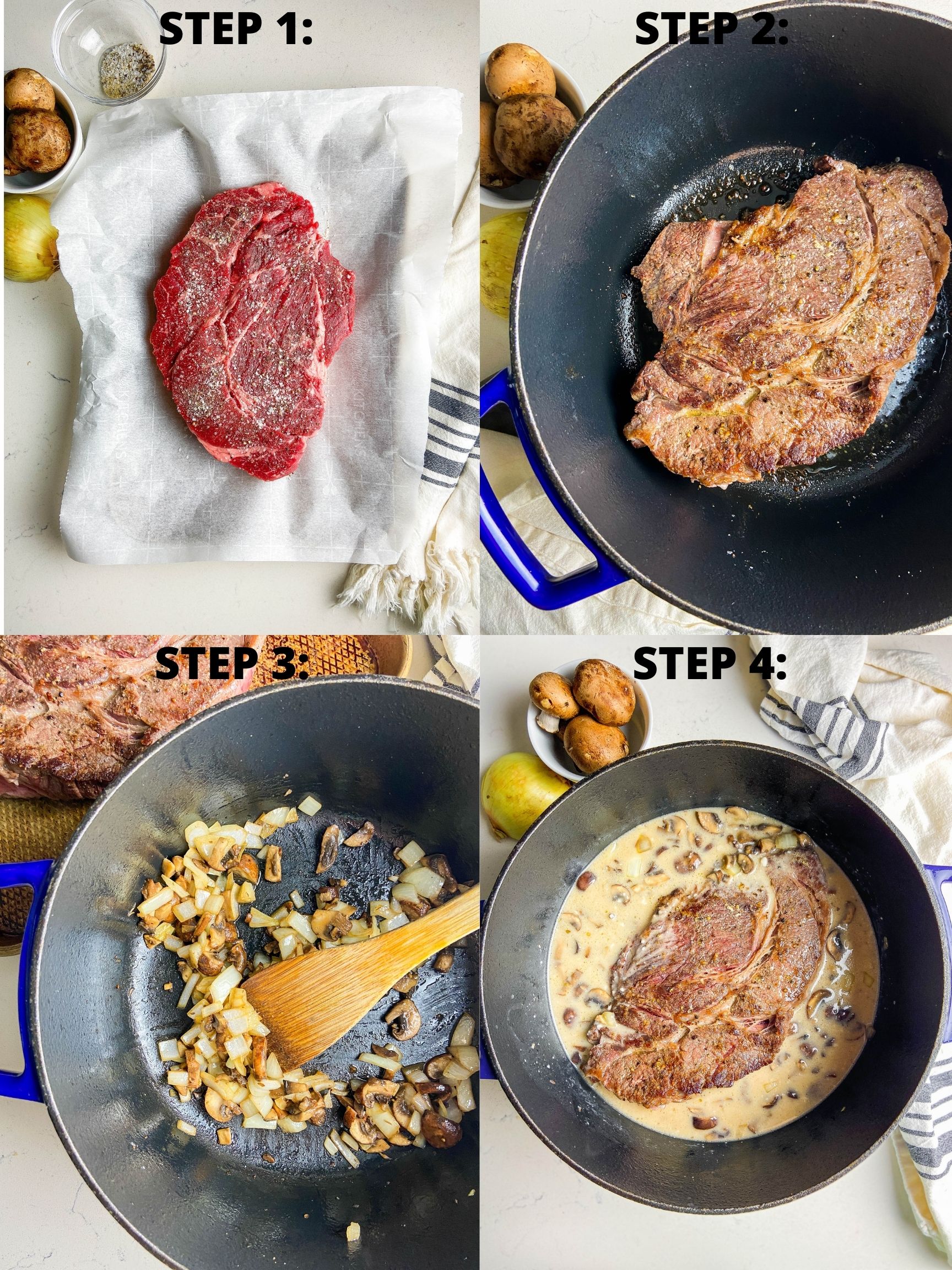 STEP #1: Liberally season the chuck roast with the salt, pepper and granulated garlic.
STEP #2: Heat olive oil in a dutch oven (or other oven proof pot) Sear all sides of the roast. This crust helps develop the flavor of the roast.
STEP #3: Remove the roast and sauté the onions and mushrooms in the pan drippings.
DES' TIP: You should have about 2 tablespoons of pan drippings leftover. If you have more than that discard. If you have less add a little olive oil to the pot to make up the difference.
STEP #4: Pour in beef broth and cream of mushroom soup. Whisk together. Return roast to the pot. Cover and cook in 350 degree oven for 2 1/2 – 3 hours or until roast is fork tender.
STEP #5: Remove the roast from the pot and cover to keep warm. Allow the gravy to sit for about 15 minutes then use a spoon to skim the top layer of fat from the gravy.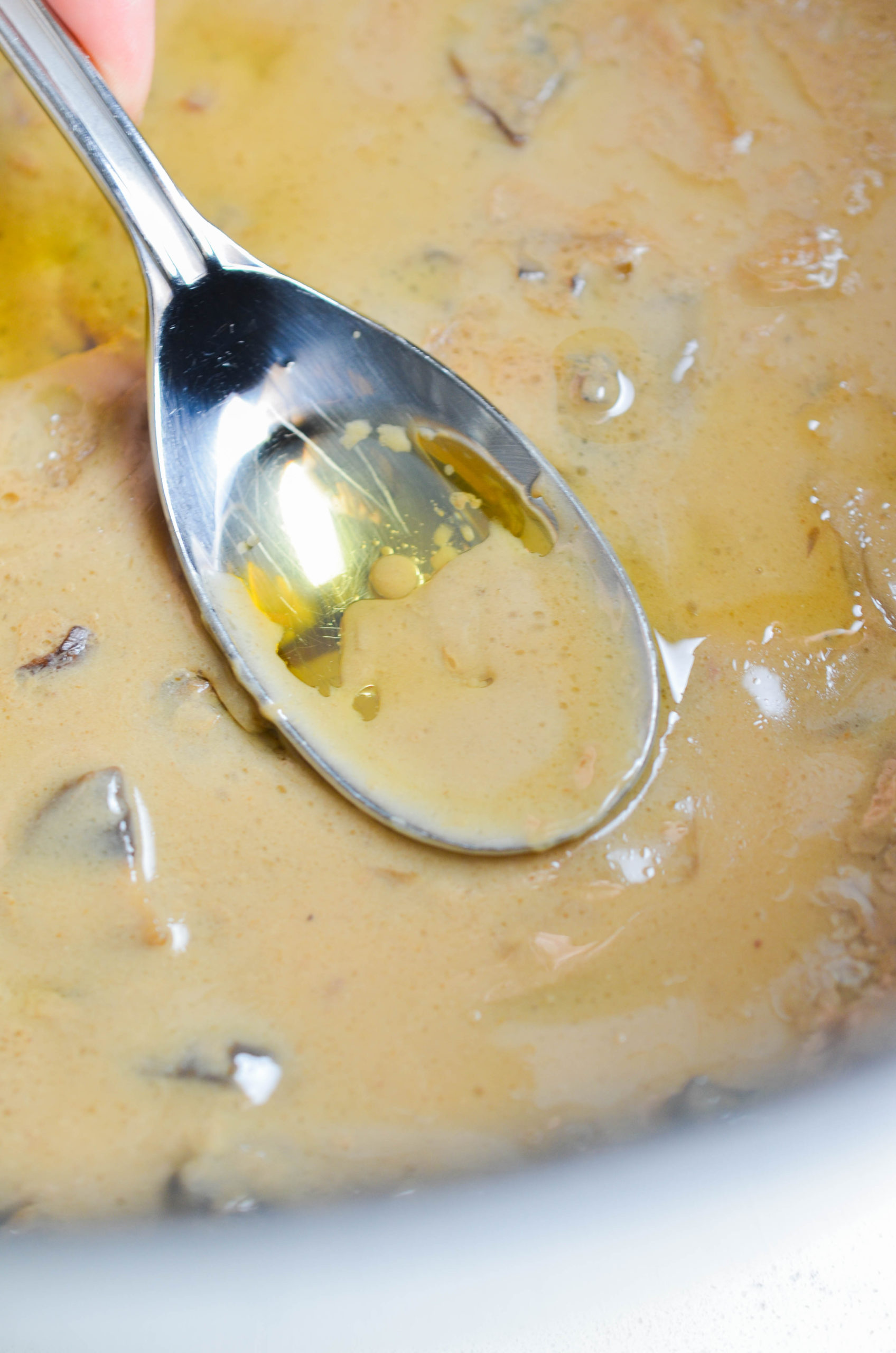 STEP #6: Slice roast, spoon gravy over the top and serve.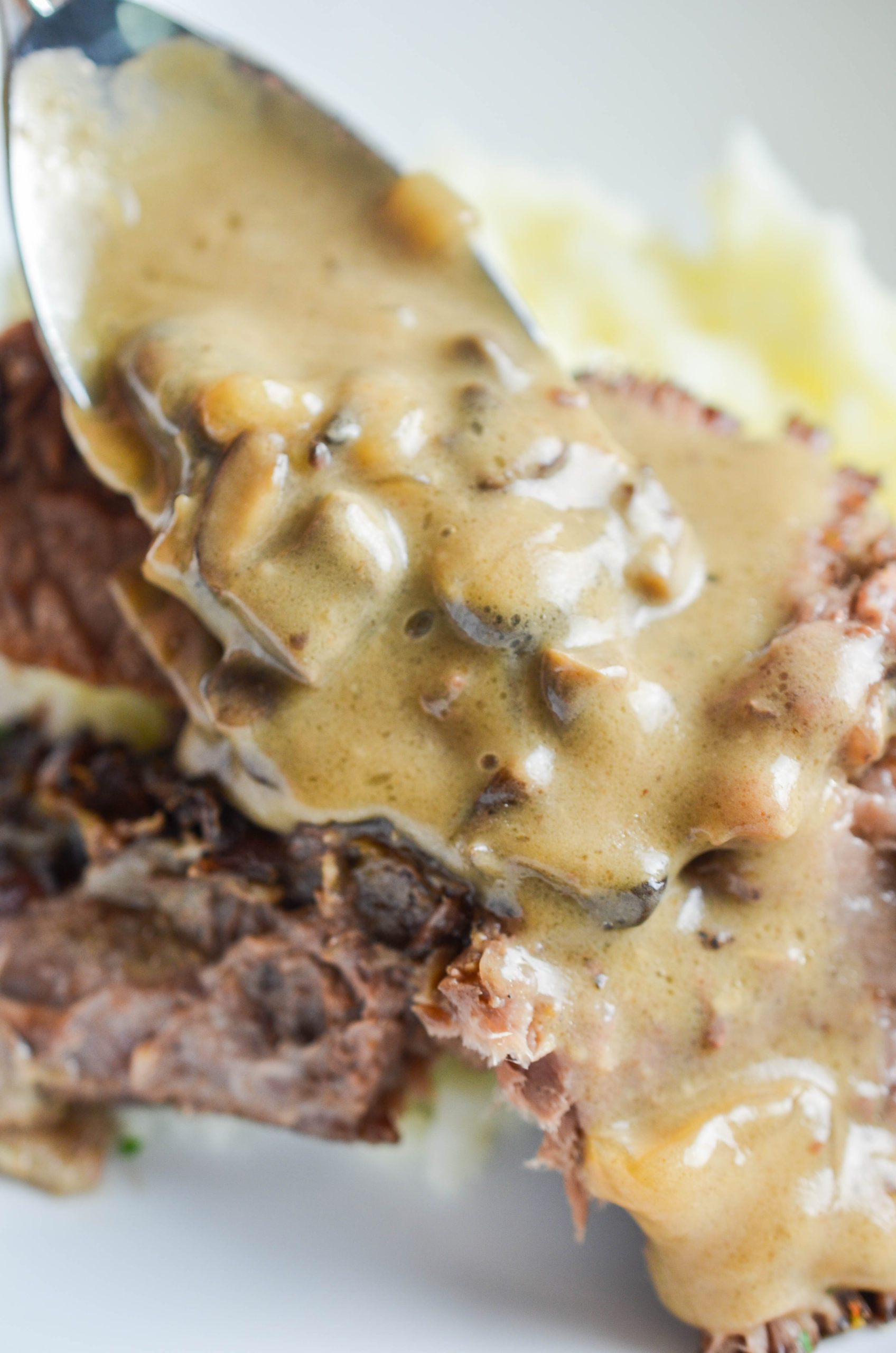 Storing leftovers:
Store leftover is in a sealed container in the refrigerator for up to 3 days. The gravy may thicken a bit so a bit more beef broth may be needed when reheating.
My entire family LOVES this pot roast recipe and I love that it's easy as throwing all the ingredients in the dutch oven. It's a win all around! Oh and if you've got leftovers, you have GOT to try this Pot Roast Grilled Cheese. It is heavenly!
Looking for an easy side dish to serve along side? Here are some of my favorites:
Chuck roast is one of my favorite cuts because of its affordability and versatility. Here are some other recipes using this beef cut:
Cajun Pot Roast with Tomato Gravy
Note: This recipe was originally published in 2009. It was updated with new photos, tips and nutrition information in 2020.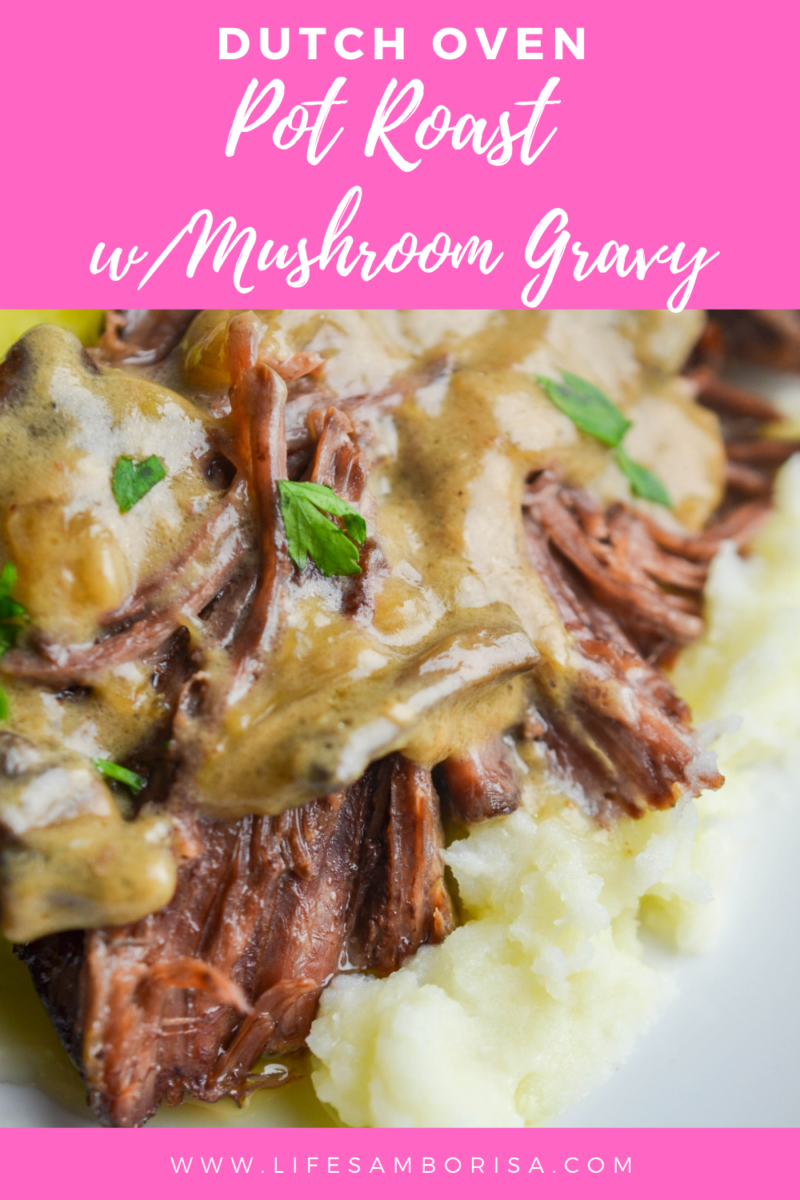 Dutch Oven Pot Roast with Mushroom Gravy Recipe
Ingredients:
2 tablespoons olive oil
1 (3 pound) chuck roast
1/2 teaspoon granulated garlic
1 teaspoon kosher salt
1 teaspoon fresh cracked black pepper
1 cup rough chopped crimini mushrooms
1 cup rough chopped onions
1 1/2 cup beef broth
1 (10.5 ounce) can condensed Cream of Mushroom Soup
Instructions
1
Preheat oven to 350 degrees.

2
In a dutch oven heat olive oil over medium heat. Season both sides of roast with kosher salt, fresh cracked pepper, and granulated garlic. Massage the spices into the meat. Sear the meat on all sides, about 15 minutes total. Remove and set aside. Reserve 2 tablespoons of pan drippings.

3
Add mushrooms and onions to the pan drippings in the dutch oven and cook for 3 minutes.

4
Add beef broth and soup. Stir to combine. Return roast to dutch oven. Cover. Roast in oven for 3 hours. Remove, roast, cover and set aside.

5
Let the gravy sit for 5-10 minutes and then, using a spoon, skim the fat from the top layer. I say gently because you want to make sure not to go past the top layer or you will end up throwing away some of the gravy. (Note: You can also use paper towels, just gently place the corner of the paper towel into the top layer and the towel will soak it up)

6
Slice the roast, and lay on a platter. Spoon gravy over the roast. Serve.
Notes
Nutrition information is for estimation purposes only.
Nutrition information
Calories: 594 , Total Fat: 27.2g , Saturated Fat: 8g , Cholesterol: 231mg , Sodium: 998mg , Carbohydrates: 5.4g , Fiber: 1.3g , Sugar: 1.6g , Protein: 77.4g