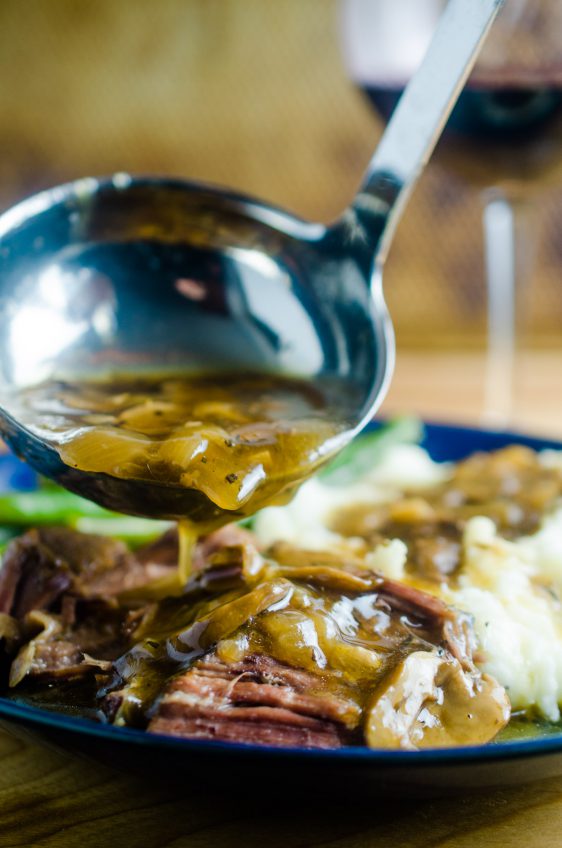 Pressure Cooker Pot Roast
This Pressure Cooker Pot Roast is tender, fall apart, beefy goodness. It even makes it's own gravy! AND it's easy and quick enough to make any day of the week. 
Now that it is fall ya'll, I am all about the comfort food. The food is one of the reasons that fall is my favorite season. I love the soups, chili, casseroles and fried chicken. And of course, everyone's favorite Sunday supper classic: Pot Roast.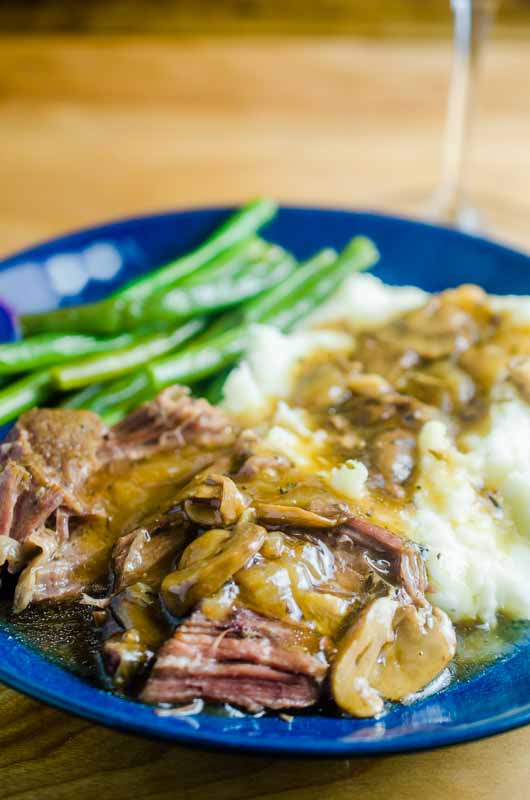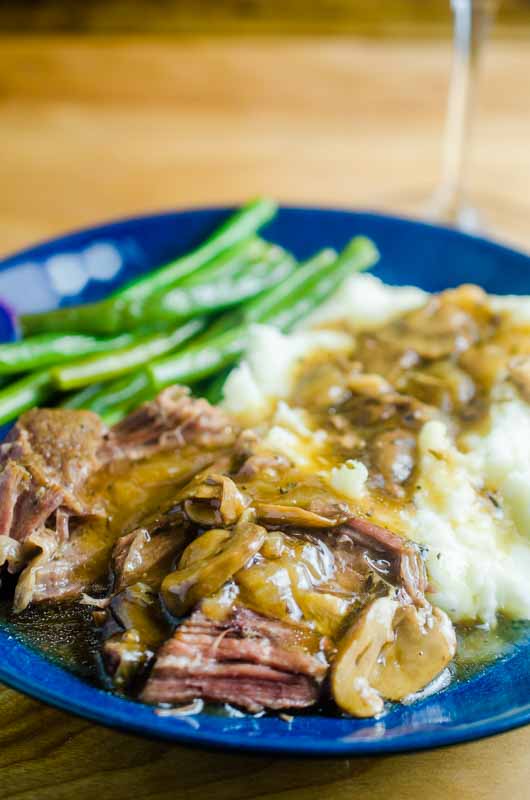 When it comes to Pot Roast recipes, most recipes require several hours of cooking. Whether it is in a slow cooker or in a dutch oven in your oven. With Pressure Cooker Pot Roast, you can have a perfectly tender, fall apart roast on the table in a fraction of the time.
First, can we talk candidly? You see, I love pot roast. I really do. What I don't love? The vegetables that you cook with it. It might be unpopular but the carrots and potatoes that are traditionally cooked with pot roast are not my favorite. I'd rather make a batch of creamy mashed potatoes and summer savory green beans to serve along side.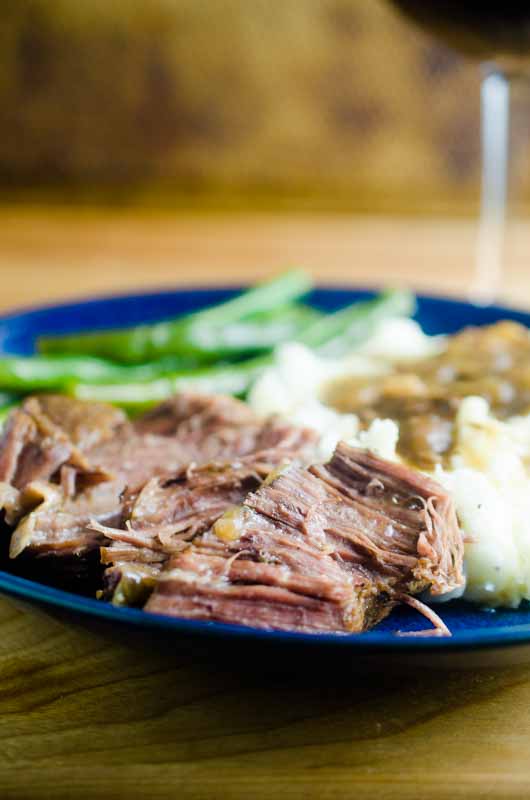 This doesn't mean that I cook the pot roast all by itself. Nope. Instead of carrots and potatoes, I like to cook my pressure cooker pot roast with lots of fresh mushrooms and onions so that it makes a scrumptious gravy while it's cooking.
How do you make pot roast in a pressure cooker?
The first step, like with most pot roast recipes, you will want to season and sear the meat. Then you'll want to saute the vegetables and aromatics, in this case mushrooms, onions and garlic. Then pour in the liquid, like beef broth or wine, to deglaze the pan. This is when you want scrape up all the brown bits that have accumulated at the bottom of the pot, that is where the flavor is. Finally, return the roast to the pot. Cover and seal the pot and set the cooking time for 60 minutes.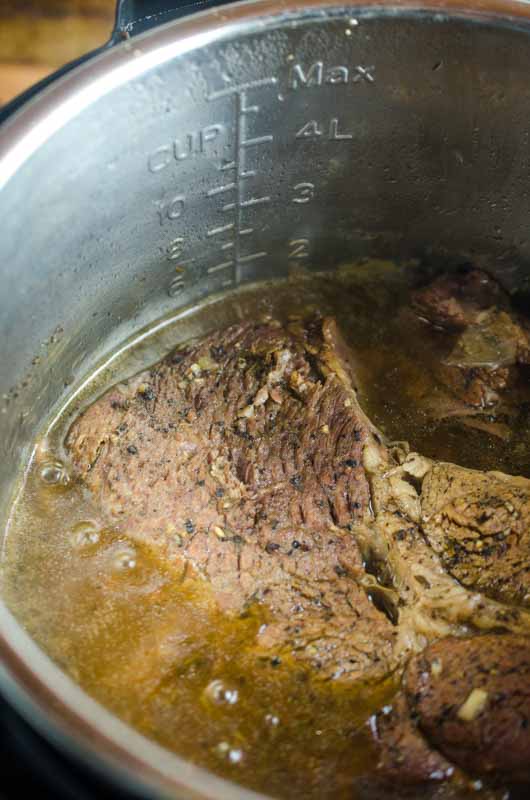 Once the the roast has finished cooking, allow the pressure cooker to naturally release for 15 minutes before releasing the pressure.
How do you make pot roast gravy?
When cooking pressure cooker pot roast, you don't add a lot of liquid. That being said, once it has cooked, you'll notice there will be a lot of liquid in the pot and that is what you use to make your gravy.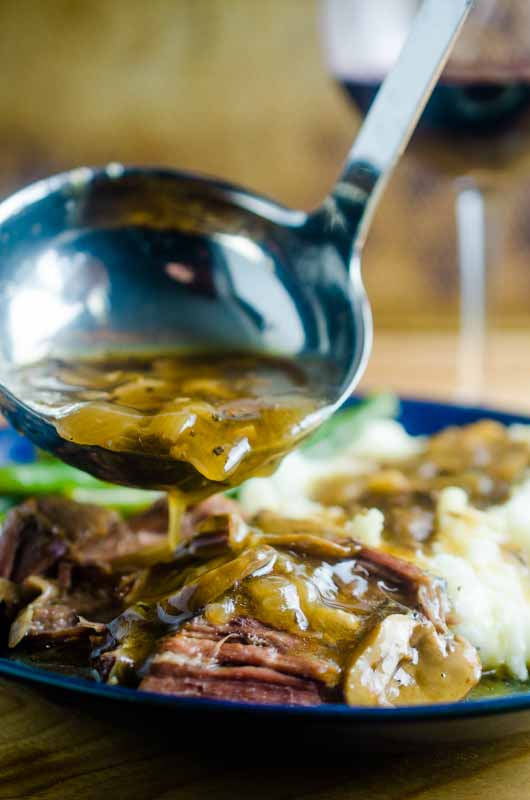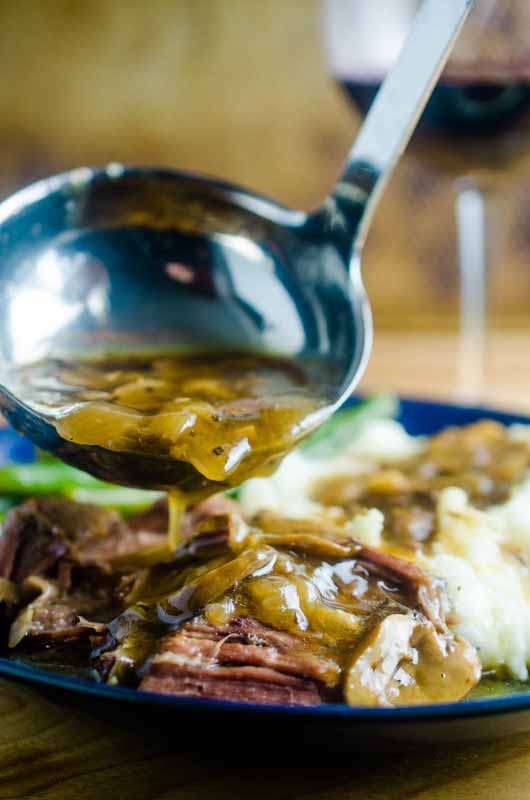 There are a couple of ways you could make the gravy for your pressure cooker pot roast. One, you could simply serve it as is. It's a little thinner and more like an au jus, but still full of flavor. If you have the time, you can also simply boil the liquid down until it has a chance to thicken. For this recipe, I made a slurry using 2 tablespoons of corn starch and 2 tablespoons of cold water and added that to the liquid. This thickened things up a bit faster. You could also you flour.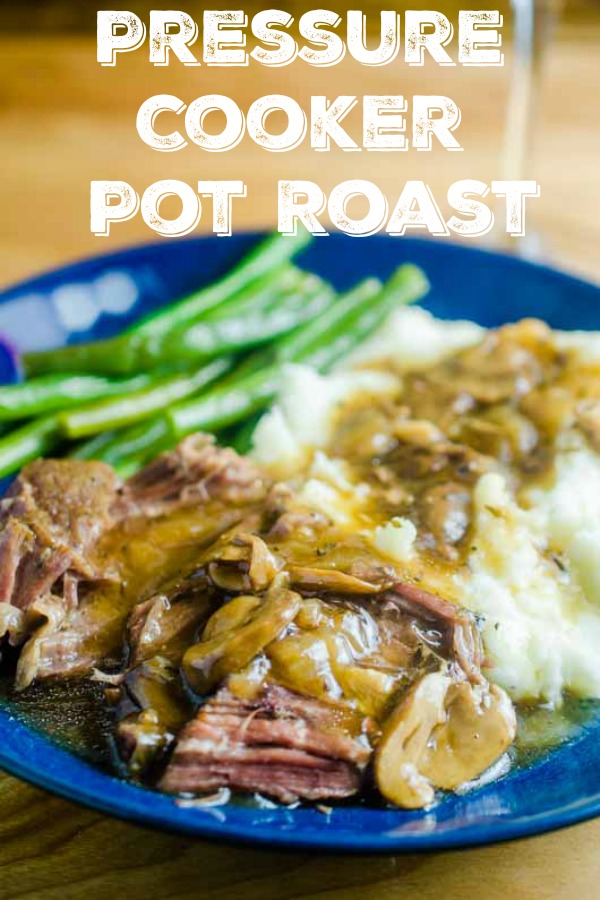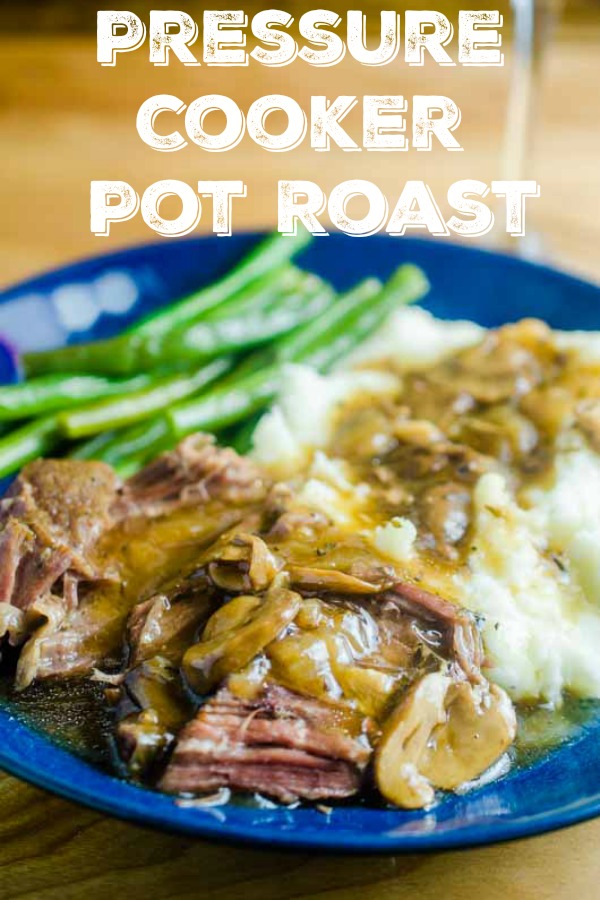 Looking for more Instant Pot Recipes? Be sure to check out Pressure Cooker Potatoes, Instant Pot Macaroni and Cheese  and Pressure Cooker Risotto.
Pressure Cooker Pot Roast Recipe
Ingredients:
2 tablespoons oil (avocado or canola)
2 teaspoons kosher salt
1 teaspoon black pepper
3 pounds chuck roast
2 cups sliced mushrooms
8 cloves garlic, chopped
1 medium yellow onion, sliced
1/2 cups beef broth
1/4 cup red wine
1 tablespoon Worcestershire sauce
1 teaspoon dried thyme
2 tablespoons corn starch
2 tablespoons cold water
Instructions
1
With the Instant Pot on sautee, heat oil

2
Season the chuck roast on all sides with salt and pepper. Sear roast on all sides. Remove and set aside.

3
Add mushrooms, garlic and onions to pan and sautee just until onions have softened slightly. About 2 minutes.

4
Pour in beef broth and wine. Scrape any brown bits off the bottom of the pan. Return Roast to pan, add in Worcestershire and thyme. Cover and seal. Set on high pressure for 60 minutes.

5
Once pot roast has finished, allow 15 minutes natural release. Remove roast, cover and set aside.

6
Whisk together corn starch and water. Stir slurry into pan liquid. Allow to cook 5 - 10 more minutes or until thickened.

7
Slice roast, ladle gravy over the top and serve.
Notes
Nutrition facts not guaranteed.
Nutrition information
Amount per serving: 6 servings
Calories: 575 , Total Fat: 23.6g , Saturated Fat: 7.5g , Cholesterol: 229mg , Sodium: 1020mg , Carbohydrates: 8g , Fiber: 0.9g , Sugar: 1.9g , Protein: 76.5g