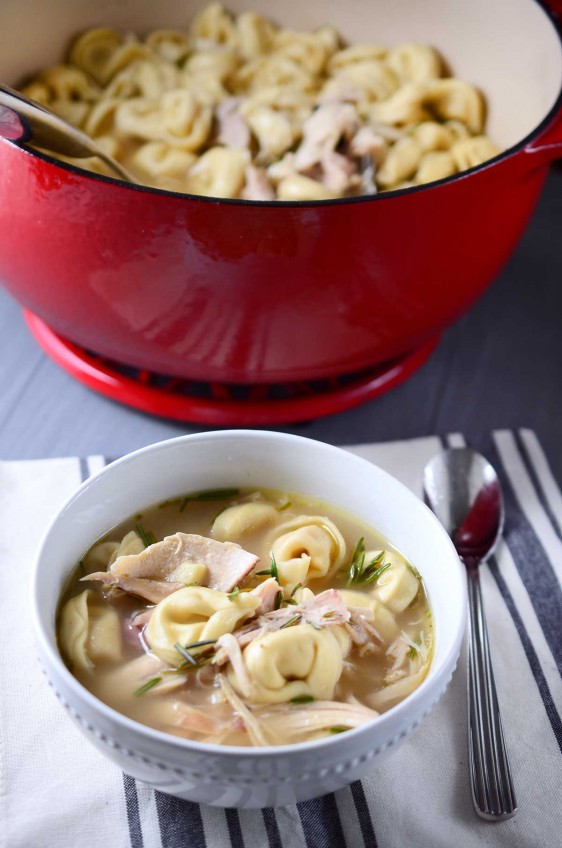 Chicken Tortellini Soup
Chicken Tortellini Soup is a filling soup with shredded chicken, rosemary and cheesy tortellini. It is the perfect hearty chicken soup for a cold winter day. 
Our Indian Summer here in Seattle has finally come to an end. No more 75 degree days. It's starting to get colder. The mornings and evenings are cool.  Rains are coming. The skies are gray. The best part about all of this? Soup. We have now reached the soup weather part of the year and I'm so ready. I'm so ready for tummy warming comforting soups. Soups like Chicken Tortellini Soup.
Some of my favorite soups are the kind of soups that take all day to prepare. The soups that require you to start the broth early in the morning and let it simmer all day. This soup however, is not one of those soups. It just tastes like one.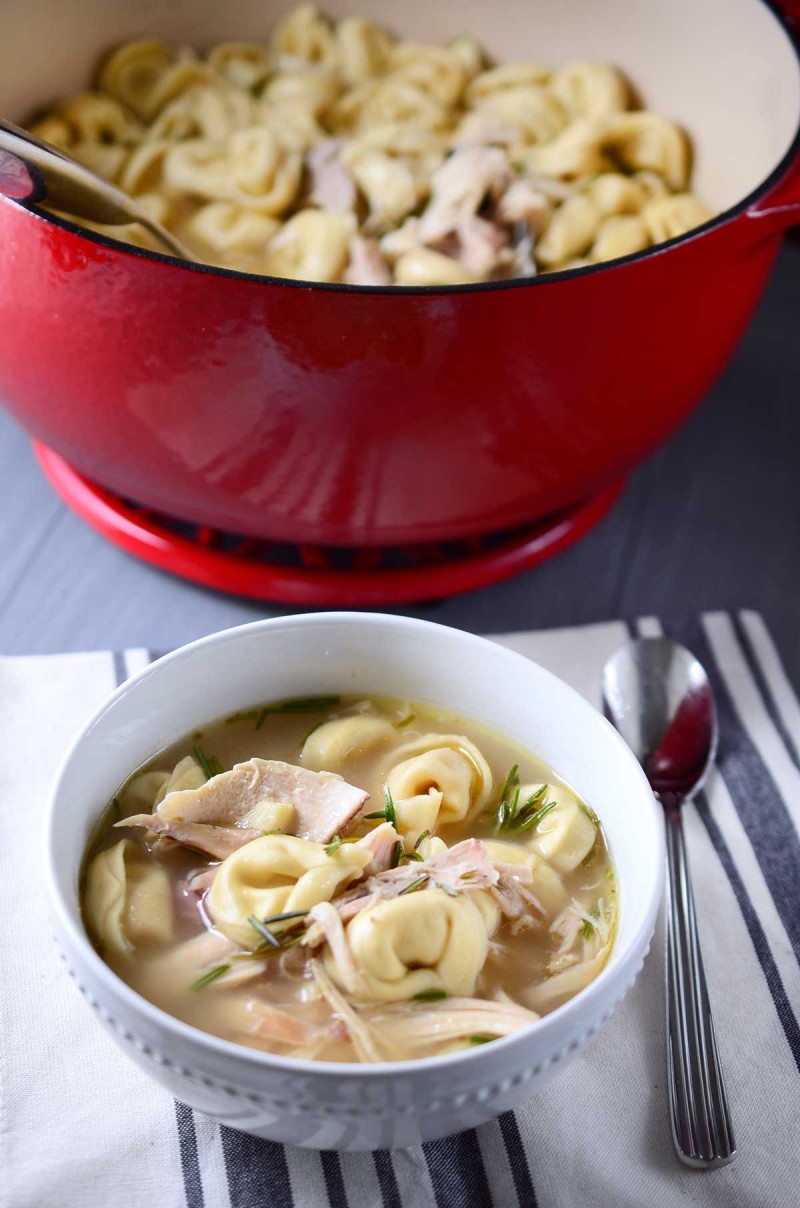 With a little help from a store bought rotisserie chicken and some store bought tortellini Chicken Tortellini Soup comes together in under 30 minutes. Seriously.
I am totally in love with the Costco rotisserie chicken, guys. It is such a sweet deal. $5 for a whole rotisserie chicken. You can't even buy a raw chicken and cook yourself for that price. I love it because you can do so many different things with it. Whenever I am there, I pick one up so that I can use it to make sandwiches or tacos or throw into pasta or soups. It really is a time saver on busy weeknights when I don't have a whole lot of time to cook. Same goes for the prepackaged tortellini. Super simple dinner on it's own or a fabulous addition to soups.
This soup is also really simple, because it doesn't need to be complicated. Simply simmer the chicken, rosemary and about 10 cloves of garlic together for 20 or so minutes. Then add in the tortellini and cook just until the tortellini is cooked through. That's it.
It's quick and simple. It's satisfying and is the perfect soup for any cool fall day.
Chicken Tortellini Soup Recipe
Ingredients:
7 cups bought or homemade chicken stock
10 cloves garlic, chopped
1 tablespoon chopped fresh rosemary
4 cups shredded chicken
1 (16oz) package three cheese tortellini
salt and pepper
Instructions
1
Place chicken broth in a large pot over medium heat. Add in chopped garlic, fresh rosemary and chicken. Simmer until the broth is warmed through and the garlic is soft, about 20 minutes.

2
Stir in the tortellini and cook for five minutes or until the tortellini is soft and warmed through. Season to taste with salt and pepper. Ladle into soup bowls and serve.