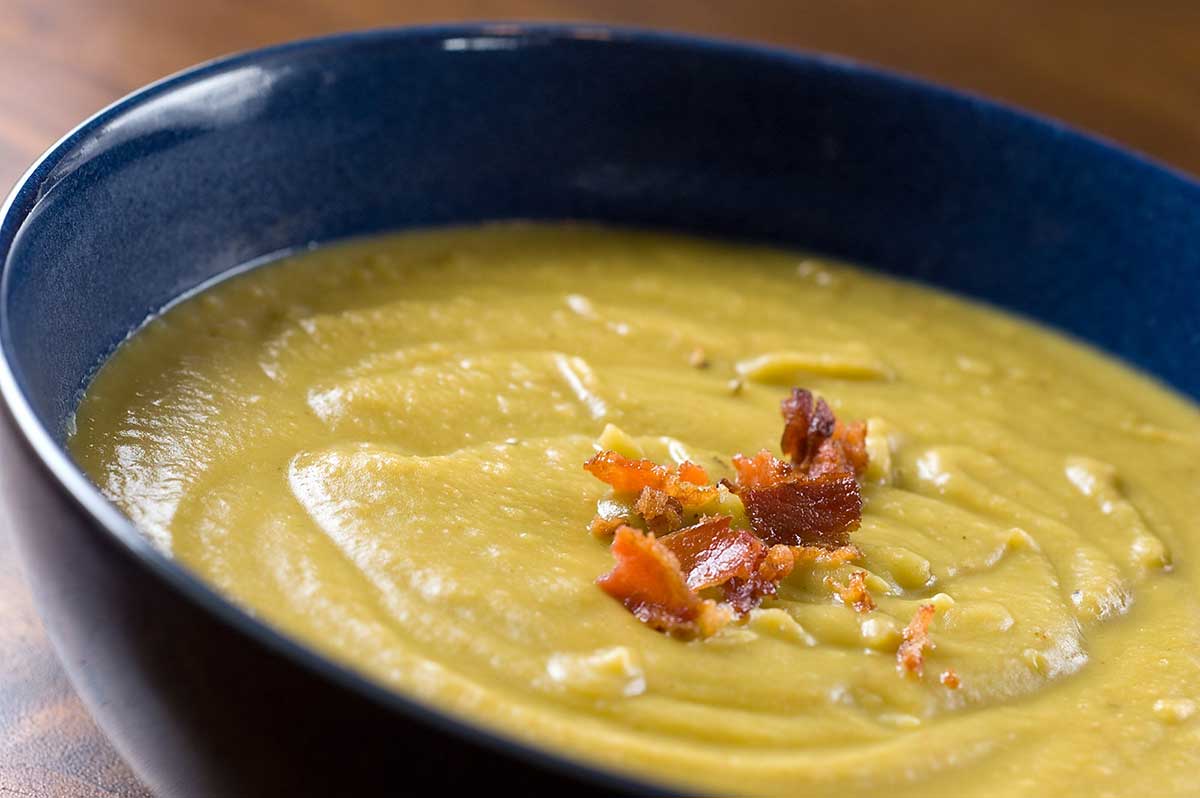 Split Pea Soup
So Spring started yesterday. Which may beg the question, why am I sharing a soup today? Well for the simple fact that it's still a tad bit cold here. The wind still has a bit of chill to it and when you spend the weekend working in the yard, a hot bowl of soup really does hit the spot.
When Ryan and I bought our first home last year our inspector told us there were a couple trees that we should consider removing.  So this weekend, Ryan's parents came up here and that's what we did. I use the term "we" loosely as I spent the majority of the day hiding in the house with my hands covering my eyes and peeking out nervously as I watched my husband use a chain saw while on a ladder. I'm happy to say it all worked out, the trees are down and everyone still has all their fingers and toes. But it was nerve racking nonetheless. So to sooth my nerves a little and to help warm Ryan up I made thick, velvety split pea soup for dinner.
Split Pea Soup Recipe
Ingredients:
1/4 pound bacon, diced
2 carrots peeled and diced
3 celery stalks diced
1/2 medium yellow onion
2 cloves garlic, minced
1 tablespoon chopped fresh rosemary or 1 teaspoon dried
1 1/2 cups green split peas rinsed and picked over
4 - 5 cups chicken broth
1 cup water
salt and pepper
Instructions
1
In a large pot brown the bacon. Remove from the heat and reserve 1 tablespoon of pan drippings. Set bacon aside.

2
In the same pot with the bacon drippings cook carrots, celery, onions, garlic and rosemary for 3 - 5 minutes or until vegetables are softened slightly. Stir in split peas. Pour in 4 cups chicken broth and water. Bring to a simmer and skim any scum that comes up to the top. Reduce heat and let simmer for 1 - 1 1/2 hours or until the peas are tender.

3
Using an immersion blender blend soup until smooth. If you do not have an immersion blender carefully transfer hot soup to a blender and blend in batches until smooth. Add remaining cup of chicken broth if soup is too thick for your tastes.

4
Ladle into soup bowls, top with reserved bacon and serve.