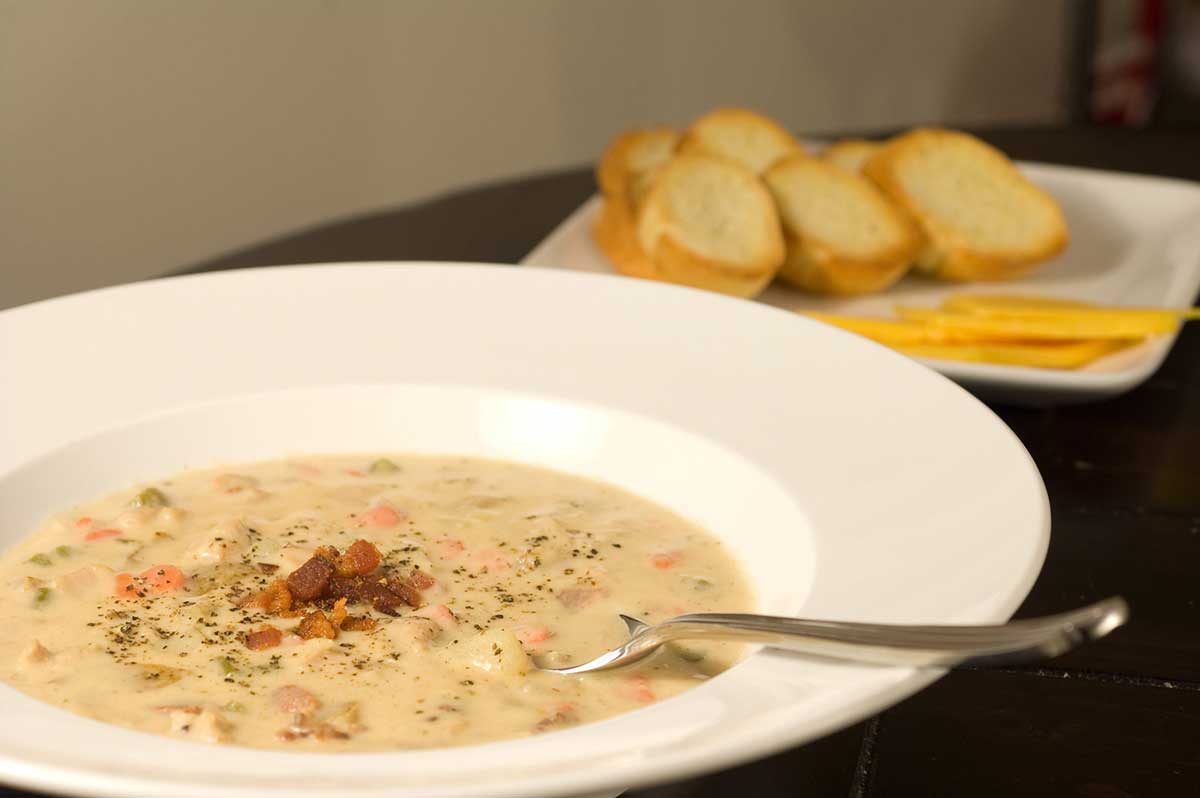 Clam Chowder
I am a huge fan of chowders and I am constantly on the search for good clam chowder whenever Ryan and I dine out. Of all of the chowders that I have tried, I prefer those that are not to thick or heavy. Instead, I prefer my clam chowder a little thinner and lighter. This clam chowder recipe is just that and it is full of  flavor: clams, crispy bacon, fresh carrots and celery, sauteed onions, white wine and cream.
Clam Chowder Recipe
Ingredients:
4 slices bacon, cut into 1 inch pieces
1/2 onion chopped (about 1 cup)
2 bay leaves
2 tablespoons flour
1/4 cup dry white wine
1 carrot, diced (about 1/2 cup)
2 celery stalks, diced (about 1/2 cup)
2 russet potatoes, diced 1/2 inch pieces (about 2 cups)
1 cup heavy cream
3 (6.5 ounce) cans of chopped clams, juice reserved (about 3 cups)
Instructions
1
In a dutch oven or large pot, cook bacon until brown. Remove bacon and set aside, reserve 2 tablespoons of pan drippings.

2
In the same pot, cook onion and bay leaves, until onions are translucent, about 5 minutes.

3
Add flour, cook two minutes. Add wine to deglaze the pan (Note: Be sure to scrape any good bits that have stuck to the bottom, its where the yummy flavor is!). Simmer for 2-3 minutes.

4
Add the carrots, celery, potatoes and reserved clam juice, bring to a boil and cook until the potatoes are fork tender.

5
Add about 3 tablespoons of the hot broth to the cream slowly to temper it so that the cream won't clump when you add it to the broth.

6
Reduce the heat, slowly add the cream. Add the clams and bacon pieces. Simmer for 30-40 minutes. Serve.