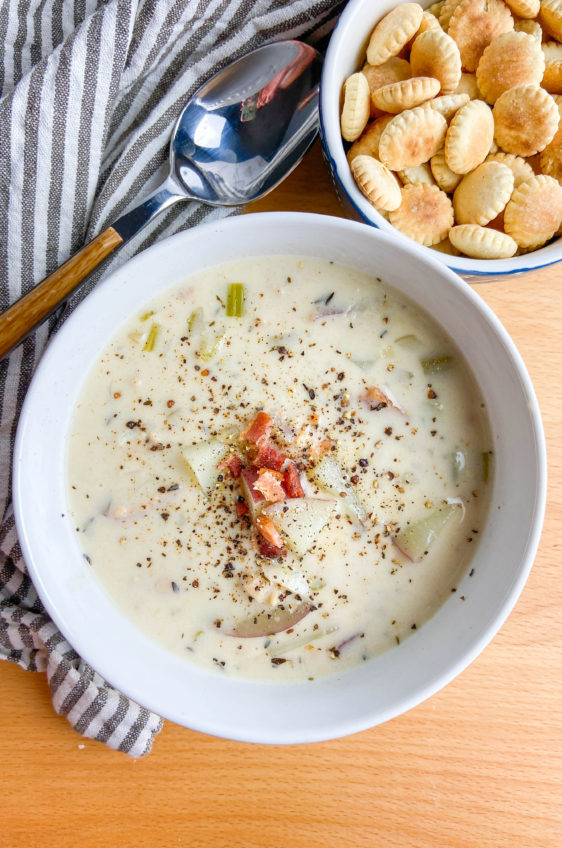 New England Clam Chowder
Creamy New England Clam Chowder is loaded with clams, potatoes and bacon. It's a hearty bowl of soup perfect to warm up on a cool day.
On a cool autumn or winter day, there is nothing better than sitting down to a comforting bowl of soup or chowder. Am I right? Especially when it is a steaming bowl of Creamy New England Style Clam Chowder.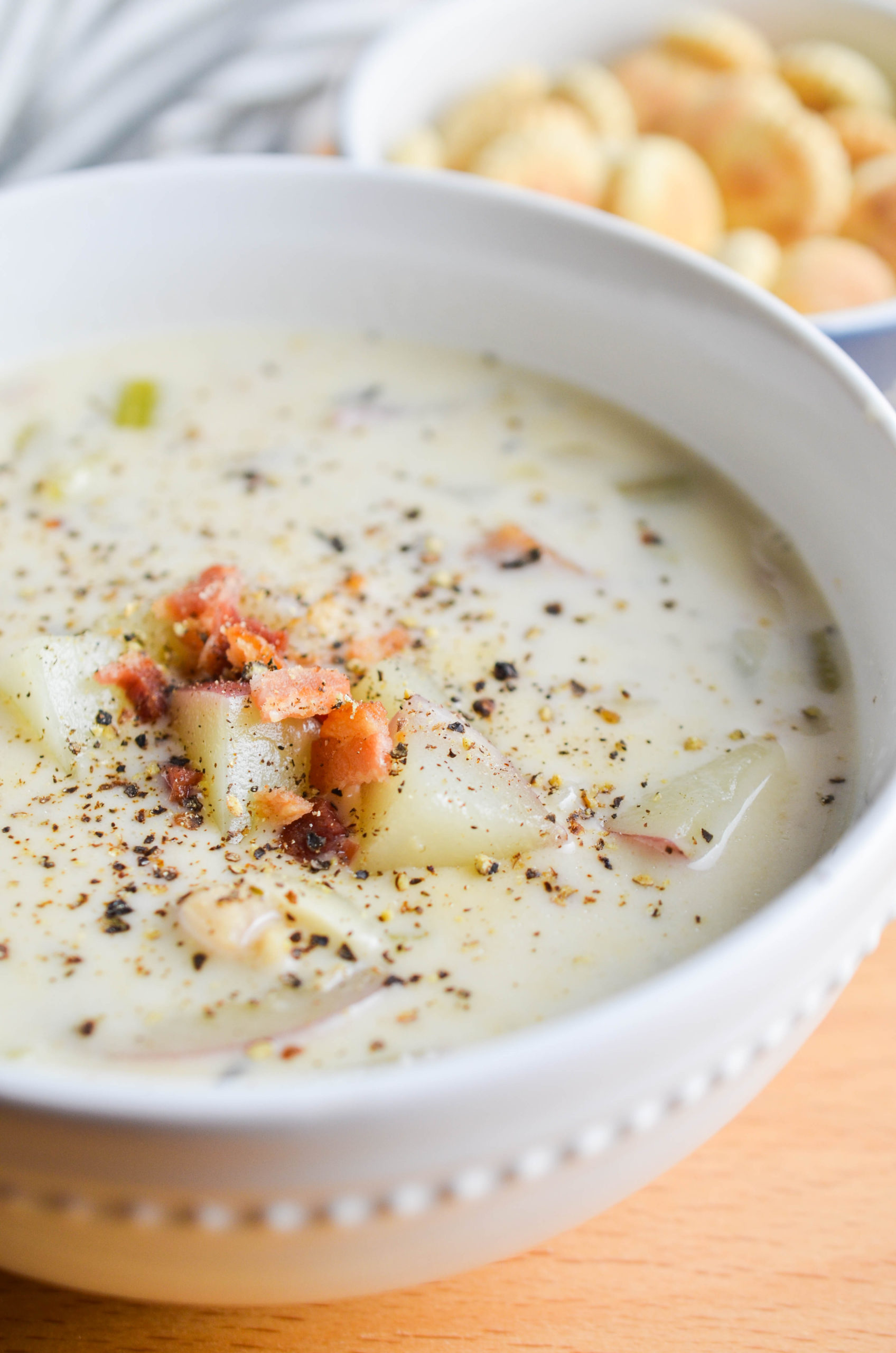 What are the different types of clam chowders?
When you hear the words "clam chowder", Creamy New England Chowder is probably the kind you think of. But there are a few different types:
New England Clam Chowder: Clam chowder made with a creamy broth.
Manhattan Clam Chowder: Chowder made with a tomato broth
Rhode Island Clam Chowder: Clam Chowder with a clear broth.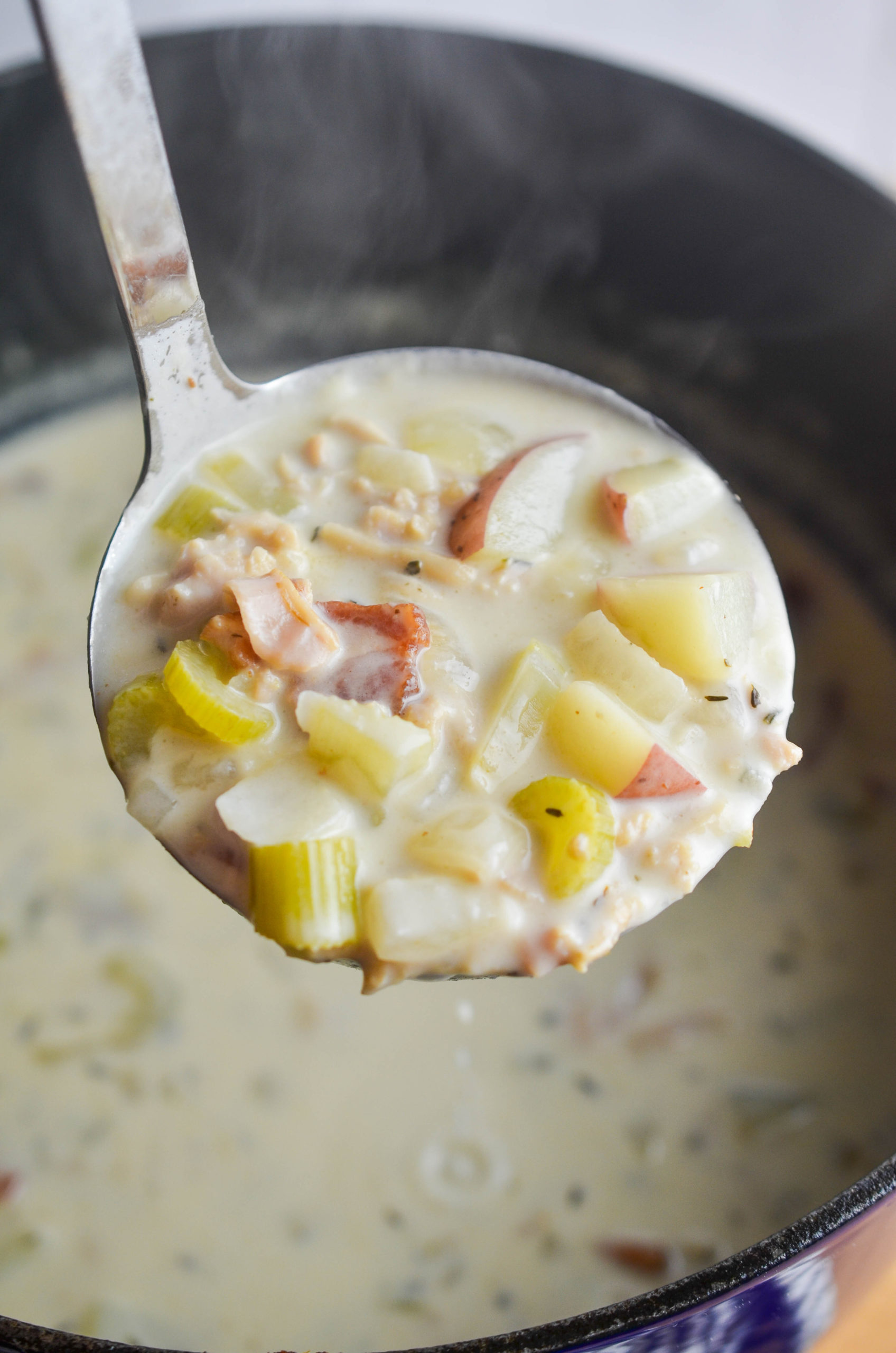 Now don't get me wrong, I will never turn down a bowl of chowder whichever way it comes but New England Clam Chowder is my absolute fave. There is just something about the creamy broth with the clams, smoky bacon and tender potatoes.
And guess what! It is probably easier to make than you think and I'm going to show you just how. But first let's start with the ingredients you'll need.
What ingredients do you need for clam chowder?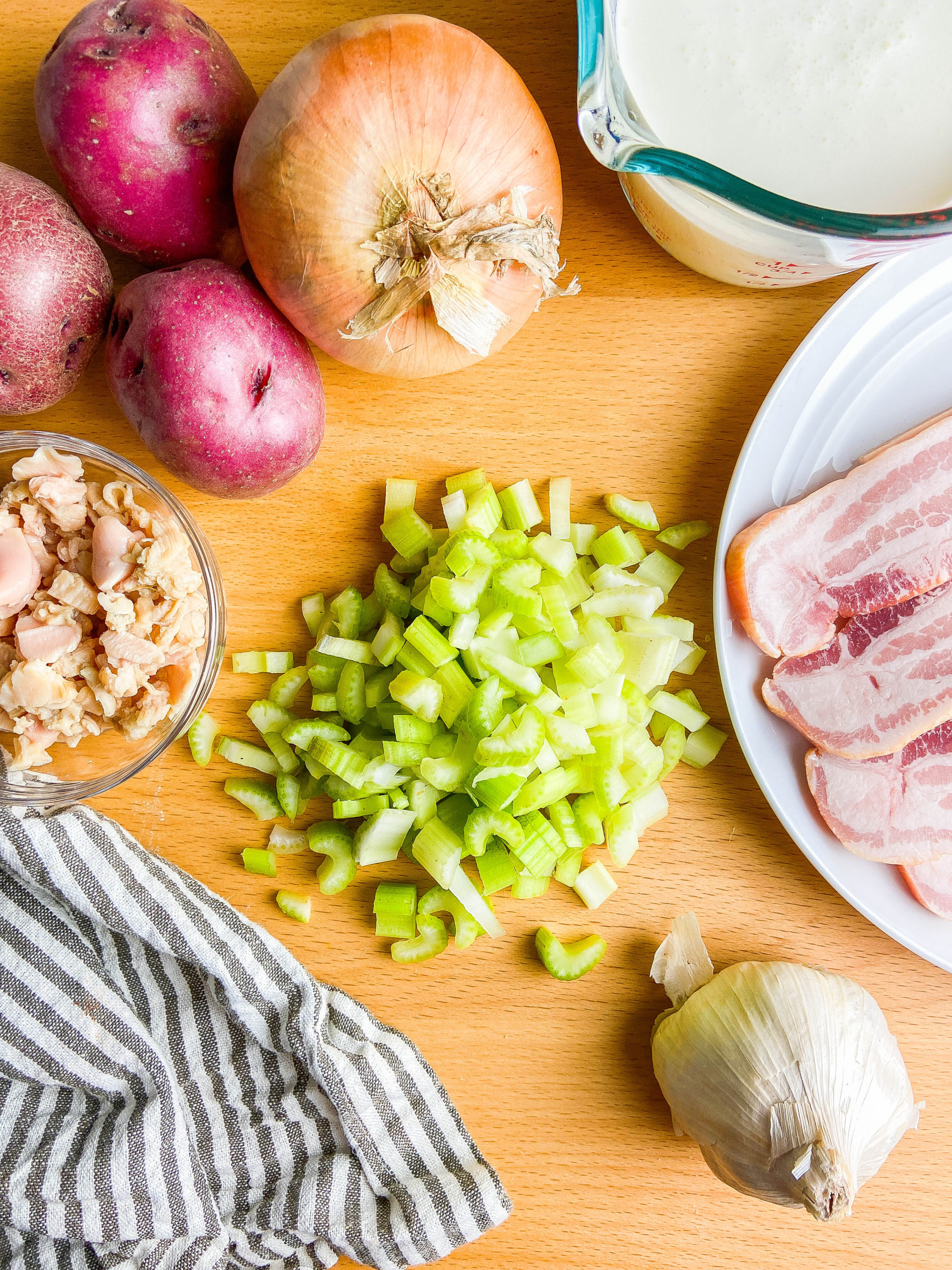 BACON: Thick cut is best! It adds a meaty-smokiness to the soup that is a must.
CELERY AND ONION: Both add texture and flavor.
BAY LEAF: You should be able to find whole bay leaves in the spices section of your grocery store. Just remember to remove them before serving the soup.
ALL-PURPOSE FLOUR: This will help thicken the chowder.
DRY WHITE WINE: Make sure it is a wine that you like drinking out of the bottle as it will be concentrated once it cooks down. If you want to keep this non-alcoholic, you can either add more clam juice or low-sodium chicken broth.
HEAVY CREAM: Where the chowder gets its creaminess from. While you can substitute half and half or whole milk if you want it to be a bit lighter, the result will be a chowder that is less creamy.
THYME: This really makes the dish, I think. Thyme adds a herby pepper flavor and the chowder is just not the same without it.
RED POTATOES: You can also use russet potatoes cut into bite-sized pieces but I love the color that the red potatoes add to the final dish.
CANNED CLAMS: Yes, clam chowder with fresh clams is fabulous. But canned clams are much more accessible and they are just as delicious in this soup! Make sure that you buy chopped clams, not minced clams.
CLAM JUICE: You'll find bottled clam juice next to the canned clams in the canned seafood section. It's the leftover broth from steamed clams. Make sure that you also save the juice from the cans of clams.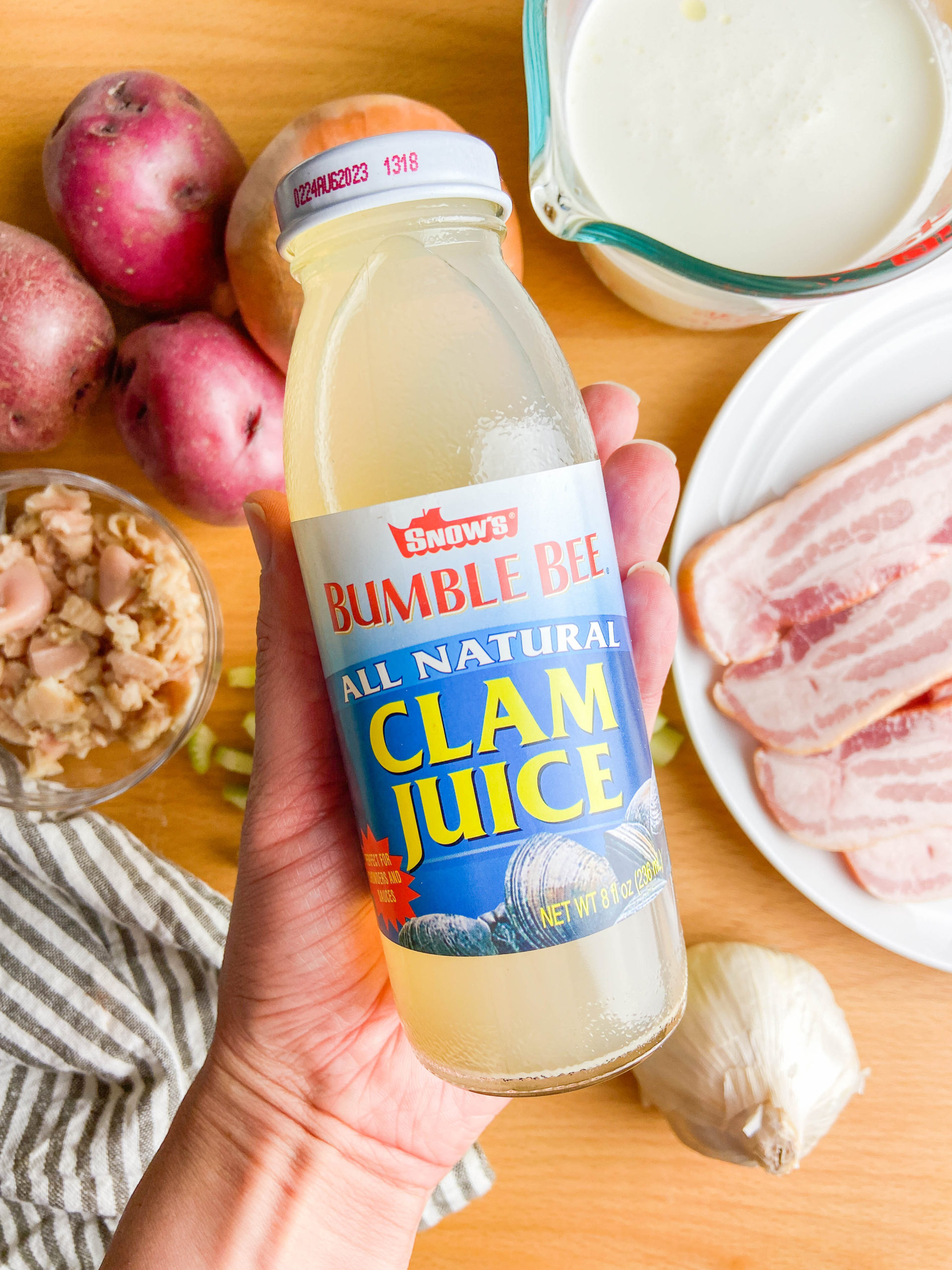 Step by Step Photos and Instructions: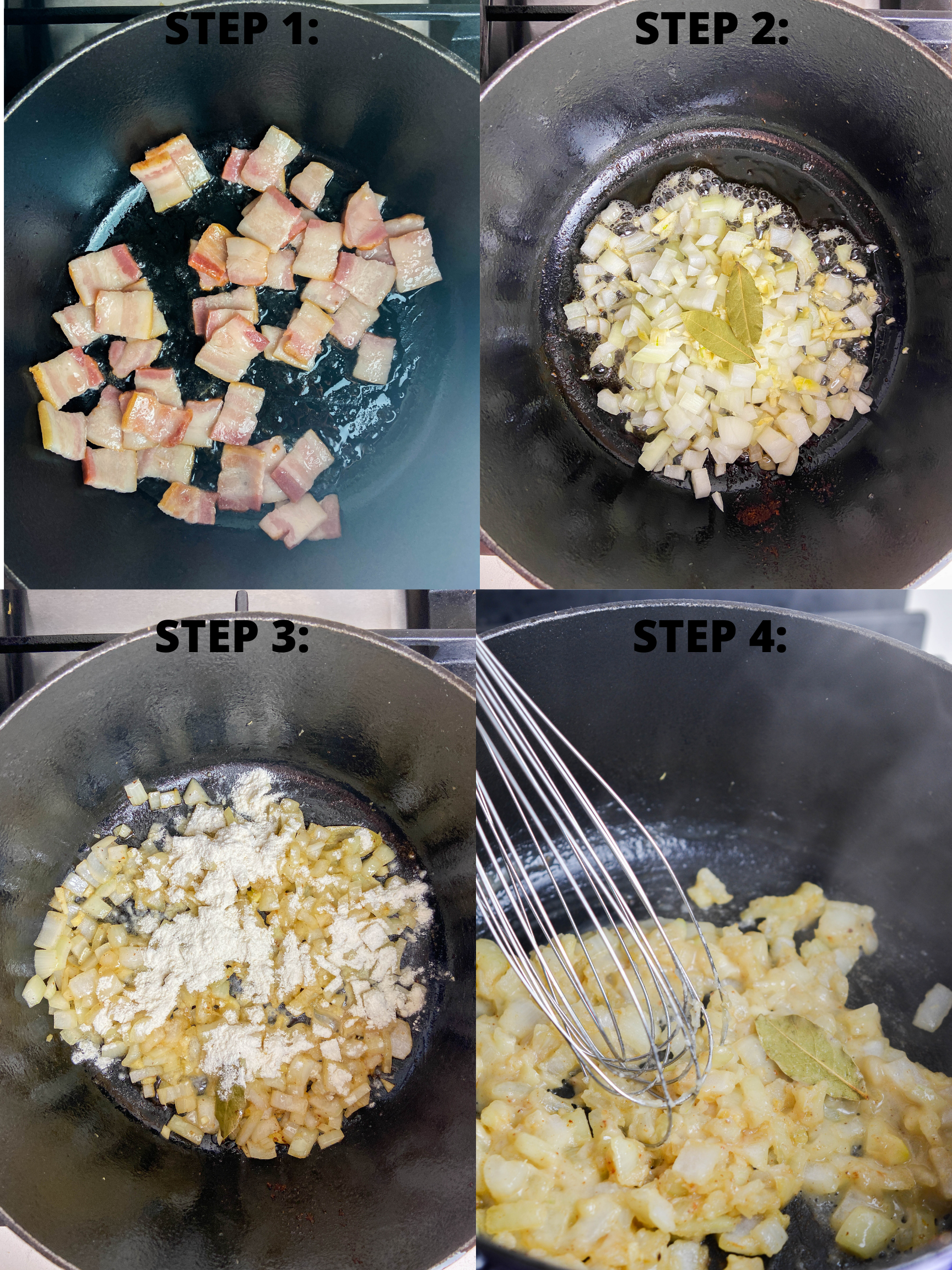 STEP #1: Cook the bacon over medium heat in the bottom of a large soup pot. Use a slotted spoon to transfer the bacon to a paper-towel lined plate. Reserve 2 tablespoons of the bacon fat in the soup pot.
STEP #2: Add onions, garlic, bay leaves and celery to the bacon grease. Allow to cook just until onion is translucent.
STEP #3: Whisk in the flour and allow to cook 1 – 2 minutes.
STEP #4: Whisk in the white wine. And allow to cook 2 – 3 minutes.
DES' TIP: Adding the wine will "Deglaze" the pan. This will allow you to scrape up all of the brown bits that have stuck to the bottom of the pan. It is called the "fond" and is where so much flavor is!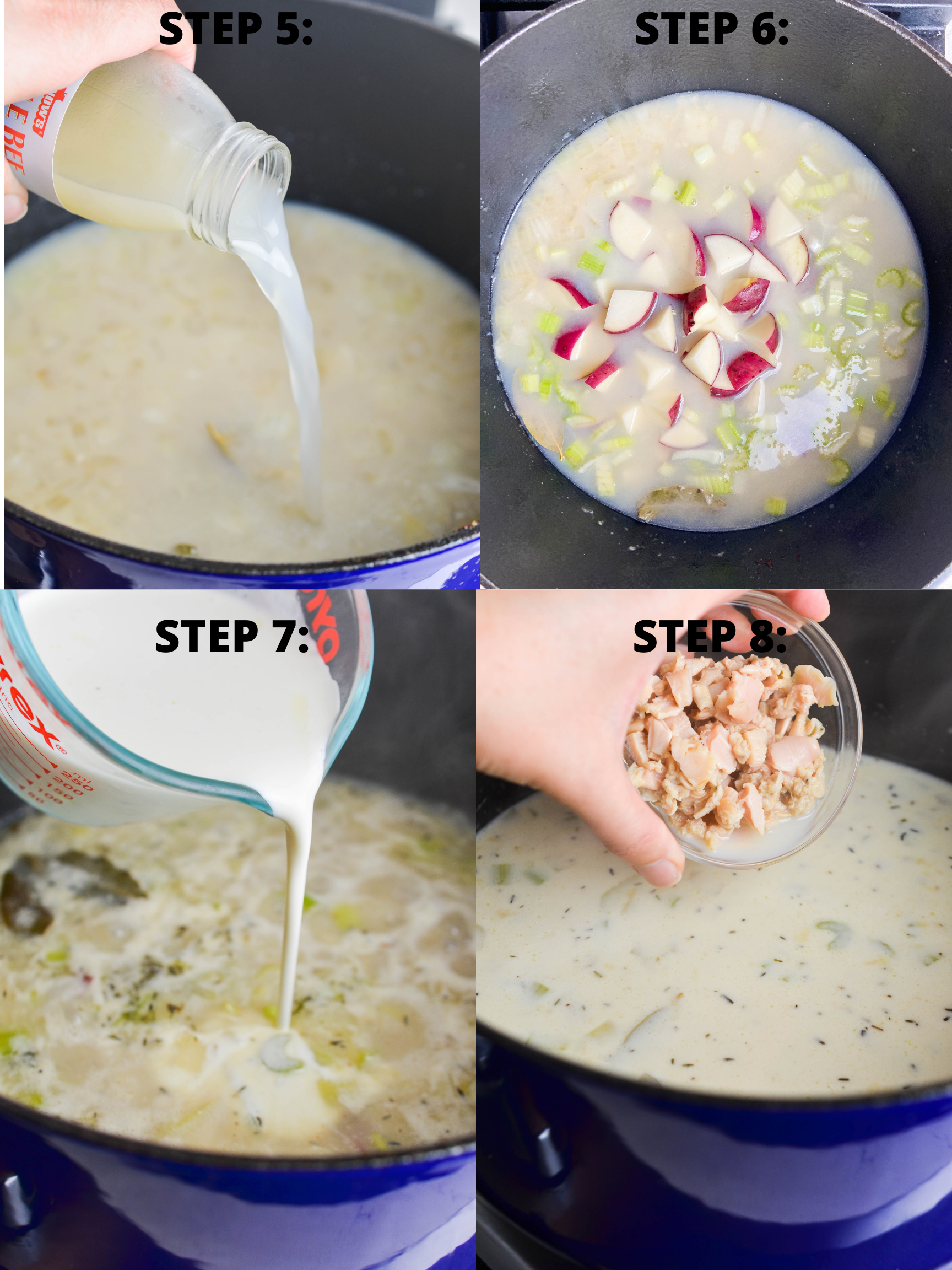 STEP #5: Add thyme, celery, potatoes, clam juice and reserved clam juice. Bring to a boil, reduce heat and cook until potatoes are tender.
STEP 6: Whisk a few tablespoons of the hot broth into the cream and then slowly add the tempered cream to the soup pot.
DES' TIP: Whisking the hot broth into the cream will "temper" the cream. That means it'll bring the cream up to temperature. If you add cold cream to the hot soup you run the risk of the cream curdling.
STEP #7: Reduce heat to medium-low. Add the chopped clams and bacon to the pot soup. Simmer 30 minutes. Season to taste with salt and pepper. Serve hot.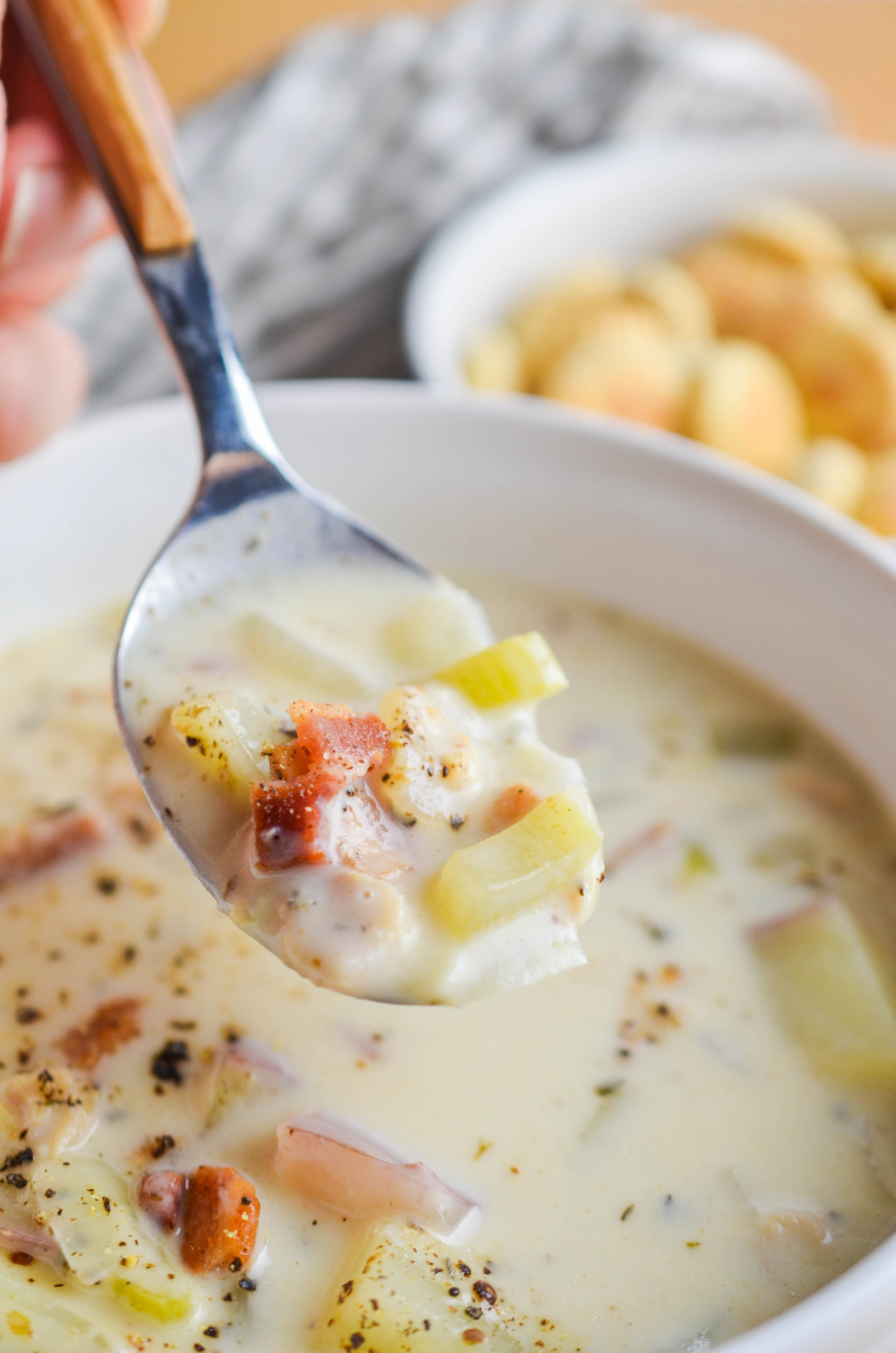 Whenever I serve this clam chowder, I love to serve it with lots of freshly cracked black pepper and soup crackers. It's also great to dunk some sourdough bread in! It is the perfect way to warm up on a cool evening!
If you love this Clam Chowder recipe, check out some of my other soup recipes:
Roasted Garlic and Chicken Chowder
If you love seafood, you've got to check out some of my favorite seafood recipes:
Parmesan Crusted Tilapia with Tomato Basil Cream Sauce
Shrimp Tacos with Cilantro Sour Cream Sauce
Salt and Pepper Calamari Recipe
Note: This recipe was originally published in 2009. It was updated with new photos, step by step instructions, ingredient modifications and nutrition information in 2020.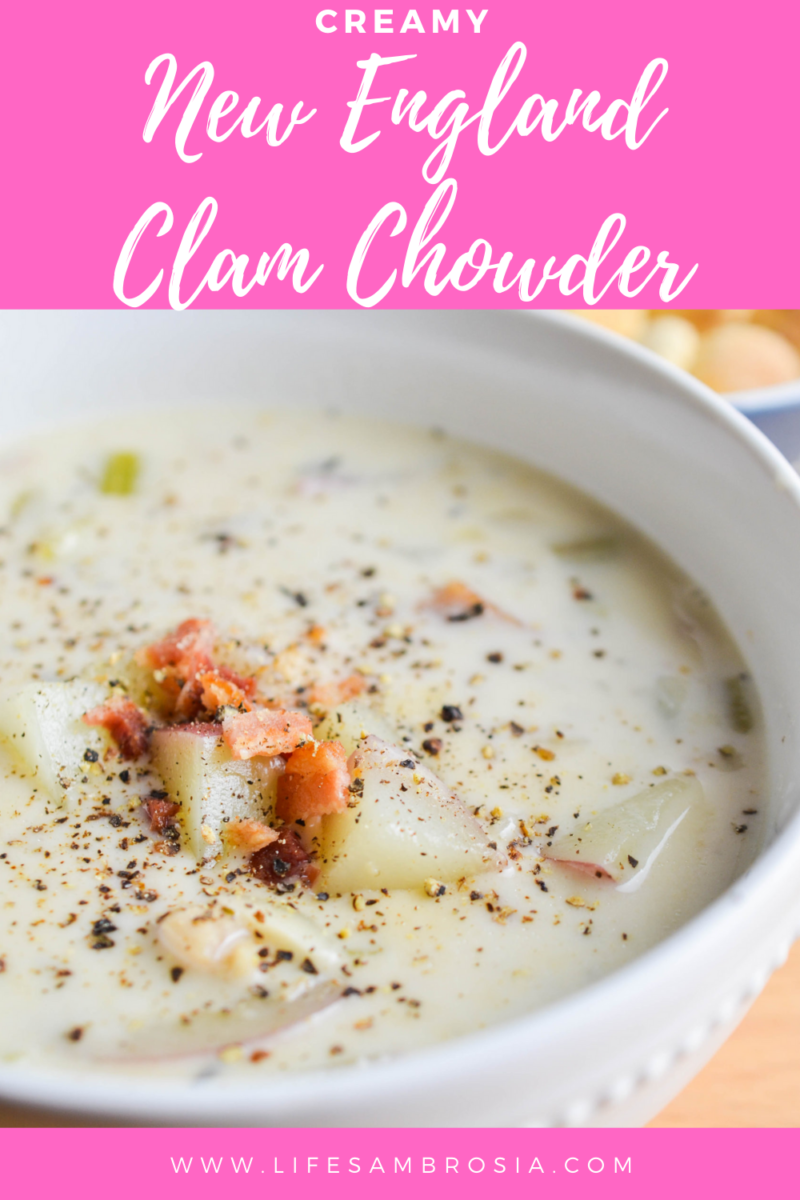 New England Clam Chowder Recipe
Ingredients:
4 slices bacon, cut into 1 inch pieces
1/2 onion chopped (about 1 cup)
2 bay leaves
2 tablespoons flour
1/2 cup dry white wine
1 teaspoon thyme.
3 celery stalks, diced
3 red potatoes, diced 1/2 inch pieces (about 2 cups)
1 (8 oz) bottle clam juice
1 cup heavy cream
3 (6.5 ounce) cans of chopped clams, juice reserved (about 3 cups)
Instructions
1
In a dutch oven or large pot, cook bacon until brown. Remove bacon and set aside, reserve 2 tablespoons of pan drippings.

2
In the same pot, cook onion and bay leaves, until onions are translucent, about 5 minutes.

3
Add flour, cook two minutes.

4
Add wine to deglaze the pan (Note: Be sure to scrape any good bits that have stuck to the bottom, its where the yummy flavor is!). Simmer for 2-3 minutes.

5
Add thyme, celery, potatoes, clam juice and reserved clam juice. Bring to a boil, reduce heat and cook until potatoes are tender.

6
Add about 3 tablespoons of the hot broth to the cream slowly to temper it so that the cream won't curdle when you add it to the broth.

7
Reduce the heat, slowly add the cream. Add the clams and bacon pieces. Simmer for 30-40 minutes. Serve.
Notes
Nutrition information for estimation purposes only.
Nutrition information
Calories: 241 , Total Fat: 9.9g , Saturated Fat: 5.4g , Cholesterol: 43mg , Sodium: 514mg , Carbohydrates: 24.7g , Fiber: 2.4g , Sugar: 3g , Protein: 7.8g