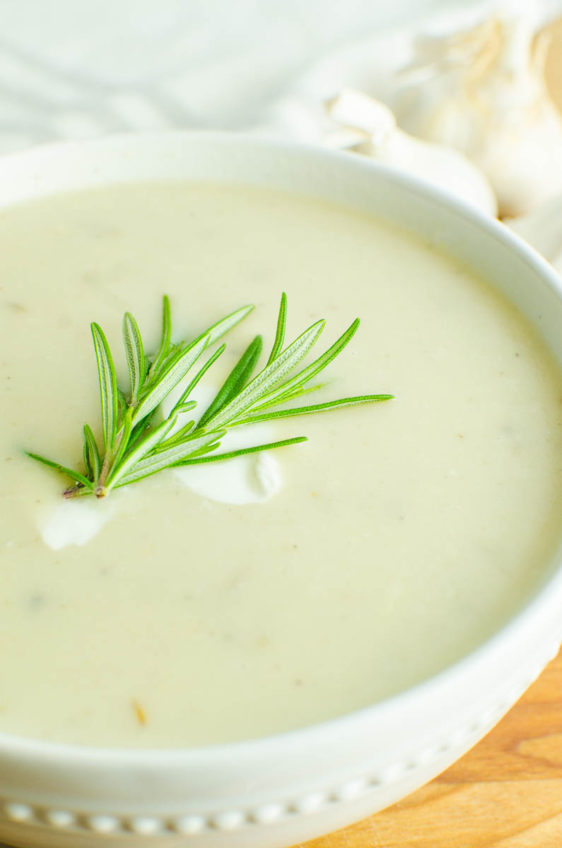 Roasted Garlic Soup
Roasted garlic soup is loaded with loads of garlic, potatoes, rosemary and cream. It is a must for cold days and a sure to comfort you when you feel a cold coming on.
Where are all my fellow garlic lovers?! Have I got something special in store for you with this recipe. This simple soup is velvety, creamy, full of sweet mellow roasted garlic flavor, and it is the perfect way warm up on a cool day or soothe an achy sore throat.
When I was growing up, the first thing my mama would do when I was starting to get sick was make me soup and load me up on all things garlic.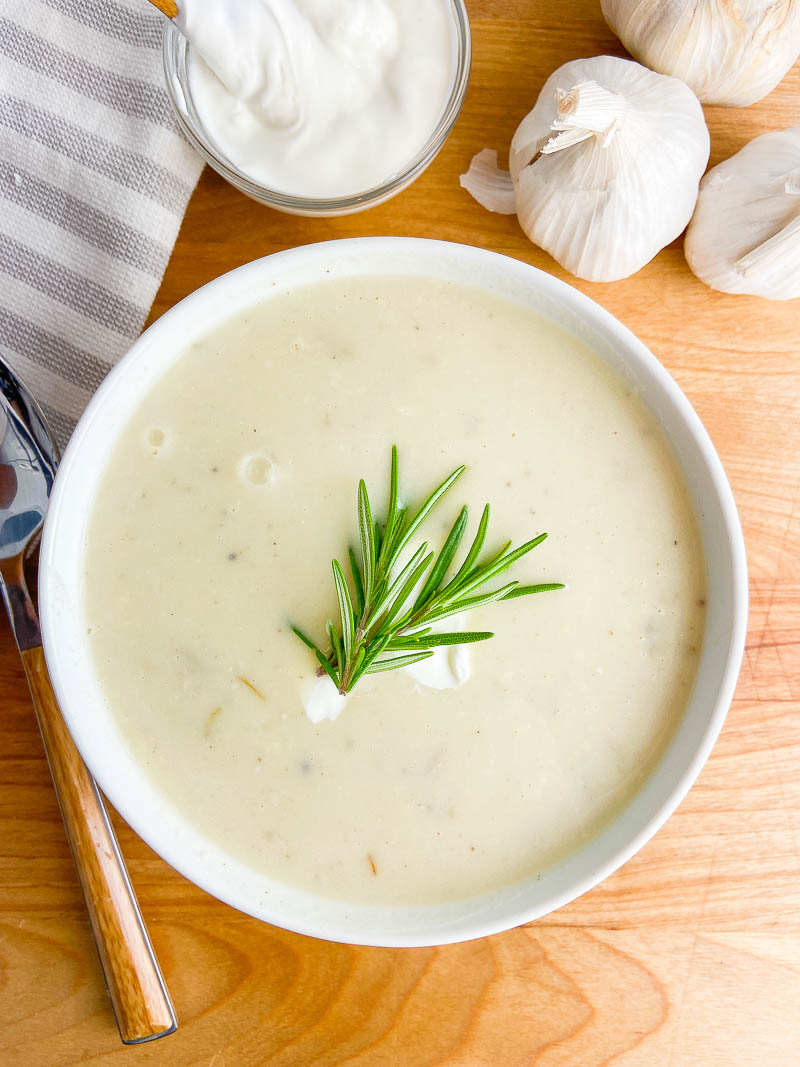 This is because throughout history garlic has long been seen as having medicinal properties. Now, while I am not a doctor and I cannot speak to the truth of any of these claims, I will say garlic and soup are still the first thing I turn to when I am starting to feel a bit under the weather.
With this Garlic Soup Recipe, I have combined the two! The sweet taste of roasted garlic in a creamy, velvety soup. It really doesn't get much better than this!
How do you make garlic soup?
Step 1: First things first, you've got to make the roasted garlic. I have an easy step by step recipe for it here.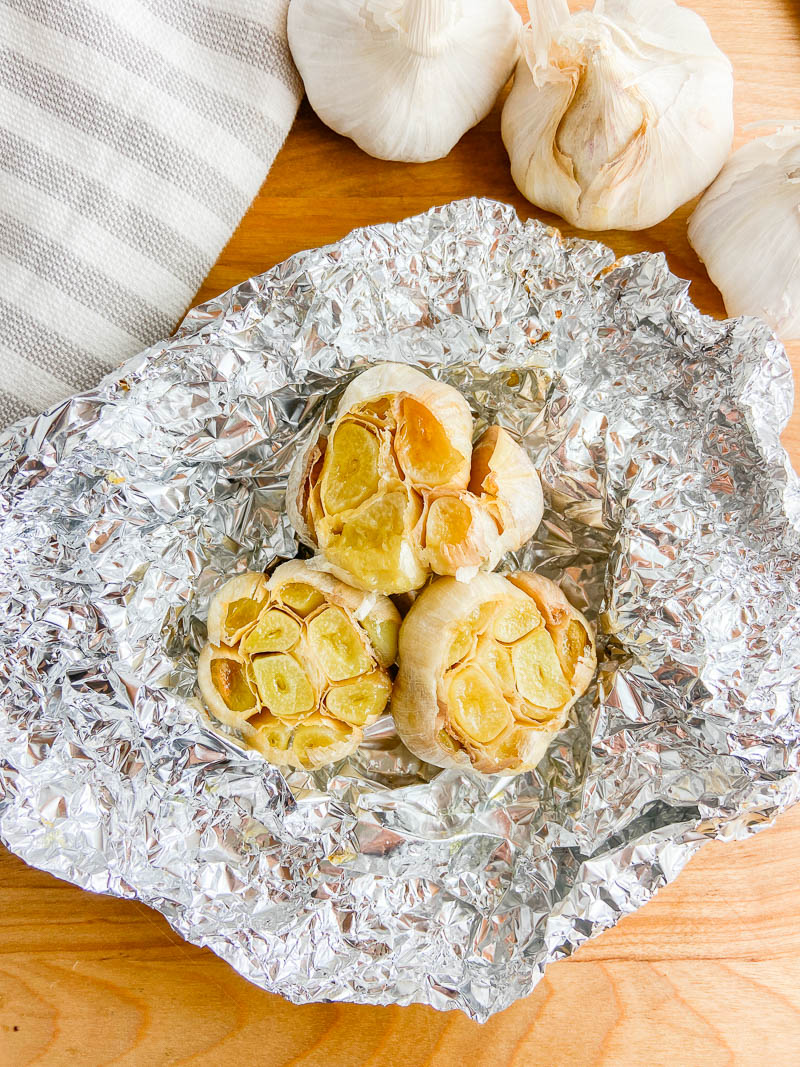 Step 2: Once the garlic is roasted saute the onions and garlic together. It is important to watch the garlic closely in this step, garlic can burn quickly. If it burns, the soup will be bitter.
Step 3: Add in the broth, seasonings and potatoes. Simmer just until potatoes are fork tender.
Step #4: Temper the cream by adding one tablespoon of the hot broth. Whisk it into the soup.
DES' TIP: Whenever adding cream to a hot soup (or sauce) it is important to temper it with a bit of the hot mixture. This will bring the cream to temperature so that it won't curdle when added to the heat.
Step #5: Use an immersion blender to blend soup until smooth. Season to taste with salt and pepper. Top with sour cream, fresh rosemary and serve.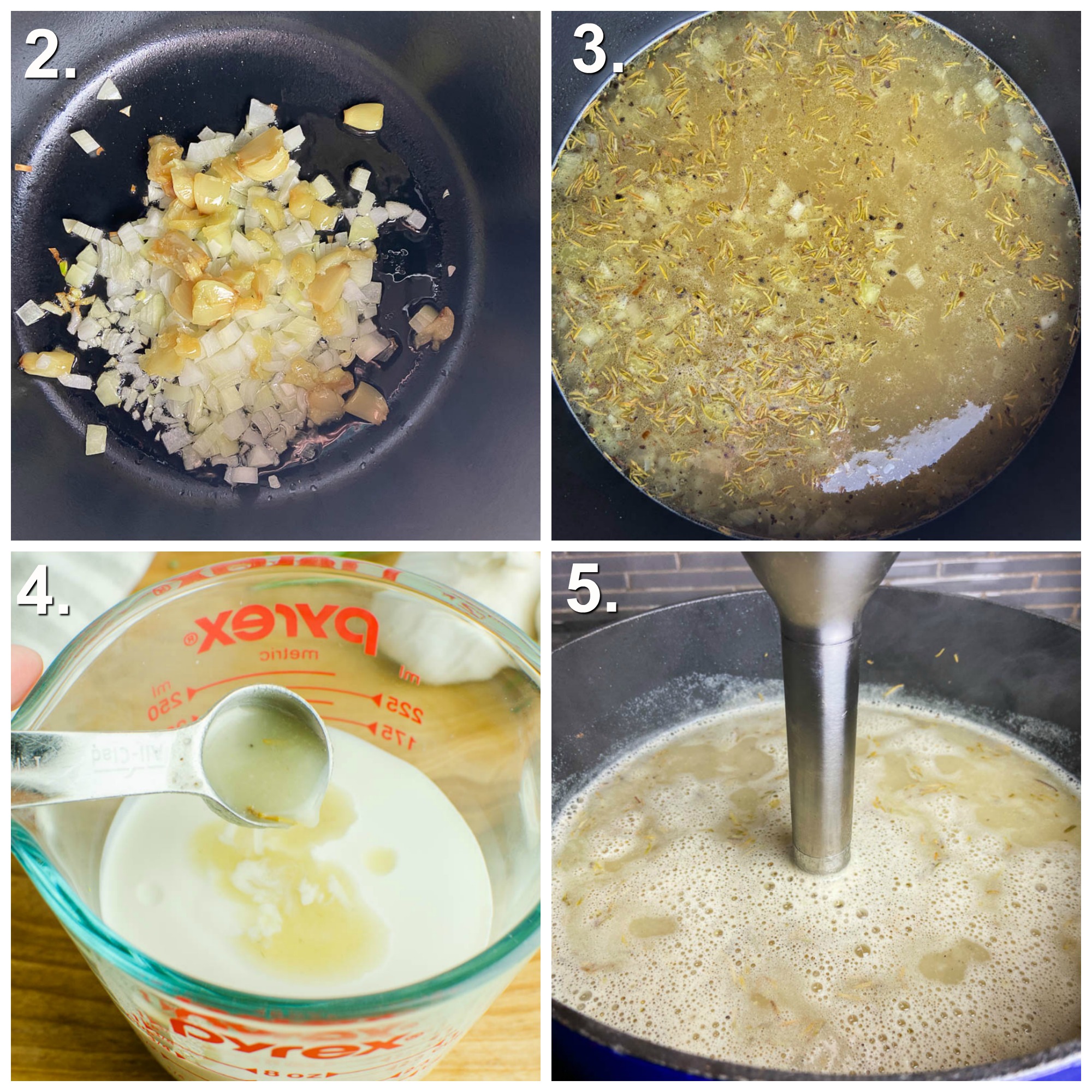 What do you serve with roasted garlic soup?
With the added potatoes, this soup is very hearty and makes a great meal on it's own. I like to serve it along side some soup crackers, bread and cheese.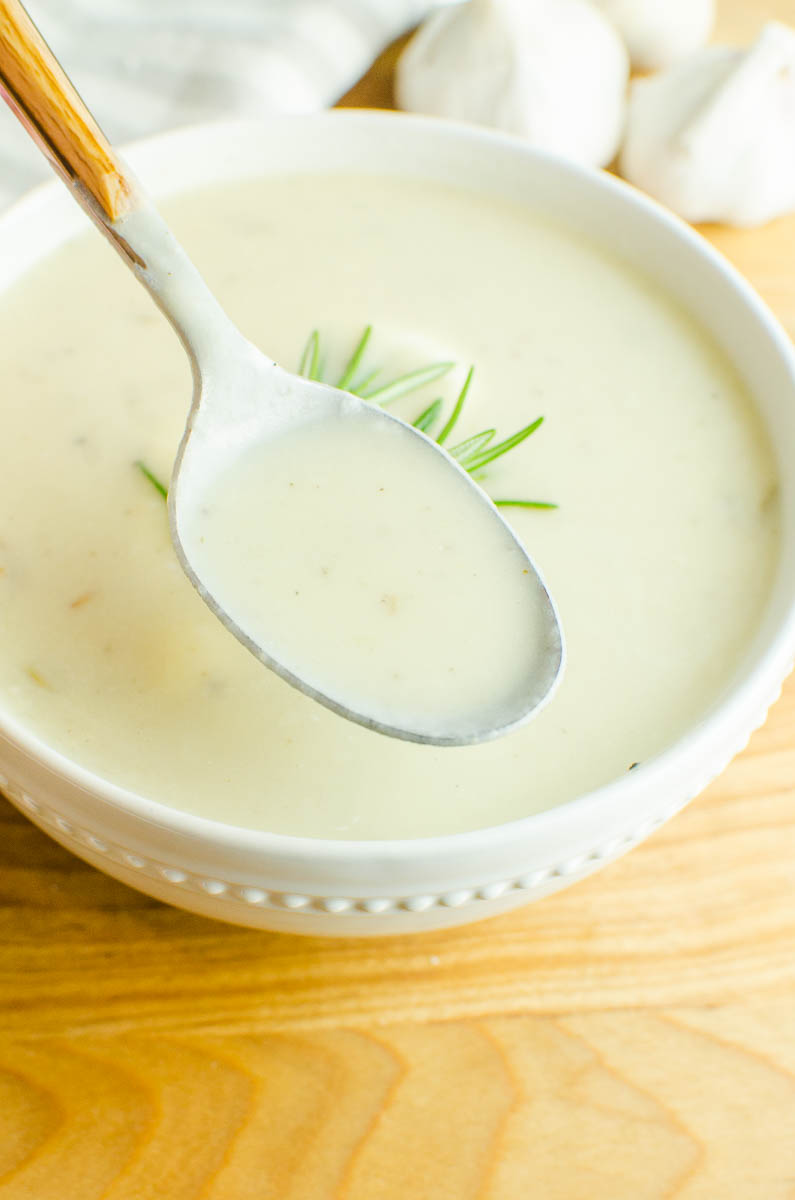 How to store leftover soup:
Store any leftovers in an airtight container in the refrigerator for up to 3 days. This soup is even better the next day after the flavors have had a chance to meld. To reheat, simply put the soup in a pot and heat until steaming.
Other recipes for garlic lovers: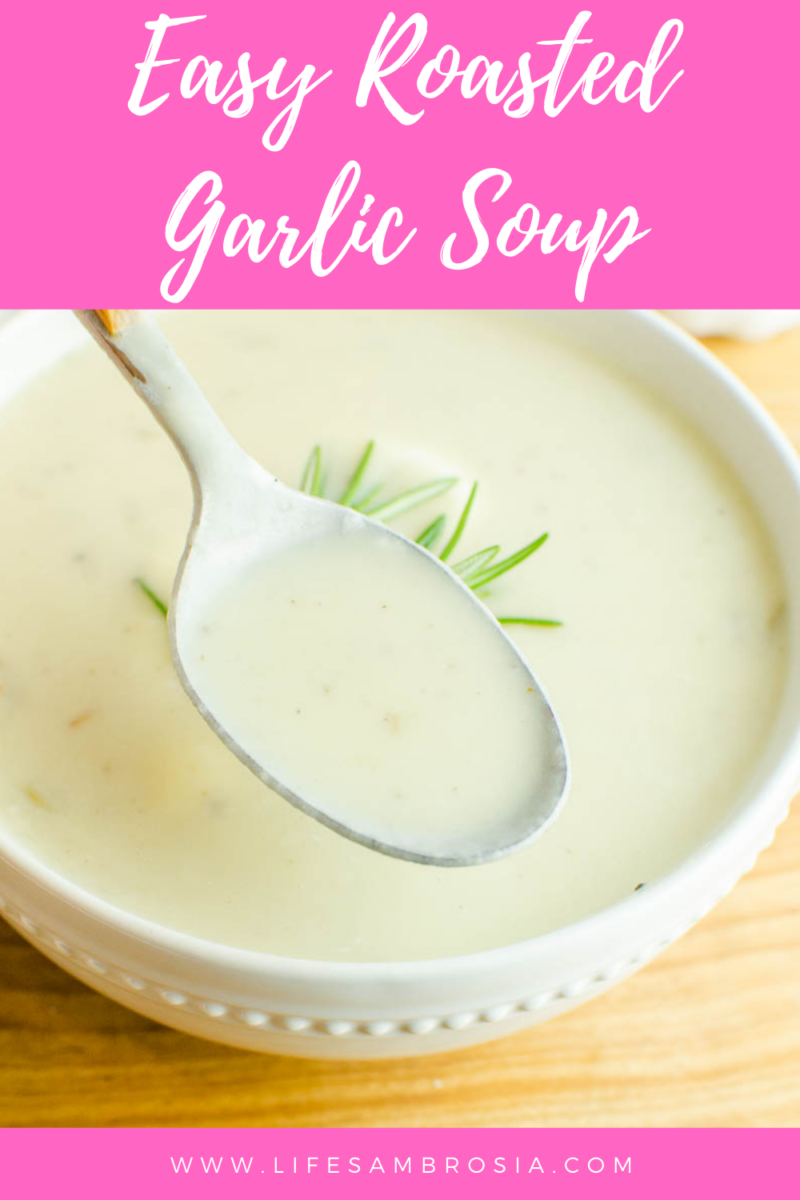 Note: This post was originally posted in 2010. The recipe, photos, tips and instructions were updated in 2020.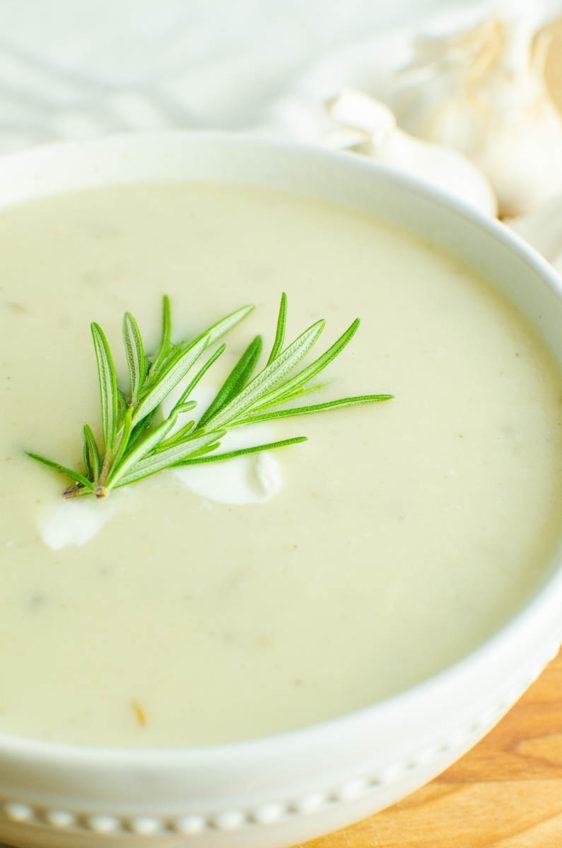 Roasted Garlic Soup
Roasted garlic soup has an earthy aroma that can only be outmatched by it's incredible taste. This easy soup recipe is satisfying for the stomach and senses
Heat 2 tablespoons of olive oil in a pot over medium heat. Stir in onion and roasted garlic cloves. Cook for 3 minutes or until the onion softens. Be careful not to let the garlic burn.

Stir in chicken broth, black pepper, potatoes, and rosemary. Bring to a boil. Allow to boil for 5 - 7 minutes or until the potatoes are soft. Stir 1 tablespoon hot broth into heavy cream to temper it. Once tempered slowly whisk cream into soup.

Remove from heat and use an immersion blender to blend until smooth. You can also carefully transfer the mixture to a blender and blend until smooth. Serve.
Keywords:
blender, comfort food, Food, garlic soup, Recipe, roasted garlic, roasted garlic soup, rosemary, soup