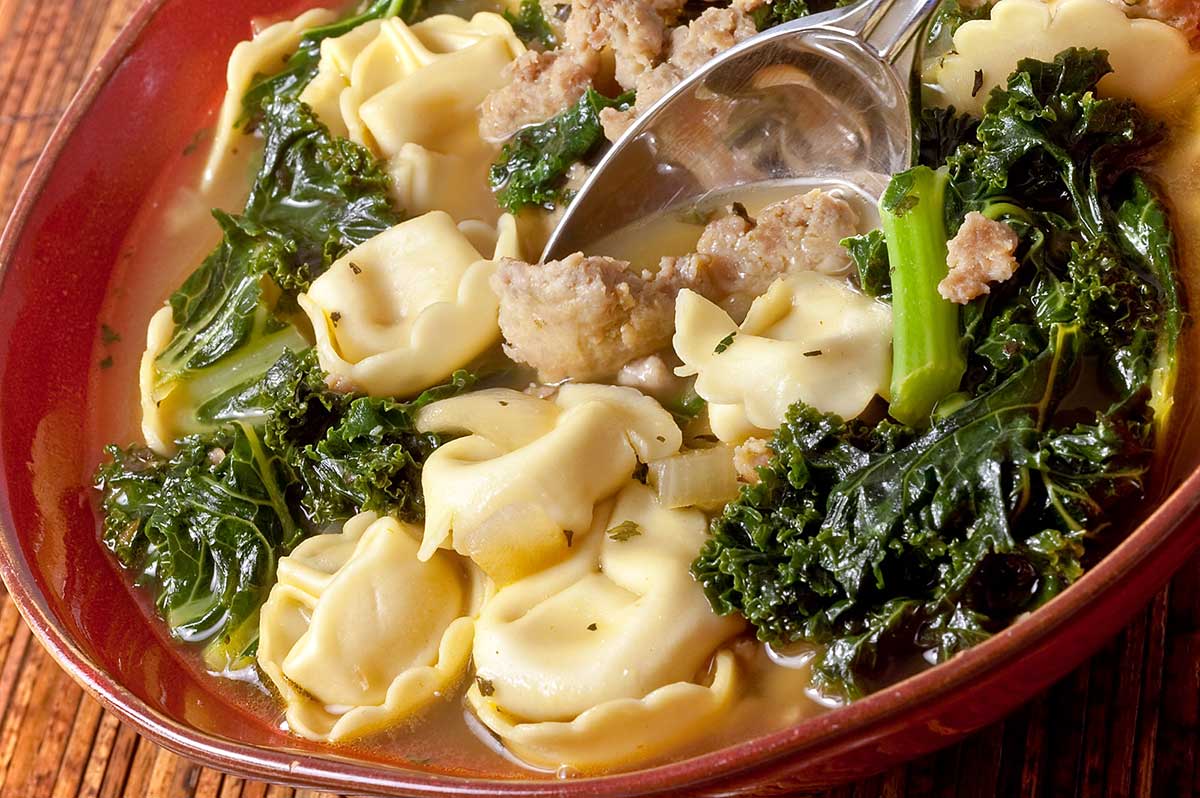 Sausage, Kale and Tortellini Soup
"This soup sneaks up on you." These were Ryan's exact words shortly after we finished eating this. You see, he has this belief that soup isn't that filling so he always eats two bowls. And despite my warning that tortellini, sausage and kale can be quite filling, he decided to eat two bowls of this. About 30 minutes later he was so close to a food coma that he didn't care I was watching American Idol.
Being a broth based soup, the kind of broth that you use for this soup is pretty important. You may notice that I use two kinds of broth: chicken and vegetable. I love the combination of the two together but if you only have one or the other feel free to use only one kind. I also suggest using a low sodium broth because that allows you to control the amount of salt in the soup. Because you are using sausage in this soup, which can be kind of salty, the ability to control the amount of salt is important.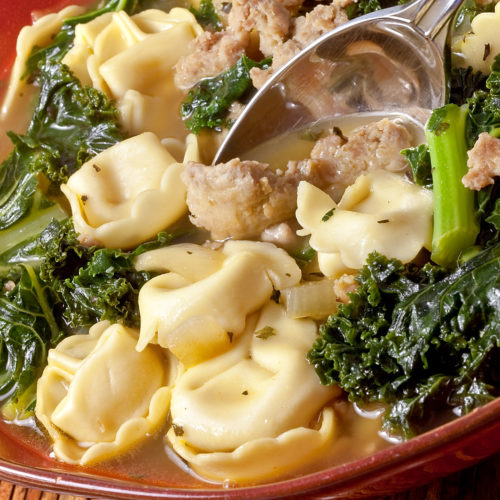 Sausage, Kale and Tortellini Soup
A tummy filling soup chock-full of sausage, kale and cheese tortellini.
Ingredients:
1

pound

turkey Italian sausage

casings removed

1

tablespoon

olive oil

optional

1/2

medium onion

diced

1

clove

garlic

minced

3

cups

low sodium chicken broth

3

cups

low sodium vegetable broth

1

bunch

8 - 10 ounces kale, chopped

1

teaspoon

dried basil

9

ounces

fresh cheese tortellini

fresh cracked pepper and kosher salt
In a large soup pot, cook sausage over medium heat until browned, using a spoon to break the sausage into bite size pieces. Once browned transfer to a plate and set aside.

Reserve 1 tablespoon of pan drippings, if there isn't enough pan drippings add 1 tablespoon olive oil. To the pan drippings add onion and garlic, cook 5 minutes or until onion is softened.

Return sausage to pan. Pour in chicken and vegetable broth. Stir in kale and basil. Cook for 10 - 15 minutes or until kale is wilted.

After kale has wilted, stir in tortellini and cook for 5 minutes or until the tortellini is soft and warmed through. Season to taste with salt and pepper.

Ladle into soup bowls. Serve hot.
Keywords:
cheese, Food, italian sausage, kale, Recipe, sausage, soup, tortellini, turkey sausage