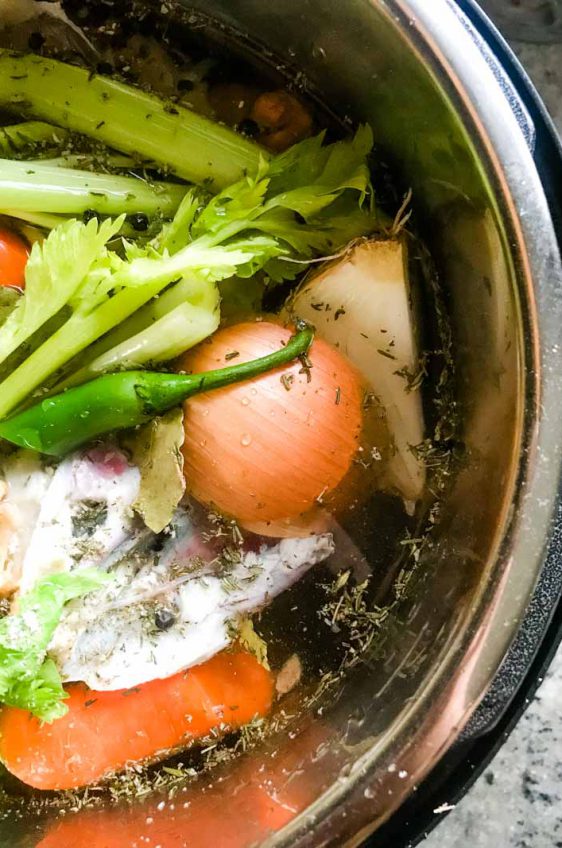 Instant Pot Chicken Stock
A versatile, flavorful chicken stock that is great to have on hand. Use it in soups, sauces and gravy. 
When it comes to chicken stock, nothing beats a homemade version. I have been making my own for years now. Each time I would make Homemade Chicken Soup, I'd start by making my homemade broth.
Homemade broth used to be a labor of love. It would simmer all day long. But now, with the Instant Pot, it's done in a fraction of the time. And thank goodness too because with the holidays approaching, you're going to want to have this Instant Pot Chicken Stock on hand for all the things.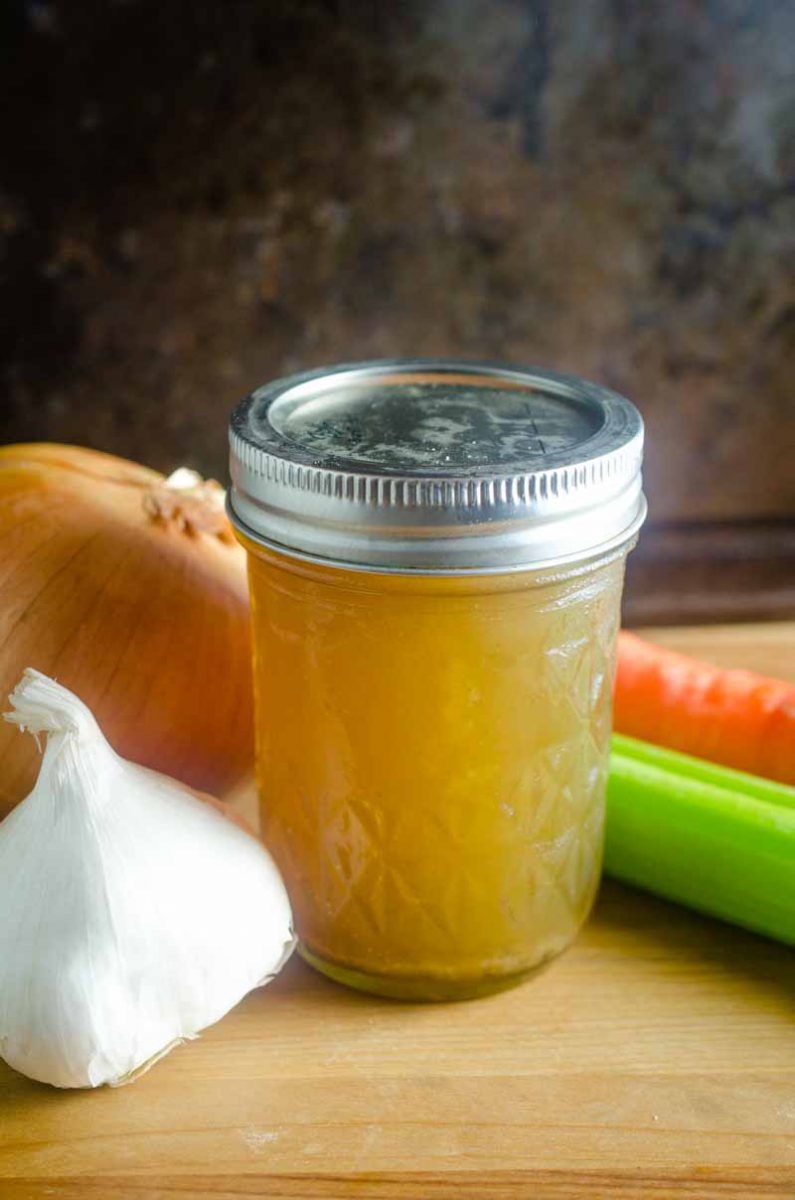 What ingredients do you need to make Instant Pot Chicken Stock?
When I make chicken stock from scratch, I like to use chicken bones. This means that whenever I make roasted chicken or buy one of those rotisserie chickens at Costco, I save the carcass. That is where you're going to get a lot of your flavor from. For this Instant Pot Chicken Stock recipe, you'll need about 2 pounds of chicken bones. This means a couple of leftover chicken carcasses will work.
You will also need veggies. Like chicken carcasses, I also save veggie scraps and trimmings in a bag in the freezer. When the bag is full, I use it to make stock. When it's not full yet, and I just need to make stock, I'll use fresh. Both methods give very flavorful stocks.  This recipe calls for celery, onions, carrots and a serrano pepper. I have used green bean trimmings, potatoes and turnips too.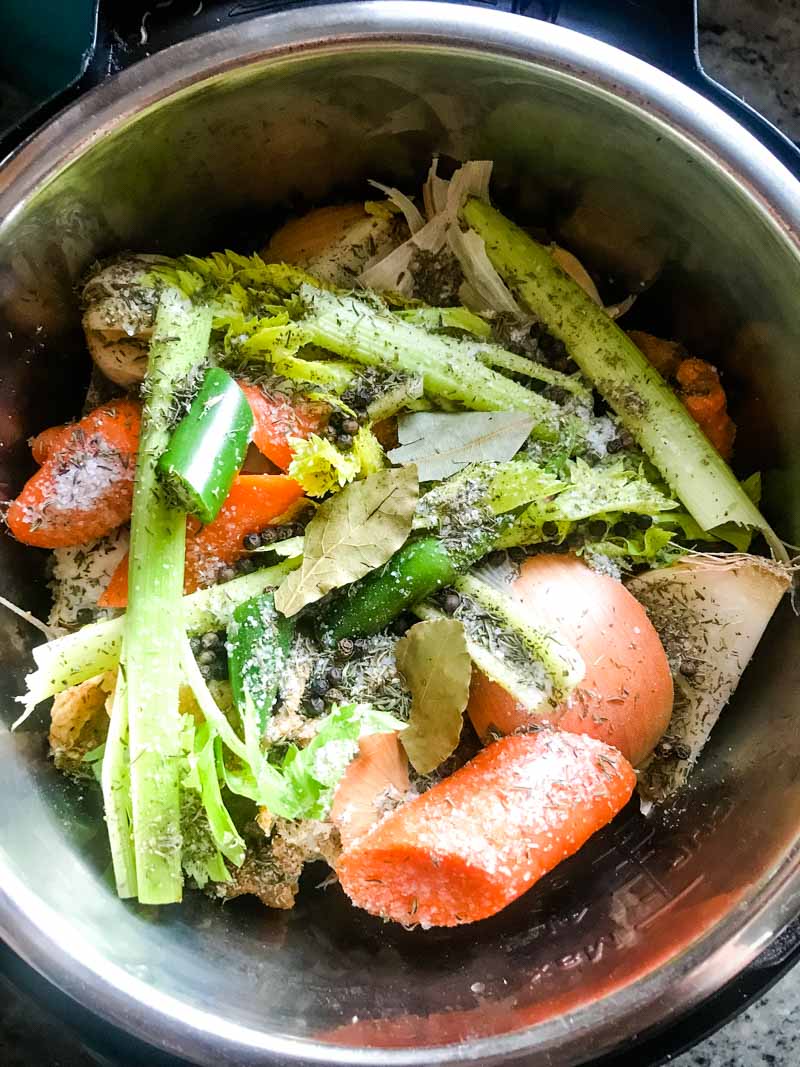 Finally the herbs and spices. Whenever making a poultry stock, sage, bay leaf and thyme are my go to for herbs. You can use fresh or dried. Whatever you have on hand. Just keep in mind that dried herbs are more concentrated so 1 tablespoon of fresh herbs = 1 teaspoon of dried.
Also, salt and pepper are a necessity. I like to season before the stock starts cooking and then adjust after it has finished. Unlike canned stocks, you can really control the saltiness of homemade chicken stock. I err on the side of less salty, in case the recipe that I'm using it in also requires salt.
How do you make Instant Pot Chicken Stock?
This is the best and easiest part. Put all the ingredients in the instant pot. Pour in enough water just to cover everything. Put the lid on, seal and set it for 45 minutes. Then do a full natural release. You don't want to use a quick release for a couple of reasons, the flavor has more chance to develop and a quick release may cause boiling liquid to come out of the valve.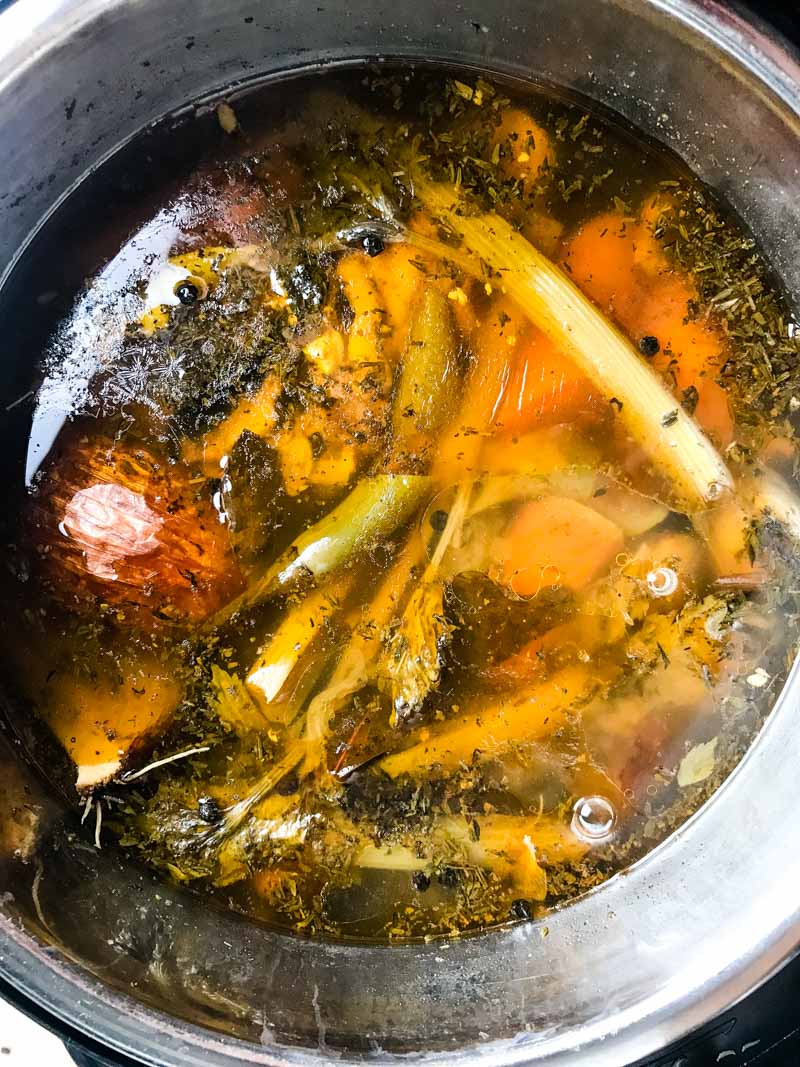 After the stock has cooled slightly, you can use a spoon to skim off some of the fat from the top.
Strain the veggies and chicken carcass and then use in all the recipes.
You can freeze it in jars or in ice cube trays for when you need just a couple tablespoons.
Easy peasy huh?
Do you have to use chicken bones?
Nope! This technique works for any stock. I especially like to make it with the Turkey carcass after Thanksgiving.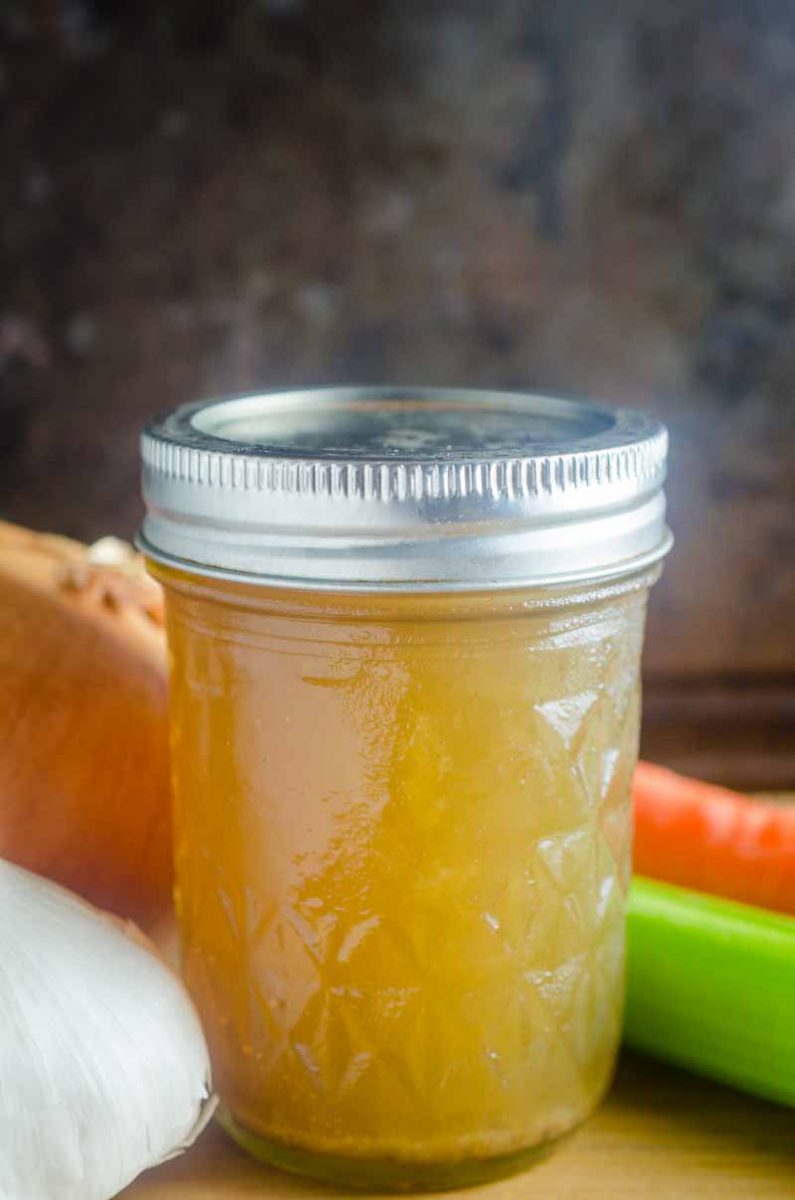 What do you use homemade chicken stock for?
As mentioned above, I love using it for homemade chicken noodle soup. It will also work in any other recipe calling for chicken stock. I use my Instant Pot Chicken Stock when I make chicken curry. I use it when I make gravy.  Basically any recipe that calls for chicken stock, I use this.
It's basically liquid gold. I mean look at it…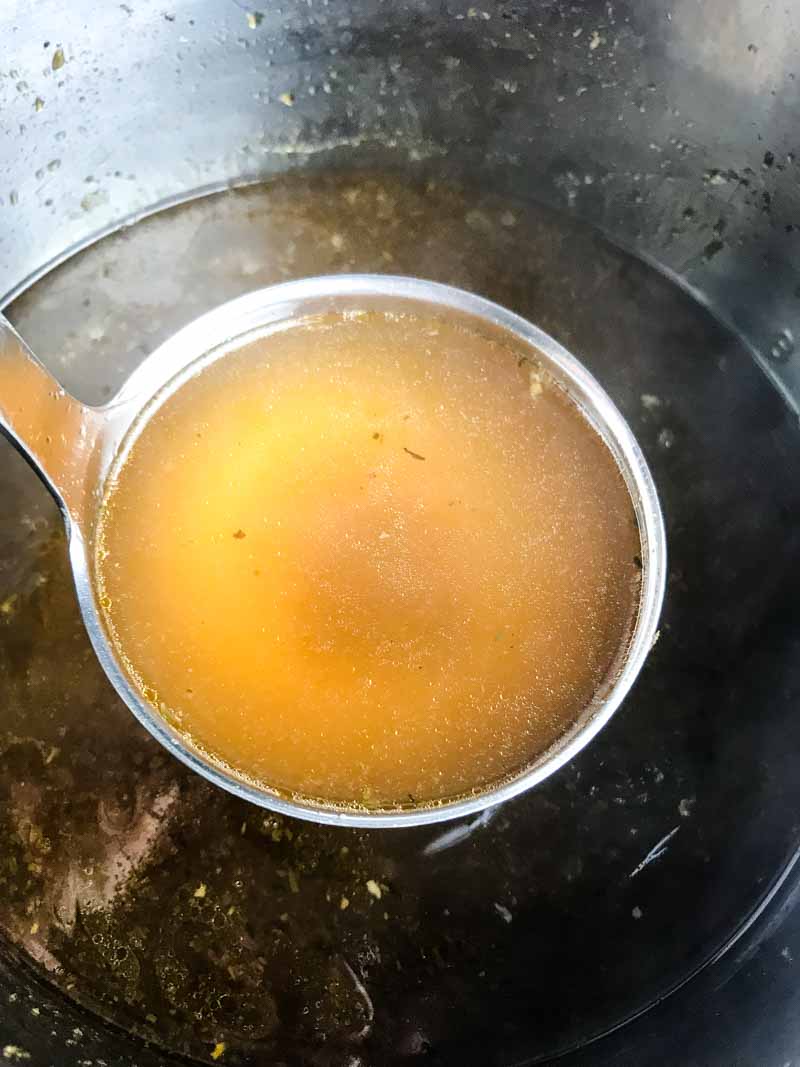 I also use it when my son is craving ramen and I don't want to use the seasoning packet. It's perfect for that!
Whatever you need, this Instant Pot Chicken Stock is going to come in handy!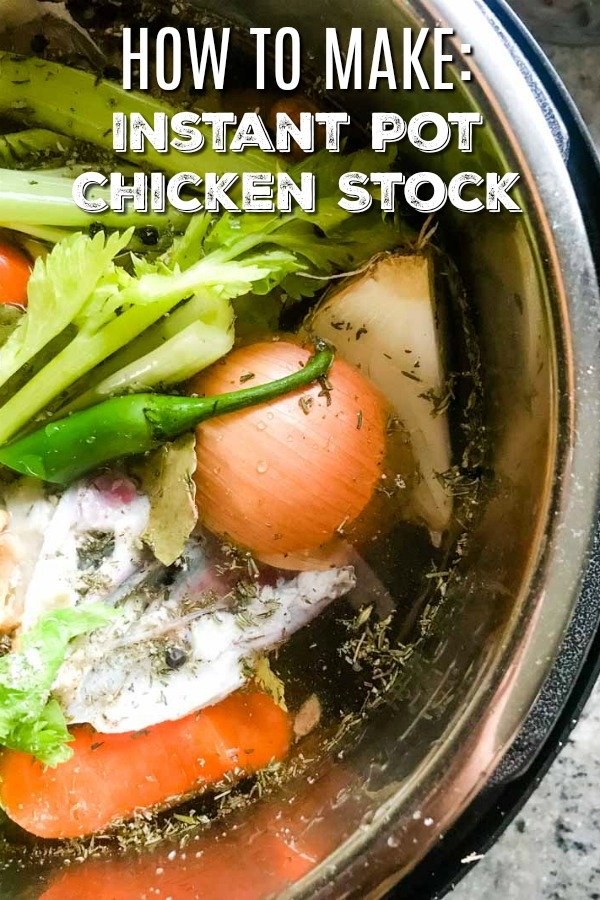 Instant Pot Chicken Stock Recipe
Ingredients:
2 pounds chicken bones
1 onion, cut in half, skins on
6 cloves of garlic, skin on
1 - 2 large carrots, cut into large chunks
3 ribs celery, cut into large pieces
1 serrano (or jalapeno) pepper, cut in half (optional)
1 tablespoon black peppercorns
2 teaspoons dried rubbed sage
2 teaspoons dried thyme
1 tablespoon kosher salt
3 bay leaves
About 10 cups water
Instructions
1
Combine all ingredients, except water, in the instant pot.

2
Pour water in until it fills just below the max line. About 10 cups will be enough.

3
Place lid on instant pot, seal, set manual pressure to high for 45 minutes. Once finished, do a full natural release.

4
Allow the stock to cool slightly and use a spoon to skim off any fat that accumulates at the top. Strain stock. Adjust seasoning with salt and pepper if needed. Store in containers to use immediately or freeze.