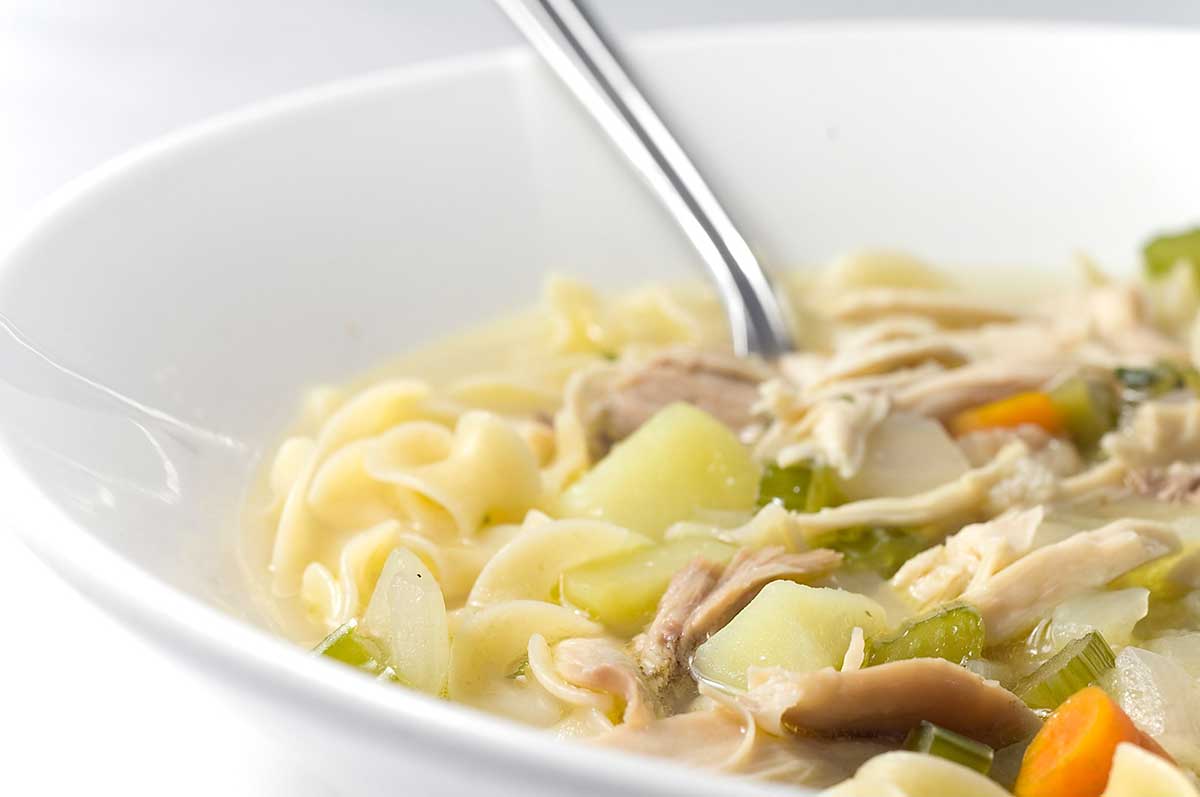 Chicken Noodle Soup
It's cold. Its rainy. You notice a person coughing next to you on the bus and you contemplate getting off and waiting 20 minutes for the next one. When you finally get to work the office is quieter because so many of your co-workers are out sick. The news is stressing the importance of getting your flu shot but lines for said shot stretch around the block. All of these things could only mean one thing,  cold and flu season is officially upon us. While we can buy medicine to make us feel better, to me nothing quiets the sniffles and soothes the sore throat pain like a nice hot bowl of homemade chicken noodle soup.
This recipe reminds me much of my mom's chicken noodle soup. The same soup that she would feed me whenever I stayed home sick from school. Its full of all kinds of goodies like carrots, celery, potatoes and chunks of shredded chicken. But my favorite part is the the garlic, lots of garlic, 10 cloves to be exact. I grew up knowing that garlic is a natural antibiotic so it only makes sense that the soup that is suppose to make you healthy again be full of it. I also add a couple dried chili peppers because I like the heat and my mom once said that hot food can make you sweat out the bugs that are making you sick. Who knows if she was right, but in the long run it doesn't matter, they add a nice flavor to the soup.
You may notice that my technique with this soup is a little different. I am pretty picky when it comes to the noodles in my chicken noodle soup. I like my noodles a little more on the al-dente side and have often found that they get mushy the longer that they sit in the hot broth. And forget the leftovers, the noodles just soak up a lot of the broth and a soup with out broth is really not a soup at all.  As a result I prefer to ladle the hot soup over the top of cooked noodles. Then if there is any left over I store the noodles and soup separately. It may be an extra step but it is totally worth it.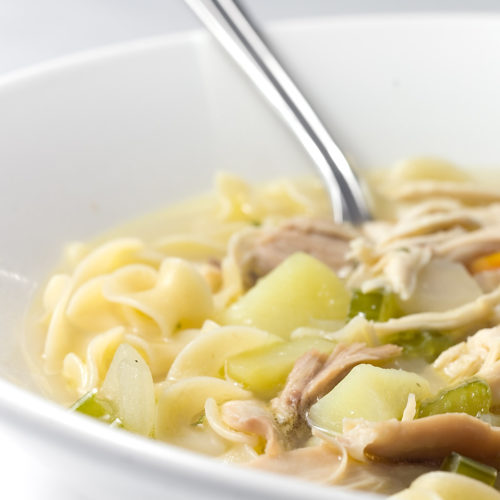 Chicken Noodle Soup
A hearty chicken noodle soup with shredded chicken, carrots, celery, potatoes and loads of garlic.
Ingredients:
1

tablespoon

butter

1

tablespoon

olive oil

1

cup

diced carrots

1

cup

diced celery

1

cup

diced yellow onion

10

cloves

garlic

chopped

1

medium Yukon gold potato

peeled and diced

8

cups

homemade or store bought chicken stock

1 1/2

teaspoons

chopped fresh thyme

2-3

dried red chili peppers

optional

2

bay leaves

3

cups

cooked shredded chicken

fresh cracked black pepper and kosher salt to taste

3

cups

dried medium egg noodles
In a large soup pot cook olive oil and butter over medium heat until butter melts. Once butter has melted add carrots, celery, onion, garlic and potato. Cook for 5-7 minutes or until veggies are softened slightly.

Pour chicken stock over the top. Add thyme, chili peppers and bay leaves. Bring to a boil. Reduce heat and allow to simmer for 30-45 minutes. Stir in cooked shredded chicken. Season to taste with salt and pepper. Continue to simmer as you cook your noodles.

Bring a large pot of water to a boil. Once boiling season liberally with salt (about 1 tablespoon). Cook noodles until al-dente about 5-7 minutes. Strain in a colander.

Remove bay leaves and chili peppers from soup.

Scoop noodles into soup bowl. Ladle hot soup over the cooked noodles.

Serve hot.
Hopefully you just make this because you like chicken noodle soup, but if you are making it because you or a loved one has come down with a cold do as my mom did and serve with plenty of saltines, OJ and hugs. Enjoy!
Keywords:
bay leaves, carrots, celery, chicken, chicken broth, chicken noodle soup, chili pepper, comfort, comfort food, cooked chicken, Food, garlic, noodles, onions, Recipe, sick, thyme