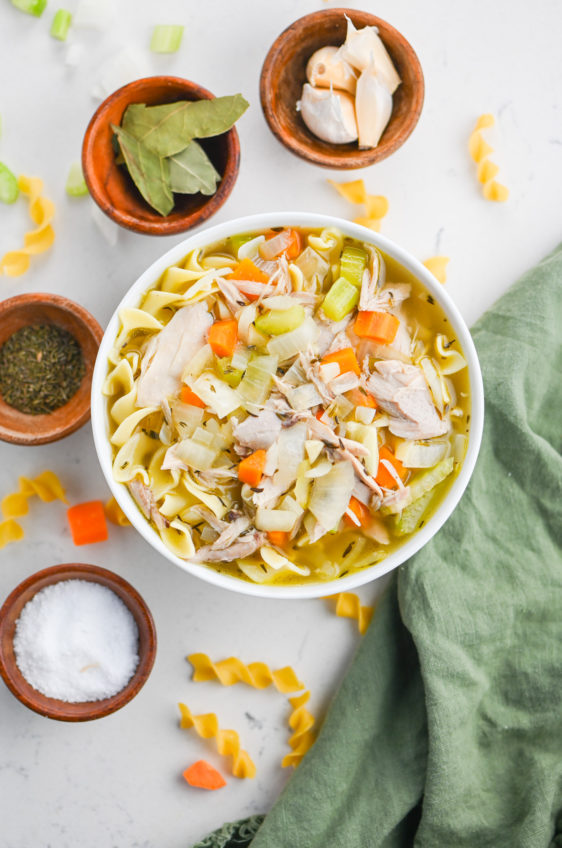 Chicken Noodle Soup
Hearty homemade chicken noodle soup with shredded chicken, carrots, celery, and loads of garlic. The perfect cozy soup for a cold day!
When you're looking for the ultimate comfort food on a cold day or when you're feeling under the weather, Chicken Noodle Soup always hits the spot. There is even that whole series of books "Chicken Soup For the Soul" because Chicken Soup is the epitome of comfort.
And guess what, it's really easy to ditch the can and make your own from scratch. Today I'll show you how!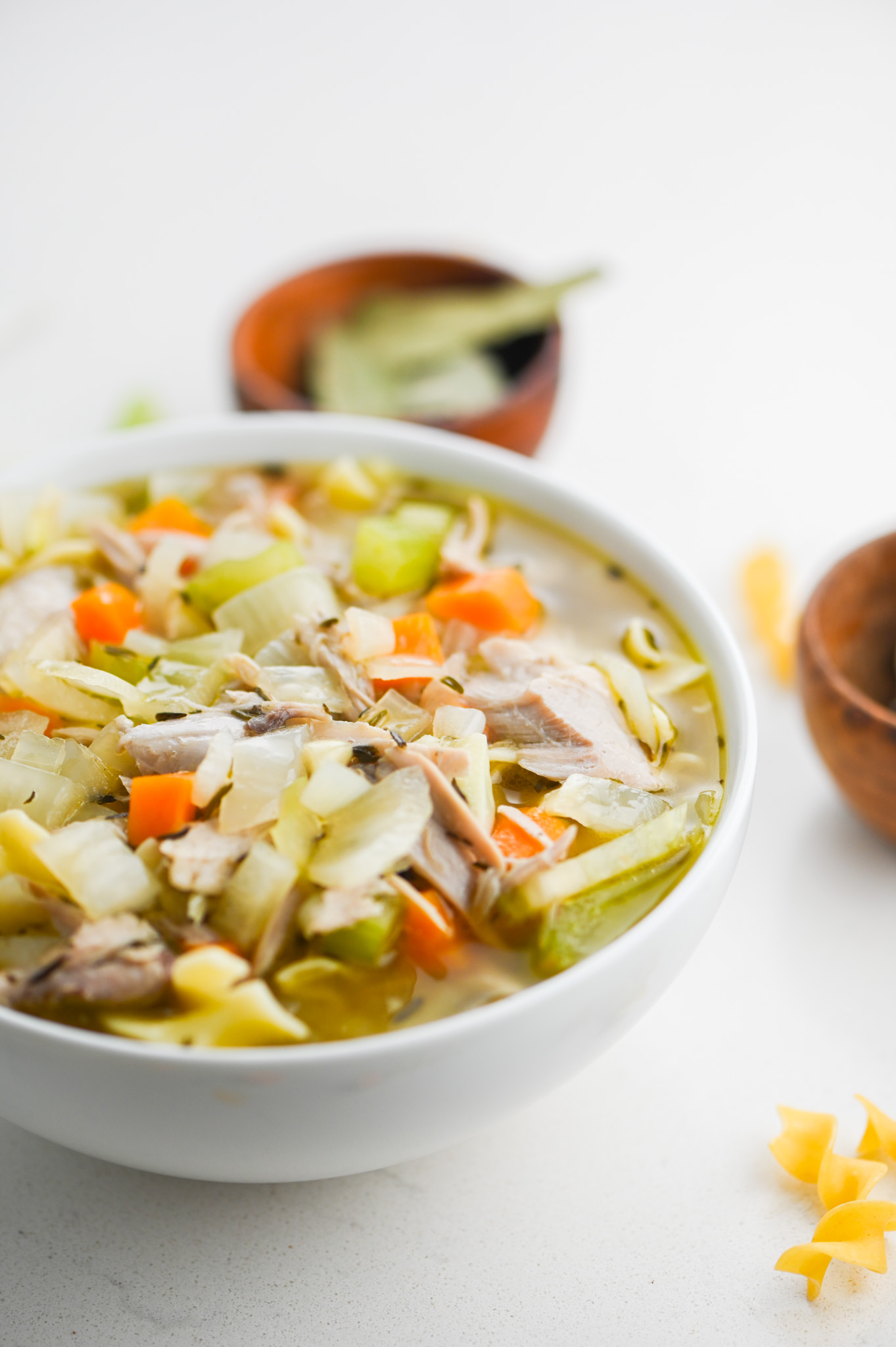 Let's talk about what you need to make it.
Chicken Noodle Soup Ingredients: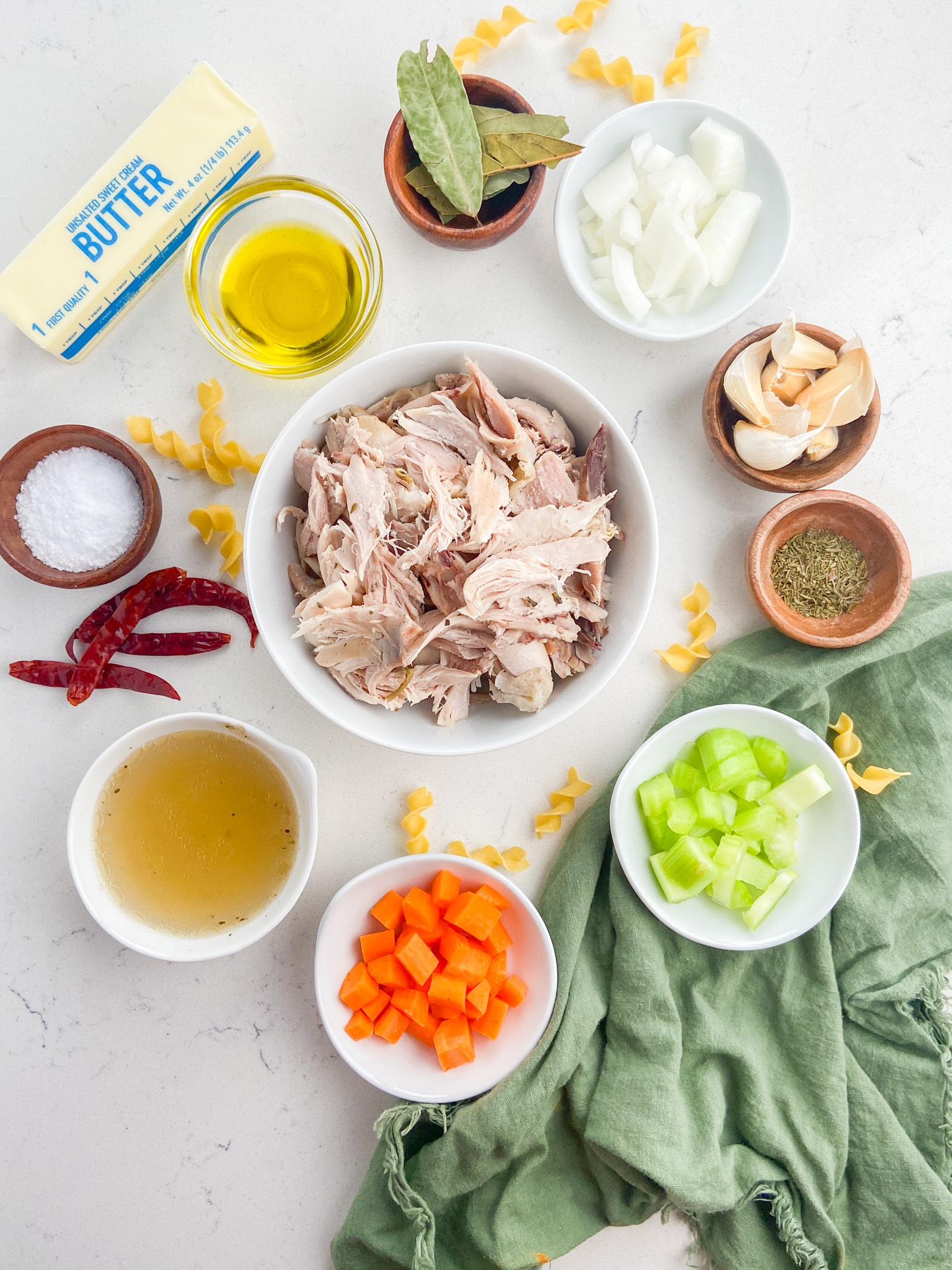 CARROTS/CELERY/ONIONS: The classic combination of vegetables for chicken noodle soup. They are going to add flavor, texture and heartiness to the soup. I have also been known to add a small Yukon gold potato for a little more heartiness but it's optional, especially with the noodles
BUTTER/OIL: To sauté the carrots, celery and onions.
CHICKEN BROTH: The best chicken noodle soup starts with a good broth. You can make your own like Instant Pot Chicken Stock or use your favorite store bought brand. I recommend using a low-sodium broth so that you can control the final salt content.
CHICKEN: This is a great time to use up that leftover rotisserie chicken! Or any other leftover chicken you might have on hand. If you've got leftover turkey from your holiday meal, you can use that too!
GARLIC: And lots of it! Garlic is a must when making chicken soup. Use fresh!
THYME: Thyme is one of my favorite herbs to use, especially with chicken. It adds a peppery flavor. Since fresh thyme holds up well to cooking, you can use fresh or dried in this recipe.
DRIED RED CHILIS: I like to add a couple of these to add some heat to the soup. They are optional!
BAY LEAVES: Despite some who say otherwise, I think bay leaves are a staple in the kitchen. They add depth of flavor and subtle aroma.
EGG NOODLES: It wouldn't be chicken noodle soup without them!
SALT/PEPPER
Step By Step Photos and Instructions:
Making chicken noodle soup is really easy! Let me walk you through it with these step by step photos and instructions.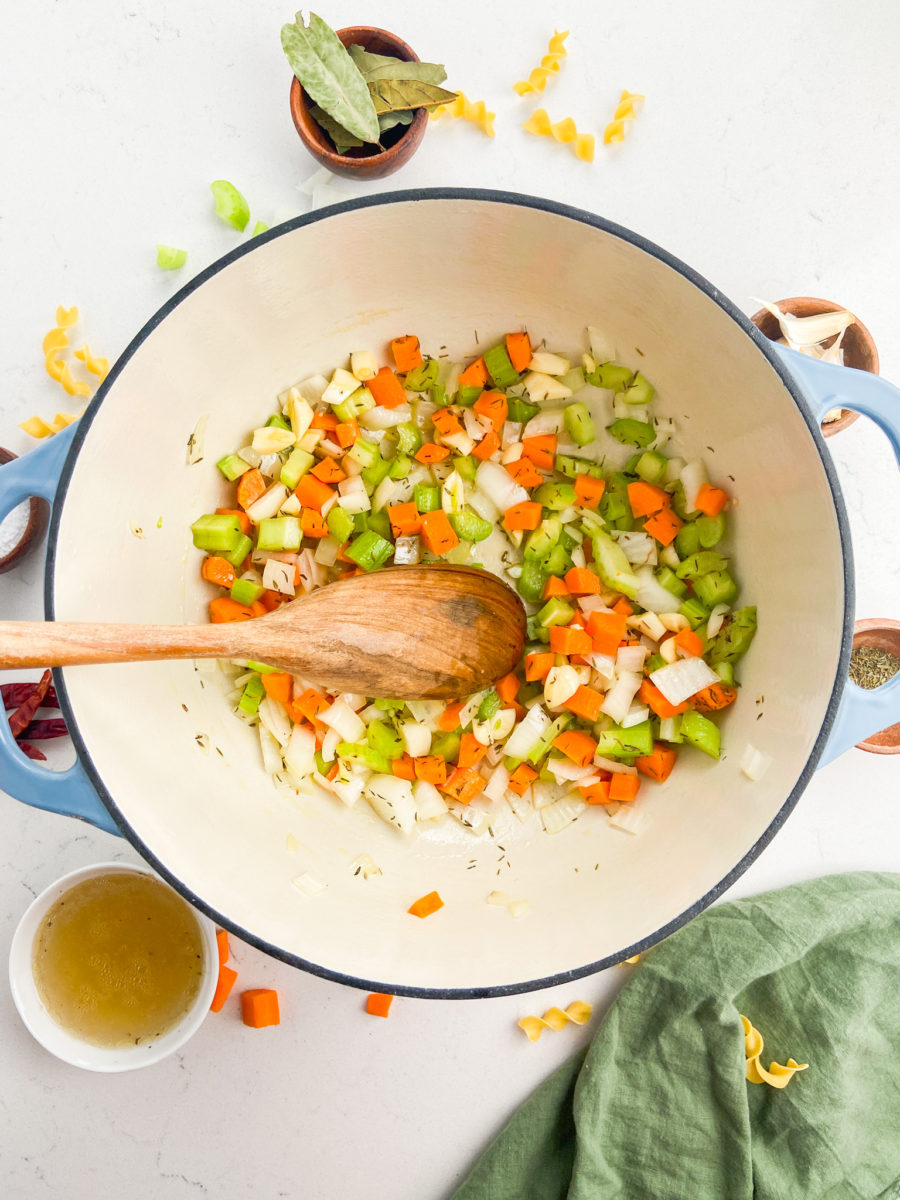 STEP #1: Heat oil and butter in a large pot. Sauté carrots, celery, onions and garlic. Cook just until carrots and celery start to soften.
STEP #2: Add in chicken stock, thyme, chili peppers (if using)and bay leaves. Simmer for 30 – 45 minutes. Add in chicken and cook until chicken is warmed through. Remove bay leaves and chili peppers from soup.
STEP #3: While soup is simmering, cook noodles according to package directions and drain.
STEP #4: Place noodles in a bowl and ladle soup over the top. Serve immediately.
Storage and Leftovers:
I highly recommend storing the noodles and soup separately. When they are stored together, the noodles will absorb the broth leaving you with soggy noodles and no broth in your soup. You can reheat them together though since the cooking process is not as long.
Recipe FAQ:
What gives chicken noodle soup more flavor?
There are a couple of ways I like to add more flavor to my chicken noodle soup. One, herbs. The thyme and bay leaves in this recipe will add flavor. And two, sautéing the vegetables beforehand will also had a depth of flavor to the soup.
Should you cook noodles separately when making chicken noodle soup?
100% YES. It may dirty another pot to cook them separately but the overall texture of the soup will be much better if they are cooked (and stored!) separately.
My entire family loves this chicken noodle soup whether we're not feeling our best or simply just want a bowl of comfort. One bite and I'm sure you will too!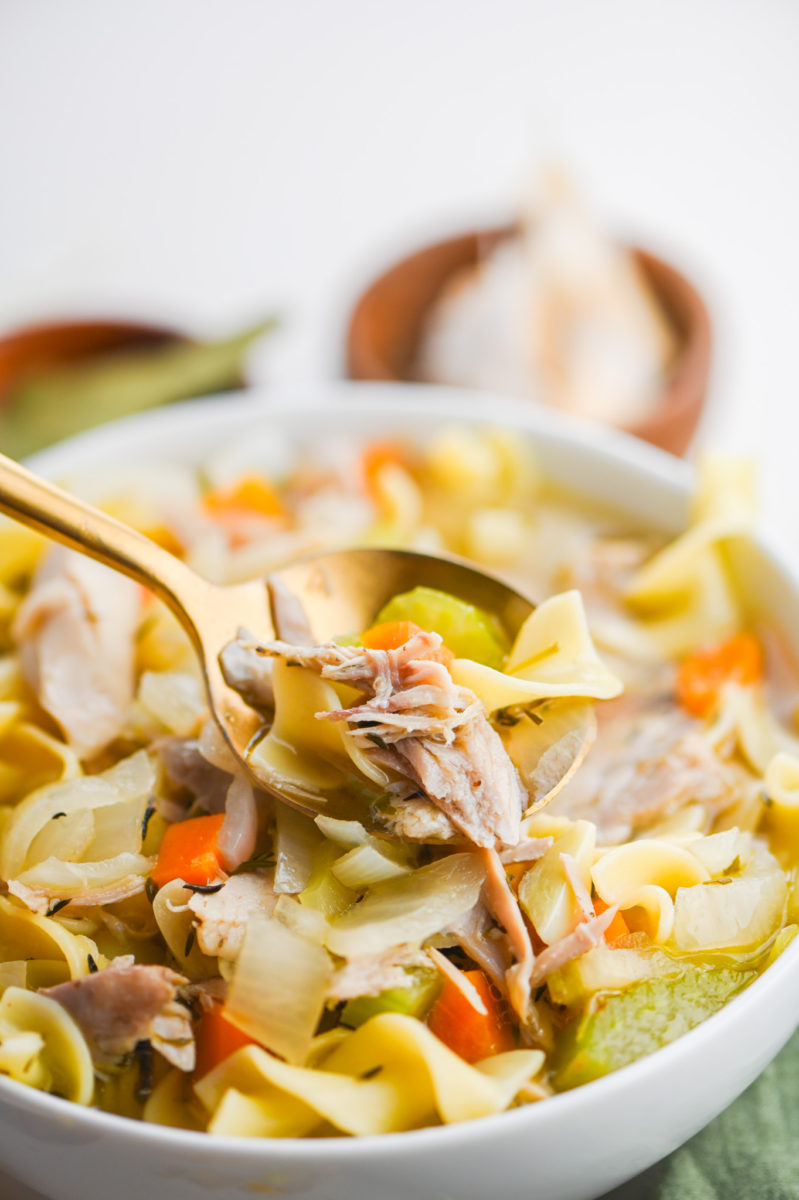 Looking for more soup recipes? Try these:
Curry Pumpkin Soup is a savory pumpkin soup that is velvety smooth and full of flavor!
Turn taco night into soup night with this easy Taco Soup!
Zuppa Toscana is an Olive Garden Copycat and a great way to warm up! 
Note: Originally published in 2009. Updated in 2023 with new photos, nutrition information, step by step photos and a slightly modified recipe.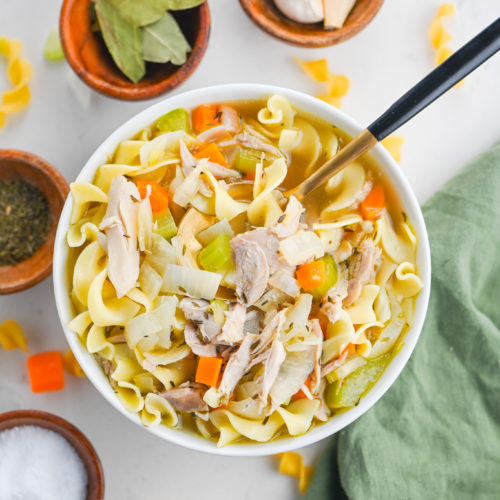 Chicken Noodle Soup
Hearty homemade chicken noodle soup with shredded chicken, carrots, celery, and loads of garlic. The perfect cozy soup for a cold day! 
Ingredients:
1

tablespoon

butter

1

tablespoon

olive oil

1

cup

diced carrots

1

cup

diced celery

1

cup

diced yellow onion

10

cloves

garlic

chopped

8

cups

homemade or store bought chicken stock

1 1/2

teaspoons

dried thyme

or 1 tablespoon fresh thyme leaves

2-3

dried red chili peppers

optional

2

bay leaves

3

cups

cooked shredded chicken

fresh cracked black pepper and kosher salt to taste

3

cups

dried medium egg noodles
In a large soup pot cook olive oil and butter over medium heat until butter melts. Once butter has melted add carrots, celery, onion and garlic. Cook for 5-7 minutes or until veggies are softened slightly.

Pour chicken stock over the top. Add thyme, chili peppers and bay leaves. Bring to a boil. Reduce heat and allow to simmer for 30-45 minutes. Stir in cooked shredded chicken. Season to taste with salt and pepper. Continue to simmer as you cook your noodles.

Bring a large pot of water to a boil. Once boiling season liberally with salt (about 1 tablespoon). Cook noodles until al-dente about 5-7 minutes. Strain in a colander.

Remove bay leaves and chili peppers from soup.

Scoop noodles into soup bowl. Ladle hot soup over the cooked noodles.

Serve hot.
I recommend keeping the noodles and soup separate, even during storing, to avoid the noodles soaking up all of the broth. 
Nutrition information for estimation purposes only. 
Calories:
559
kcal
Carbohydrates:
48
g
Protein:
44
g
Fat:
21
g
Saturated Fat:
6
g
Polyunsaturated Fat:
4
g
Monounsaturated Fat:
9
g
Trans Fat:
1
g
Cholesterol:
125
mg
Sodium:
839
mg
Potassium:
1079
mg
Fiber:
3
g
Sugar:
12
g
Vitamin A:
5707
IU
Vitamin C:
9
mg
Calcium:
89
mg
Iron:
4
mg
Keywords:
bay leaves, chicken, chicken broth, chicken noodle soup, comfort, comfort food