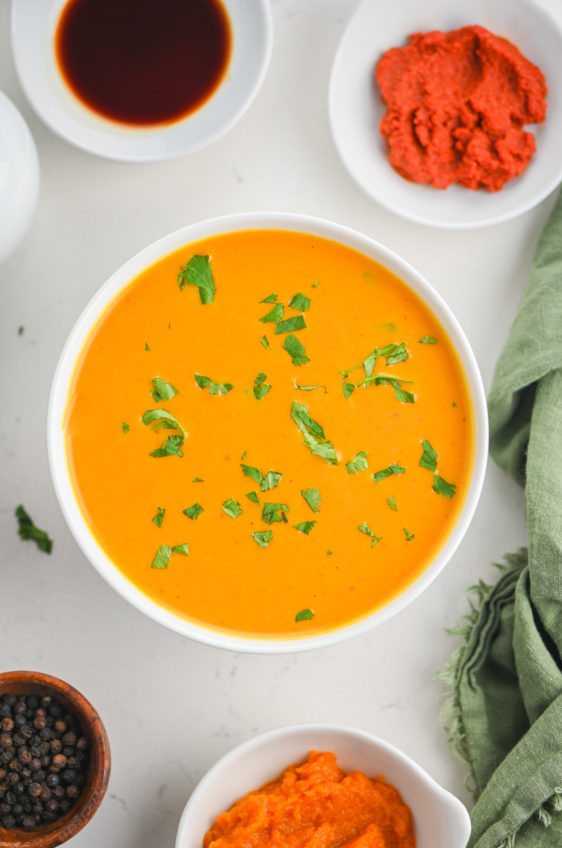 Curry Pumpkin Soup
Jump to Recipe
Curry Pumpkin Soup is thick, creamy and full of savory pumpkin flavor. With red curry and coconut milk this soup is perfect for Fall.
When it comes to pumpkin, most of the recipes out there are sweet. Whether it's Pumpkin Cake, Pumpkin Cookies or Pumpkin Butter. Sweet and pumpkin go hand in hand. But did you know that savory pumpkin dishes are just as delicious as their sweet counterparts?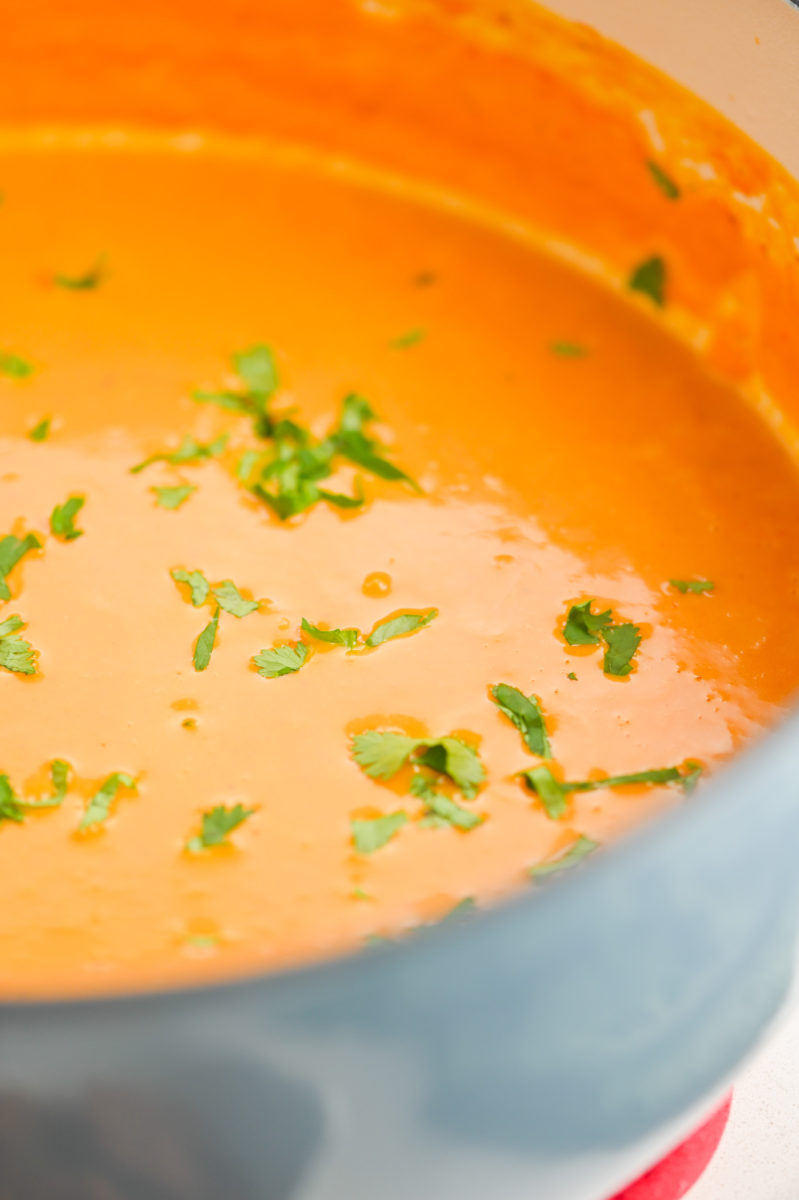 I know, it might sound crazy since we are so used to sweet pumpkin dishes but you can use pumpkin in savory dishes too. One bite of this Curry Pumpkin Soup and you'll see how delicious savory pumpkin recipes can be.
Let's talk about what you'll need to make it.
Curry Pumpkin Soup Ingredients:
PUMPKIN PUREE: Make sure that when making this soup you buy canned pumpkin puree NOT pumpkin pie mix.
RED CURRY PASTE: You should be able to find this in the Asian/International aisle of your local grocery store. I use Thai Kitchen Red Curry Paste. It has a little kick to it but not overly so.
VEGETABLE BROTH OR CHICKEN BROTH: Whichever you use, make sure that you use a reduced sodium broth. This will help you better control the overall saltiness of the dish.
SOY SAUCE: To add salt and umami flavor.
ONION: Will add a flavor and texture.
BUTTER/OLIVE OIL: To sauté the onion.
UNSWEETENED COCONUT MILK: Like the curry paste, you should be able to find this in the Asian/International Aisle of the grocery store. I use the Thai Kitchen Coconut Milk. The coconut milk is what is going to give this soup it's creaminess.
SALT AND PEPPER
CILANTRO: For garnish.
Step by Step Photos and Instructions:
Making Curry Pumpkin Soup is quick and easy! Follow along with these step by step photos and instructions and you'll be enjoying a bowlful in no-time.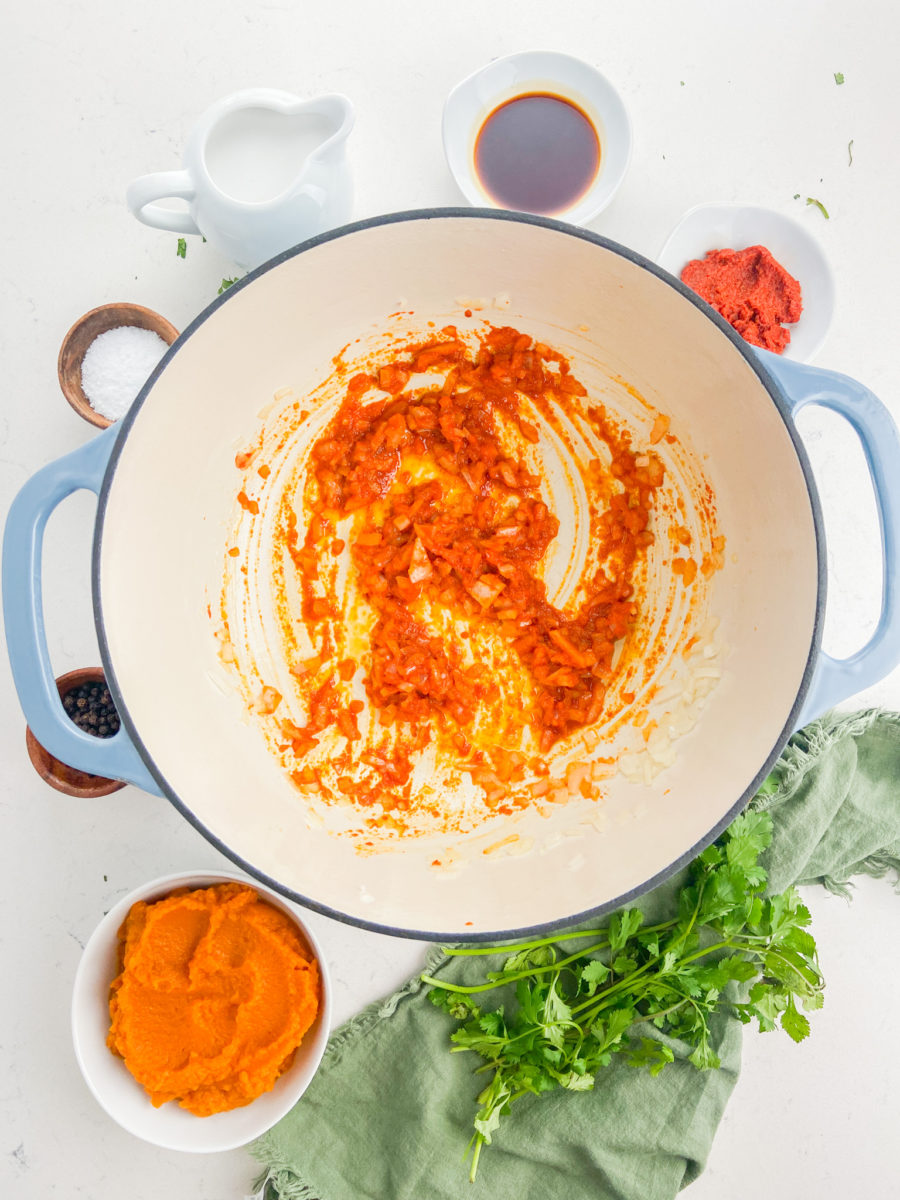 STEP #1: Heat butter and olive oil in a skillet over medium heat. Once butter melts add onions. Cook until softened, 3 – 5 minutes. Add in curry paste and cook another minute.
STEP #2: Stir in broth, pumpkin and soy sauce. Bring to a simmer and cook for 15 minutes.
STEP #3: Slowly stir in coconut milk and allow soup to cook for another 15 – 20 minutes. It will thicken and become creamy during this time. Season to taste with salt and pepper.
STEP #4: Use an immersion blender for the creamiest soup. You can also carefully transfer hot soup to a blender.
STEP #5: Ladle into soup bowls and garnish with cilantro. Serve.
Storage and Leftovers:
This pumpkin soup will keep for a few days in the refrigerator and reheats beautifully. You can reheat it on the stove or pop it in the microwave for a minute or so.
Recipe FAQ:
What is the difference between pumpkin puree and pumpkin pie filling?
Pumpkin puree is pumpkin only while pumpkin pie filling is going to have added ingredients like spices and sugars. For this recipe, it is essential to use Pumpkin Puree.
Will pumpkin soup thicken as it cools?
This soup will thicken as it cools but once it is reheated it will thin out a bit.
Can I use a carton of coconut milk instead of canned?
I don't recommend that for this recipe. Canned coconut milk is going to be much creamier than the carton.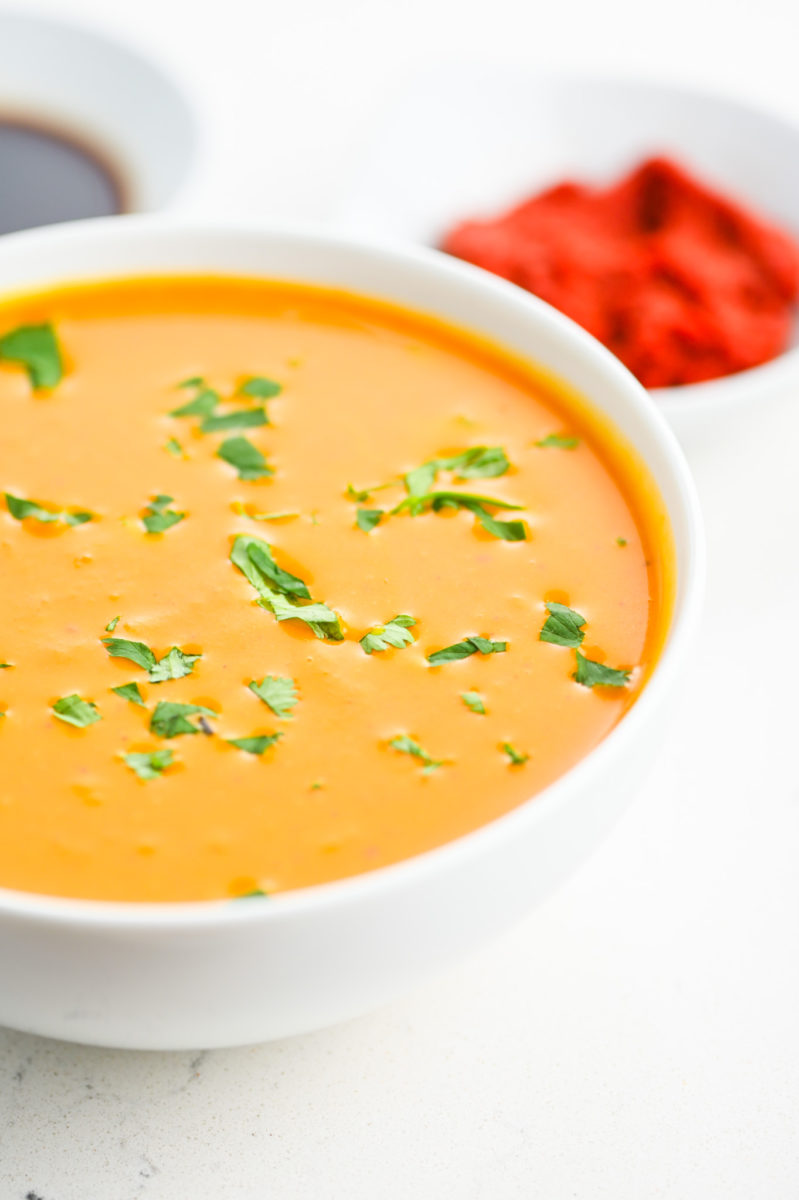 Want more soup recipes? I've got you covered!
Beer Cheese Soup is creamy, cheesy and full of flavor! It's perfect for fall!
Beef Noodle Soup is my Americanized version of Pho. It's easier to make but just as delicious!
Chicken Tortellini Soup is quick, easy, and perfect for weeknight meals!
Note: Originally published in 2011. Updated in 2023 with new photos, step by step photos and a slightly modified recipe.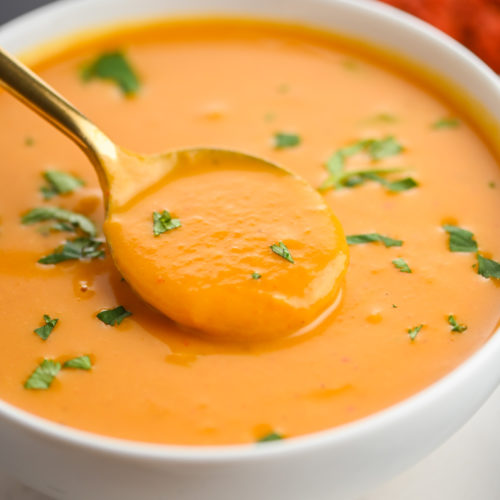 Curry Pumpkin Soup
Velvety, luscious, pumpkin soup with a touch of spice from red curry and a touch of sweetness from coconut milk.
Ingredients:
1

tablespoon

butter

1

tablespoon

olive oil

1/2

medium onion

minced

3

tablespoons

red curry paste

3

cups

low sodium chicken broth

28

ounces

pureed pumpkin

2

teaspoons

soy sauce

13.5

ounces

unsweetened coconut milk

salt

pepper

chopped fresh cilantro

optional
In a soup pot add butter and olive oil. Cook over medium heat until butter has melted. Add in onions. Cook 3 - 5 minutes or until onions are softened. Stir in curry paste, cook 1 minute. Pour in vegetable broth. Stir in pumpkin and soy sauce. Reduce heat to low and simmer for 15 minutes.

Slowly pour in coconut milk. Allow to cook for another 15 - 20 minutes. Season to taste with salt and pepper. Use an immersion blender to make the creamiest soup or carefully transfer hot soup to a blender.

Ladle into warm soup bowls. Top with cilantro if desired. Serve.
Be sure to use canned pumpkin puree not pumpkin pie mix. 
Blending the soup is going to give you the richest texture but it is optional. If you use a traditional blender, please carefully transfer the hot soup. You'll probably need to do it in batches as to not overload the blender. 
Keywords:
coconut milk, comfort food, curry soup, fall, Food, pumpkin, pumpkin soup, Recipe, soup