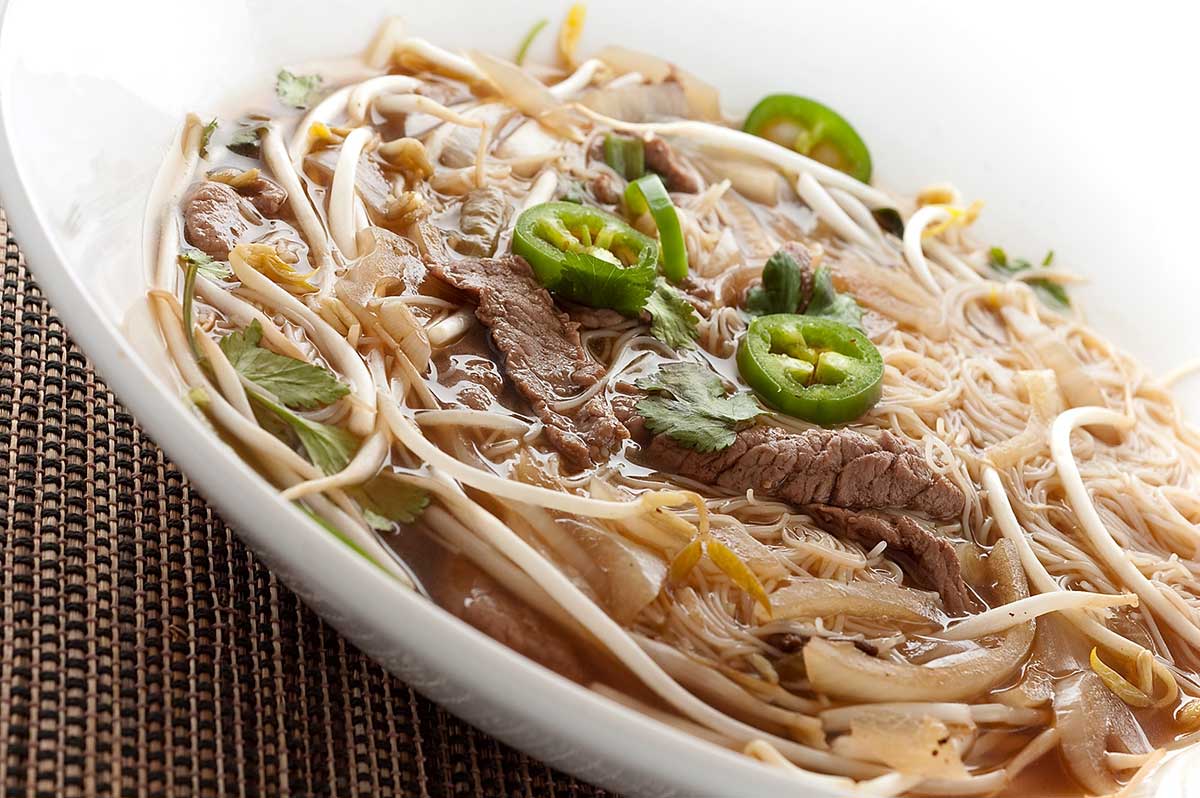 Beef Noodle Soup
Let me start out by saying to all of you die-hard Pho lovers out there, this is not Pho. This however, is as close as I could come to making Pho one night when I was craving noodle soup and I didn't have the time to let the broth simmer for 4 hours and the same night that I also found out that Star Anise is far too exotic for my local super market to carry. For those of you that have no idea what Pho is, ignore my first two sentences and embrace this delicious noodle soup with ginger and clove seasoned beef broth, tender steak, noodles, cilantro, bean sprouts and, in my case, the jalapeno from hell.
Don't worry I don't anticipate you using a jalapeno from hell in your recipe. Ryan and I however weren't so lucky. If you've been reading the blog for a while you know that I love me some spicy food and to be honest a jalapeno is usually child's play to me. No really, I liked to snack on them when I was a kid. But all of that aside, in this instance, I took one bite of the jalapeno in my soup and my mouth was on fire. My eyes instantly began watering and no amount of water could cool it down. I even stuck my tongue out of my mouth and tried to fan it off but alas that didn't work either. Through my watery eyes, I looked over at Ryan and he seemed to be suffering just as much as I was. His eyes were watering and he had this "How could you do this to me?" look on his face as he reached for his beer. After one gulp he was able to mutter "I think this is the jalapeno from hell." before taking another gulp of beer. Yet despite all of this, we continued to eat this soup, jalapenos and all, until all we had left was broth, and then we drank that too. So, yea, this soup is that good.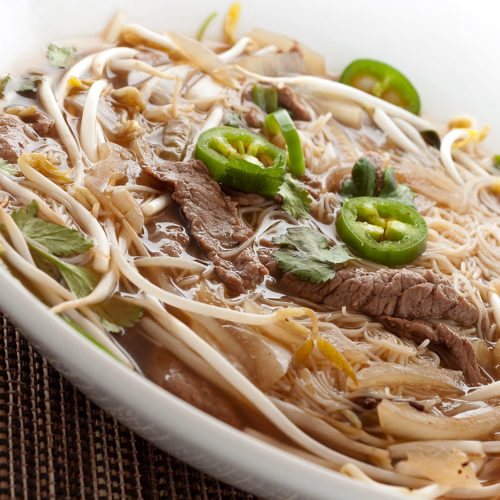 Beef Noodle Soup
Noodle soup with ginger and clove seasoned beef broth, tender steak, noodles, cilantro, bean sprouts and, in my case, the jalapeno from hell.
Ingredients:
6

cups

beef broth

1

medium yellow onion

cut in half, one half thinly sliced, leave the other half whole

2

cloves

garlic

2

tahi chilies

stems removed

1

teaspoon

whole cloves

1

cinnamon stick

1

teaspoon

olive oil

1

pound

round steak

thinly sliced

fresh cracked pepper and kosher salt

1

8.8 ounce package of thin rice noodles

6

ounces

bean sprouts

1 - 2

jalapenos

sliced

handful cilantro

chopped

sriracha and hoisin sauce

optional
In a large soup pot combine beef broth, 1/2 of onion (the portion not sliced), garlic, thai chilies, cloves and cinnamon stick. Bring to a boil. Reduce heat, cover and let simmer for 1 hour. Use a slotted spoon to remove onion, garlic, cloves and cinnamon stick. Keep broth on low heat.

Heat olive oil in a skillet over medium heat. Season the round steak with salt and pepper. Cook until browned, about 3 minutes. Transfer to a plate and set aside.

Bring a large pot of water to boil and cook rice noodles according to directions. Drain.

Divide noodles and steak evenly among large soup bowls. Place a small handful of bean sprouts, a couple slices of jalapeno and cilantro leaves in each bowl. Ladle hot broth over each bowl. Serve with sriracha and hoisin sauce.
Oh and don't worry, most jalapenos aren't as hot as what I experienced. They do add a nice little heat to the soup though. Enjoy!
Keywords:
asian cusine, asian soup, bean sprouts, beef broth, cilantro, cloves, Food, noodle soup, pho, Recipe, rice noodles, round steak