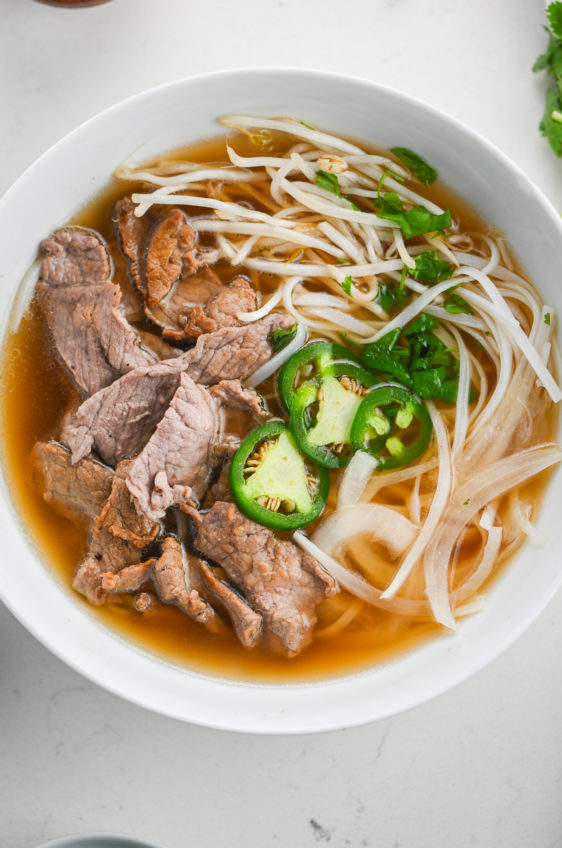 Beef Noodle Soup
Jump to Recipe
Beef Noodle Soup with seasoned broth, tender steak, rice noodles, cilantro, sprouts and jalapeños. Full of flavor and great on a cold day!
Let me start out by saying to all of you die-hard Pho lovers out there, this is not Pho. Authentic pho takes a bit more time and a few more ingredients that can be a bit hard to get your hands on.  That said, this Beef Noodle Soup is my take on the popular Vietnamese soup and it is pretty darn good. In fact my entire family loved this soup and asked me to make it again right after they were finished.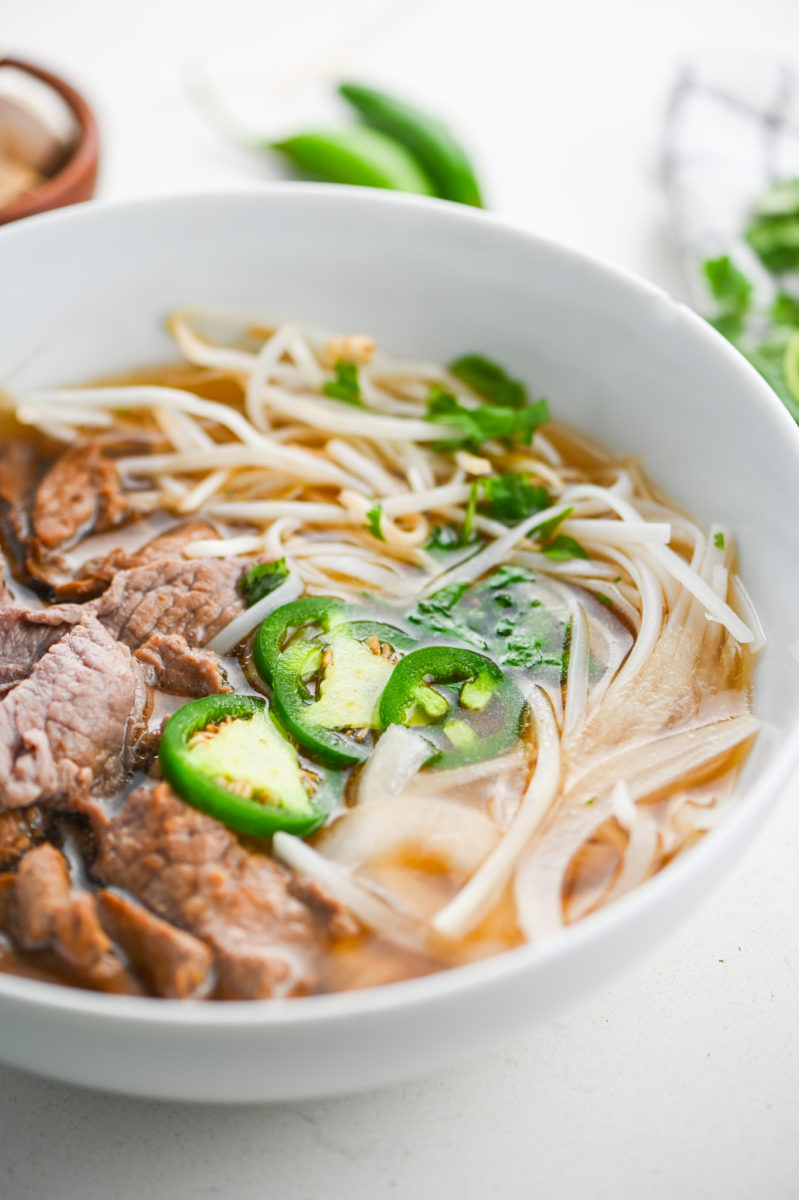 A great beef noodle soup starts with a great beef broth which in this case, does take about 1 hour to simmer. Once the broth is done simmering though, this soup comes together rather quickly. Let's talk about everything you're going to need to make it.
Beef Noodle Soup Ingredients:
There are essentially two parts to this soup: the broth and the the soup itself. For the seasoned beef broth you'll need: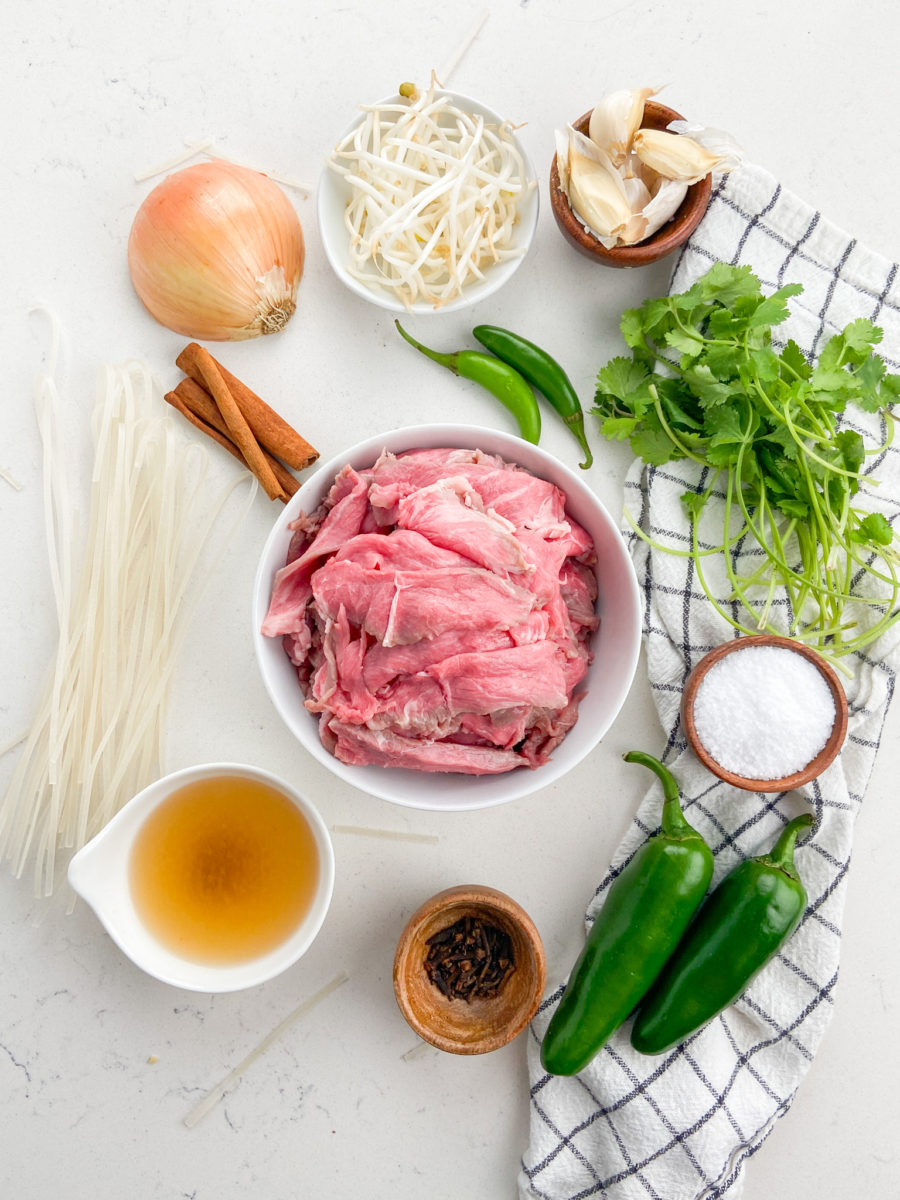 BEEF BROTH: You will want to use low-sodium beef broth when making this recipe. Store-bought broths can be a bit salty but by using low-sodium you can better control the saltiness in the dish.
ONION: You will use yellow onion in two different ways when making this soup. Half of the onion will be left whole and used to season the broth. You will thinly slice the other half and add it to your soup bowls.
GARLIC: To season the broth.
THAI CHILIES: Also know as Bird's Eye Chiles, these can be pretty spicy. You may be able to find them in your local grocery store but for sure could find them at an Asian market. If you can't find them you can substitute serrano or jalapeño peppers.
WHOLE CLOVES: Cloves add a warm, spicy sweet flavor to the broth.
CINNAMON: Also adds a warm, subtle sweetness to the broth.
SOY SAUCE: Adds saltiness and flavor to the broth.
Once you make the beef broth, you're going to want to assemble the bowls. To do that you'll need the following ingredients:
SIRLOIN STEAK: Traditional pho uses very thinly sliced raw beef that cooks when you pour the hot broth over the top. For this recipe you'll use thinly sliced steak but will cook it before adding it to the broth to make sure that it is fully cooked in your soup. 
RICE NOODLES: Thin rice noodles should be readily available in the Asian aisle of your grocery store. 
BEAN SPROUTS: Add crunch and texture to the soup. 
JALAPEÑOS: These are optional but I love adding them. They add a little bit of heat. 
CILANTRO
SALT AND PEPPER
SRIRACHA AND HOISIN: Sriracha for heat and hoisin for sweetness. Served on the side so people can add their own. 
Step by Step Photos and Instructions:
There isn't many steps to making Beef Noodle Soup. It's actually pretty easy. Follow along with these step by step photos and instructions: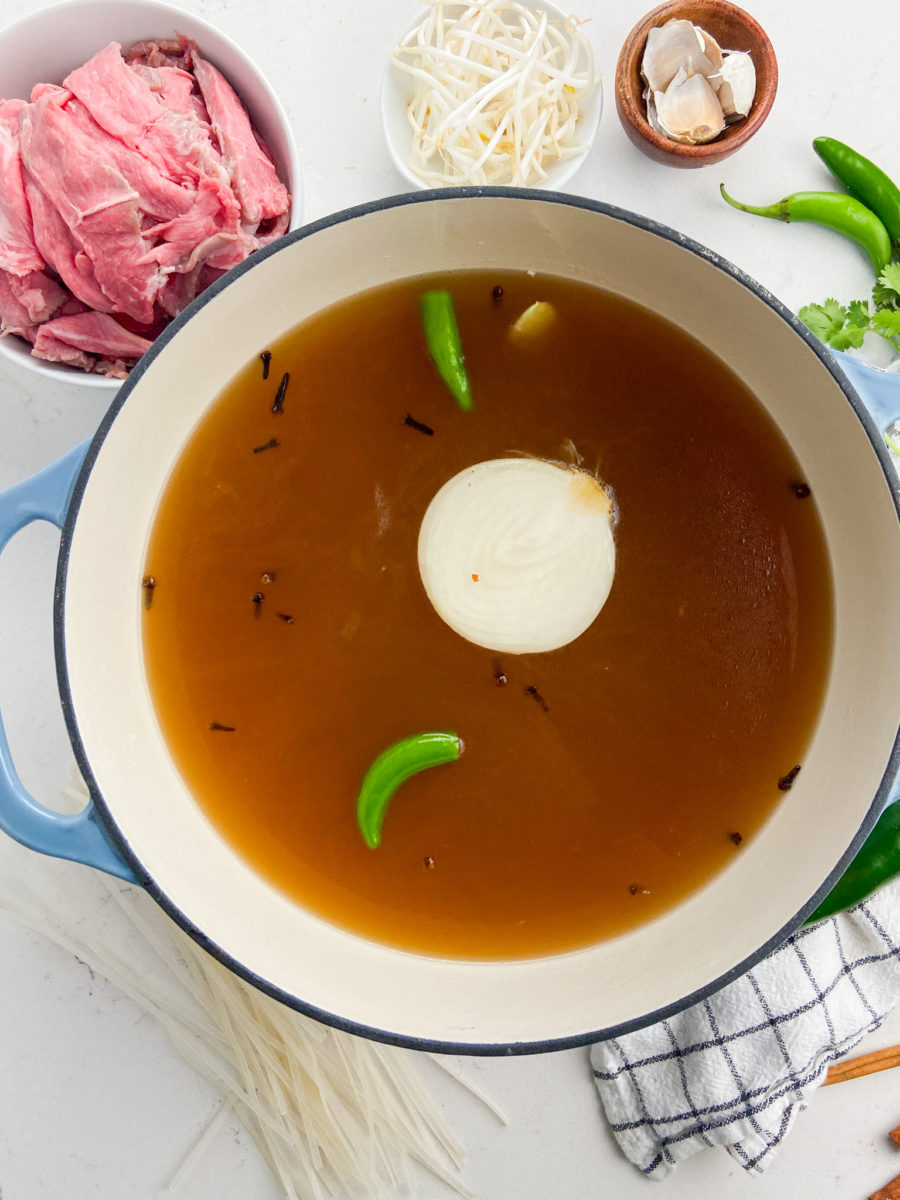 STEP #1: Make the seasoned beef broth by combining beef broth with onion, cloves, garlic, cinnamon, soy sauce and cinnamon stick in a large pot. Simmer on low for 1 hour.
STEP #2: After the beef broth has simmered use a strainer to remove the onions, cloves, cinnamon stick, garlic and peppers. Keep warm.
STEP #3: Prepare noodles according to package instructions. Set aside.
STEP #4: Brown steak in olive oil.
STEP #5: Assemble the bowls. Evenly divide the noodles, bean sprouts, thinly sliced onion and cooked beef among the bowls. Ladle the beef broth over the top. Serve with thinly sliced jalapeños, cilantro, sriracha and hoisin on the side.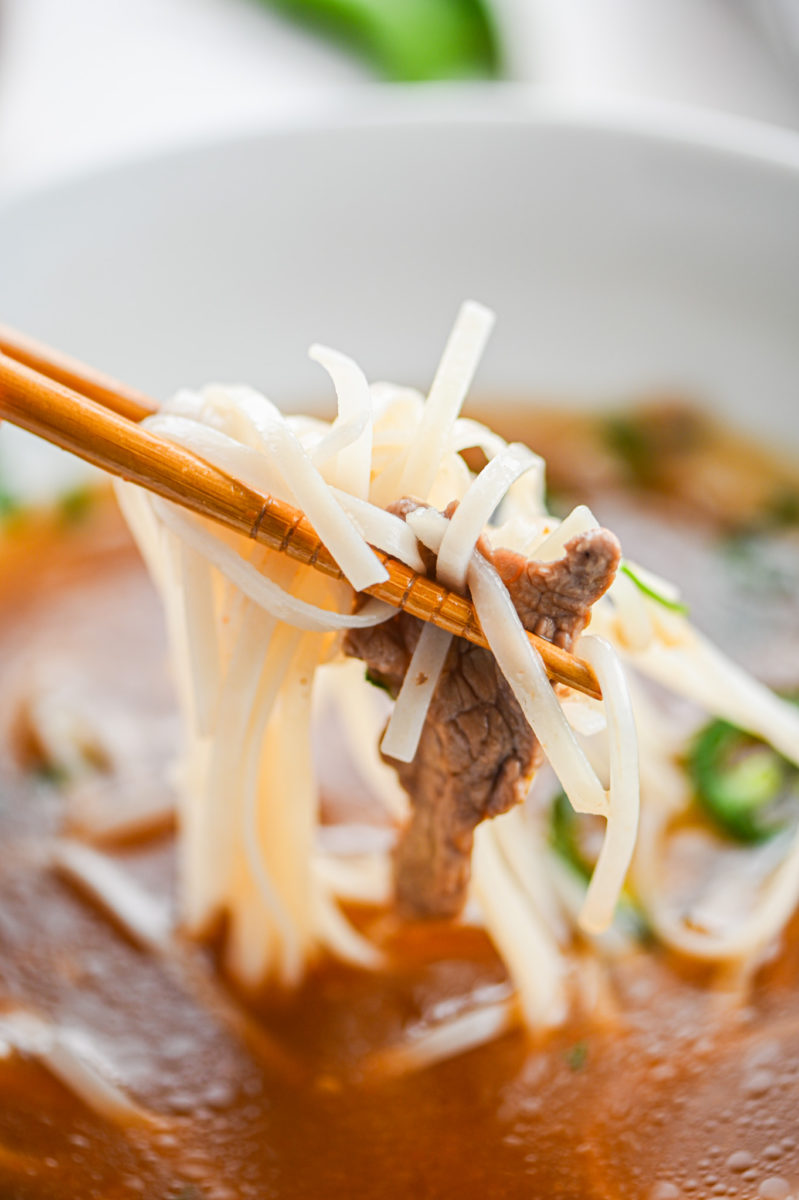 Storage and Leftovers:
You can make all of the components to the dish ahead of time and simply assemble the soup whenever you're ready. Simply heat up the beef broth until it is warmed through before pouring it over the ingredients. 
Recipe Tips and FAQ:
Do you need a meat slicer to thinly slice meat?
No! My tip to getting perfect thinly sliced beef is to freeze the meat for about 1 hour until it is kind of firm but not frozen. This will make it much easier to slice into thin strips. Also, make sure you have a sharp knife!
Is beef noodle soup the same as Pho?
While being similar to Pho, this recipe is not authentic Pho. Authentic Pho requires a few more ingredients and making the beef broth using beef bones. In this recipe you're seasoning store-bought beef broth.
What are the best noodles for beef noodle soup?
The best noodles are flat rice noodles. They are made with flour and water. They cook very quickly. Sometimes, depending on the brand, you'll only need to soak them in warm water to soften them.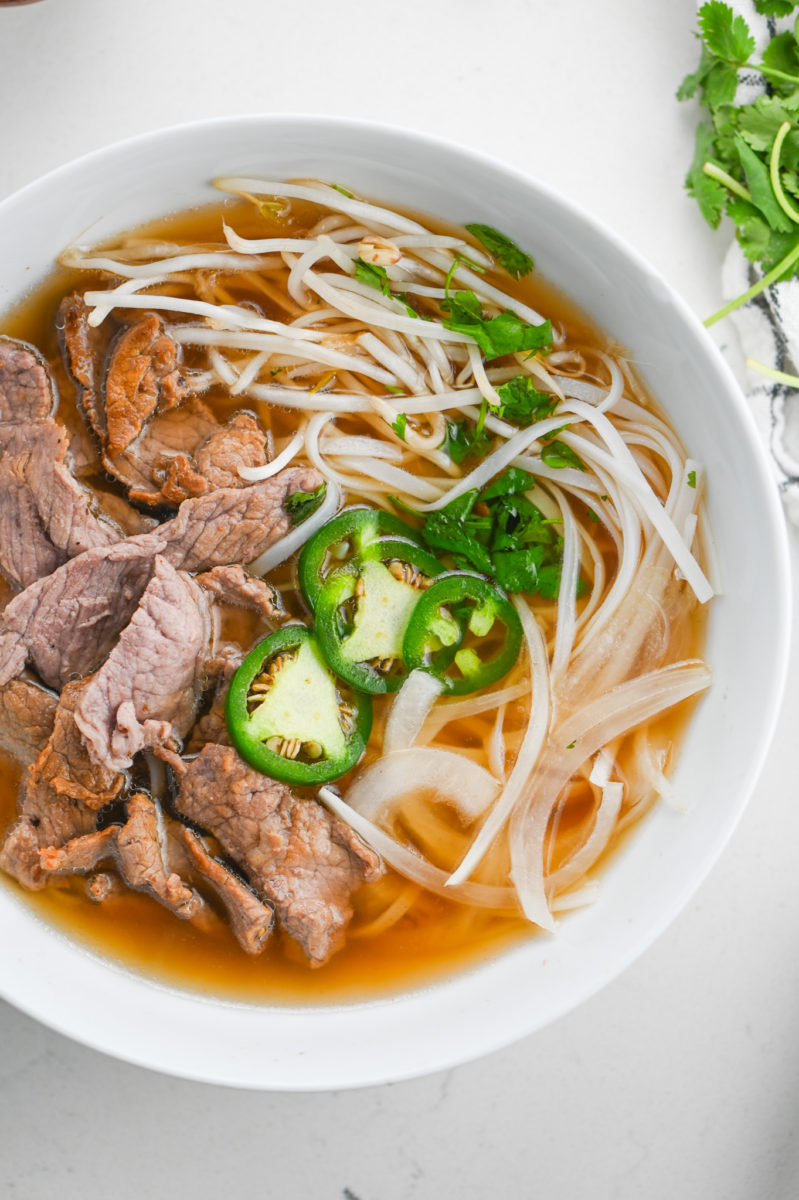 Looking for more Asian inspired recipes? Try these:
My family's absolute favorite is Instant Pot Chicken Adobo. This Filipino classic is full of flavor!
Filipino Pancit is a quick and easy dinner, perfect for weeknights!
Salt and Pepper Squid is a Chinese restaurant fave but also easy to make at home!
Need more soup recipes to keep you warm on cold days? Here are our favorites!
Chicken Tortellini Soup is SO easy to make!
Creamy Steak and Mushroom Soup is hearty and full of flavor!
Note: Originally published in 2010. Updated in 2023 with new photos, step by step photos and nutrition information.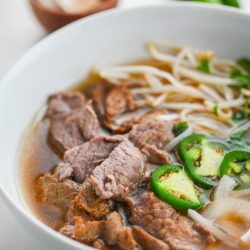 Beef Noodle Soup
Beef Noodle Soup with seasoned broth, tender steak, rice noodles, cilantro, sprouts and jalapeños. Full of flavor and great on a cold day!
Seasoned Beef Broth Ingredients:
10

cups

beef broth

1

tablespoon

soy sauce

1/2

medium yellow onion

6

cloves

garlic

2

Thai chilies

1

teaspoon

whole cloves

1

cinnamon stick
Beef Noodle Soup Bowl Ingredients:
In a large soup pot combine beef broth, soy sauce, onion, garlic, thai chilies, cloves and cinnamon stick. Bring to a boil. Reduce heat, cover and let simmer for 1 hour.

Use a slotted spoon to remove onion, garlic, cloves and cinnamon stick. Keep broth on low heat.

Heat olive oil in a skillet over medium heat. Season the steak with salt and pepper. Cook until browned, about 3 minutes. Transfer to a plate and set aside.

Cook rice noodles according to directions. Drain.

Divide noodles and steak evenly among large soup bowls. Place a small handful of bean sprouts, thinly sliced onions, a couple slices of jalapeno and cilantro leaves in each bowl. Ladle hot broth over each bowl. Serve with sriracha and hoisin sauce.
Nutrition information for estimation purposes only. 
Calories:
469
kcal
Carbohydrates:
62
g
Protein:
37
g
Fat:
7
g
Saturated Fat:
2
g
Polyunsaturated Fat:
1
g
Monounsaturated Fat:
3
g
Cholesterol:
67
mg
Sodium:
2668
mg
Potassium:
975
mg
Fiber:
3
g
Sugar:
5
g
Vitamin A:
303
IU
Vitamin C:
50
mg
Calcium:
107
mg
Iron:
4
mg
Keywords:
asian cusine, asian soup, bean sprouts, beef broth, cilantro, cloves, Food, noodle soup, pho, Recipe, rice noodles