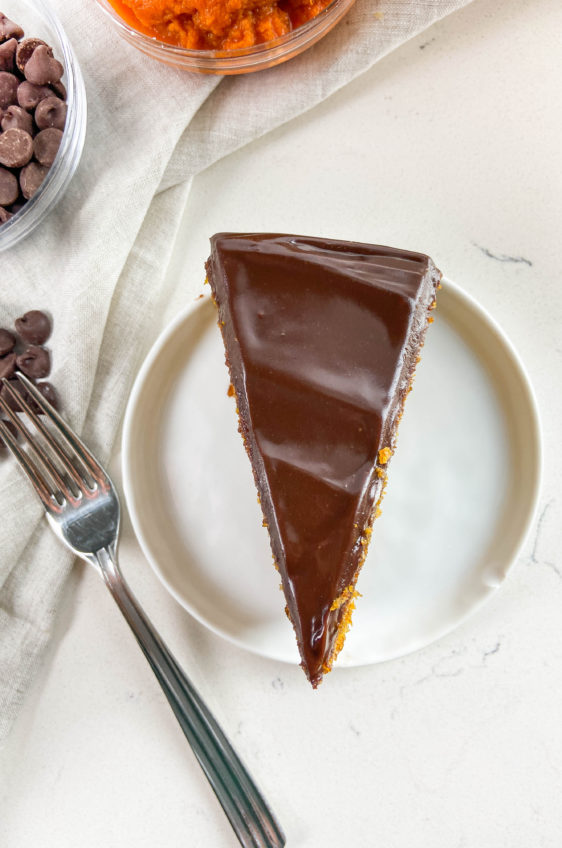 Pumpkin Cake with Chocolate Ganache
Pumpkin cake with chocolate ganache is the best cake recipe to kick off the fall season! Two layers of pumpkin cake, cream cheese frosting covered in a layer of chocolate ganache. Fall dessert heaven.
If you are looking for a fall dessert that will really wow your family and friends you have got to try this Pumpkin Cake with Chocolate Ganache. It's perfect for birthdays, holidays or any day you want a little sweet pumpkin dessert in your life.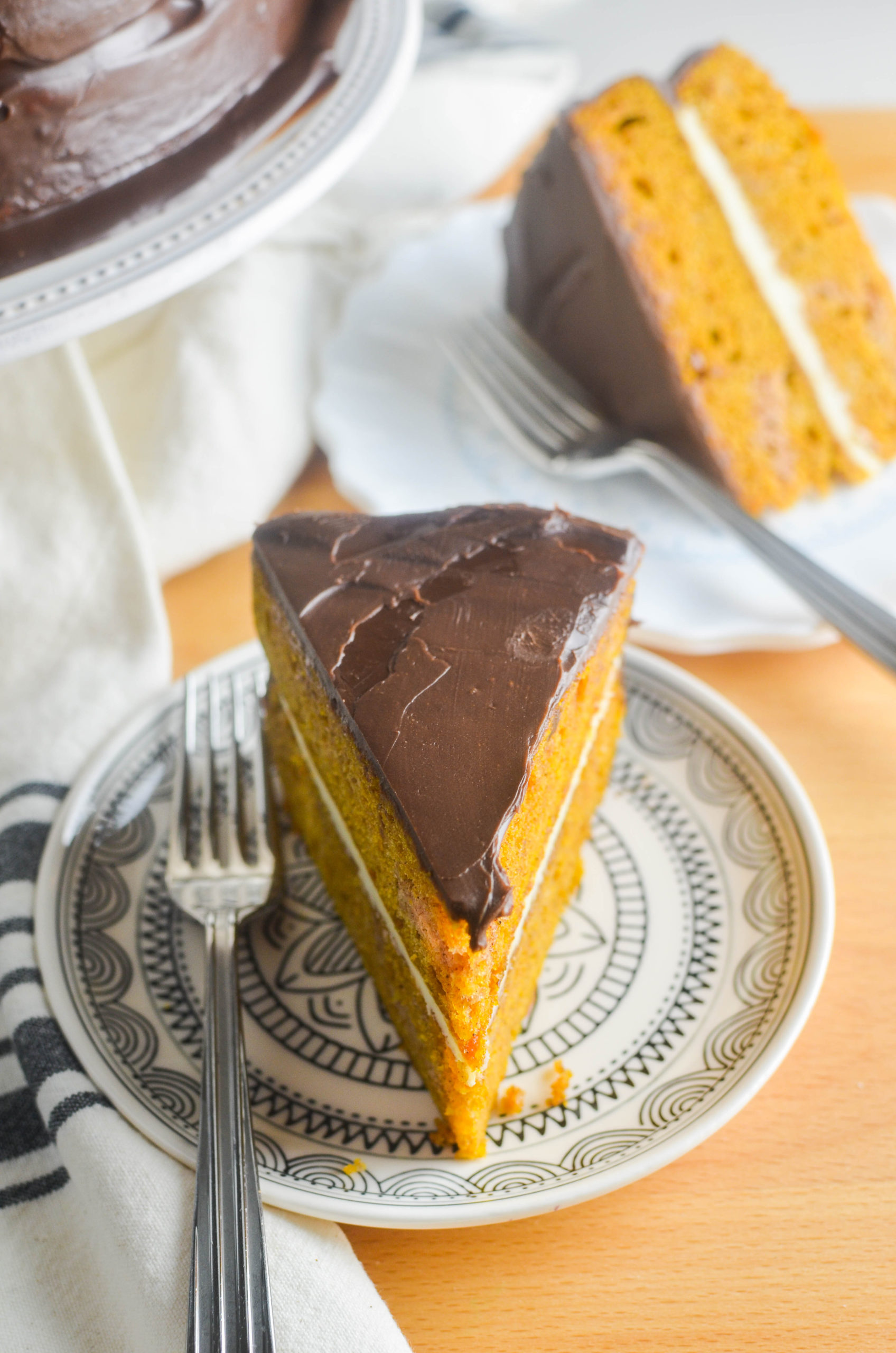 This cake has two layers of pumpkin cake, a layer of cream cheese frosting all topped with a decadent chocolate ganache. Like I said, this one will wow your guests.
What ingredients do you need?
For the cake you'll need the traditional ingredients flour, baking powder, baking soda, salt, sugar and butter. To give it the pumpkin flavor you'll need two additional ingredients: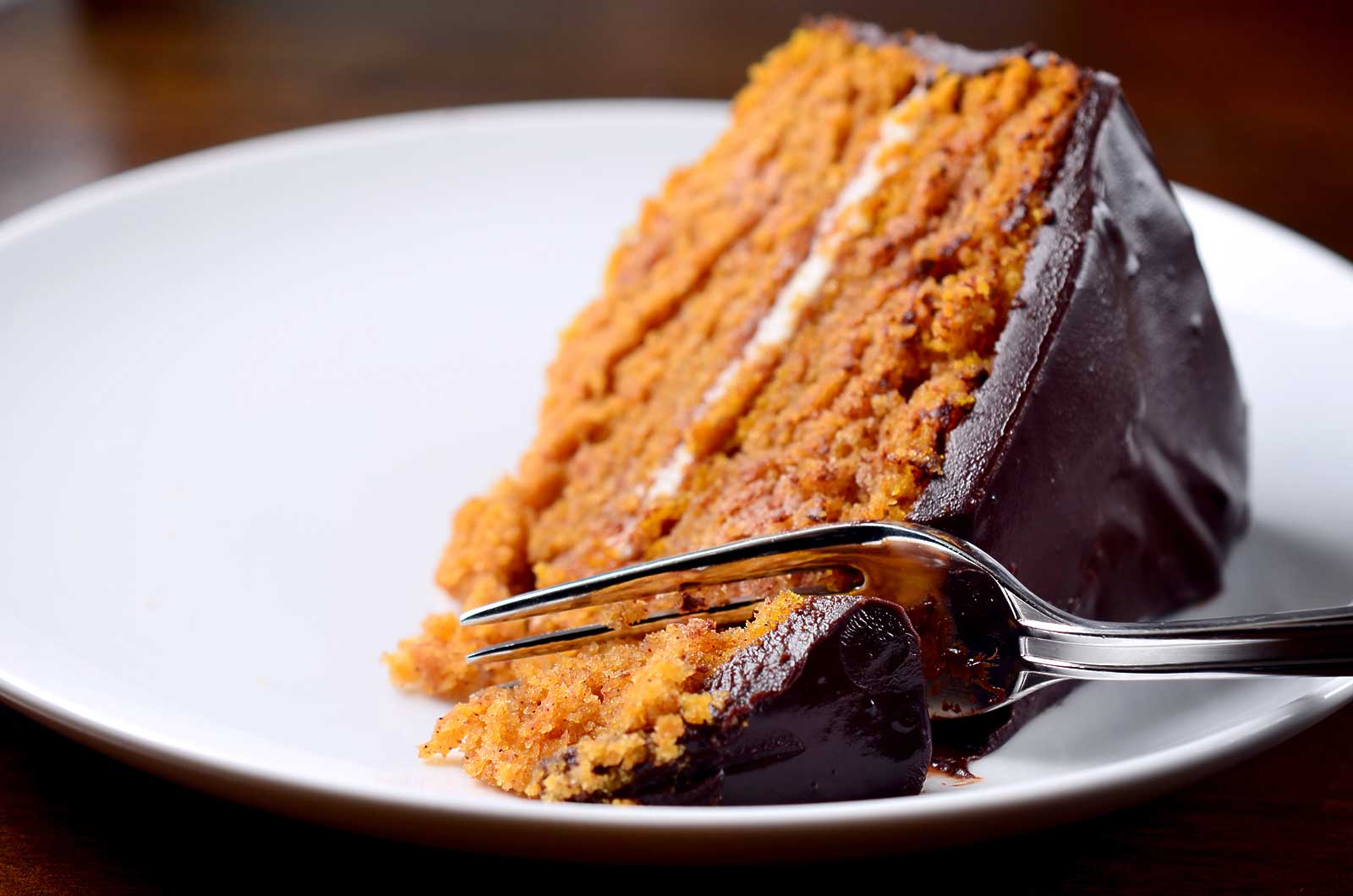 Pumpkin Puree: It's very important that you just pumpkin puree here, not pumpkin pie mix. Pumpkin pie mix has additional ingredients and a different texture than you'll want for this recipe.
Pumpkin Pie Spice: A blend of cinnamon, ginger, cloves, allspice and nutmeg. You buy it or can make your own .
To make the cream cheese frosting you'll need cream cheese, powdered sugar and vanilla. Pretty easy!
To make the ganache you'll only need heavy cream and chocolate chips.
STEP BY STEP PHOTOS AND INSTRUCTIONS: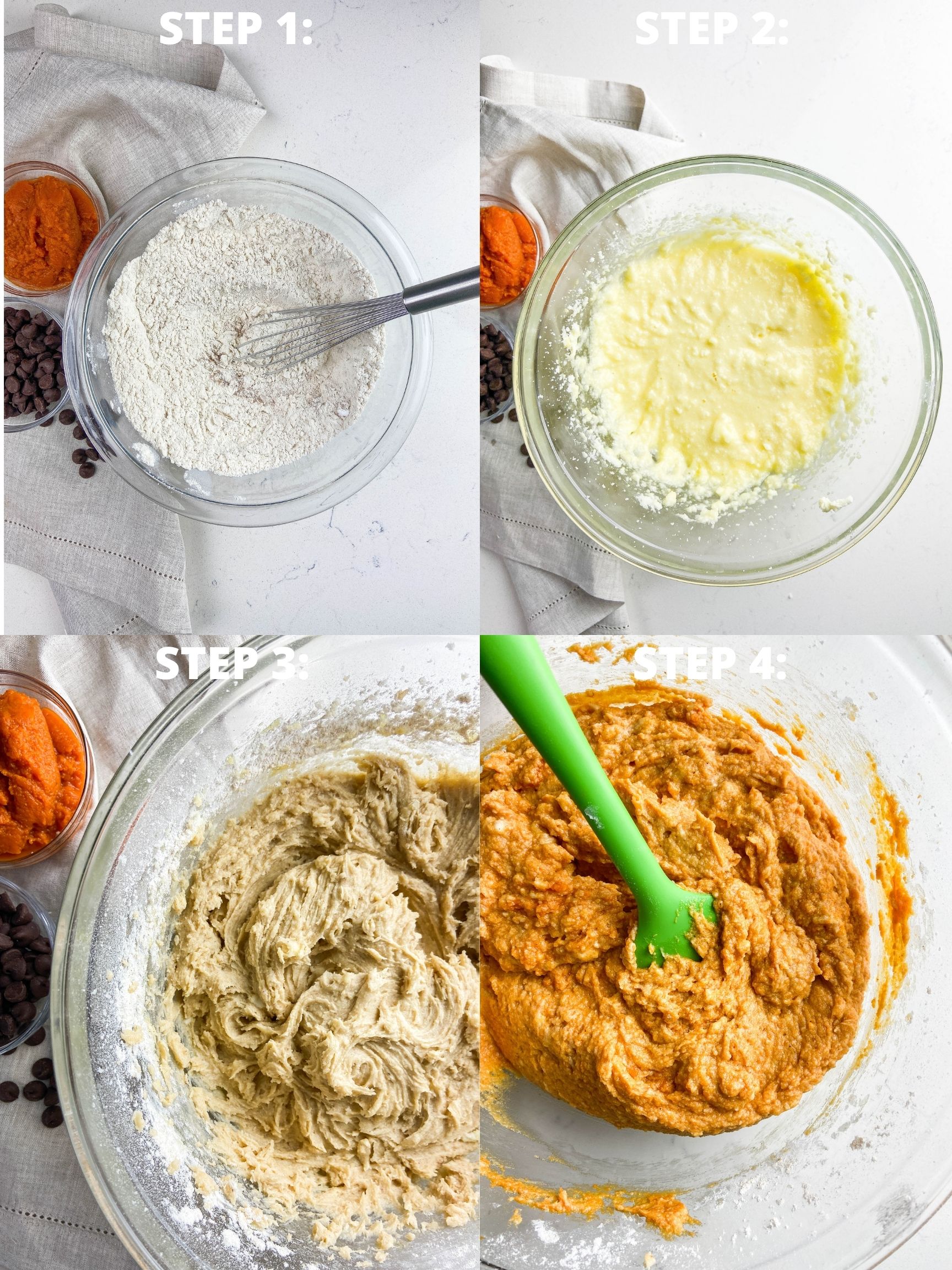 I know the three different components to this cake might make it seem a little bit daunting but it's not that hard at all. Let me show you!
STEP #1: Combine all of the dry ingredients for the cake in a bowl. Whisk together until well combined.
STEP #2: In a large bowl, cream together the butter and sugar until light and fluffy. Add in the eggs one at a time and then add in the vanilla extract.
STEP #3: Add the dry ingredients to the wet ingredients.
STEP #4: Fold in the pumpkin puree.
DES' TIP: The batter in this recipe is going to be very thick. You'll need to make sure to divide the cake batter equally between the two cake pans and spread it in an even layer before baking.
STEP #5: Make the cream cheese frosting by creaming together the cream cheese and butter. Once fluffy add in the powdered sugar and vanilla. Continue beating until creamy and smooth.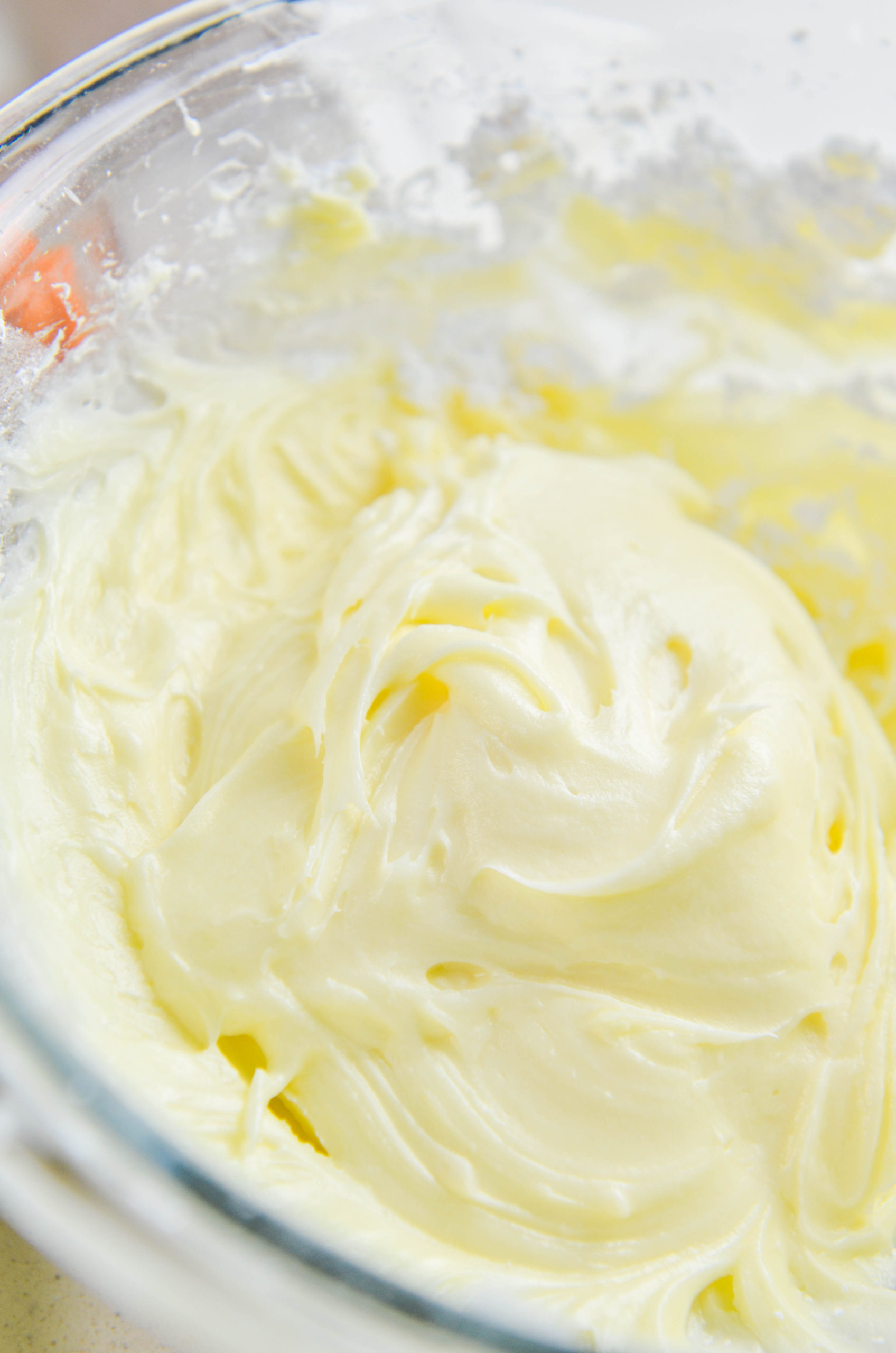 STEP #6: Place one of the cakes bottom side up on a cake stand. Spread the cream cheese frosting over the top. Place the other cake, top side up, on top of the frosting.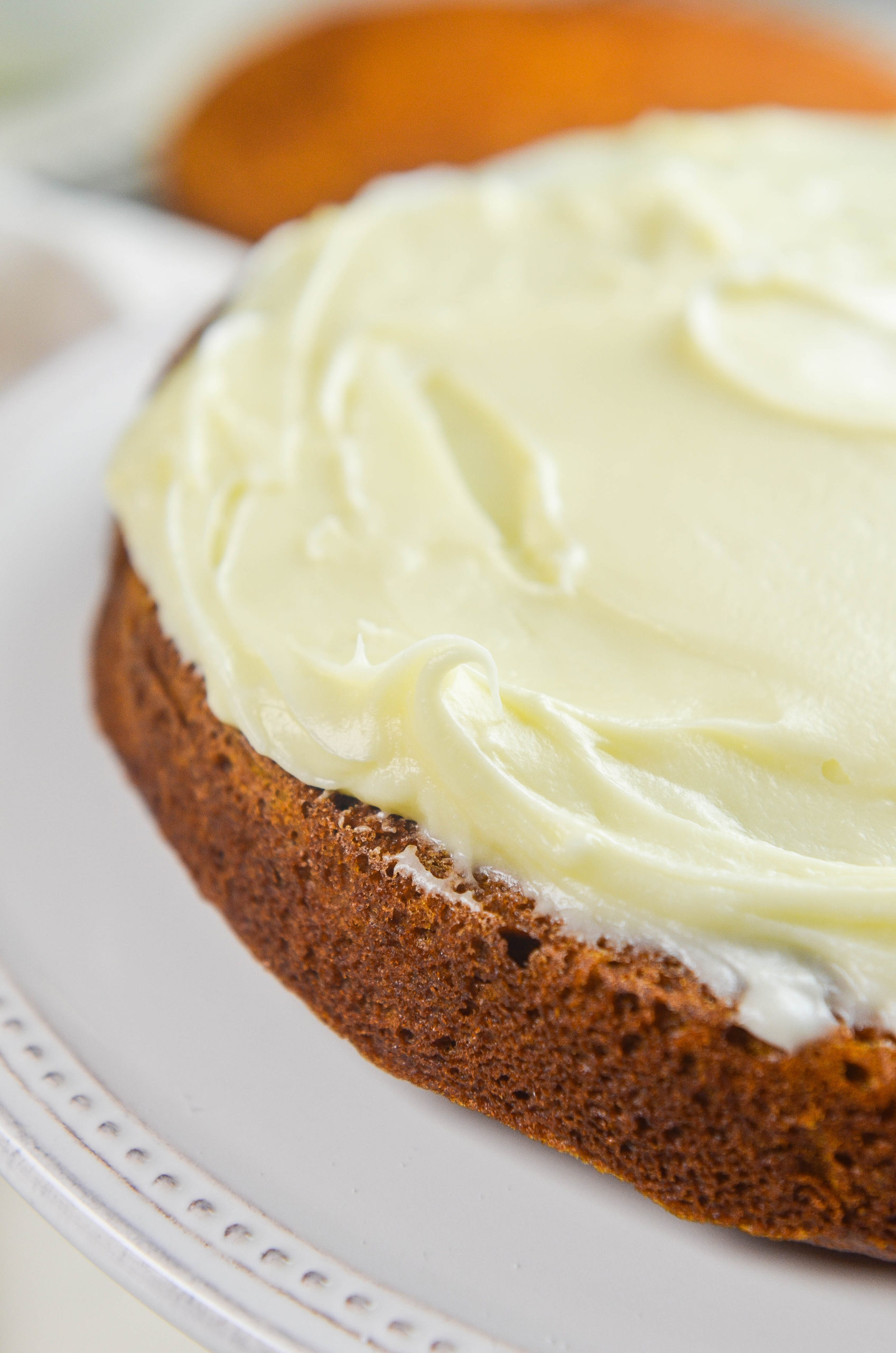 STEP 7: To make the ganache, heat cream until steaming and pour over chocolate chips. Let sit for 2 minutes. Whisk until shiny and smooth. Let sit for a couple more minutes. Slowly pour over the cake. As the ganache cools it will start to harden and you can spread it on the cake. Allow to harden for at least 15 minutes before serving.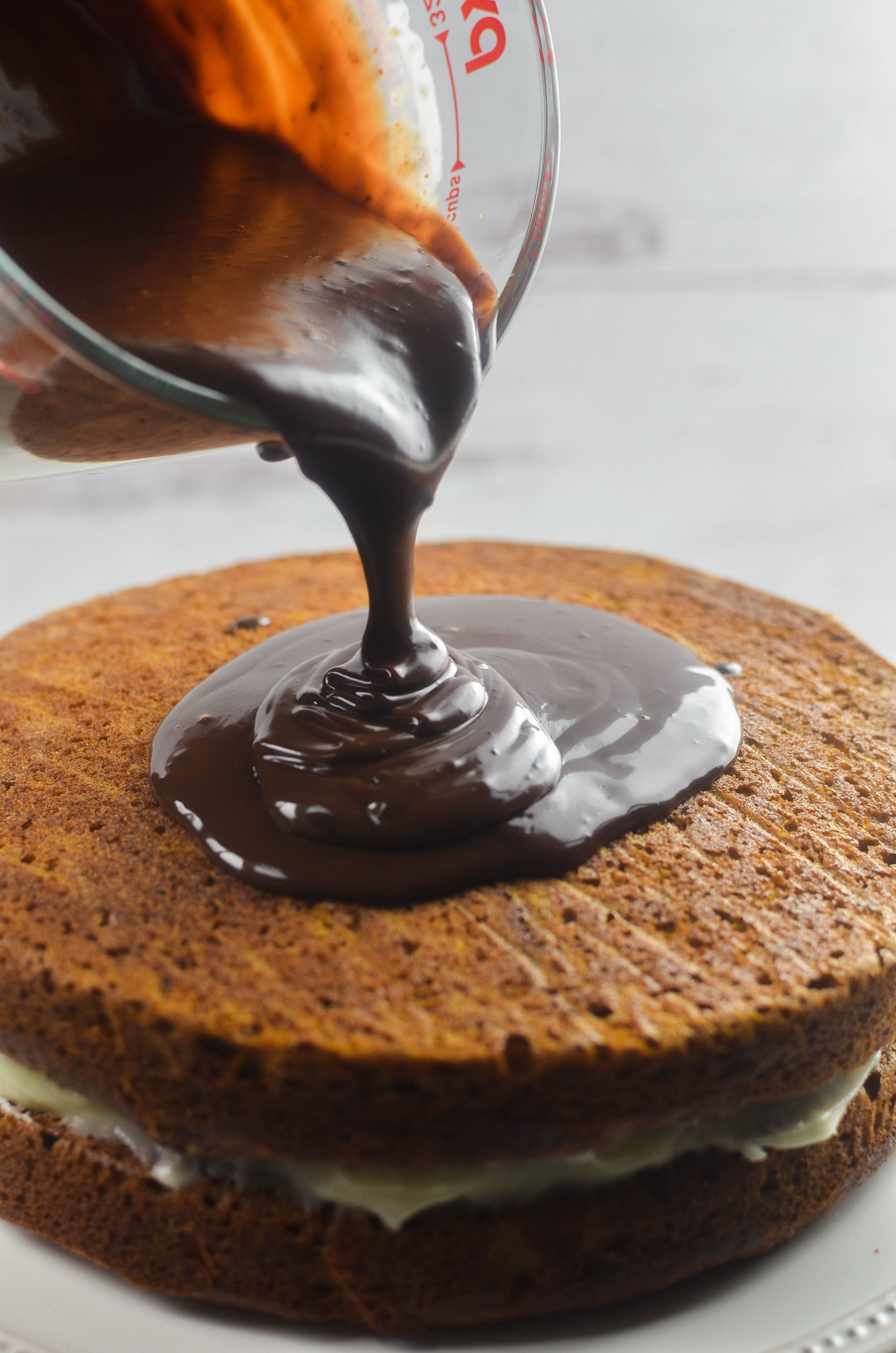 DES' TIP: The longer that the ganache sets, the thicker that it will get. If the ganache is too thin when you start to pour it, wait a minute or so for it to thicken.
Storing the cake and leftovers:
Because of the cream cheese frosting and the cream in the ganache, it is better (safer) to store any leftover cake in the refrigerator. Note that the ganache may lose it's shine in the refrigerator but it will still taste just as delicious.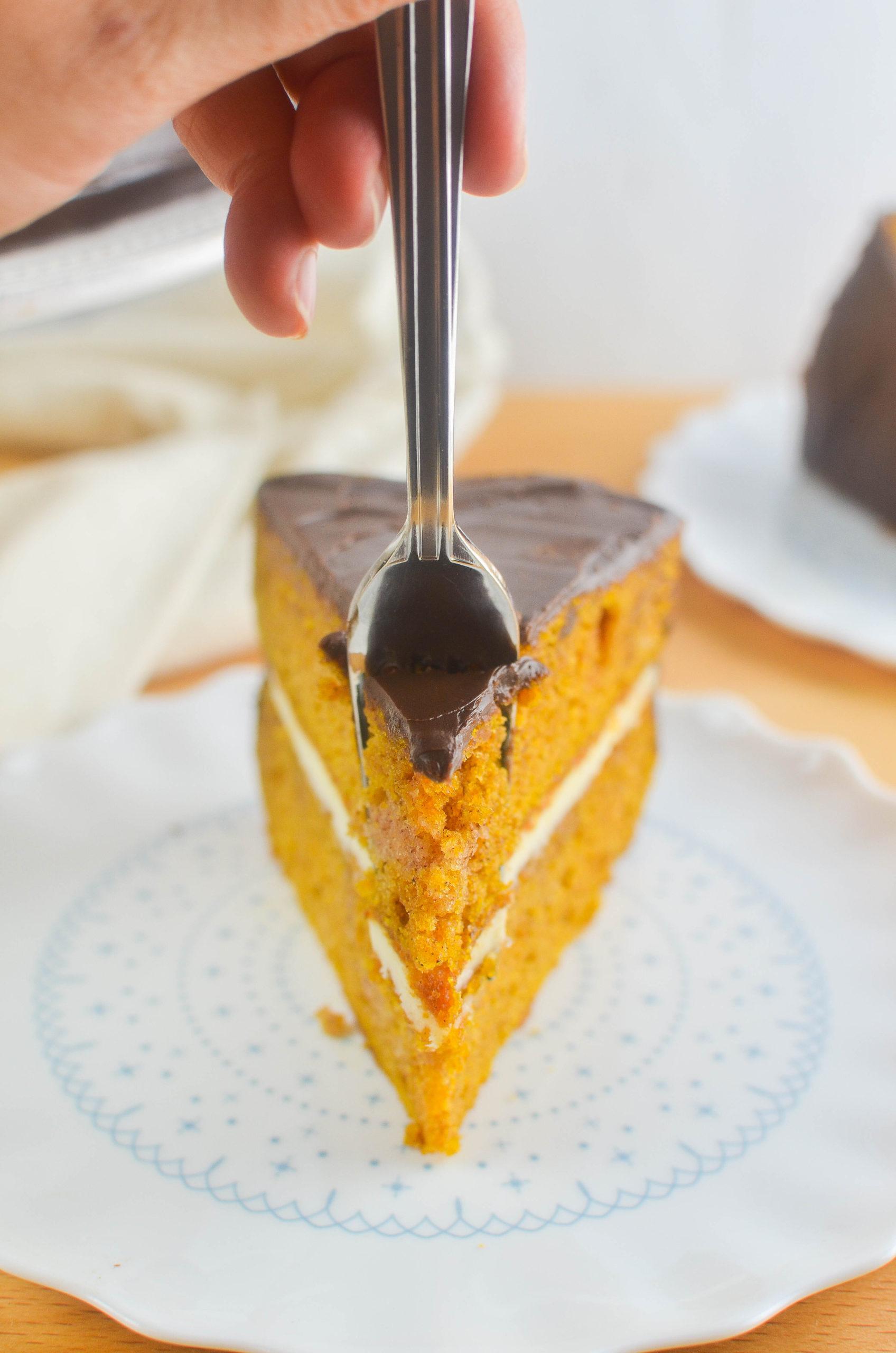 When you're ready to serve the leftovers, take the cake out of the refrigerator at least an hour beforehand. This will give the cake a chance to come up to room temperature.
This decadent, moist, oh so flavorful pumpkin cake recipe is one that my family absolutely loves for fall. And we aren't the only ones!
REVIEW: "Best cake ever! No fail recipe. It is my "go to" for Thanksgiving."- Cheryl
Looking for more pumpkin related recipes? Here are some of my favorites!
Got a sweet tooth? Here are some of my most popular dessert recipes!
White Chocolate Strawberry Cheesecake
Note: this recipe was originally written and published in 2013. It was updated with new photos, tips, nutrition information and a video in 2020.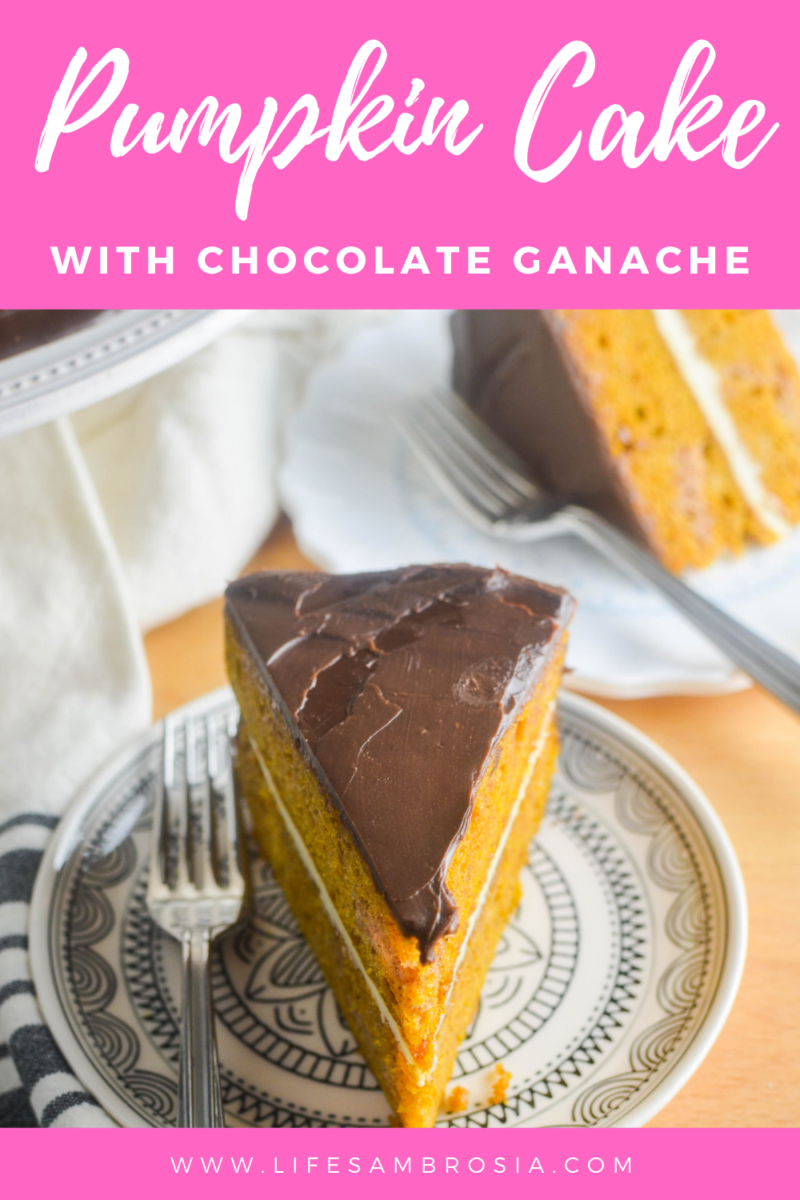 Pumpkin Cake with Chocolate Ganache Recipe
Pumpkin Cake Ingredients:
1 1/2 cups granulated sugar
1 cup softened butter
3 eggs, room temperature
1 teaspoon vanilla
2 cups all purpose flour
1 teaspoon baking soda
2 teaspoons baking powder
1/4 teaspoon salt
1 tablespoon pumpkin pie spice
1 1/2 cups pumpkin puree
Cream Cheese Frosting Ingredients
1/2 cup softened unsalted butter

4 ounces softened cream cheese

1/2 teaspoon vanilla extract

1 cup powdered sugar
Chocolate Ganache Ingredients
1 cup heavy cream

10 ounces semi sweet chocolate chips
Instructions
1
Preheat oven to 350 degrees. Grease and flour two 9-inch round cake pans.

2
In the bowl of a stand mixer fitted with a paddle attachment, cream together the butter and sugar until fluffy. Beat in the eggs one at a time, being sure to scrape down the edges after adding each egg. Beat in the vanilla.

3
In another bowl, combine flour, baking soda, baking powder, salt and pumpkin spice. Slowly beat the dry ingredients into the wet ingredients. Once mixed, turn the mixer off and gently fold in the pumpkin puree.

4
Scoop batter equally into the cake pans and level with a knife. Bake in preheated oven for 35 - 40 minutes or until a toothpick inserted in the center comes out clean. Remove from oven and allow to cool for several minutes. Gently remove the cake from the pans and place on a cooling rack.

5
Make the cream cheese frosting filling by creaming together the butter and cream cheese. Beat in the vanilla. Beat in the powered sugar and mix until a stiff but spreadable mixture forms.

6
Place one of the cakes bottom side up on a cake stand. Spread the cream cheese frosting over the top. Place the other cake, top side up, on top of the frosting.

7
Make the ganache right before you are ready to use it, by heating the heavy cream in a saucepan just until simmering. Place the chocolate chips in a bowl you can easily pour from (I used my 4 cup measuring cup). Pour the hot cream over the top. Make sure all of the chocolate is submerged in the cream. Let stand for two minutes.

8
Gently whisk the chocolate and cream together until the chocolate has melted and the mixture has a glossy look to it.

9
Carefully, and working from the center outward, pour the chocolate ganache over the cake. The ganache will be thick, you can use a knife to spread it around. Do this quickly before the ganache hardens. Note: Some of the ganache may pool on the serving platter. You can remove it with a spoon and then wipe the platter with a paper towel. Or leave it :)

10
After ganache hardens, about 15 minutes you can slice and serve the cake.

11
Keep any leftovers in the refrigerator. Remove from the fridge about an hour before serving to allow the cake to come to room temperature.
Notes
Nutrition information for estimation purposes only.
Nutrition information
Calories: 763 , Total Fat: 45.3g , Saturated Fat: 27.1g , Cholesterol: 151mg , Sodium: 267mg , Carbohydrates: 84.6g , Fiber: 3.7g , Sugar: 60.3g , Protein: 8g