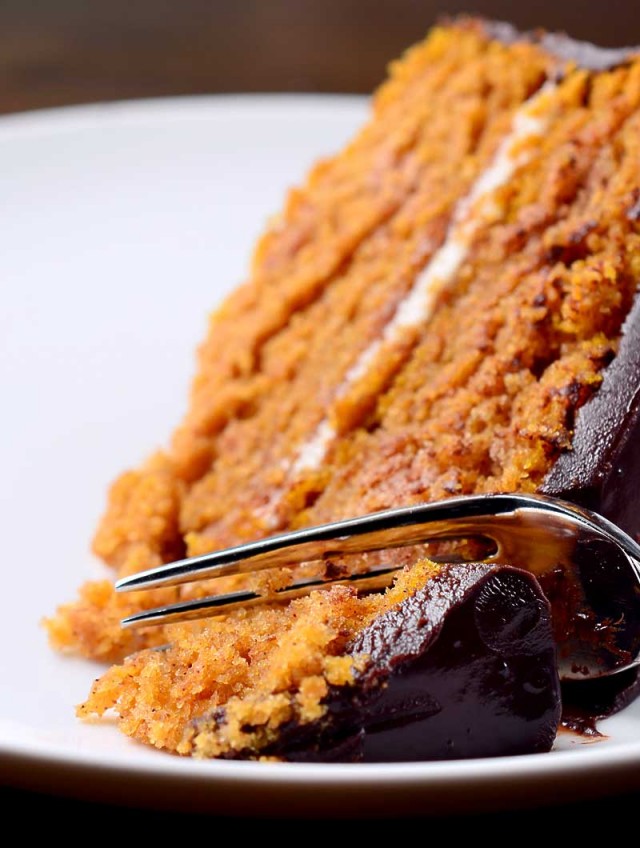 Pumpkin Cake with Chocolate Ganache
Pumpkin cake with chocolate ganache is the best cake recipe to kick off the fall season! 
It's here! It's here! It's here! Pumpkin season is finally here. And because it's Monday and because I am obsessed with all things pumpkin, I'm sharing my new favorite way to use it: Pumpkin Cake with Chocolate Ganache. In an effort to make the title of this recipe a bit shorter, I had to leave out one very delicious part. You see, this moist, perfect pumpkin cake gets a layer of sweet cream cheese frosting in the middle before ganache is poured over the top.  So if I had a bit more room to make titles I'd title this one: Cream Cheese Frosting Filled Pumpkin Cake with Chocolate Ganache. Or I suppose could just shorten it all up by titling it scrumptious, because that is exactly what it is.
Confession: I've made this cake two times in the last two weeks.
What can I say? We love pumpkin cake.
Making it twice in the last two weeks, I've had the opportunity to try a few different variations.
I learned a couple of important things about making this pumpkin cake with chocolate ganache:
1. Second time around, I tried adding milk. No go.
2. I also substituted dark chocolate for the semi sweet chocolate in the ganache the second time around. It was alright, but the semi-sweet ganache was the winner in our house. Oh, and if you happen to be out of heavy cream for the ganache, my blogging friend Becca has a recipe for making chocolate ganache without heavy cream!
Basically, if something isn't broke, don't fix it. We loved it the first time around, I should've just made it that way twice. That isn't to say that we won't devour the second one. Because you can bet your bottom dollar that we will.
I did however, learn one very important thing from the second time around, that I didn't quite get the first time. The cake batter is thick. And you're covering the finished cake in ganache. This means before you bake it, you want to make sure you have an equal amount of batter in each pan and that the cake is level before you bake it. That way, when you pour that gorgeous ganache over the top, your pumpkin cake will look almost too pretty to eat.
Almost.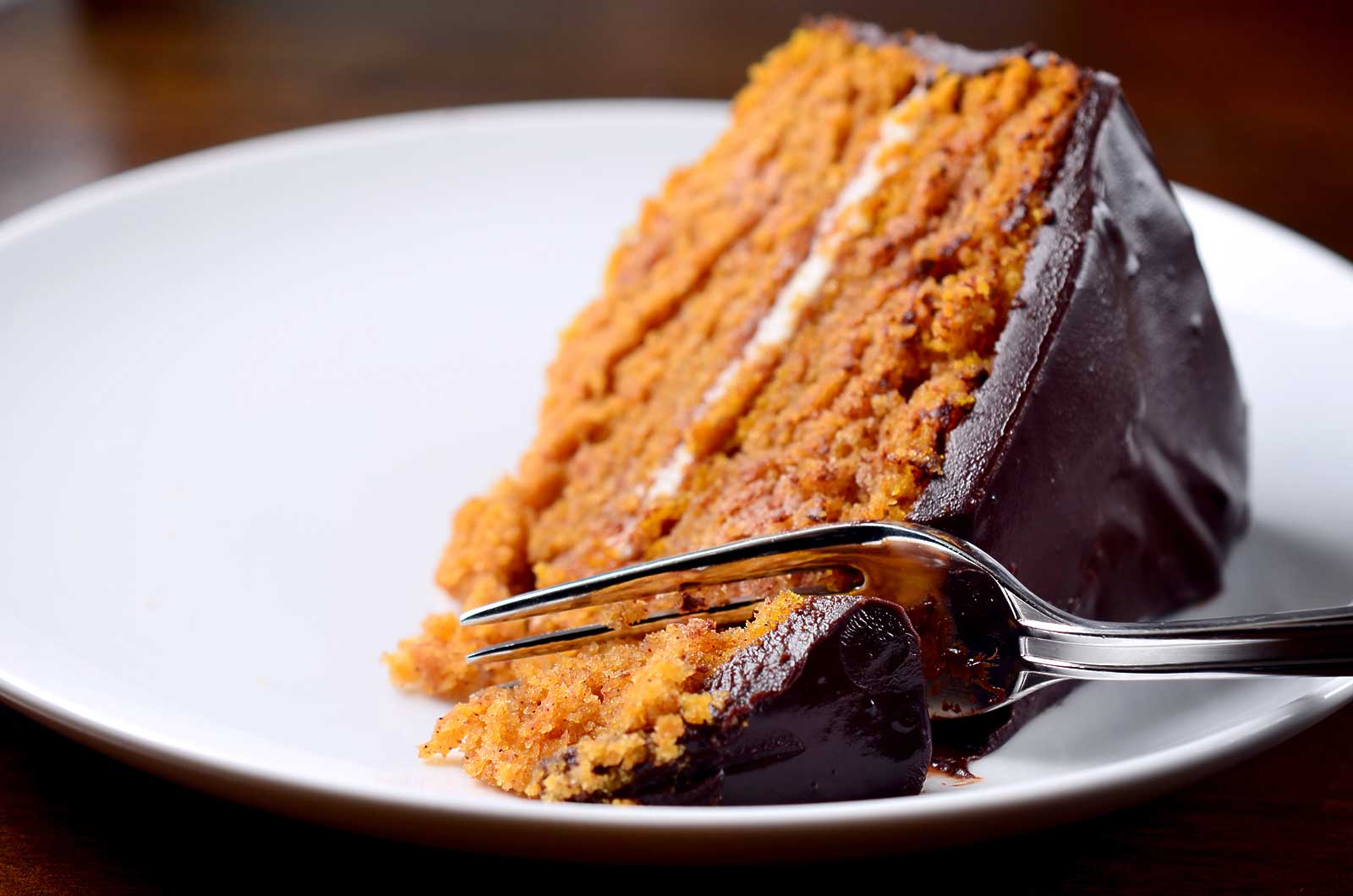 Pumpkin Cake with Chocolate Ganache Recipe
Pumpkin Cake Ingredients:
1 1/2 cups granulated sugar
1 cup softened butter
3 eggs, room temperature
1 teaspoon vanilla
2 cups all purpose flour
1 teaspoon baking soda
2 teaspoons baking powder
1/4 teaspoon salt
1 tablespoon pumpkin pie spice
1 1/2 cups pumpkin puree
Cream Cheese Frosting Ingredients
1/2 cup softened butter

4 ounces softened cream cheese

1/2 teaspoon vanilla

1 cup powdered sugar
Chocolate Ganache Ingredients
1 cup heavy cream

10 ounces semi sweet chocolate chips
Instructions
1
Preheat oven to 350 degrees. Grease and flour two 9-inch round cake pans.

2
In the bowl of a stand mixer fitted with a paddle attachment, cream together the butter and sugar until fluffy. Beat in the eggs one at a time, being sure to scrape down the edges after adding each egg. Beat in the vanilla.

3
In another bowl, combine flour, baking soda, baking powder, salt and pumpkin spice. Slowly beat the dry ingredients into the wet ingredients. Once mixed, turn the mixer off and gently fold in the pumpkin puree.

4
Scoop batter equally into the cake pans and level with a knife. Bake in preheated oven for 35 - 40 minutes or until a toothpick inserted in the center comes out clean. Remove from oven and allow to cool for several minutes. Gently remove the cake from the pans and place on a cooling rack.

5
Make the cream cheese frosting filling by creaming together the butter and cream cheese. Beat in the vanilla. Beat in the powered sugar and mix until a stiff but spreadable mixture forms.

6
Place one of the cakes bottom side up on a cake stand. Spread the cream cheese frosting over the top. Place the other cake, top side up, on top of the frosting.

7
Make the ganache right before you are ready to use it, by heating the heavy cream in a saucepan just until simmering. Place the chocolate chips in a bowl you can easily pour from (I used my 4 cup measuring cup). Pour the hot cream over the top. Make sure all of the chocolate is submerged in the cream. Let stand for two minutes.

8
Gently whisk the chocolate and cream together until the chocolate has melted and the mixture has a glossy look to it.

9
Carefully, and working from the center outward, pour the chocolate ganache over the cake. The ganache will be thick, you can use a knife to spread it around. Do this quickly before the ganache hardens. Note: Some of the ganache may pool on the serving platter. You can remove it with a spoon and then wipe the platter with a paper towel. Or leave it :)

10
After ganache hardens, about 15 minutes you can slice and serve the cake.

11
Keep any leftovers in the refrigerator. Remove from the fridge about an hour before serving to allow the cake to come to room temperature.